Coconut, Sriphala is a fruit which belongs to the Cocos nucifera palm. This mature nut, Coconut has slowly become a versatile food and are being used in everything from our daily cuisine to our beauty regimens. Hundreds of coconut species are found all over India and its taste varies according to its soil alkalinity. Those who believe in the healing powers of natural ingredients would probably know about the health benefits of coconut. Indian households have been using the goodness of coconut in various forms over generations.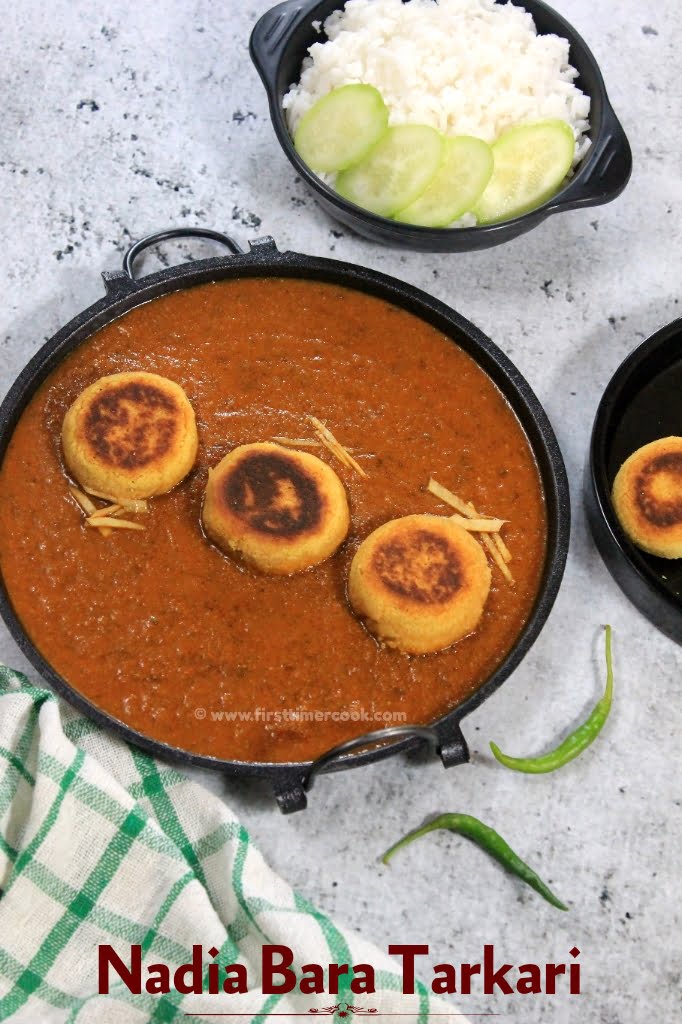 Coconuts are highly nutritious, rich in fiber and packed with essential vitamins and minerals. Well, in Odia cuisine an authentic curry is prepared using this versatile nut as Nadia Bara Tarkari / Coconut Cutlet Curry. This is very easy to prepare as well as tastes so delicious. Here I have prepared without using onion and garlic. Authentic recipe of this dish always uses the coconut cutlet along with some potato cubes, but I don't prefer to add potato while preparing. Since this version is without onion n garlic, so anyone can opt during any festival as well.
So do try this without onion n garlic nadia bara tarkari / coconut cutlet curry. If you tried my recipe and enjoyed fully, then please share some pictures of your creation with me. Also give your valuable feedback either in the comment box below or tag me as #firsttimercook on Instagram. You may also follow me on Facebook, Pinterest, Twitter, Google+, Instagram and can subscribe for free to get new recipes directly into your inbox 😊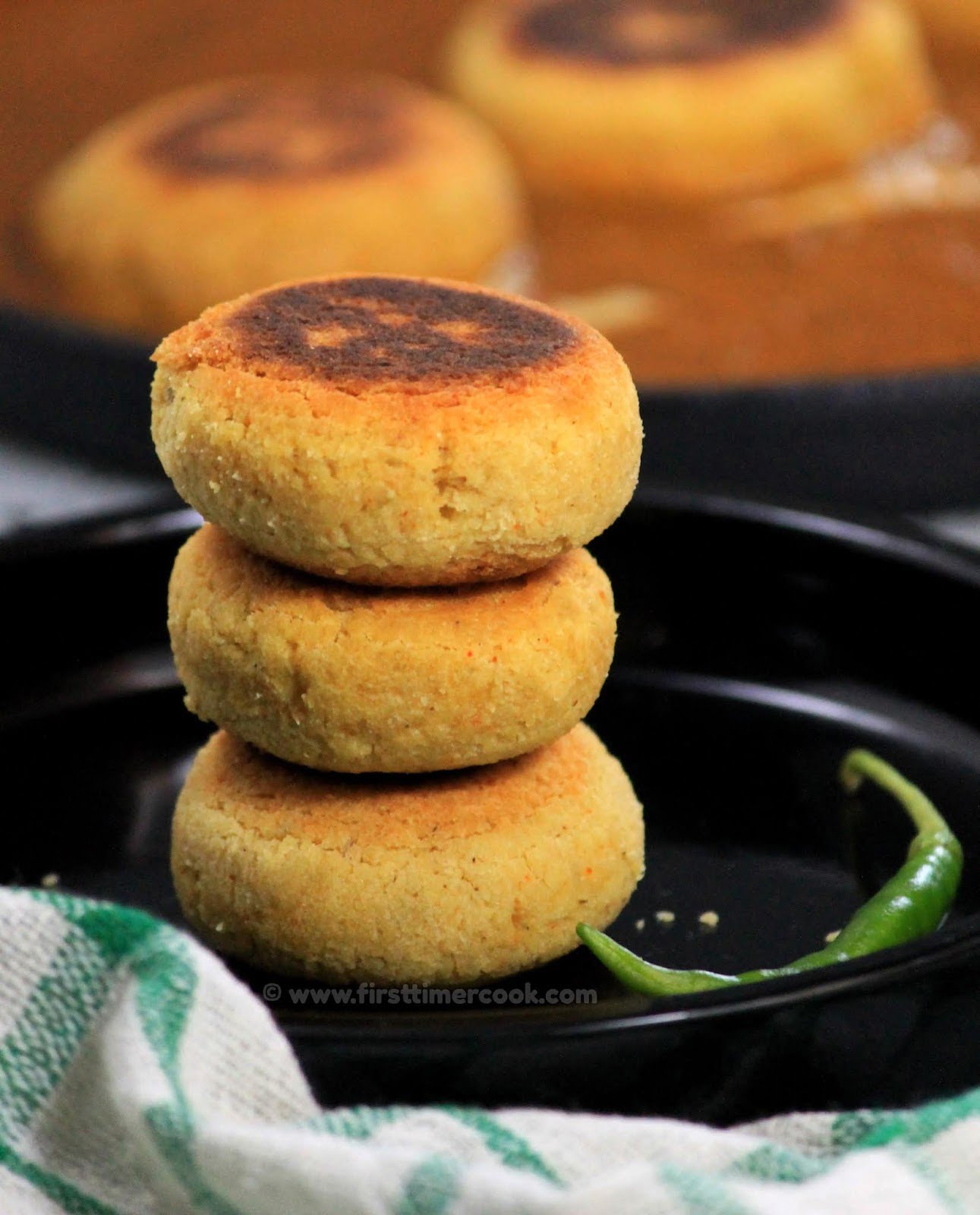 Preparation Time : 15 mins | Cooking Time : 30 mins
Ingredients :
Ingredients

Measurements

For coconut cutlet

Coconut (grated)

1 cup

Rice flour

3-4 tbsp

Gram flour (besan)

1 tbsp

Cumin seed

1 tsp

Ginger (grated)

½ tsp

Green chili

2-3 no

Salt

as needed

Oil

For shallow frying

For ground masala

Ginger

1 inch

Tomato

2-3 no

Cumin seed

2 tsp

Poppy seed

3 tsp

Cardamom pod

2-3 no

Cinnamon

1 inch

For curry

Coconut milk (thick)

¼ cup

Asafoetida

1 pinch

Bay leaf

1 no

Cumin seed

½ tsp

Cumin powder

1 tsp

Coriander
powder

1 tbsp

Red chili powder

½ tsp

Turmeric powder

¼ tsp

Garam masala powder

½ tsp

Oil

As needed

Salt

As needed

Water

As needed
Method :
In a mixing bowl take finely grated coconut, rice flour, besan, finely chopped green chilies, cumin seeds, grated ginger and salt.
Mix everything well, make 1-2 inch size balls and press each ball gently to give cutlet shape.
In a nonstick pan, heat oil and shallow fry each coconut cutlet till both side of the cutlets turn light golden brown in color.
Transfer to a plate and keep aside.
In a blender jar put roughly chopped tomato, cumin seeds, poppy seeds, roughly chopped ginger, crushed cinnamon, cardamom pod and make a fine paste.
Now heat oil in a kadhai or deep pan.
Add in asafoetida, cumin seeds, bay leaf and allow to crackle.
Next add the prepared masala paste along with turmeric powder and salt.
Stir well and allow to cook till raw smell goes away while stirring in between.
Then add coriander powder, cumin powder, red chili powder, garam masala powder and saute till the whole masala mixture starts to thicken and the oil starts to separate.
Add 2-3 cup water and give a nice stir.
Cover and allow to cook the whole gravy for 5 minutes.
Next add coconut milk, mix well and turn off heat.
Put the fried coconut cutlet in the gravy and keep aside for 5-10 minutes.
Then serve along with steamed rice or roti or paratha !!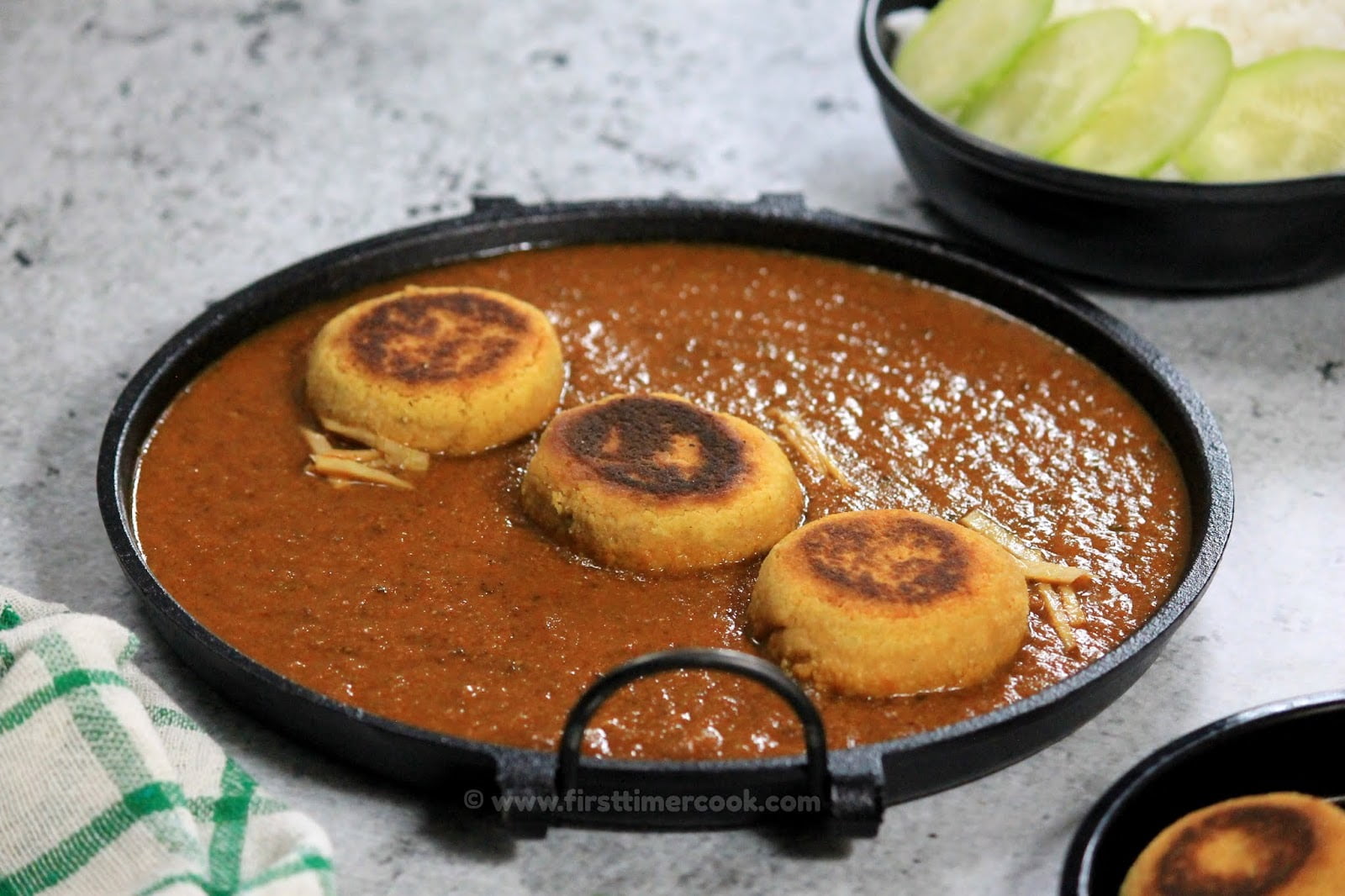 Notes :
While preparing the gravy, make it a little watery than the desired consistency as the fried coconut cutlet'll absorb the gravy part.
In place of rice flour, normal rice can be used. Just soaked and grind the rice to use along with grated coconut.
Some cashew chunks can be added while grinding the masala paste.

PIN for later :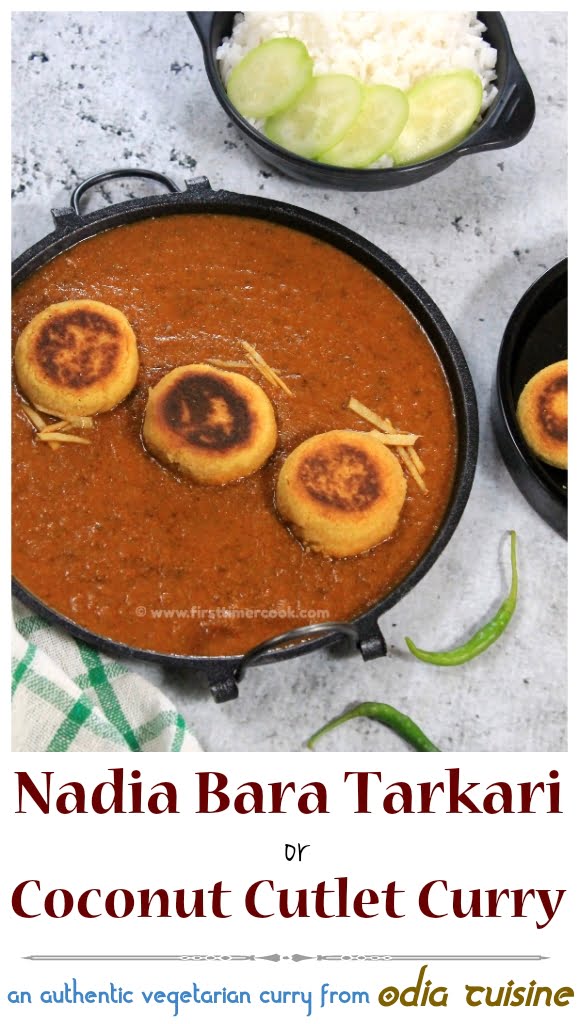 This 'Nadia Bara Tarkari or Coconut Cutlet Curry (without onion n garlic)' is contributed for 50th Healthy Wellthy Cuisines where the theme is 'CoconutTimeatHW'. Here are more similar recipes shared by our Healthy Wealthy Group members as Coconut Ladoos, Coconut Mixed Lentil Curry, Nadia Bara Tarkari , Kali Thori Sukke with Kagdi, Pina Colada Phirni.