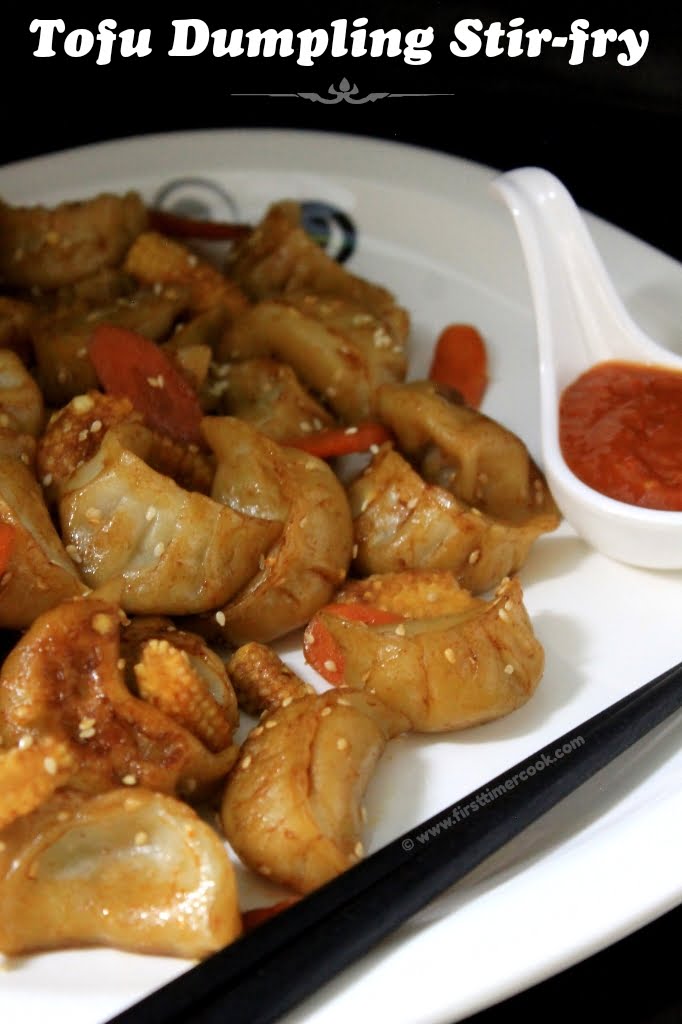 Well the Foodie Monday Blog Hop group of this week has come up with 152th theme as 'Asian cuisine'. Asia, being the largest and most populous continent, has many different influences, flavors and cultures and many of which have their own characteristic cuisine. The whole Asian cuisine includes several major regional cuisines as East Asian, Southeast Asian, Western Asian, Central Asian and South Asian. Ingredients common to these regional cuisine include ginger, garlic, sesame seeds, soy, rice, tofu etc. Stir frying, steaming are the most common cooking methods.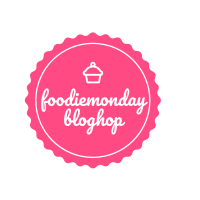 Among all the Asian cuisines, Chinese cuisine is my all time favorite which falls under East Asian cuisine. Even the Chinese dishes are very popular in most Asian countries. Chinese food includes a large variety of ingredients. The emphasis is on fresh, seasonal ingredients, prepared with a minimum of fuss and beautifully balanced for color, texture and presentation. Some staple foods of this cuisine are rice, chow mein, tofu etc where as under vegetables Chinese cabbage, spinach, lettuce, cauliflower, eggplant etc comes. Also pork, beef, mutton, chicken, duck, pigeon as well as many other animals falls under
non-vegetarian category.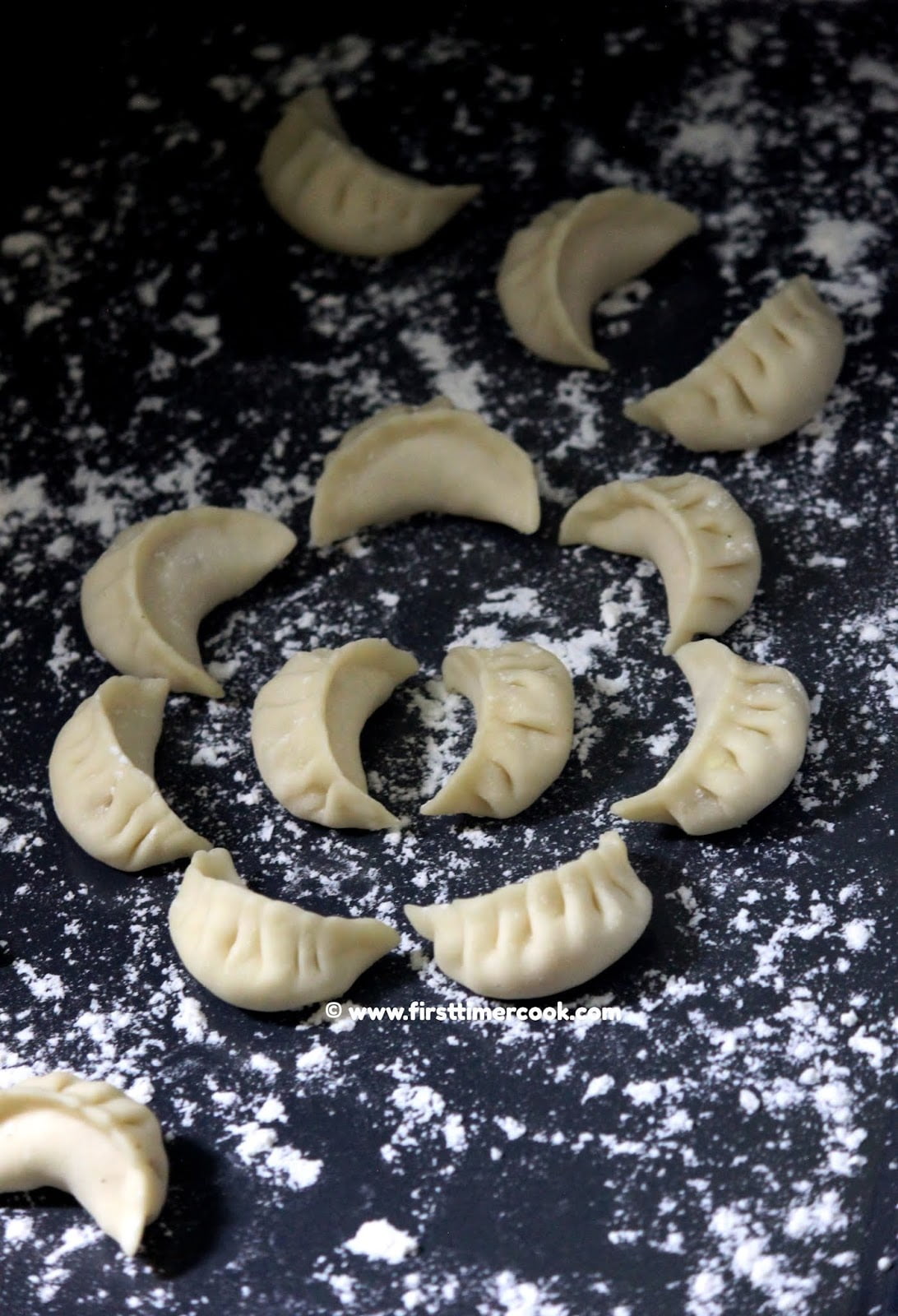 So when the theme of the foodie Monday group is decided to make from Asian cuisine, hence I chose my favorite Chinese food for contribution. With the use of tofu, I have come with Tofu Dumpling Stir fry. Tofu is a food of Chinese origin. It is basically made from soy milk, water and a curdling agent. Tofu contains little fat and is high in protein, calcium as well as iron. Since ancient times, this has been a staple of Chinese and Asian cuisine and has recently become a popular ingredient used in Western vegetarian dishes too.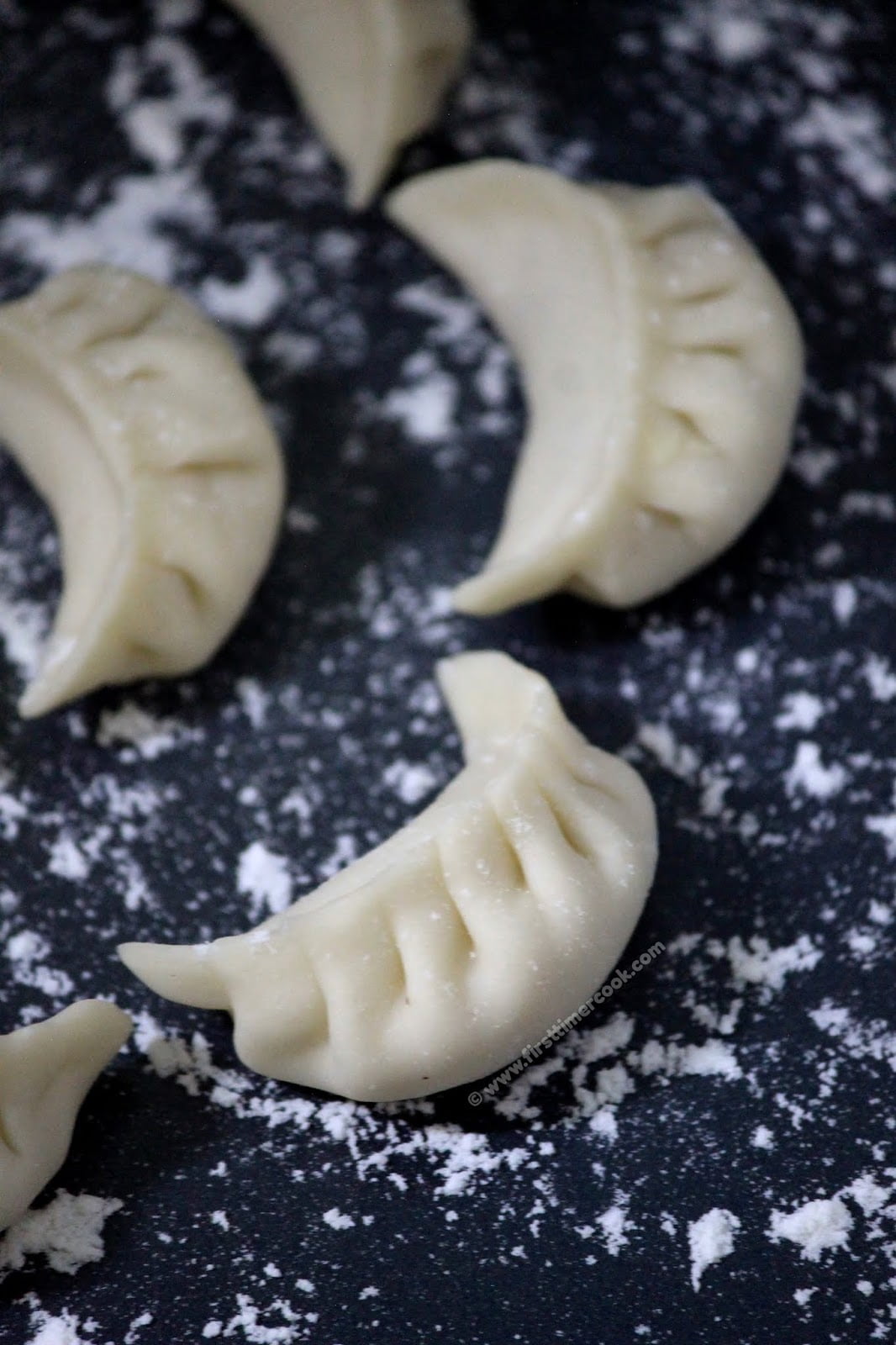 The whole method of preparation of these stir fried dumplings is bit time taking still easy and one'll surely enjoy overall. First a filling of tofu along with cabbage I have prepared. Then some cute dumplings are created having those fillings. Those dumplings are then fried and steamed a little bit and then finally fried along with some sliced baby corn and carrot and seasoned with some sauces. These stir fried vegetarian dumplings are so delicious. These are the perfect snack, side dish or appetizer. These dumplings are totally vegan, but any other meat fillings can be opted too.
So do try these Tofu Dumpling Stir-fry for your next party appetizer. If you tried my recipe and enjoyed fully, then please share some pictures of your creation with me. Also kindly give your valuable feedback either in the comment box below or tag me as #firsttimercook on Instagram. You may also follow me on Facebook, Pinterest, Twitter, Google+, Instagram and can subscribe for free to get new recipes directly into your inbox 😊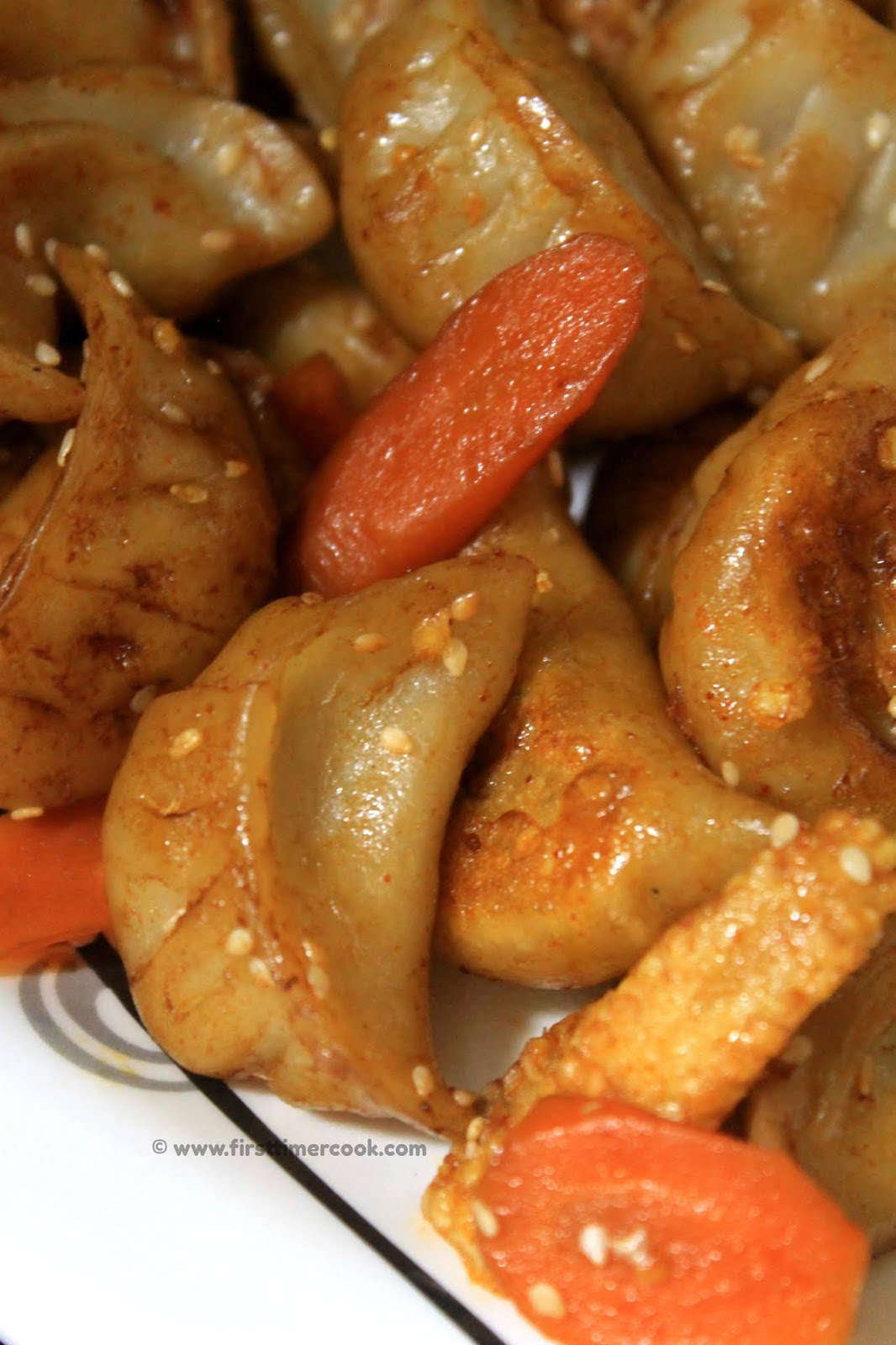 Preparation Time : 1 hr | Cooking Time : 30 mins
Ingredients :
Ingredients

Measurements

Dumpling wrap

All purpose flour

¾ cup

Warm water

¼ cup

Salt

1 pinch

Dumpling filling

Tofu (well pressed & crumbled)

1 cup

Cabbage (diced small)

¼ cup

Ginger (finely grated)

¼ tsp

Garlic clove (minced)

1 no

Spring onion (white part) (finely chopped)

1 no

Soy sauce

1 tbsp

Red chili flake

1 pinch

Salt

As needed

For stir frying

Carrot (sliced)

½ cup

Baby corn (sliced)

½ cup

Spring onion (chopped)

2 no

Ginger (grated)

½ tsp

Garlic clove (minced)

1 no

Vinegar

1 tbsp

Hoisin sauce

¼ cup

Soy sauce

1.5 tbsp

Salt

As needed

Oil

2 tbsp

Sesame seed (roasted)

As needed
​
Method :
Dumpling Wrap :
In a mixing bowl first take all purpose flour and salt. Mix well.
Pour the warm water and start stirring using a fork or chopsticks until a dough like structure will form.
Using hand knead for around 10 minuted or till a smooth texture of the dough comes out.
Cover the bowl and keep aside for 15-20 minutes.
Filling of dumpling :
Meanwhile, heat oil in a pan.
Add in finely grated ginger, minced garlic and saute a bit.
Then add finely chopped white part of the spring onion, well crumbled tofu, finely diced cabbage and saute for a few minutes.
When the tofu is perfectly cooked add soy sauce, red chili flakes, salt and mix everything well.
Again cook for 1-2 minutes minutes.
Turn off heat and allow to cool the filling completely.
Dumpling :
Now take out the resting dough on a work surface dusted with flour.
Knead a bit and make 1 inch size balls out of the dough.
Take 1 ball and roll into 3-4 inch round shape on a floured surface.
Put 1-2 tsp of filling on the center of the round wrap.
Then fold the edges of the wrap in a pleated manner to give any desired dumpling shape.
Similarly prepare dumplings from rest dough balls.
Take a pan and heat 1 tbsp oil.
Place all the dumplings in the pan, but don't overcrowd. These can be fried in batches if pan size is small.
Allow to fry for 3-4 minutes over low-medium heat.
Then pour few tablespoon of water into the pan until the bottoms of the dumplings are just covered.
Cover the pan with a lid and steam over low heat until the water is evaporated.
Now transfer the dumplings to a plate and keep aside.
Stir frying :
Wipe out the pan and heat 1 tbsp oil.
Add sliced carrot and fresh baby corn.
Saute a bit and then add 3-4 tbsp of water into the pan.
Cover the pan and allow to cook until veggies become tender a bit.
Then remove the lid and add minced garlic cloves, freshly grated ginger, salt, dumplings and saute for 1 minute.
Next add soy sauce, hoisin sauce and vinegar.
Gently flip everything a few times so that the dumplings and vegetables are well coated with the sauce.
Turn off heat and sprinkle some roasted sesame seeds.
Serve and enjoy immediately !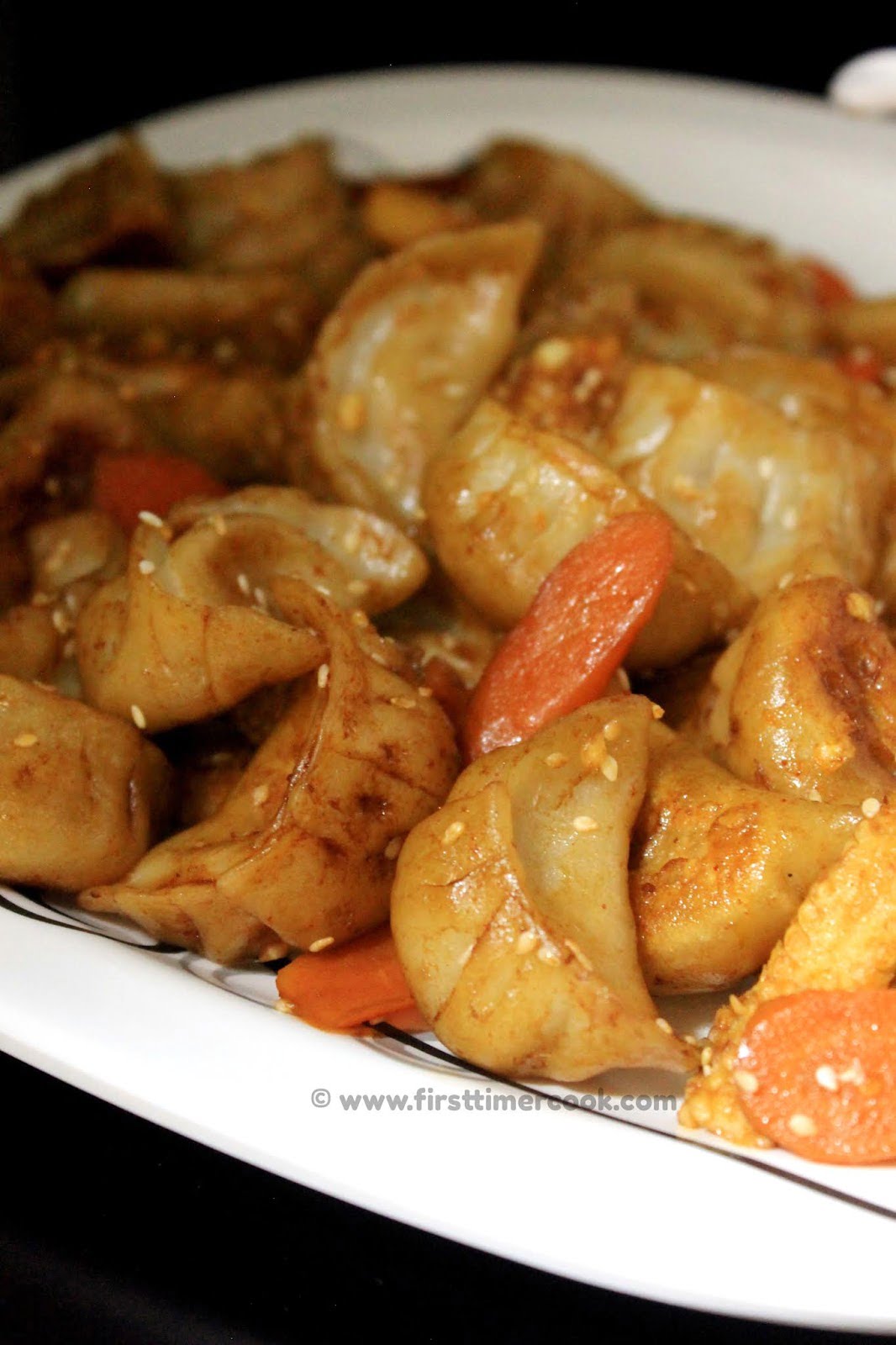 Notes :
The dough must not be too soft, otherwise it will be difficult to make the wrapper of the dumplings.
Do not add too much salt to the filling, because the salt'll extract liquid from the vegetables and the fillings'll turn too wet.
Addition of roasted sesame seed is optional. I like the roasted flavor, so added. But the normal sesame seed work well too.
Some finely chopped spring onions can be sprinkled before serving.
PIN for later :