an Odia condiment using raw mango in sweet version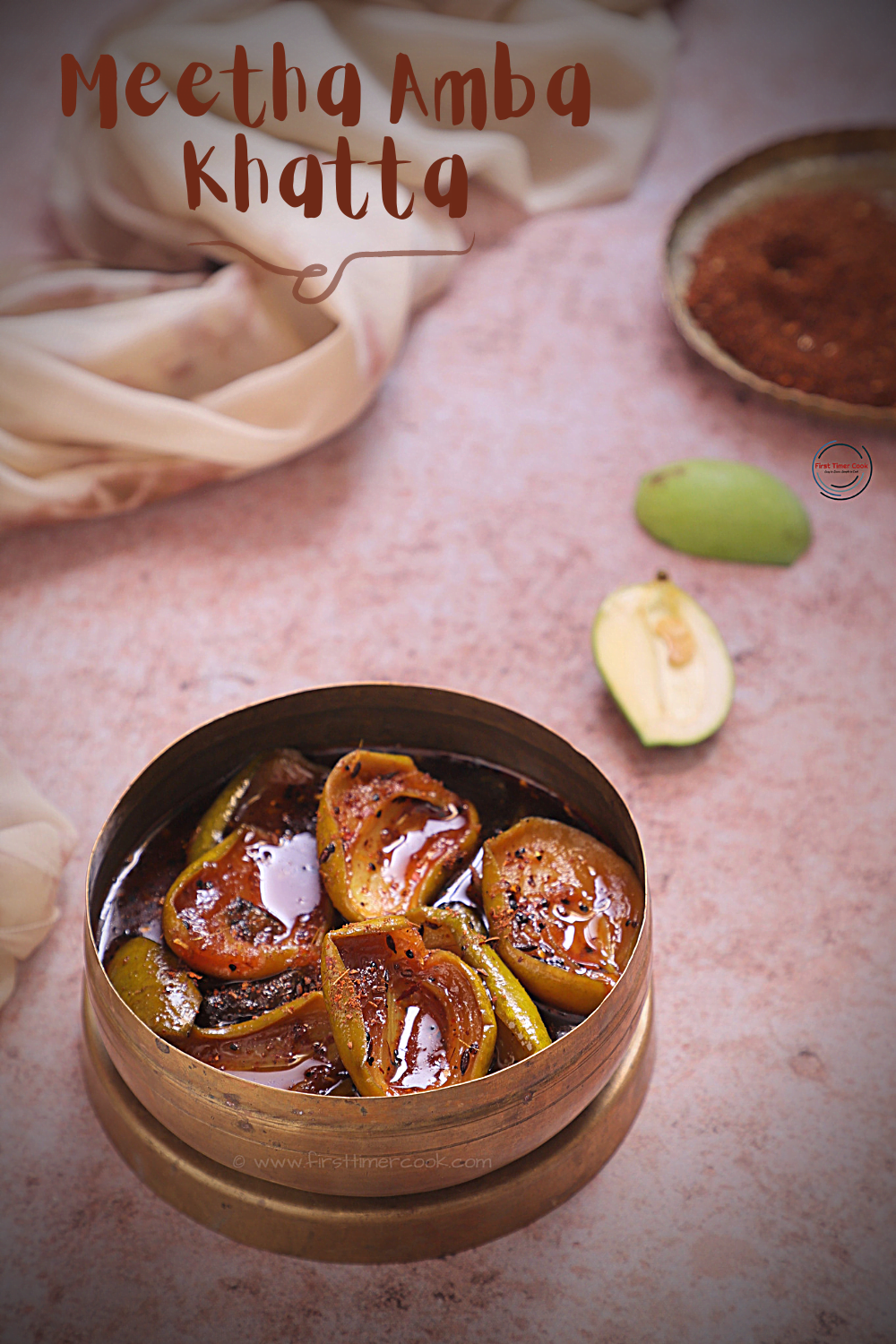 In any festival or function of Odisha, Khatta is a must-to-be-prepared dish. The Odia word 'Khatta' means tangy.
Actually, there are a variety of khatta from Odia cuisine like sapuri (pineapple) khatta, tomato khatta, tomato khajuri (dates) khatta, meetha amba khatta, kakharu (pumpkin) khatta, etc.
And when mangoes are in season, then mango/amba khatta is a common culinary affair in each Odia household.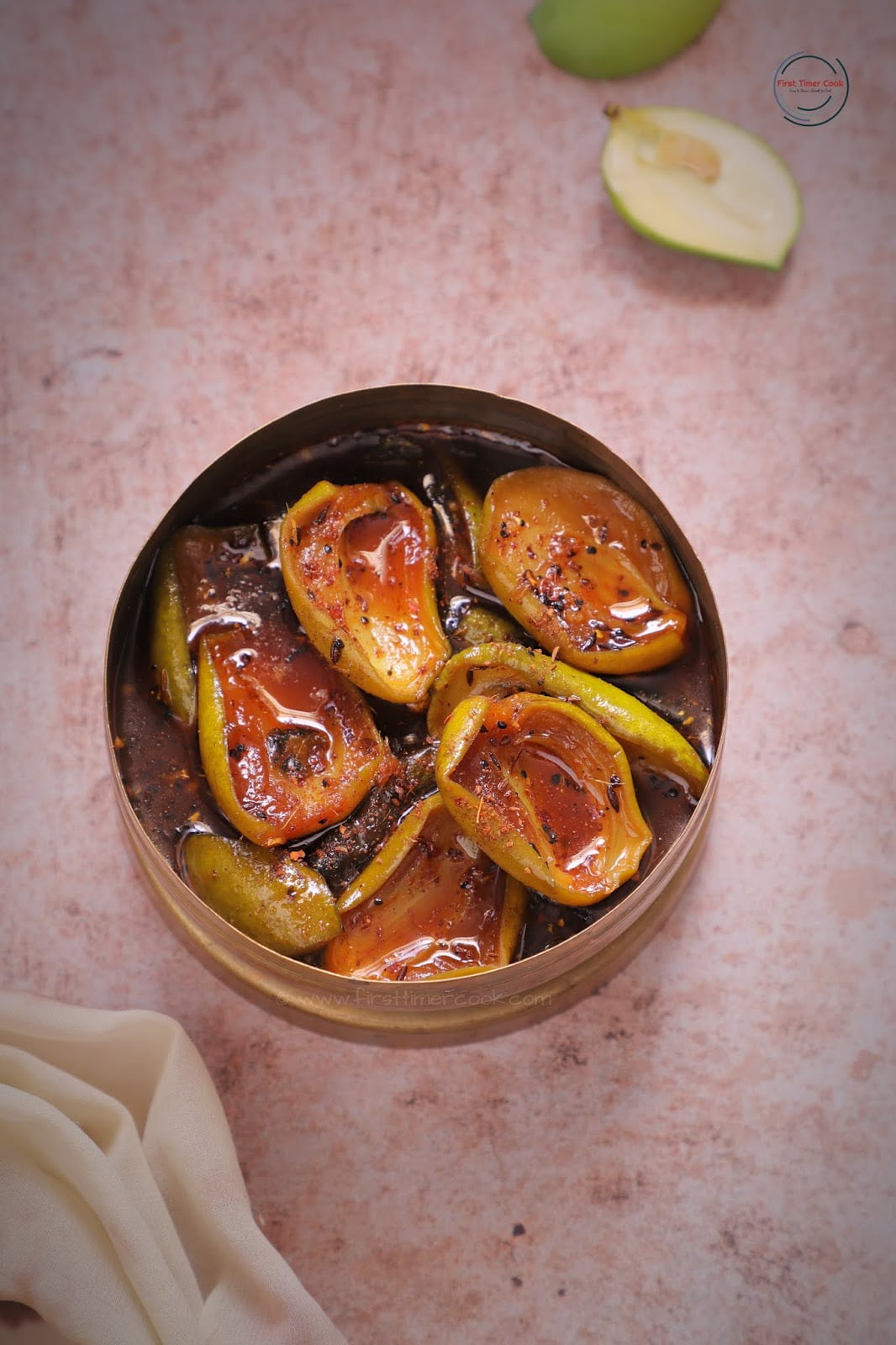 Meetha amba khatta is so easy, quick to prepare, and also without onion-garlic one. Even it tastes much better on the next day of the preparation. I can have it along with roti, paratha, steamed rice or simply licking my finger which acts as a spoon from a bowl containing this khatta 😋.
Here I have used raw mangoes to prepare this. The tempering part is so flavorful which is a combination of grated ginger, curry leaves, green chili along with cumin seed, and mustard seed. Though the authentic one uses pancha phutana / panch phoran (cumin, mustard, saunf, fenugreek, and nigella seeds), I have used only the cumin and mustard seeds to make this dish.
This amba khatta is prepared to keep a sweet taste in mind. The sourness of the raw mangoes is well balanced with the addition of sugar/jaggery. You may adjust the sweetness as desired totally.
Dietary note :
✔ Vegetarian
✔ Gluten-free
✔ Easy to make
✔ Odia cuisine
✔ Sweet relish
✔ Vegan
✔ Can be refrigerated
And, yes !!!
If you like the recipe shared here and give it a try at your place then do share in INSTAGRAM by tagging #firsttimercook. I would be so happy to see and surely share in my INSTA stories 😊😊
Now let's go through how to make "Meetha Amba Khatta" at home 👇
: Recipe Card :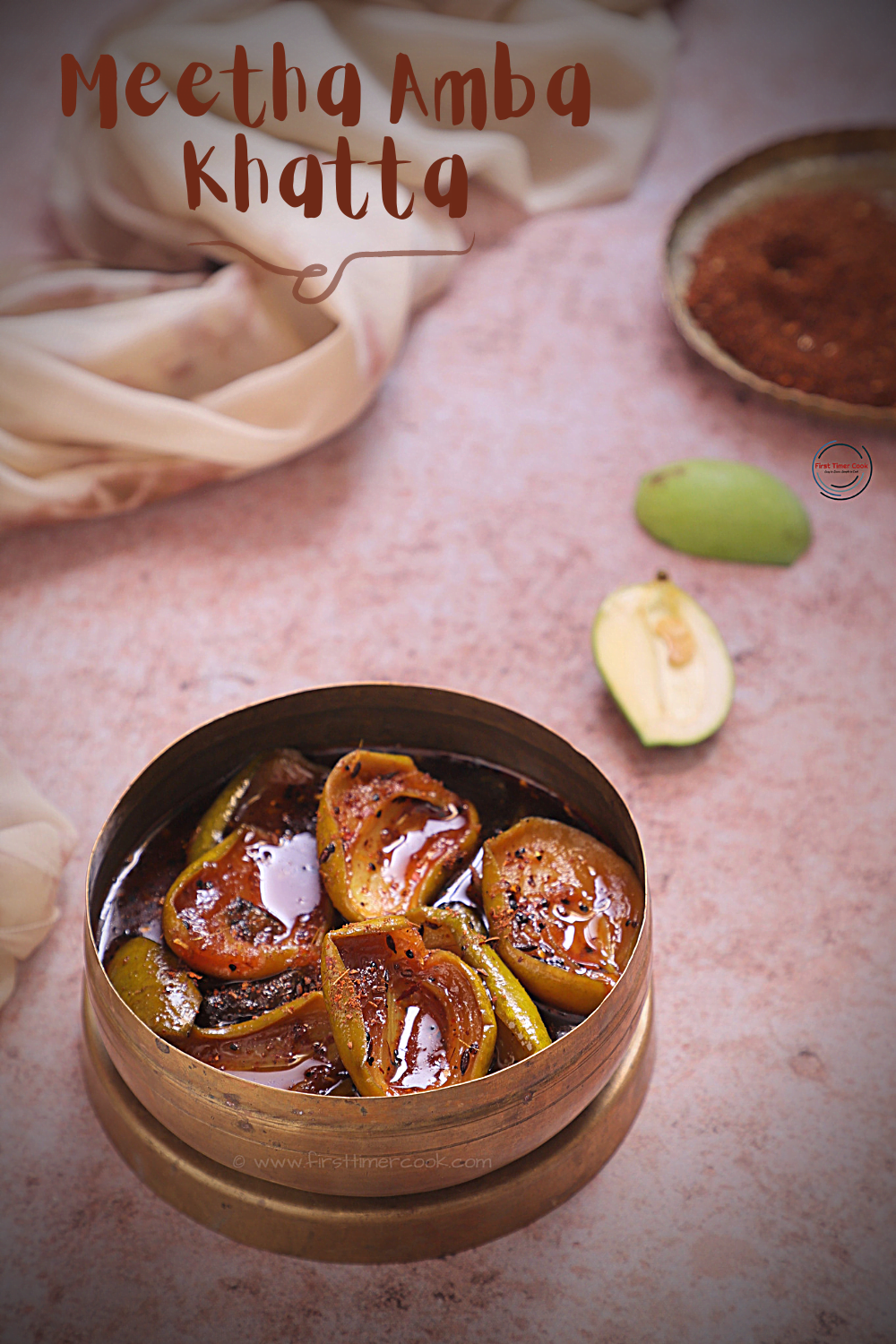 Author
Sasmita
Prep time
5 Min
Cook time
20 Min
Total time
25 Min
Meetha Amba Khatta | Raw Mango Relish (sweet version)
an Odia condiment using raw mango in sweet version
Ingredients
Raw mango (medium) 3-4 no
Jaggery / sugar ½ cup
Ginger (grated) ½ tsp
Cumin seed ¼ tsp
Mustard seed ¼ tsp
Dry chili 1 no
Green chili 1-2 no
Curry leaf 1 sprig
Turmeric powder ½ tsp
Chili powder 1/4 tsp
Cumin-chili powder (roasted) 2 tsp
Oil 2 tsp
Salt As needed
Water 3-4 cup
Instructions
Wash and clean the raw mangoes.
Chop all the mangoes into cubes and discard the seeds.
Heat oil in a pan.
Add red chili, cumin seeds, mustard seeds and allow to splutter.
Next add grated ginger and finely chopped green chili along with curry leaves. Saute a bit.
Then add mango cubes, turmeric powder, red chili powder, salt and mix everything well.
Add water and allow to boil.
Then lower the heat and allow to cook for 10-15 minutes.
Next add sugar / grated jaggery and mix again well.
Again allow to cook till mango pieces are soft enough.
Switch off the flame and sprinkle roasted cumin-red chili powder.
Serve hot / cold along with steamed rice or roti !
Notes:
I don't like to peel the mangoes. But if desire, then just peel the mangoes before chopping into cubes.
Adjust the consistency of the khatta as per choice by cooking for more time after the mango pieces are soften a bit.
Similar Recipes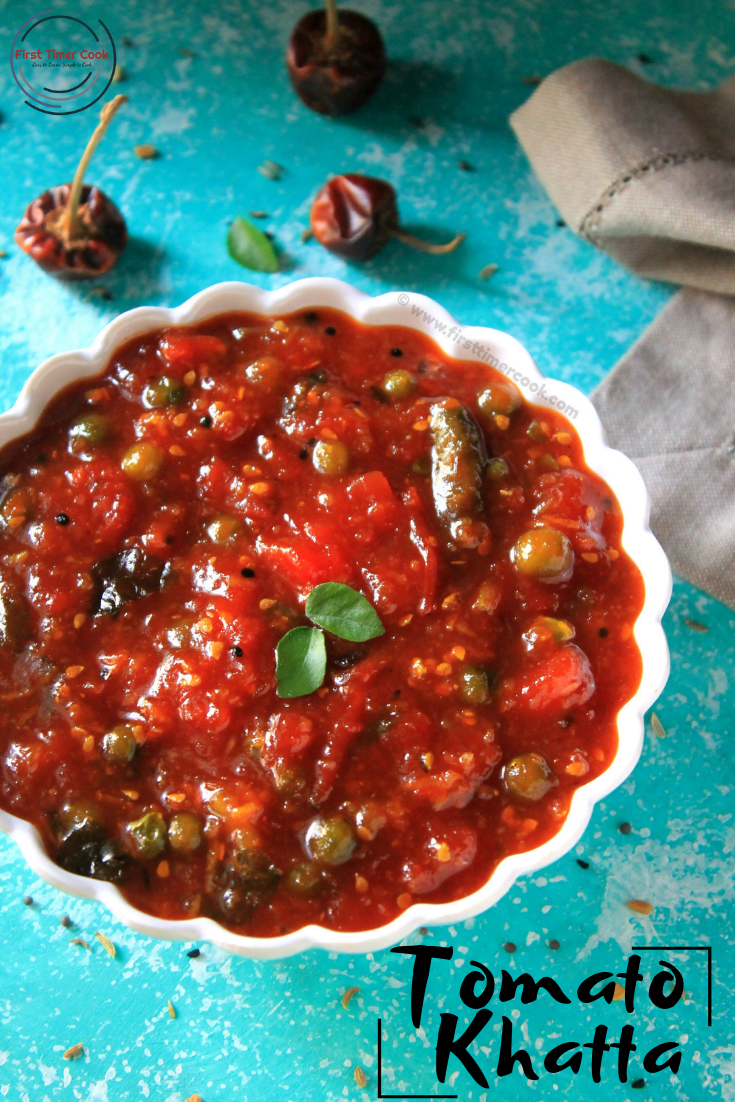 Tomato Khatta | Sweet Tomato Relish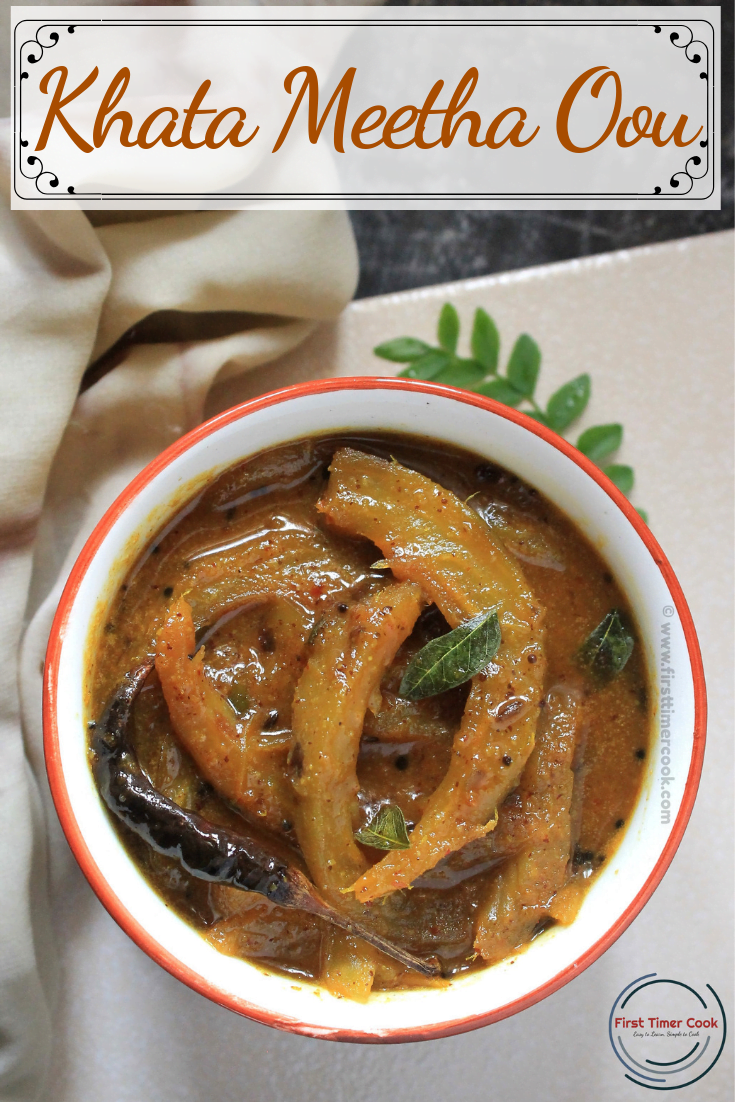 Khata Meetha Oou | Sweet & Sour Elephant Apple Relish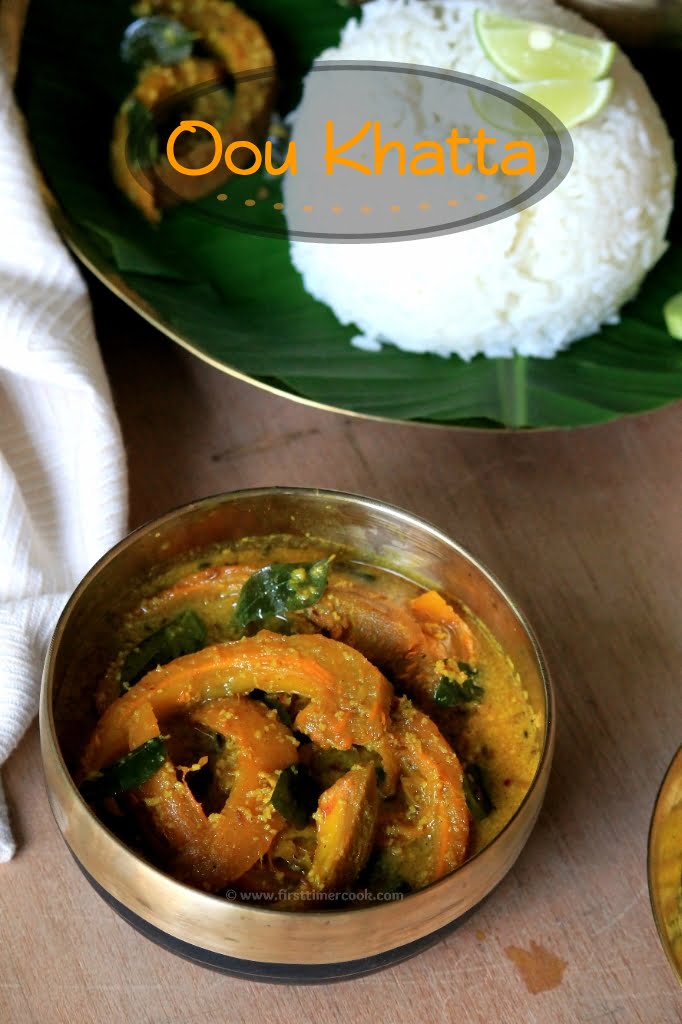 Meetha Oou Khatta | Sweet Elephant Apple Relish
https://firsttimercook.com/2018/07/meetha-amba-khatta-raw-mango-relish-sweet-version.html
Vegetarian, Indian condiment, jaggery, odia khata, raw mango, summer fruit,
Condiment, vegan, gluten free, Relish
Odia
Did you make this recipe?
Tag@firsttimercookon Instagram and hashtag it#firsttimercook
You may also follow me on Facebook, Pinterest, Twitter, Instagram, Youtube and can subscribe for free to get new recipes directly into your inbox 😊
PIN for Later :