Today is Monday. And I have been dedicating a post to the foodie group, Foodie Monday Blog Hop on each Monday since a long time. This time the theme of the group (151th) is decided as 'Corn Recipes'. Well, in India monsoon is now started in full phase. Corn is a food which is easily available during monsoons and all most all people love eating corn during monsoon with a dash of salt and lemon. It is the healthiest snack that one can have in monsoon rather than any other fried ones. I have already a post regarding this snack (Grilled corn on the cob).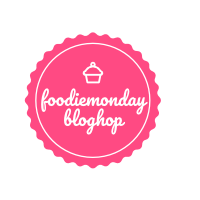 Corn also known as Maize is a food grain which is very rich in minerals, fibers and vitamins. It is also a great source of energy as it contains dietary fibers and carbohydrates. Apart from this, it has many health benefits too as
Good for digestion
Boost energy since a starchy one
Helps to lower bad cholesterol levels
Stops anemia
Reduces cancer risk (colon, breast cancer)
Helps to keep our eyes healthy etc.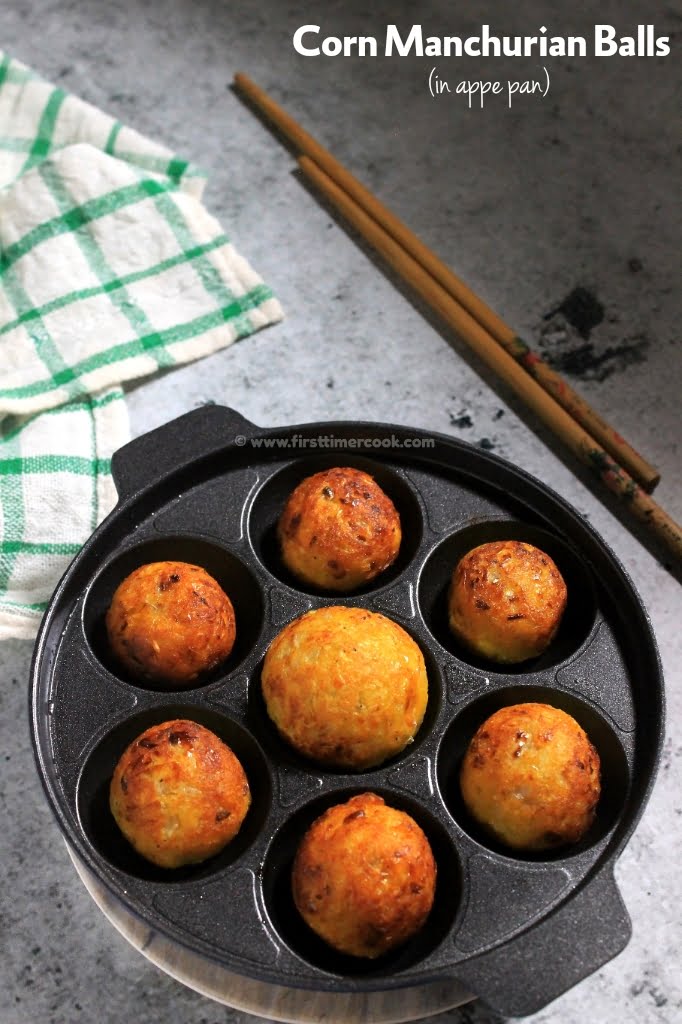 Corn can be used in our diet in many forms. Those varieties may be like Grilled corn on the cob, Corn Chat, Pizza loaded with corn kernels, Corn patties and lots more. Today here I have come up with Corn Manchurian Gravy. Sweet corn kernels are used to make this dish. Instead of deep frying the Manchurian balls, I have fried them in an appe pan with a healthy note. First some balls are prepared from the coarse mixture of corn kernels along with some spices and then fried in an appe pan. Finally those fried balls are added to the typical Manchurian gravy. This gravy dish can be thoroughly enjoyed along with fried rice, noodles or even with plain roti / chapati. The Manchurian balls taste a little sweet and are soft from inside crisp from outside.
So do try these Corn Manchurian (Gravy Version) in this monsoon. If you tried my recipe and enjoyed fully, then please share some pictures of your creation with me. Also kindly give your valuable feedback either in the comment box below or tag me as #firsttimercook on Instagram. You may also follow me on Facebook, Pinterest, Twitter, Google+, Instagram and can subscribe for free to get new recipes directly into your inbox 😊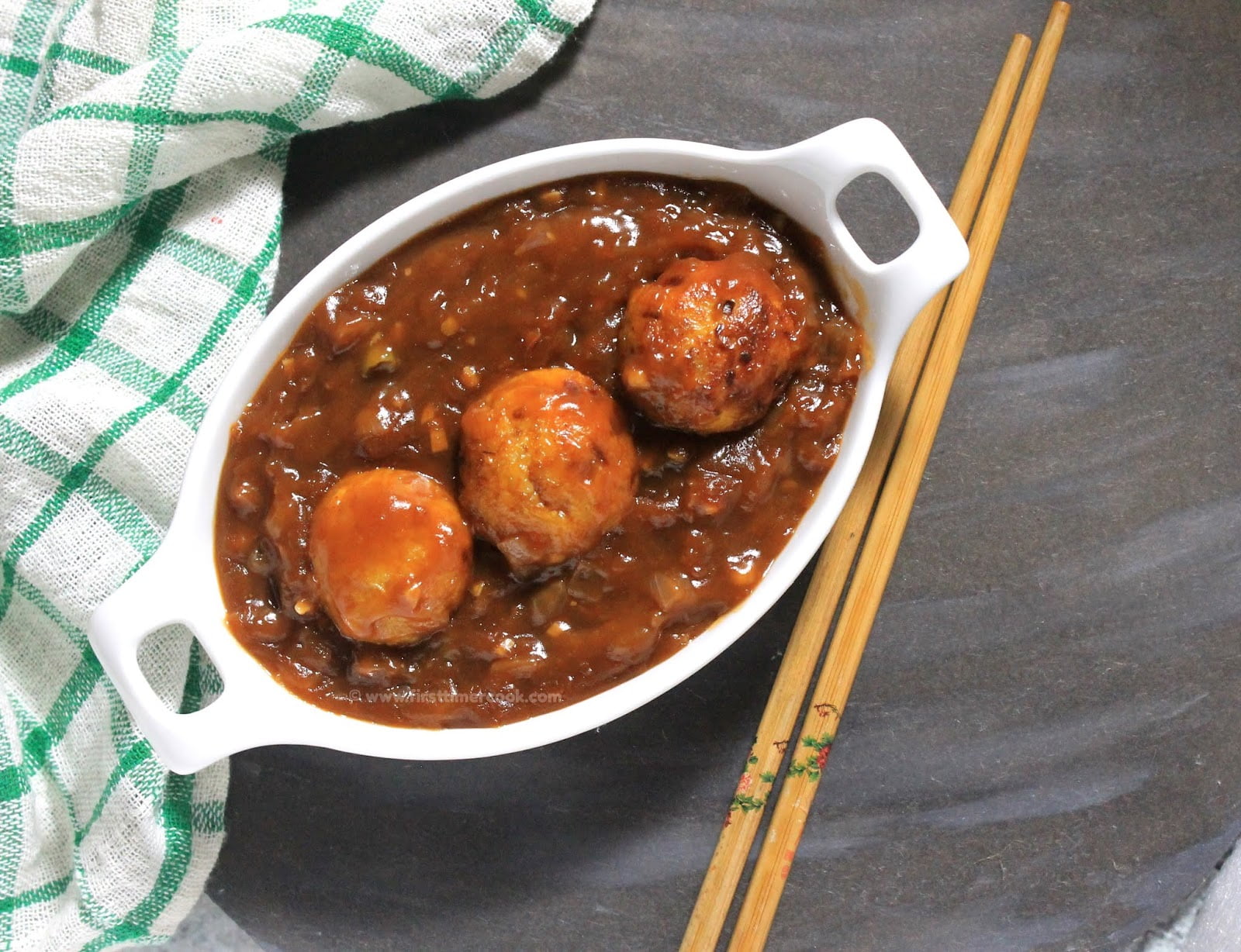 Preparation Time : 15 mins | Cooking Time : 20 mins
Ingredients :
Ingredients

Measurements

Manchurian Ball

Sweet corn kernel

1 cup

Onion (finely chopped)

¼ cup

Garlic (finely chopped)

½ tbsp

Green chili

1-2 no

All purpose flour

2 tbsp

Cornflour

1-2 tbsp

Black pepper powder

As needed

Salt

As needed

Water

As needed

Red chili-cumin powder (roasted)

1 tsp

Coconut (grated)

1-2 tbsp

Oil

1 tsp

Salt

As needed

Water

As needed

Oil

For greasing

Manchurian Gravy

Corn flour

1 tbsp

Onion (finely chopped)

¼ cup

Garlic (finely chopped)

1 tbsp

Ginger (finely chopped)

1 tbsp

Green chili

1-2 no

Black pepper powder

½ tsp

Soy sauce

½ tbsp

Tomato sauce

1 tbsp

Red chili sauce

1 tbsp

Vinegar

1 tsp

Sugar

¼ tsp

Salt

As needed

Water

As needed
​
Method :
Manchurian Ball :
In a blender jar, put all the corn kernels and blend into a coarse mixture.
Transfer to a bowl.
Add in chopped onion, finely chopped garlic, black pepper powder, salt, all purpose flour and cornflour.
Mix everything well and start making balls (around 2 inch size).
Now heat an appe pan with greased holes.
Keep one ball in each hole and allow to cook over low-medium heat.
Using a spoon, flip each ball to cook the other side.
Once the balls turn light brown color in all around, turn off heat.
Transfer all the Manchurian balls into a plate lined with paper towel and keep aside.
Manchurian Gravy :
In a small bowl, mix 1 tbsp cornflour along with 2 tbsp water and make a smooth mixture. Keep aside.
In another small bowl, take all the three sauces and mix very well. Keep aside.
Now in a pan, heat oil.
Add finely chopped onion, ginger, garlic, green chilies and stir fry over medium heat till the onions turn translucent.
Next add the sauce mixture and stir well.
Then add the cornflour mixture along with 1-1.5 cup water and give a stir.
Next add salt, black pepper powder, vinegar, sugar and mix everything well.
Allow to cook till the gravy starts thickening while stirring in between.
Now add the fried corn Manchurian balls to the gravy and gently coat each ball with the gravy.
Turn off heat and sprinkle some chopped spring onions.
Serve immediately these Corn Manchurian Gravy along with any noodles or fried rice or roti.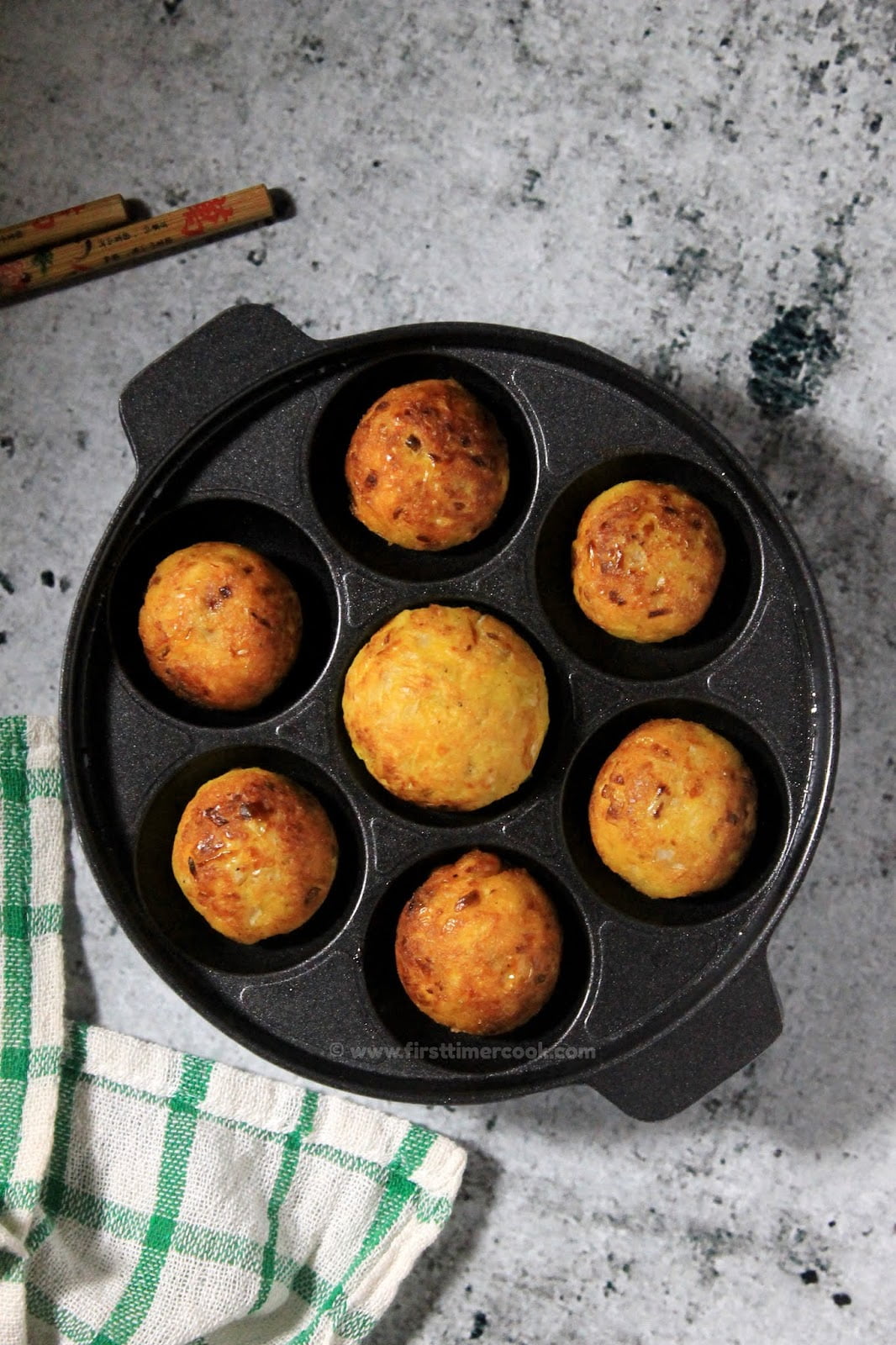 Notes :
Adjust the thickness of the gravy as desire by adding more or less water.
Addition of sugar is optional.
PIN for later :