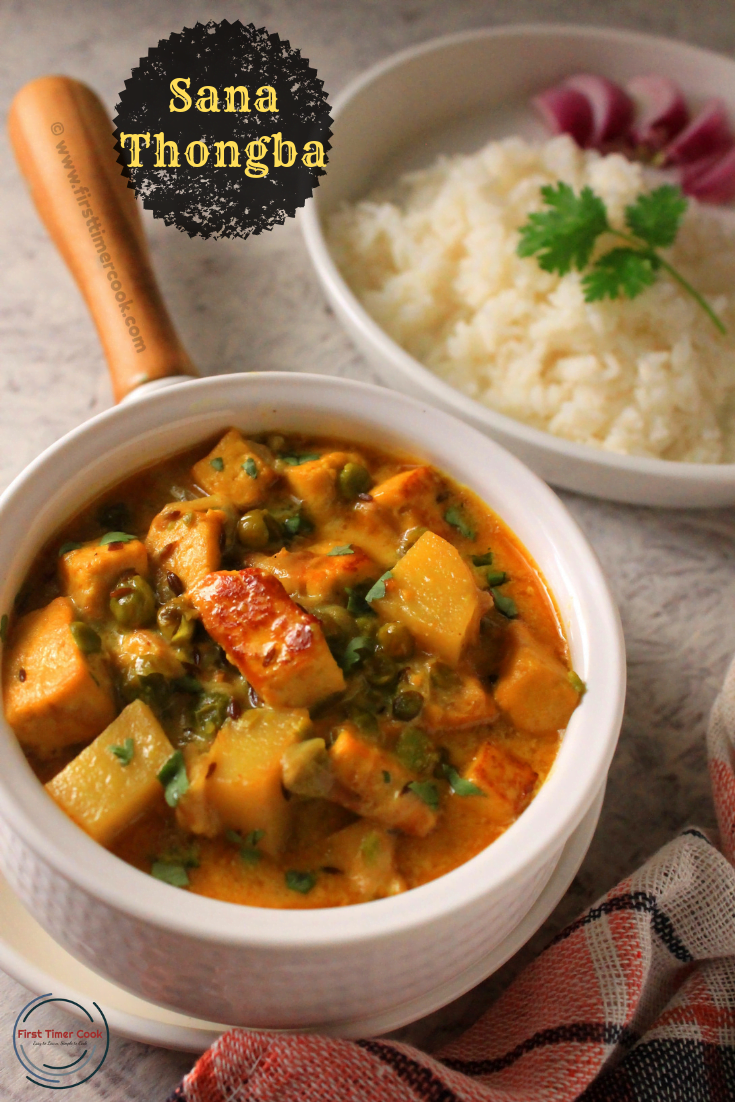 Manipur, one of the north-east state of Indian subcontinent is full of natural beauty and its cuisine, Manipuri Cuisine is equally alluring. The food of Manipur is considered to be very healthy. Their preparations are simple, yet tasty. Most of the ingredients they use are organic which again contributes to the health factor. Dishes are typically tasted as spicy foods that use mostly chili pepper rather than garam masala. The people of Manipur like to maintain a kitchen garden where they grow several flavoured herbs and roots that are exclusive to this region, hence the organic food leads to healthier options for them. A lot of Manipuri dishes like Aloo Kangmet, Sana thongba (paneer curry), Chana Kanghou, Chak angouba (fried rice), Nga-thongba (fish curry), Ooti etc are not hard to prepare atall and these can please any age group.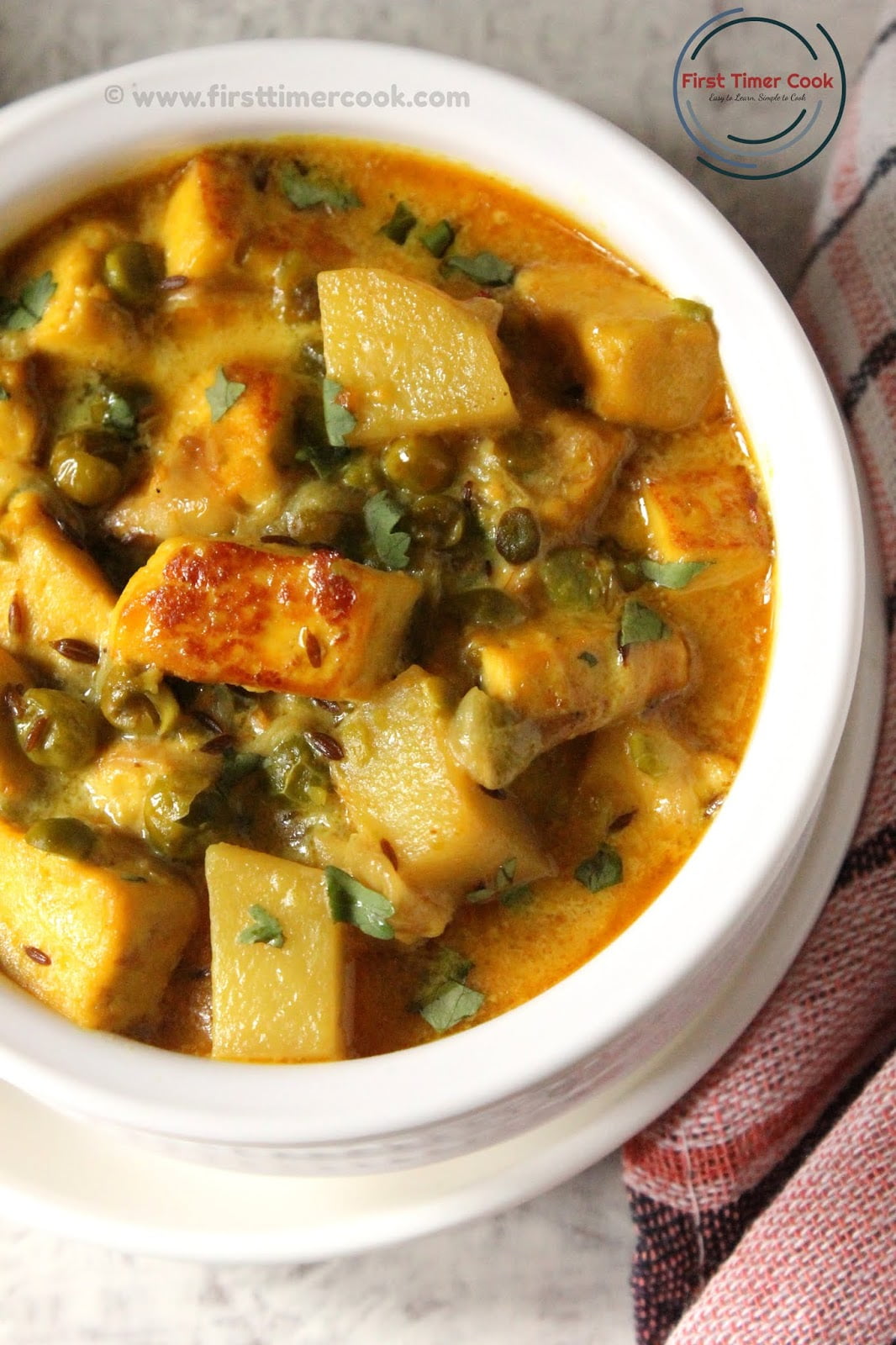 Well the first month of this new year comes to an end. And the January month we the 'Shhhhh Cooking Secretly Challenge' group has decided to go for 'Manipuri cuisine'. For this theme, my partner was Anu Kollan who gave me 2 secret ingredients as Paneer and Cumin seeds and I gave her as Black rice and Salt. As usual, using mine two ingredients I had to prepare a dish from Manipuri cuisine. So I have come up with the most popular paneer curry from that cuisine as 'Sana Thongba' using these two ingredients.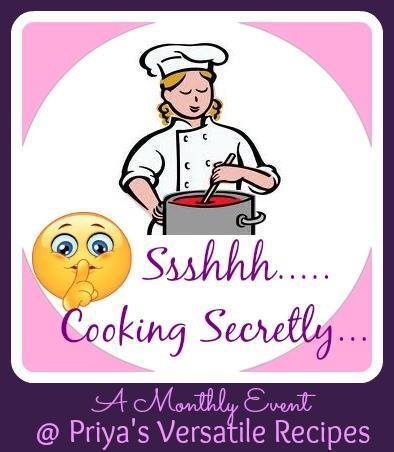 In manipuri language, the paneer is named as Sana. Sana thongba / manipuri paneer curry is so much simple yet very tasty curry. This is one of the most popular vegetarian dish in the traditional Manipuri vegetarian feast (belongs to Meitei community)called Ushop. This paneer dish has minimal number of spices like only turmeric powder, cumin seeds and so quick to prepare as well. It goes very well with steamed rice, poori / roti. The pleasantly beautiful yellow color of the curry is particularly from the turmeric and milk in it. The spicy factor I have not added anything as my boy's favorite dish is this. But some finely chopped green chilies can be added at the end while adding some chopped coriander leaves. So do try when your pantry has some paneer 🙂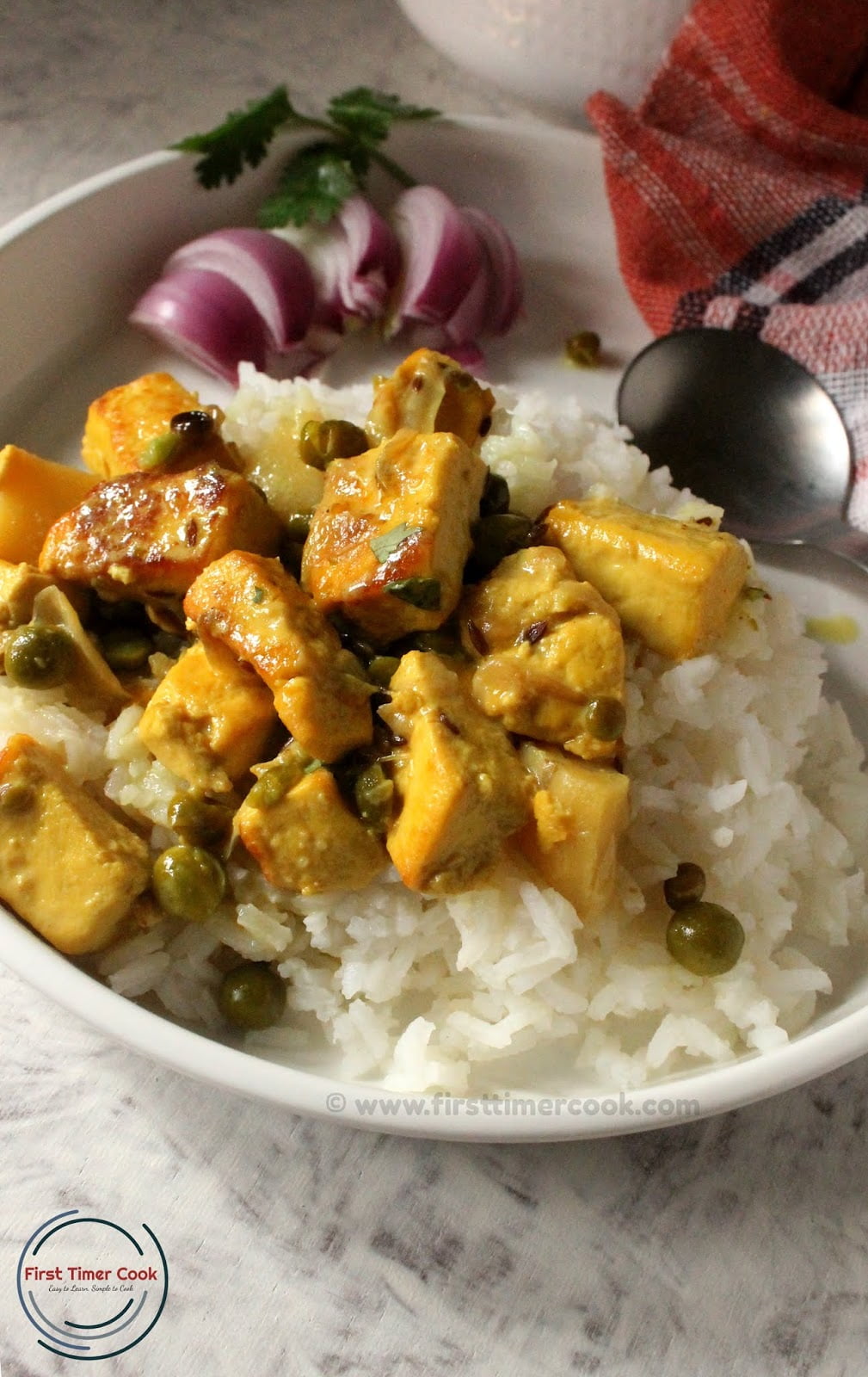 Recipe Card for ' Sana thongba' :
Manipuri Cuisine
Author: SasmitaPin it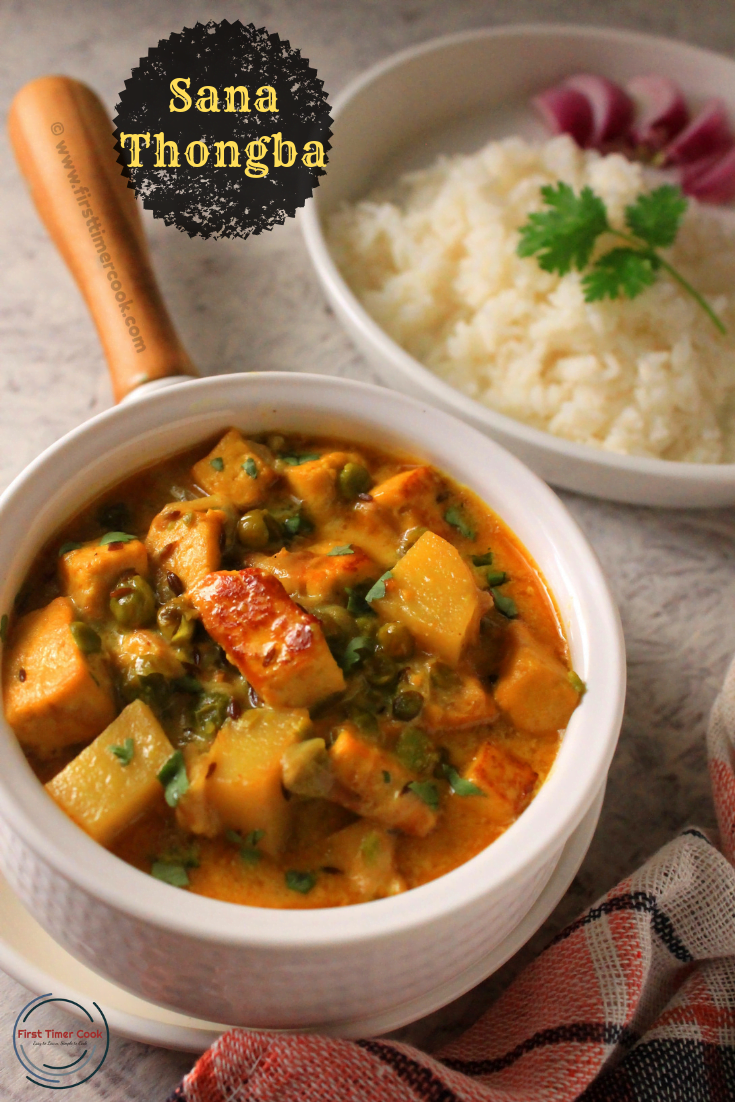 Sana Thongba / Manipuri Paneer Curry
a simple yet flavorful paneer dish from Manipuri cuisine
prep time: 15 minscook time: 20 minstotal time: 35 mins
ingredients:
Paneer (sana)(cut into 1 inch cube) 200 gm
Potato (medium) (chopped into 1 inch size) 1 no.
Green pea (fresh) 1/2 cup
Milk 1 cup
Onion (medium) (finely sliced) 1 no.
Ginger garlic paste 1/2 tsp
Cumin seed 1/2 tbsp
Turmeric powder 1 tsp
Mustard oil 1 tbsp
Coriander leaves (finely chopped) 2 tbsp
Salt as needed
Water as needed
instructions
First heat mustard oil in a pan.
Add in cumin seeds and allow to crackle.
Then add onion slices and saute till translucent.
Add ginger garlic paste and fry till raw aroma goes away.
Next put the potato pieces, green peas and fry for 1-2 minutes.
Then add paneer / sana cubes and fry gently till paneer cubes start looking golden brown.
Sprinkle turmeric powder, salt and mix everything well gently.
Fry for 1 minute more and then pour 1/3rd cup water.
Cover the pan with a lid and allow to cook till potato pieces are done.
Next add milk and allow to boil.
When the boiling starts, immediately turn off heat.
Sprinkle some chopped coriander leaves and serve hot along with steamed rice !
NOTES:
If fresh peas are not available then use the fozen ones. Also the dried green peas can be used after boiling.            
If spiciness desired, the some chopped green chilies can be added along with coriander leaves.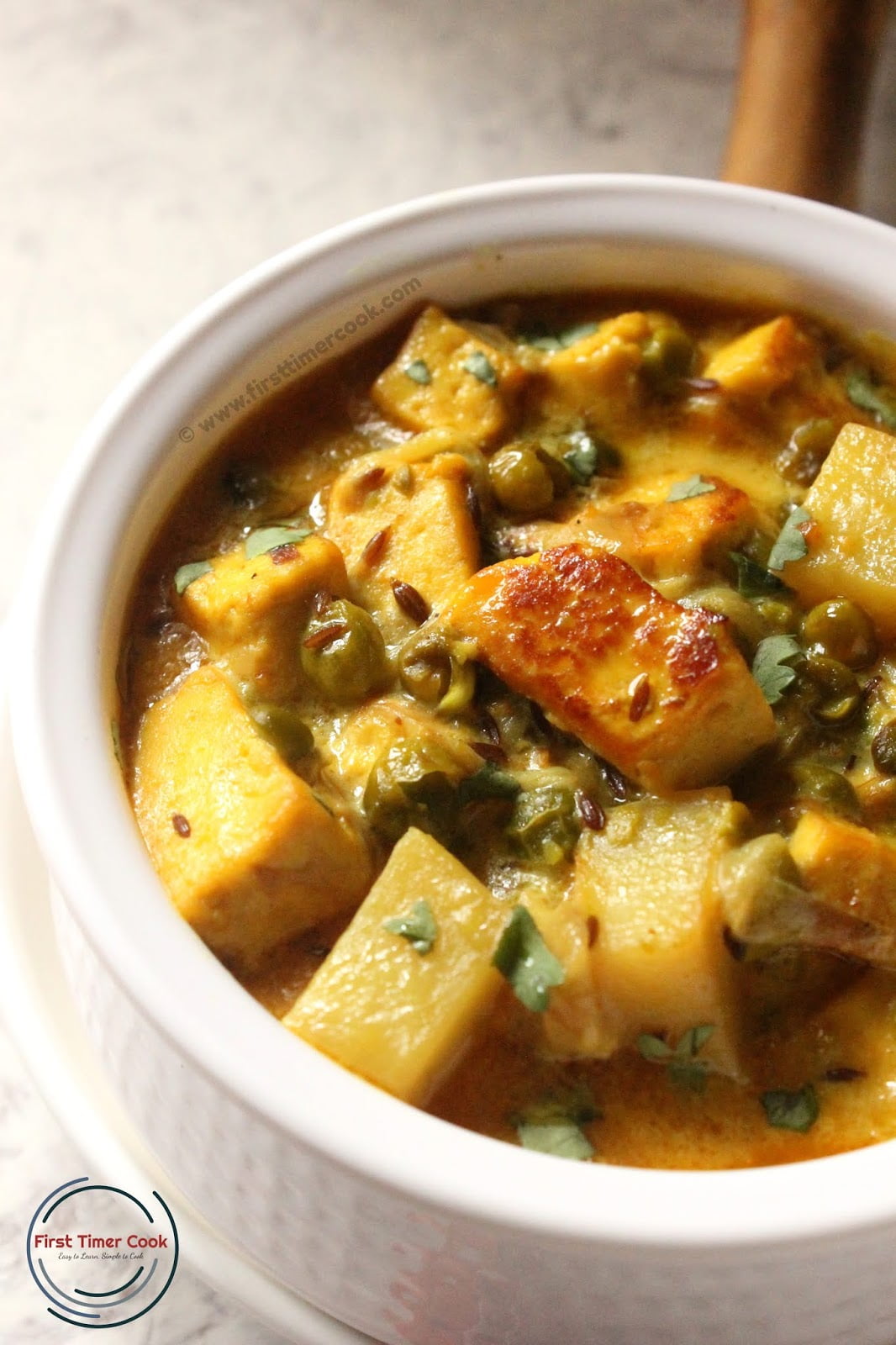 If you tried my recipe and enjoyed fully, then please share some pictures of your creation with me. Also kindly give your valuable feedback either in the comment box below or tag me as #firsttimercook on Instagram. You may also follow me on Facebook, Pinterest, Twitter, Google+, Instagram and can subscribe for free to get new recipes directly into your inbox 😊

PIN for later :