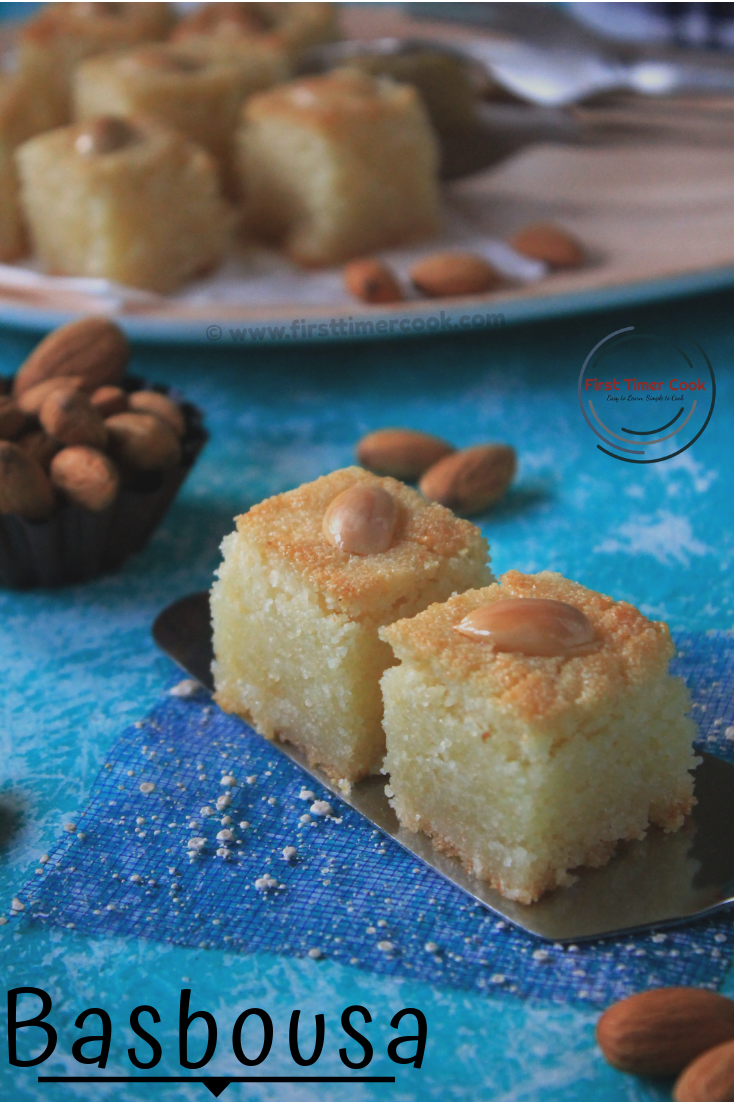 Monday is here again. This time the foodie group, Foodie Monday Blog Hop is decided the 181th theme as 'Levantine Cuisine' and the theme is suggested by Shujata Shukla di who blogs at Pepper on Pizza. Levantine cuisine is the traditional cuisine of the Levant, which covers a large area of the Eastern Mediterranean. The much popular dishes of this cuisine include Hummus, Baba ghanoush, Falafel, Basbousa, Shawarma and many more. Well, I have picked up the dish Eggless Basbousa for theme contribution here.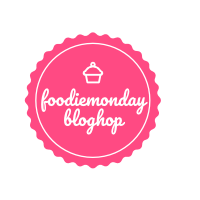 Basbousa is a middle eastern favorite dessert dish which is basically a sooji / semolina cake. This cake is not at all over sweetened while making the batter but it is soaked in sugar syrup and flavored with some rose water after baking. This cake can be prepared with egg or without egg, with coconut or without coconut, with milk or yogurt. So there can be so many versions of this simple sweet dish.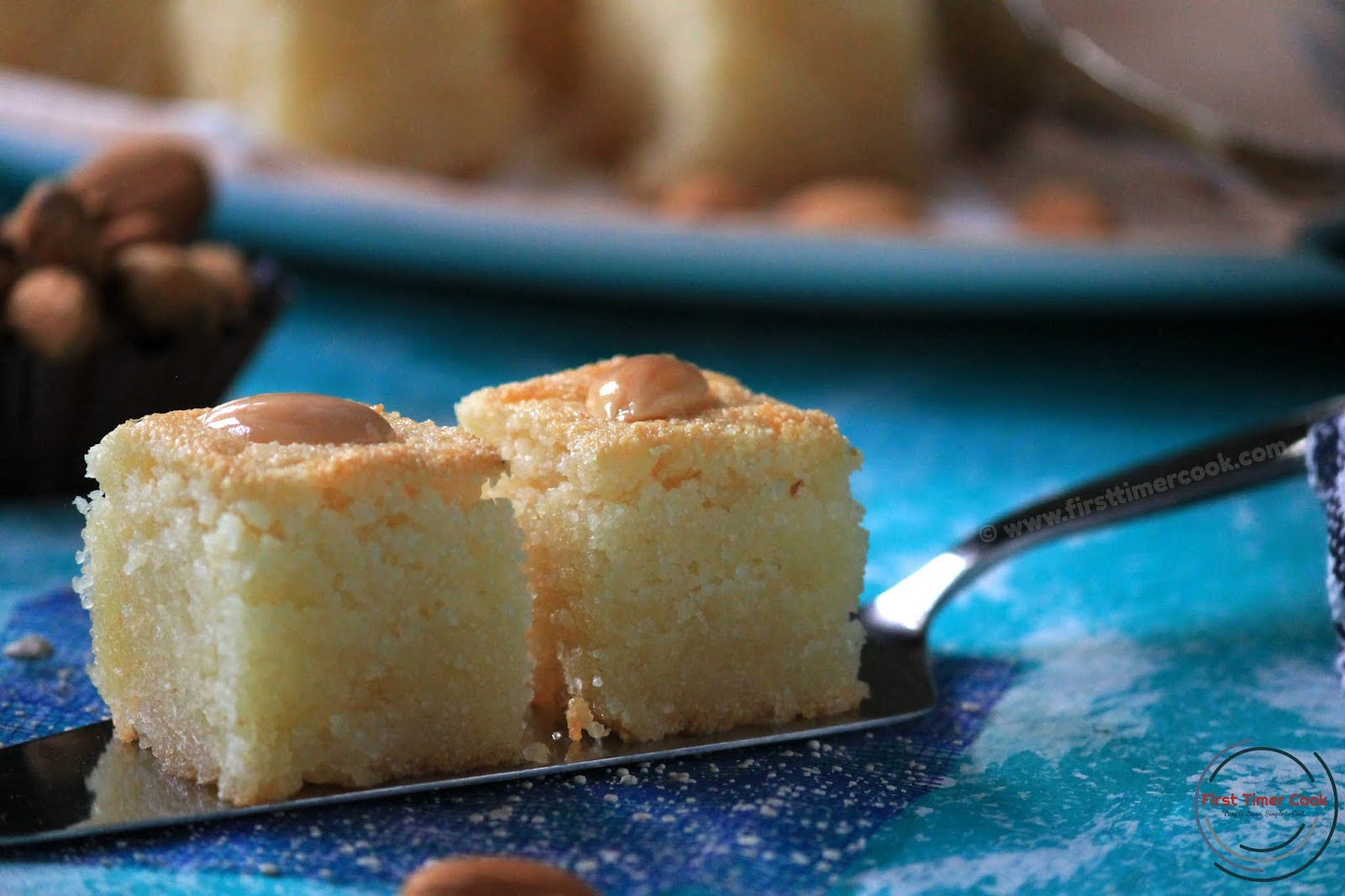 I have prepared the dish with some desiccated coconut here along with milk and without using egg. The semolina texture can be picked up as coarse or fine for this cake. Although the traditional version demands for resting the batter overnight and also I have followed the traditional way, still the batter can be used just after resting the batter in refrigerator for 30-40 minutes. A syrup of normal consistency is prepared before hand which has a rose flavored in all over. This syrup is basically poured after the cake is baked. Since the sweetness is drizzled after baking, so the sweet factor of the batter is always kept to a minimal. This cake tastes best on the next day of baking as the syrup is fully soaked in the cake. This super soft and yummy cake is perfectly fit for any party. In each bite, the combination of semolina and coconut can be thoroughly enjoyed. So do try this gluten free cake using semolina and coconut as Basbousa.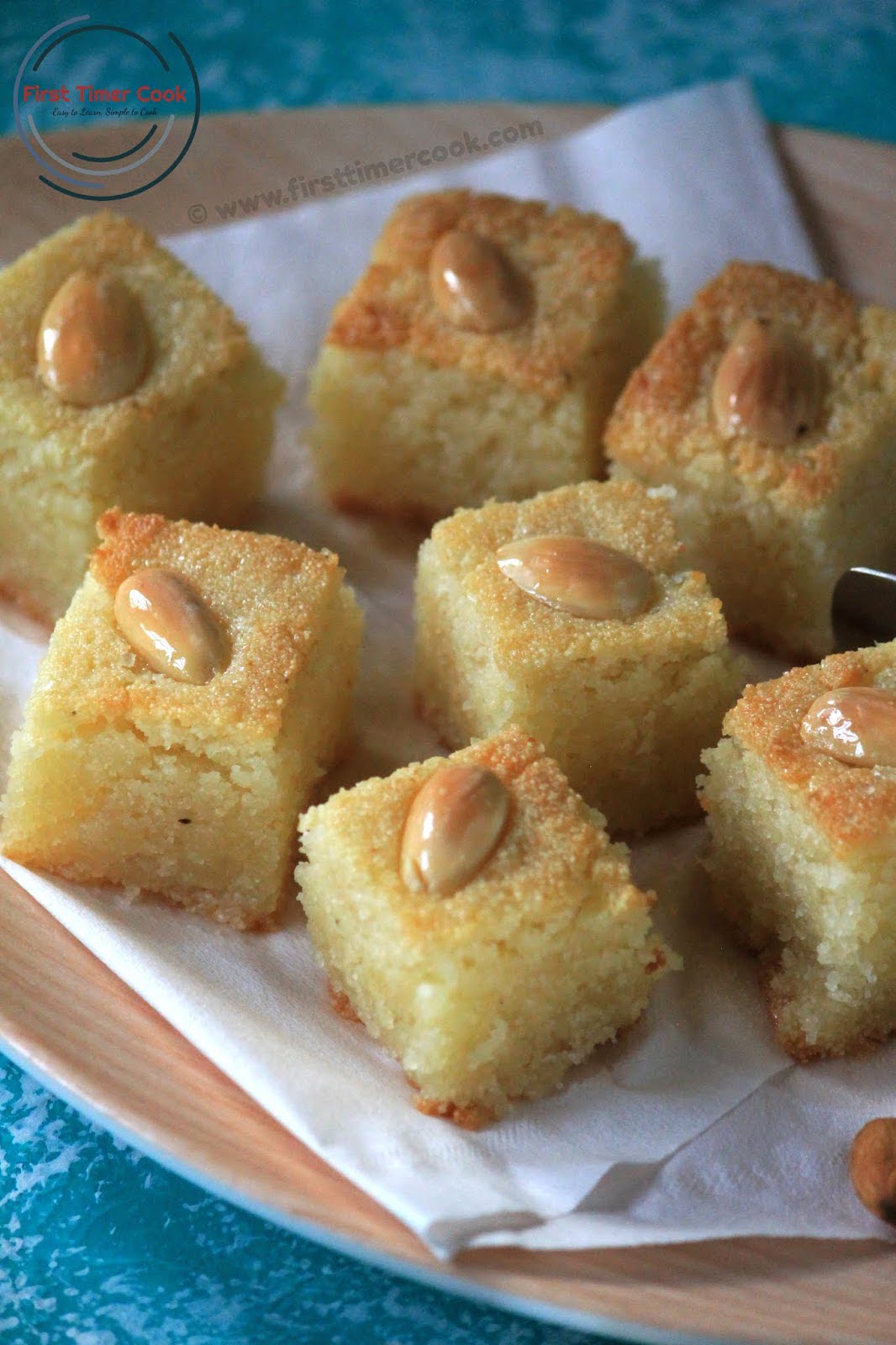 Recipe Card for 'Egg-free Basbousa / Egg-free Semolina Cake from Levantine Cuisine' :
Egg free, Semolina, Desiccated coconut, Basbousa, Glutenfree
Gluten free baking, Semolina Cake
Levantine
Author: SasmitaPin it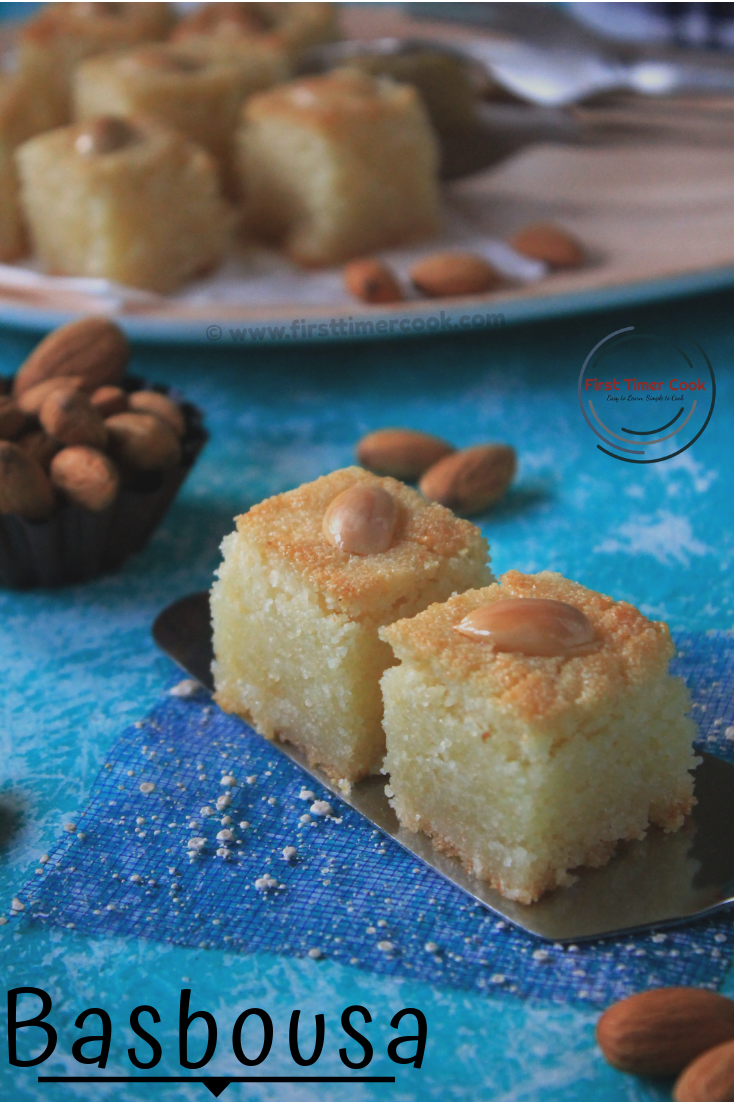 Eggless Basbousa
an egg free semolina cake from Middle Eastern dessert dunked in simple rose flavored sugar syrup
prep time: 10 minscook time: 45 minstotal time: 55 mins
ingredients:
For Sugar syrup
Sugar 1/2 cup
Water 4 tbsp
Lemon 1/2 tsp
Rose essence 1/8 tsp
For cake
Semolina 1 cup
Desiccated coconut 1/4 cup
Baking powder 3/8 tsp
Sugar 1/4 cup
Milk 3/8 cup
Butter 5 tbsp
Salt 1/8 tsp
Vanilla essence 1/2 tsp
Almond 1/4 cup
instructions
First soak almonds in a small bowl containing hot water for 15 minutes.
After that peel the almonds and cut each peeled almonds into two halves. Keep aside.
For syrup
In a saucepan, take sugar and water.
Start boiling till sugar melts completely and the syrup looks a bit thick.
Turn off heat.
Add lemon juice, rose essence and stir well.
Keep aside to cool down.
For Cake
In a mixing bowl take semolina (sooji), sugar, desiccated coconut, baking powder, salt and mix well.
Then add wet ingredients like vanilla essence, melted butter and milk.
Using a hand whisk mix everything well to get a thick consistency of batter.
Pour this batter into a baking pan lined with parchment paper.
Put the baking pan then in refrigerator for at least 3 hours / overnight.
Then lightly mark the batter with knife into 2.5-3 cm square / diamond shapes (approximately) and place a halved almond in the center of each square.
Bake for 30-35 minutes at 180 deg C.
Take out from oven and cut again through the already marked lines.
Again bake for 10-15 minutes or till the top looks light brown in color and a toothpick if inserted in the middle of the cake that should come out cleanly.
Next take out from oven and immediately using a spoon drizzle all the sugar syrup on top of the cake gently.
Keep aside the whole cake to soak in sugar syrup completely for around 1-2 hours.
Then cut into the marked slices and serve !
NOTES:
The overnight refrigeration of the batter results in a very good texture of the cake.
Although almond is mostly used, still any other nuts like cashew, raisins can also be used.
https://firsttimercook.com/2019/02/egg-free-basbousa-egg-free-semolina-cake-from-levantine-cuisine.html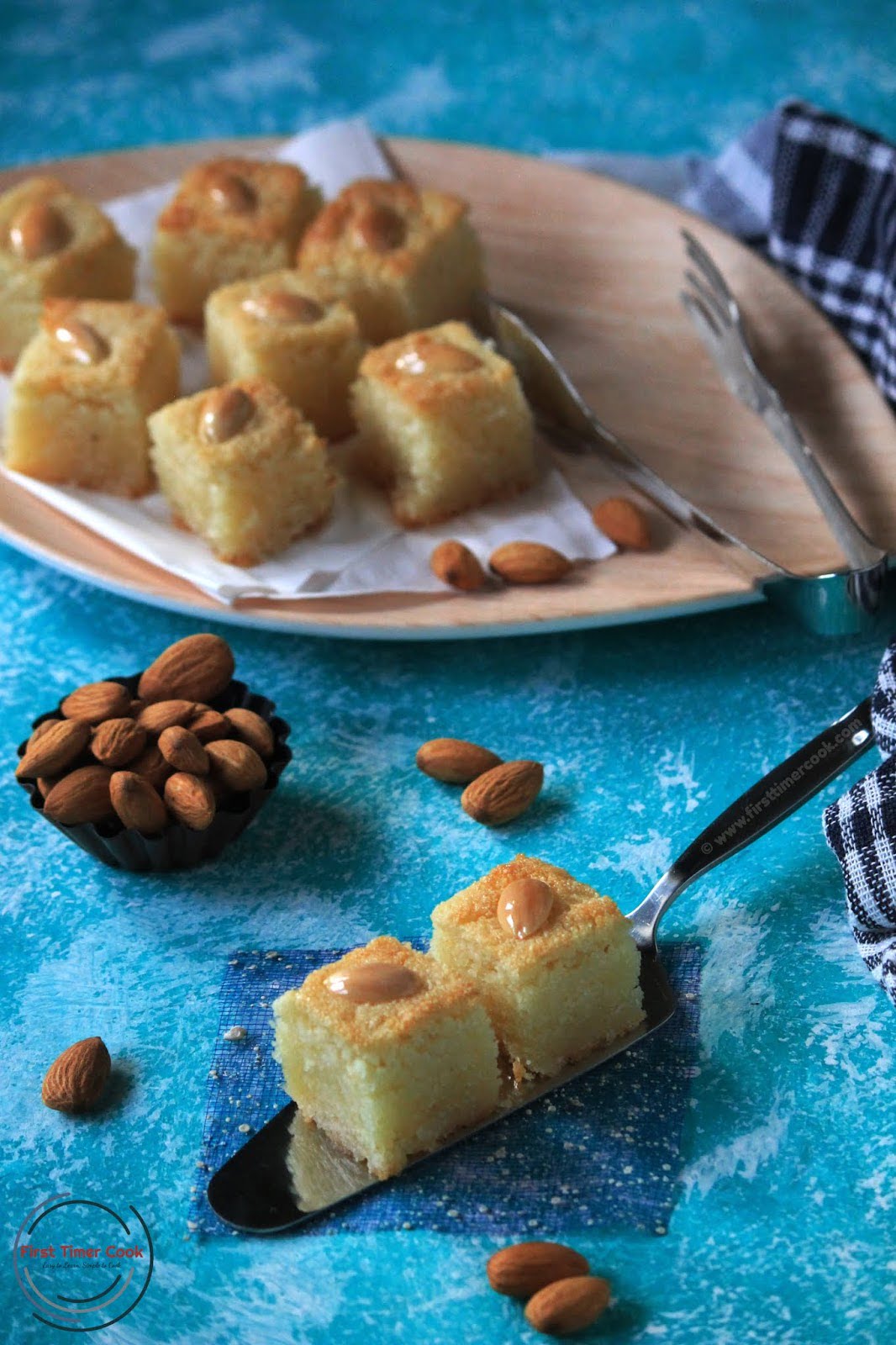 If you tried my recipe and enjoyed fully, then please share some pictures of your creation with me. Also kindly give your valuable feedback either in the comment box below or tag me as #firsttimercook on Instagram. You may also follow me on Facebook, Pinterest, Twitter, Google+, Instagram and can subscribe for free to get new recipes directly into your inbox 😊

PIN for later :