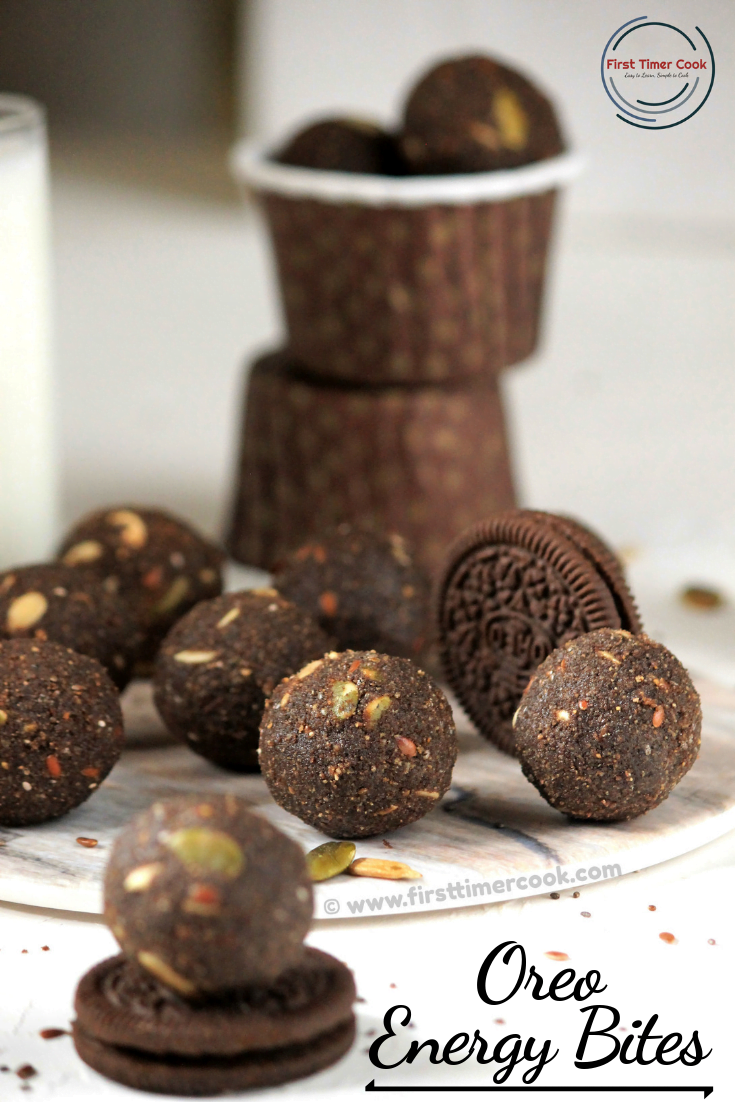 Oreo cookies !!! What's not to love about these 😛. A thick, creamy center is sandwiched between two crisp chocolate cookies. Just along with a glass of milk, it definitely makes a perfect dessert itself. Many other varieties of desserts using these sandwiched cookies also can be prepared which are the ultimate indulgence.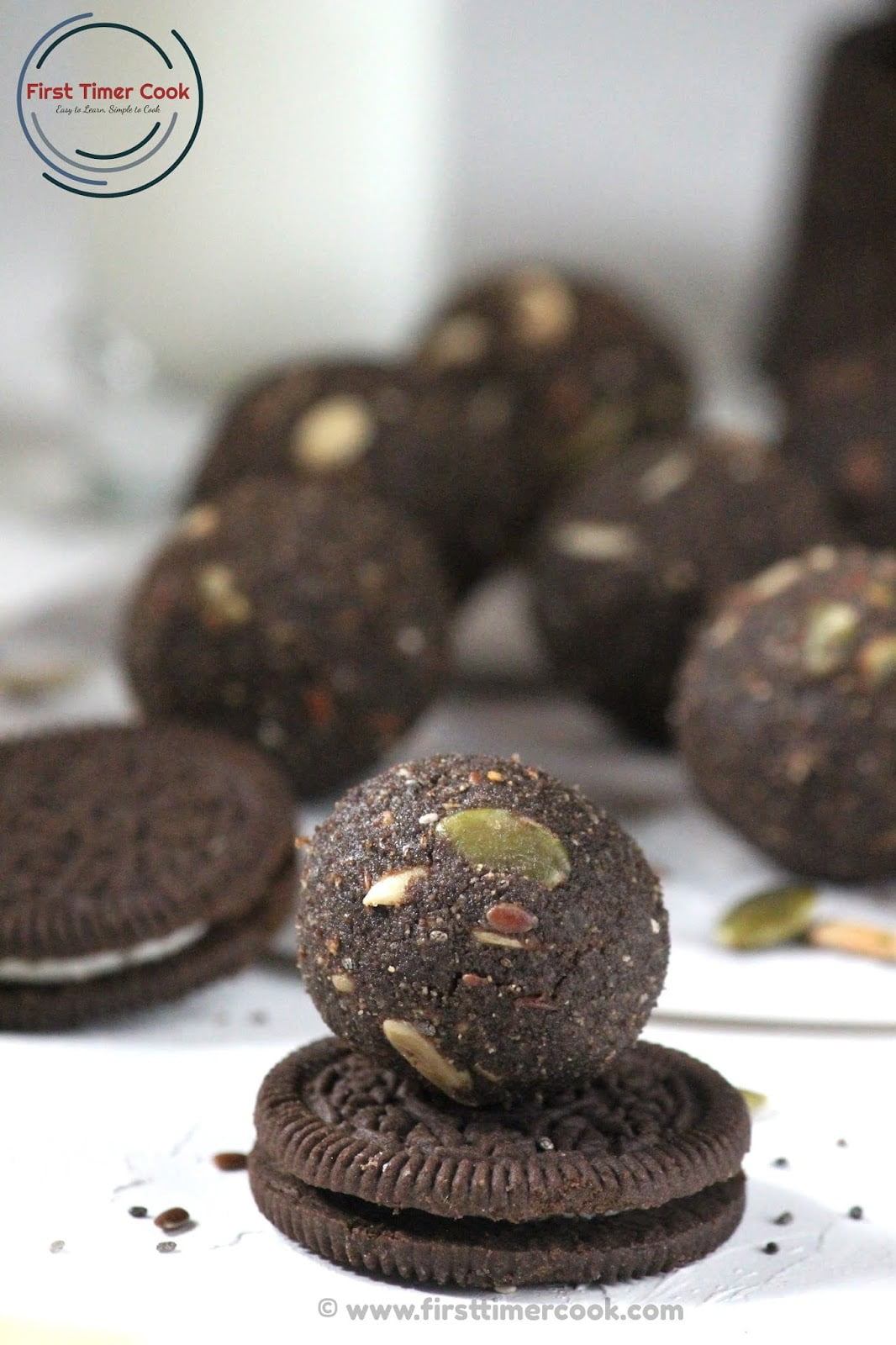 Here I have come up with some bite sized balls using these Oreo cookies as Oreo Energy Bites. Only with just three ingredients, these super delicious energy bites are prepared. Some dry roasted seeds are added to get some crunch while munching these. In that list of seeds, I have chosen flax seeds, chia seeds, sesame seeds, sunflower seeds, pumpkin seeds. But the list is totally choice-able, since these are available in my pantry so I have added all these. The raw seeds can be preferred, still by slightly dry roasting these seeds get some extra crunch.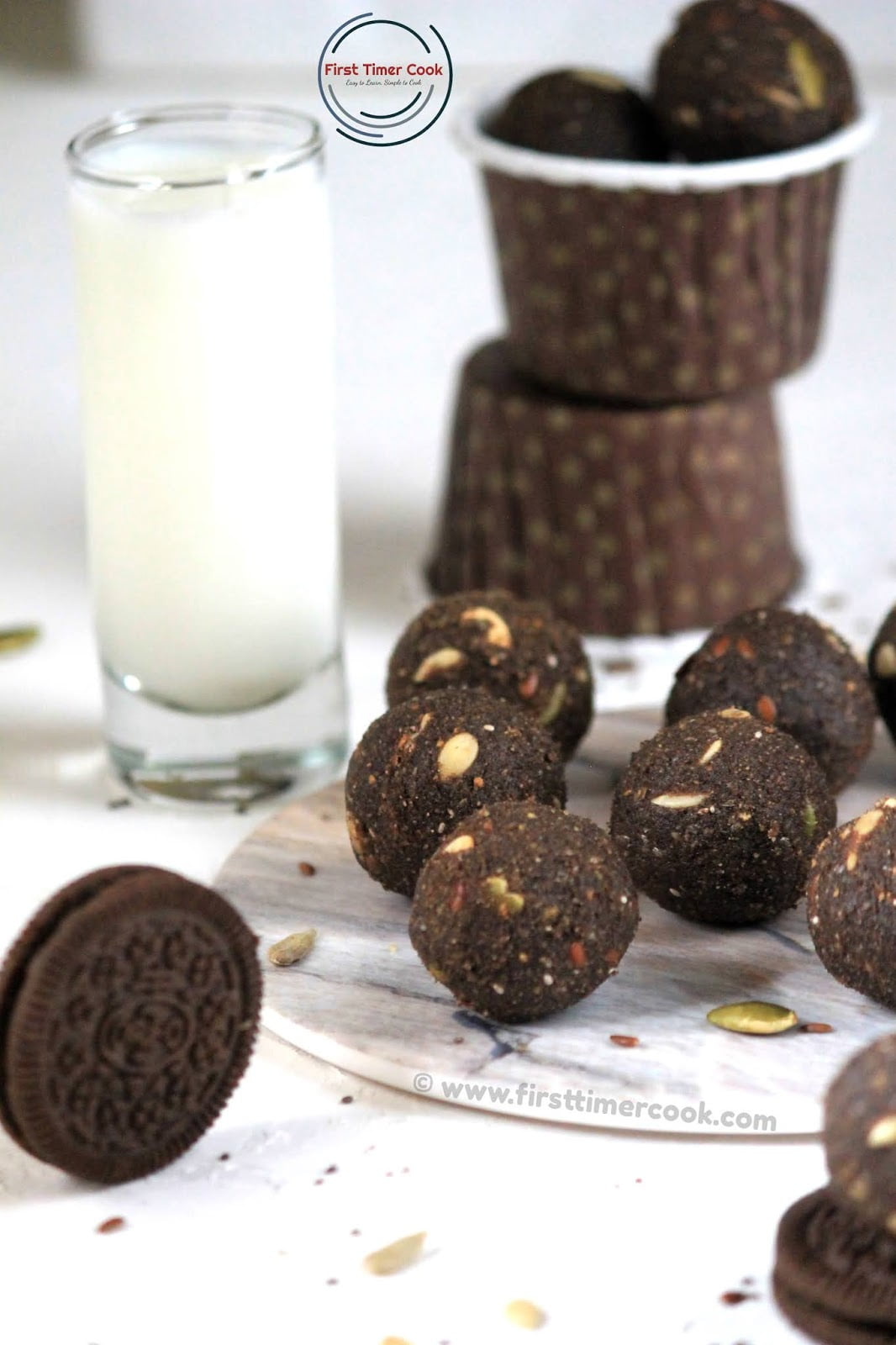 This Oreo energy bites are so tasty and healthy sweets which don't require any cooking process. Just in a mixing bowl all the three ingredients are mixed up and balls are made. So the recipe is so simple and quick to prepare with easily available ingredients as well as a healthy snack. While in a hurry mood / post workout session, these energy bites'll surely fulfill the hunger-pangs. Also kids'll thoroughly grab these with a happy mood 😊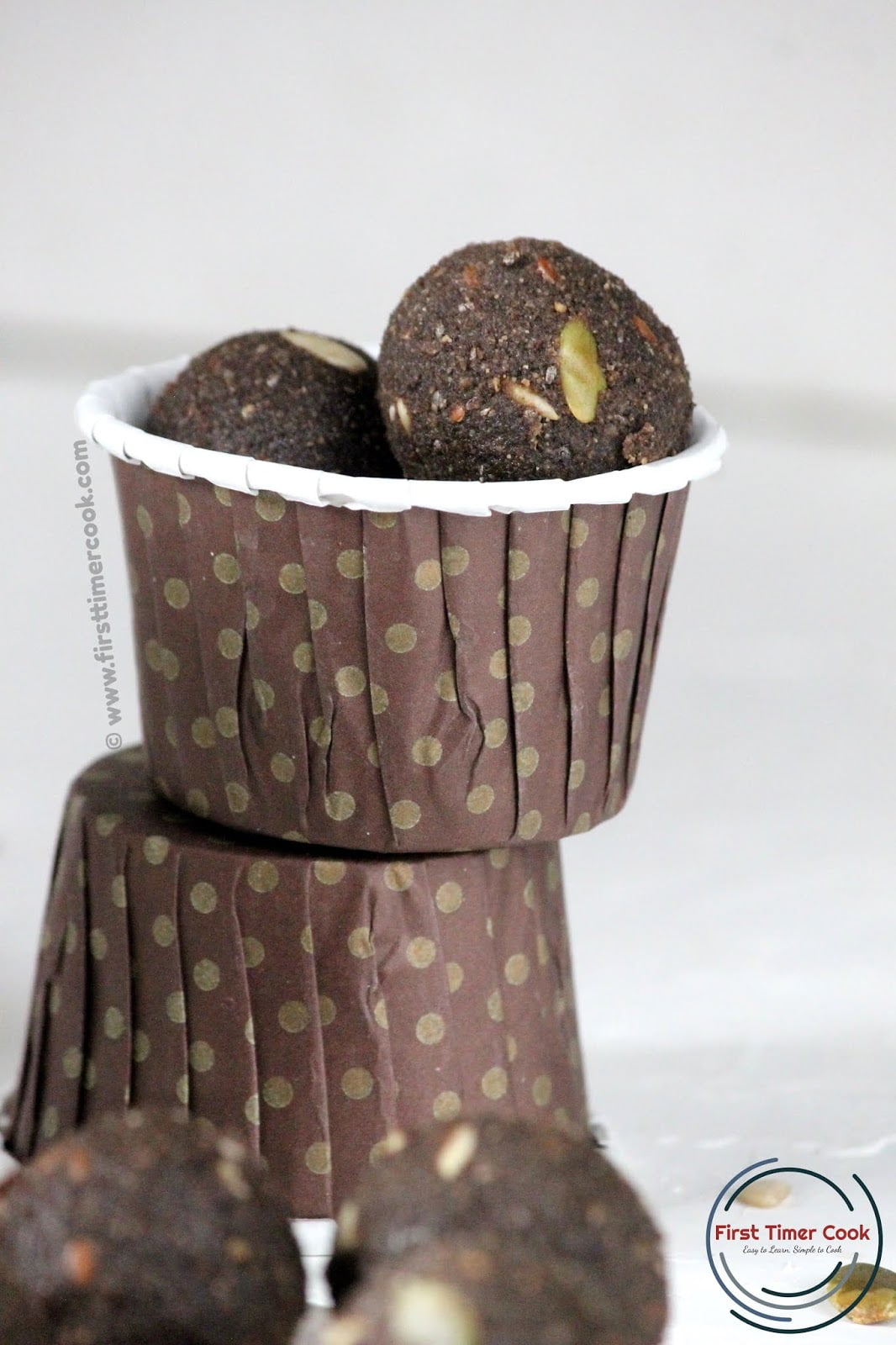 Recipe Card for 'Oreo Energy Bites' :
Healthy, Energy bites, Peanut butter, Oreo, Dry seeds
Dessert
Author: SasmitaPin it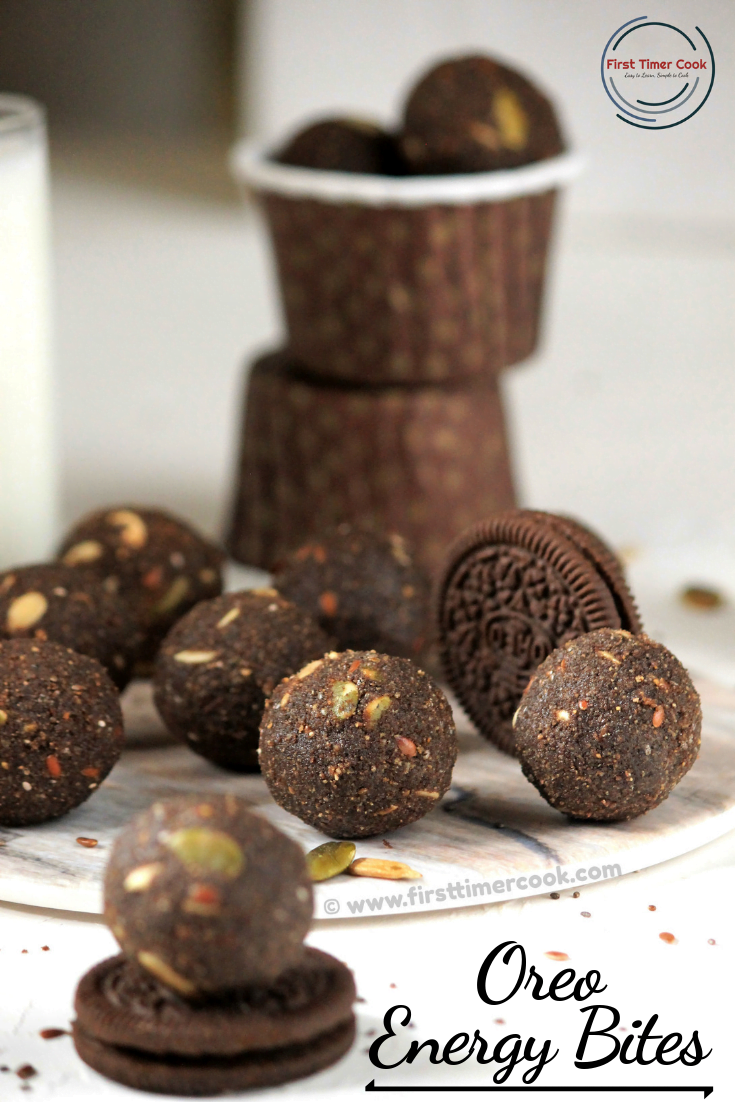 Oreo Energy Bites
No cook energy bites using only three ingredients
prep time: 15 minscook time:total time: 15 mins
ingredients:
Oreo biscuit (powdered) 1 cup
Peanut butter 1/2 cup
Mixed seeds (dry roasted) 2 tbsp
(Flax seeds, Chia seeds, Sesame seeds, Sunflower seeds,Pumpkin seeds)
instructions
In a mixing bowl take Oreo biscuit powder, peanut butter and dry roasted mixed seeds like flax seeds, chia seeds, sesame seeds, sunflower seeds, pumpkin seeds.
Using finger, mix everything well.
Next take 1-2 tbsp of the mixture at a time and start making round ball shapes.
Keep all these energy bites in an air tight container and serve when desired !
NOTES:
If ball shape is not easily formed then add 1-2 tsp milk in the mixture to bind. I haven't added any milk though here.
https://firsttimercook.com/2019/01/oreo-energy-bites.html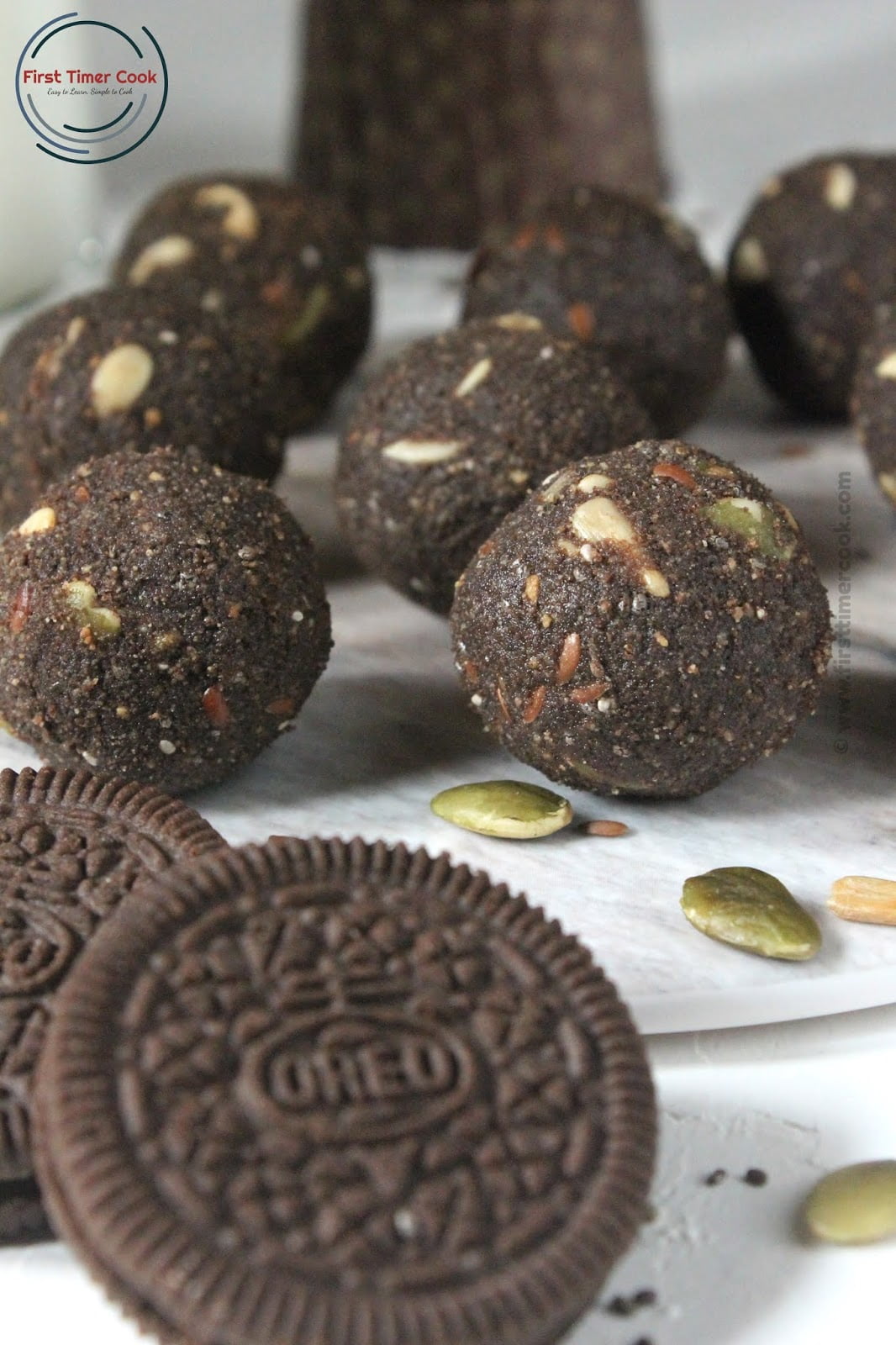 If you tried my recipe and enjoyed fully, then please share some pictures of your creation with me. Also kindly give your valuable feedback either in the comment box below or tag me as #firsttimercook on Instagram. You may also follow me on Facebook, Pinterest, Twitter, Google+, Instagram and can subscribe for free to get new recipes directly into your inbox 😊
PIN for later :

This 'Oreo Energy Bites' is contributed for 60th Healthy Wellthy Cuisines where the theme is 'Twist with Biscuit at HW'. Here are more similar recipes shared by our Healthy Wealthy Group members as Chocolate Biscuit Cake, Cheeslings Chaat, Biscuit Cake, Easy Fruit Trifle, Marie Biscuit Cake, Chocolate Nutella Tart, Biscuit Bhel, Carrot Paneer Mousse, No bake Swiss Roll, Pizza Crackers.