Nowadays as more and more people are looking to sip on super-foods rather than sugary sodas, pomegranates have become increasingly popular everywhere that can be popping up on trendy salad, martini menus etc.
Since festive season is going on, sothese days nothing can give a refreshment feel other than a beverage.
What about Minty Pomegranate Spritzer – a refreshing fresh and fruity beverage using pomegranates with a minty flavor !!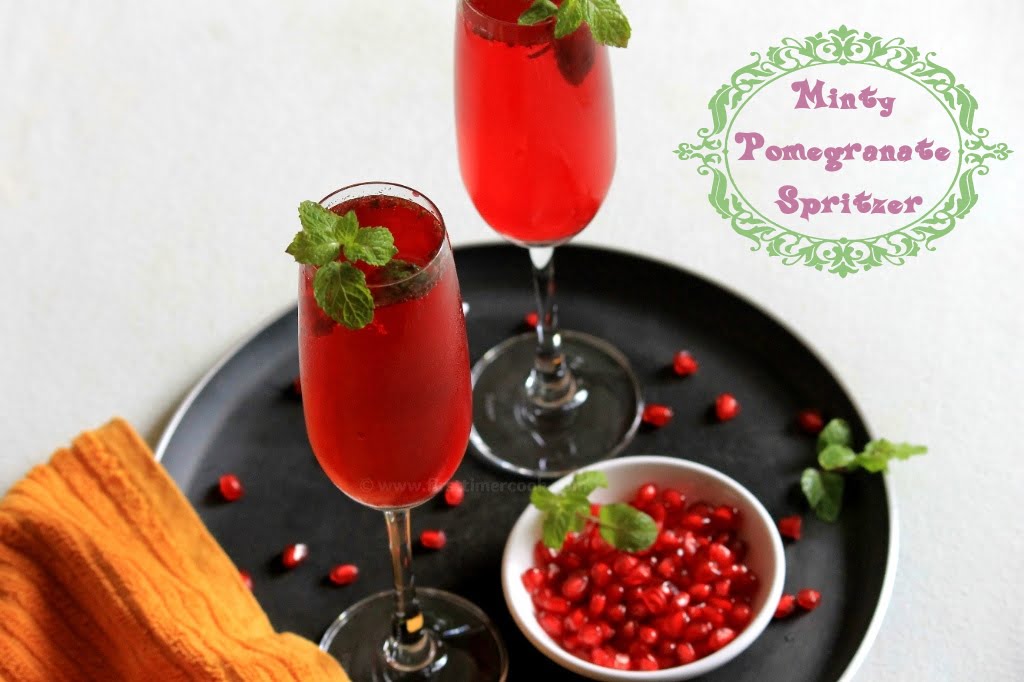 Pomegranate is one of the healthiest fruits on earth. Ruby red, delicious and nutrient rich pomegranates pack a mighty punch in safeguarding our health. Green juice is not the only healthy option every time. Adding pomegranate juice to our diet may reduce the risk for chronic disease and inflammation as well. Pomegranate contains a unique and powerful antioxidant called punicalagin, the most abundant antioxidant in pomegranate which is responsible for more than half of the antioxidant activity of pomegranate juice.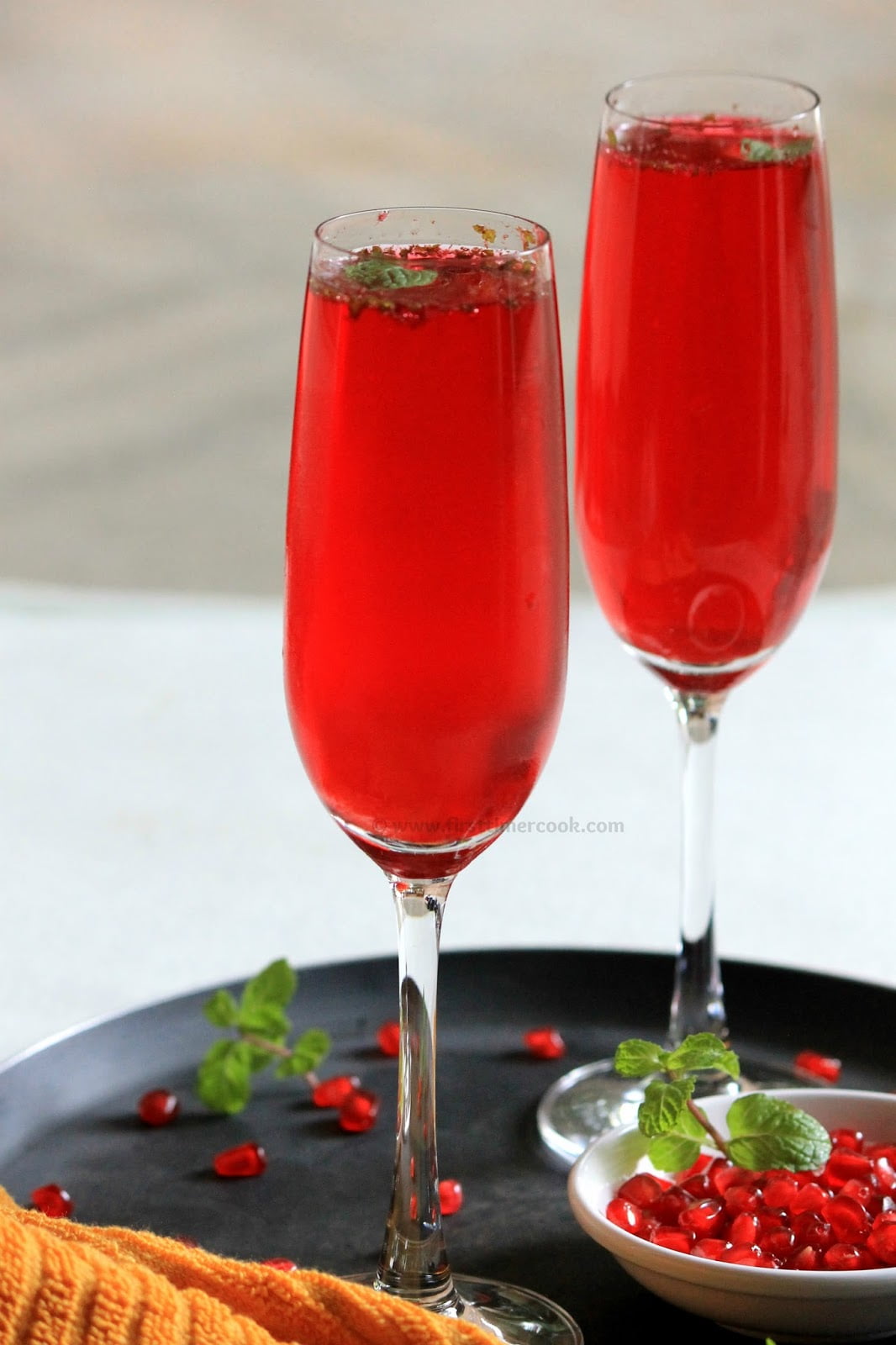 Pomegranate juice has been analyzed to have greater antioxidant capacity than red wine, grape juice or green tea. Some potential health benefits of pomegranate juice are
Helps in treating diarrhoea and dysentery
Maintains blood sugar levels
An excellent anti-aging agent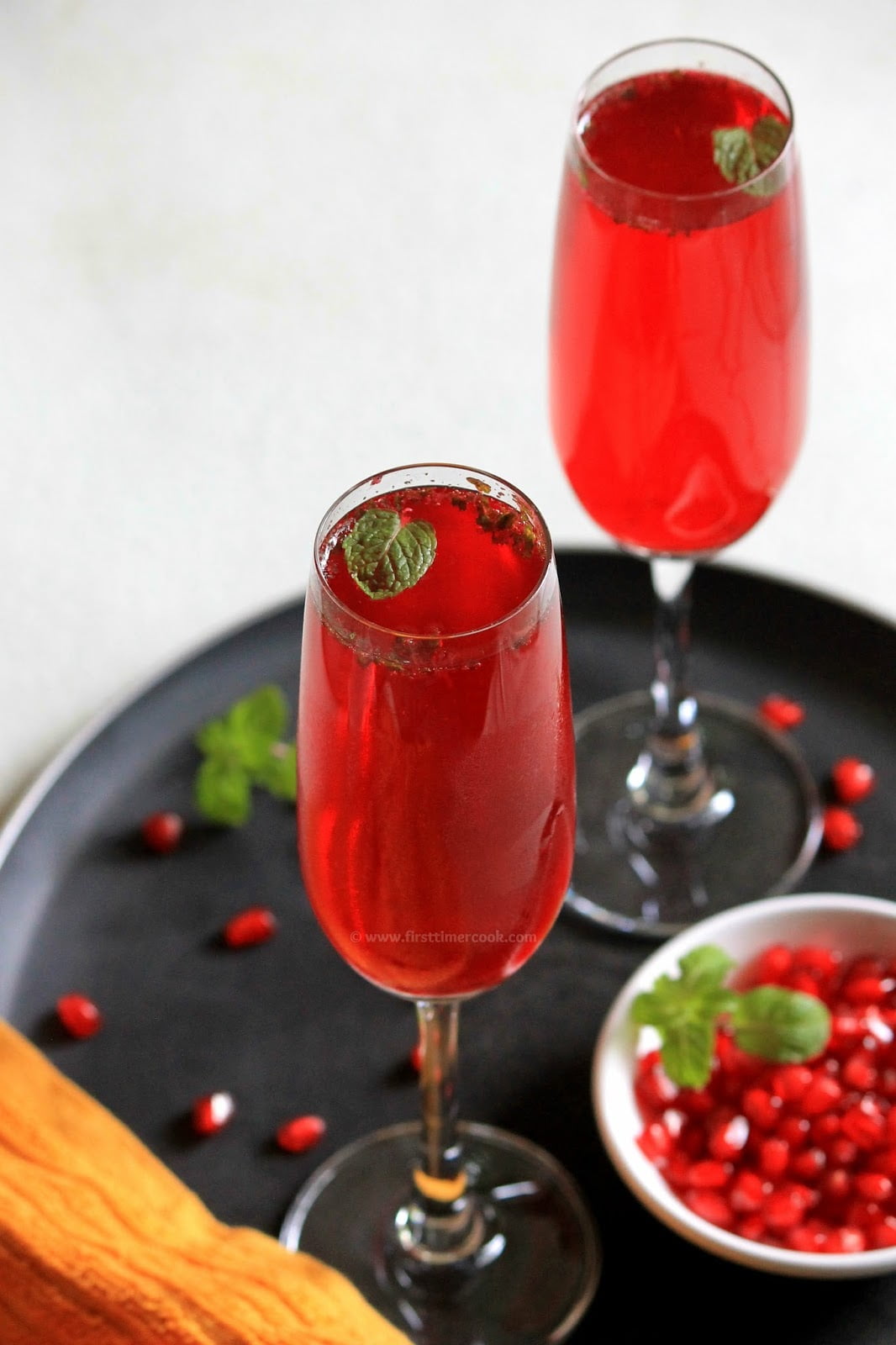 There are multiple ways where we can use Pomegranate to add value to taste and our health. This minty pomegranate spritzer recipe is one of it. It has the fizz of soda water (aerated water), sweetness from the pomegranates along with a minty flavor from the freshly picked mint leaves. The juice of pomegranate can be store bought or prepared at home. So if opting for homemade version, then first just separate the arils.
place the arils in a medium bowl and muddle together until all the juice is extracted. OR
place the arils in a zip lock bag and crush with a potato masher, cut a small hole in corner of bag, collect the juice and discard the seeds.
This time the theme for Healthy Wellthy Cuisines is 'Karwachauth Red Dish' . Karva Chauth is a one-day festival celebrated by Hindu women in Northern India, in which married women fast from sunrise to moonrise for the safety and longevity of their husbands. The festival falls on the fourth day after the full moon, in the Hindu calendar month of Kartik. The fasting of Karwa Chauth is strict and observed without taking any food or even a drop of water. They can drink water only after seeing the rising full moon. The theme 'Karwachauth Red Dish' means to prepare any red color dish for celebration of this special occasion. And the color of the refreshing minty pomegranate spritzer will be a perfect match for this. Lets go in details.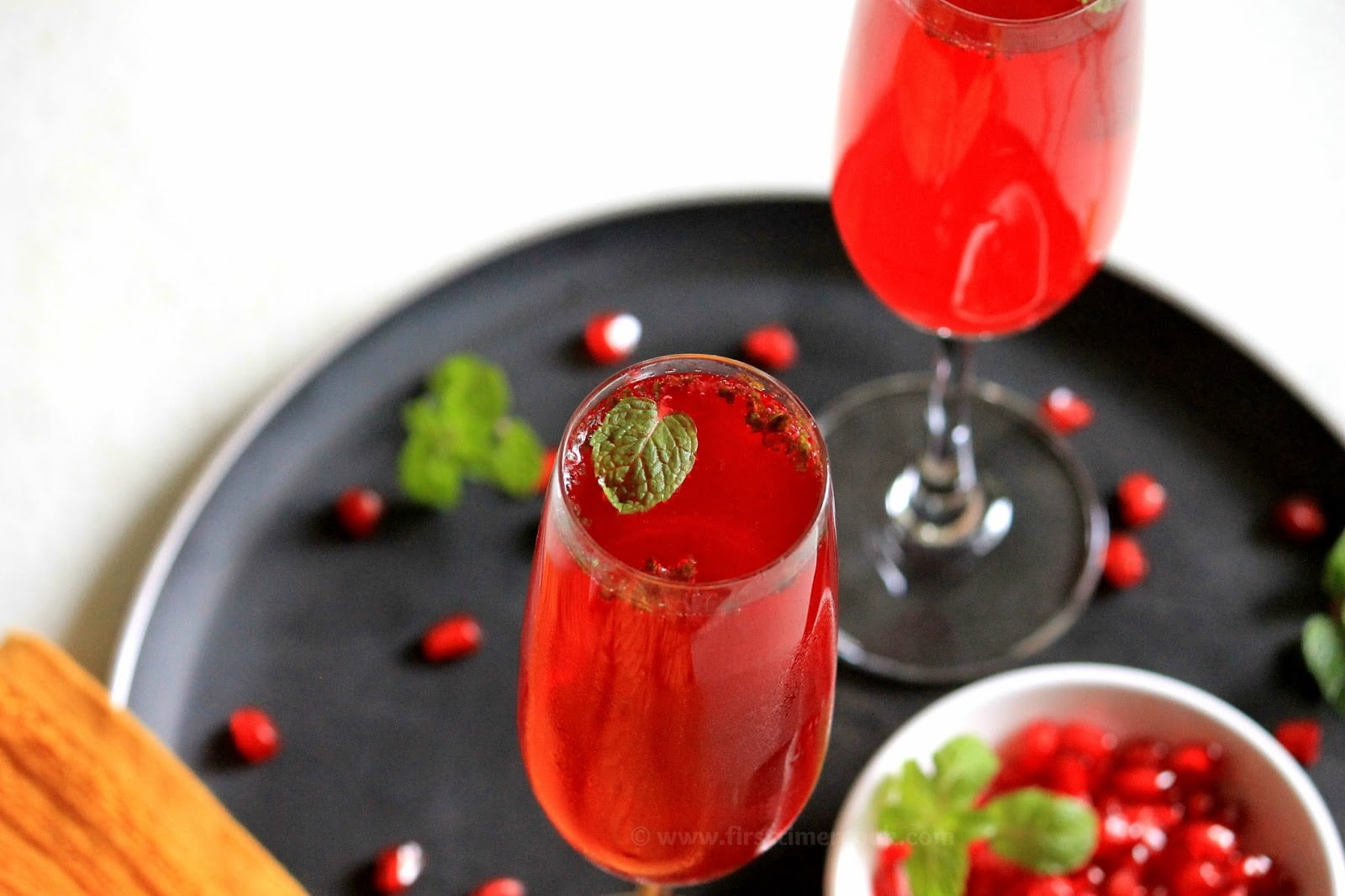 Preparation Time : 5 mins |Cooking Time : 0 min
Ingredients :
| | |
| --- | --- |
| Ingredients | Measurements |
| Pomegranate juice | ½ cup |
| Mint leave (tightly packed) | 1/8 cup |
| | 2 & ½ tbsp |
| Soda water (chilled) | 3 cup |
| Pomegranate aril | For garnishing |

​
Method :
In a large jar, take fresh mint leaves and muddle well.
Then add pomegranate juice and sugar syrup.
Stir well for proper incorporation.
Fill half portion of the serving glasses with this mixture, then top with soda water.
Stir again and serve immediately !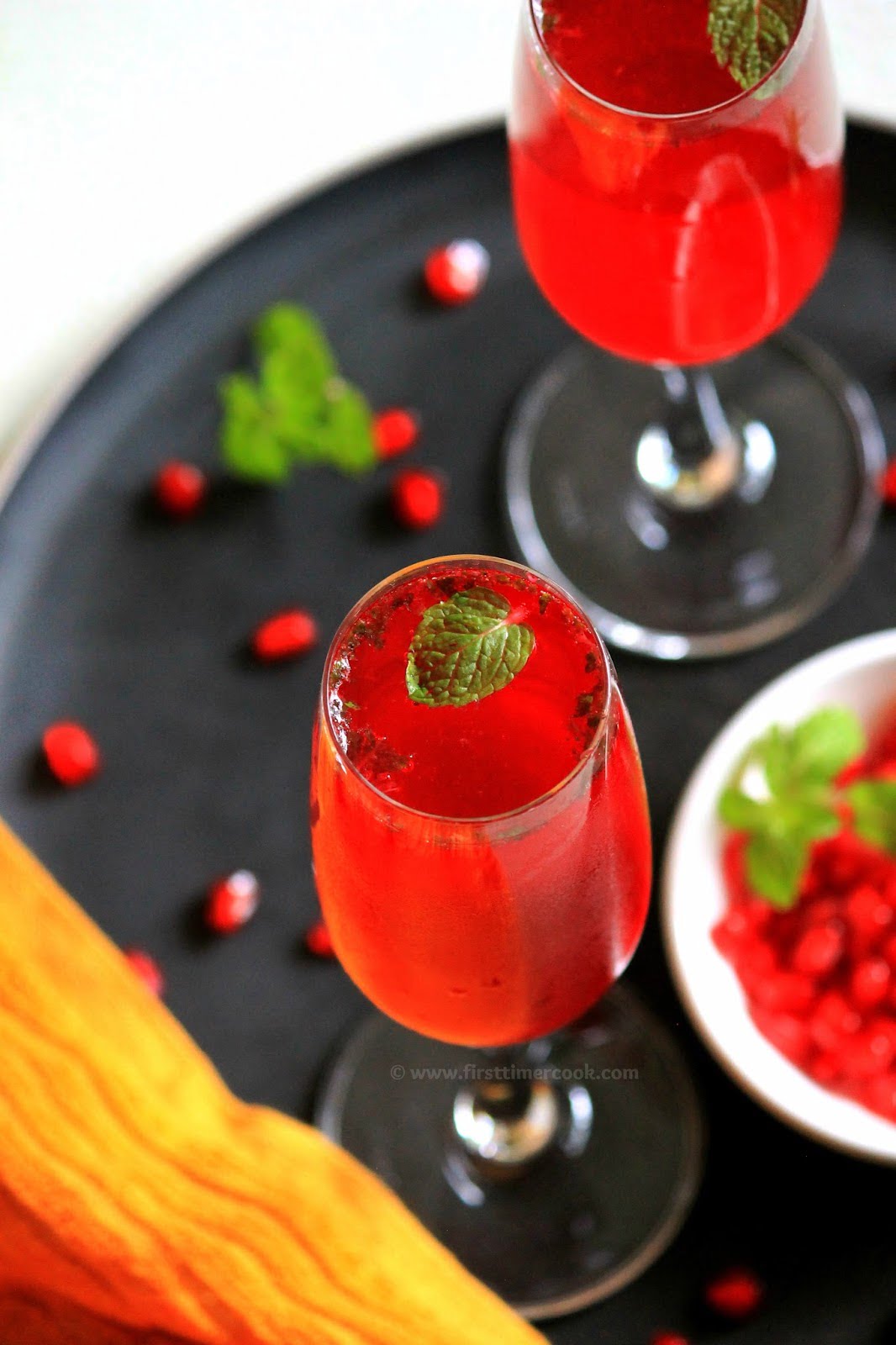 Notes :
The proportion of pomegranate mixture and soda can be varied depend upon the sweet desire.

Dry mint powder can also be used if fresh mint leaves is not available. Just add dry mint powder along with pomegranate juice, no muddling is required.

Sugar syrup can be store bought or

homemade

.
PIN for later

Here are few more dishes for celebrating this special occasion like apple rose pastry , beetroot phirni , sooji halwa , beetroot paneer balls , moongdal dahi vada , virgin strawberry daiquiri .