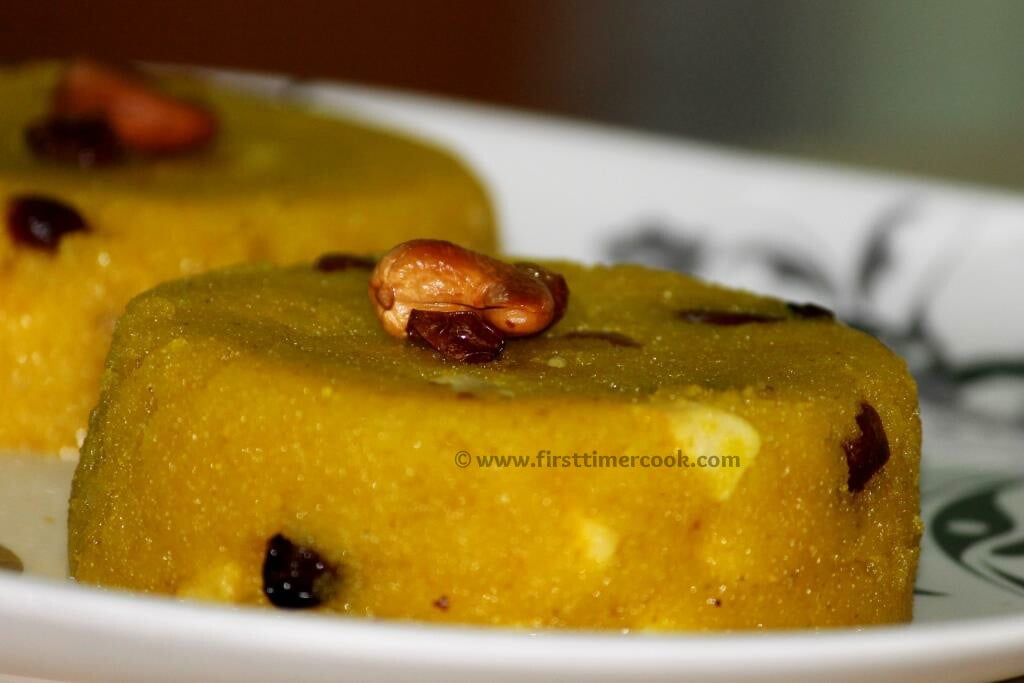 Kesari / halwa with fresh fruit is just awesome. Pineapple kesari is a sweet dish prepared with rava and pineapple. This sweet is quick as well as easy to prepare by following few steps mentioned below. It can be best served as hot / warm.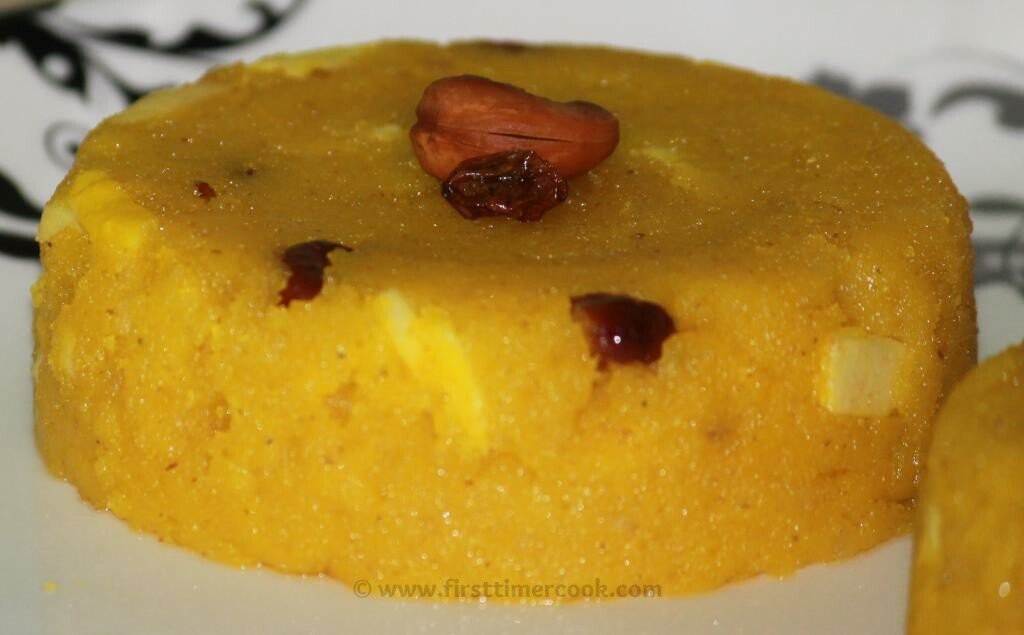 Preparation Time : 30 mins | Cooking Time : 25 mins
Ingredients :
Ingredients

Measurements

Sooji / Semolina
1 cup
Sugar
2 cup
Pineapple (chopped finely)
1 cup
Cashews (chopped)
1/8 cup
Raisin
1/4 cup

Pineapple essence

(Optional)

2 drop
Ghee
1/4 cup
Oil
1/4 cup
Salt
1 pinch
Water
2 & 1/2 cup
Yellow food color
2 pinch
​Method :
Mix chopped pineapple with 3 tbsp of sugar for at least 30 mins.
Heat a pan with ghee & oil and then add the cashews. Just give it a stir. No need to make it golden.
Add the raisins and stir in medium flame until it gets bloated fully.
Add the sooji / semolina and roast until the raw smell goes off. No need to wait until it turns color.
Boil water side by side and add it to the roasted sooji . Mix carefully as it may overflow or spill as it boils.
Add salt & mix well until it gets thick in consistency. Cook covered for 4-5 minutes or until done in low flame.
Add sugar and color. Mix until it is watery consistency.
Add the fruits without the watery sugar at the bottom & mix well. Keep mixing until the mixture starts leaving sides of the pan.
Transfer to the serving bowl & enjoy !
​Notes :
Oil helps in maintaining the loose texture of the kesari, otherwise it will become too thick if ghee is used fully.
Use only less flavor oil in order to avoid the oily smell in the kesari.
Variety of fruits like pear / grapes (brown or green) / apple can be used in place of pineapple & accordingly essence & food color will change.
Here essence is not used as pineapple by itself gives a great flavor. Otherwise add it along the food color. Also do not add more as it will spoil the natural flavor of the fruit used.
Amount of sugar can be reduced to 1 & 1/2 cup.