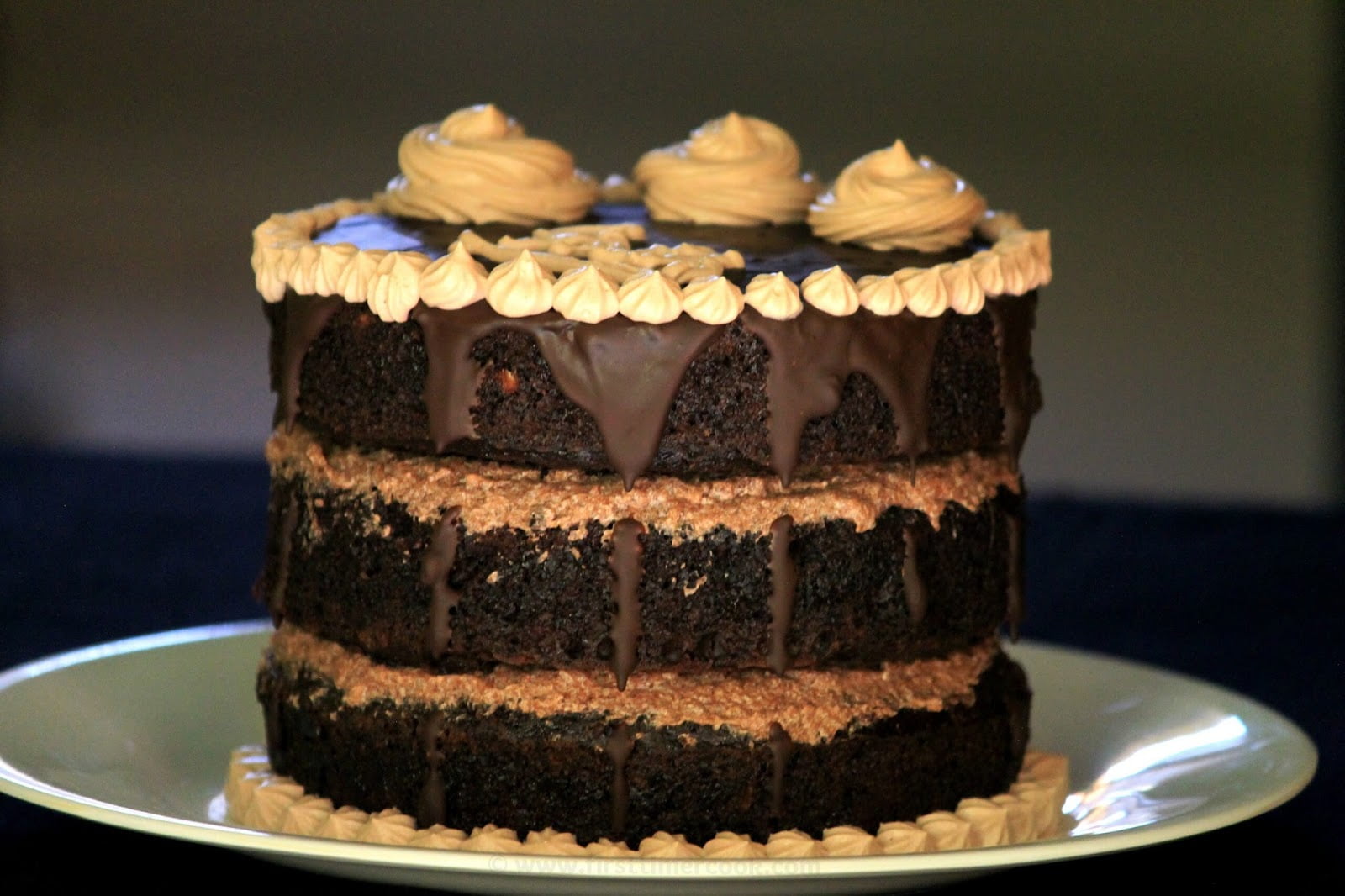 Since our fourth wedding anniversary was coming which was on 23rd January 2017, so after making the everyone's favorite 'eggless black forest cake' I was just wondering which cake should I prepare for celebration. Then the naked cake idea came in my mind.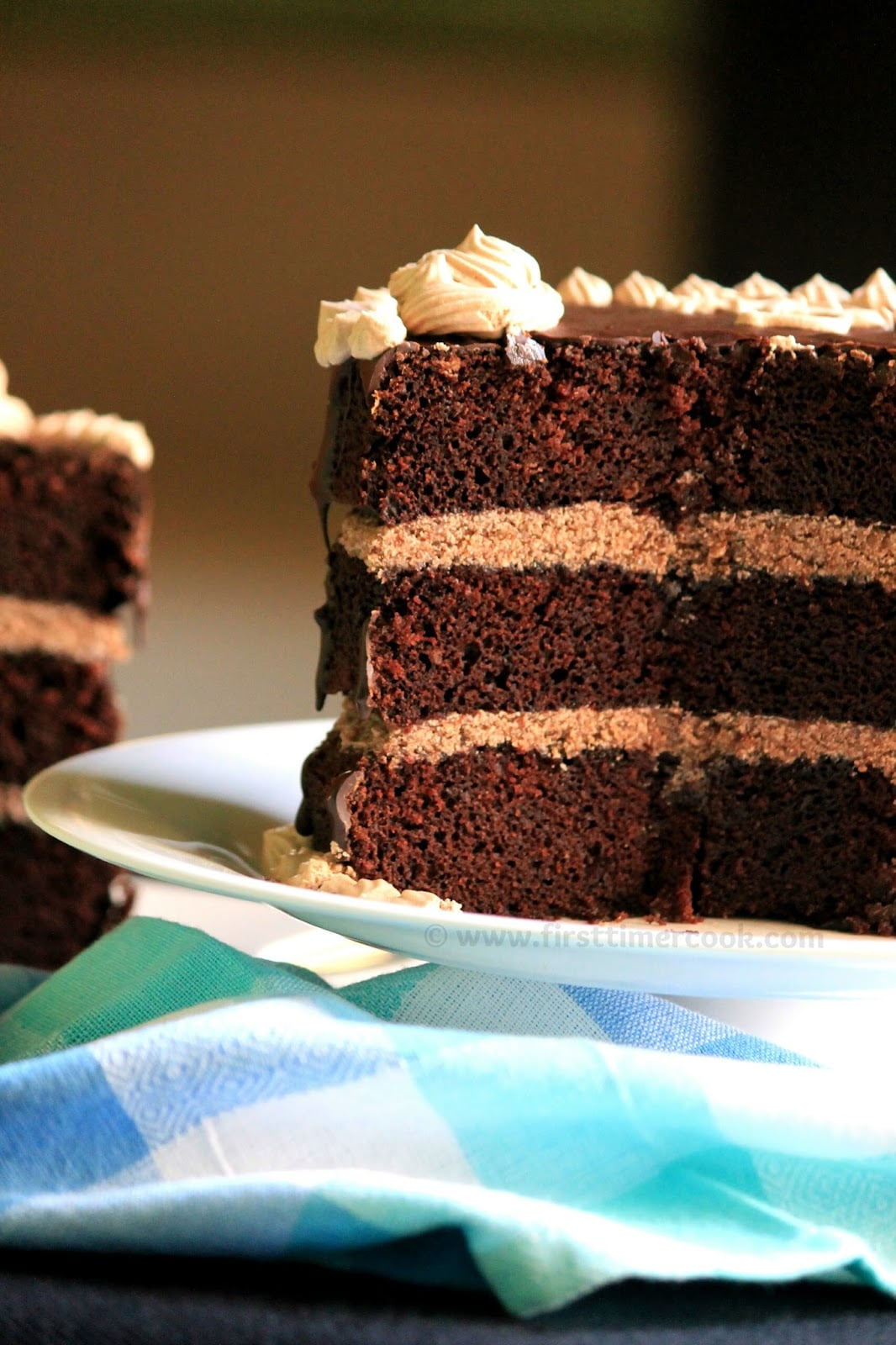 The naked cake can be called as an Un-iced cake. So what exactly a naked cake is ?
Well, the naked cake really is a cake without icing. That means, anybody can see the texture of the cake and the colors inside. The sides of cake are generally left un-iced, but usually icing is there in between the layers.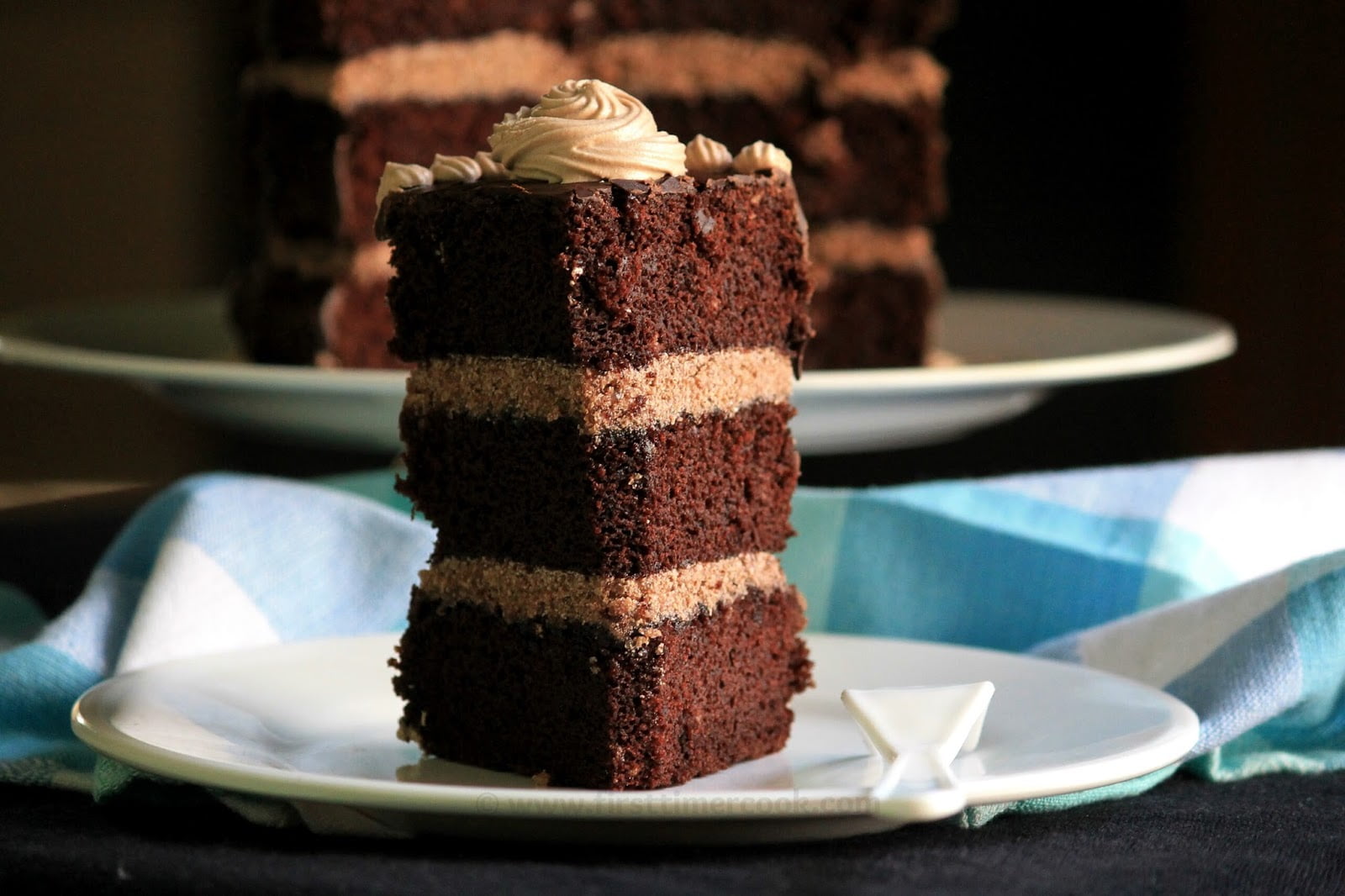 It can be decorated with flowers, fruits, pretzels, cookie crumbs, chocolate chips or even powdered sugar; but always make sure that all frostings and fillings make sense when eaten as a whole. One might assume that naked cakes are less complicated than their frosted counterparts. But in fact, it's preparation takes quite a bit of skill.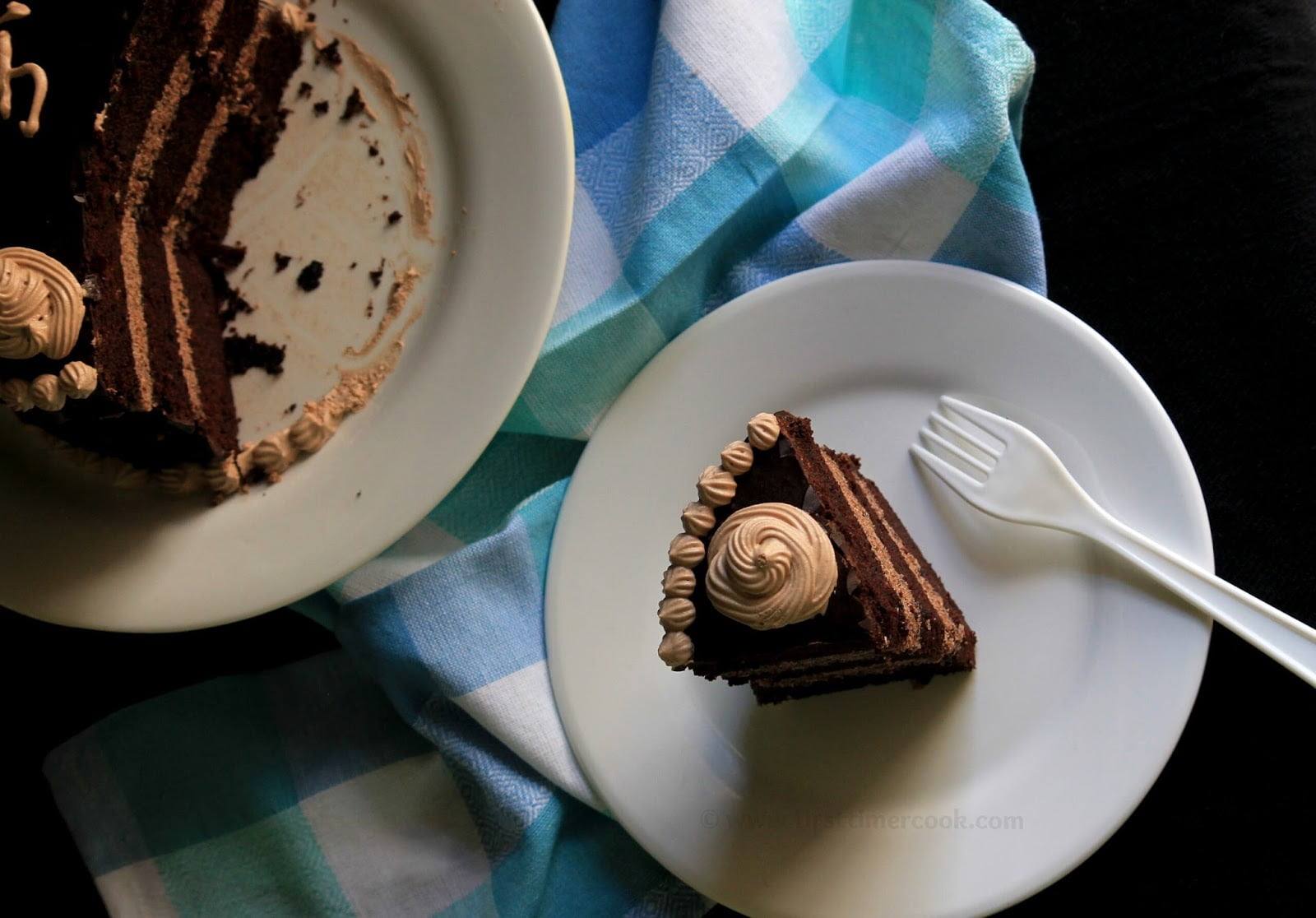 So just forgot about the traditional outer layer of icing and go for the naked designs which is the growing trend these days. On our fourth wedding anniversary, I had prepared a triple layer chocolate naked cake. The chocolate cake used here is eggless, butterless and dairy free too. If you are planning for any celebration, then just go for this triple layer chocolate naked cake.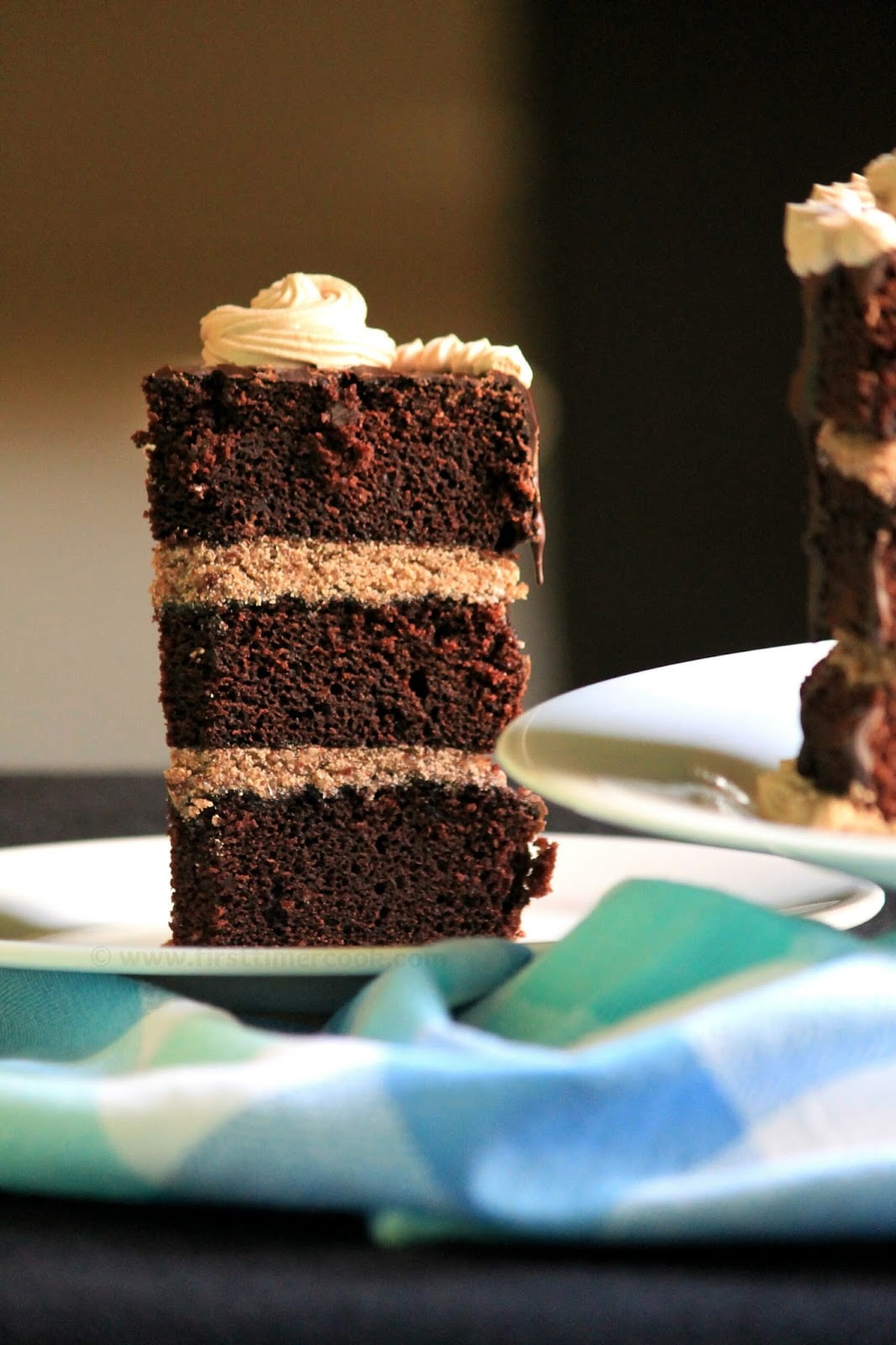 Preparation Time : 60 mins | Cooking Time : 2 & ½ hrs
Ingredients :
Ingredients

Measurements

Chocolate cake

All purpose flour

(1 & ½ cup) 3 times

Cocoa powder

(3 tbsp) 3 times

Baking soda

(1 tsp) 3 times

Sugar

(1 cup) 3 times

Oil

(4 tbsp) 3 times

Water

(1 cup) 3 times

Vanilla essence

(1 tsp) 3 times

Apple cider vinegar

(1 tbsp) 3 times

Salt

(1 small pinch) 3 times

Chocolate ganache

Heavy cream

¼ cup

Dark chocolate (finely chopped)

2/3 cup

Frosting : Whipped cream

Heavy whipping cream

½ cup

Powdered sugar

¼ cup

Vanilla essence

1/8 tsp

Cocoa powder

½ tbsp

Frosting : Basic chocolate icing

Icing sugar

¾ cup

Cocoa powder

½ tbsp.

Butter (soft)

25 gm

Water (hot)

1 tbsp
​Method :
A- Chocolate Cake :
In the ingredient table, I just mentioned three times for all ingredients under chocolate cake. Because I am preparing a three layer naked cake. So here I'll bake three chocolate cakes separately. Instead of baking three times, you can choose to bake a whole cake by using all the ingredients at a time. After baking, just cut the whole cake into three layers horizontally.
First preheat oven to 180 deg C. Lightly grease a cake tin lined by butter paper with oil and keep aside.
Sift all purpose flour, cocoa powder, salt, and baking soda in a bowl. Keep aside too.
Take sugar in another bowl. Add water, oil, vanilla essence and vinegar. Mix well.
Next add the shifted dry ingredients into the wet ingredients. Just gently fold in, don't over mix.
Immediately pour the batter into the greased cake tin and bake for 35-40 mins.
Take out from oven and let the cake to cool down for 10 mins in the cake tin. Then invert and allow to cool down completely.
Similarly make other two chocolate cake and allow to cool down fully.
B- Chocolate ganache :
First place heavy cream in a sauce pan over medium heat and bring to boil.
Turn off heat and add the chopped dark chocolate into the cream.
Again turn on heat. Keep stirring the chocolate and cream mixture on low flame until the chocolate melts. After some time, the mixture'll be glossy and smooth.
Turn off heat and allow the smooth chocolate and cream mixture to cool completely. Chocolate ganache is ready.
C- Frosting :
Here I have used two varieties of frosting or icing. In between the cake layers, the basic chocolate icing is used and for the top, I have used the whipped cream with a bit touch of cocoa.
First combine icing sugar and cocoa powder in a mixing bowl. Add butter and hot water. Mix everything with a spatula to achieve a smooth, spreadable consistency. Basic chocolate icing is ready. Keep aside.
Then take heavy whipping cream in another bowl. Add powdered sugar, cocoa powder and vanilla essence. Whisk using electric whisk for about 7-8 minutes in the highest speed or until stiff peaks arise. Don't overdo the beating as the cream might turn into butter. Keep in refrigerator till needed.
D- Assembling :
Take a serving platter (must be bigger than the cake base), first place one chocolate cake in center of the platter.
Then using a spatula, apply half of the chocolate icing on top of the cake and spread evenly.
Next place the second chocolate cake over the first chocolate icing layer. Apply rest chocolate icing on top of the second cake and spread evenly.
Next place the third chocolate cake over the second chocolate icing layer.
Now pour the chocolate ganache over the third chocolate cake, spread and allow it to drizzle down the sides of the cake. Refrigerate the whole cake until the ganache is firm.
Then take out the whipped cream from refrigerator.
Take a piping bag fitted with a star nozzle. Fill it with whipped cream and decorate the cake top and bottom as desire.
Cover the whole cake by putting a big bowl over it without touching the cake, refrigerate for at least 3-4 hours or overnight.
After 3-4 hours the frosting part has set well, then slice and serve this amazing triple layer chocolate naked cake !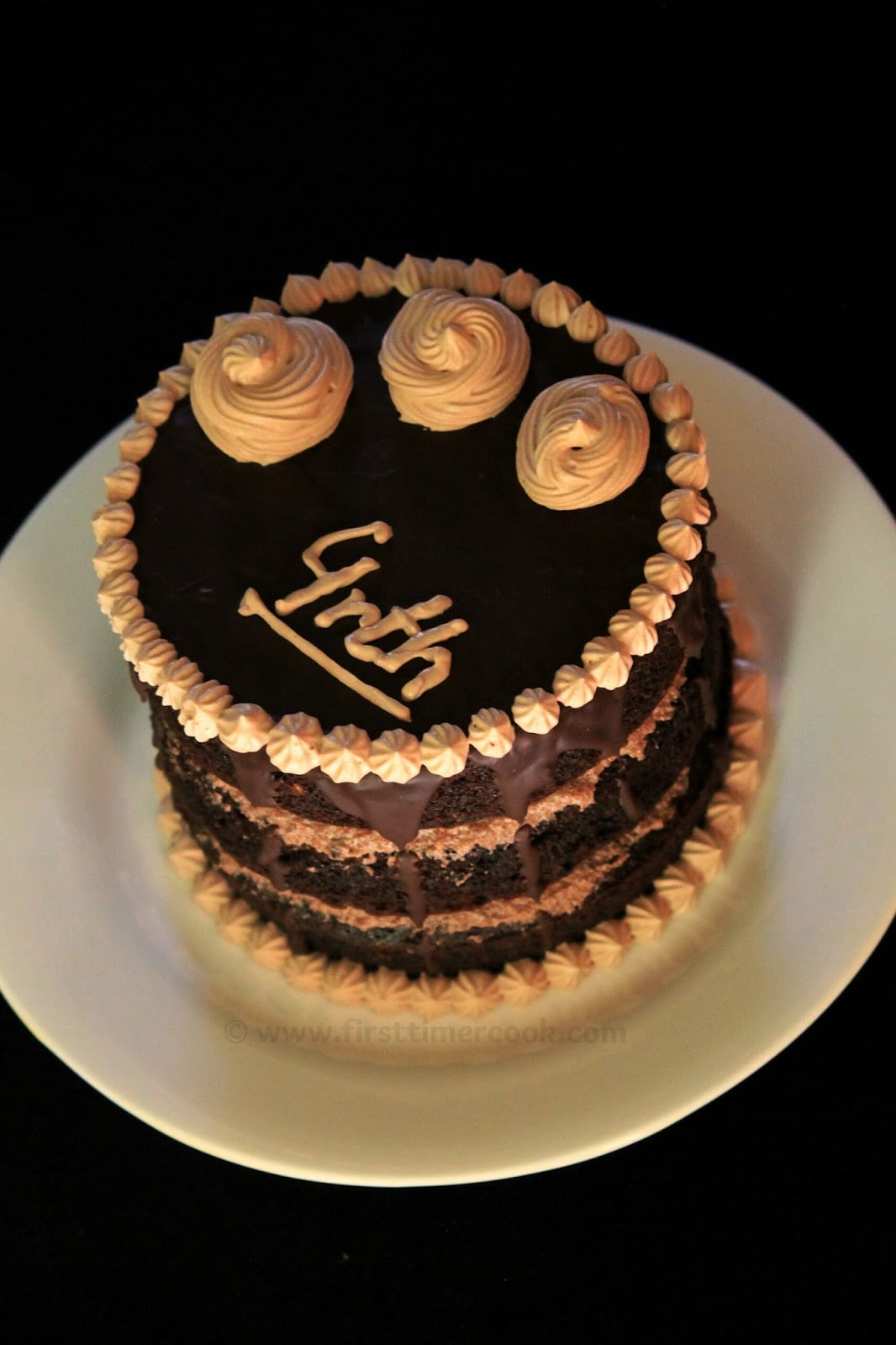 Notes :
Always put the whole cake in refrigerator before decorating with whipped cream, so that the ganache poured on top is firm and it'll be easier to decorate using whipped cream on top.
At the time of need, take out the whipped cream from refrigerator and after using, immediately put again in refrigerator and keep there till next need.