Motichoor ladoo !!!!
OMG, I finally did it. I know many of you have been wondering how they manage to get so much tiny boondis, just like me. Finally the search has come to an end for me ! Motichoor ladoo is an Indian sweet which is totally different from boondi ladoo, because this is prepared with tiny boondi and has slightly different method of preparation and ingredients.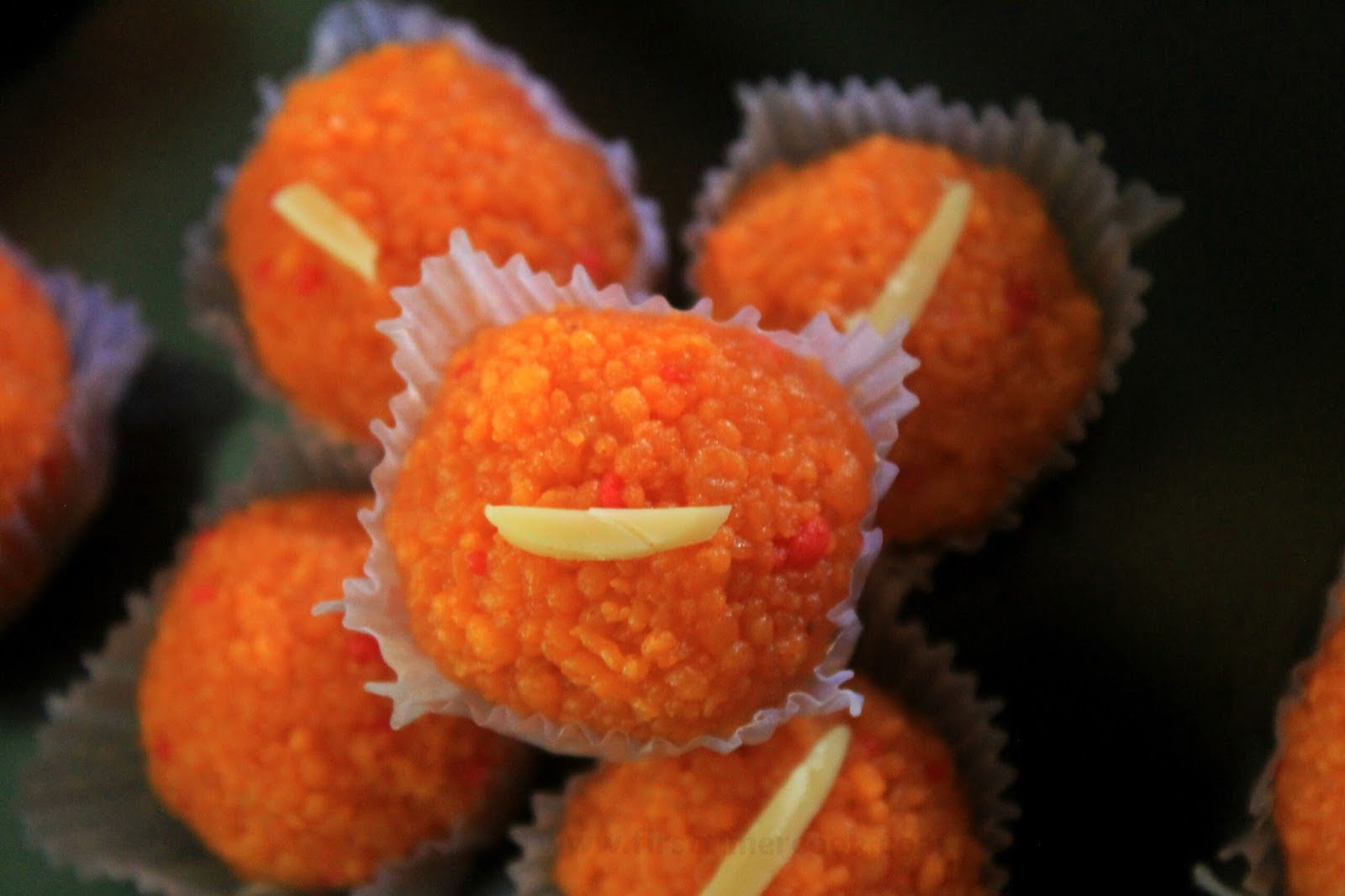 Motichoor ladoos are the tiny droplets prepared from gram flour which are fried, later immersed in thick sugar syrup and finally shaped like balls named as ladoos. Mootichoor ladoos are used in Indian pujas (prayers) and offered to gods as a naivedhya or prasad (religious offering). Motichoor ladoo is one among my favorite sweet though I'm not in favor of sweet and I wanted to try this since a long time. I have posted the plain sweet boondi recipe earlier. So for basant panchami, I just made these motichoor ladoos as a naivedhya.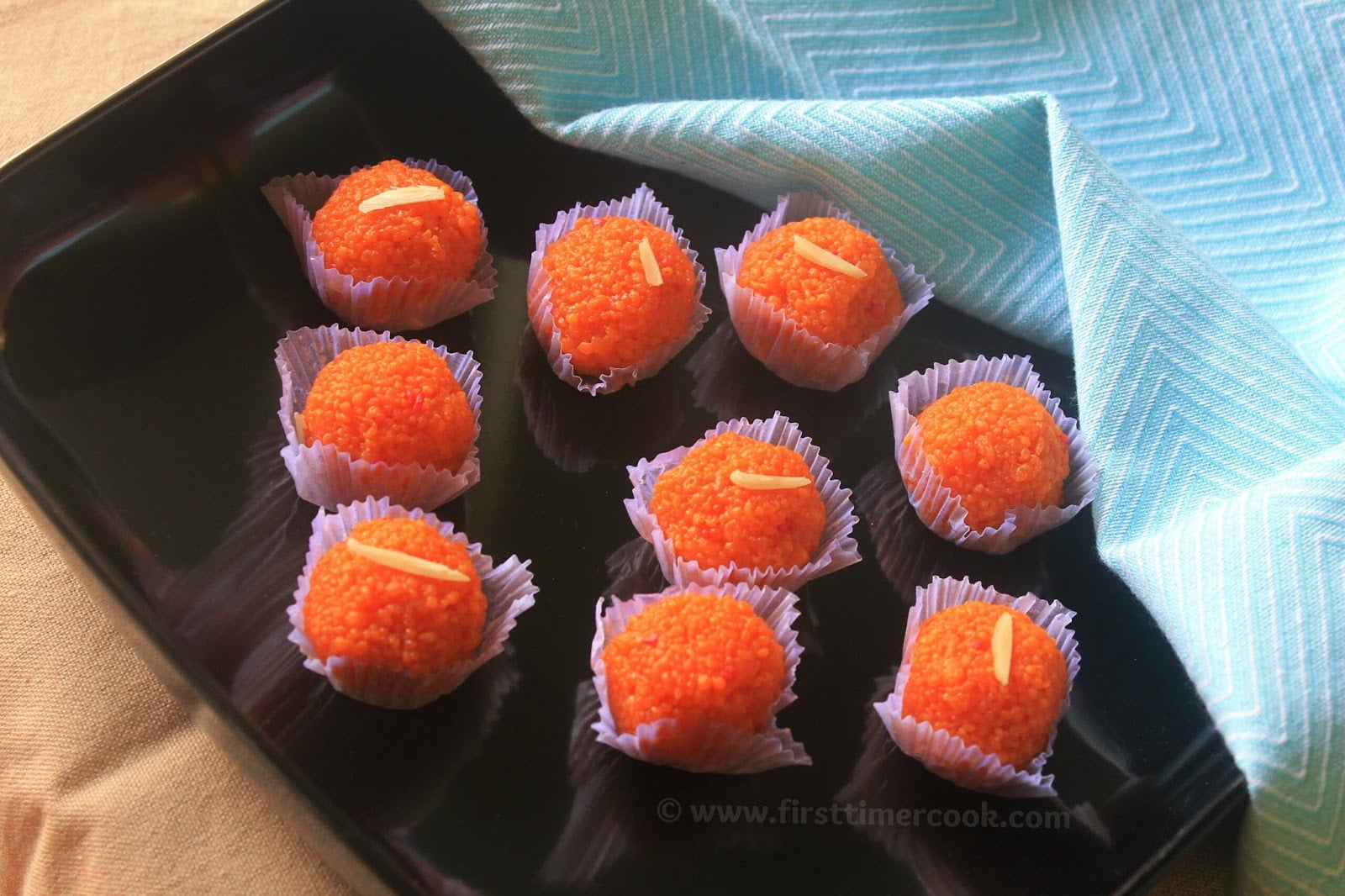 This melt-in-mouth Indian delicacy gets its name from the hindi word 'Moti' meaning pearl and 'choor' meaning 'crushed'. Combined together it means 'crushed pearl balls'. So as the name suggests, these are made by crushing the small boondis (regular boondi) and then combine to make ladoo. But I'll go with making of tiny boondis instead of crushing the regular boondis. This looks like a lot of work, but at-last believe me it's totally worth the effort. I can highly recommend to try out this motichoor ladoo and it will turn out awesome, I can assure.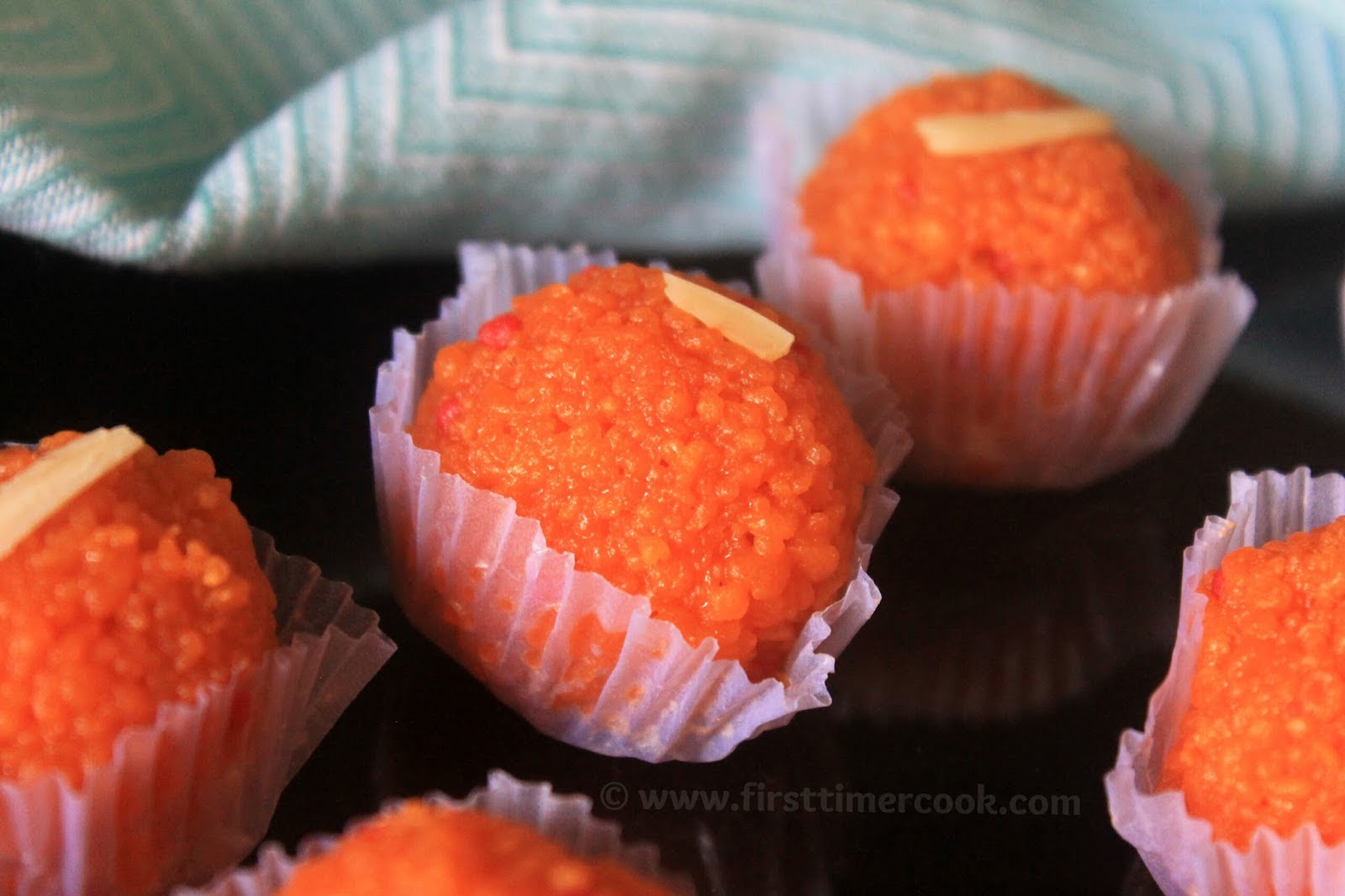 Preparation Time : 30 mins | Cooking Time : 45 mins
Ingredients :
| | |
| --- | --- |
| Ingredients | Measurements |
| Gram flour (besan) | ½ cup |
| Sugar | ¼ cup + 2 tbsp |
| Milk | 3 tbsp |
| Orange food color | 1/8 tsp |
| Water | ½ cup |
| Cardamom powder | 1 pinch |
| Oil / ghee | For deep frying |
| Salt | 1 pinch |
| Rose essence | 1-2 drop |
| Almond (finely sliced) | For garnishing |
| Lemon juice | ¼ tsp |
​Method :
Sieve besan (gram flour) in a mixing bowl, add salt and mix well.
Add food color, milk and water. Mix everything without lumps. The amount of water and milk depends on quality of the flour, so adjust accordingly. The batter should not be too thick or too thin.
Heat sufficient ghee / oil in a deep frying pan. Once the oil is hot, put flame to low-medium.
2 slotted ladles are needed for making boondi as one for making the boondi and another for draining them from oil.
Hold a slotted ladle over the hot oil, pour a ladle of the batter on slotted ladle and tap the handle of the slotted ladle so that batter get sprinkled on oil.
Fry for 2-3 minutes or till the bubbles reduce and the tinny boondis are visible clearly. Remove the boondis using another slotted ladle, drain thoroughly and keep on paper towel. Repeat for rest of the batter.
Now boil sugar and water in a saucepan until one string sugar syrup consistency reaches. (check sugar syrup preparation method in details)
Switch off the flame. Add cardamom powder, lemon juice and rose essence. Mix well.
Add the drained boondis, mix well. Keep aside and let all the syrup is absorbed by the tiny boondis.
Apply some ghee or oil in hand. Take a portion of the boondi and shape to make round ladoo. Repeat with rest of the boondis. Put finely chopped almond on top of the ladoos.
Keep aside for 2-3 hours and roll again. Serve by arranging in muffin liners or store in refrigerator putting in an air-tight container !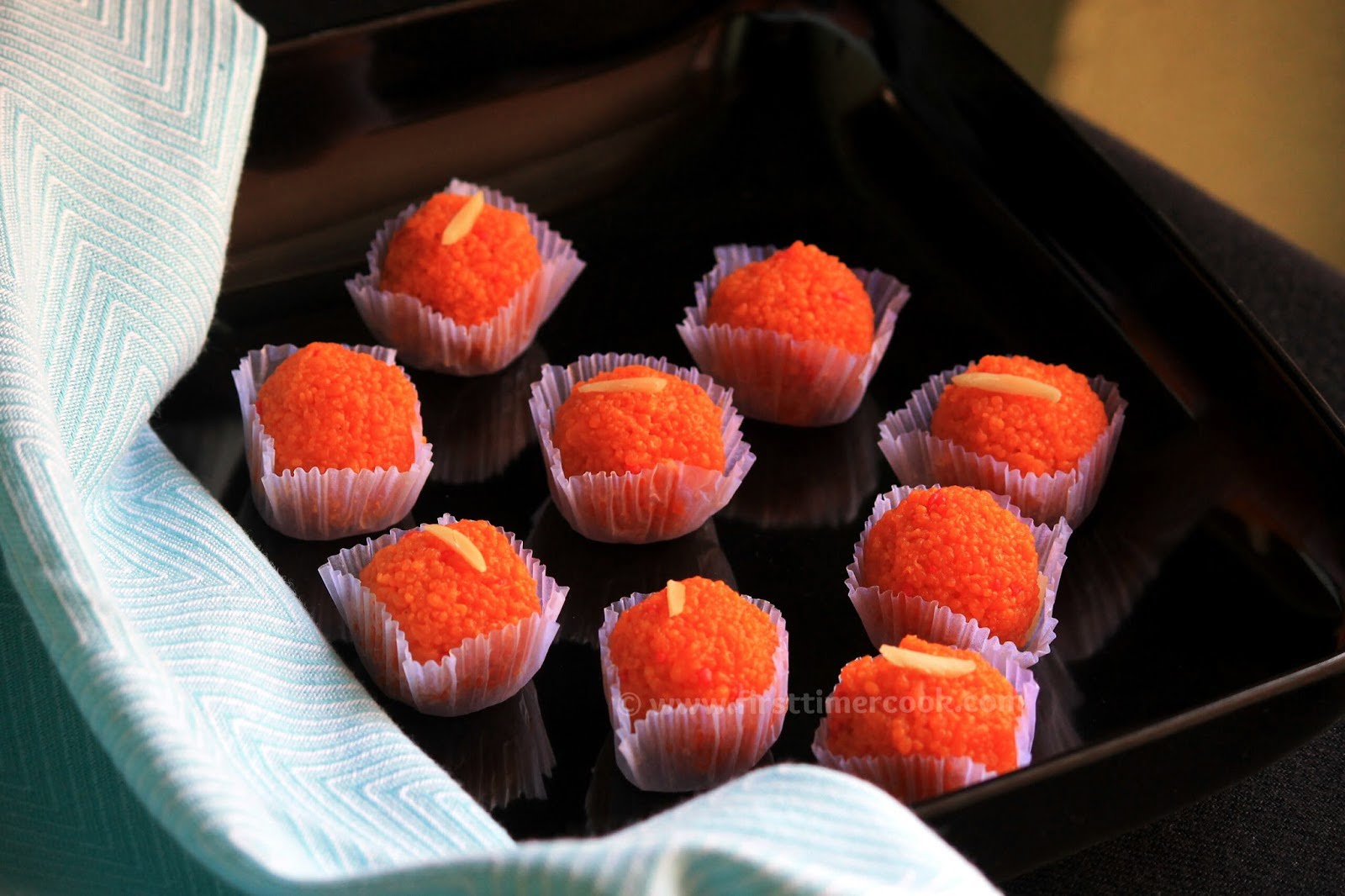 Notes :
Since I put the ladoos in refrigerator after arranging in muffin layers, so those are stick to ladoo 😏 (visible in picture). So while serving, just arrange in muffin layers. Otherwise just avoid those layers, simply serve.
The amount of water and milk added to besan for the batter depends on quality of flour, so adjust accordingly.
If you are not able to make tiny boondis, then just go for making regular boondis and crush in a blender after draining the boondis from oil. Make ladoo, taste is equally same as of motichoor ladoo.
While tapping, be careful not to tap on deep frying pan.