Red cabbage fried rice – a very simple fried rice made using red or purple cabbage and too with 1 teaspoon of oil.
Basically fried rice is prepared by using cooked rice that has been stir fried in a frying pan or wok and is usually mixed with flavorful seasoned meat or vegetables. It is often eaten as it is or with any accompaniment. Fried rice is believed to be started as a way to avoid throwing away unconsumed rice which results in preventing wasting food. Many popular varieties of fried rice have their own specific list of ingredients. The basic elements of fried rice include cooked rice, meat or vegetables, soy sauce and garlic.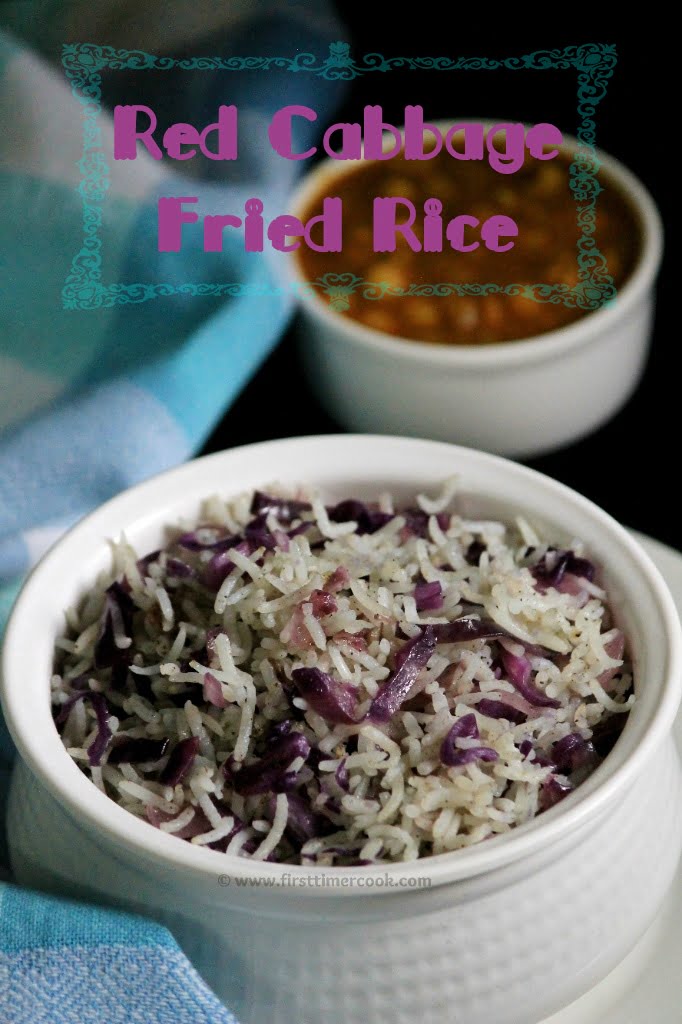 In this post, I have come up with a recipe which uses only 1 teaspoon of oil. Yes, heard right ! Using only 1 teaspoon oil, the red cabbage fried rice can be prepared for 2 person. Since the theme for 112th Foodie Monday Blog Hop is 'Recipe using 1 Teaspoon Oil', so I decided to make this red cabbage fried rice as contribution for the theme. Red cabbage is a nutritious and delicious vegetable that has become very popular throughout the world for a number of reasons. Not only is it very good for the body, but it also adds flavor and flair to a wide variety of dishes. Red cabbage, also known as purple cabbage or red kraut. The red cabbage adds some color and crunch to the classic meal.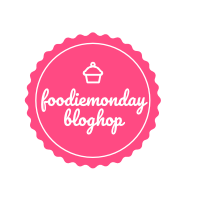 Cabbage is a universal vegetable packed with important nutrients and disease-fighting elements. It grows easily and is edible both raw and cooked. Red and green cabbage are two different cabbage varieties that have a similar flavor, although red cabbage tends to be more peppery than green. Also heads of red cabbage are smaller and denser than green cabbage heads. Red cabbage has ten times more vitamin A and twice as much iron as green cabbage.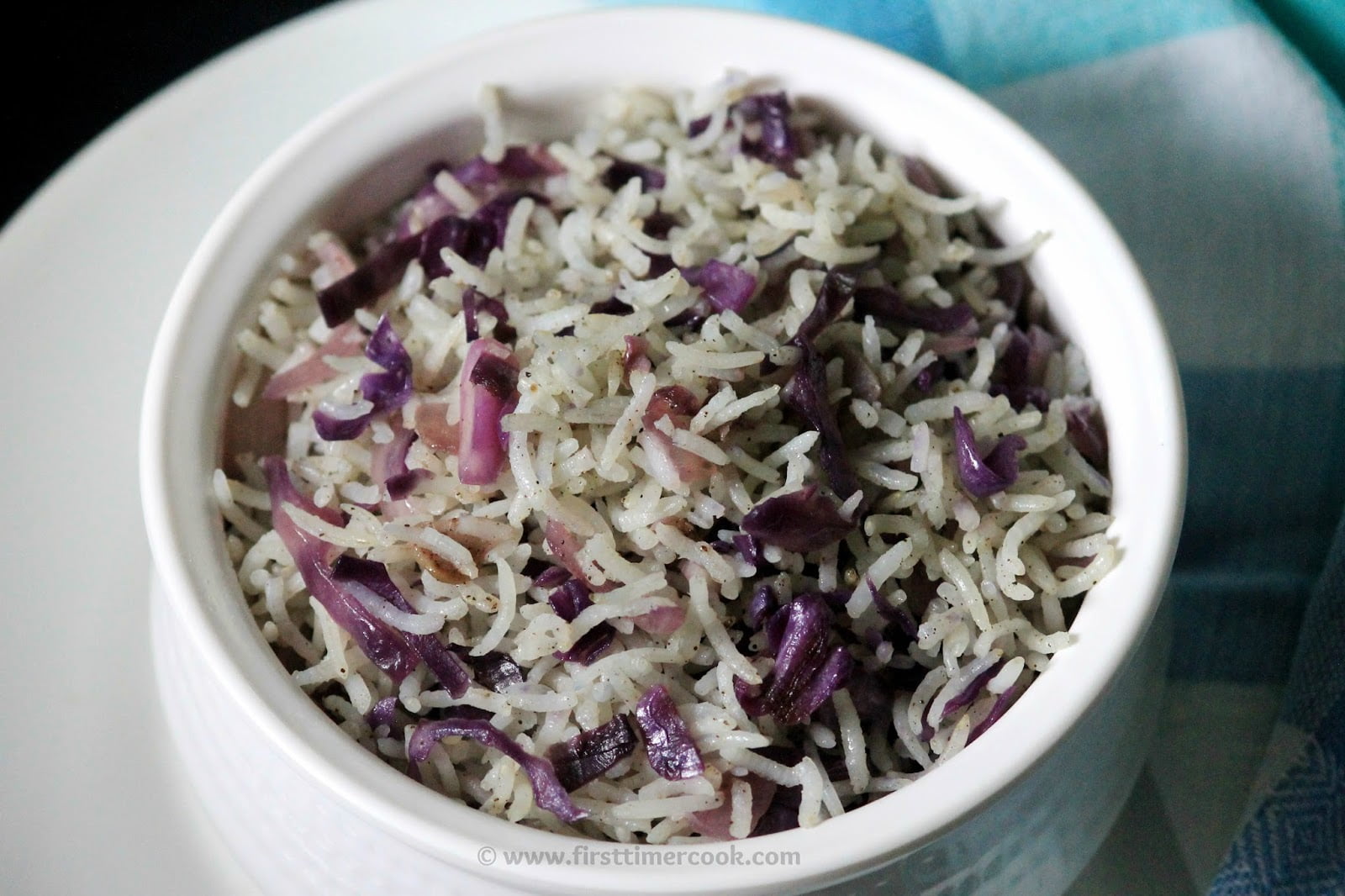 Anthocyanins is the antioxidants which give the purplish-red variety of cabbage. They are known to fight cancer and improve memory. They help release body hormones that metabolize fat and suppress appetite, thus supports healthy weight loss. On cooking, red cabbage will normally turn blue. To retain the red color it is necessary to add vinegar or acidic fruit to the pot.
Red cabbage fried rice tastes very delicious with very good flavors of tender crisp red cabbage and fried garlic. This fried rice can be made by adding some other veggies along with red cabbage. But I like this as simple, so did not add any veggies. Also only pepper powder is used as spiciness factor, nothing else. This fried rice is a very simple way to pack for lunch box as well. So below is the details method of preparation of this healthy and tasty red cabbage fried rice.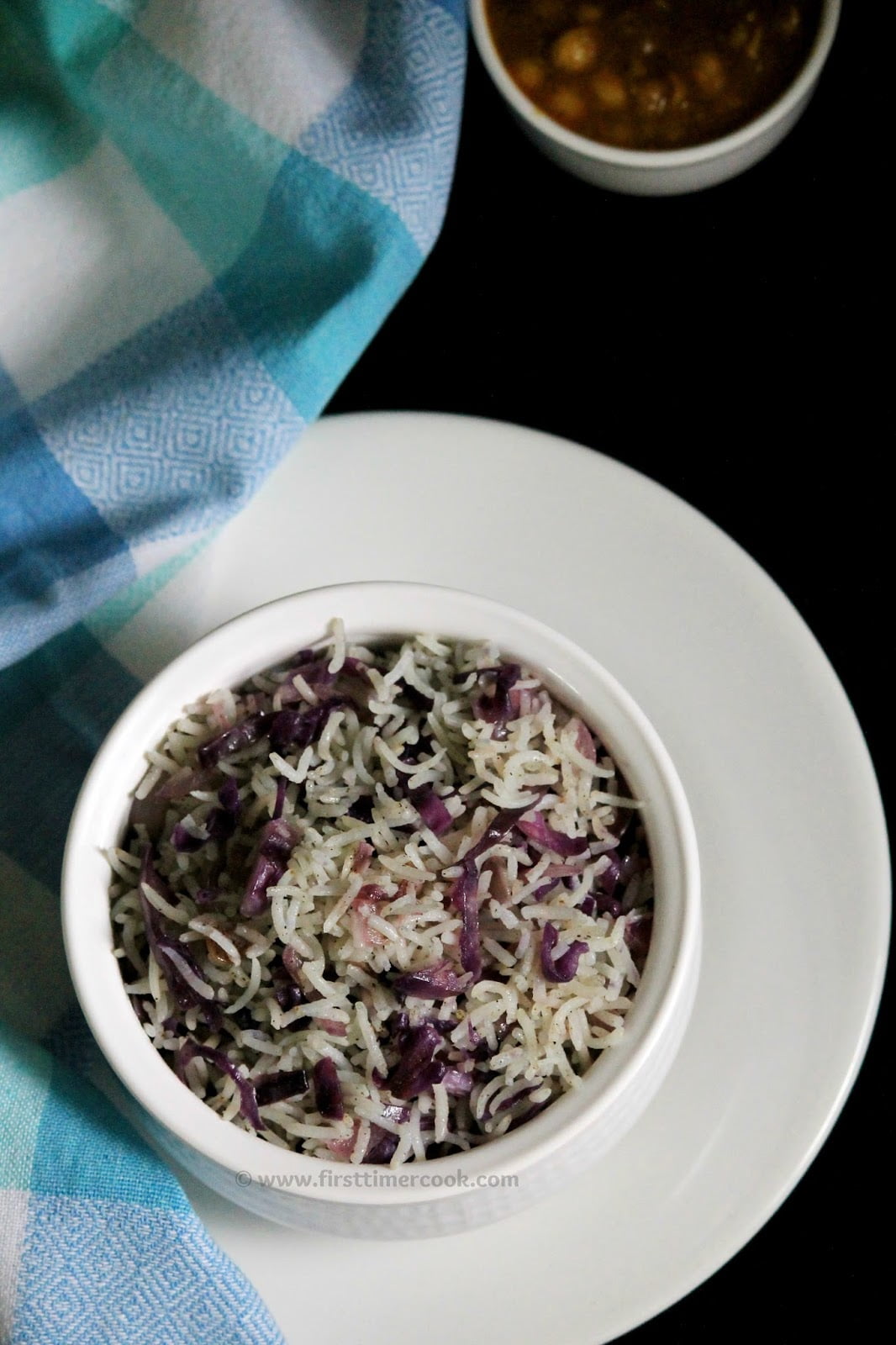 Preparation Time : 10 mins | Soaking Time : 30 mins | Cooking Time : 20 mins
Ingredients :
| | |
| --- | --- |
| Ingredients | Measurements |
| Basmati rice | ½ cup |
| Red cabbage (shredded) | ½ cup |
| Garlic clove | 2 no. |
| Green chili | 2 no. |
| Onion (small) | 1 no. |
| Black pepper powder | ½ tsp |
| Soy sauce | ½ tbsp |
| Oil | 1 tsp |
| Salt | As needed |
| Water | As needed |

​
Method :
Finely slice the garlic cloves and onion and keep aside.
Soak rice for 25-30 minutes. Then cook the rice with enough water.
Once the rice is cooked, spread it on a plate and allow to cool down completely.
Heat oil in a wok on high heat.
Saute the finely sliced garlic and onions for 1-2 minutes or until the onions are translucent.
Then add sliced green chilies, shredded red cabbage and salt. Saute for 3-4 minutes.
Add the soy sauce, black pepper powder and give a quick mix.
Finally add cooked rice and mix everything very gently.
Cover the wok for 2-3 minutes on low heat and then turn off the heat.
Serve this red cabbage fried rice hot as it is or with any choice-able side dish !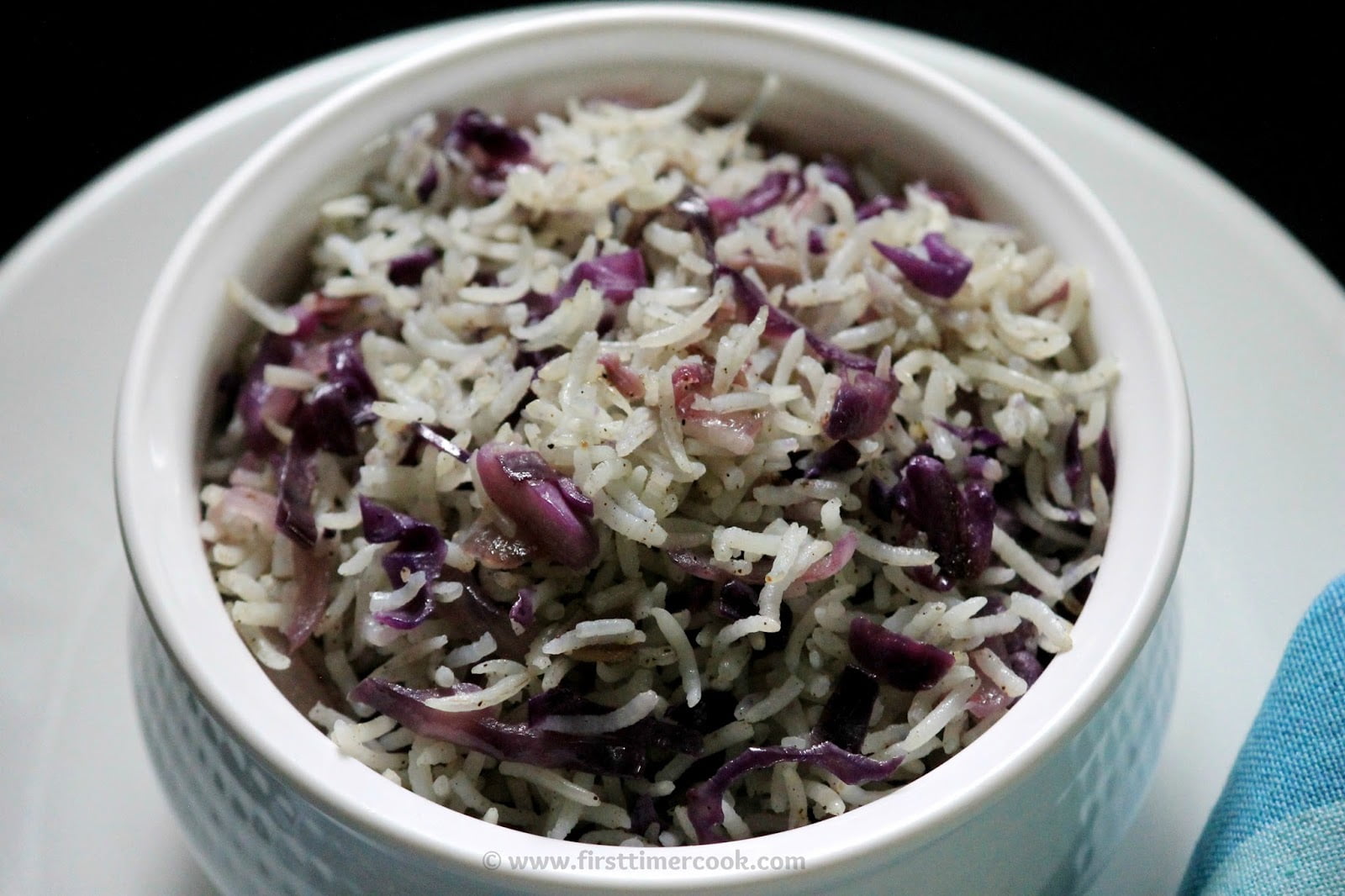 Notes :
For any type of fried rice, always prefer to use rice that has been cooked in advance and cooled thoroughly.

Pepper powder can be varied depending upon the spiciness desired.

If you have any left over rice, then this dish is perfectly suit to re-use the left ones.
PIN for later