super simple & crispy vada using some fresh / leftover bread in oven.
Vada / Bara / Vadai, a crispy deep fried snacks from Indian subcontinent is usually prepared from the urad dal batter. This is a popular South Indian breakfast recipe served along side with idli and sambar. And I am a big south Indian food lover particularly idli, vada, dosa with some piping hot sambar ; a pure bliss for me ! Today I have come up with a vada snack but without any lentil. Instead of that I have used some leftover breads, hence the name is Instant Baked Bread Vada.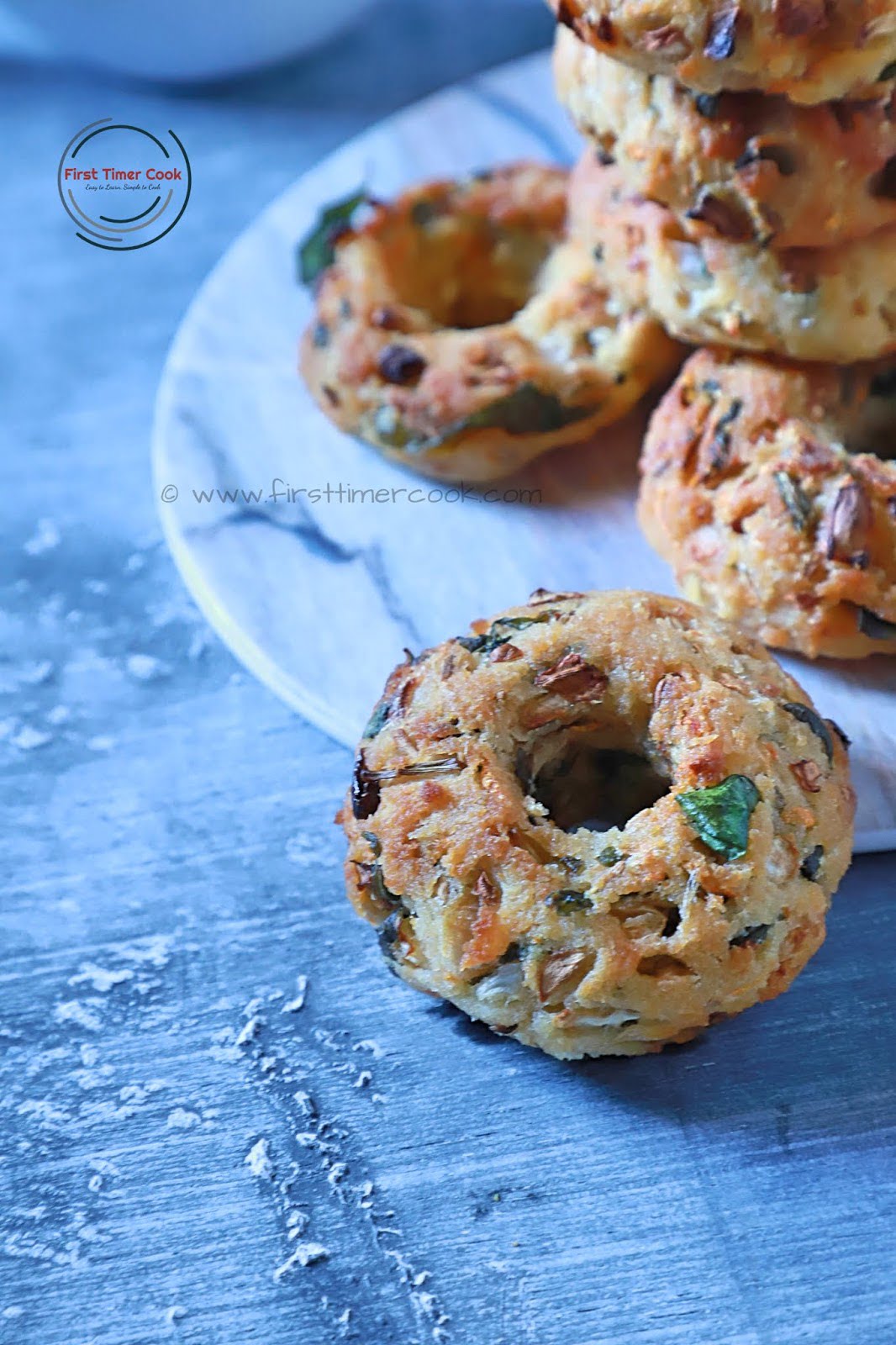 What is Instant here ?
Instant means there is no soaking, even no grinding to make a batter.
Baked Vada !!
yes, these vadas I have baked instead of deep frying. One can deep fry these bread vada still if wants. In baking method, just place the vadas in a baking tray lined with parchment paper. Brush with little oil and bake in a preheated oven till light brownish in color.
What goes into these bread vada ?
Well unusual from the authentic south Indian vada, these are prepared using either fresh / some leftover bread. Bread can be brown or white bread. I have used my homemade bread here, do check if you want to make at home, it is quite easy just have to follow some tips and tricks.
Next some rice flour is used to get crisp texture in the vada here. Curd / dahi acts as a binding agent, so need of any water here to make the dough. Apart from these some finely chopped cabbage, grated carrots, few chopped mint & coriander leaves, cumin seeds, finely chopped onions, grated ginger, finely chopped green chilies, few curry leaves are used. Any other choice-able veggie also can be used here, even without any veggie one can make these bread vadas. Oil is used for greasing hand while shaping the vada and also for brushing the vadas before baking.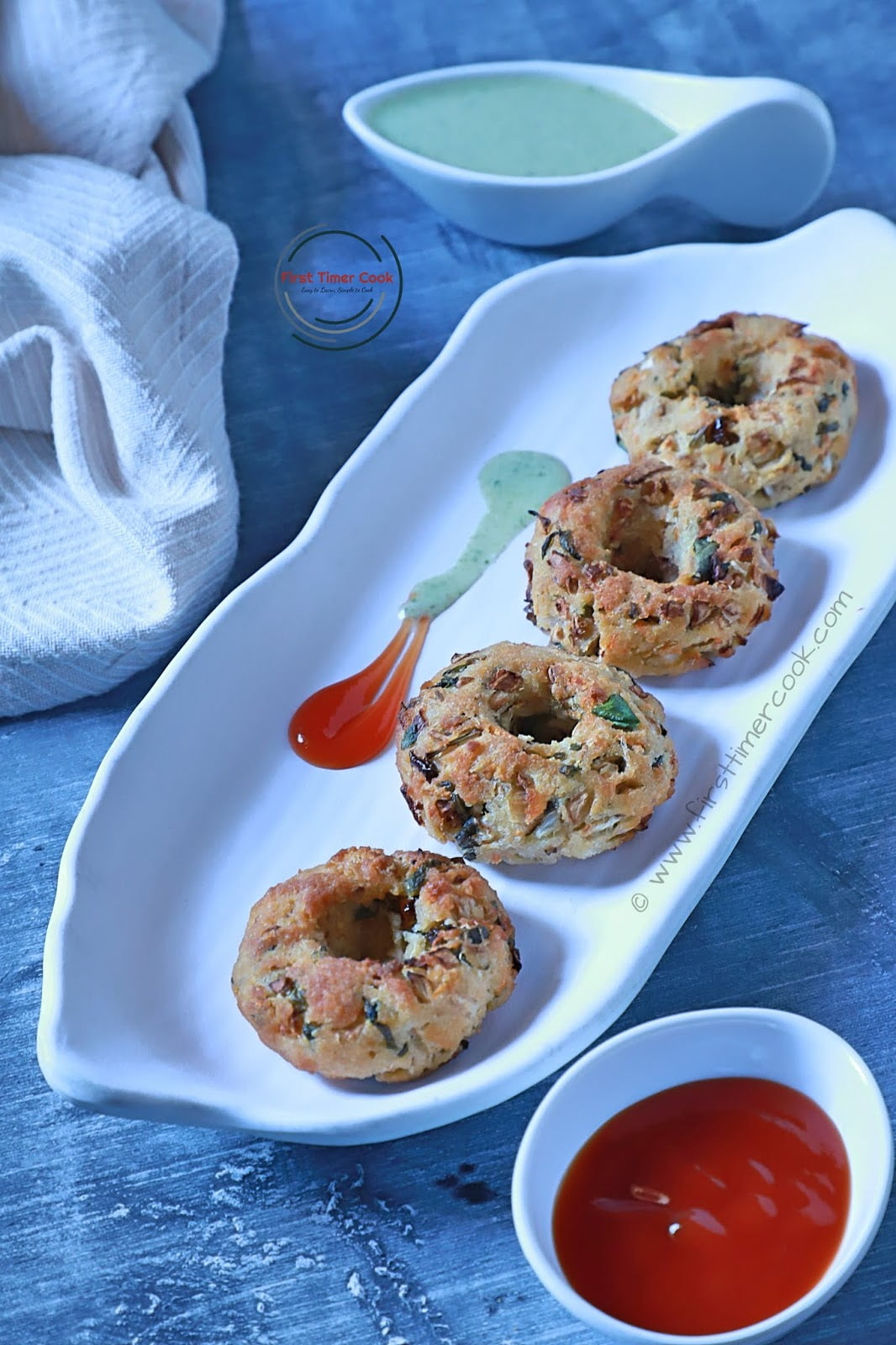 How to make the vadas ?
First the breads are teared into small pieces by hand. One can use food processor to crumble too. Then in a mixing bowl everything are mixed up except oil. It will result into a smooth and soft dough. If the dough is not forming, then one can add little more curd. If the dough is little runny, do add more rice flour or 1-2 slices of bread by tearing. Then a small portion of dough is flattened by the greased hand and shaped like amedu vada. Those vadas are then placed over a baking tray lined with parchment paper and allowed to bake in a preheated over till light brown in color. Baking time actually here depends upon the vada size and even the oven capacity.
Is it necessary to make hole in the center of the vada ?
No,it is not necessary. One can make like simple patties. Still I will say to make a hole so that it will cook faster from all the sides. Also this type shape is the authentic medu vada.
Serving suggestion :
These are perfectly crisp and delicious baked vadas. When craving for some south Indian foods instantly one can make these vadas without any soaking or grinding the batter. Along with a hot cup of tea or with some chutney, sauce these baked bread vada tastes so yum. These are indeed an easy and healthy snack recipe and that too INSTANT. Always serve these vadas immediately after baking to get much crisp texture.
The event related to this post :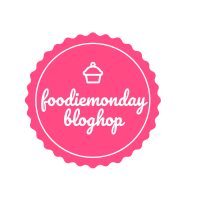 Monday is here again and this time the Foodie Monday Blog Hop team has decided the 244th theme as 'Snacks Mania' which is suggested by Renu. She has an array of idlis using different millet. I have already bookmarked her Herb Roasted chickpeas to try soon. Well for the theme, I am here with this Instant Bread Vada in baked method.
Now let's go through how to make baked version of Instant Bread Vada at home 👇
Video procedure of this "Instant Bread Vada (baked version)" :
: Recipe Card :
Instant Bread Vada (baked version)
Prep time: 15 MCook time: 35 MTotal time: 50 M
super simple & crispy vada using some fresh / leftover bread in baking method.
Ingredients:
Bread slice 5-6 no.

Rice flour 3-4 tbsp

Curd 3 tbsp + more for dough

Cabbage (finely chopped) 4 tbsp

Carrot (grated) 2 tbsp

Onion (finely chopped) 2 tbsp

Green chili (finely chopped) 3-4 no.

Ginger (grated) 1 tsp

Curry leaf 1 sprig

Mint leaf (chopped) 1 tbsp

Coriander leaf (chopped) 1 tbsp

Cumin seed 1/2 tsp

Salt as needed

Oil as needed
Instructions:
Preheat the oven at 200 deg C.

Line a baking tray with parchment paper and keep aside.

First tear all the bread slices into small pieces by hand or using a food processor.

Place all those pieces in a mixing bowl.

Add all the ingredients except oil and curd.

Give a mix and then add curd.

Mix again very well and make a smooth, soft dough.

Grease hands with oil and take a small portion (lemon size) of dough.

Place over the baking tray, flatten a bit and then make a hole in the center to get a

medu vada

look.

Similarly make from rest dough and place over the tray keeping gap in between.

Brush each vada with oil and bake for 30-35 minutes or until light brown from both sides, flipping in between.

Serve immediately these crisped bread vada with any sauces, chutneys or with a cup of tea !
Notes:
Add any other vegetables of choice or one can make without any vegetables here.
Add more curd little by little if a smooth dough is not forming easily.
Adjust green chilies as per the spice desires.
No water is needed, curd is enough to make the dough.
Any fresh / left over bread is fit for these bread vada.
https://firsttimercook.com/2020/04/instant-bread-vada-baked-version.html
Breakfast, Snack, south indian snack, baked snack
instant bread vadai, instant vada, vada, vadai, baked bread vada, Baked snack, Eggless snack
South Indian
Did you make this recipe?
Tag @firsttimercook on instagram and hashtag it #firsttimercook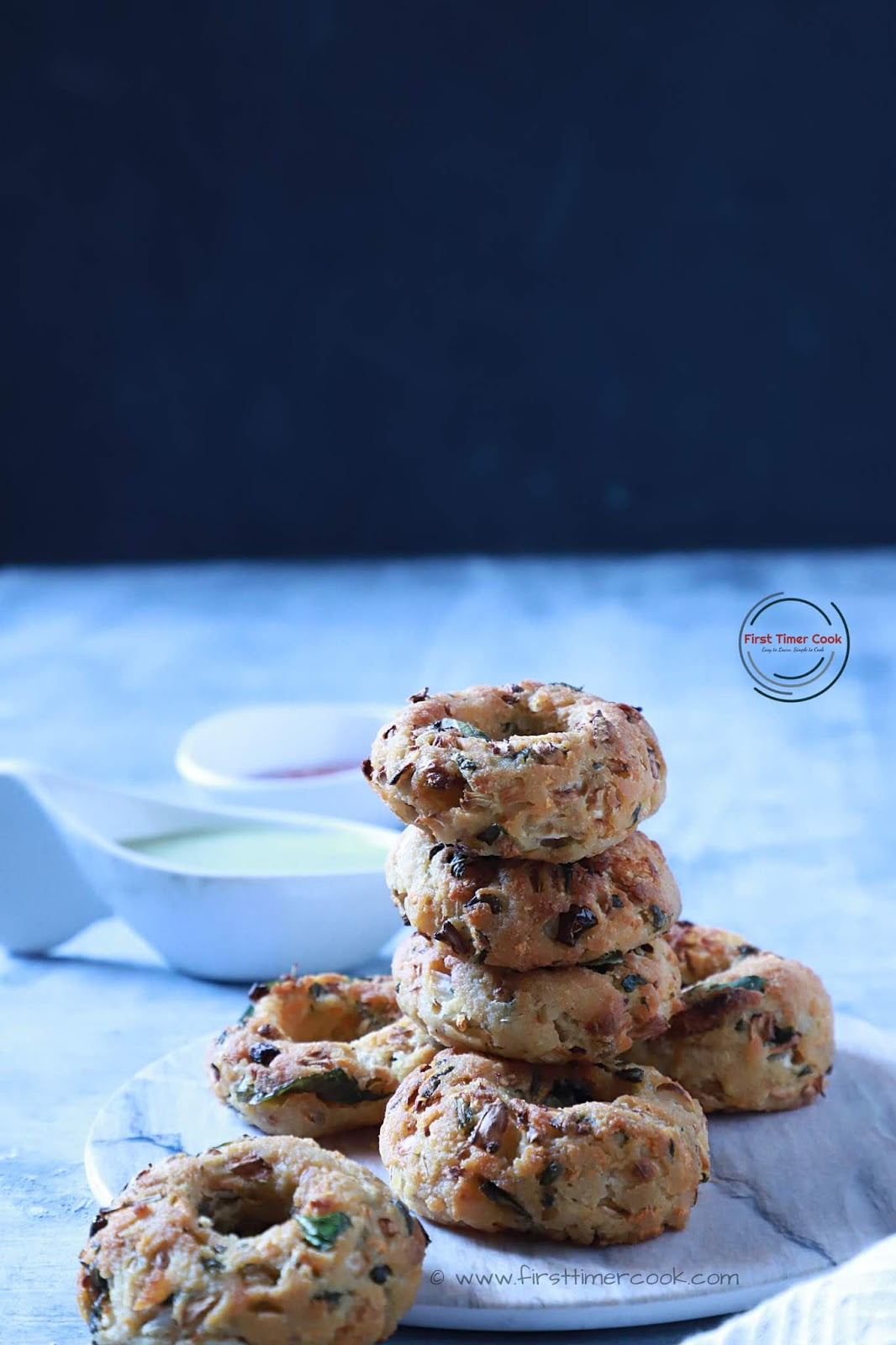 You may also follow me on Facebook, Pinterest, Twitter, Google+, Instagram and can subscribe for free to get new recipes directly into your inbox 😊
PIN for later :