a perfect accompaniment for spicy foods using fresh mint leaves and curd.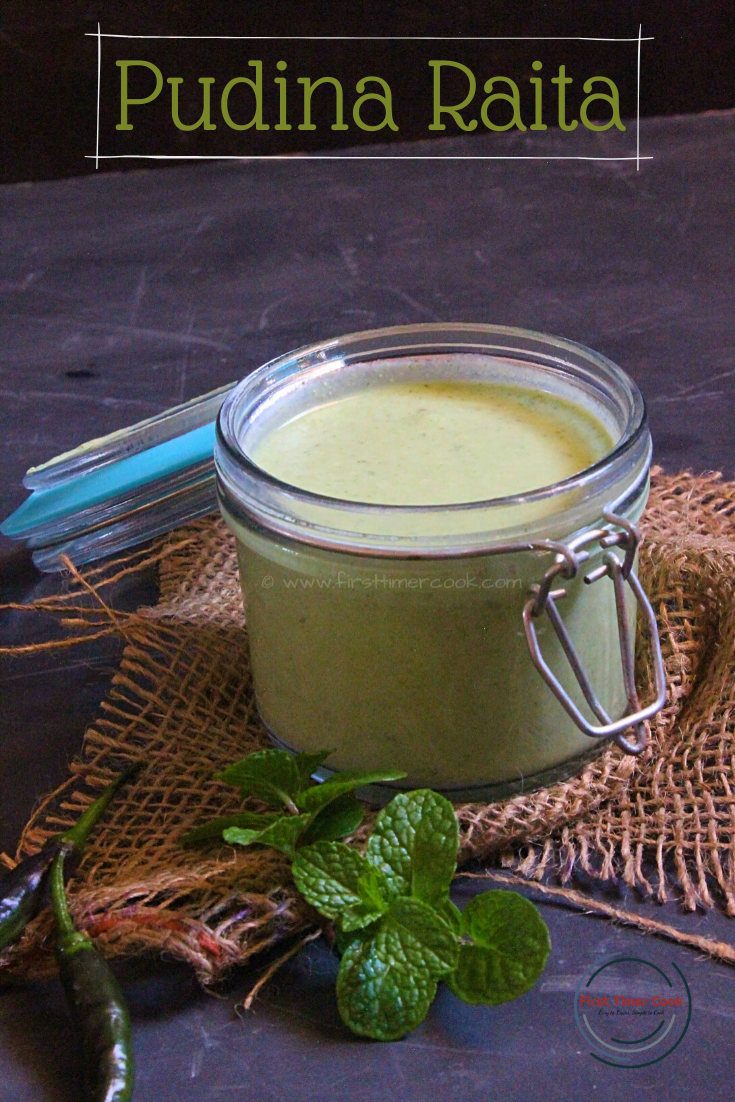 Mint Leaves aka Pudina Patta :
Mentha or mint aka Pudina is one of the oldest herbs widely used in global cuisines. It grows all-round the year, near moist places and in extreme climatic conditions too. Mint is a fast-growing herb which needs minimal care and can be easily grown in our kitchen garden, My small kitchen garden has this plant all the time. The divine flavor of mint / pudina leaves renders a distinct taste and aroma to the dishes. These leaves can be used fresh or dried in an array of culinary dishes. The leaves render a warm, fresh, aromatic, sweet flavor and deliver a cool aftertaste which is used in making tea, jellies, refreshing drink, syrups, ice creams, toothpastes and lots more. Mint leaves are also valued as a mouth freshener since times immemorial for its amazing healing properties. Menthol, the compound present in mint leaves renders the characteristic aroma and flavors to all mint based products.
It also helps in dental care
Promotes respiratory health
Improves digestion
Combat stress and depression etc.
Have you checked mint based recipes from my blog ? Here are some as
Minty Mango Iced Tea (Virgin),
Namkin Sattu Sharbat / Sattu ka Ghol / Savory Gram-flour Quencher,
Pudina Sabudana Khichdi | Mint Tapioca Pilaf,
Masala Chaas / Spiced Buttermilk,
Piaji / Chana Dal Fritters in Odia style,
Mint Hummus (Vegan & Gluten free).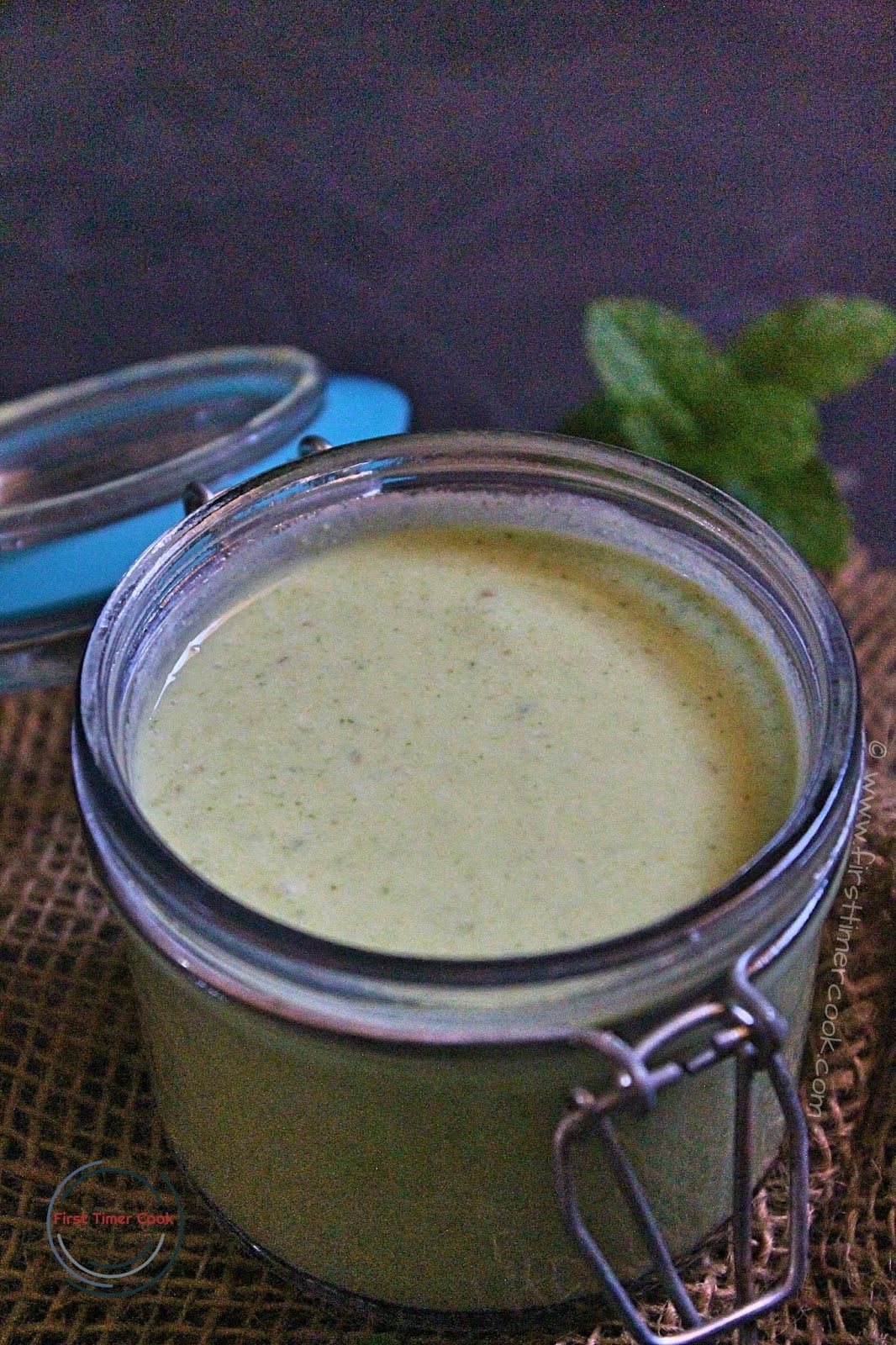 Raita and mint combination :
Raita is a much needed accompaniment for most Indian Spicy dishes mostly rice based dishes like biryani, pulao etc. Basically this dish gives a soothing balance to our taste palate while having spicy foods. Depending upon the main ingredients used in the raita except curd, the name of the raita varies.
Do check some more raita recipes from this space :
Here in this post I am going to share the Pudina Raita / Mint Curd Dip. Here both pudina and dahi give an amazingly refreshing taste in the raita.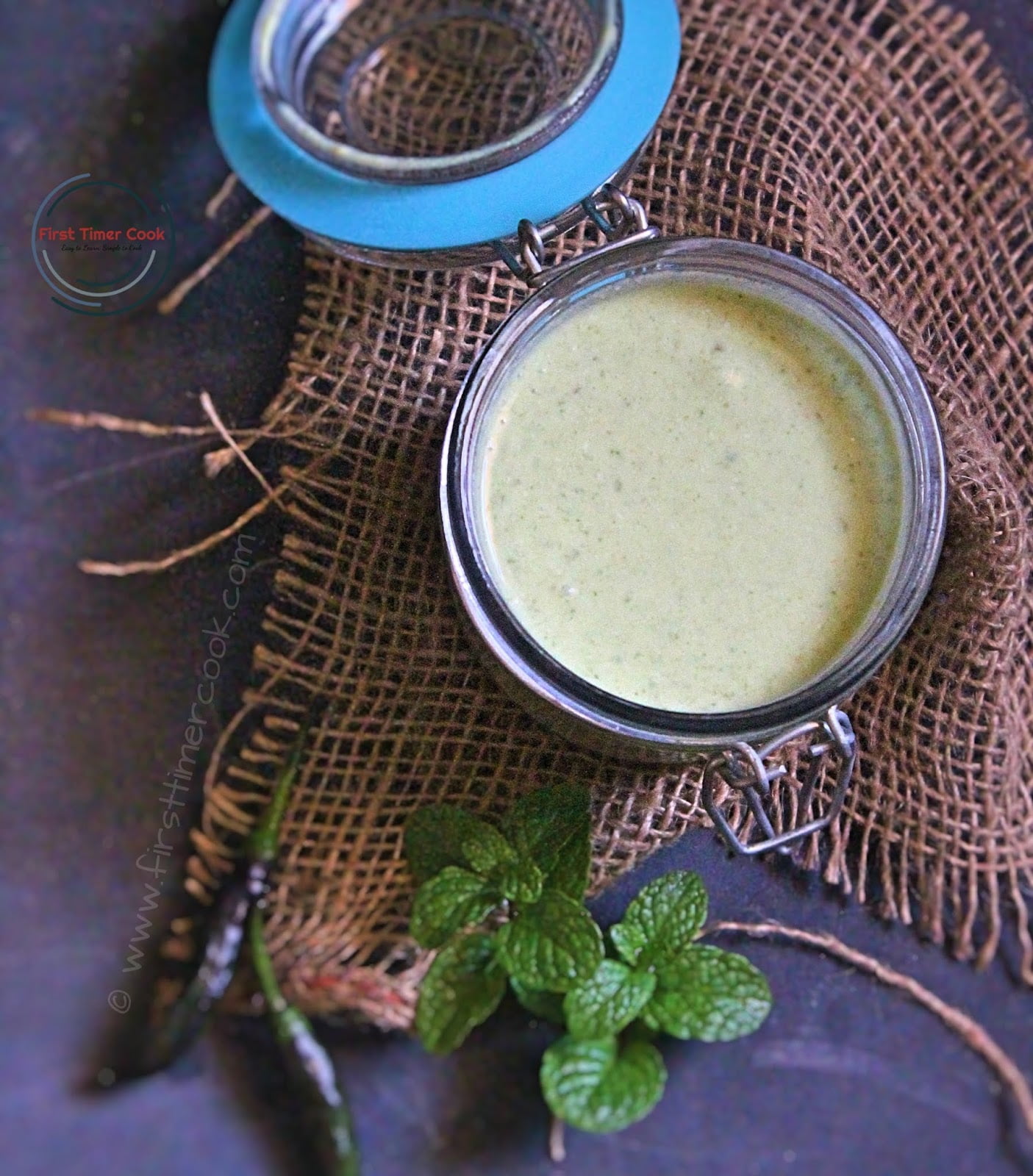 Ingredients & procedure to make the Pudina Raita :
From the name itself, the major ingredients are curd and fresh mint leaves. Along with this, some roasted cumin seeds, green chilies, salt are used to make the raita. Some also adds sugar in this raita, I haven't. Instead of roasted whole cumin seeds, some roasted cumin seed powder can be added. Well first the washed and cleaned fresh mint leaves along with roasted cumin seeds, green chilies, salt are blended to a smooth paste. If it becomes difficult to make smooth paste, then a splash of water or 1 tbsp of curd can be added to the blending jar. Then that paste is mixed with the rest curd (whisked curd) and everything is again whisked to get a smooth texture.
Serving ideas :
This refreshing and cooling dip is a super easy and quick to prepare. One can make in advance and refrigerate in an airtight container. This is popularly served with kebabs, grilled tandoori dishes. Also with masala naan or stuffed paratha it is perfect as a dipping sauce. For spicy rice based dishes like biryani, pulao the mint raita pairs very well. In any party menu this is a most common accompaniment. It is a completely no onion & no garlic raita. So do try !
The event related to this post :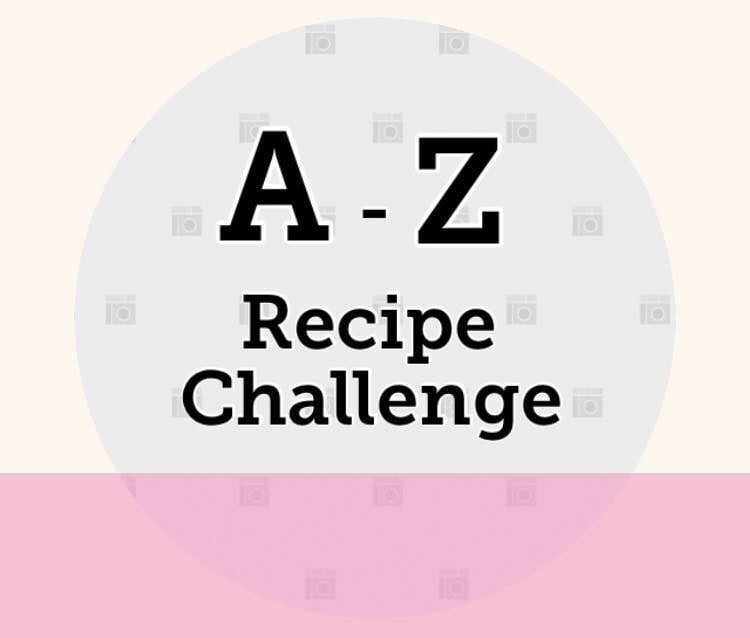 Well for current month the event 'A to Z Recipe Challenge' has come up with the alphabet 'M'. That means, there must be a recipe post having the main ingredient name starting with alphabet M. So I opted M for 'Mint' and have prepared Pudina Raita | Mint Curd Dip.
: Recipe Card :

Pudina Raita | Mint Yogurt Dip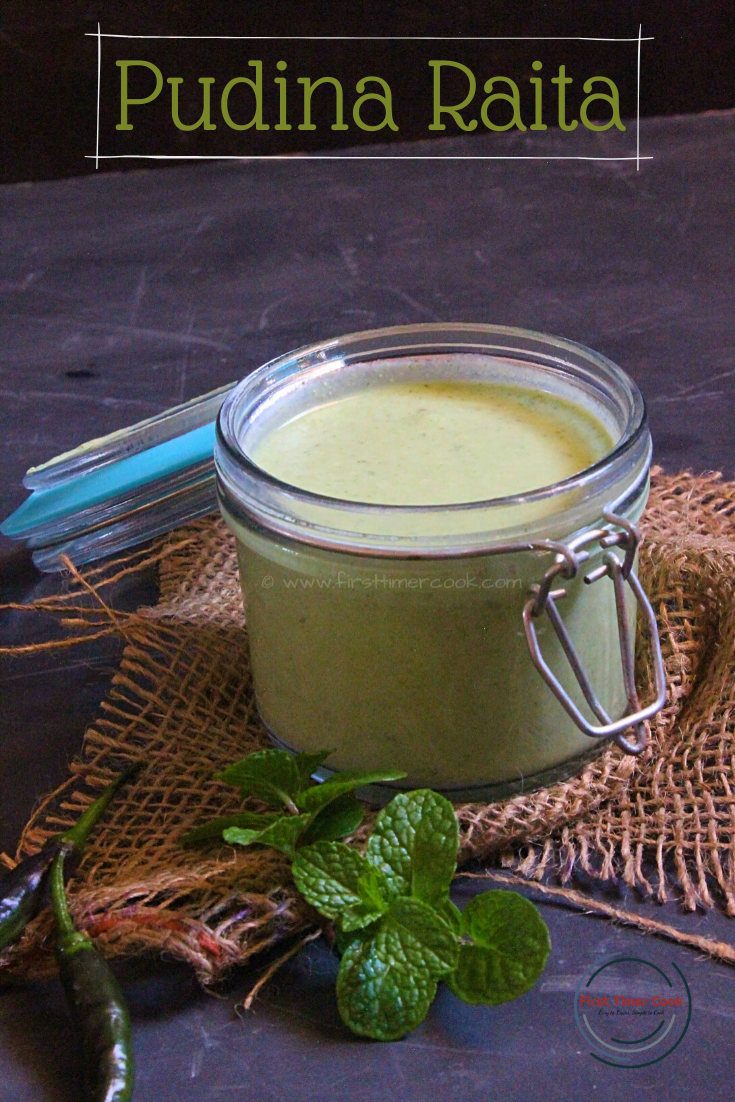 Prep time: 5 MCook time: Total time: 5 M
a perfect accompaniment of minty flavored yogurt dip.
Ingredients:
Yogurt (curd) 1 cup
Mint leaf 3/4 cup
Green chili 1-2 no.
Cumin seed (roasted) 1/2 tsp
Salt as needed
Instructions:
How to cook Pudina Raita | Mint Yogurt Dip
Wash and clean all the mint leaves and allow to drain completely.
In a blender jar take all the washed mint leaves along with green chilies, roasted cumin seeds, salt.
Blend to get a smooth paste either by adding a splash of water or not.
In a mixing bowl take yogurt and whisked well first.
Then add this mint paste and whisk everything again till an even texture comes out.
Serve immediately along with biryani / pulao / kebab or store in refrigerator by keeping in an airtight container for later use !
Notes:
Some love to add sugar in this mint raita, I have skipped that addition.
Adjust spiciness as desired.
pudina patta, gluten free, yogurt, dahi, accompaniment, Pudina raita, no onion no garlic dip, no oil dish, no cook recipe
Raita, Dip, Condiment, Mint leaves, Curd, Gluten free dip
Indian
Did you make this recipe?
Tag @firsttimercook on instagram and hashtag it #firsttimercook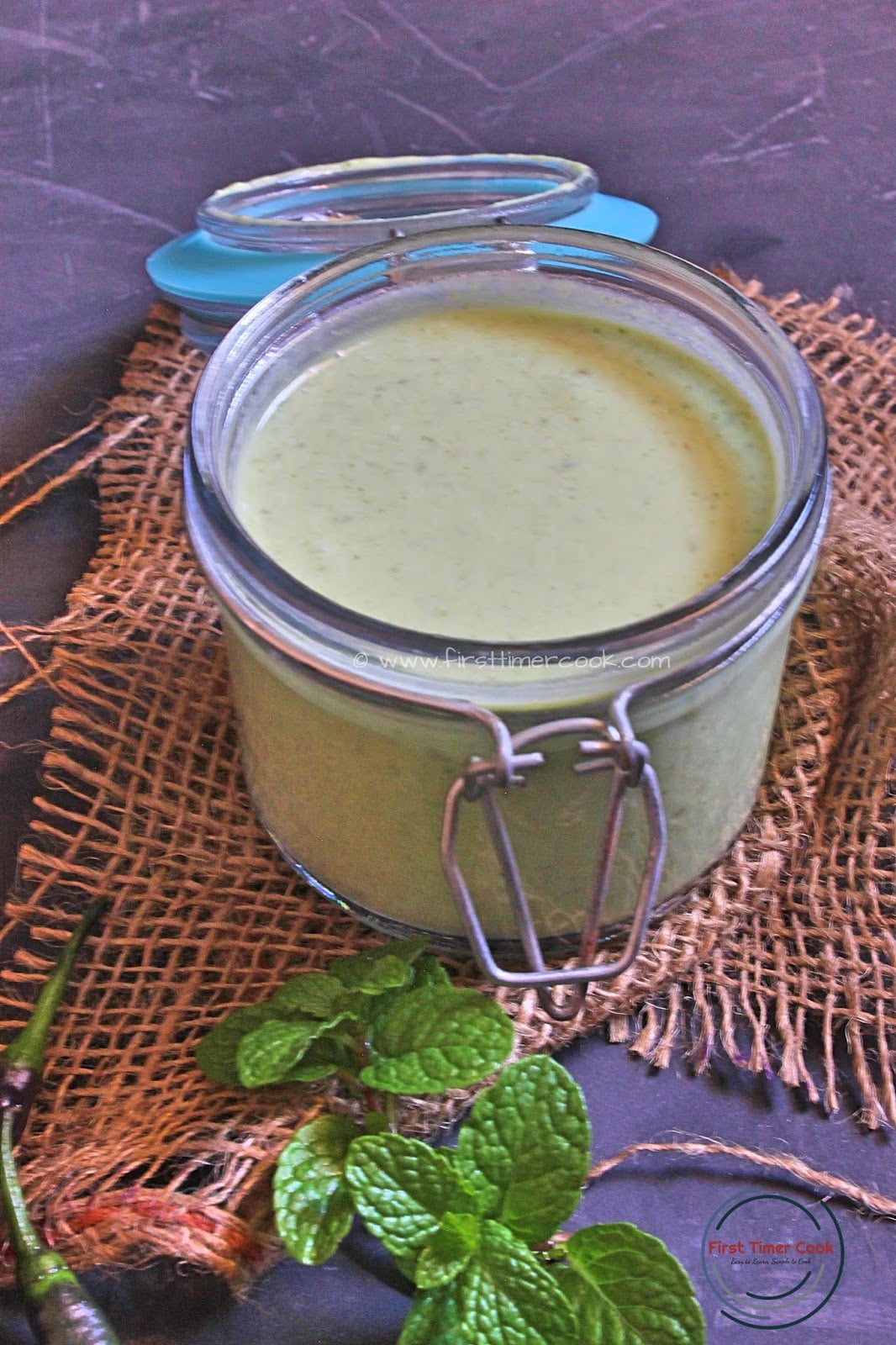 You may also follow me on Facebook, Pinterest, Twitter, Google+, Instagram and can subscribe for free to get new recipes directly into your inbox 😊

PIN for later :