a refreshing summer drink using fresh yogurt / curd and chocolate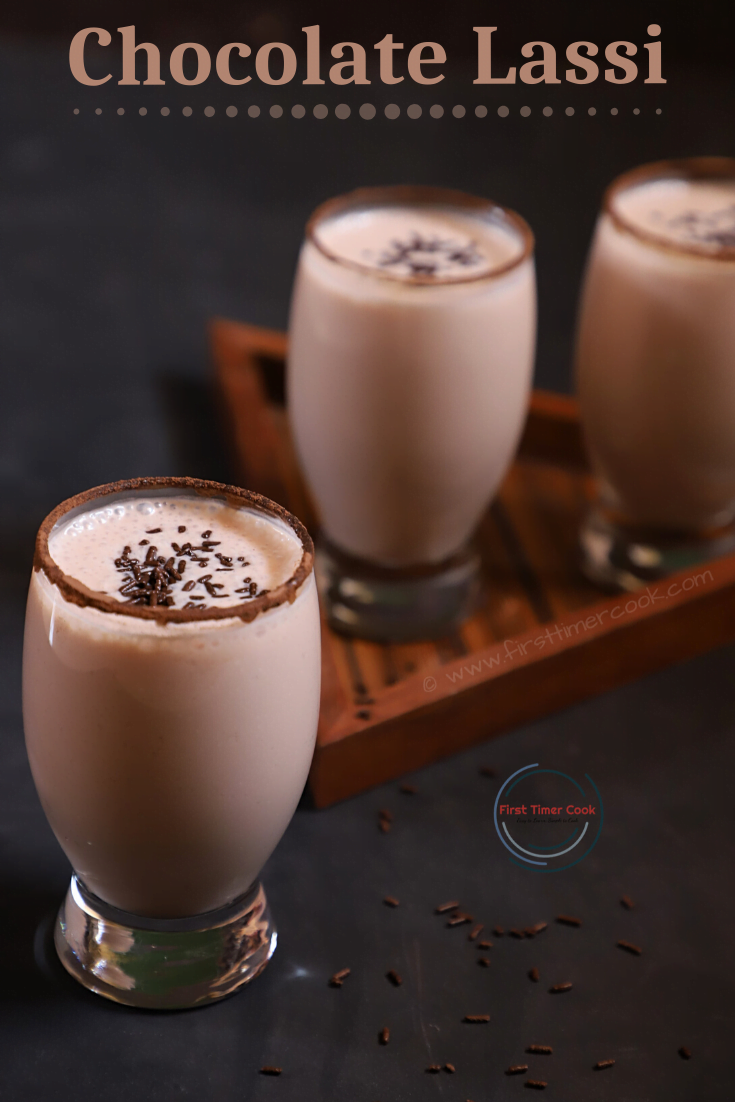 Lassi !!!!
Sweltering summer and a tall glass of lassi always go hand-in-hand, isn't it ?
Lassi is one of the highly loved beverages mostly during the Indian summer. So creamy as well as smooth texture, this yogurt based refreshment is the much needed one. Traditionally in India the lassi is served in earthen pots called matkas. This is so easy to make using fresh thick yogurt or curd, particularly sour kind of curd has to avoid while making Lassi. It has miraculous powers that can cool anyone instantly in a scorching heat and only for this reason even in Ayurveda, it is considered to be a great summer cooler for humans. These days there are a lot of variation in this drink while keeping the base (curd / yogurt) as it is. The additional flavor which is added to the yogurt particularly decide the name of the lassi. Do check some other lassi added to my space earlier 👇👇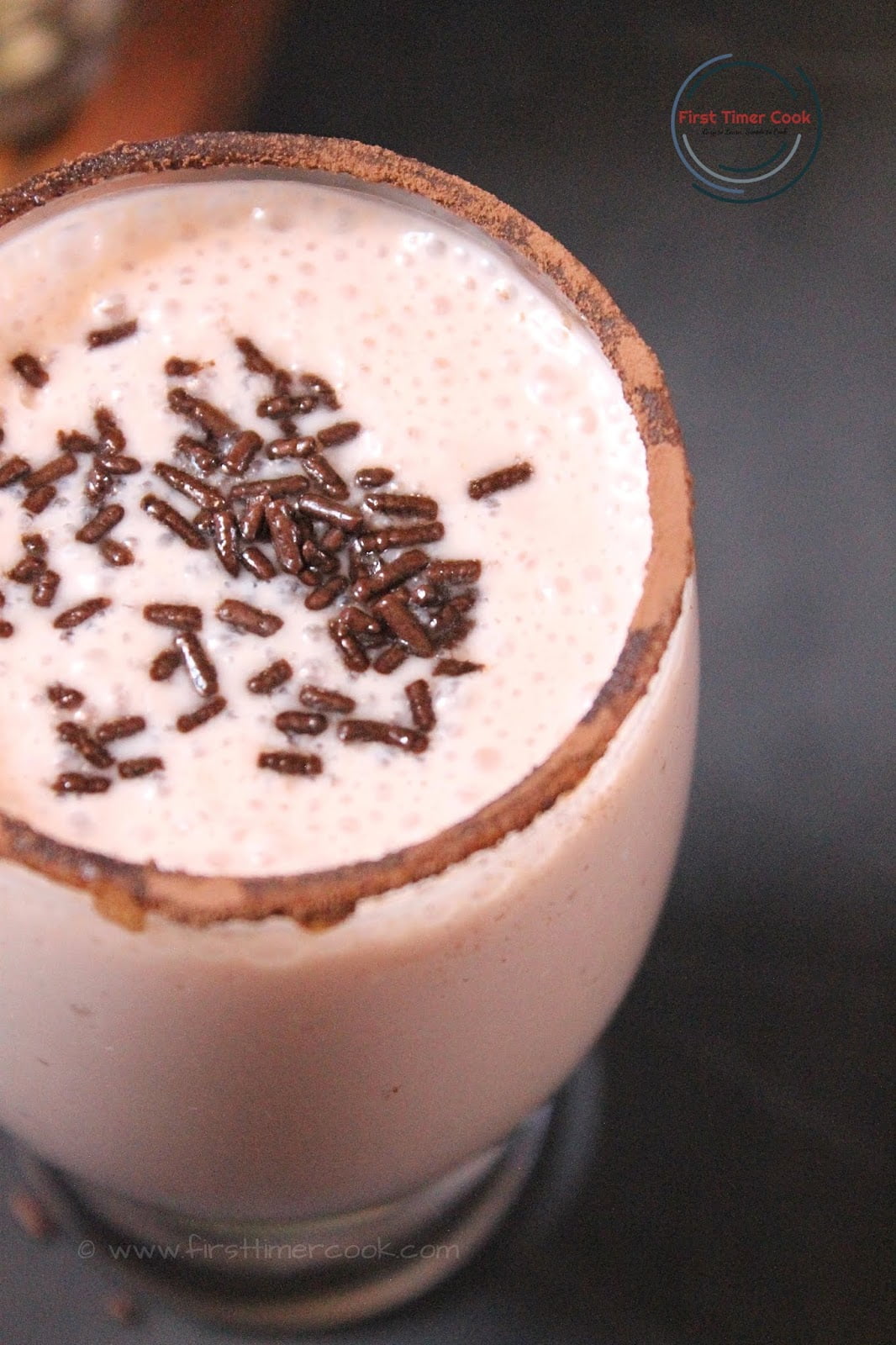 Well today I have come with a twisted lassi using the kids favorite food, chocolate as Chocolate Lassi. Are you super excited by the name itself ? Oh yes, I can understand. We three in my family also fully enjoy this creamy chocolaty flavored yogurt drink.
Some tips to prepare Perfect Lassi :
First of all, the major ingredient in the lassi, the curd or yogurt has to be picked fresh and thick.
Preferably do not use any electric blending machine. Use hand whisk or the traditional hand beater (madhani). Using blending machine the curd looses its consistency. Lassi has to be a kind of thick consistency.
Check the consistency of the lassi as desired. Accordingly add water else simply skip the addition.
The lassi can be kept in refrigerator till serving. And in that case there is no need of adding any ice cubes. If planning to serve immediately, then add roughly crushed ice cubes while serving into the glass.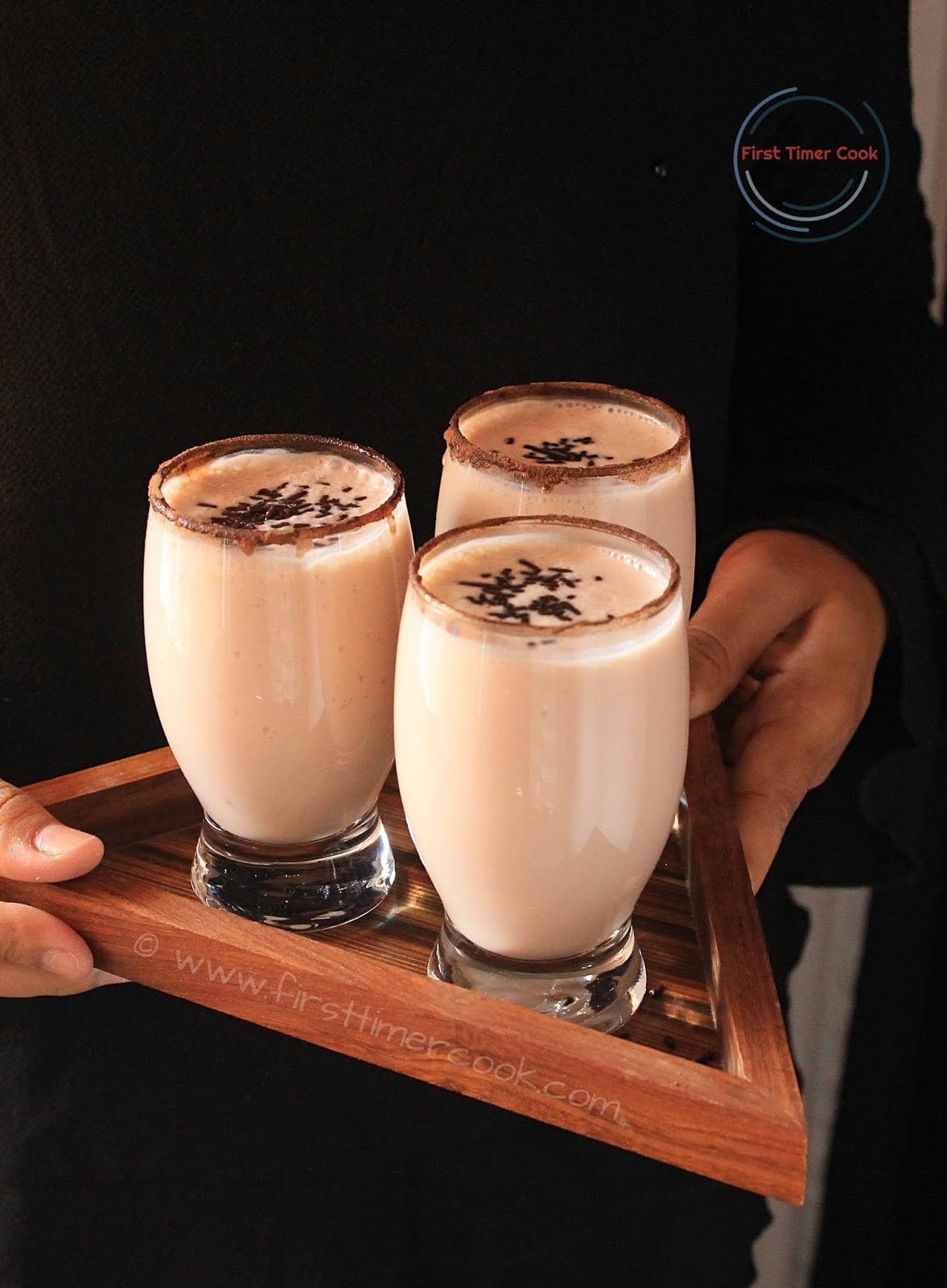 Ingredients to be used and the preparation of this lassi :
From the name itself one can guess beside yogurt the other major ingredient must be chocolate. Yes, I have used some melted chocolates. One can add some grated chocolate as well. Along with that I have added nutella too. And that's it😊. First the fresh thick curd is whisked well till smooth, creamy and frothy well. Then the melted chocolates are mixed along with nutella. I have not added any water and keep the drink little thick. But that is completely individual choice. If slight thinner lassi is needed then add little amount of water as per the consistency desired.
This is completely a gluten free beverage. One can use vegan yogurt to make this completely vegan as well !
While serving first dip the rim of the glass in a plate having cocoa powder so that the rim gets well coated. Then simply put some roughly crushed ice cubes in the bottom of the glass and next pour the chocolate lassi into it. Finally some chocolate sprinkles can be sprinkled on top and Voila ! It is ready to serve. Isn't that much easy and quick ? Kids will definitely love this thick chocolaty yogurt based drink. Even this can be prepared before hand and kept in refrigerator to serve later, but prefer to finish up within next day of preparing. Especially as the summer is started finally in India, so do make and enjoy this creamy and delicious lassi anytime of the day.
The event related to this post :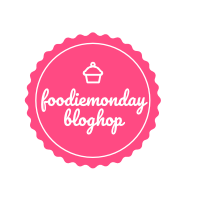 Monday is here again and this time the Foodie Monday Blog Hop team has decided the 239th theme as 'Cool Lassi' which is suggested by Mayuri di. She has a huge collection of recipes from all over the world. Have you checked her recent post which is Avocado Mint Lassi, isn't it different one 😉. Also in that post she has shared a varieties of lassi which one must try in this upcoming summer. Well coming back to the theme, she suggested to make some lassi recipe to beat the heat of the summer. So I chose to make a lassi using the kid's favorite food chocolate as Chocolate Lassi.
: Recipe Card :

Chocolate Lassi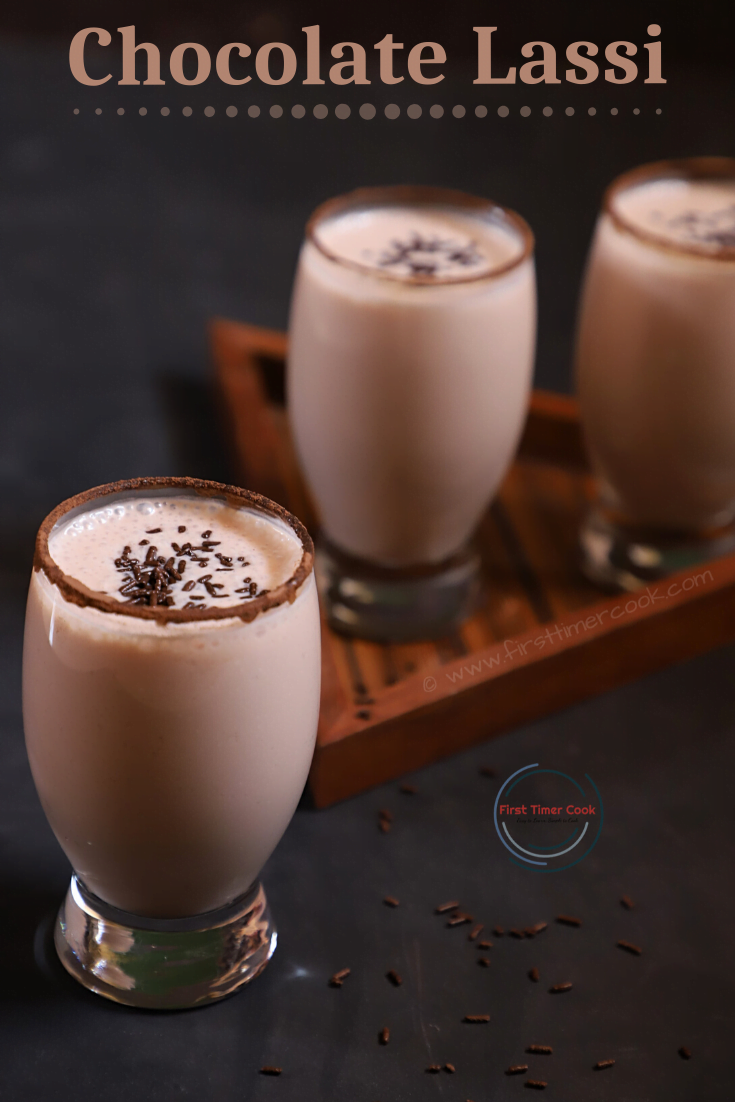 Prep time: 10 MCook time: Total time: 10 M
a refreshing summer drink using fresh yogurt / curd and chocolate
Ingredients:
Yogurt 1 cup

Chocolate (melted) 1/4 cup

Nutella 1 tbsp

Icecube (roughly crushed) few

Cocoa powder for garnishing

Chocolate spinkles for garnishing
Instructions:
How to cook Chocolate Lassi
In a mixing jar or bowl first whisk the curd till smooth, creamy and frothy well.

Then add melted chocolate, nutella and mix well everything.

In a plate take cocoa powder and dip the rim of the serving glass so that the rim gets well coated.

Next put some roughly crushed ice cubes in the bottom of the glass and then pour the chocolate lassi into it.

Sprinkle some chocolate sprinkles on top and serve immediately !
Notes:
Always use plain whole milk yogurt which is thick and not watery kind.
The yogurt should not sour kind, so pick always the fresh curd to make the lassi, else the taste will not good with sour yogurt.
If sweetness is not up to the mark then one can add some sweetener like sugar or honey. I have not added any here.
Gluten free drink, Summer drink, Indian Drink, Chocolate lassi, Curd, No cook recipe
Beverage, Lassi, Yogurt, Chocolate, Nutella
Indian
Did you make this recipe?
Tag @firsttimercook on instagram and hashtag it #firsttimercook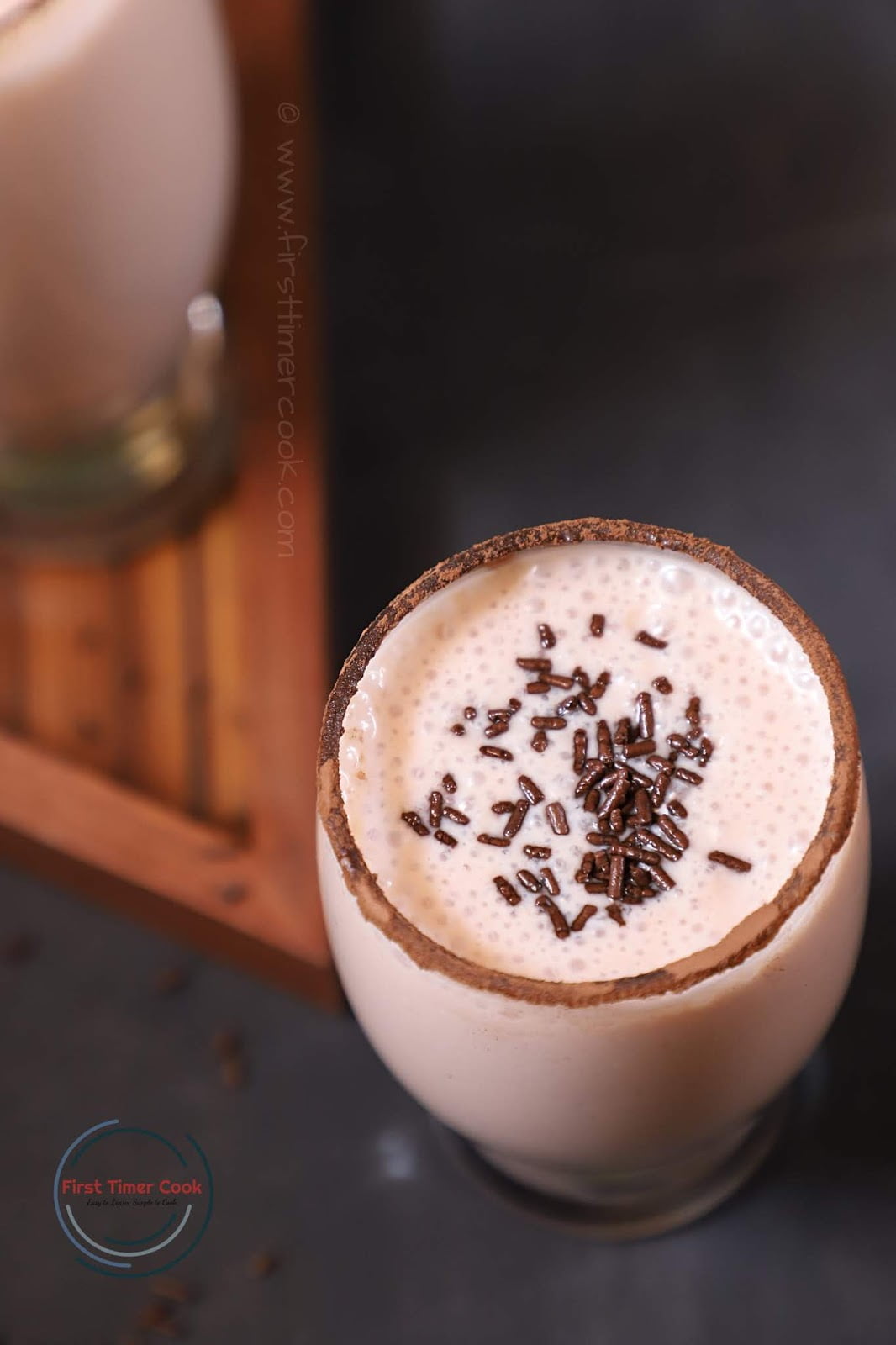 You may also follow me on Facebook, Pinterest, Twitter, Google+, Instagram and can subscribe for free to get new recipes directly into your inbox 😊
PIN for later :