make a super simple & easy side dish using peels of green pea pods & stems of cauliflower without throwing out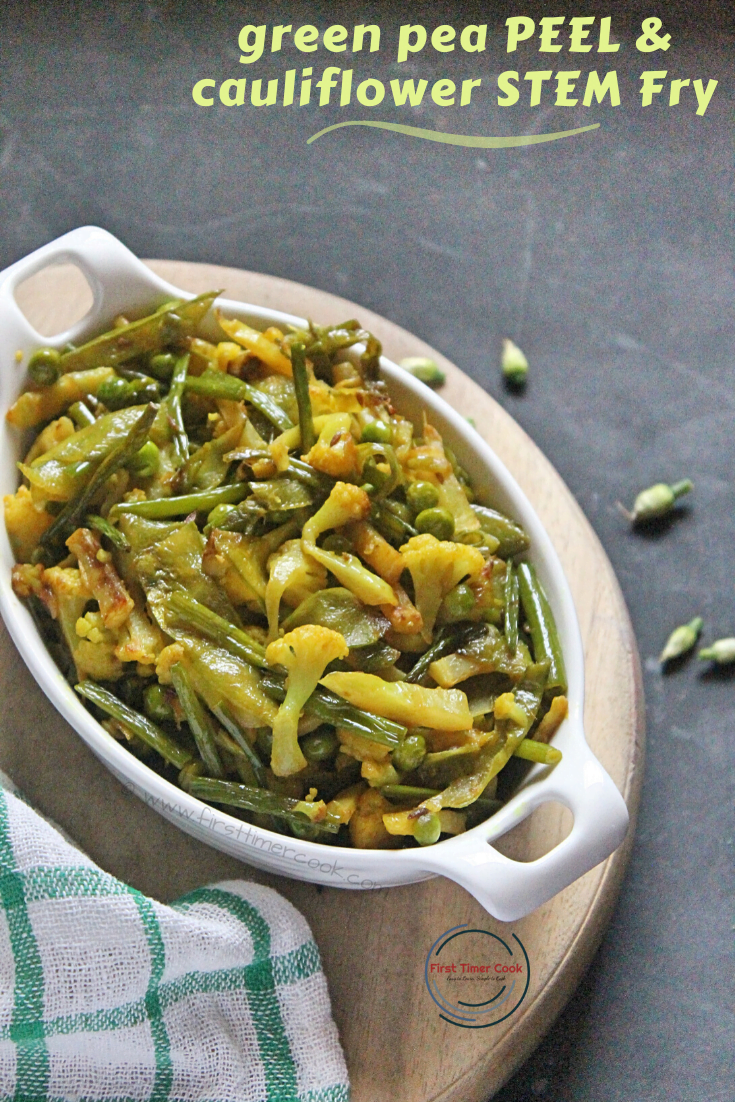 Food waste is among the most significant social and environmental issues of our generation. Are you all aware of these things ? Yes, I know this is a very huge topic to handle these days, but still we can start and small small efforts can add up to something really big. Isn't it ? We can reduce the food waste by using up every single part of the fruits and veggies we buy. Basically we throw away lots of parts of veggies and even of fruits just after taking out the flesh part. We can use the stalk, stem, peels, seeds of vegetables, fruit rinds etc to make a varieties of dishes which one can't even imagine.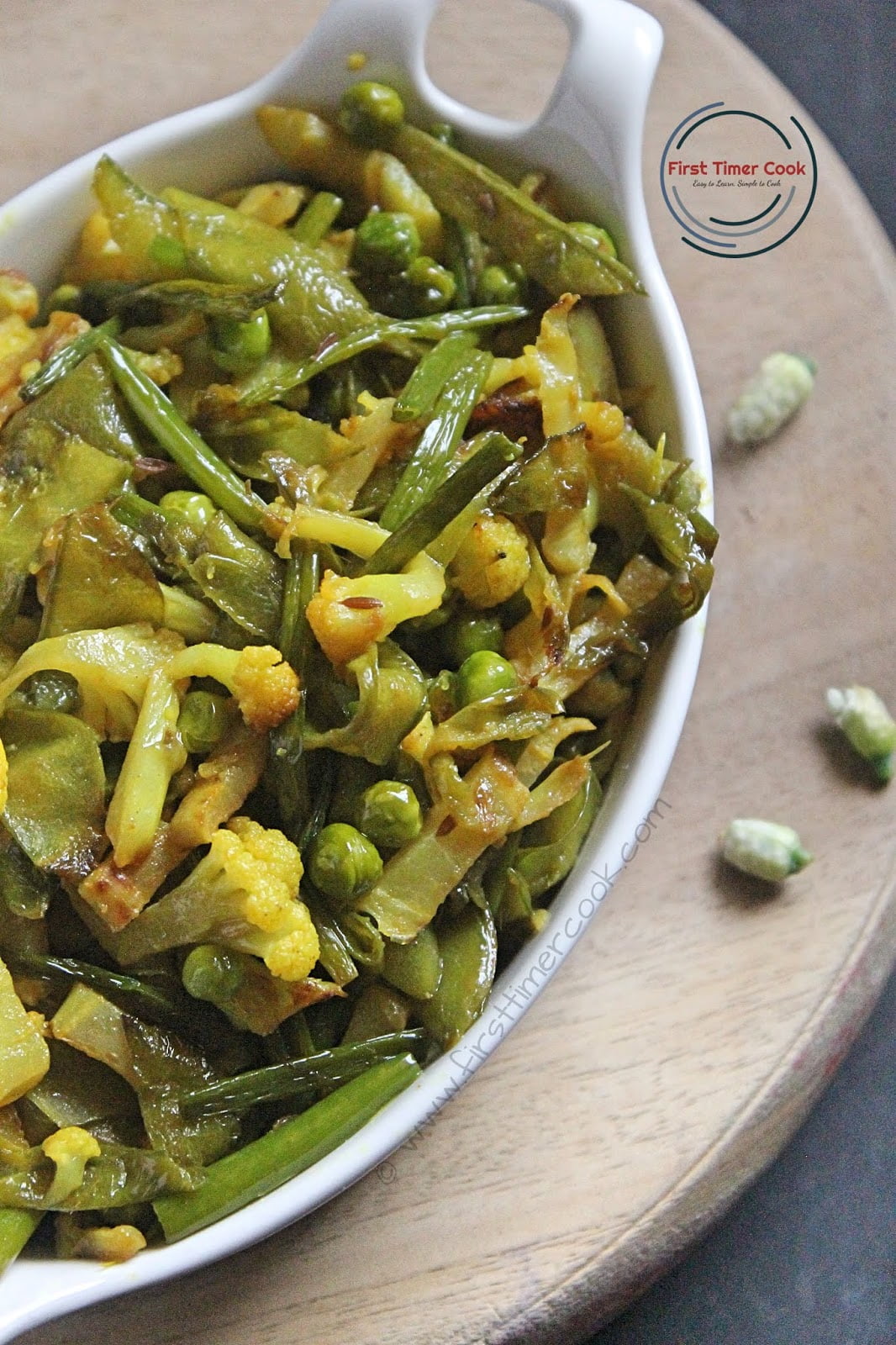 Today's post is similar to the above discussion. I have here come up with a dish as Green Pea Peel & Cauliflower Stem Fry. The peels of green peas and the stems of the cauliflowers (which we generally throw away) are used here to make this super simple side dish. The dish is also completely vegan & gluten free. The stem part of the cauliflower one can easily chopped. But taking out the peel of the green peas is bit tricky kind. Do follow below steps 👇👇
How easily one can take out the peels from the green peas ?
First of all to make this dish one has to choose the fresh and farm green pea pod. Then wash the green pea pods. Take out the peas from the pods in a bowl and keep aside. Now separate the pod into two halves lengthwise. Hold half part of the pod lengthwise in such a way that the inner side of the pod'll be facing you. Gently break a little portion from tip towards you and pull it down. A thin tough membrane'll come out. If it breaks in the middle, then try the same method from tip of the other end. Discard those tough inner membranes. Collect all the peels and cut into halves. Keep aside to use in the dish.
Ingredients used to make the dish :
The star ingredients here are the peels of the green pea pods and the stems of the cauliflowers. Rest vegetables I have used as few cauliflower florets (small sized), onion, green peas, spring onion. For the tempering part only cumin seeds are used. One can add some spice powders also to make this dish, but I usually don't do. Green chili also I have not used here, but that can be added to give some spiciness. Onions can be skipped to make it purely no-onion-no-garlic dish as well.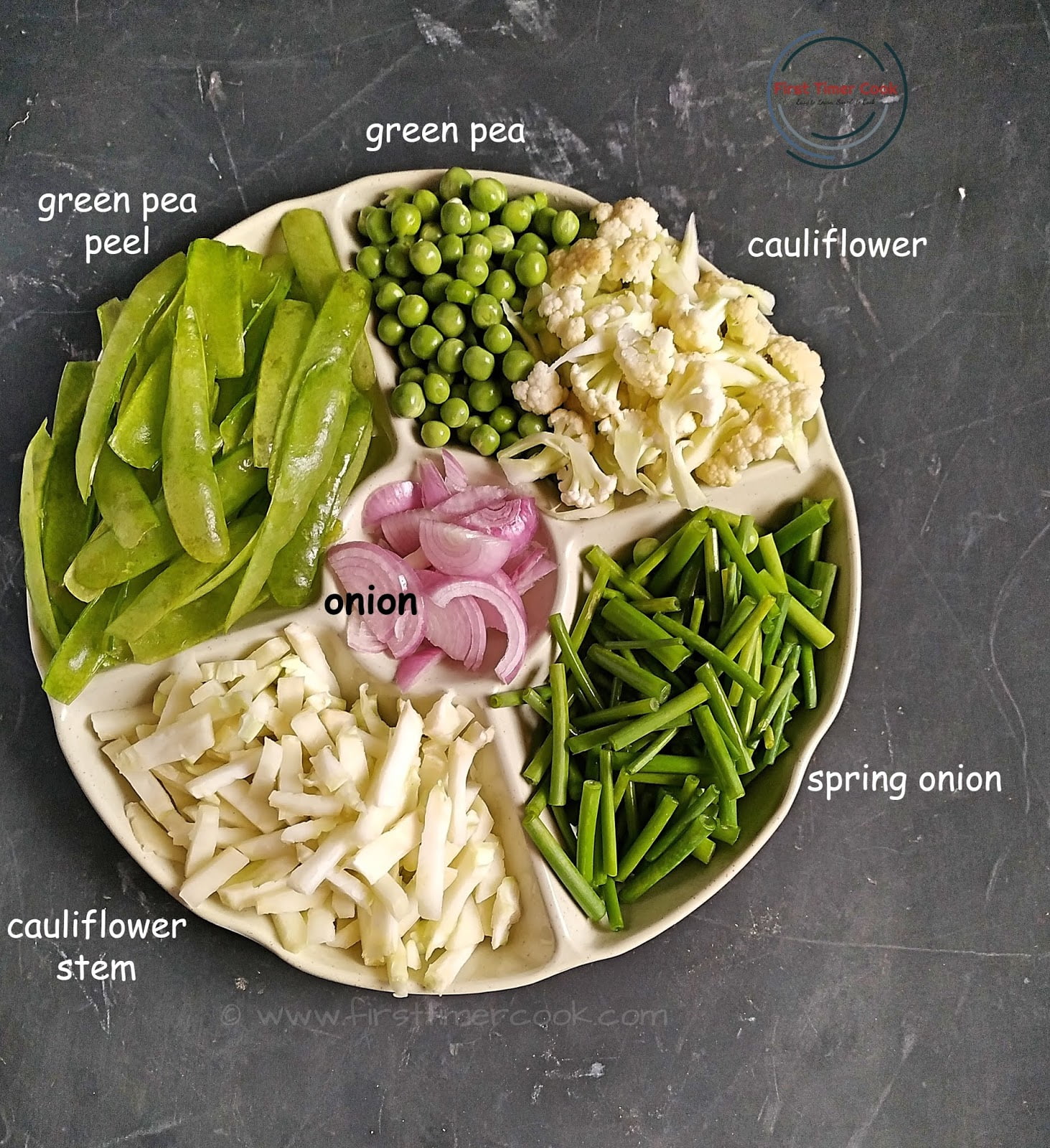 The whole method of preparation is quite simple and easy. To the tempering, all the veggies are added followed by salt and turmeric powder. Then everything is allowed to cook till well done. That's it. The dish will be ready with few minutes. The awesome and flavorful taste of this quick dish'll never let you to throw away the pea pods after taking out the peas from the pods and also the stems of the cauliflowers. With either hot phulka / roti / paratha or even with rice-dal combo this is a best side dish to enjoy the simple meal. Only the trick is how carefully one can peel the pods, else the dish is ready to make using few ingredients. So do try !
The event related to this post :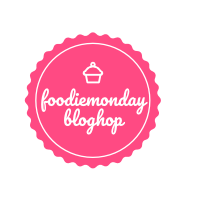 Monday is here again and this time the Foodie Monday Blog Hop team has decided the 235th theme as 'Best From Waste' which is suggested by Archana di. I simply love her simplicity and one thing I can say that she has a huge collection of Goan cuisine. And if you are fond of that cuisine just check her space. Well coming back to the theme, she suggested to make some dishes using those parts of vegetables or fruits which we generally throw out. So I chose to make a dish using the peels of green peas pods and stem of cauliflower as Green Peas Peel & Cauliflower Stem Fry.
: Recipe Card :

Green Peas Peel & Cauliflower Stem Fry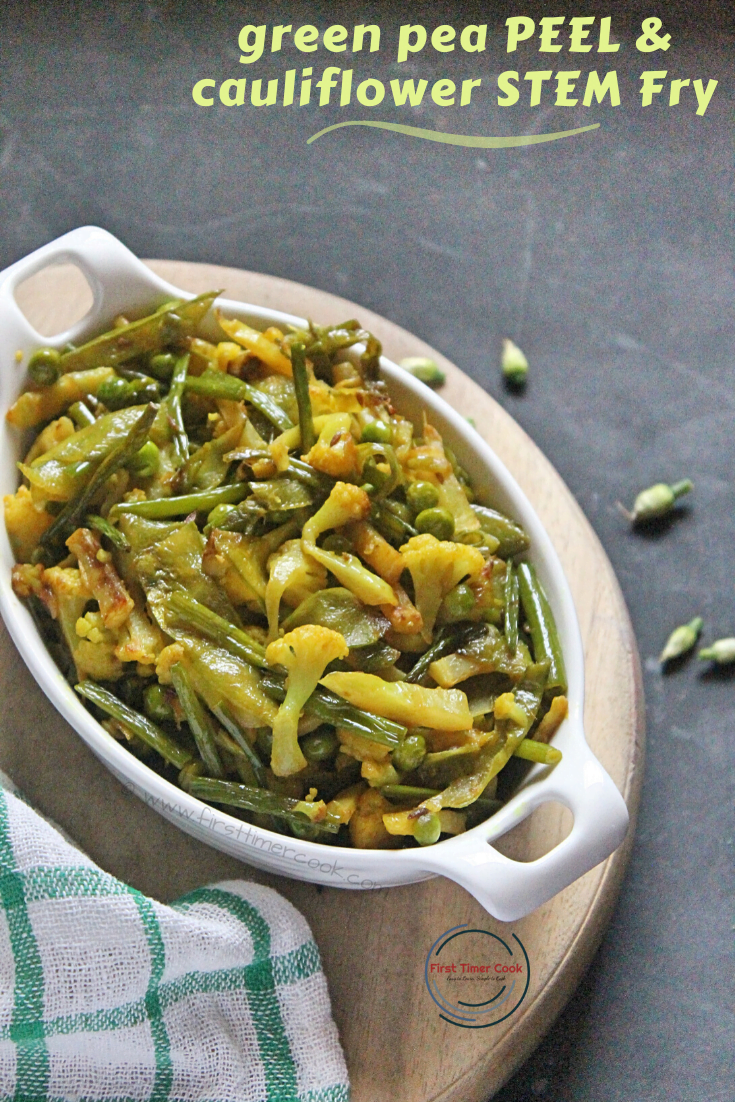 prep time: 20 Mcook time: 10 Mtotal time: 30 M
make a super simple & easy side dish using peels of green pea pods & stems of cauliflower without throwing out
ingredients:
Green pea peel 1.5 cup

Cauliflower stem (chopped into 2 inch lengthwise) 1 cup

Cauliflower floret 1/2 cup

Spring onion (cut into 2 inch) 1/2 cup

Green pea 1/2 cup

Onion (finely sliced) (medium) 1 no.

Turmeric powder 1/2 tsp

Salt as needed

Oil as needed
instructions:
How to cook Green Peas Peel & Cauliflower Stem Fry
In a pan heat oil.

Add cumin seeds and allow to splutter.

Add sliced onions and fry for few seconds.

Next add chopped cauliflower stem first, fry for 1 minute.

Add cauliflower, green peas, green pea peels and mix everything.

Fry for 1-2 minutes.

Then add salt, turmeric powder and mix well.

Cover and allow to cook well.

After that add all the green onions and again give a nice mix.

Cover for 1 minute more.

Take out the cover and fry for 2-3 minutes more to completely dry all the moisture from the pan stirring in between.

Turn off heat and serve as a side dish with hot phulka or paratha or even with rice-dal combo.
NOTES:
Few green chilies can be added if some spiciness is desired.
I generally don't add any other spice powders. But if you want you can add some cumin, coriander powder to this.
Some other veggies also one can add here. I have picked some winter fresh veggies as the season is still going on somehow.
spring onion, green pea, cauliflower, vegan side dish, winter vegetables
Green pea pod peel, Cauliflower stem, VEgetarian dish, side dish, vegan , gluten free,
Indian Cuisine
Did you make this recipe?
Tag @firsttimercook on instagram and hashtag it #firsttimercook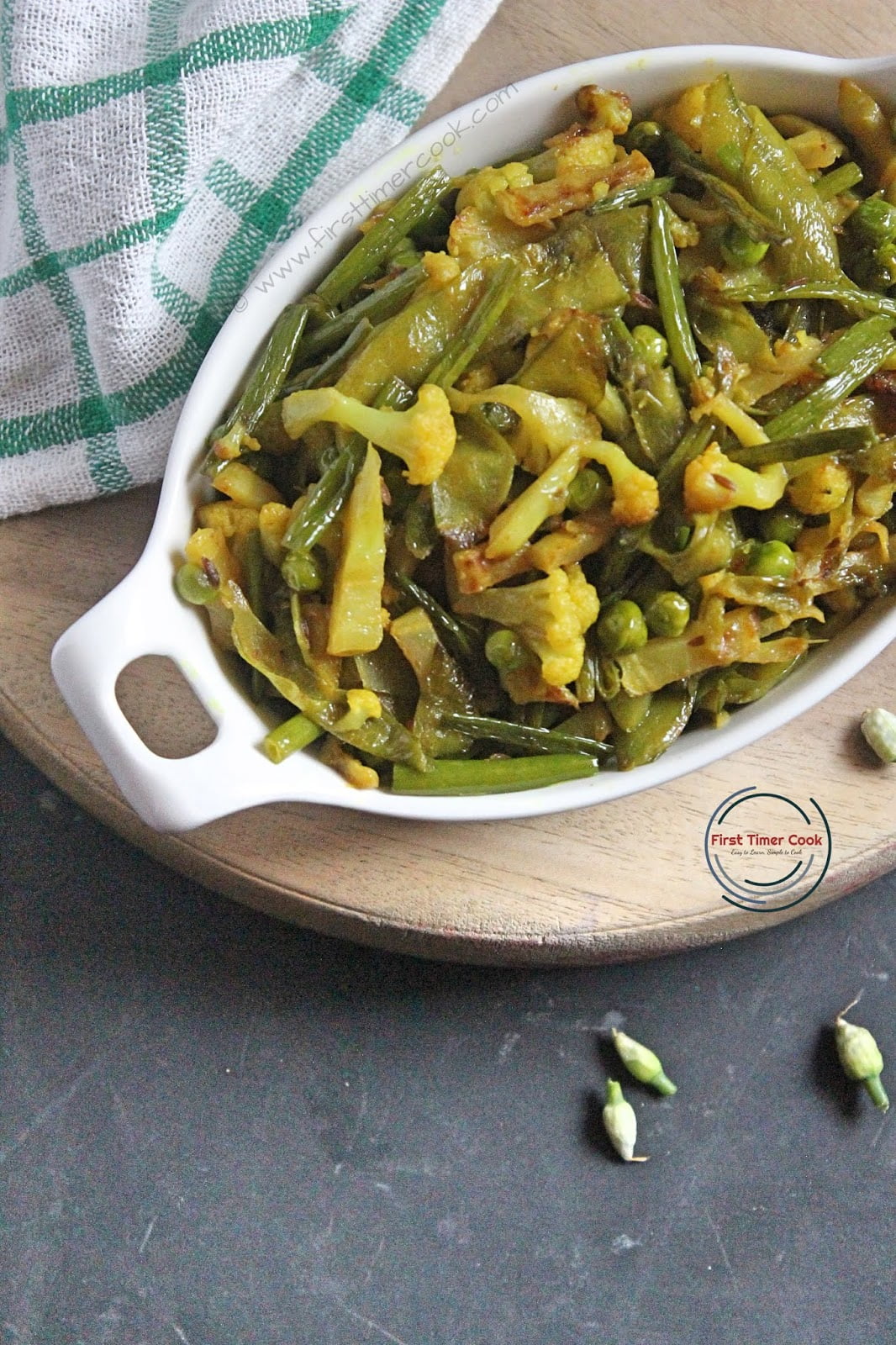 You may also follow me on Facebook, Pinterest, Twitter, Google+, Instagram and can subscribe for free to get new recipes directly into your inbox 😊
PIN for later :