an Indian onion-tomato based gravy using lady finger (okra) aka bhindi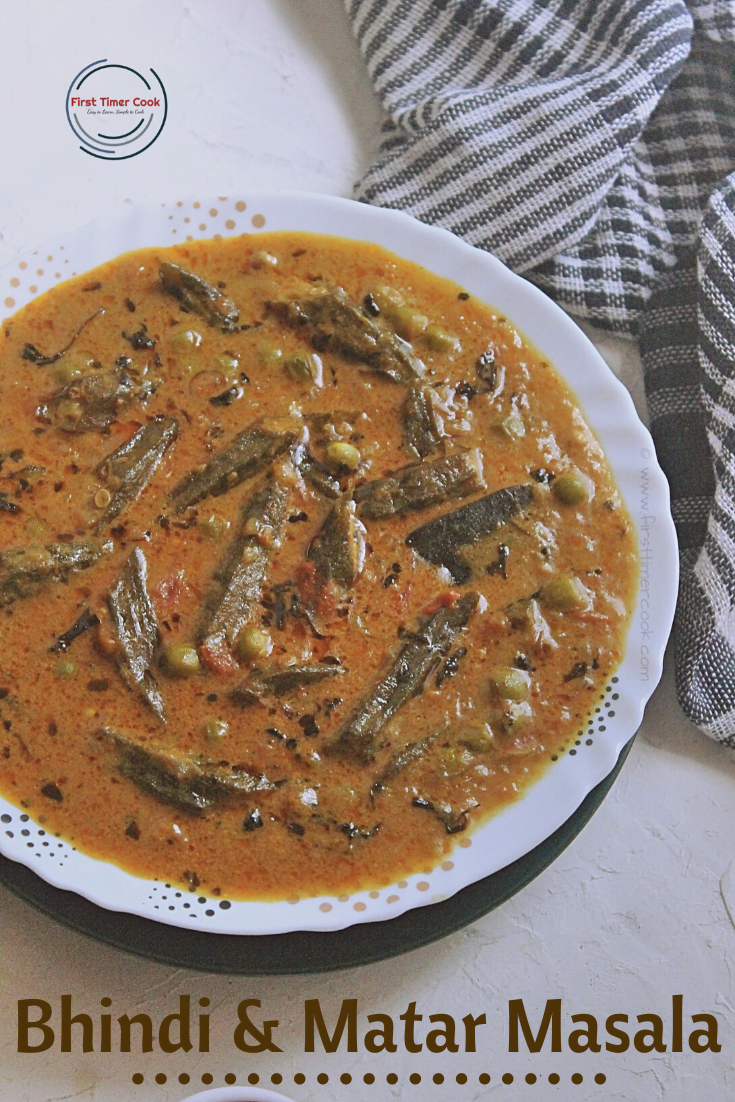 Lady finger (okra) aka Bhindi in hindi is such a vegetable which one person either hates or loves to have 😉 This is my all time favorite vegetable and throughout the year this vegetable one can find in refrigerator. From the nearby local market whether I buy any others or not, this bhindi is the must one that one can find in shopping bag after returning to home 😉 And my husband always teases me that 'bhindi to jaroor hoga bag me 😜 (means he says that he is sure about the bhindi in the shopping bag anyhow)'. Actually he doesn't like this vegetable particularly If I simply serve him the stir-fried version of this vegetable with some onion and tempering. What I have noticed that he doesn't like if some stickiness is there after frying (it happens if the frying is not perfect). But other dishes like masala gravy, dopyaza etc using this bhindi are his favorite.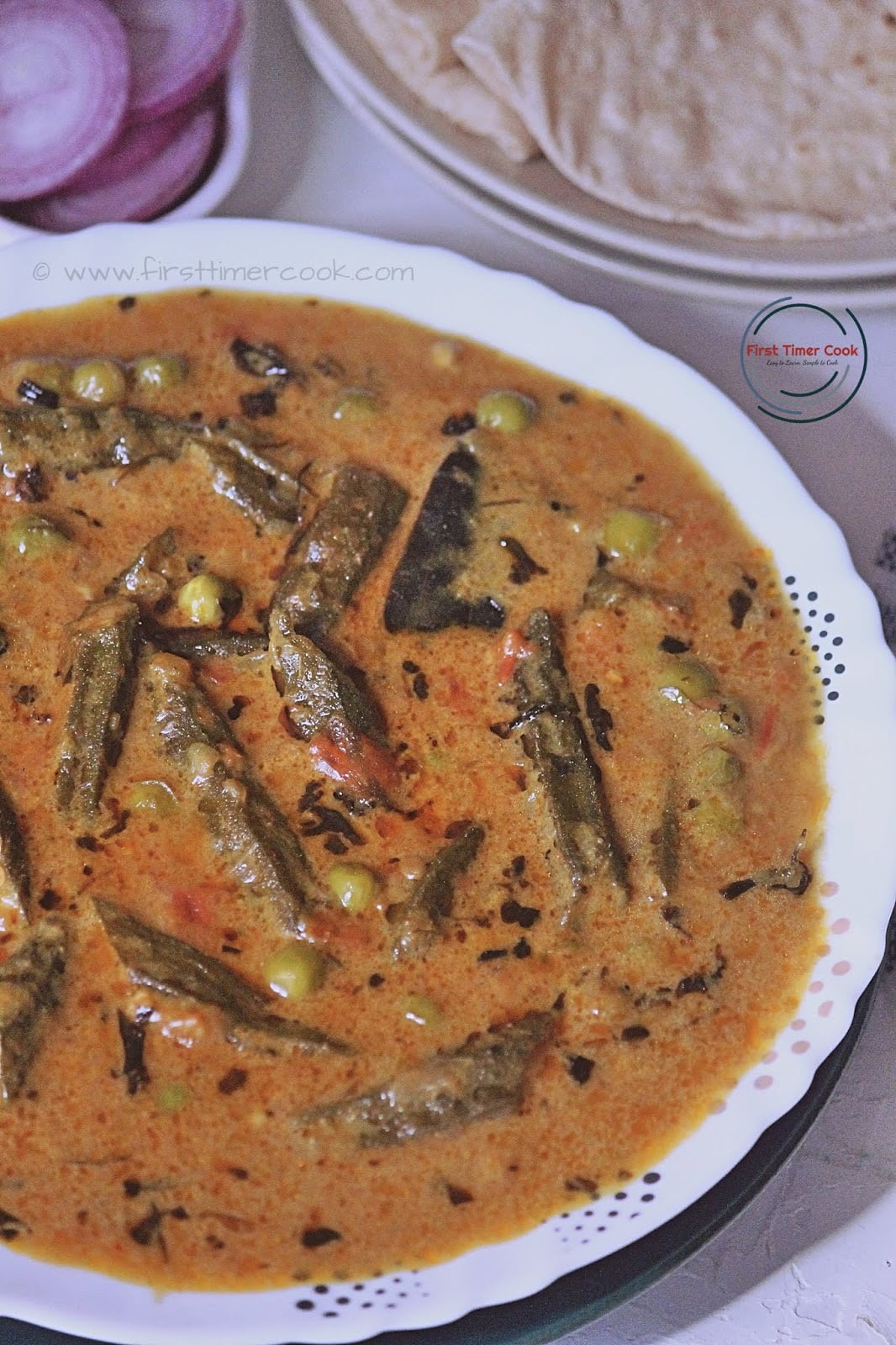 Detailed process to follow before using this bhindi in any dish without any mesh :
First of all while buying, one has to pick worm free (no holes and no dark spots in the bhindi) as well as the younger ones (just break a little from the tail end, if it easily breaks then it is perfect to buy else not).
Wash and clean the bhindi and pat try on a kitchen towel, so that there is no water while cutting them and hence not much slippery.
One can rub lemon on both side of the knife before cutting so that the stickiness will be less while slicing the bhindis.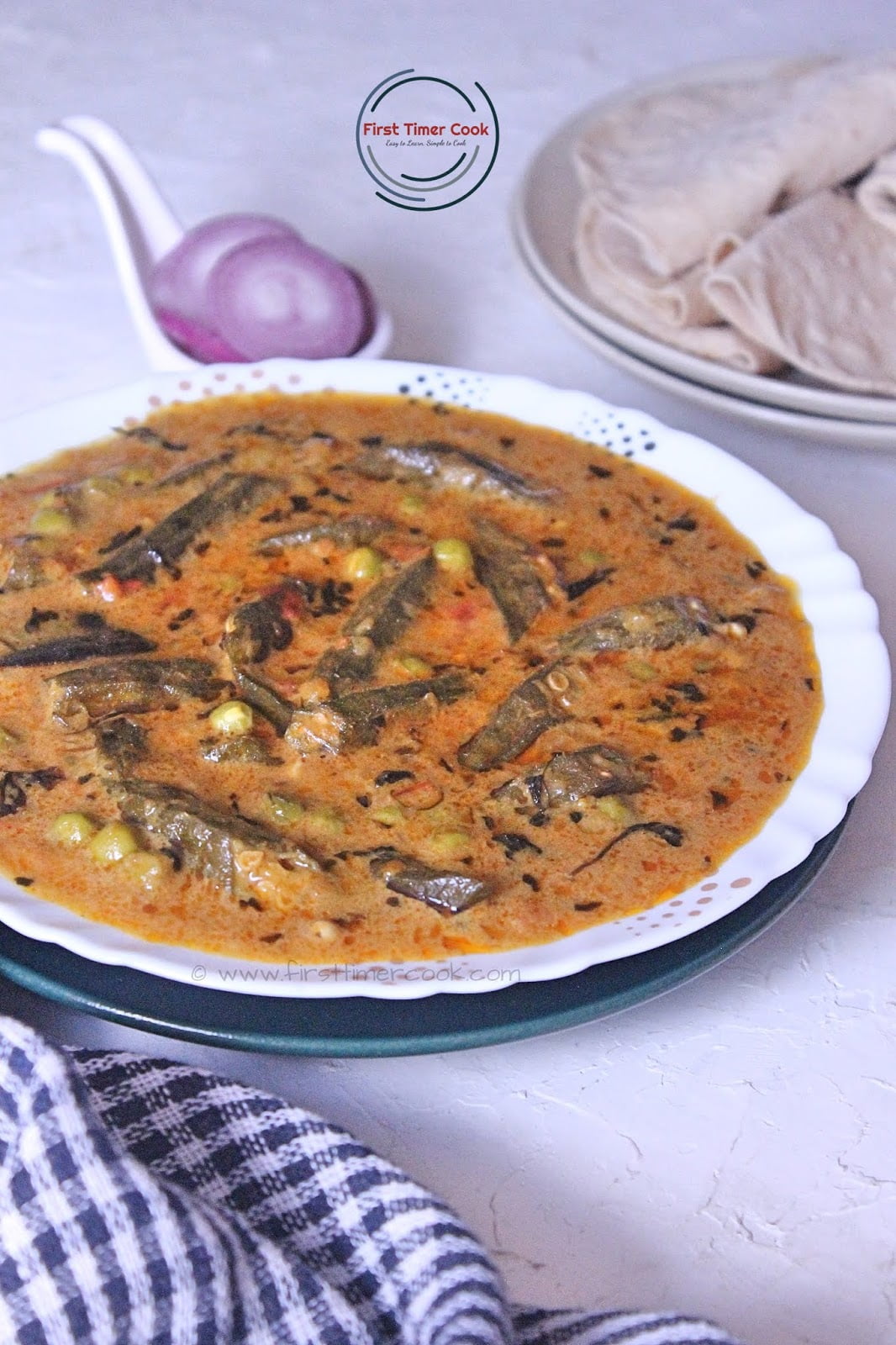 The making procedure is quite simple. It means the regular Indian onion-tomato gravy is first cooked and then the pan fried bhindies are added to the gravy. This is a restaurant style dish where often yogurt is used. But I have not added that to keep the dish vegan and instead of that some amount of cashew paste is added in the gravy. Along with okra / bhindi I have also added some fresh green peas.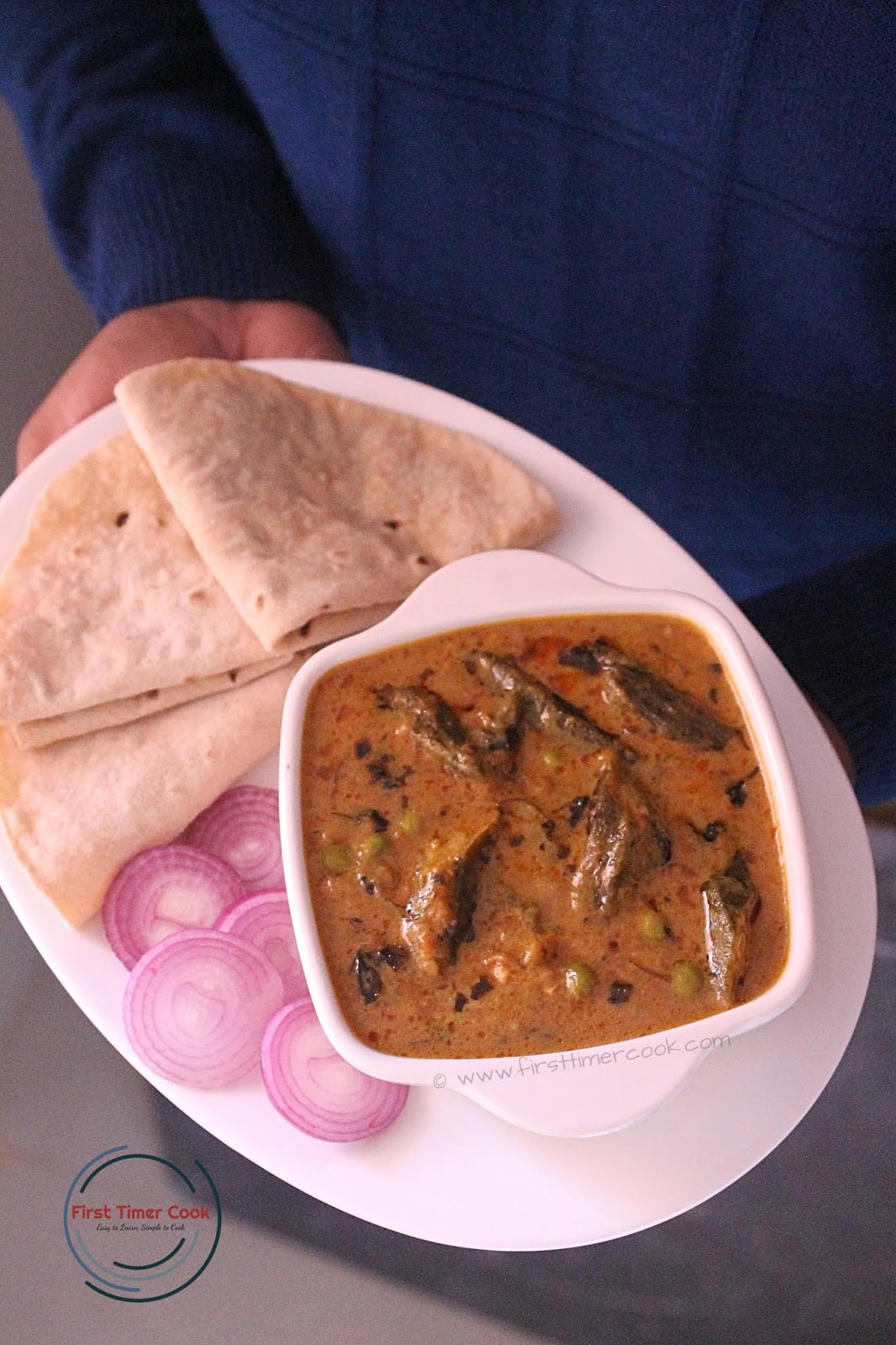 The dish looks really so thick, creamy and delicious. Along with any variety of rice dish or with roti, paratha this bhindi matar gravy goes very well. Also the dish is completely Vegan and Gluten free.
The event related to this post :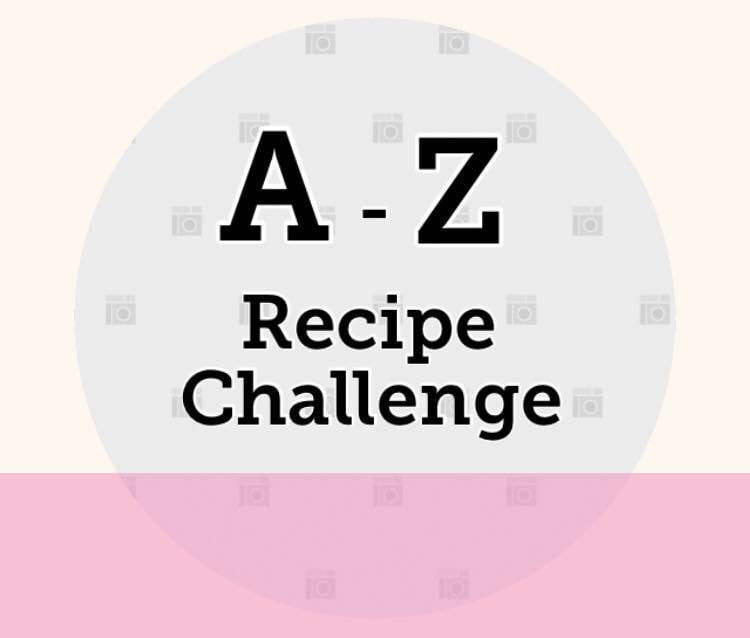 Well for current month the event 'A to Z Recipe Challenge' has come up with the alphabet 'L'. That means, there must be a recipe post having the main ingredient name starting with alphabet L. So I opted L for 'LAdy Finger' and have prepared Lady Finger and Green Peas Masala.
: Recipe Card :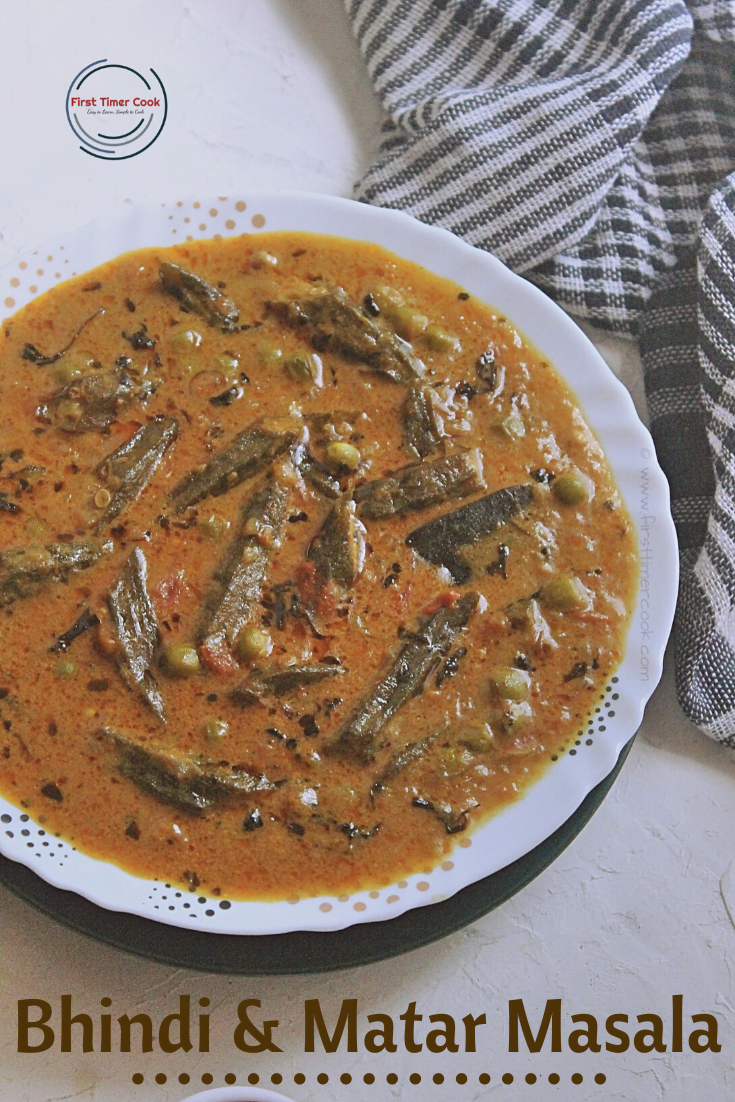 Lady Finger and Green Peas Masala (Vegan & Gluten free)
prep time: 15 Mcook time: 30 Mtotal time: 45 M
an Indian onion-tomato based gravy using lady finger aka bhindi
ingredients:
Lady finger (okra / bhindi) (2 inch slices) 1.5 cup
Green pea 1/2 cup
Onion (big) 1 no.
Ginger-garlic paste 1 tsp
Tomato (medium) 2 no.
Cashew 7-8 no.
Cumin seed 1/2 tsp
Bay leaf 1 no.
Cinnamon 1 inch
Turmeric powder 1/2 tsp
Red chili powder 1 tsp
Cumin powder 1 tsp
Coriander powder 1 tbsp
Garam masala powder
Kasoori methi 1 tbsp
Salt as needed
Oil 4 tbsp
Water as needed
instructions:
How to cook Lady Finger and Green Peas Masala (Vegan & Gluten free)
In a small bowl place the cashews with some water. Allow to soak and keep aside.
First heat oil in a kadhai.
Add all the okra slices and fry till turns light golden in color.
Strain all the fried bhindis or okras and transfer to a plate.
Meanwhile, make a paste of soaked cashew along with chopped tomatoes. Keep aside.
Into the same pan add cumin seeds and allow to splutter.
Then add bay leaf, cinnamon stick and fry a bit.
Next add finely chopped onion and fry till translucent.
Add ginger-garlic paste and saute till raw smell goes off.
Once done, add the tomato-cashew paste and saute for 2-3 minutes.
Add all the spice powders, salt and mix everything well.
Sprinkle 1-2 tbsp water, mix and cook till oil starts to separate from the whole masala mixture.
Now add the green peas and fried bhindis / okra pieces.
Mix very well and cook for 1 minute.
Then add 1 cup water and give a nice stir.
Cover the pan and allow to cook till peas and bhindis looks slightly tender.
Finally add kasoori methi and turn off heat.
Serve hot with some roti or paratha or even with any variety of rice dish !
NOTES:
The bhindi slices have to be fried well till all the stickyness vanishes.
Adjust the spiciness as desired. Few green chilies one can also add along with onion.
Green peas, onion-tomato gravy, side dish, Indian masala paste, Vegetarian side dish,
Lady finger curry, Indian gravy, Vegan, Gluten free, Bhindi, Matar, Okra
Indian
Did you make this recipe?
Tag @firsttimercook on instagram and hashtag it #firsttimercook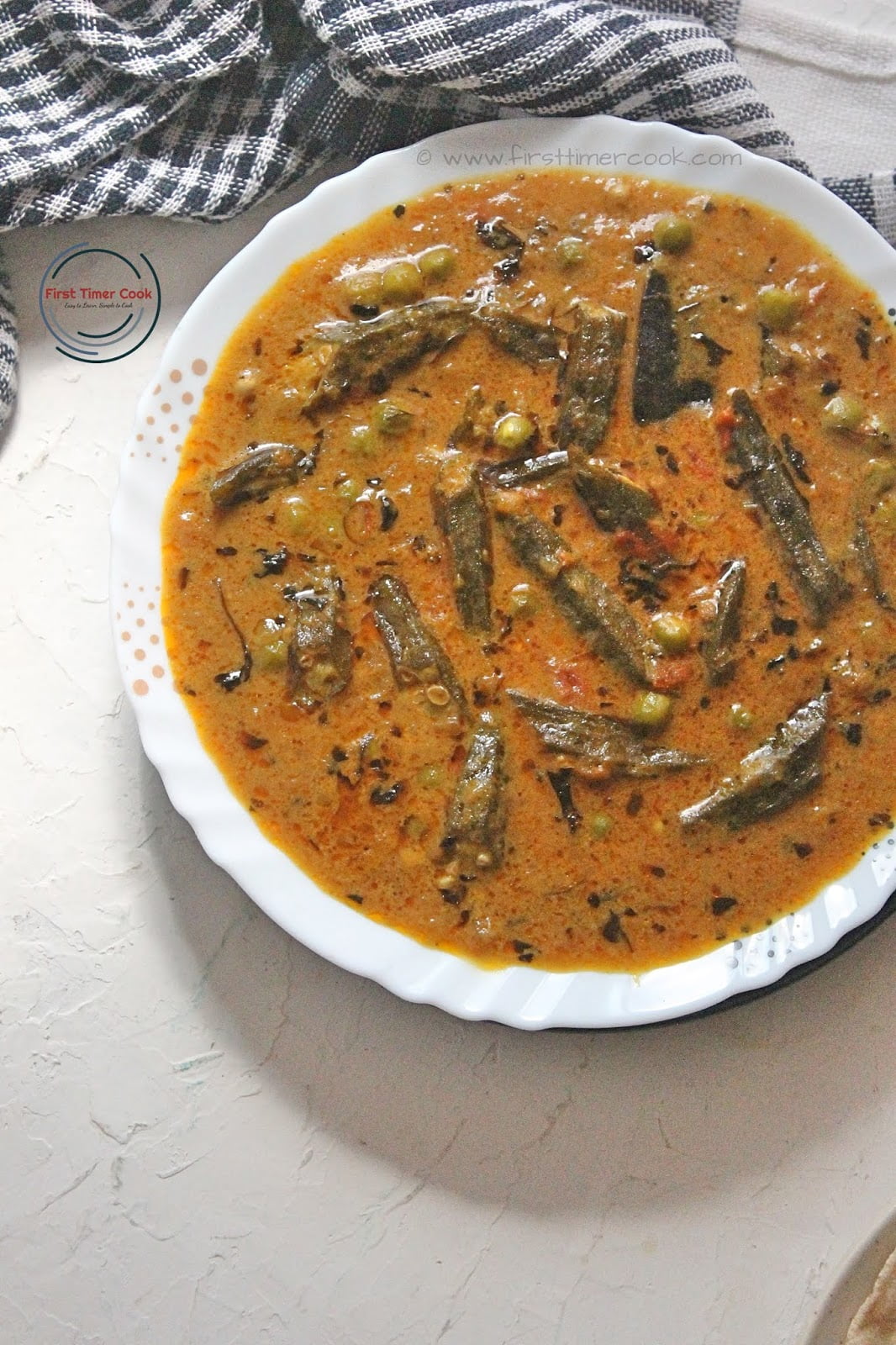 You may also follow me on Facebook, Pinterest, Twitter, Google+, Instagram and can subscribe for free to get new recipes directly into your inbox 😊

PIN for later :