Stuffed bitter gourd with potato makes a great accompaniment to rice and dal. There is no bitterness, also no odd test. It is a great way to make karela tasty which is probably the least popular vegetable in the world tastewise.
Karela (Bitter gourd) is an excellent source of curing respiratory problems like cold, cough etc. Also it has various other advantages according to medical science. I am joining the Saffolalife #ChhoteKadam initiative in association with BlogAdda and follow these small steps for a healthy heart.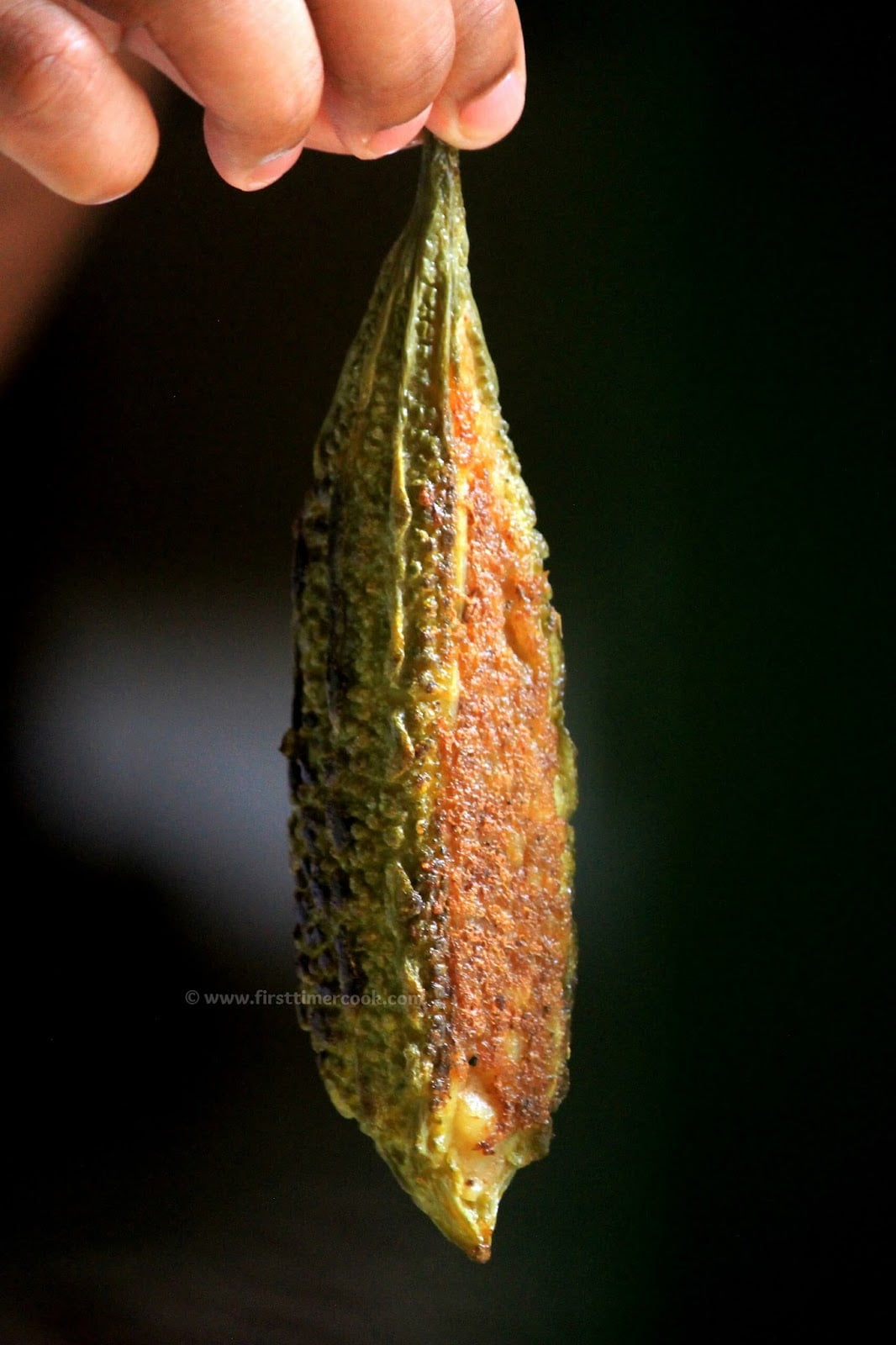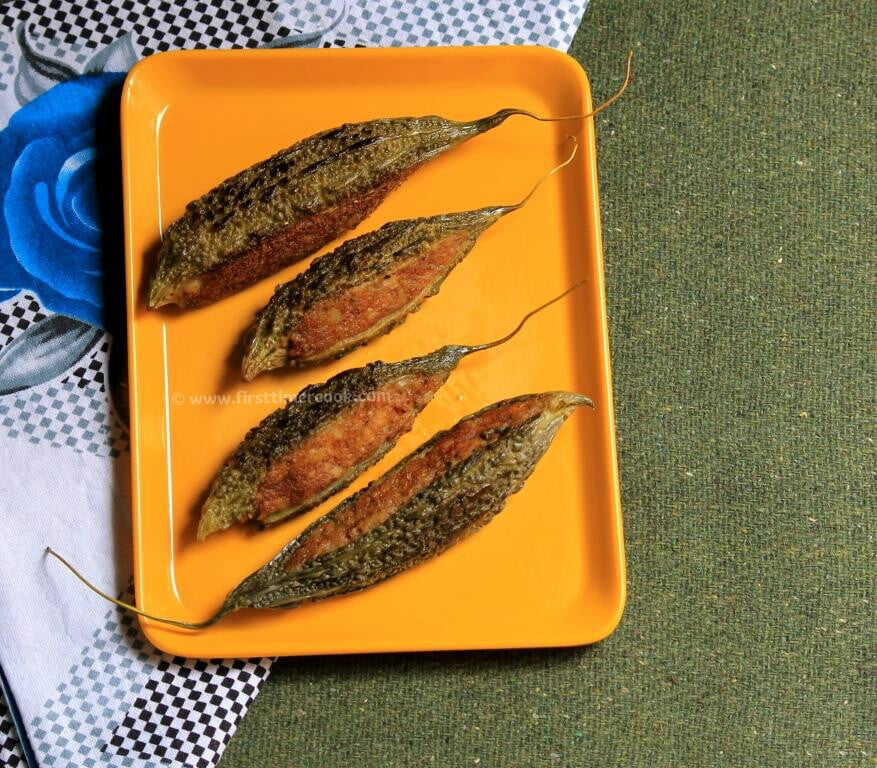 Preparation Time : 30 mins | Cooking Time : 15 mins
​Ingredients :
| | |
| --- | --- |
| Ingredients | Measurements |
| Bitter gourd (karela) | 5 no. |
| Potato (boiled) | 2 no. |
| Onion | 1 no. |
| Turmeric powder | ¼ tsp |
| Red chili powder | ½ tsp |
| Garam masala | 1 tsp |
| Chat masala | 1 tsp |
| Salt | as needed |
| Oil | 2-3 tbsp |
​Method :
First peel the karelas. Rinse off with salt and turmeric to remove the bitterness. Let it rest for 20-25 minutes.

Now make a vertical slit on each karela. Scoop out and discard seeds and pulp to fill the potato masala.

Then prepare the potato masala. In a mixing bowl, smash the boiled potatoes. Add turmeric powder, red chili powder, finely chopped onion, chat masala, garam masala and salt. Mix everything to incorporate well.

Now fill the karelas with potato masala filling tightly.

Heat oil in a pan, fry stuffed karelas lightly for 1 minute. Then cover and cook on a low-medium heat till karelas are well cooked.

Serve the stuffed karelas with rice, dal or chapati !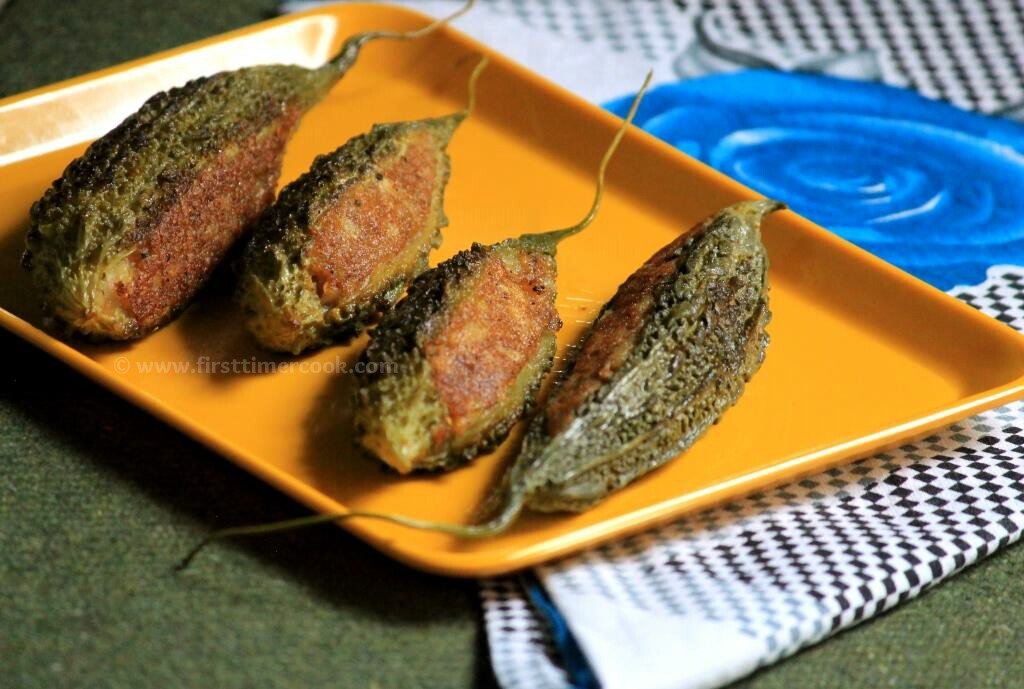 Notes :
Always try make the potato stuffing as much dry as possible. Otherwise while frying the karelas, the stuffing may come out. So be careful.
Hope you have liked the above recipe 😊. If so, then please don't forget to share it with your friends. You can also keep in touch with me through Facebook, Google Plus, follow my posts on Twitter too. Try this dish at your home and share your experience with me in the comment box below 👇.