a healthy and so delicious breakfast using leftover Raita in a jiffy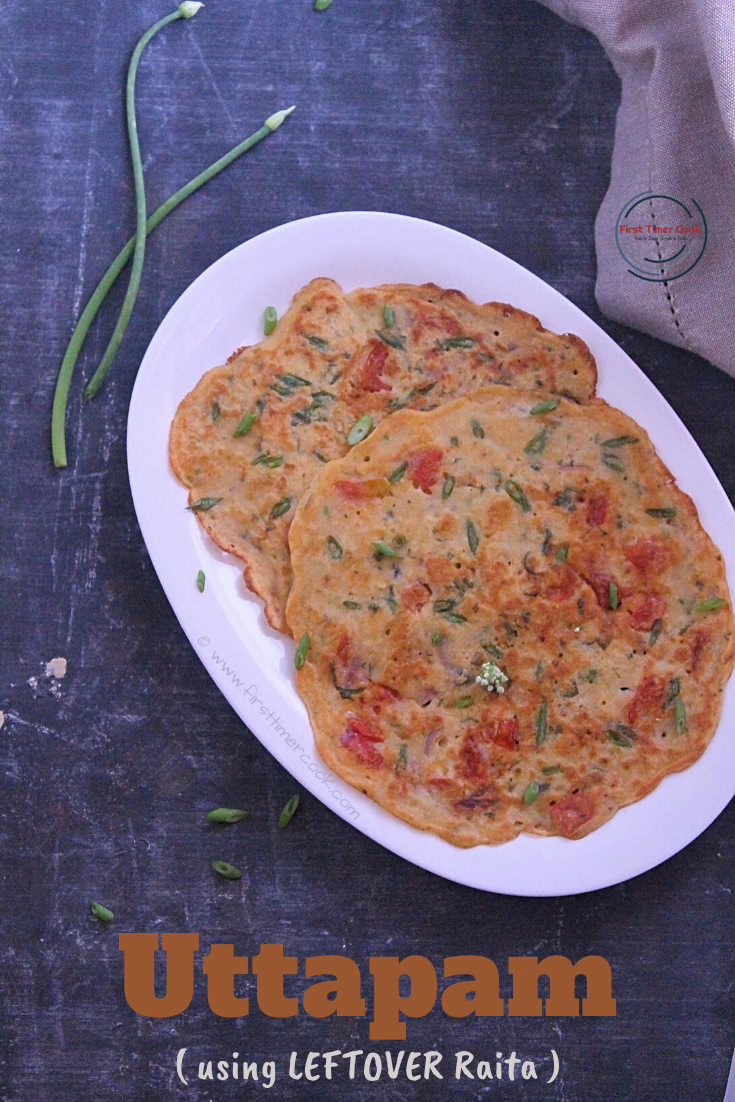 Raita, an Indian condiment is generally prepared to balance the spicy foods like biryani, kebabs etc. Many veggies like onion, tomato etc, some leafy greens like mint and coriander are added to the curd or yogurt to make a normal raita. These days there are a lot of variation also to make this kind of condiment. And most time, we do make the raita little more in quantity as per the need. And after the meal, there is always some leftover raita. Although we can have it simply as it is in some other time, but we have a thought to finish before it gets sour due to the presence of curd. So here I have come up with a dish to use those leftover raita as "Uttapam using Raita". It is such a lovey way to finish up that bowl of raita.
Actually yesterday I have prepared some mushroom biryani and for that some tomato-onion-carrot raita was the accompaniment. But as usual there was some leftover of this raita. So an idea came to mind to use those half bowl of raita kept in refrigerator and the result is here which I am going to share in details.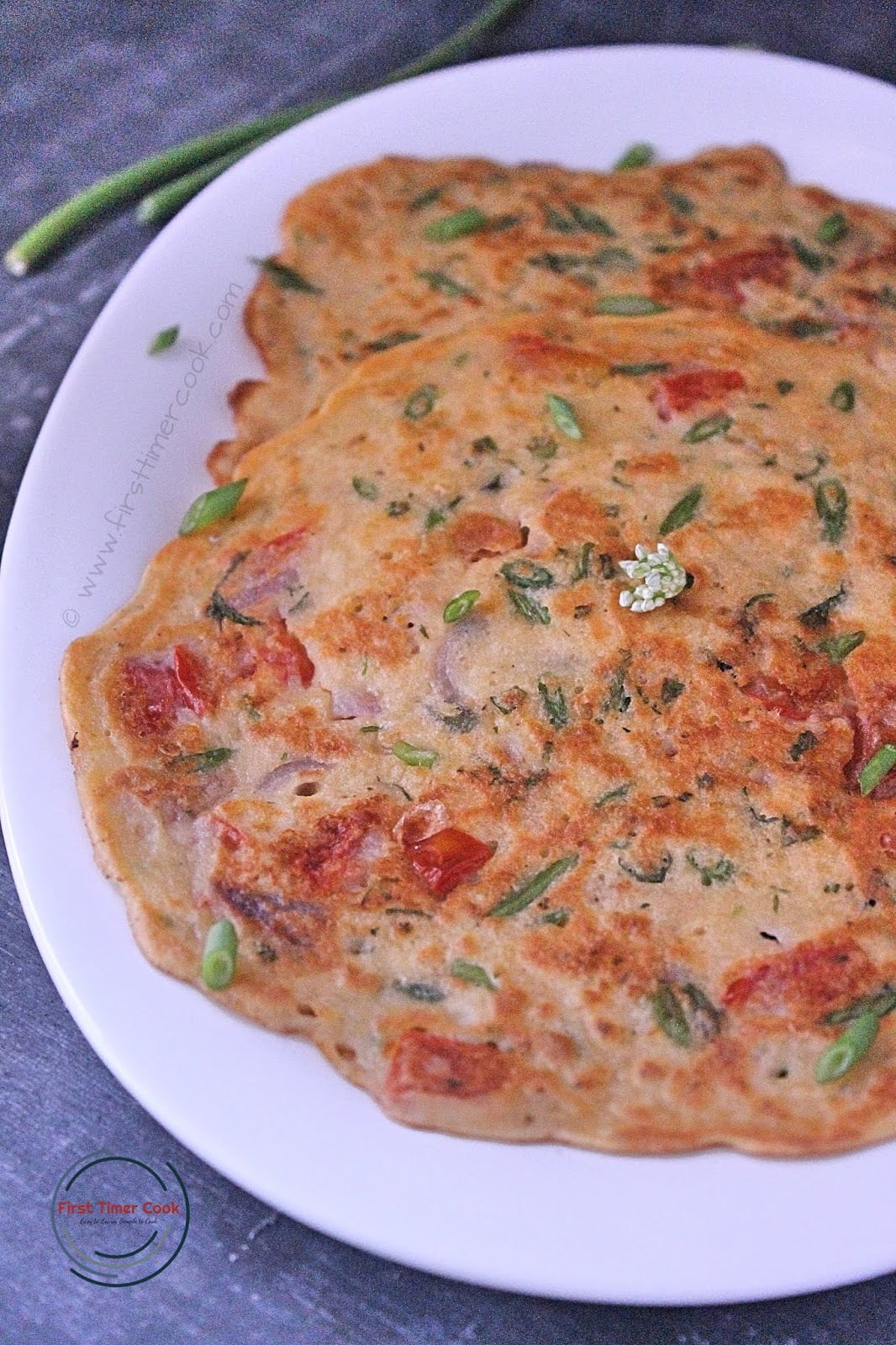 Ingredients to make this INSTANT uttapam :
Basically if some raita is on hand then only the other ingredients are some rice flour, little amount of gram flour (besan) but this is optional, some toppings as per choice. The rice flour used here are the homemade ones. Do check how to make it here 👉 RICE FLOUR (homemade). In my raita already i had added chopped onions, tomatoes and some grated carrots along with raita masala powder. That is why I have not used any toppings for the uttapam here. Only some chopped spring onions are topped, but these are totally depend upon own choice. Also as the raita was spiced with raita masala so no other masala powder I have not added to the batter. But one can add any kind of spice powder like cumin powder or chili powder or any other as desired. Very little amount of baking soda one can also add to the batter to make the uttapam much more soft.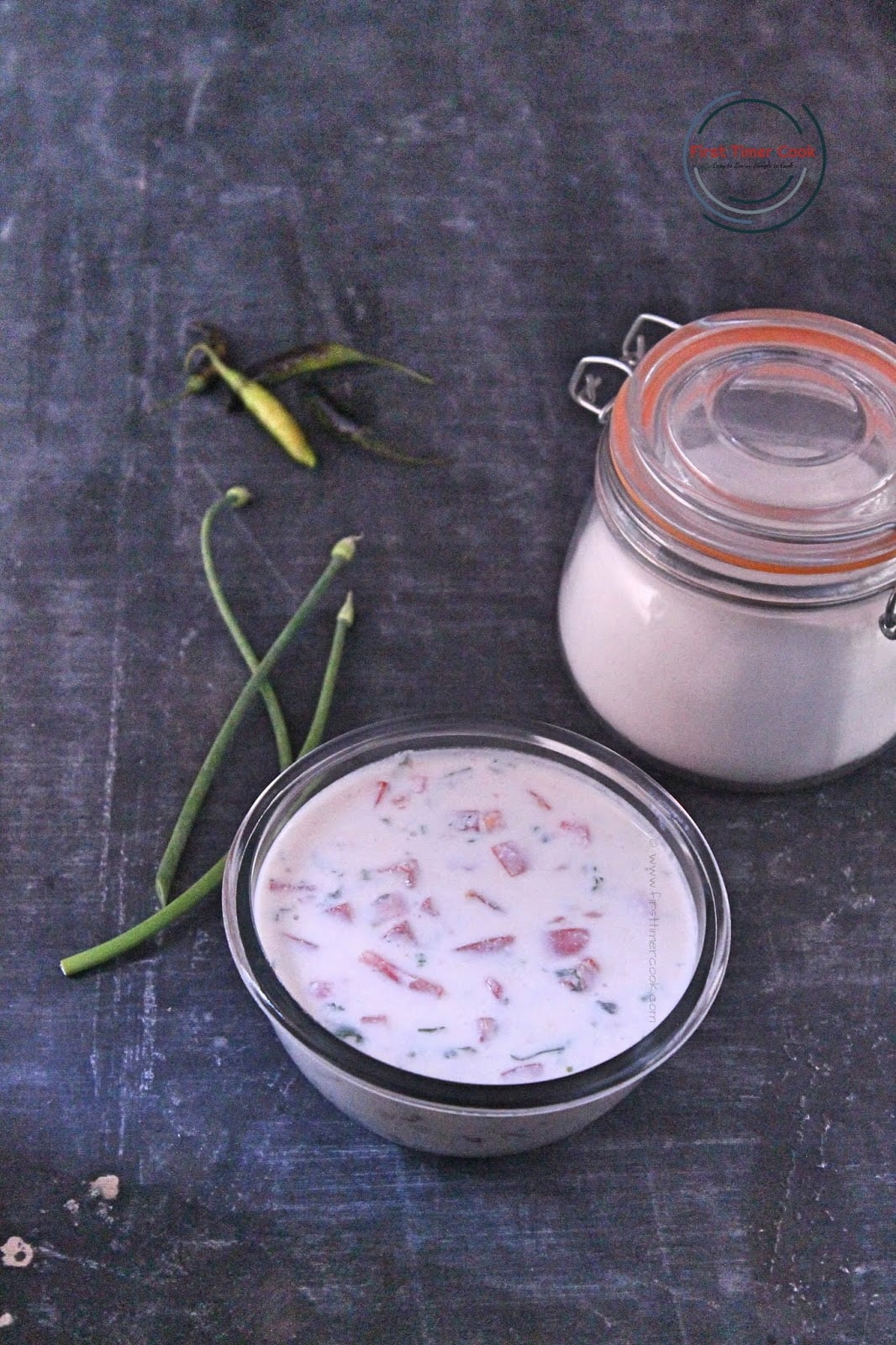 The method of preparing this super simple Uttapam :
First in a mixing bowl, all the ingredients are mixed thoroughly except oil and the toppings (chopped spring onions here). The batter has to be a little thick consistency, so if after mixing everything it seems much thick, then just add little amount of water to get a perfect consistency batter (as of a normal uttapam batter). Then a ladle full of batter is poured over a greased pan and allowed to spread gently to get a round shape of around 5-6 inches diameter. The toppings are then sprinkled and few drops of oil also drizzled on top. The batter is then covered and allowed to cook from both side by flipping after few minutes. The uttapam comes out so soft as well as much fluffy.
Best thing about this Uttapam using 'leftover raita' :
INSTANT uttapam (no need of fermentation of the batter)
Healthy breakfast
Loaded with vegetables
No raising agent like Baking Powder
Completely GLUTEN FREE dish
Low oil breakfast option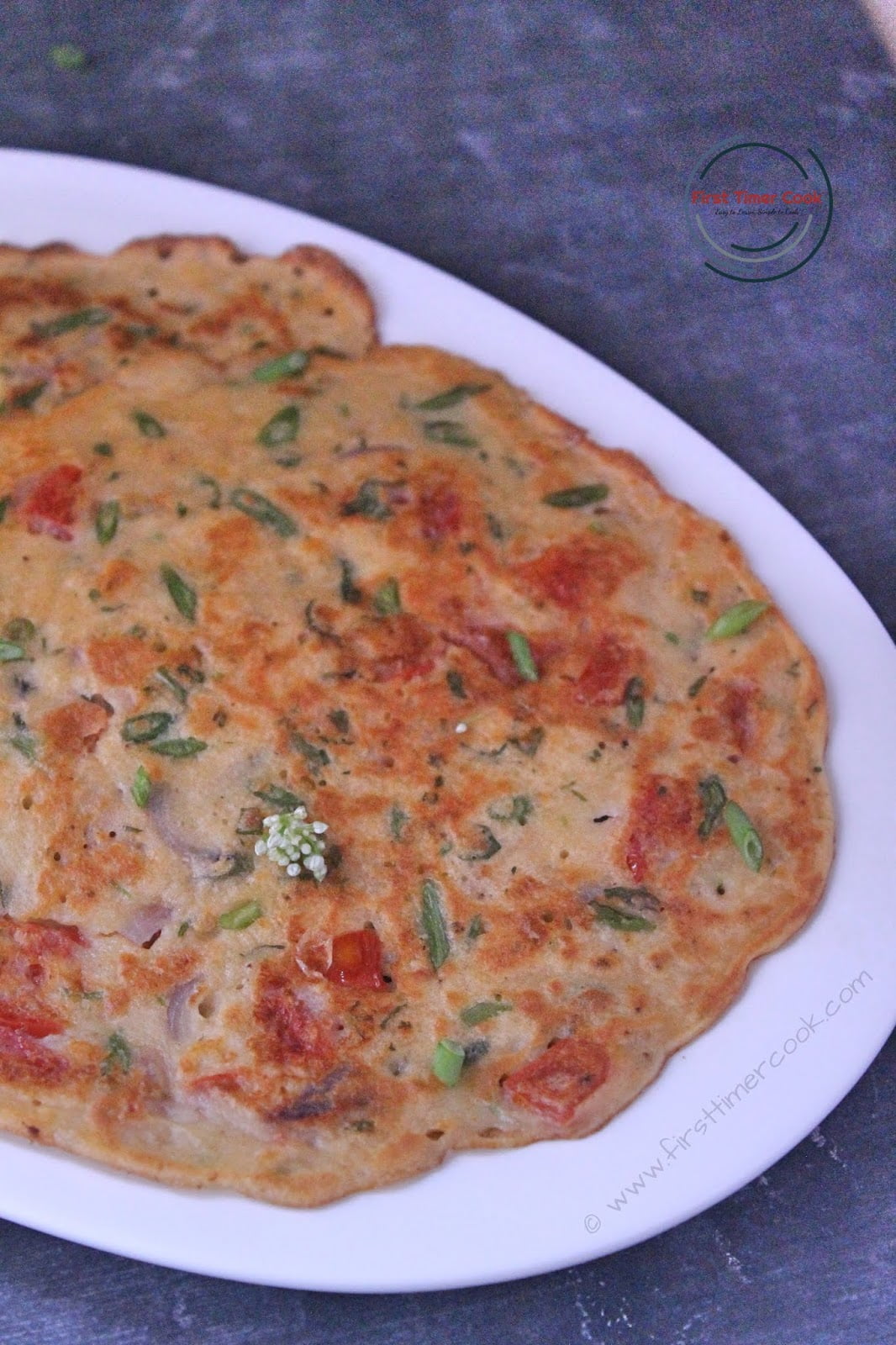 What does go well with these uttapam ?
Usually the uttapam (one of the most famous South Indian breakfast) can be served as it is. Also with some hot piping sambar one can enjoy these healthy dish. We love to have simply as it is and I am specifically can finish up 4-5 no of uttapam at a time 😁. These are completely gluten free dish. The whole process is quite easy and super simple to make. So do try this healthy breakfast in a jiffy and believe me it tastes so so delicious.
The event related to this post :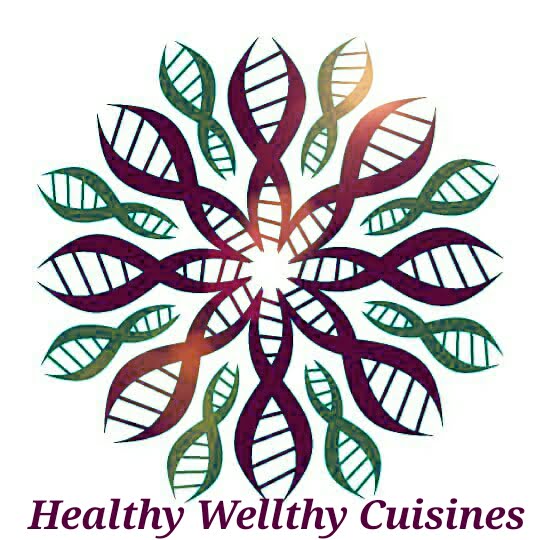 Well this time our fortnight foodie group named as Healthy Wellthy Cuisines is decided to select 81th theme : 'Leftover Makeover' and is suggested by Narmadha. She is a versatile blogger and I love her simple dishes mostly, do hop her space to check all those. So for the theme contribution, the leftover item is the tomato-onion-carrot raita and the result is this Uttapam using LEFTOVER Raita. Here are some similar recipes shared by our Healthy Wealthy Group members as Leftover Rajma Kebabs by Poonam, Leftover Upma Uttapam by Narmadha, Air Fried Cutlets made with Leftover by Swaty, Quick Fix Oats Banana Cookies by Seema, Spicy Rava Cutlets by Vanitha di.


Have you checked another 'Leftover Makeover' dish from my blog as Leftover Chapati Ladoo | Roti Churma Ladoo 👇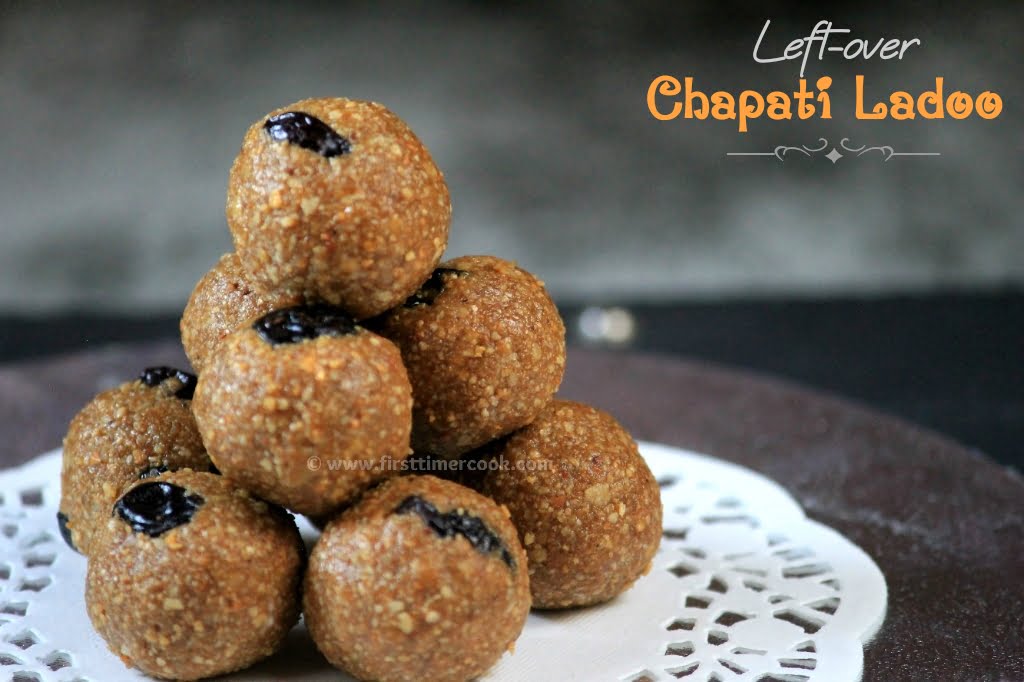 : Recipe Card :

Uttapam using LEFTOVER Raita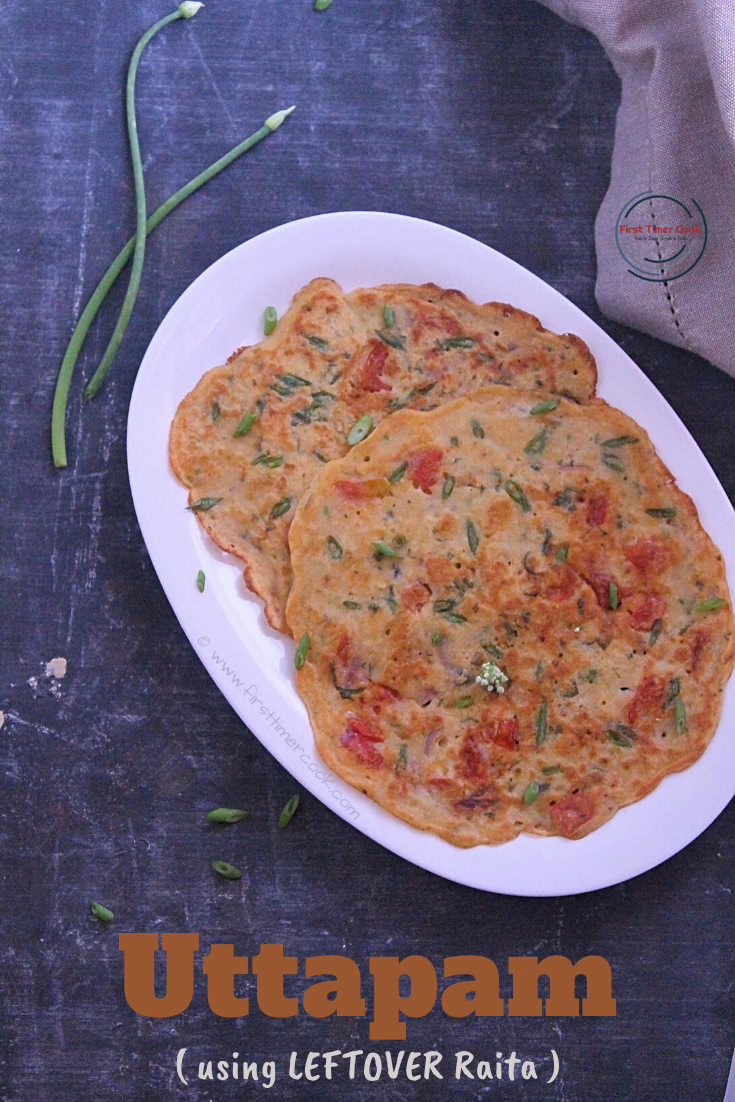 prep time: 5 Mcook time: 10 Mtotal time: 15 M
a healthy and so delicious breakfast using leftover Raita in a jiffy
ingredients:
Rice flour 2 cup
Gram flour (besan) (optional) 2 tbsp
Raita (tomato & onion raita) 1.5 cup
Green chili 2-3 no.
Coriander leaf (finely chopped) few
Spring onion (finely chopped) few
Oil as needed
Water as needed
instructions:
How to cook Uttapam using LEFTOVER Raita
In a mixing bowl take raita, rice flour, besan, salt, chopped coriander leaves, chopped green chilies and mix well.
The batter has to be a little thick consistency, so if after mixing everything it seems much thick add little water to get a perfect consistency batter (as of normal uttapam batter).
Then smear oil on a dosa pan or regular tawa.
Pour 1 ladle full of batter in the center of the pan and allow to spread to get a round shape.
Sprinkle chopped spring onions, drizzle some oil on top and cover with a lid.
Allow to cook over low-medium heat for 2-3 minutes or until top side changes slightly.
Gently flip and cook the other side.
Transfer to a plate and make some more uttapam in similar way with rest batter.
Serve immediately as it is or with any Indian chutney or sambar !
NOTES:
Always keep the heat over low-medium, else the uttapam will not cook properly.
As in my raita I had already added some spice powder (raita masala powder), so I didn't add any spice powder to the batter.
One can choose some cumin powder or chili powder or raita masala or any other as per choice.
Spiciness is as desired.
In the raita already some onions, tomatoes, carrots are there, So I haven't added any toppings for the uttapam except some chopped spring onions. Any other vegetables one can opt here.
Healthy dish, HEalthy breakfast option, Gluten free uttapam, Veggie uttapam, carrot, tomato, onion, spring onion
Gluten free, Uttapam, Leftover dish, Raita, Breakfast
South Indian Cuisine
Did you make this recipe?
Tag @firsttimercook on instagram and hashtag it #firsttimercook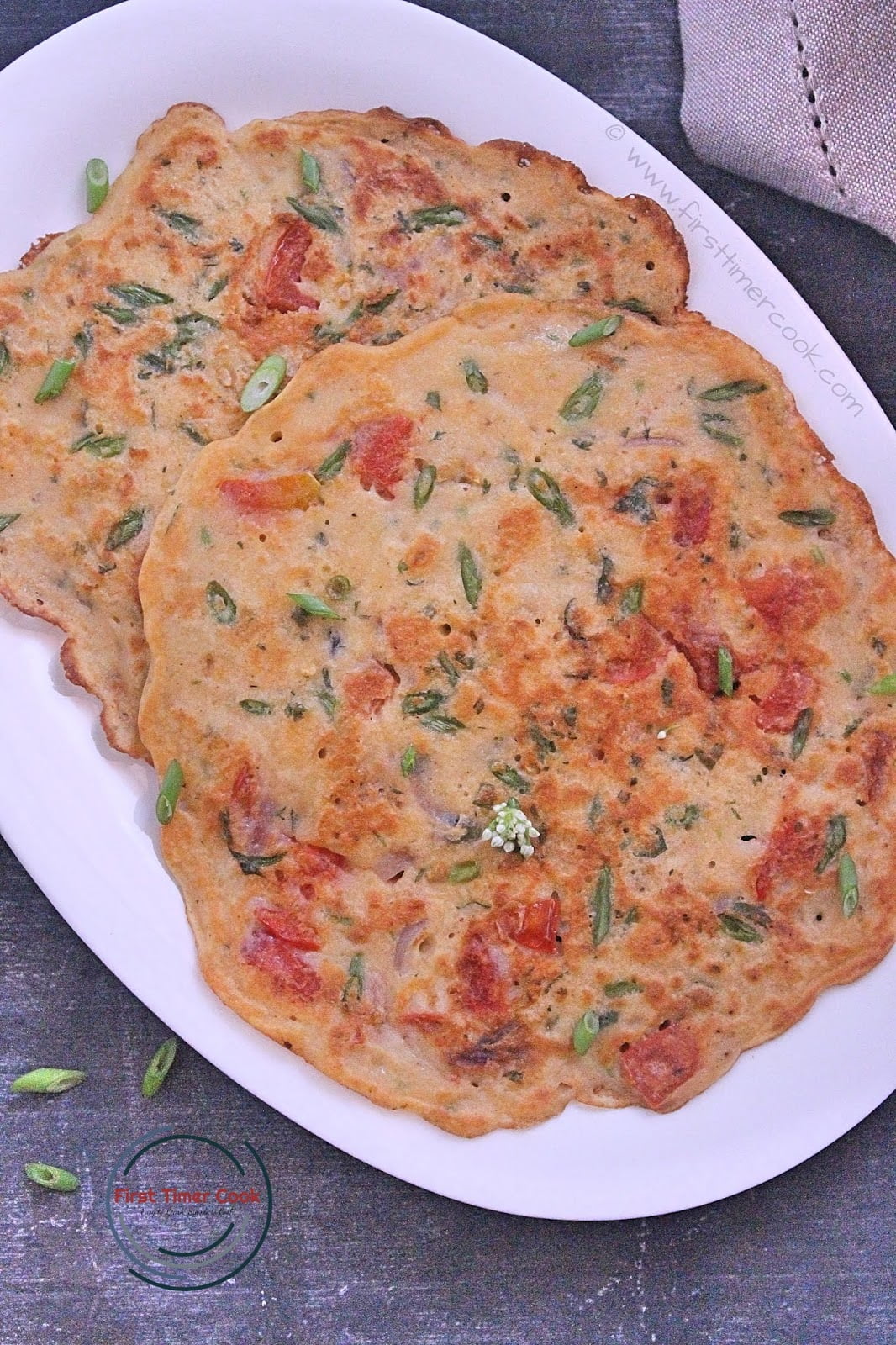 You may also follow me on Facebook, Pinterest, Twitter, Google+, Instagram and can subscribe for free to get new recipes directly into your inbox 😊
PIN for later :