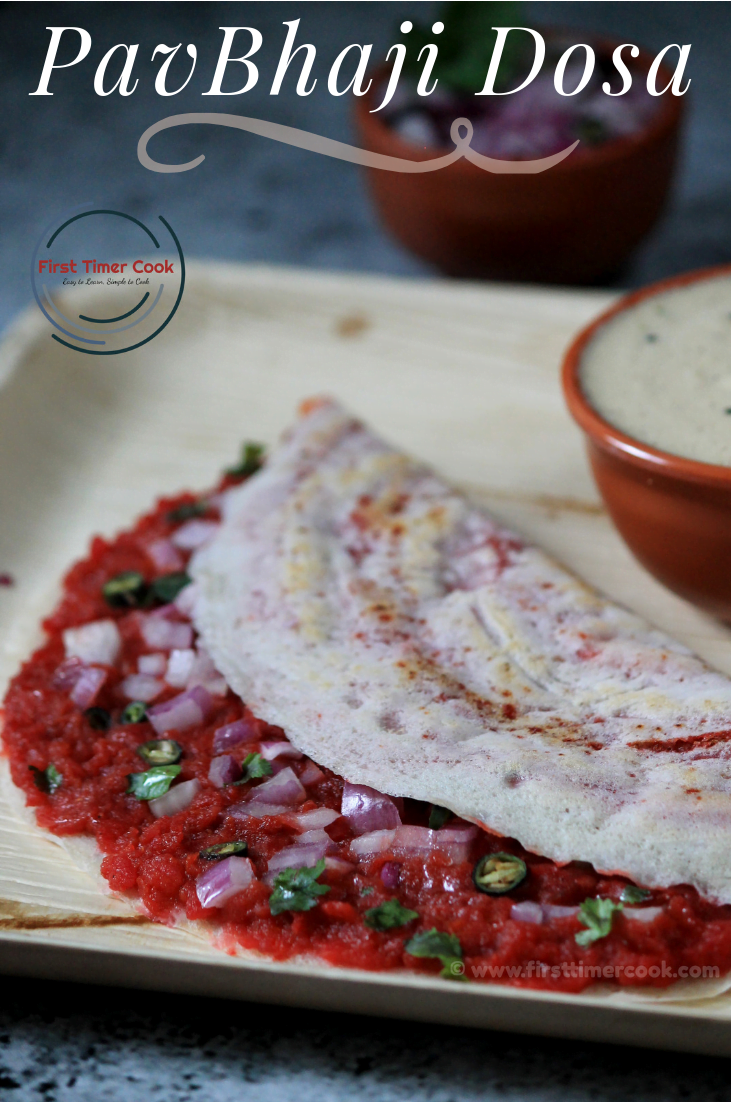 Dosa, a crispy and savory pancake from South India is a staple food in its home region. Mainly these are prepared from a rice and lentil mixture. Depending upon the proportion of the rice and lentil along with some other ingredients used for dosa batter, the texture of dosa varies from crisp to soft as well as fluffy to firm. The stuffing of dosa usually takes a mixture of potatoes along with some spices. These days, a variety of dosas are being prepared. Today I have come up with an interesting version of dosa as Pavbhaji Dosa. Some other dosa recipes which I have already shared in my blog are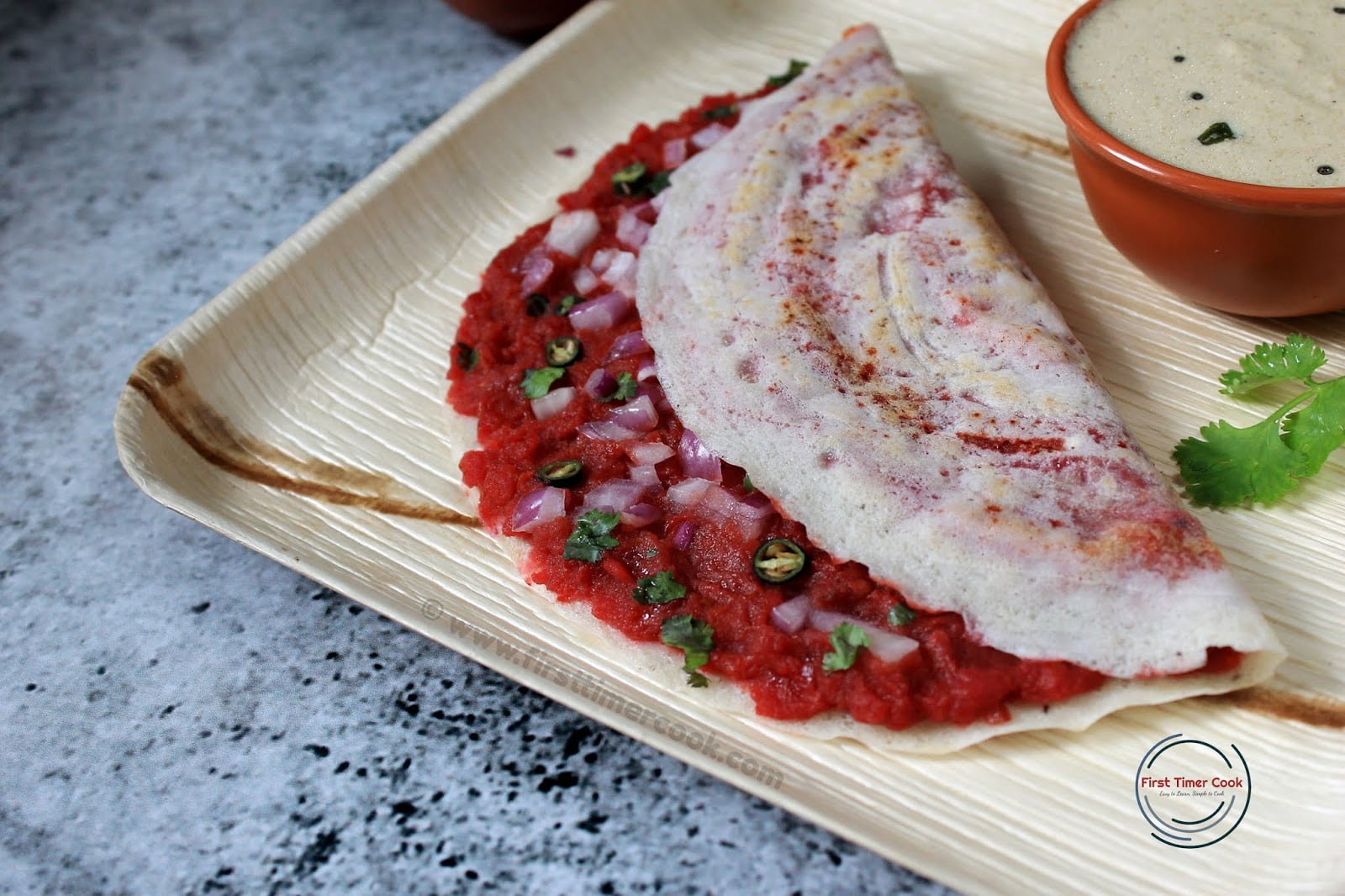 Pavbhaji dosa …. interesting one, isn't it ? If anyone's favorite dishes are both pavbhaji as well as dosa, then this Pavbhaji Dosa is a sure shot hit. The dosa batter is the normal one which is used to make a plain crisp dosa. But the filling here is the bhaji of the pavbhaji dish. On a hot tawa / griddle the batter is spread first and allowed to cook a bit, then the bhaji mixture is spread over the dosa and topped with some finely chopped onion, coriander leaves and lemon juice. Anyone can have this dosa simply as it is. Still if desired, some accompaniments like coconut chutney, any flavored sambar can be opted too. So do try this fusion street food PavBhaji Dosa.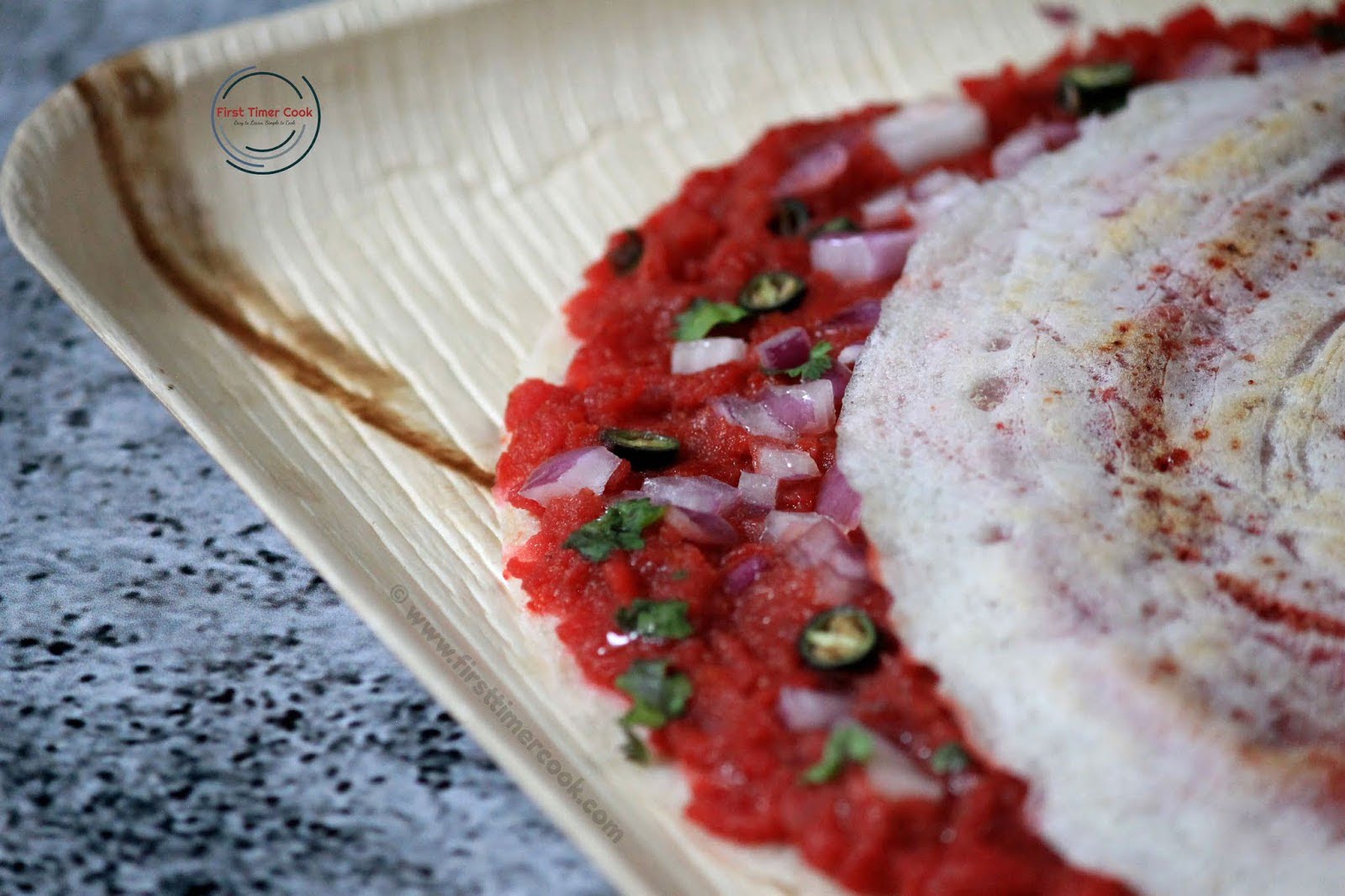 And this post is also related to Foodies Redoing Old Posts which is initiated by one of my fellow blogger Renu. The basic funda of this is to redo our old posts which need changes in picture, writings etc to get boost.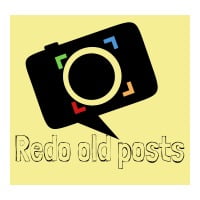 Recipe Card for 'PavBhaji Dosa' :

Pavbhaji dosa, dosa, south Indian delicacy, fusion snack, vegan, gluten free food, snacks
Dosa, Snacks, Vegan, Gluten free
South Indian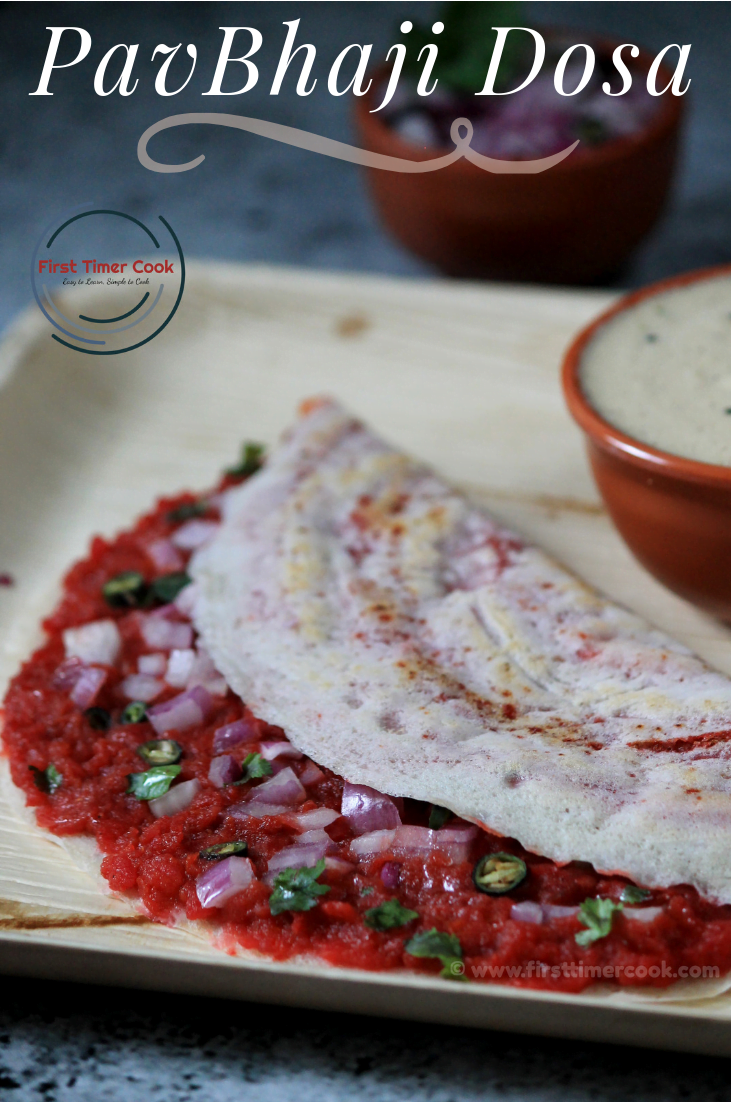 PavBhaji Dosa
a fusion dish where bhaji of pav-bhaji used in dosa filling
prep time: 20 MSoaking Time : 5 Hcook time: 45 Mtotal time: 65 M
ingredients:
For dosa batter
Rice 2 cup

Poha / flattend rice flakes ½ cup

Urad dal ½ cup

Methi seed ¼ tsp

Water As needed
For pav bhaji
Vegetable (boiled) (carrot, cauliflower, beet, peas) 2 cup

Potato (boiled) 3 no

Onion 1 no

Tomato 3 no

Ginger garlic paste 1 tbsp

Red chili powder 2 tsp

Pavbhaji masala 3 tbsp

Turmeric powder 1 tsp

Coriander leave (finely chopped) As needed

Lemon juice As needed

Salt As needed

Oil / butter As needed
instructions:
How to cook PavBhaji Dosa
Soak rice, poha, urad dal, methi seeds all together for 5-6 hours with enough water.

Then drain the water and put everything in a blender jar.

Blend to make a fine paste by adding water little by little.

Transfer all the batter to a mixing bowl (large size comparatively to the amount of batter).

Add salt and mix well.

Cover the bowl loosely and keep aside 7-8 hours or overnight for fermentation.

Once the batter fermented well, mix gently using a ladle and then keep aside.

Now in a pan heat oil and butter.

Add cumin seeds and allow to splutter.

Then add chopped onion and saute till translucent.

Add ginger-garlic paste and saute for 1 minute.

Add finely chopped tomatoes and all the spices along with salt.

Cook till mushy and then add all the boiled veggies and boiled potatoes.

Using a masher, mash everything well.

Add 1/2 cup water and allow to cook by covering the pan for 5-10 minutes.

Turn off heat and add some chopped coriander leaves, lemon juice.

Stir well and keep aside this bhaji.

Now heat a griddle or tawa (dosa tawa) and pour a ladle full of batter.

Then spread the dosa batter with circular motion starting from center towards the edges of the griddle.

Once the top side cooked a bit, spread some butter and finally put some bhaji mixture (3-4 tbsp).

Spread evenly, then sprinkle some chopped onions along with chopped green chilies and coriander leaves.

Fold the dosa and serve immediately this pavbhaji dosa hot simply as it is or along with coconut chutney as accompaniment !
NOTES:
The amount of beet here in the bhaji I have used is bit high, so the color of the bhaji has come out a red one and I like this type of bhaji color. If you want you can use as required.
The vegetables used in bhaji can be opted as per choice too.
Also if ready-made dosa batter is available then the process of making this pavbhaji dosa will be quicker comparatively.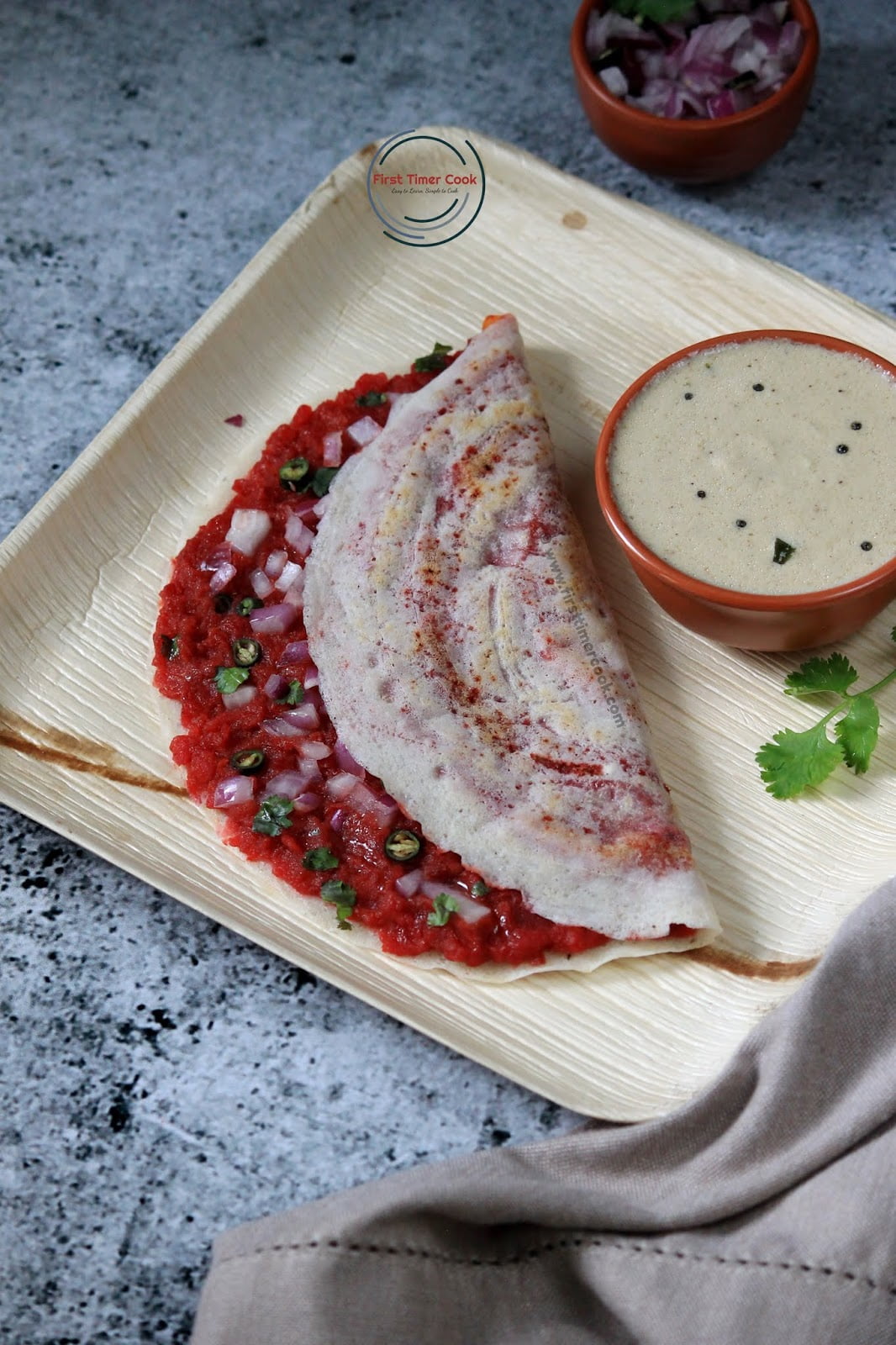 If you tried my recipe and enjoyed fully, then please share some pictures of your creation with me. Also kindly rate the recipe below, give your valuable feedback either in the comment box below or tag me as @firsttimercook on Instagram.
You may also follow me on Facebook, Pinterest, Twitter, Google+, Instagram and can subscribe for free to get new recipes directly into your inbox 😊


PIN to read later :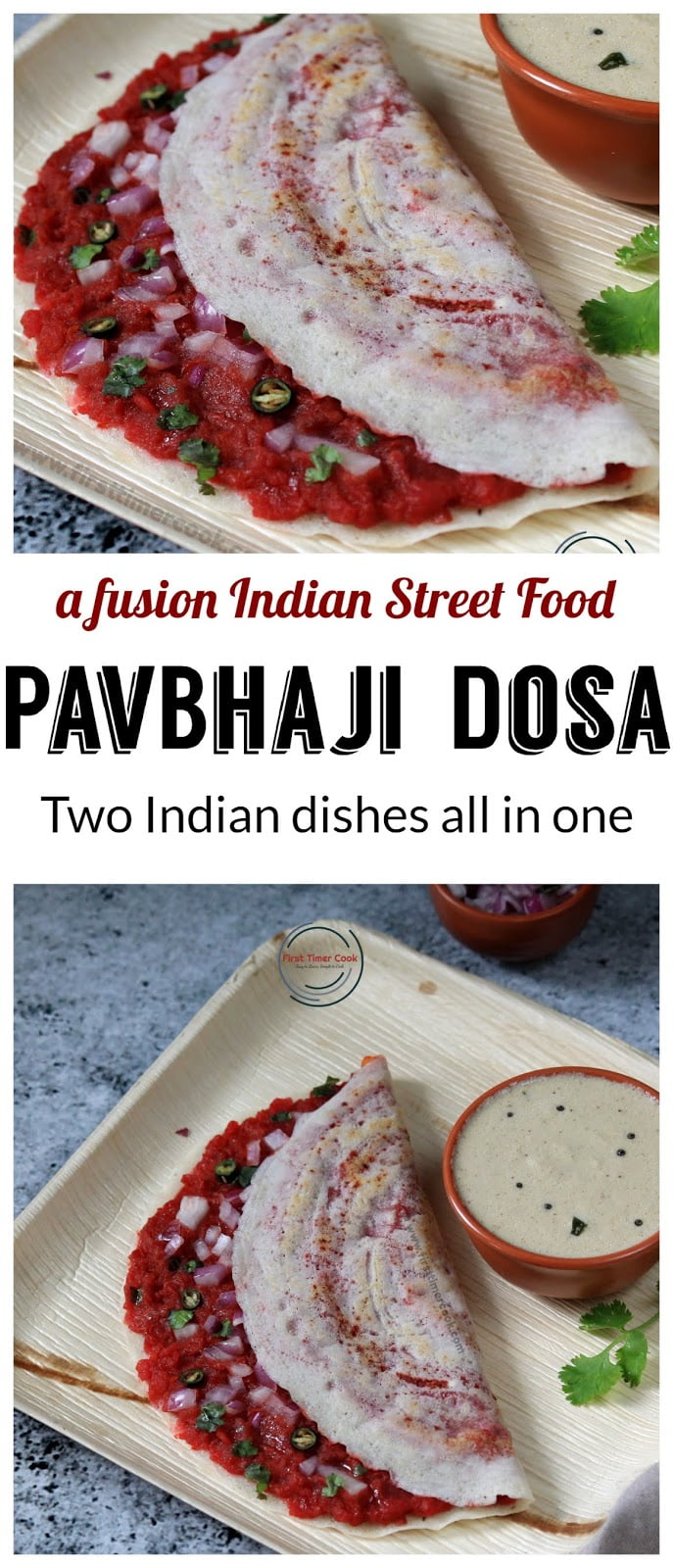 This 'PavBhaji Dosa' is contributed for 55th Healthy Wellthy Cuisines where the theme is 'time for Dosa at HW'. Here are more similar recipes shared by our Healthy Wealthy Group members as Paneer Masala Dosa, Jowar dosa, Brown rice and quinoa dosa, Instant ragi dosa , Sothekayi dosa (sweet cucumber dosa), Tomato dosa.