so soft and floppy egg free, butter free muffins using some left over Kesar Badam Lassi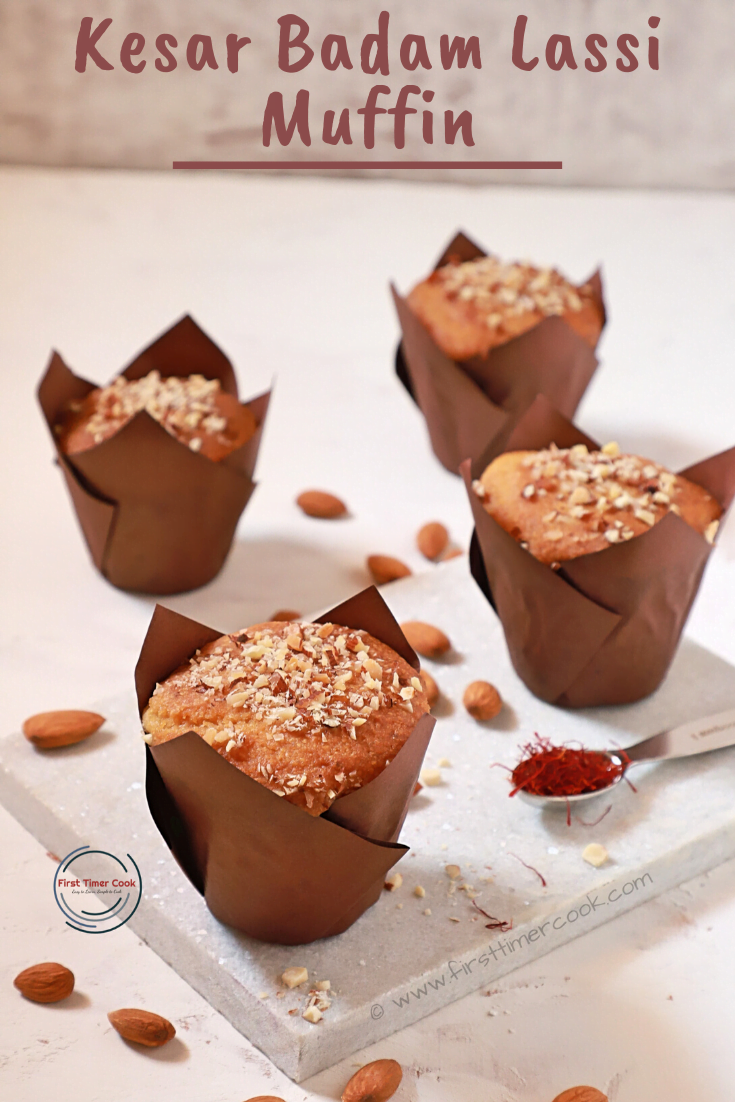 Not only summer, most of the time in a year I have homemade curd in my refrigerator. And do you know making curd at home is quite easy and just following few things one can easily make homemade fresh, thick and creamy curd aka dahi. Do check here to know more 😊
Well day before yesterday I had prepared a fresh batch of thick curd and immediately made some lassi with two flavors. One is Bael Lassi (Wood Apple Yogurt Drink) and the other is Kesar Badam Lassi(Saffron-Almond Yogurt Drink) which is sugar free here. But unfortunately after having the bael lassi, no one is interested to take the other one in my family.
So what to do next ?? Then the Left Over Make Over idea came to mind and here is a dish using that lassi 👇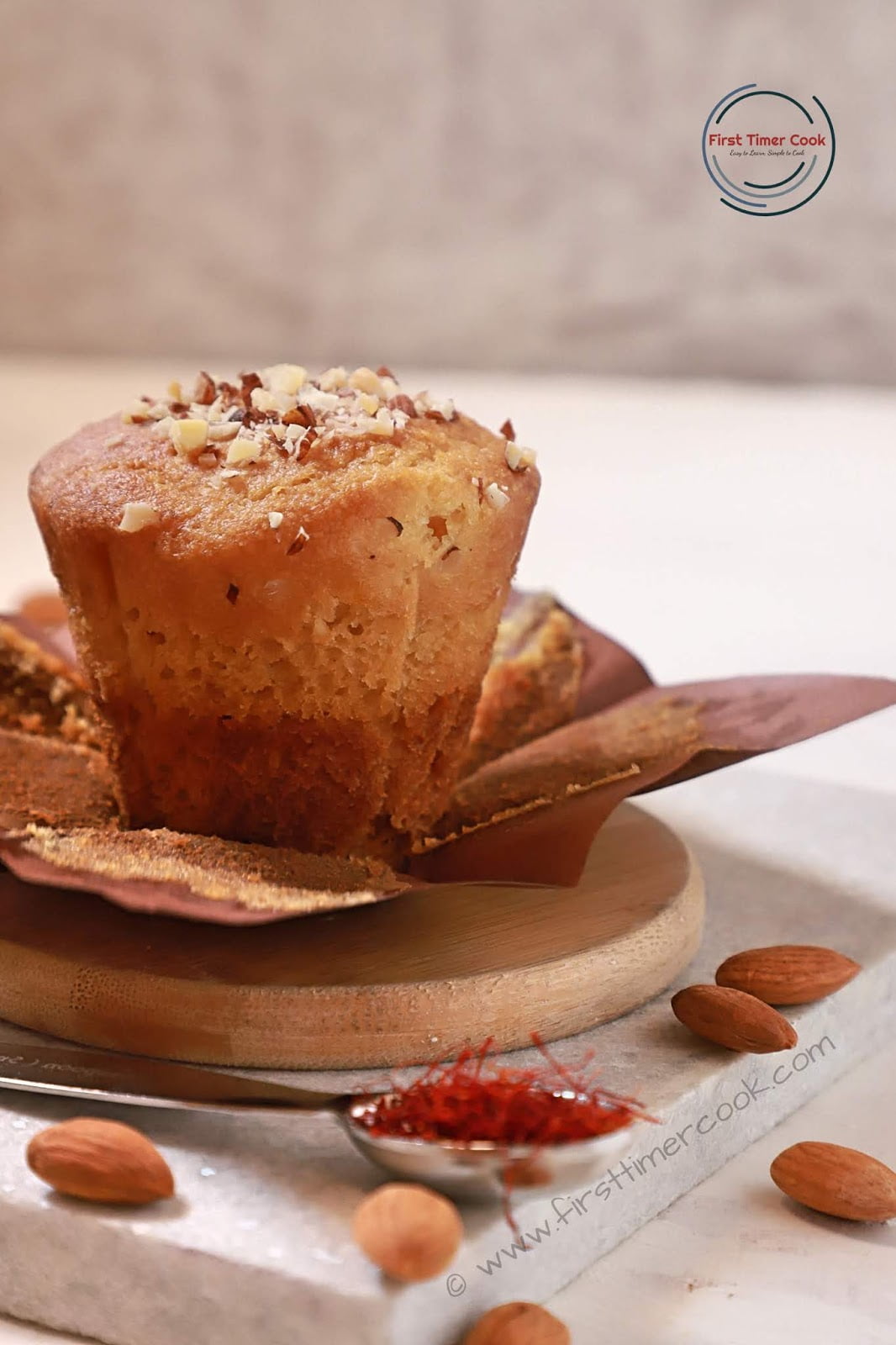 So today's post is a muffin recipe using the kesar badam lassi and I have named that as Kesar Badam Lassi Muffins. Isn't interesting ! Yes, the muffins you may see in below pictures that comes out in so beautiful texture 😊 All are happy with the outcome at my place and within few times those muffins are also finished up by my lil boy and husband 😉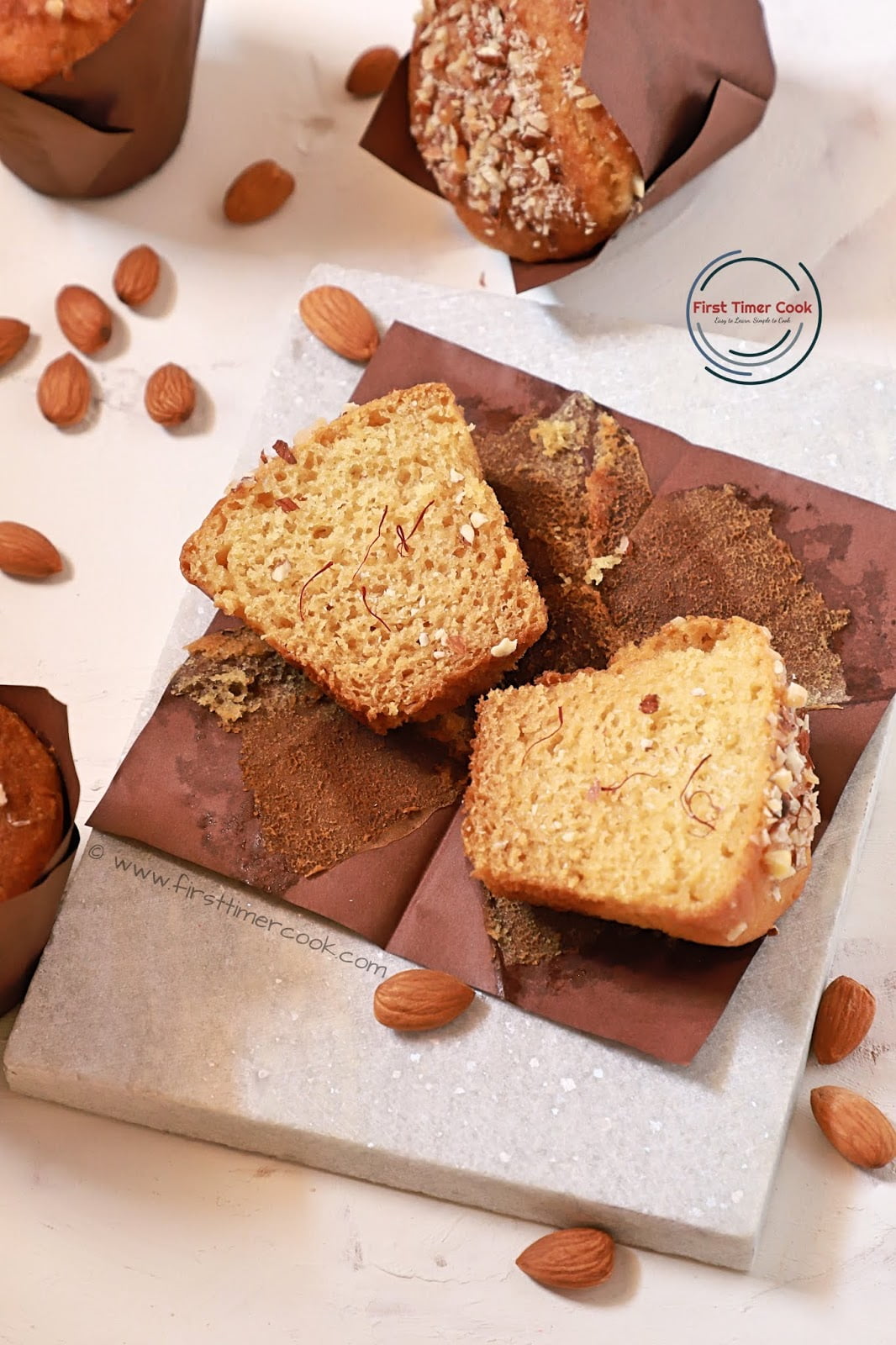 First of all, the main thing here to keep in mind is that the consistency of the lassi must be thick, no watery kind of lassi can be used to make muffins here. Also I have picked up wheat flour here as I was run out of the maida or all purpose flour. And yes, it is a healthier choice too. The making process of these muffins is quite simple. The lassi is first mixed with baking soda and baking powder. When bubbles appear then oil followed by flour is added to get a smooth batter. Then the batter is poured in muffin trays / cups and baked in a preheated oven till well done.
These are completely egg free and butter free muffins. Any age group will surely love these almond / badam flavored cute muffins. And also this is perfect way to use any leftover lassi to make cakes.
The event related to this post :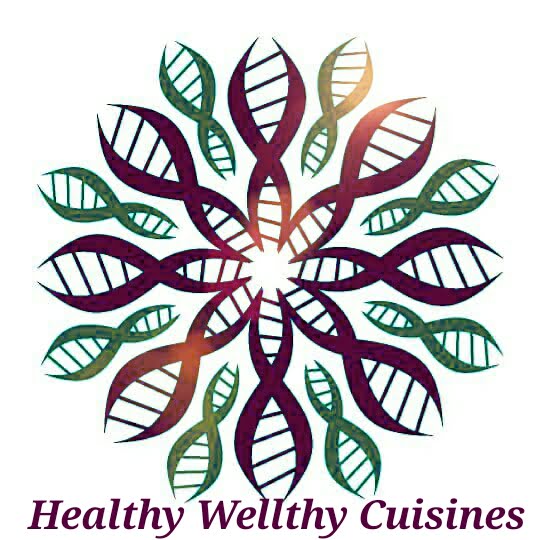 Well this time our fortnight foodie group named as Healthy Wellthy Cuisines is decided to select 84th theme : 'Curd Fiesta' and is suggested by Sujata di. I simply love her many varieties of sandesh and rasogulla. I have already bookmarked her Chili Rasogulla to try 😊. Well coming back to theme, she suggested to make curd based dishes, So I have used some flavored curd in lassi form and here is mine as Kesar Badam Lassi Muffins (Egg free, Butter free). Here are some similar recipes shared by our Healthy Wealthy Group members as SimpleRaita for Pulao by Jayashree, Chow Chow Raita by Preethi, Tomato Raita by Narmadha, Eggless Tutti Fruti Cake by Swaty, Strawberry Shrikhand by Shalu, Tomato Corn and Peas Kadhi by Sujata, South Indian Curd Rice by Vanitha.
: Recipe Card :

Kesar Badam Lassi Muffins (Egg free, Butter free)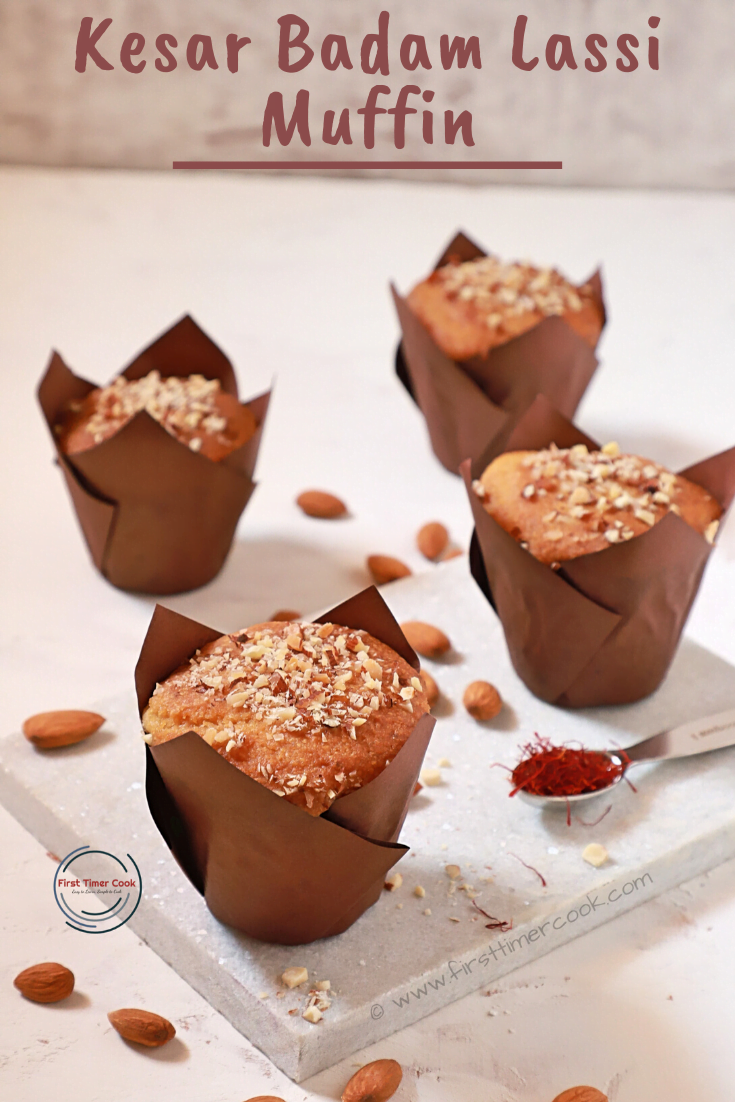 Prep time: 10 MCook time: 20 MTotal time: 30 M
so soft and floppy egg free, butter free muffins using some left over Kesar Badam Lassi
Ingredients:
Wheat flour (maida) 3 cup

Kesar badam Lassi

2 cup

Baking soda 2 tsp
Baking powder 4 tsp
Oil (olive oil) 2 tbsp
Almonds (finely chopped) for sprinkling
Instructions:
How to cook Kesar Badam Lassi Muffins (Egg free, Butter free)
Preheat the oven to 180 deg C and line muffin tray / cups with paper liners.

In a mixing bowl first take

kesar badam lassi

.

Add baking powder, baking soda and mix using a hand whisk.
Leave aside for 2-3 minutes and by that time bubbles will appear.
Then add olive oil and mix well.
After that add flour and mix everything hand whisk very well, but gently till a smooth mixture.
Devide the batter equally in each muffin tray / cups till 3/4 th filled.
Sprinkle few chopped almonds on top and bake for 20-22 minutes or till a toothpick inserted into the muffins comes out clean.
Take out from the oven and transfer to a wire rack to cool completely.
Serve & enjoy !
Notes:
Use the kesar badam lassi at room temperature.
The consistency of the lassi must be thick, no watery kind of lassi can be used to make muffins here.
Instead of wheat flour, both wheat flour and all purpose flour can be used in 1:1 ratio.
Vegetarian, No egg muffins, Leftover Make over recipe, Baking, Eggless Baking, Almond, saffron, Yogurt, lassi
Egg free, Butter Free, Curd, Kesar badam lassi Muffins, No all purpose flour baking
International
Did you make this recipe?
Tag @firsttimercook on instagram and hashtag it #firsttimercook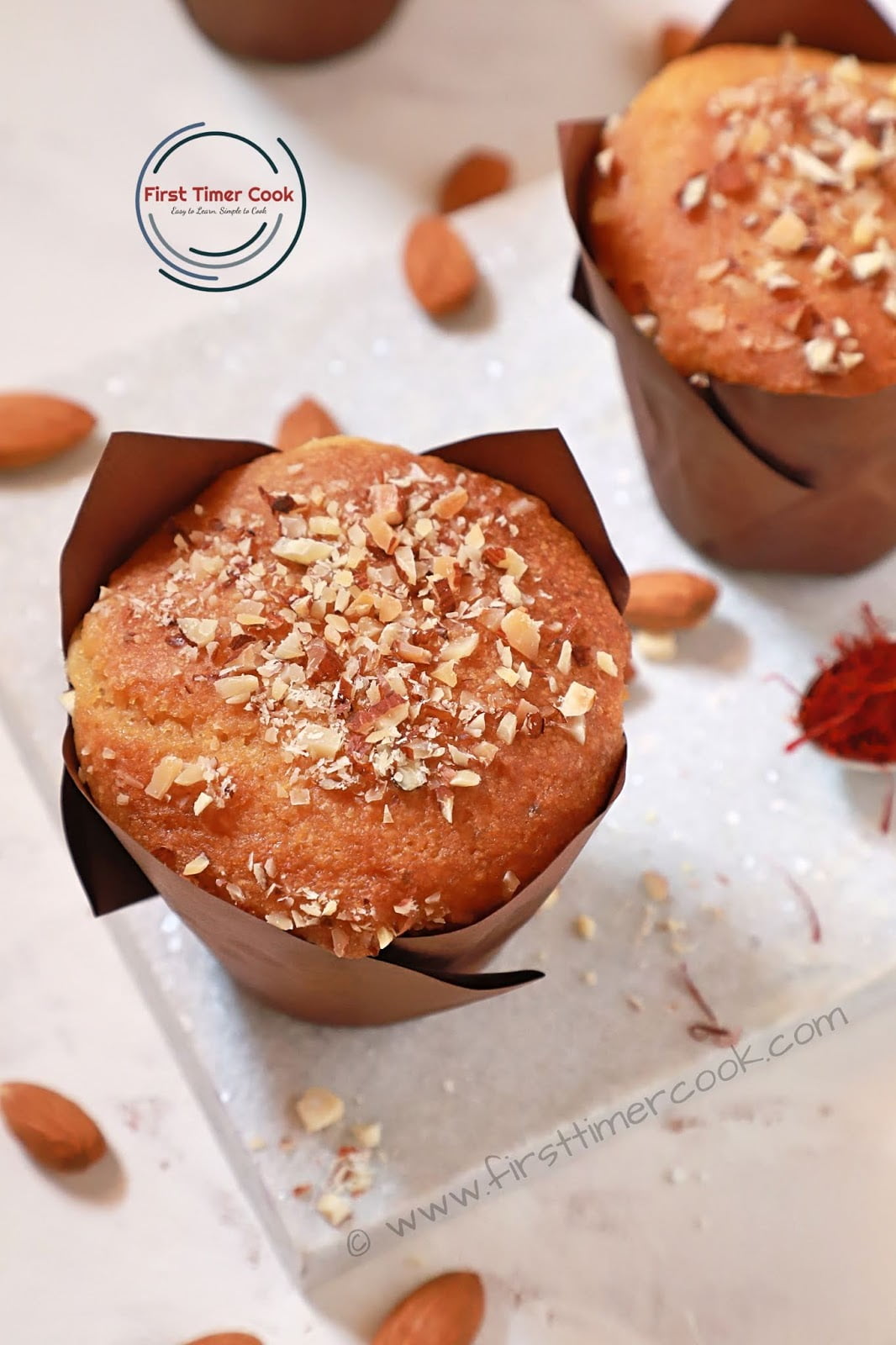 You may also follow me on Facebook, Pinterest, Twitter, Google+, Instagram and can subscribe for free to get new recipes directly into your inbox 😊
PIN for later :