We are so good to welcome the monsoon showers after experiencing the scorching summer heat. But monsoons do bring certain health risks. Our body is more susceptible to health issues in rainy season, because monsoon reduces the immunity power of our body. The important point to keep in mind is that you must avoid oily food during this period.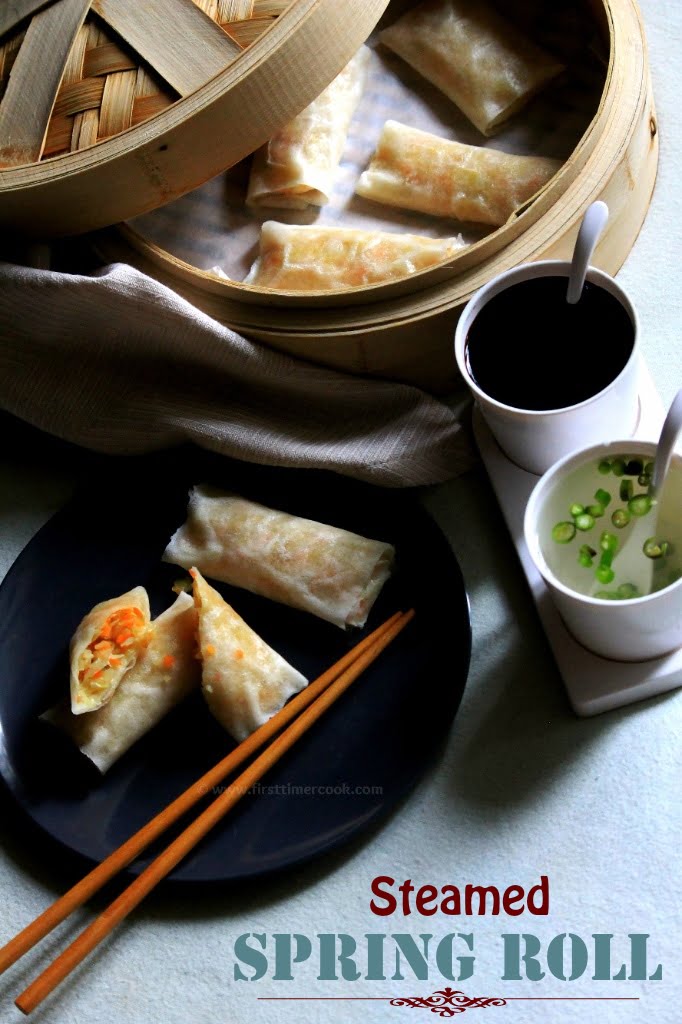 Spring rolls are a popular Indo-Chinese starter or snack. These delicious snacks made with ready to use frozen spring roll wrappers. This is really a quick starter to prepare, perfectly customized as per taste and much yummilicious to eat. Since monsoon season is going on, so instead of deep frying the spring rolls I opted for steamed version.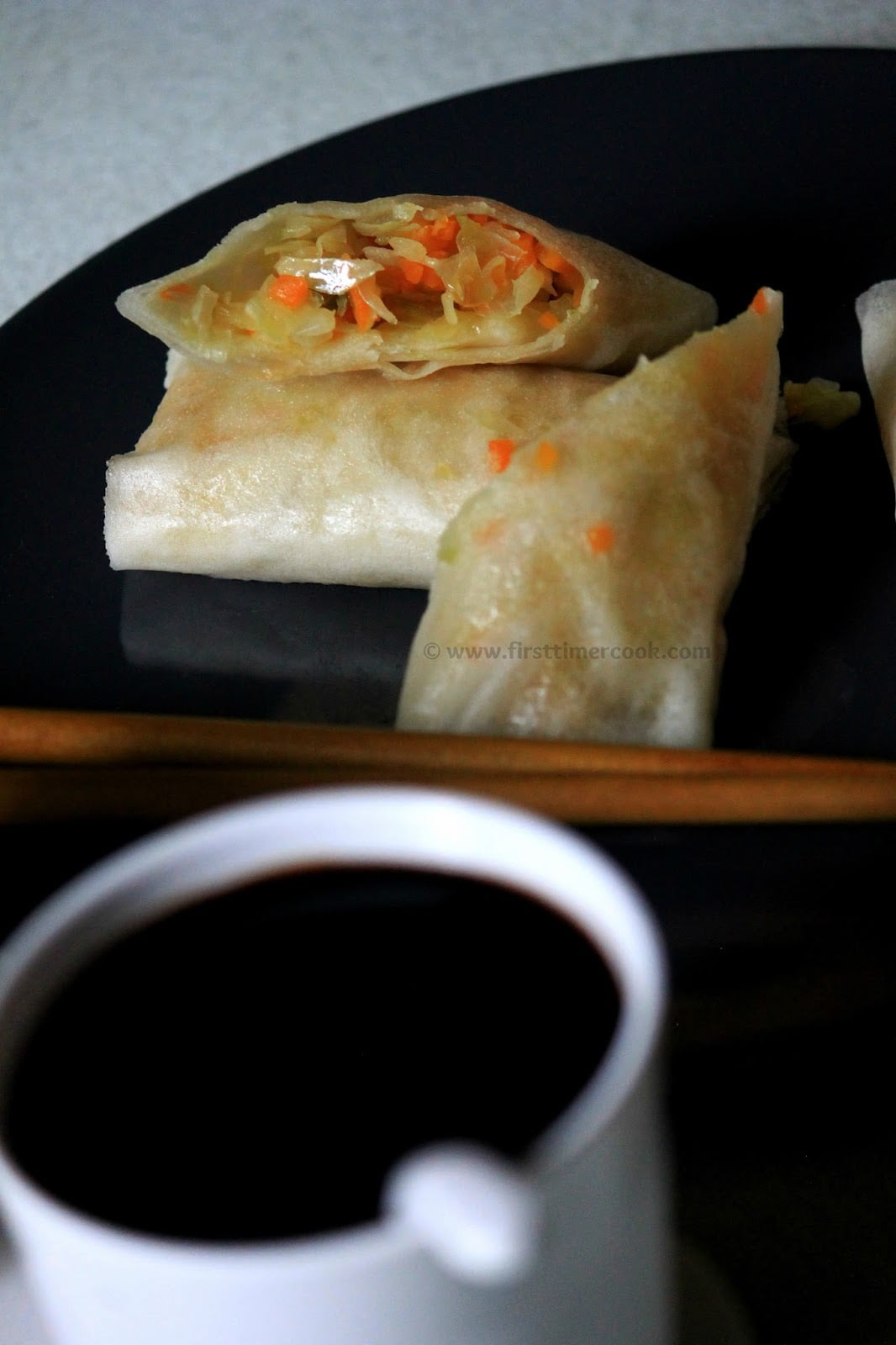 The filling is made up of a mix of finely chopped veggies along with some seasoning. The whole method of preparation is same as deep frying version, but only one difference is there. The uncooked filling is wrapped in the spring roll wrappers and cooked while steaming. So always prefer to cut all the vegetables in same size to ensure even steaming.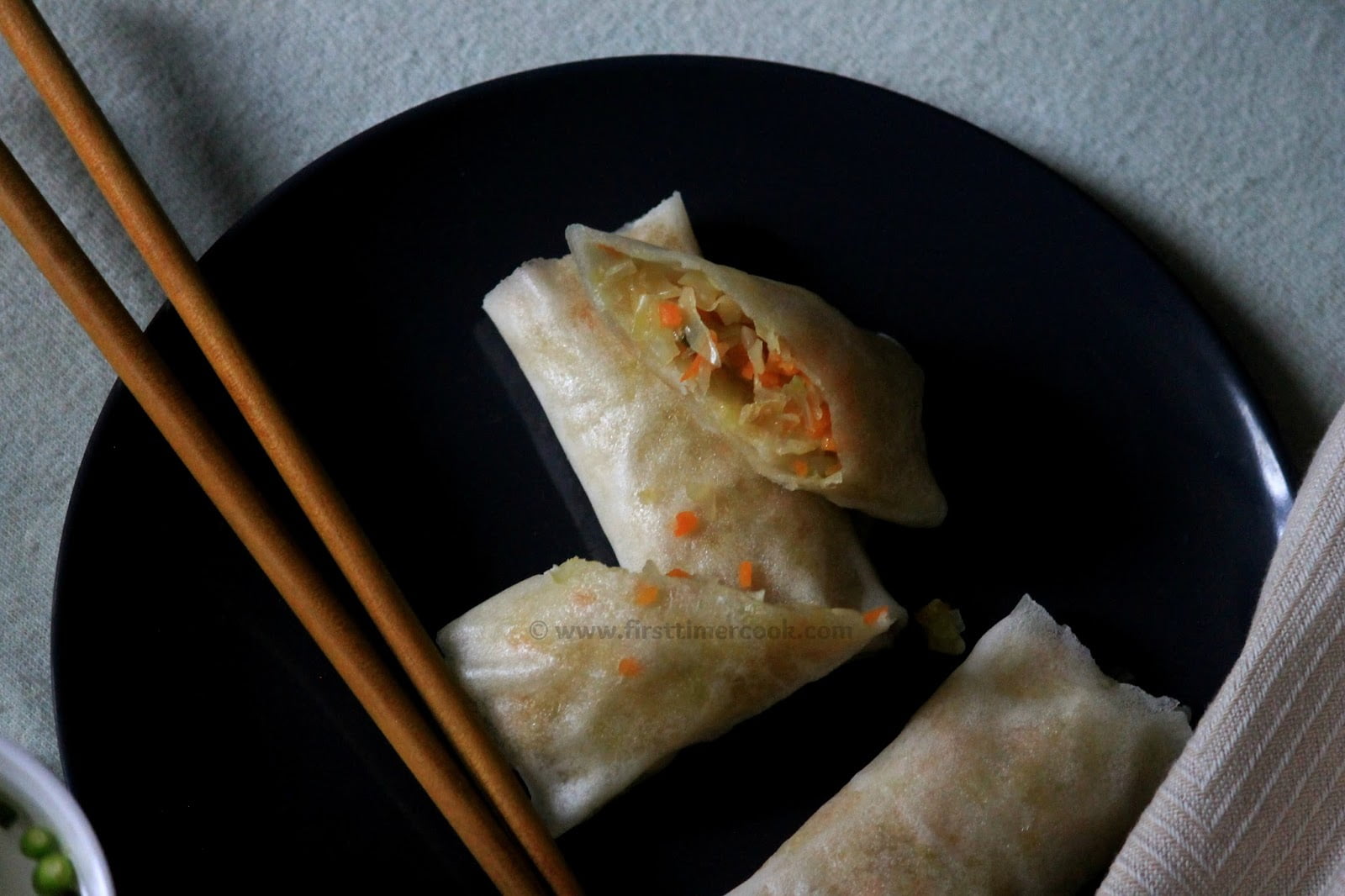 These are soft on outside and juicy inside. Steamed spring roll can be a favorite snack for kids as well as parties during these monsoon time. The theme for 103rd Foodie Monday Blog Hop is 'Steamed Dish'.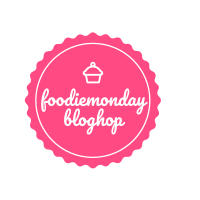 So I have contributed these delicious steamed spring rolls for the theme. These spring rolls are packed with only veggies, but this vegetarian recipe can be turned into a non-vegetarian starter by adding any choice of meat in the filling. So lets go in details.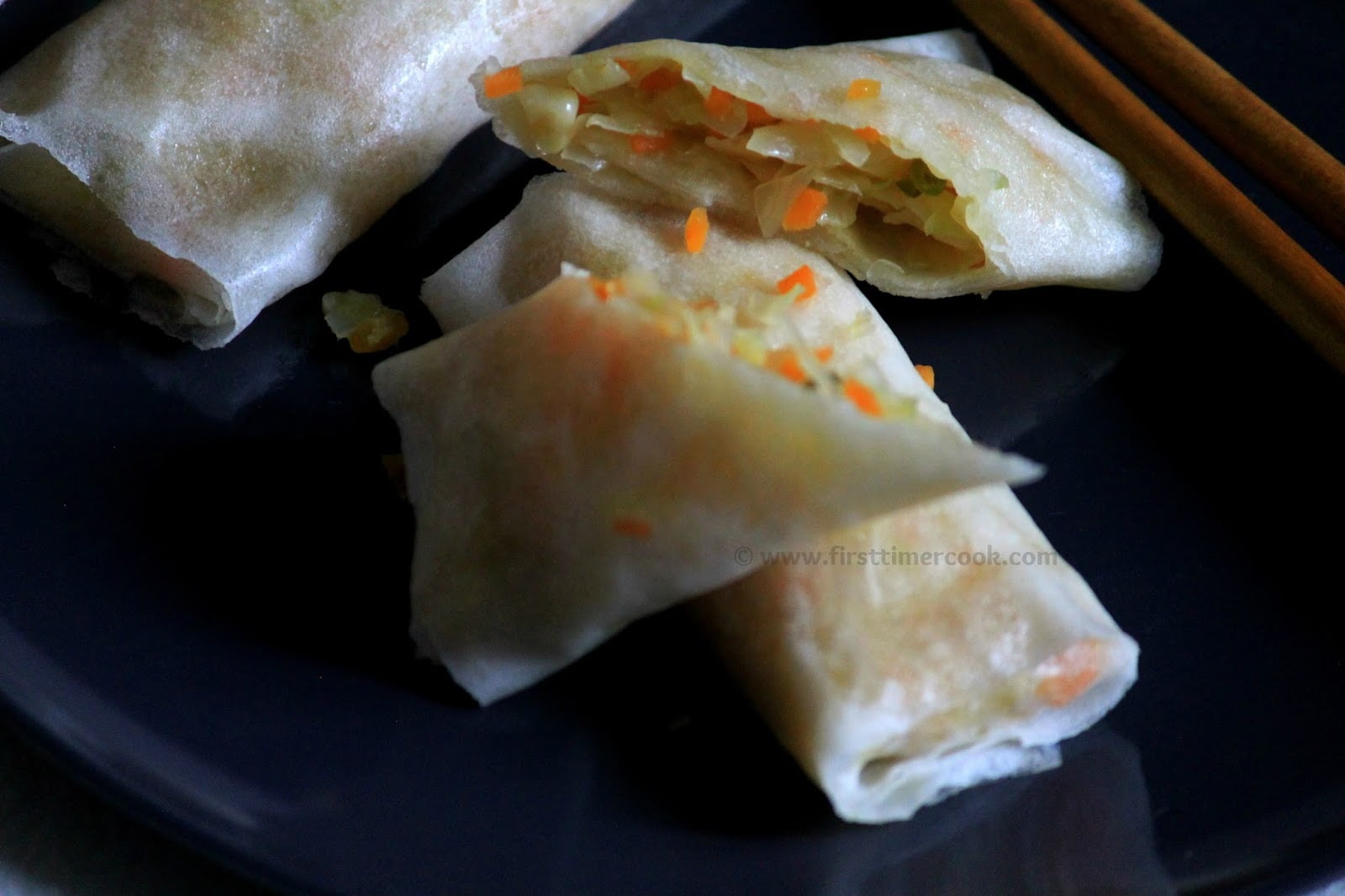 Preparation Time : 20 mins | Cooking Time : 10 mins
Ingredients :
Ingredients

Measurements

Cabbage, carrot, bean (finely
chopped)

1 & ½ cup

Cilantro (finely chopped)

2 tbsp

Garlic powder

1 tbsp

Pepper powder

1 tsp

Soy sauce

2 tbsp

Lime juice

1 tbsp

Sugar

1 & ½ tbsp

Spring roll wrapper

10 no.

​
Method :
In a large mixing bowl, take finely chopped cabbage, carrot, beans and cilantro leaves.
Add in soy sauce, lime juice, sugar, garlic powder, pepper powder.
Mix until combined well by using hands or a spoon. Keep aside the feeling.
Next place a damp cloth over the spring roll wrappers and keep aside for 5-6 minutes.
Meanwhile in a small bowl, mix all purpose flour and water very well to make a thick batter without any lumps.
Now take one wrapper and keep rest wrappers covered by damp cloth.
Place the wrapper (I have used square shaped spring roll wrappers) on a flat surface with one corner towards you.
Put 1-2 tbsp of filling in the center of the wrapper, being careful not to overfill.
Fold over the corner near you up and over the filling, then fold over the left and right sides.
Gently roll towards the far corner. Seal the far corner by applying some batter.
Repeat for rest of the wrappers.
Put all the spring rolls side by side in a bamboo steamer basket lined with a parchment paper.
Steam over simmering water for 5-10 minutes or until the wrappers are translucent.
Serve the steamed spring rolls hot with any preferable sauce for dipping !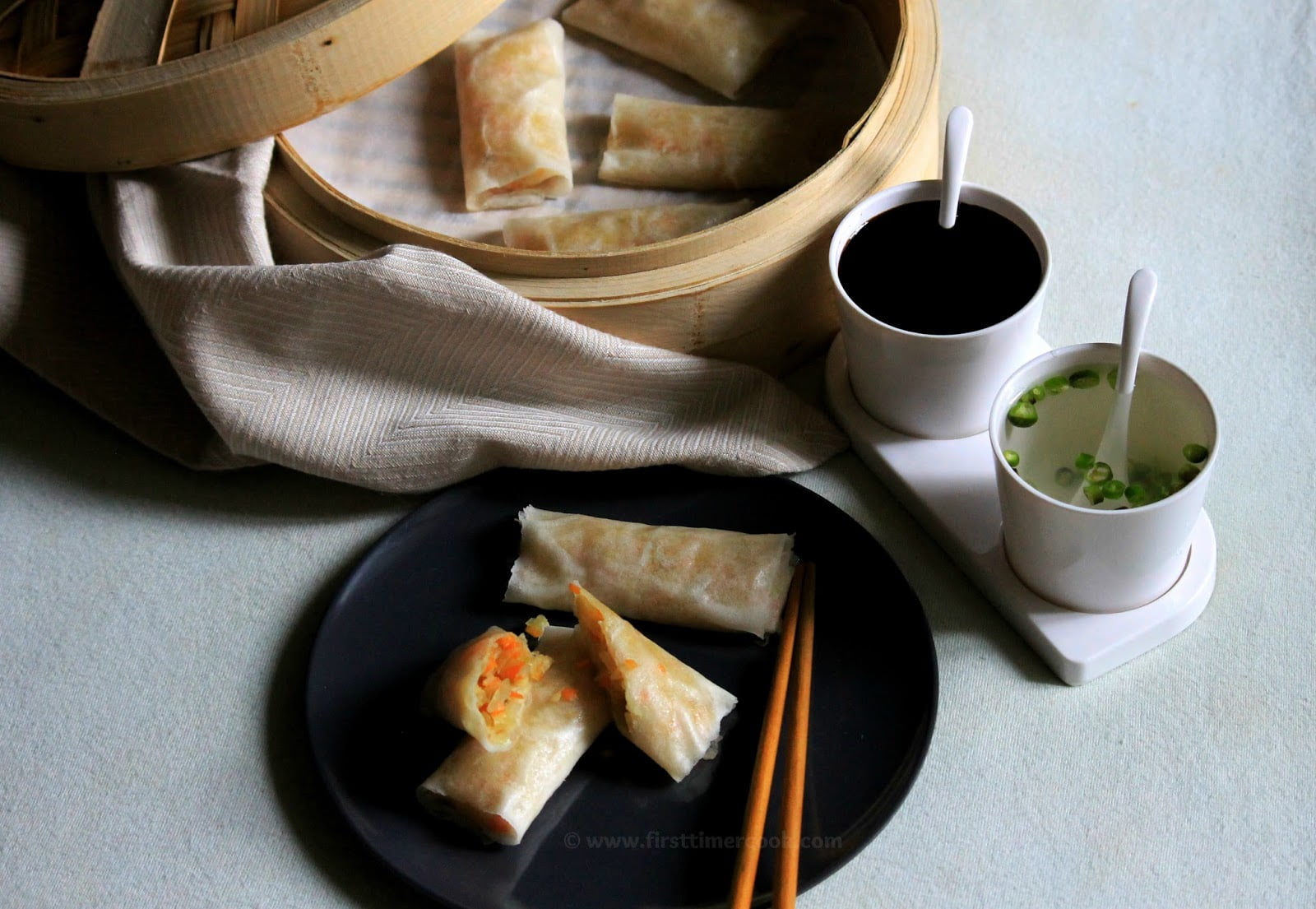 Notes :
Wrapper should be at room temperature before using.
Always try to use less pressure while working with spring roll wrappers. Otherwise, they may break easily.
Choose any choice-able vegetable for filling.
Prefer to cut all the vegetables in same size to ensure even steaming.