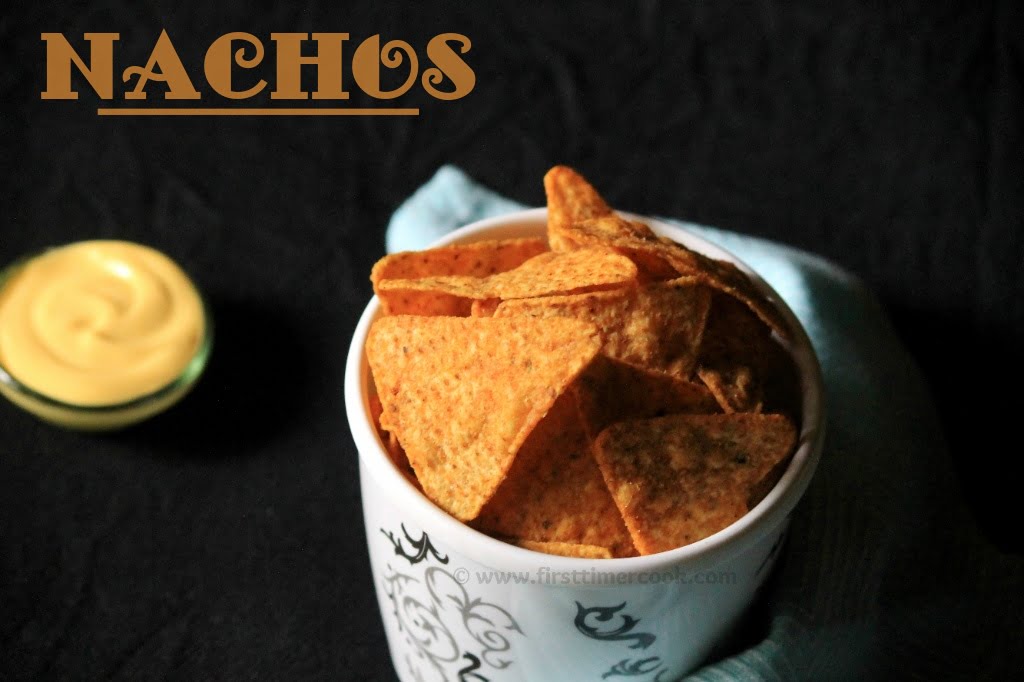 Nachos are most popular snacks in Mexico. The original nachos consisted of fried corn tortillas covered with melted cheese and sliced jalapeno peppers. Nacho chips are aromatic and crispy deep-fried triangles. Basically these have a characteristic texture that is quite different from other chips, perhaps due to the combination of maize flour and plain flour. These chips make an awesome dish when served with a salsa or a dip. Two varieties of nachos are there.
Plain Nacho :
Just form a soft and firm dough with maize flour, plain flour or wheat flour, carom seeds, oil and salt. Divide the dough into lemon size balls, roll each ball into a thin pancake, cut the pancake into triangular shapes, finally bake or deep fry. These nachos are salty and not spicy. So plain nachos go well with a spicy dip or salsa.
Spicy Nachos:
Spicy nachos are preferred to have without a dip or salsa. Just while making the dough add paprika powder, pepper powder. The rest procedure is same as of plain nachos.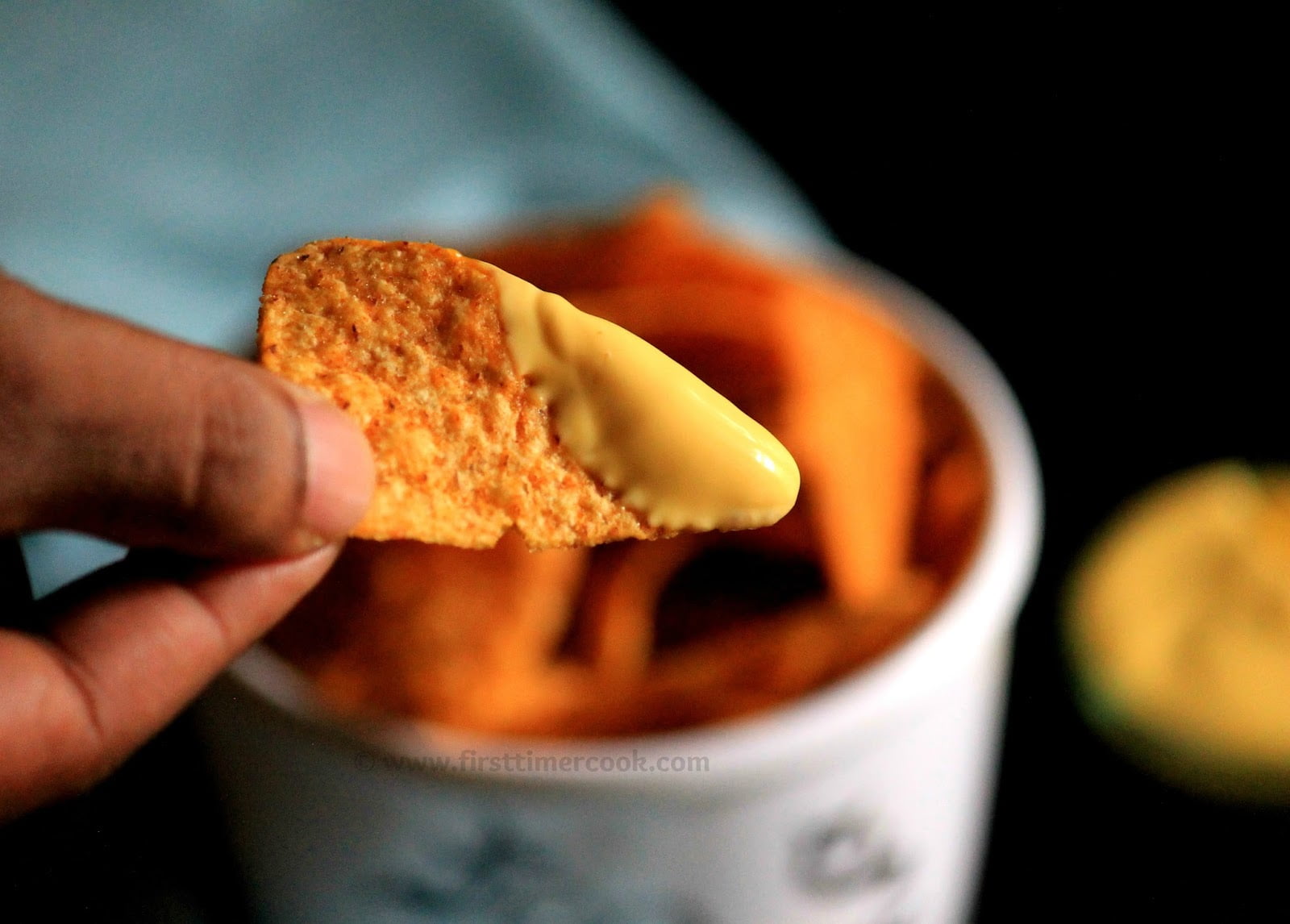 For making a healthier option to the usual fried nachos, I have chosen wheat flour instead of plain flour along with maize flour, also instead of deep frying I have baked those. I have made nachos quite a few times and these are much easy and fun to make. Next time on wards without buying nachos from market, you just prepare at home and enjoy the amazing goodness of baked nachos with your loved ones. So lets go in details of these baked nachos as mentioned below.
Preparation Time : 15 mins | Cooking Time : 15 mins
Ingredients :
| | |
| --- | --- |
| Ingredients | Measurements |
| Maize flour (makai ka atta) | 1 cup |
| Wheat flour | ¼ cup |
| Carom seed (ajwain) | ¼ tsp |
| Oregano (dried) | ¾ tsp |
| Turmeric powder | ½ tsp |
| Paprika powder | 1 tsp |
| Oil | 4 tbsp |
| Water | As needed |
| Salt | As needed |

​
Method :
Heat 1 tbsp oil in a pan, add turmeric powder and saute for 25-30 seconds. Turn off heat.
Preheat oven to 175 degree C.
In a bowl take maize flour (makai ka atta), wheat flour, turmeric oil, carom seeds (ajwain), dried oregano and salt. Mix well.
Add water little by little and knead it into a fine soft dough.
Divide the dough into lemon size balls.
On a flat surface place a cling film, take 1 dough ball and flatten it with the help of a rolling pin.
Prick it evenly with a fork to avoid fluffing up while baking.
With the help of a knife / cookie cutter cut into equal triangles / desired shapes.
Repeat above 3 steps for rest of the dough balls.
Meanwhile in a small bowl, mix 3 tbsp oil with paprika powder well.
Brush the paprika oil mixture on both side of each triangle.
Arrange the triangles in a single layer on a baking tray.
Bake for about 12-15 minutes or until the chips are crisp, but not too brown.
Serve with any desired salsa, sour cream or guacamole.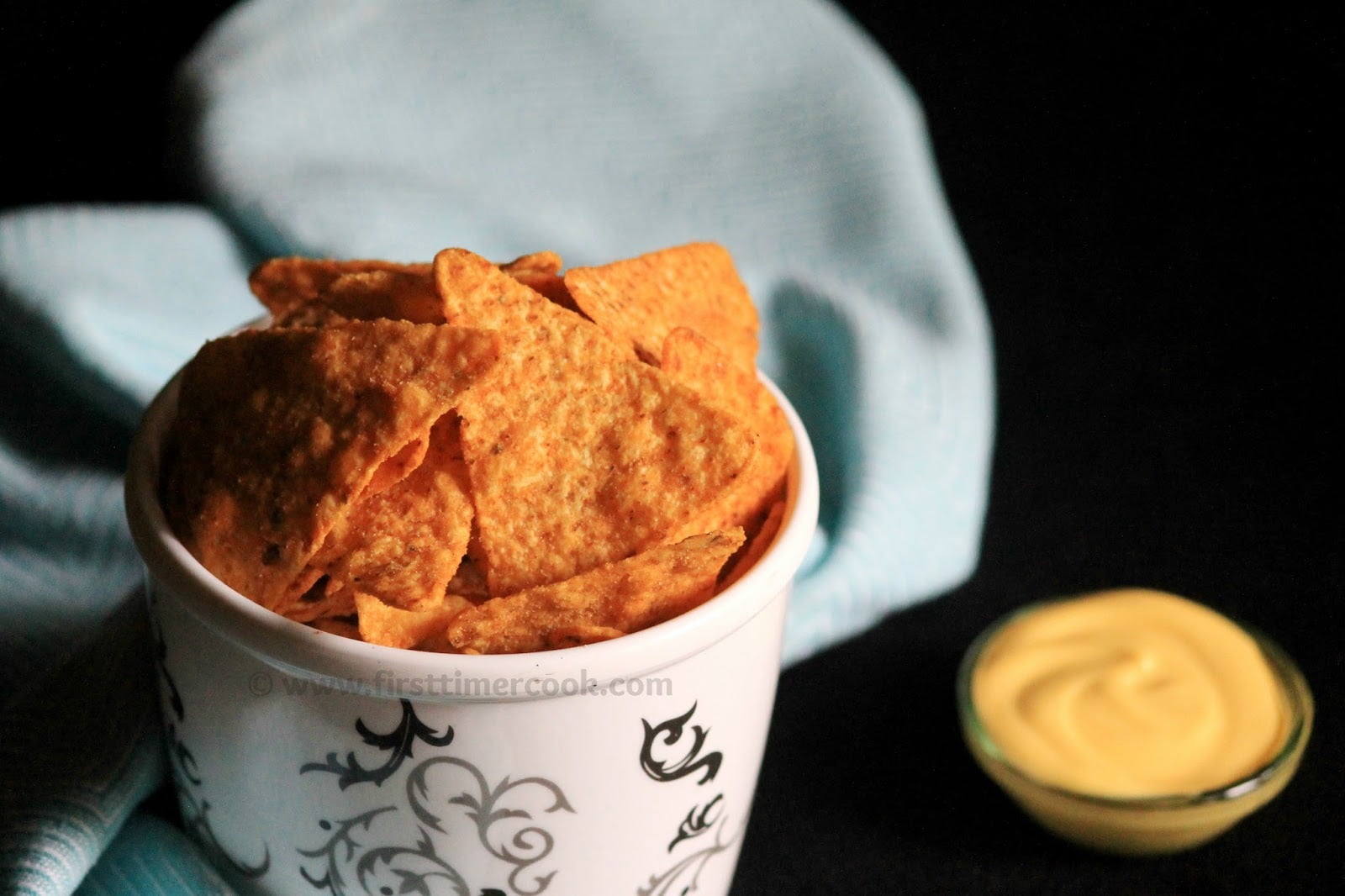 Notes :
Always prick the flatten dough with a fork to avoid fluffing up while baking.