a Halloween special egg free dessert using Raspberries and some spooky cookies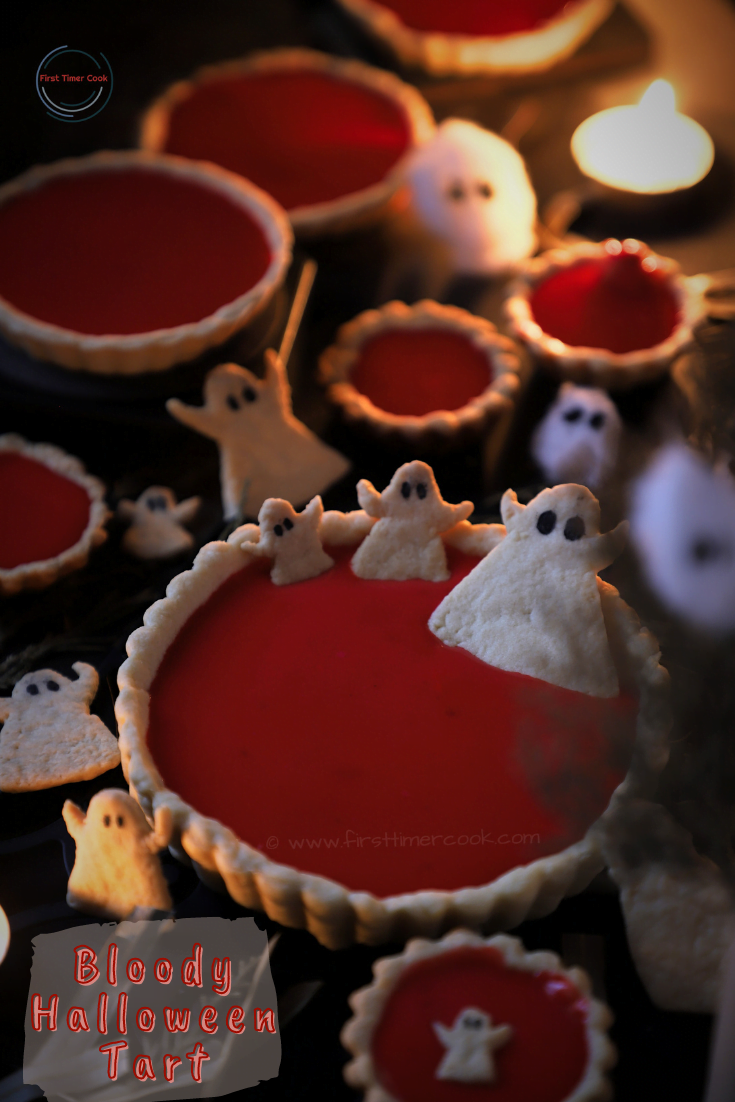 Halloween !!!
Halloween is a holiday celebrated each year on October 31 and this year it is going to be celebrated on day after tomorrow. Halloween is also known as All Hallows' Eve. Pope Gregory III, in the eighth century, assigned November 1st as a day to honor all saints and martyrs. This day was declared as a holiday and named as All Saints Day. The day before All Saints Day was known as Hallows' Eve and later came to be known as Halloween. The tradition originated with the ancient Celtic festival of Samhain, when people would light bonfires and wear costumes to ward off ghosts.
Over time, Halloween has evolved into a community based, children friendly celebration. Activities like trick or treating, dressing up in various costumes and having Halloween theme based parties have now become the norm. Even adults become a participant in costume parties. Trick or Treat has become customary for kids. Children, dressed in costumes, go from one house to another asking the question 'Trick or treat?' The treats given to children can be various candies, things to eat or sometimes money. Tricks would include the children playing some kind of mischievous prank on the owners of the house. Tricks would be done if the owners do not give any form of treat to the children.
Well, Halloween parties can be a time to showcase the kitchen creativity, but deciding what to make can be the hardest part. The dishes can give great spooky addition to the party and best of all the kid's can enjoy in helping or making it too. Whether one is in the mood for Muffin Tin Pumpkin Pies or a handful of candy corn, there is something in this list for the Halloween enthusiast in all of us. So in this recipe, I am going to share a dessert which name I have kept as 'Bloody Halloween Tart'.
WOW !!!! Halloween vibes must be there in your mind, yes or no 😉 just by reading the name of the dish 😊
What is Bloody Halloween Tart ?
This is basically a tart made up of wheat flour instead of regular all purpose flour (maida). The bloody color is due to the raspberry coulis. The tarts are first baked well and then the raspberry coulis is filled in those which overall gives a Halloween look. In addition to that, I have made some ghost cookies using the same dough which is used for tart. These cookies enhance the Halloween vibes in those bloody tarts.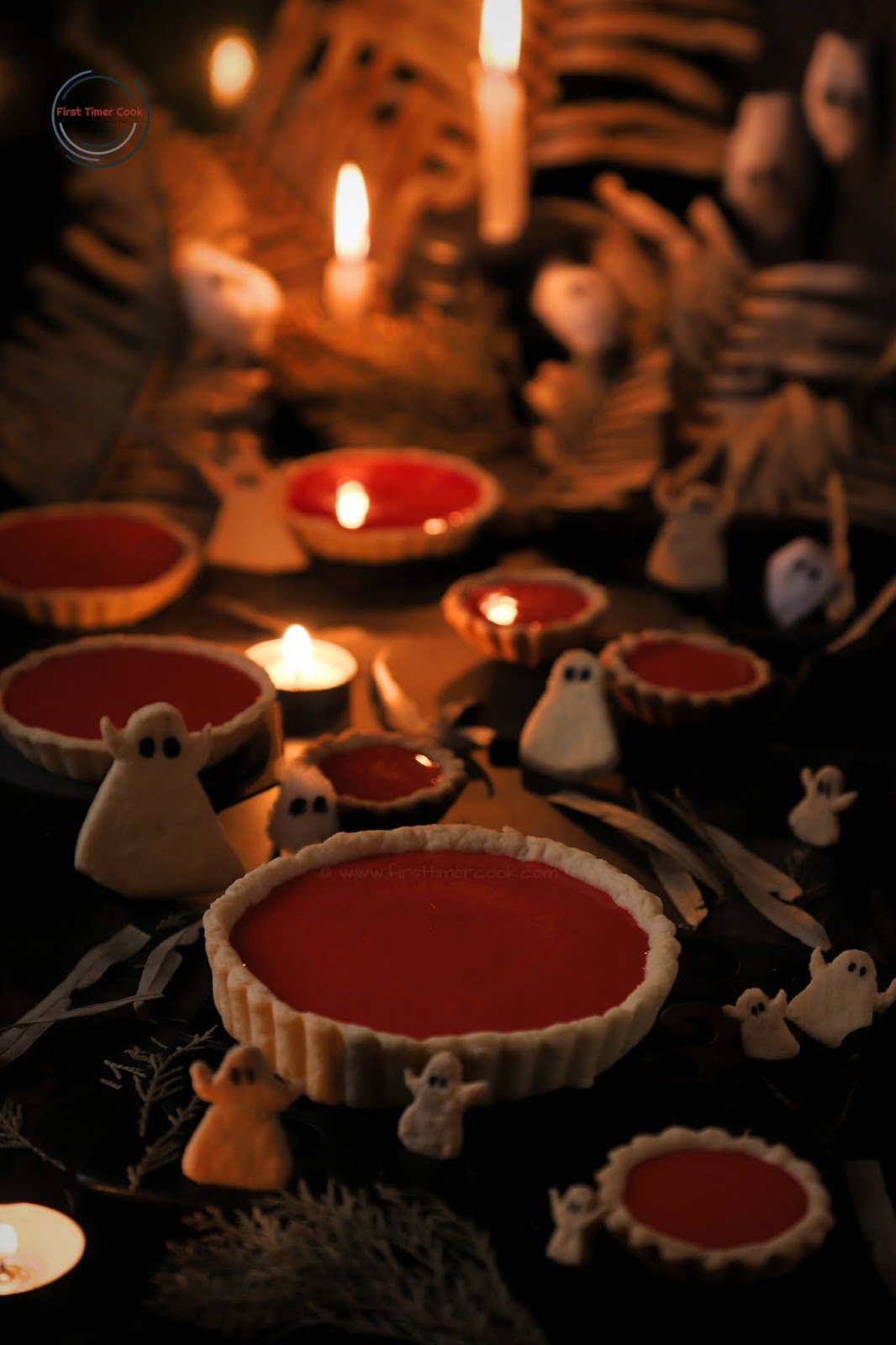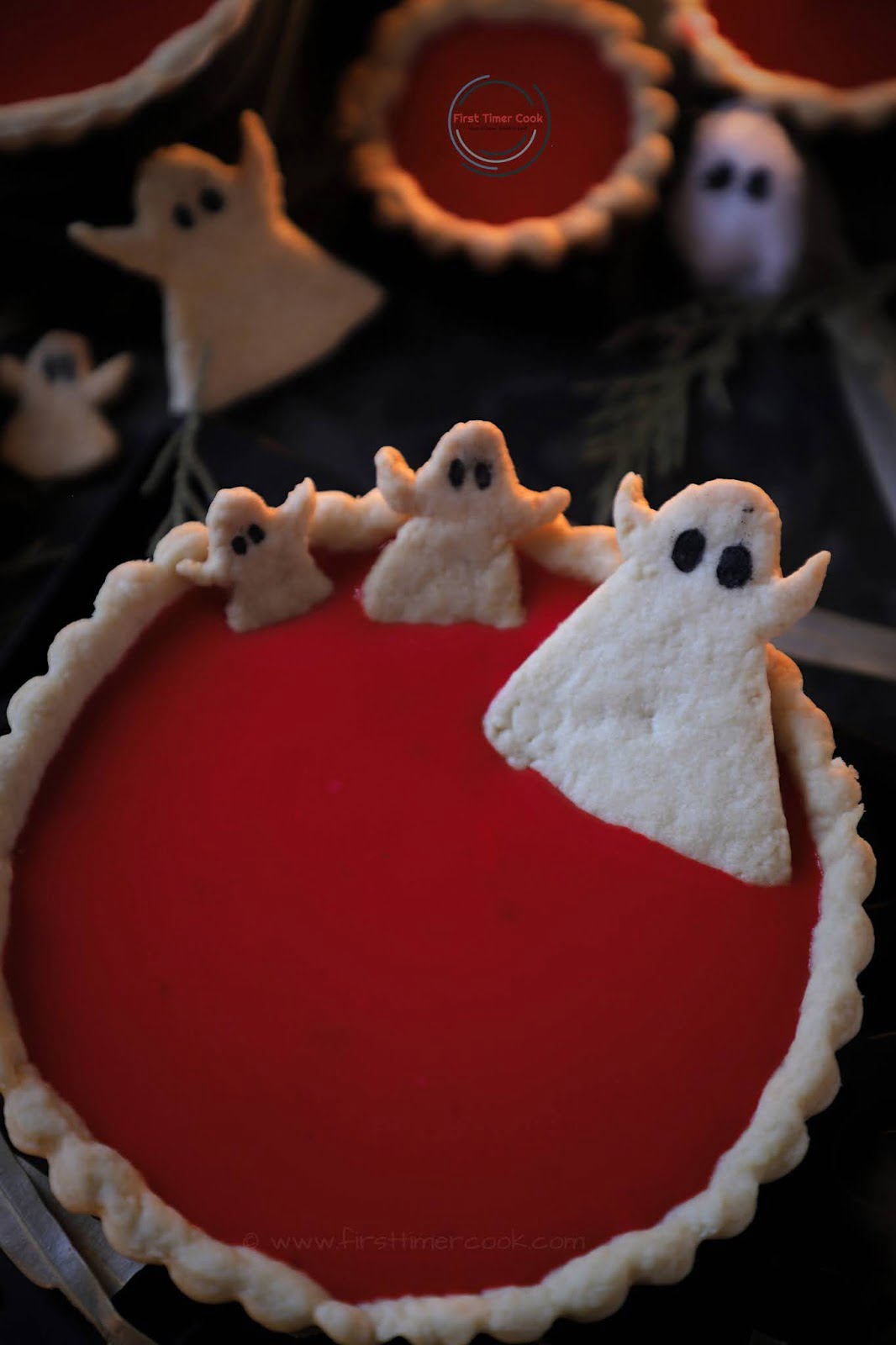 Dietary note :
✔ Vegetarian

✔ Make ahead dessert
✔ Simple and easy to make
Let's go through how to make "Bloody Halloween Tart using Raspberry Coulis" at home 👇
The event related to this post :
Well this time our fortnight foodie group named as Healthy Wellthy Cuisines is decided to select 95th theme : 'Spooky Halloween' and is suggested by shalu jain di. I love her all the recipes and step by step details regarding that. As we all are going to celebrate Halloween soon all over the world, so she suggested why not we all the group member make some spooky recipes. So I have come up with this Bloody Halloween Tart and contributed for the theme. Here are some similar recipes shared by our Healthy Wealthy Group members Pumpkin Halloween Cookies by Poonam, Witch Fingers Breadsticks with Bloody Tomato Soup by shalu di.
And, yes !!!
If you like the recipe shared here and give a try at your place then do share in INSTAGRAM by tagging #firsttimercook. I would be so happy to see and surely share in my INSTA stories 😊😊
: Recipe Card
: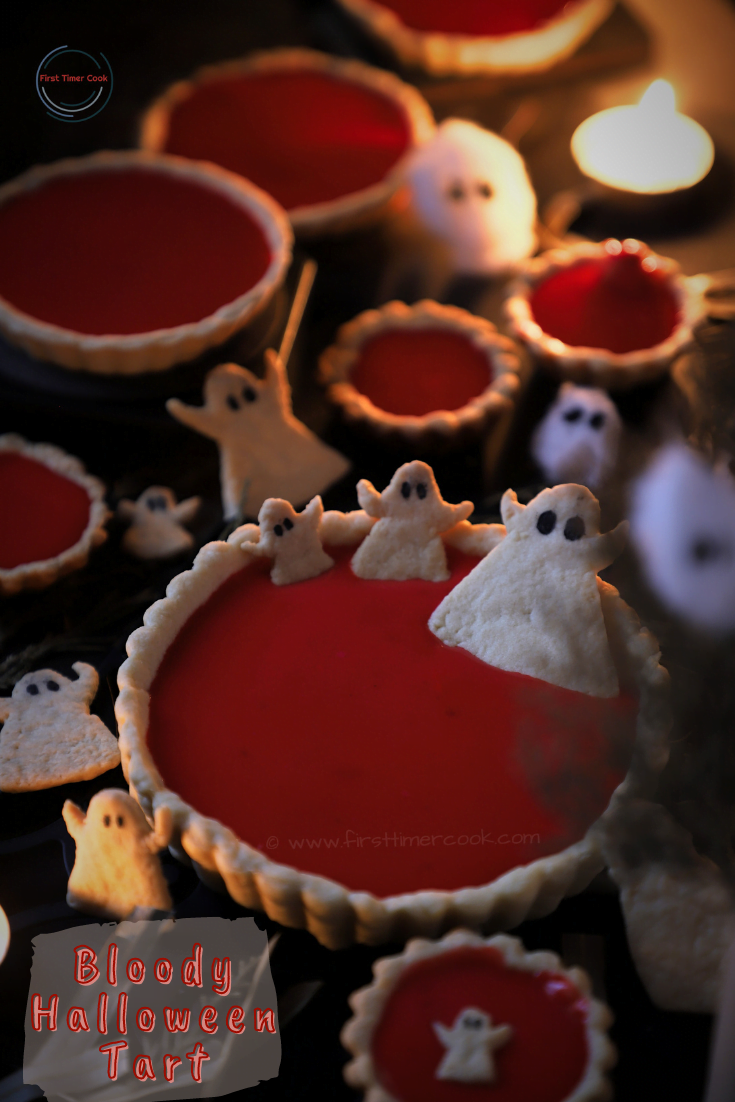 Author
Sasmita
Prep time
30 Min
Cook time
20 Min
inactive time
40 Min
Total time
1 H & 30 M
Bloody Halloween Tart using Raspberry Coulis
a Halloween special egg free dessert using Raspberries and some spooky cookies
Ingredients
for Tart and cookies
Wheat flour 1 & 3/4 cup
Butter (room temperature) 1/2 cup
Salt 1 pinch
Water (cold) as needed
Chocolate chips 1 tbsp
for Raspberries Coulis
Raspberry (fresh / frozen) 2 cup
Sugar 1/4 cup
Orange juice 3 tbsp
Water 1 cup
Cornstarch (optional) 2 tbsp
Instructions
Preparation of Tart and Halloween cookies –
In a mixing bowl first combine the wheat flour, salt, butter using fingertips to get a breadcrumb texture.
Add cold water little by little and knead to make a tight dough.
Cover the bowl and keep in refrigerator for 15-20 minutes.
Meanwhile preheat the oven at 180 deg C.
After 15-20 minutes of resting in refrigerator, knead the dough again and make equal 3-4 portions.
Dust the work surface with flour and roll one dough portion into about 1/4 inch height.
Take out the rolled dough gently and put it in the tart mold.
Press gently with fingers so that the dough evenly covers the mold without stretching too much, take out the extra parts of the rolled dough after shaping and mix with the other portions.
Next prick the bottom of the tart with a fork and keep aside.
Similarly make some more tarts (choose any size tart, I have used some small and medium sizes) using rest dough (keeping 1 portion to make some Halloween cookies).
Bake the tarts keeping on a baking tray for 15-20 minutes at 180 deg C or till the crusts appear slightly golden color (usually small tarts take less time as compared to large ones, so keep an eye while baking. If the small ones seem to be baked well, simply take those out and let the large ones bake for some more minutes).
Keep aside all the tarts to cool down completely.
Next take the last dough portion which was kept aside and start to roll out the dough to a thickness of about ¼ inch on a floured work surface.
Now using Halloween cookie cutter, cut out the cookies. I have no cookie cutter like this, so I made some paper cutout and used to shape the cookies (some small and medium ghost shape cookies).
With the help of a flat spatula, transfer all the cookies onto a baking tray lined with parchment paper keeping about 1 inch space in between.
Collect all the scrapes after cutting out, shape into a dough, roll and cut again in above mentioned steps.
Bake for 8-10 minutes in a pre-heated oven at 180 deg C.
Transfer to a wire rack and allow to cool.
Now take the chocolate chips in a small bowl, microwave for 1 minutes and mix well till melt.
Dip a toothpick in the melted chocolate and make dots on the cookies which are the eyes of ghost.
Halloween ghost cookies are all done, keep aside to set well.
Preparation of Raspberry Coulis –
In a saucepan take all the raspberries, sugar, orange juice and water (keeping 3 tbsp of water aside).
Turn on heat and allow the sugar to melt.
Meanwhile, mix cornstarch with 3 tbsp of water until smooth.
Add this mixture to the saucepan, give a quick mix and allow to boil.
Lower the heat and cook for 3-4 minutes more or till the mixture starts to thicken, stirring continuously.
Turn off heat and allow to cool down.
Blend the mixture and strain through a fine strainer.
Collect in a bowl.
Assemble –
Now take the tarts and keep on a serving platter.
Pour the tarts with the rasberry coulis.
Put the Halloween ghost cookies over it and serve !
Notes:
Raspberries used here can be frozen / fresh. If using frozen, first thaw those and then use.
Adjust the sweetness in the coulis as desired.
Pick any shape for cookies, or even that part can be omitted totally.
Any other fruit can be used here instead of rasberries.
Cornstarch is optional. I have used to thicken the coulis little more easily.
https://firsttimercook.com/2020/10/bloody-Halloween-tart-using-raspberry-coulis.html
Egg free dessert, tart recipe, Halloween dessert, raspberries, Wheat flour
Vegetarian, Baked dessert, tart, Halloween, No APF baking
International
Did you make this recipe?
Tag@firsttimercookon instagram and hashtag it#firsttimercook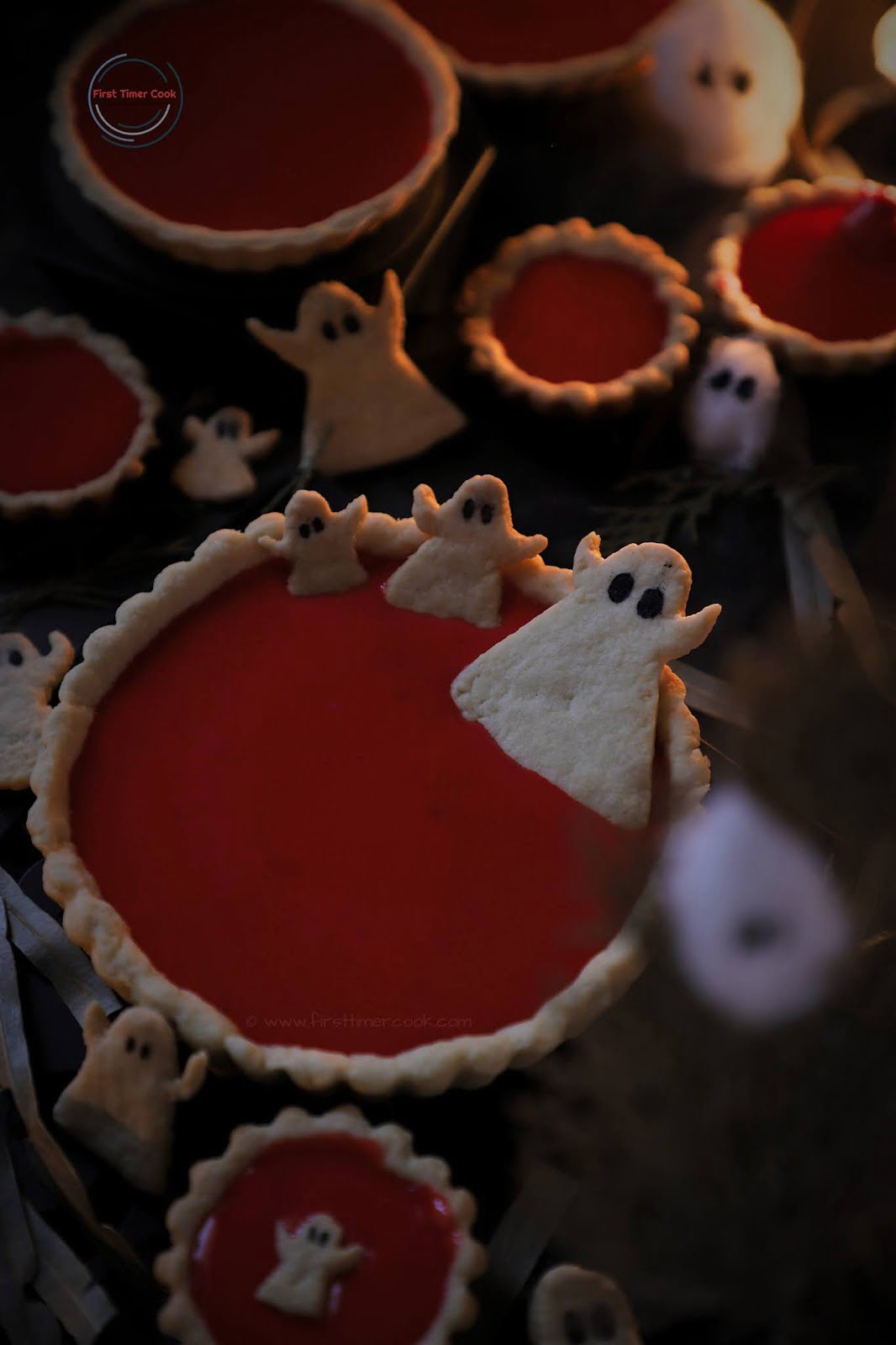 You may also follow me on Facebook, Pinterest, Twitter, Google+, Instagram and can subscribe for free to get new recipes directly into your inbox 😊
PIN for later :