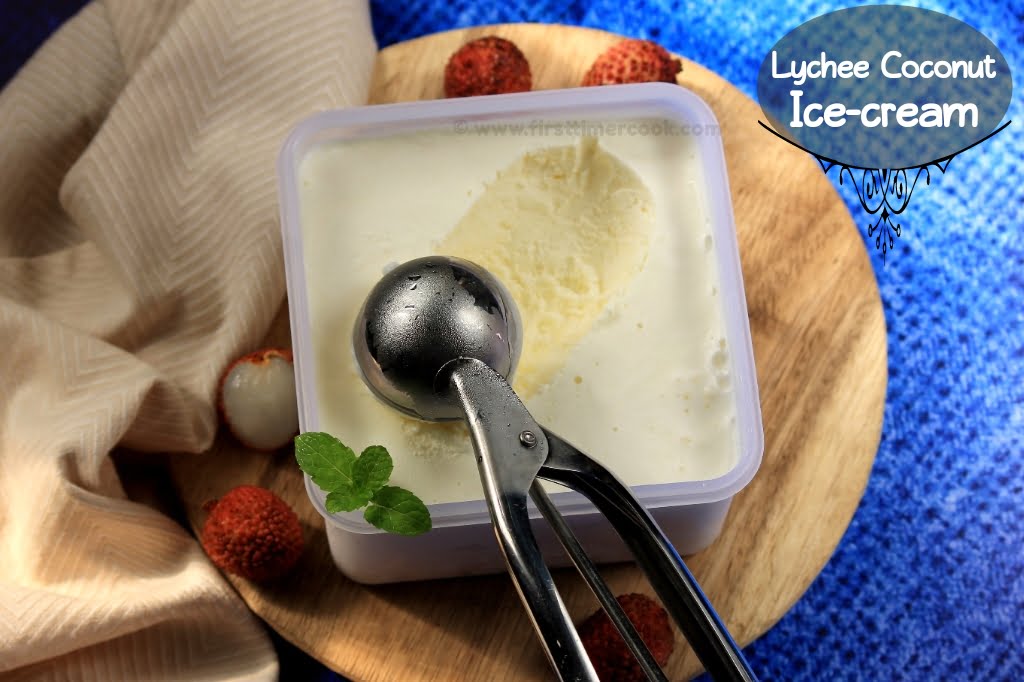 Lychee is one of the delicious summer fruit which is favorite of all age groups. The rough, red leathery skin of this fruit fully contrasts with the white and creamy fruit inside. Its beauty is also beyond description when one sees it in bunches, especially in the orchard. As we know already that the King of fruit is MANGO where as the Queen of fruit is LYCHEE. Lychees are typically enjoyed fresh. Just remove the rough red colored skin and then squeeze the fleshy part directly into mouth discarding the seed 😉Lychee is a seasonal fruit, particularly summer is the time for this fruit to get abundantly.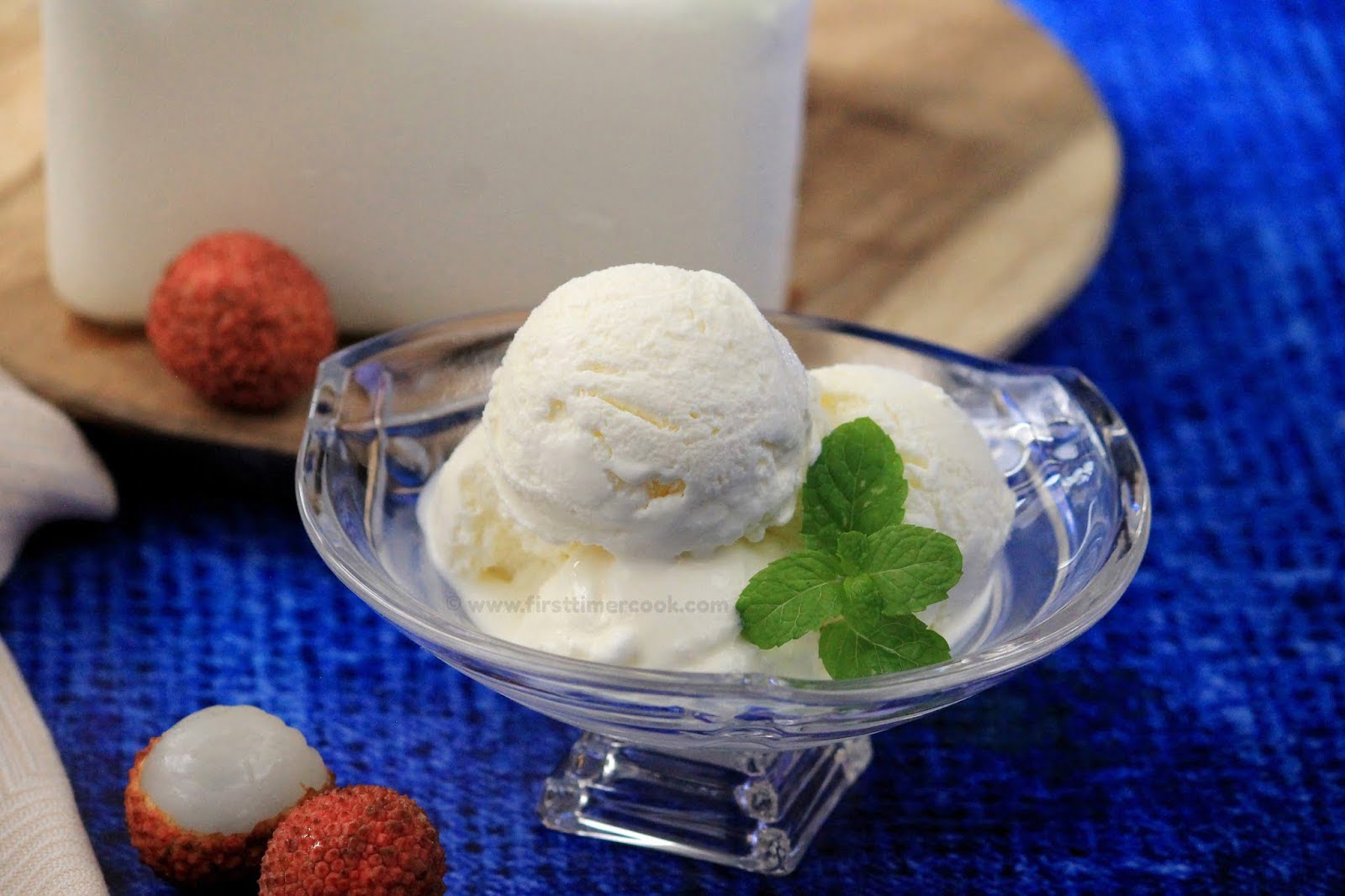 Since this fruit is full of minerals, vitamins and some other nutrients, so lychee is also assigned with a named as Super Fruit. Lychee contains an impressive array of vitamins, fiber and antioxidants. This fruit has more vitamin C than the same amount of any other citrus fruit, a significant amount of potassium and as much fiber as an apple. Well, at my place this is the time for the queen of fruit. So here I have come up with an ice-cream using this super food as Lychee Coconut Ice-cream.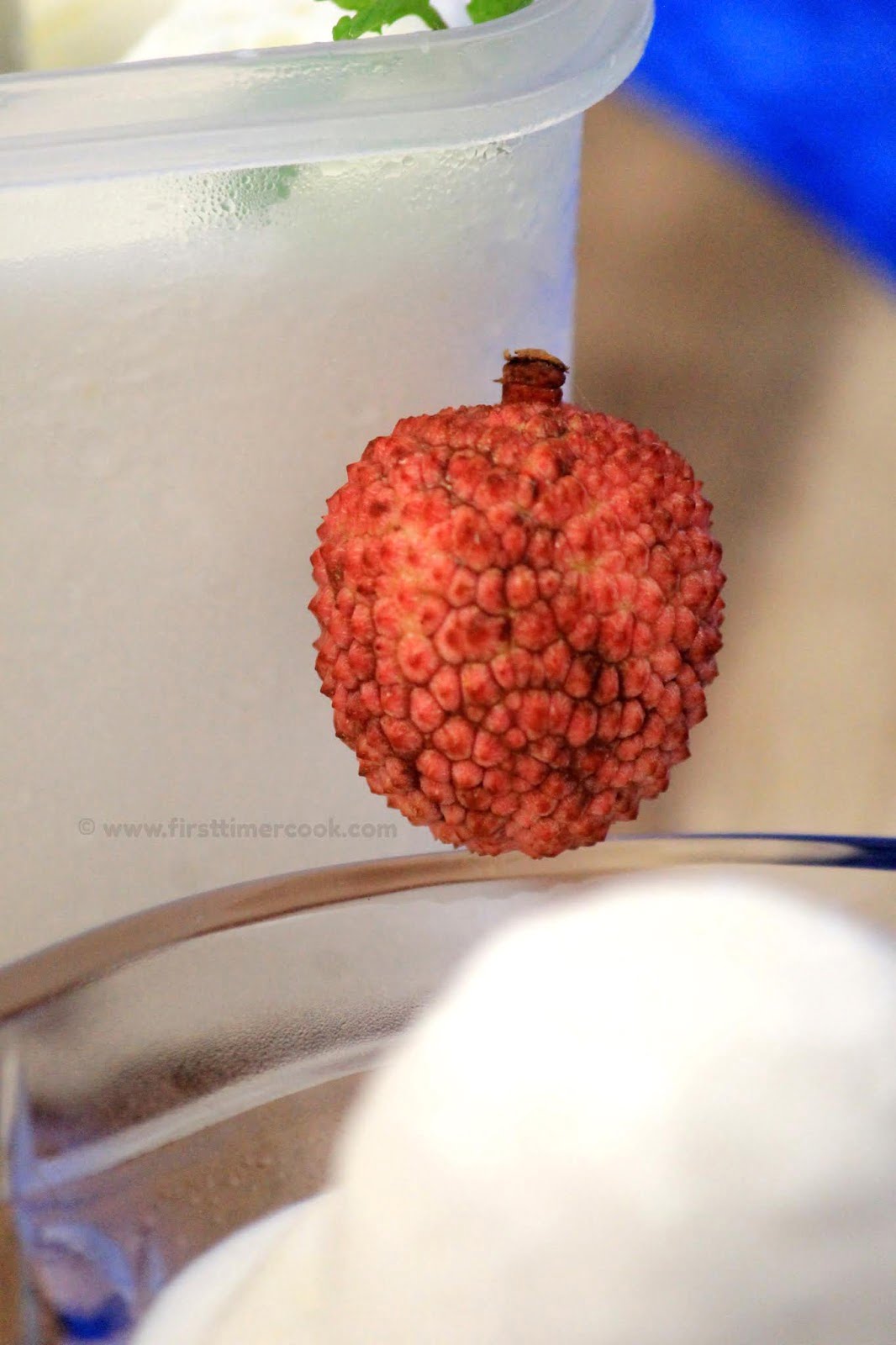 This is the first time I have tried the recipe as well as tasted the delicious flavor. This ice-cream is an refreshing one for these ongoing hot summer days. There is no need of any ice cream machine to prepare this richest and creamiest homemade ice cream. This lychee coconut ice-cream is a vegan and gluten free ice cream. We all in my family thoroughly enjoyed this creamy refreshing flavored ice-cream. Addition of coconut is a wow factor here. Kids will definitely love this ice-cream. So do try this lychee coconut ice-cream soon.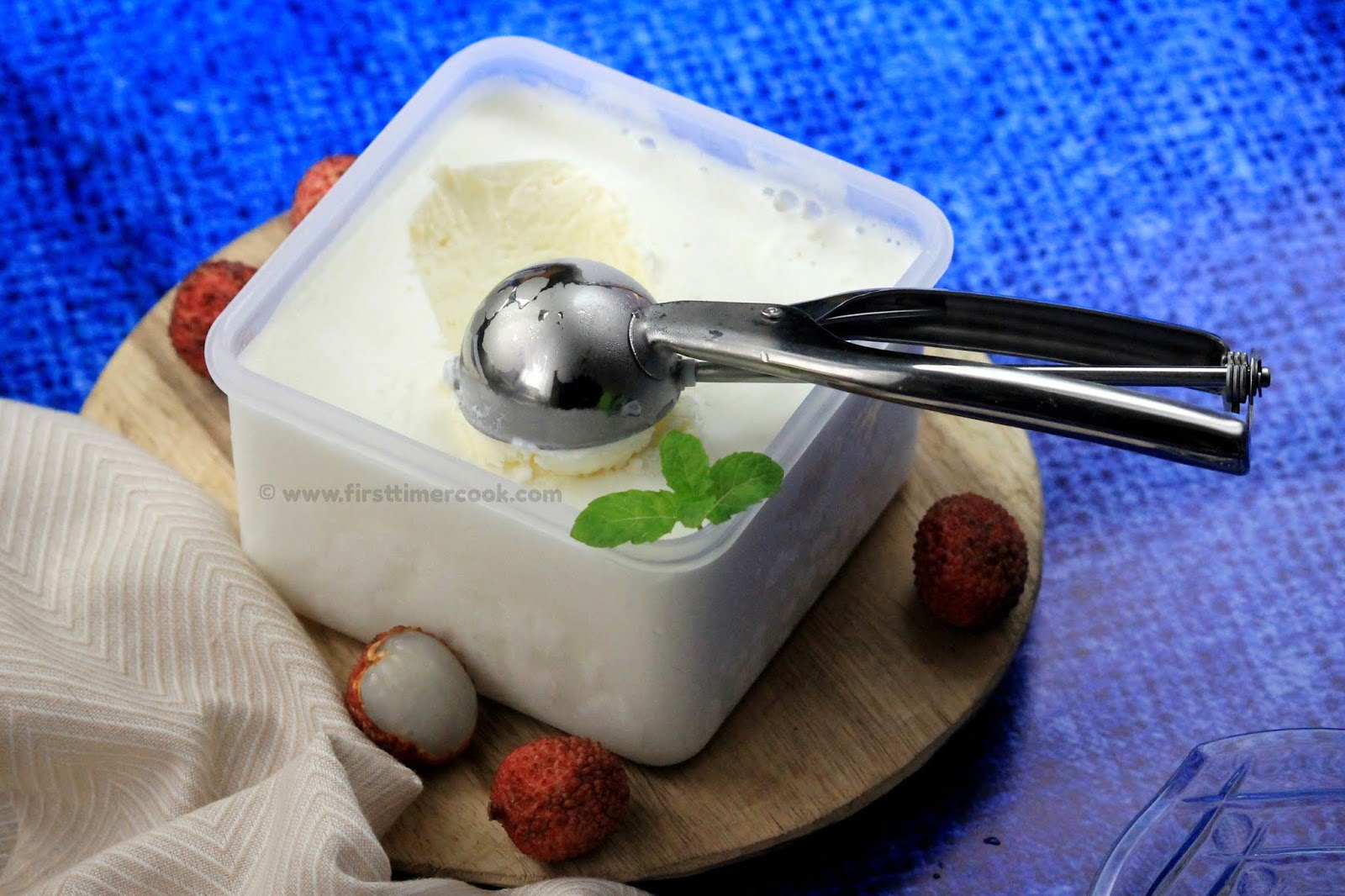 Recipe Card for 'Lychee Coconut Ice-cream (Vegan & no-Churn)' :

No churn Ice cream, vegan, gluten free, lychee, summer time, coconut, dessert
Ice cream, Vegan, Gluten free, Lychee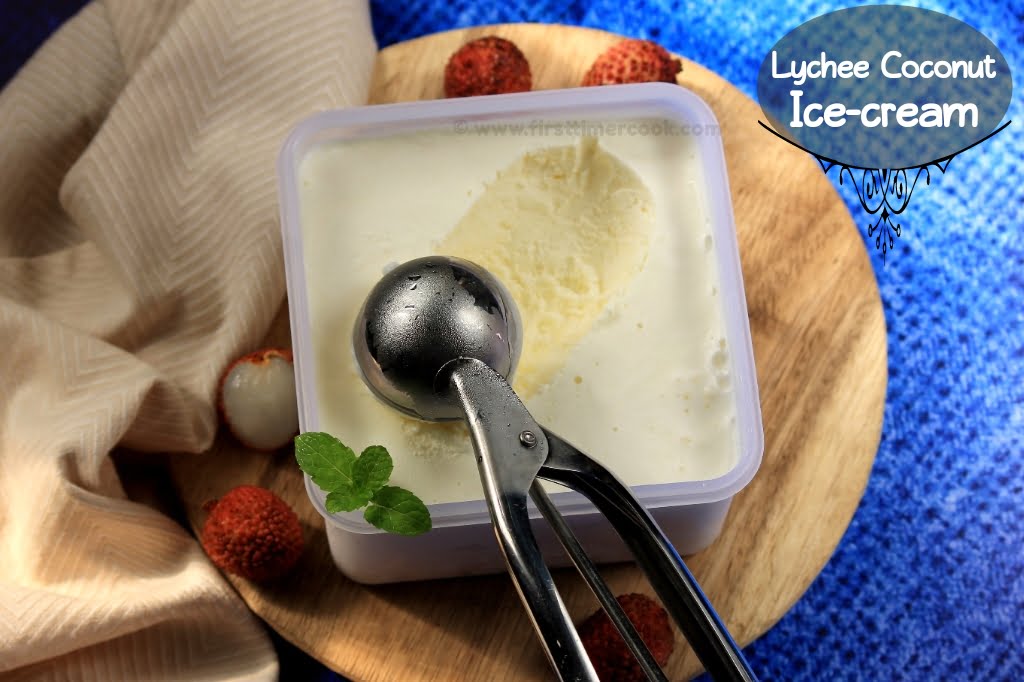 Lychee Coconut Ice-cream (Vegan & no-Churn)
a creamiest no-churn homemade ice cream using the Queen of fruit, LYCHEE.
prep time: 15 Mcook time: 10 Mtotal time: 25 M
ingredients:
Lychee 15-16 no

Coconut milk (full fat) 4 cup

Sugar ¾ cup

Desiccated coconut 3-4 tbsp

Corn starch 2 tbsp

Vanilla essence 2 tsp

Salt ¼ tsp
instructions:
How to cook Lychee Coconut Ice-cream (Vegan & no-Churn)
Peel the skin of all the lychee and discard the seeds.

Chop all the fleshes roughly and put in a blender jar.

Make a smooth puree and keep aside.

In a saucepan, take 2 cup coconut milk along with sugar and salt.

Stir well and warm over low-medium heat.

Stir in between till sugar dissolves completely.

Now in a bowl take rest 2 cup coconut milk, corn starch and mix well still no lumps are there.

Add this corn starch mixture to the pan and stir well.

After 5-6 minutes, the whole mixture starts to thicken.

Turn off heat.

Add in vanilla essence, litchi puree, desiccated coconut and mix very well using a spoon or hand whisk.

Allow to cool down completely.

Pour into a freezer-safe container having a tight lid.

Cover with lid and place in the freezer until semi-firm.

Take out from freezer and pour the mixture into a blender jar.

Blend until smooth consistency reaches.

Again pour into that container and cover tightly with the lid.

Keep again in freezer for 6-7 hours or till the ice-cream set perfectly.

At the time serving, just scoop out and serve immediately !
NOTES:
Addition of desiccated coconut is optional.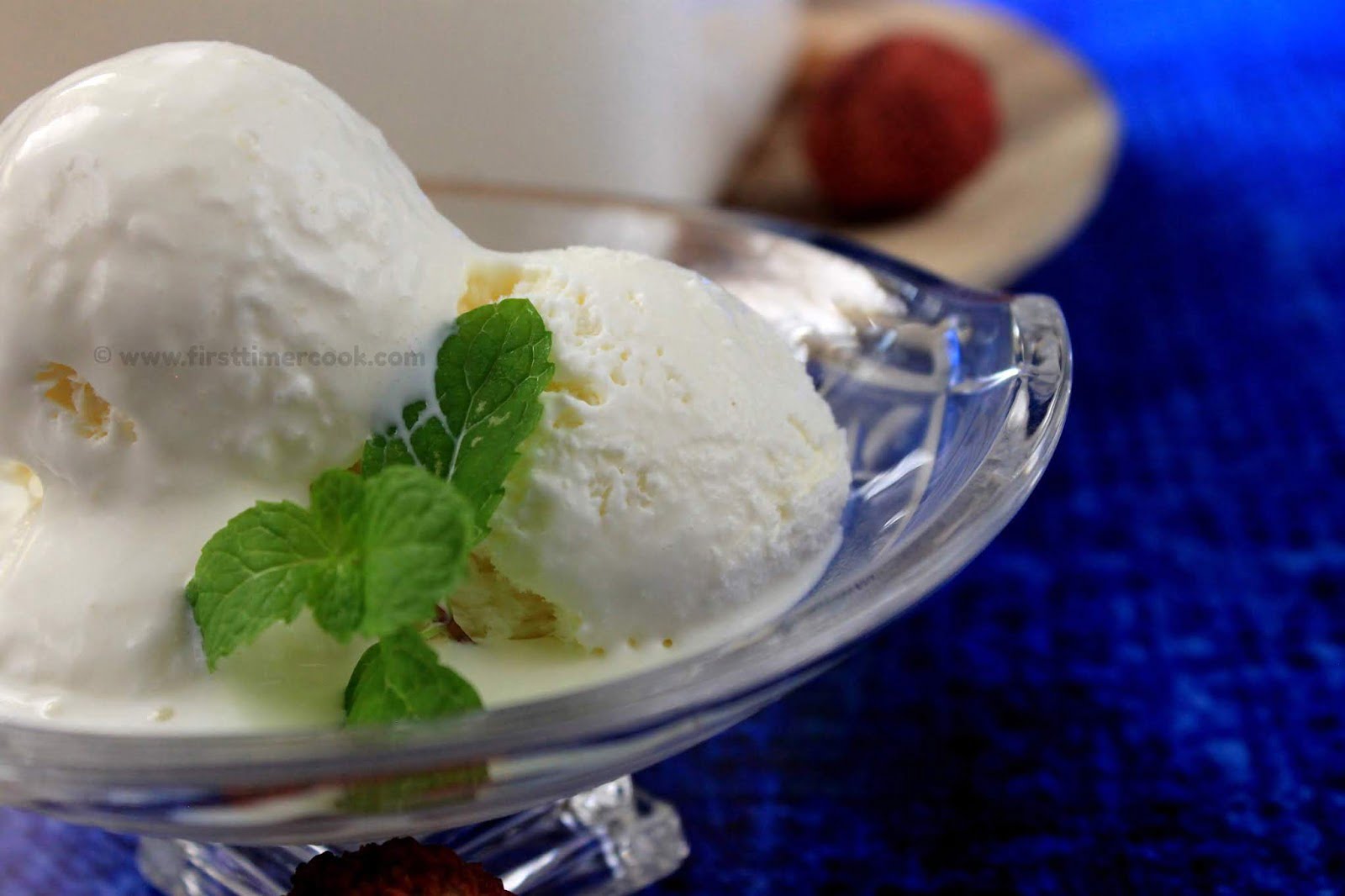 And this post is related to Foodies Redoing Old Posts which is initiated by one of my fellow blogger Renu. The basic funda of this is to redo our old posts which need changes in picture, writings etc to get boost.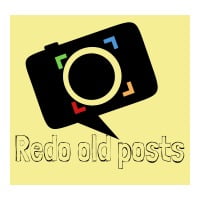 If you tried my recipe and enjoyed fully, then please share some pictures of your creation with me. Also kindly rate the recipe below, give your valuable feedback either in the comment box below or tag me as @firsttimercook on Instagram.
You may also follow me on Facebook, Pinterest, Twitter, Google+, Instagram and can subscribe for free to get new recipes directly into your inbox 😊
PIN for later :