a no oil soup using the lentil, yellow peas aka matar in Odia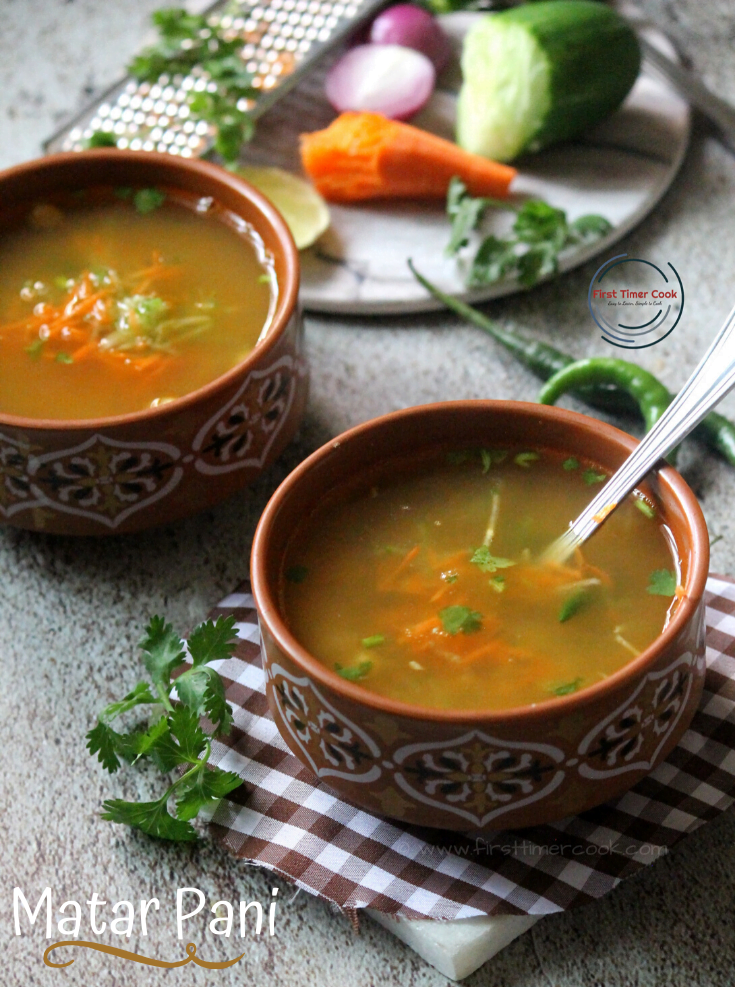 Happiness is 'hot soup on a cold day'. As winter is already started so in almost all households, soup is a common affair. There is nothing better than a hot bowl of soup. Actually soup is an ideal way to help the whole family boost up. These can be made quickly, hassle free and best for hurried days. So soup is indeed full of ultimate flavor and comfort that adds some excitement to those cozy winter days.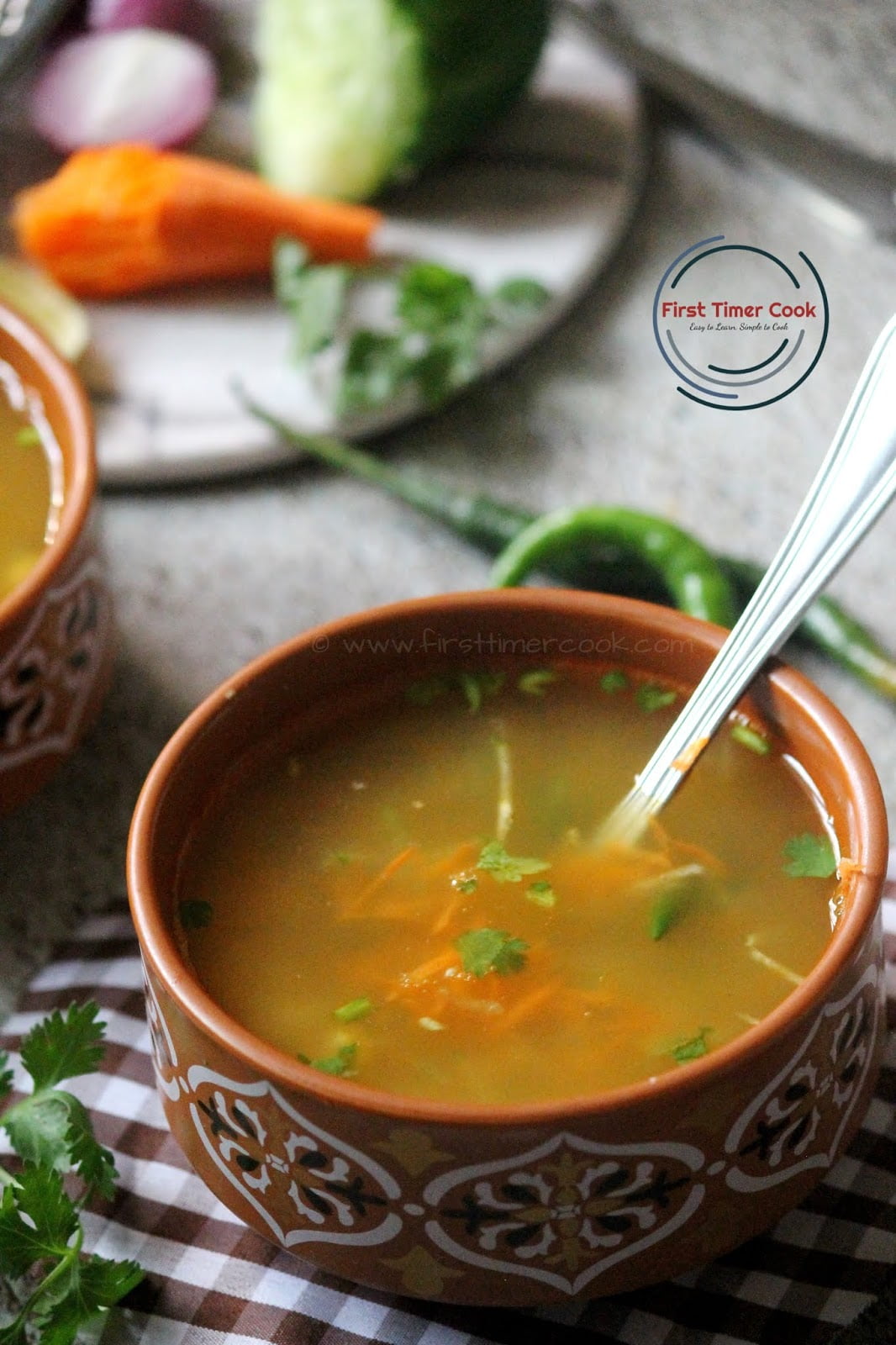 The easy homemade soups are always best which are filling and tasty. From classics like minestrone or noodle soup to more exotic Thai, Indian categories there are a no of varieties. You may have interest on these too :
Today I have come up with a lentil soup as Yellow Peas Soup aka Matar Pani from Jagannath Dham, Puri. Dont be confused for this as a prasad in that temple, rather it is the most famous street food in that areas. The 'matar pani' is a odia word. 'Matar' means 'yellow peas' and 'pani' here means 'the broth of the cooked peas'. This is completely a no-Oil soup and falls under vegan, gluten free category.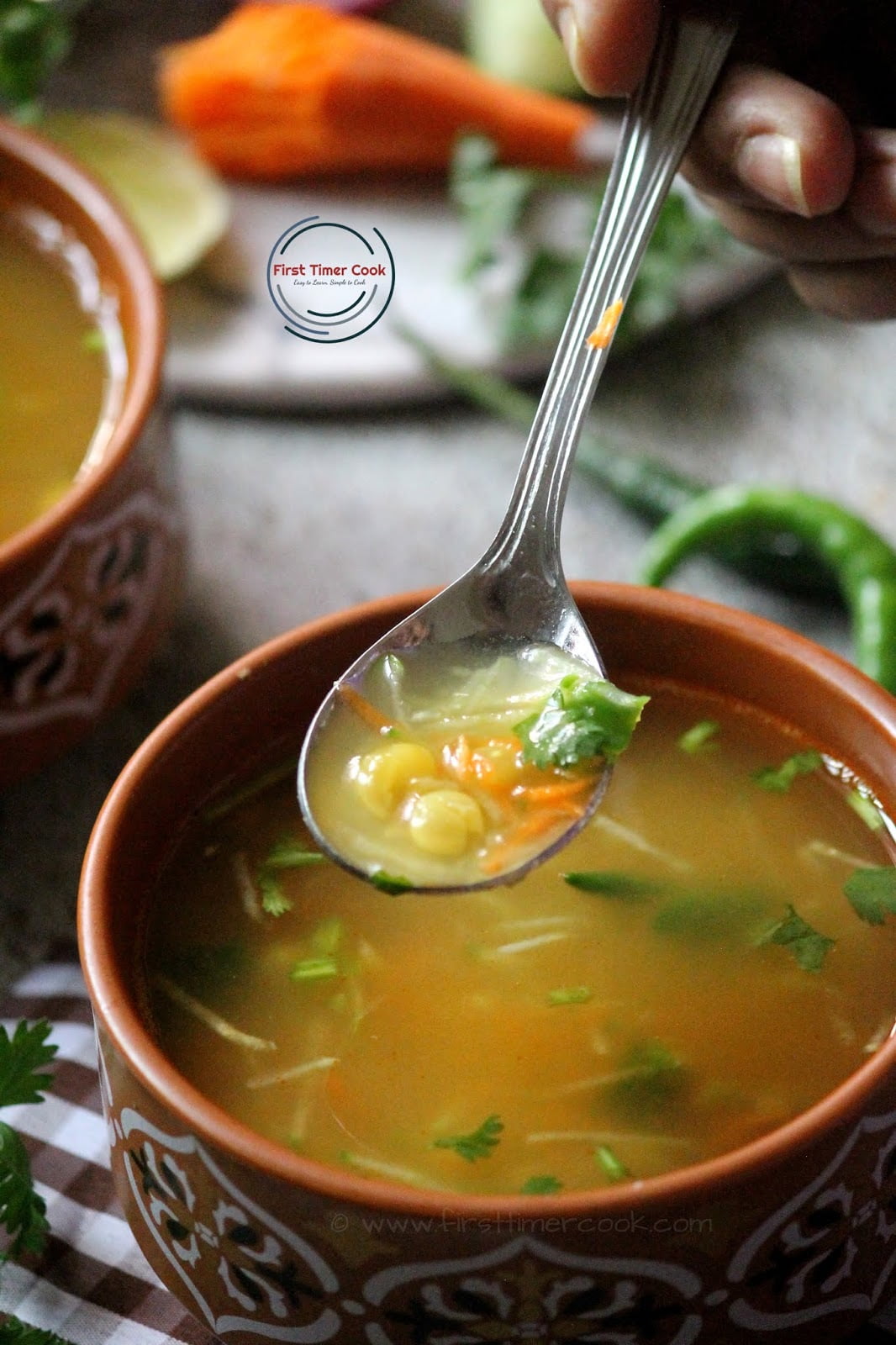 The main ingredient here is the yellow peas / matar. The peas are soaked overnight or at least 5-6 hours. Then those are pressure cooked with few mint leaves, coriander leaves, turmeric powder, salt and enough water. These well cooked peas along with the water is the base to make matar pani. Some seasonings are added then to this and served immediately hot.
Here the tamarind water is also added to the serving bowl to give a tangy taste in the soup. Green chilies are used here by directly smashing using fingers in the serving bowl. And this adds the perfect spiciness to the soup. In a winter evening this simple yellow peas soup is super comforting and mouthwatering. The process is quite easy and simple to make. If serving for kids, then simply ignore the green chilies part. To get more sourness, along with tamarind water few lemon slices can be given while serving. So do try as the hot soup season is going on !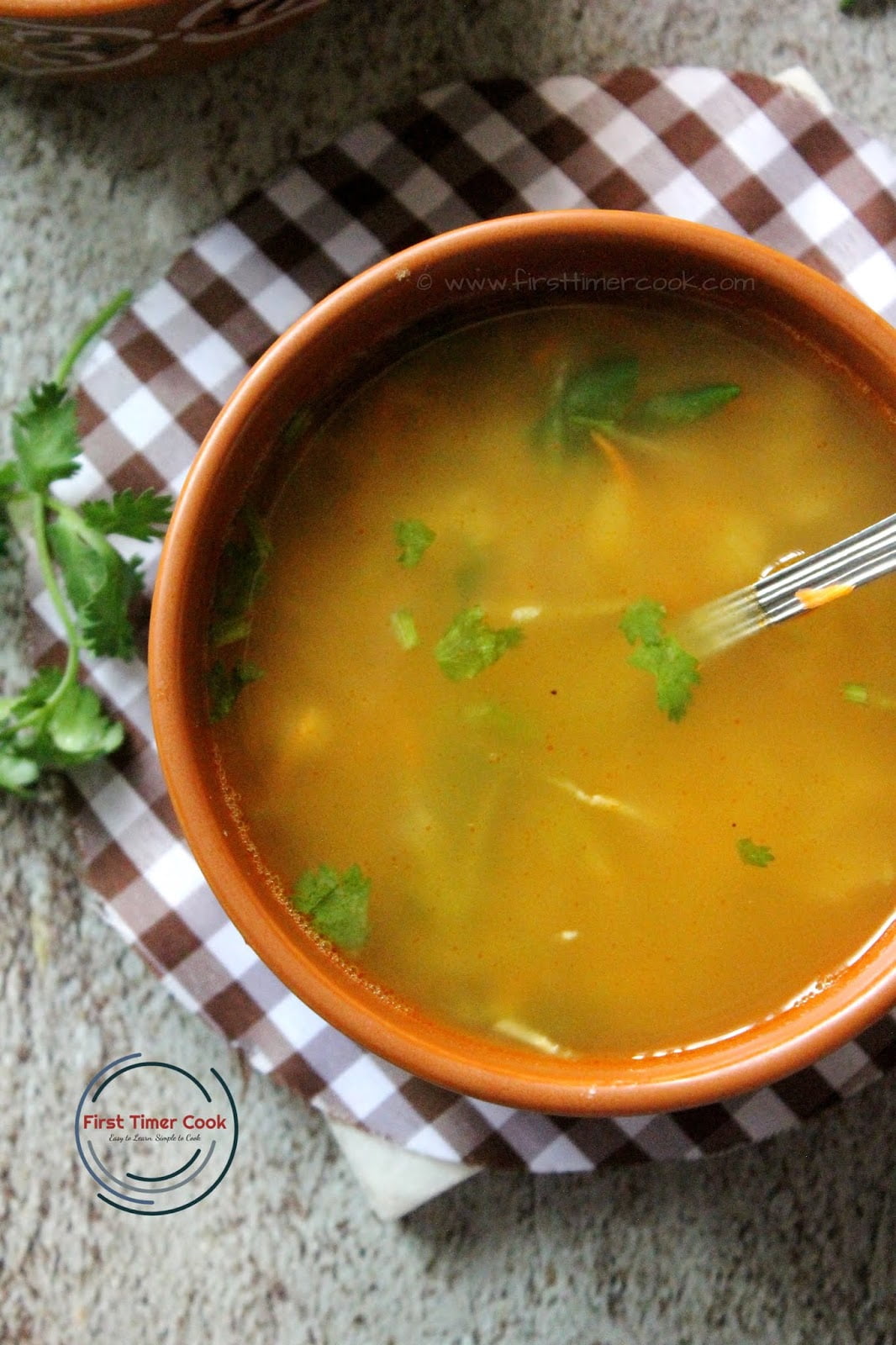 The event related to this post :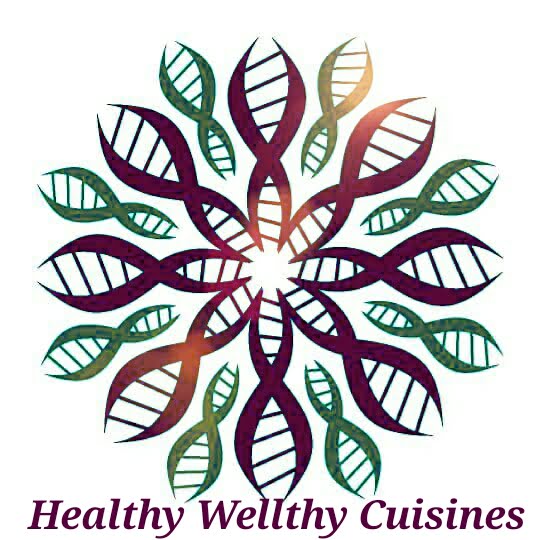 Well this time our fortnight foodie group named as Healthy Wellthy Cuisines is decided to select 77th theme : 'Winter Soups' and is suggested by Swaty. So this Matar Pani from Jagannath Dham, Puri is for the theme contribution. Meanwhile do check her space for some interesting recipes with step by step instructions. Here are some similar recipes shared by our Healthy Wealthy Group members as Caldo Verde by Archana di, Spinach Soup by Poonam, Mutton Soup by Narmadha, Vegetarian Nacho Soup by Swaty, Tomato Soup by Ruchi.
Recipe Card for 'Yellow Peas Soup' :

Matar Soup, No oil soup, Yellow pea soup, Hot soup, Savory soup
Soup, Winter Hot Soup, Vegan, Gluten free, Yellow Peas
Odia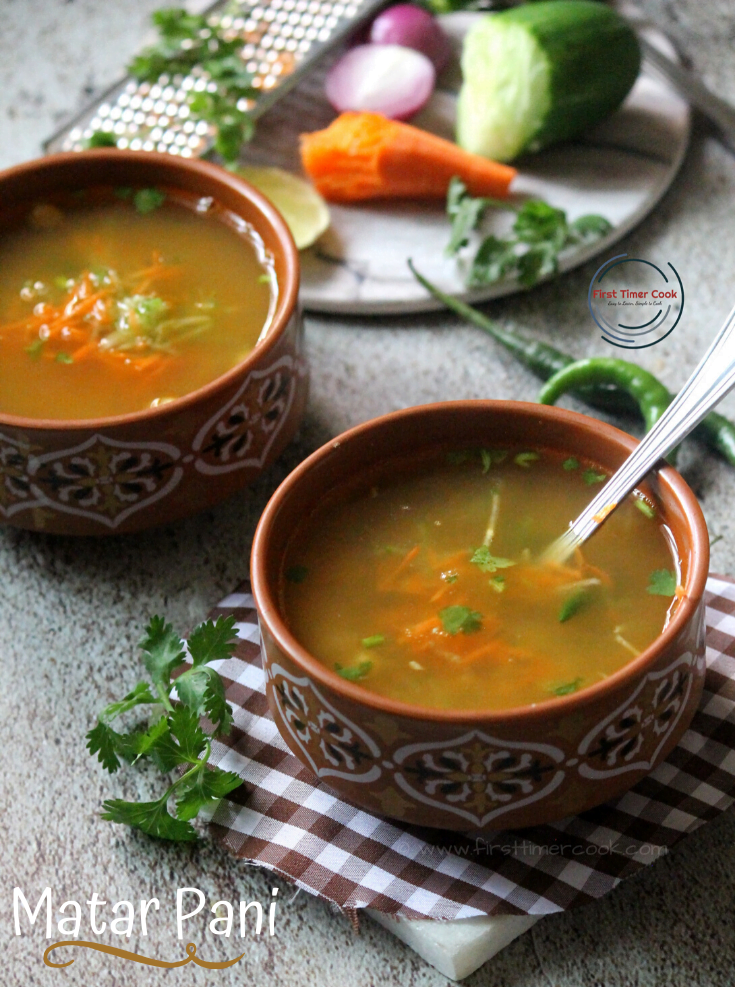 a no oil soup using the lentil, yellow peas aka matar in Odia
prep time: 15 Mcook time: 15 Mtotal time: 30 M
ingredients:
Yellow peas (matar) (soaked) 2/3 cup
Turmeric powder 1 tsp
Green chili 3-4 no.
Coriander leaf 6-8 sprig
Mint leaf 5-6 sprig
Tamarind water ¼ cup
Black salt As needed
Carrot (grated) for sprinkling
Onion (finely chopped) for sprinkling
Cucumber (grated) for sprinkling
Lemon slice 1-2 no.
Salt As needed
Water 2-3 cup
instructions:
How to cook
Wash and drain the yellow peas and then put into a pressure cooker.
Add 2-3 cup water along with roughly chopped mint leaves, few coriander leaves, turmeric powder, salt.
Pressure cook till peas are well done (Don't overcook the peas, else peas'll get mashed).
Now take the serving soup bowl.
Put 1 tbsp of tamarind water in the serving bowl.
Add 1 green chili and mash it in the tamarind water using fingers.
Put 1 ladle full of cooked peas along with the water from the pressure cooker.
Mix well and then add finely chopped onion, grated cucumber, grated carrot, few chopped coriander leaves, black salt.
Serve immediately hot with some lemon slices (if more sourness is required in the soup) !
NOTES:
In this soup, the peas should neither be cooked till mushy nor slightly crunchy. So the cooking part of the yellow peas is the vital part here.
The consistency depends upon individual choice. I like this watery kind so I have added cooked peas with water from the pressure cooker. If slight thick version of this soup you want then take the cooked peas with very less water from the pressure cooker.
Add more green chilies if you like more spiciness in the soup.
Did you make this recipe?
Tag @firsttimercook on instagram and hashtag it #firsttimercook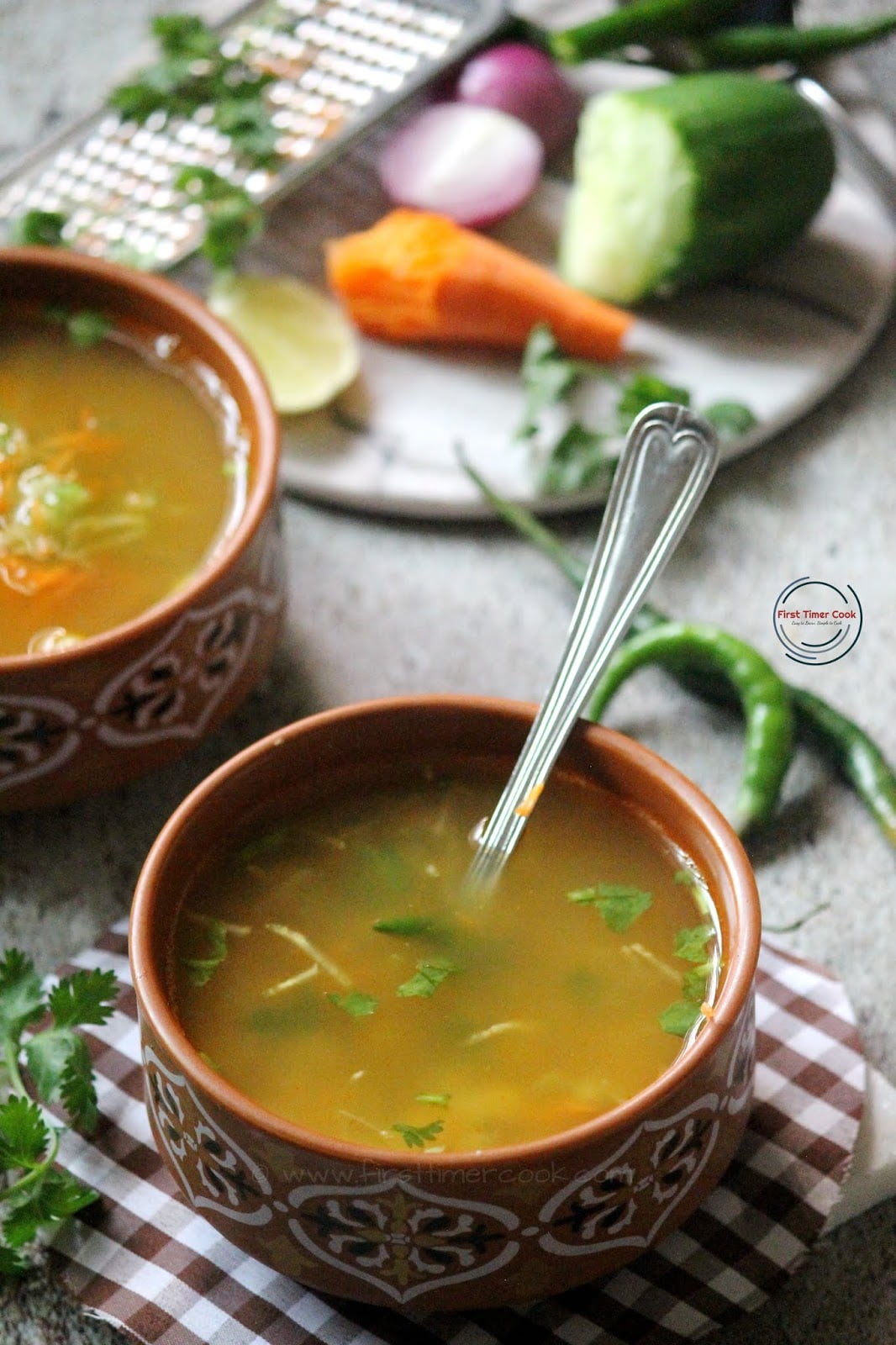 You may also follow me on Facebook, Pinterest, Twitter, Google+, Instagram and can subscribe for free to get new recipes directly into your inbox 😊
PIN for later :