a healthy side dish using radish leaves (mula saga), radish and potato from Odia cuisine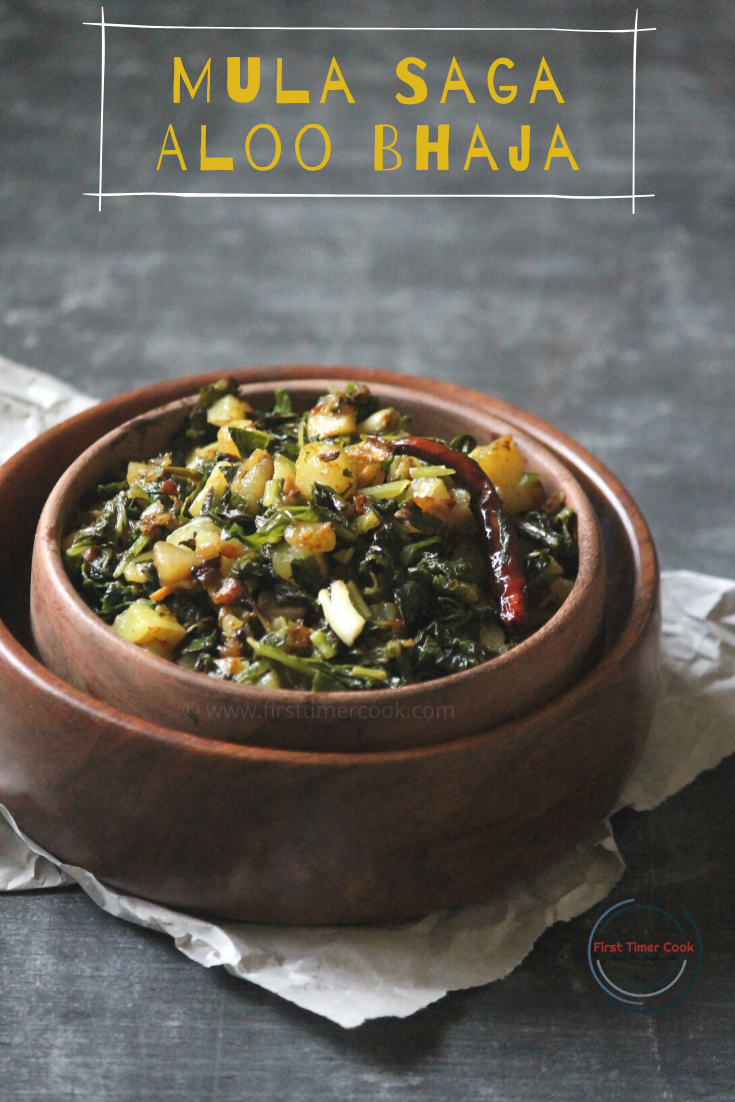 Radish and its leaves :
Radish (mooli / mula) may not be a favorite vegetable to everybody, but it is one of the healthiest. And winter is the season of this vegetable. These undervalued root vegetables are packed with nutrients. And yes, don't throw out the leaves of this vegetable after taking radish to make any dish. Believe it or not, it is actually the leaves that contain more nutrients than the radish itself. The green leaves of this root vegetables are loaded with many health benefits like
High In Dietary Fibers
Increases Immunity And Reduces Fatigue
Anti-scorbutic properties
Helps to treat Piles
Helps Prevent Diabetes
Detoxifying Agent etc.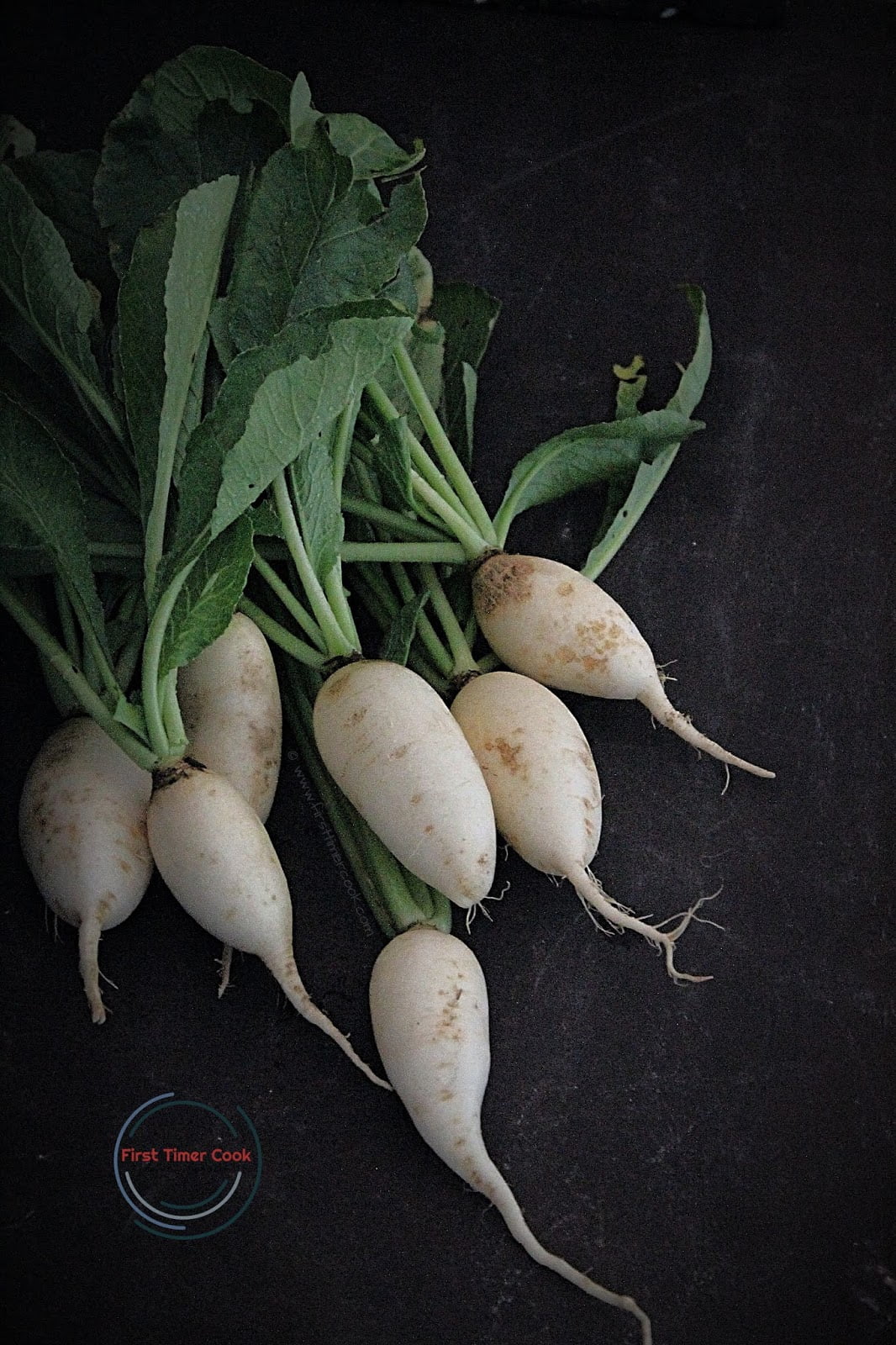 What can be prepared using these leaves ?
One can use this radish leaves in muthia (a gujurati snacks), paratha, simple stir fry, chilla etc. Today I have come up with a dish using these greens as Mula Saga Aloo Bhaja / Radish leaves fry with potatoes. This is basically an odia dish. The process is quite simple and easy to make too. Completely Vegan and gluten free dish it is too.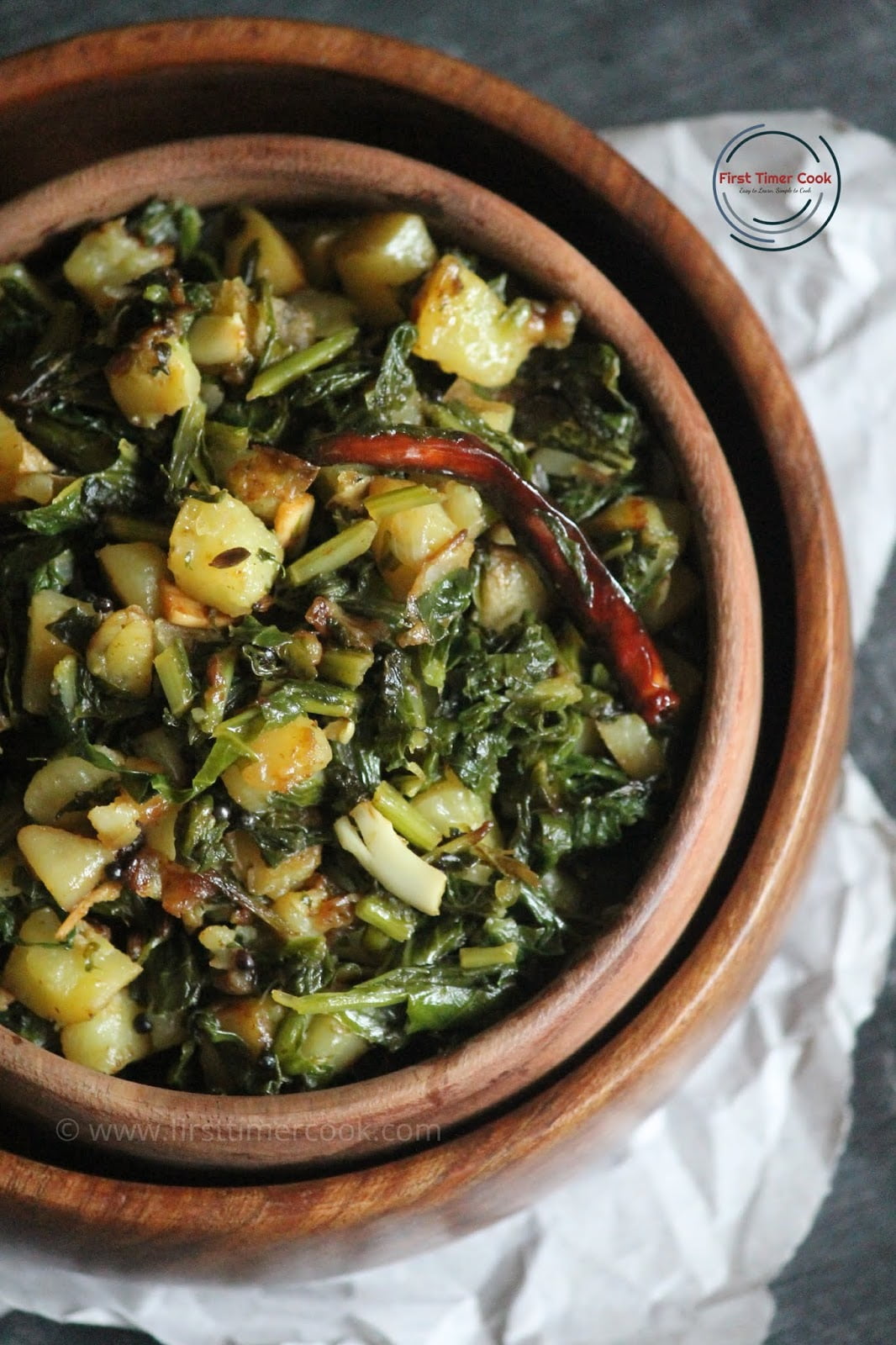 Ingredients in details of this dish :
The leaves of the radish is the main ingredient here. Few potato small cubes are also added along with few radish cubes. I always like the skins of the potatoes here, but that is optional. One can peel those. Mustard oil is a must here. It adds a lovely aroma to the dish overall. Pancha phutana / panch phoron which is a mixture of cumin, mustard, fenugreek, nigella & fennel seeds is used for the tempering part along with dry whole red chili. Few finely chopped onion and freshly crushed garlic are also added. The leaves of radish taste slight bitter (not much like bitter gourd), so one can add few green chilies also along with red chili to balance that bitter in terms of spicy.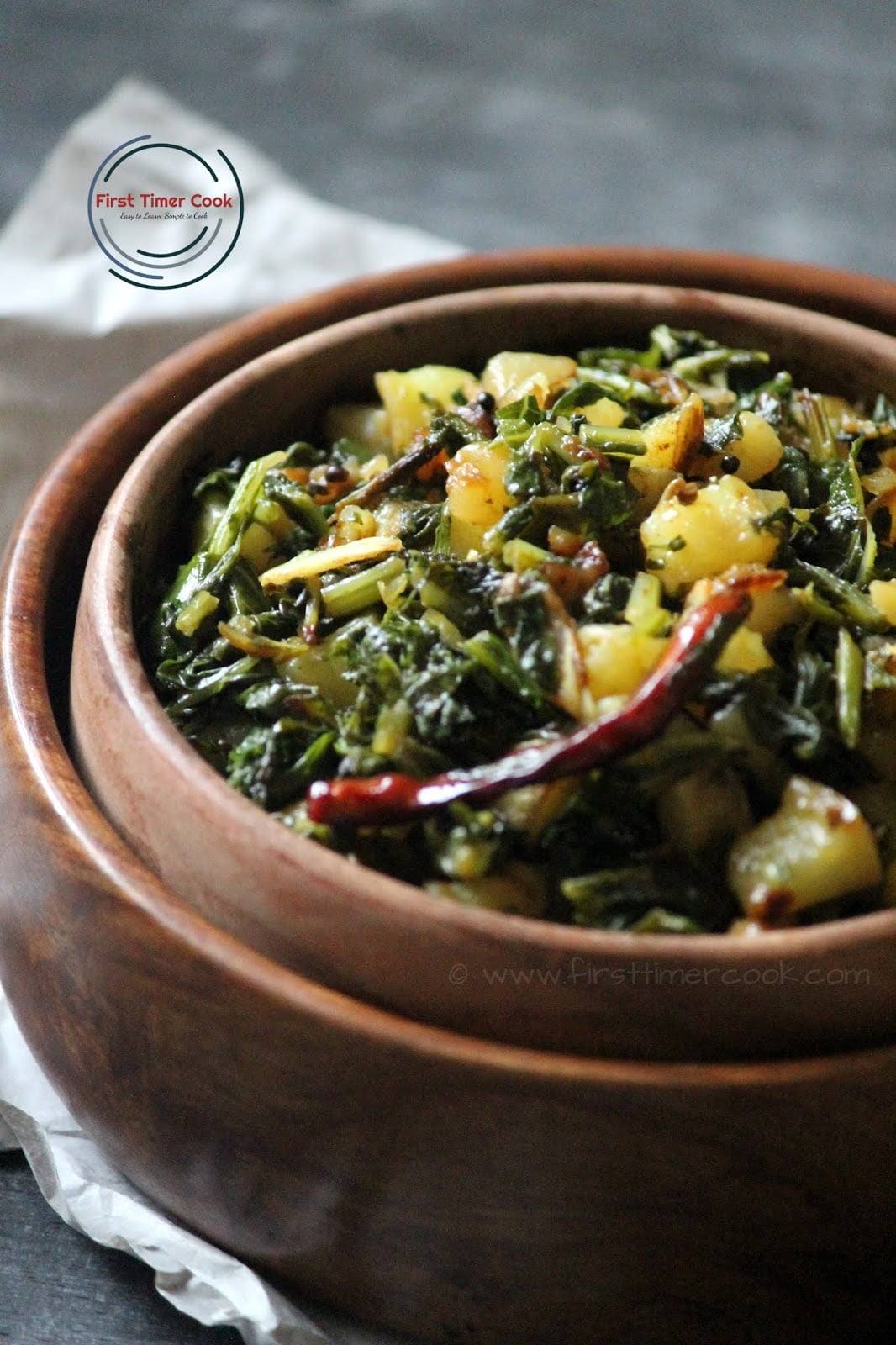 How to make this saga bhaja ?
First both radish and potato are washed well and chopped into small cubes. Then in a kadhai / pan mustard oil heated. pancha phutana along with red chili are put to crackle. Next chopped onion along with crushed garlic are added. After frying for 1 minute the potato and radish cubes are added with salt. These are saute well till cooked a little. Meanwhile the leaves are washed well, drained and finely chopped. Those are then added to the pan and everything is well mixed. The pan is covered with a lid till everything is cooked.
Serving suggestion :
This is a lovely aromatic side dish. It goes very well with simple steamed rice-dal combination. As an Odia, I love to have this with pakhala (rice water). The dish is super simple one and no masala is used here. So do try in this winter !


Recipe Card for 'Mula Saga Aloo Bhaja' :

Mula saga, Garlic, onion, potatoes, radish, Healthy dish, Side dish, Easy recipe
Vegan, Gluten free, Side dish, Healthy, Radish leaves
Odia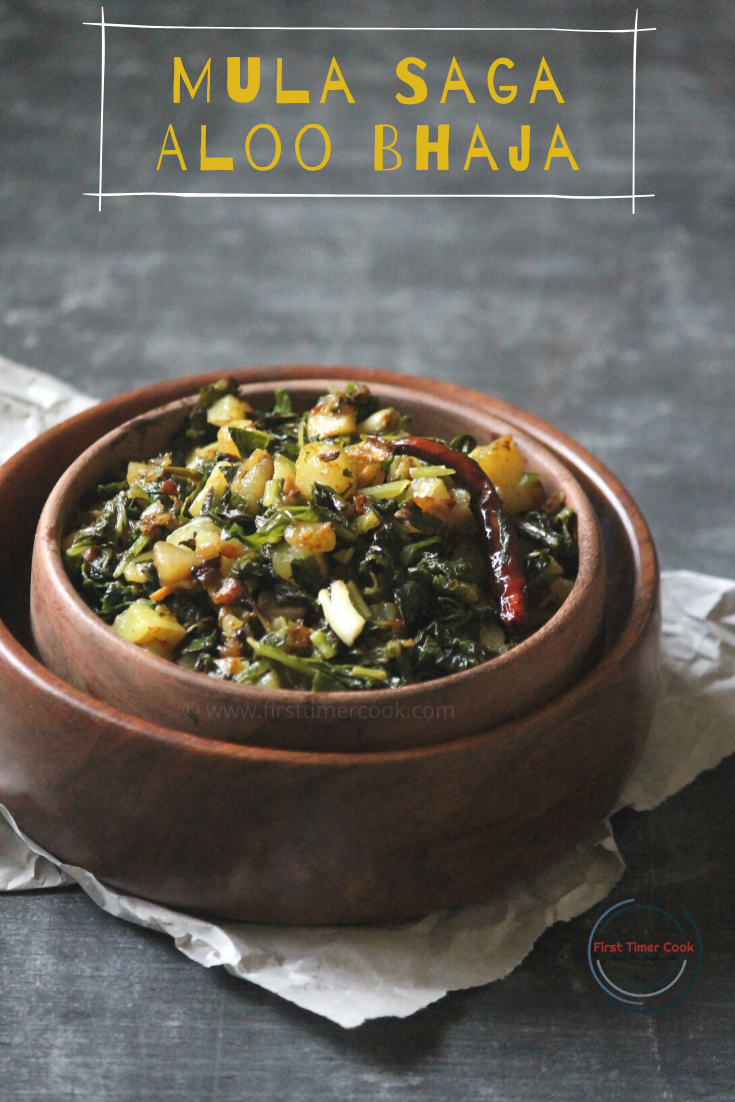 Mula Saga Aloo Bhaja / Radish leaves fry with potatoes
a healthy side dish using radish leaves (mula saga), radish and potato from Odia cuisine
prep time: 10 Mcook time: 10 Mtotal time: 20 M
ingredients:
Radish leaves (mula saga) 2 bunch
Potato (small cubes) 1/2 cup
Radish (small cubes) 1/2 cup
Garlic (peel and crushed) 1 tbsp
Onion (finely chopped) 1 tbsp
Dry red chili 1 no.
Pancha phutan 1 tbsp
Mustard oil 2 tbsp
Salt as needed
instructions:
How to cook Mula Saga Aloo Bhaja
Wash and clean all the mula saga or radish leaves.
The middle hard part of the leaves one can discard or use for the dish. I have used that part here.
Then finely chopped the leaves and keep aside.
Heat mustard oil in a kadhai.
Add pancha phutana (mixture of cumin, mustard, fenugreek, nigella & fennel seeds) and whole red chili.
When these start spluttering add chopped onion and crushed garlic.
Saute for 1 minute.
Then add potato and radish cubes along with salt.
Saute for 3-4 minutes or till the potatoes and radish cooked a bit.
Next add chopped radish leaves and mix well.
Cover with a lid till everything is well cooked.
Serve hot as a side dish with rice-dal combo !
NOTES:
Don't skip the use of mustard oil in this dish. It gives a lovely aroma to the mula saga bhaja.
The amount of garlic one can add more or less as per choice.
Few green chilies can be added here to get a bit spiciness in the bhaja as the radish leaves taste slight bitter.
Did you make this recipe?
Tag @firsttimercook on instagram and hashtag it #firsttimercook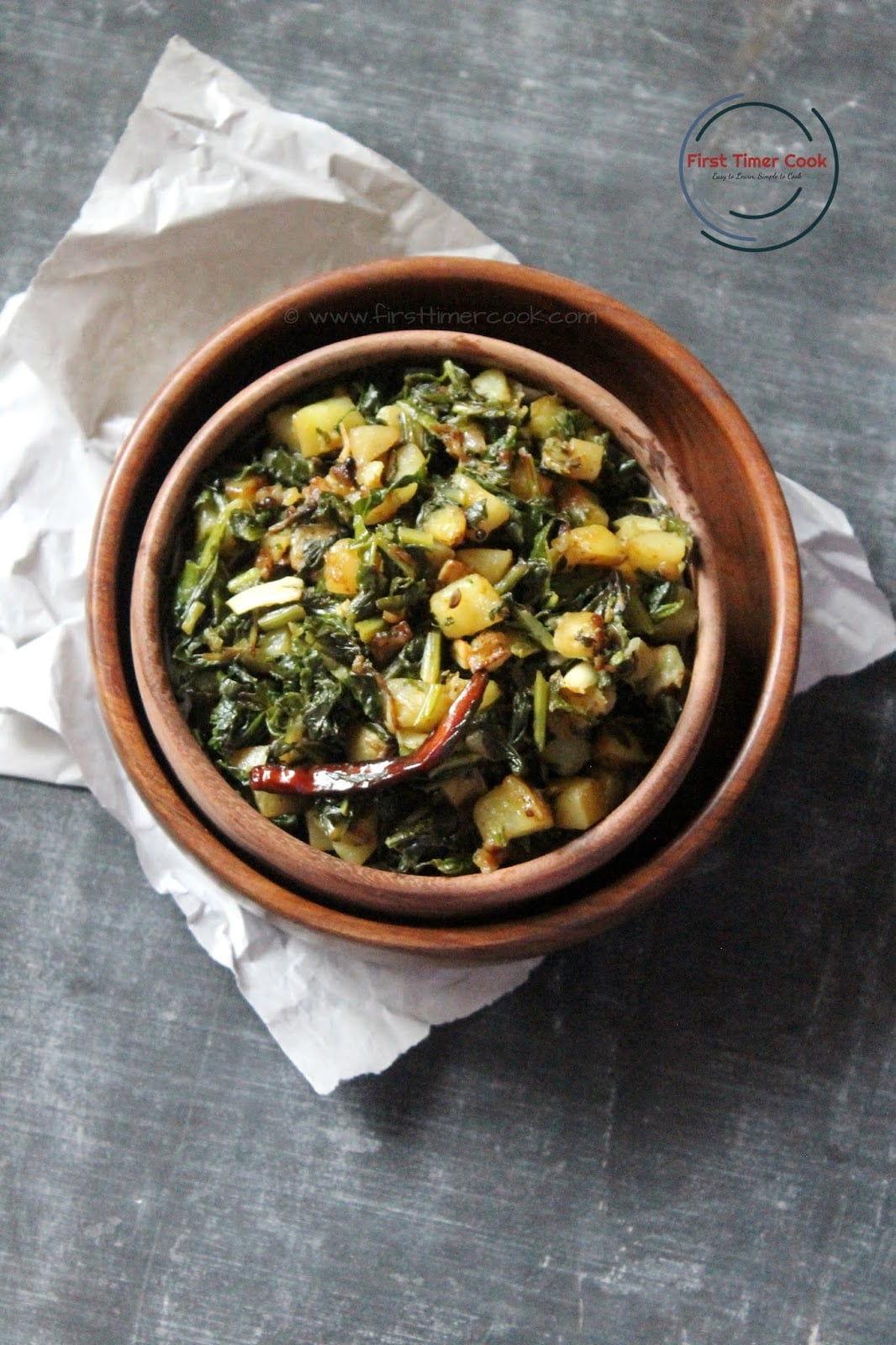 You may also follow me on Facebook, Pinterest, Twitter, Google+, Instagram and can subscribe for free to get new recipes directly into your inbox 😊
PIN for later :