super simple oven-roasted cauliflower florets for side dish, as filling in any wrap, tacos etc.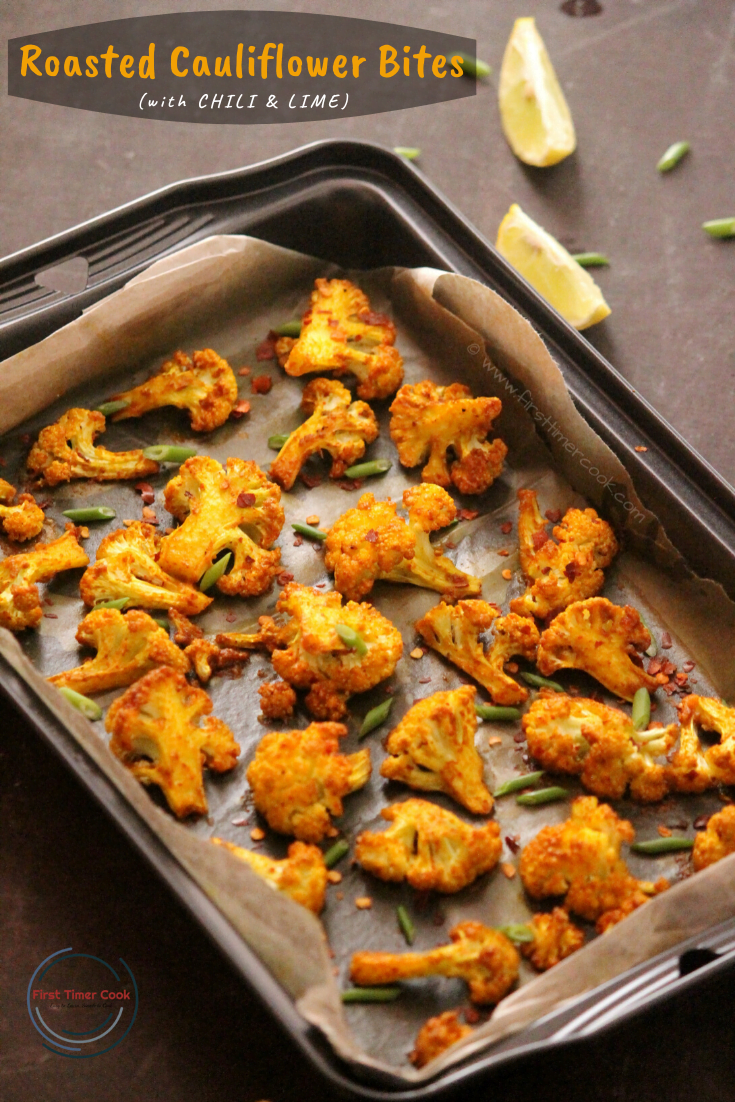 Cauliflower like a super-food :
Cauliflower is a cruciferous vegetable and most called this a white version of its cousin, Broccoli. This is considered like a super-food because of its nutrient-rich content. The vegetable is high in fiber and vitamins (B & C). It also contains high concentrations of carotenoids (antioxidants) and glucosinolates. These two compounds have high anti-cancer effects. Also this helps in strengthening bones, boosting the cardiovascular system etc. Cauliflower is a cool season vegetable means winter is the perfect season for this vegetable cultivation. And that season is already going on now in most part of the world.
Many ways to prepare dishes using Cauliflower :
The cauliflower is a versatile vegetable which can be incorporated in many dishes. These can be steamed or roasted as a side dish, baked in a cheese sauce as cauliflower cheese, used to make soup, fried until golden brown, used as the main ingredient in a curry, even used for pickling (will share soon on blog) etc. Today I have here with the simple and easiest way of using cauliflower to make a dish as Roasted Cauliflower Bites with Chili & Lime.
Some more cauliflower dishes from my blog :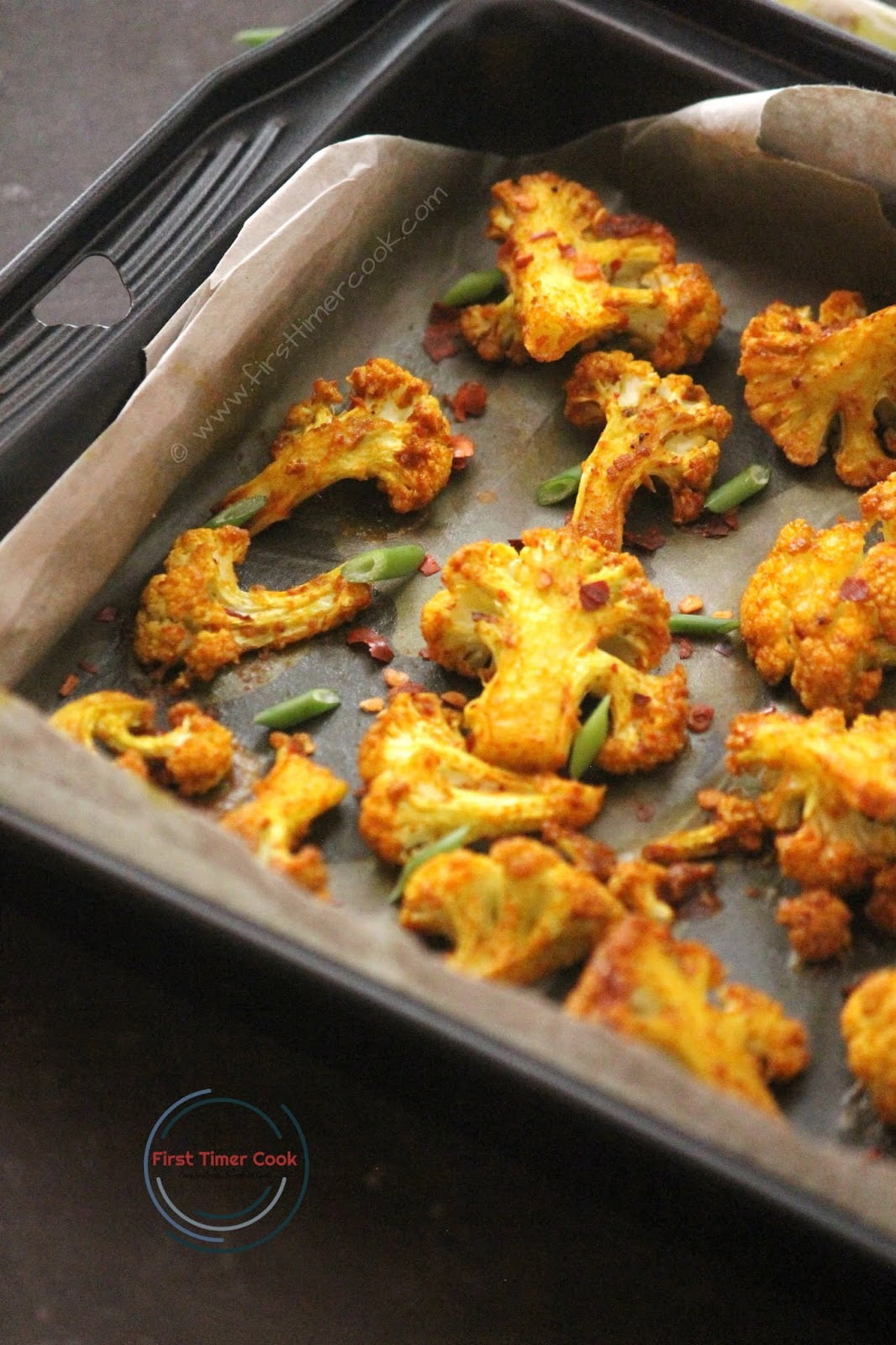 The exact ingredients one needs to make the dish :
The main ingredient in this Roasted Cauliflower Bites with Chili & Lime is the Cauliflower. One surely has to pick a worm free cauliflower whole head. The other ingredients include some chili powder (adjust according to the spiciness desired), oil (any oil one can pick, but i will recommend to use olive oil that too extra virgin), curry powder (i have used to add some Indian touch), minced garlic (this gives a nice aromatic flavor to the roasted florets, so don't skip this addition), turmeric powder (totally optional, I have added to give little yellowish color to the end result), salt as per the taste and some freshly squeezed lemon juice.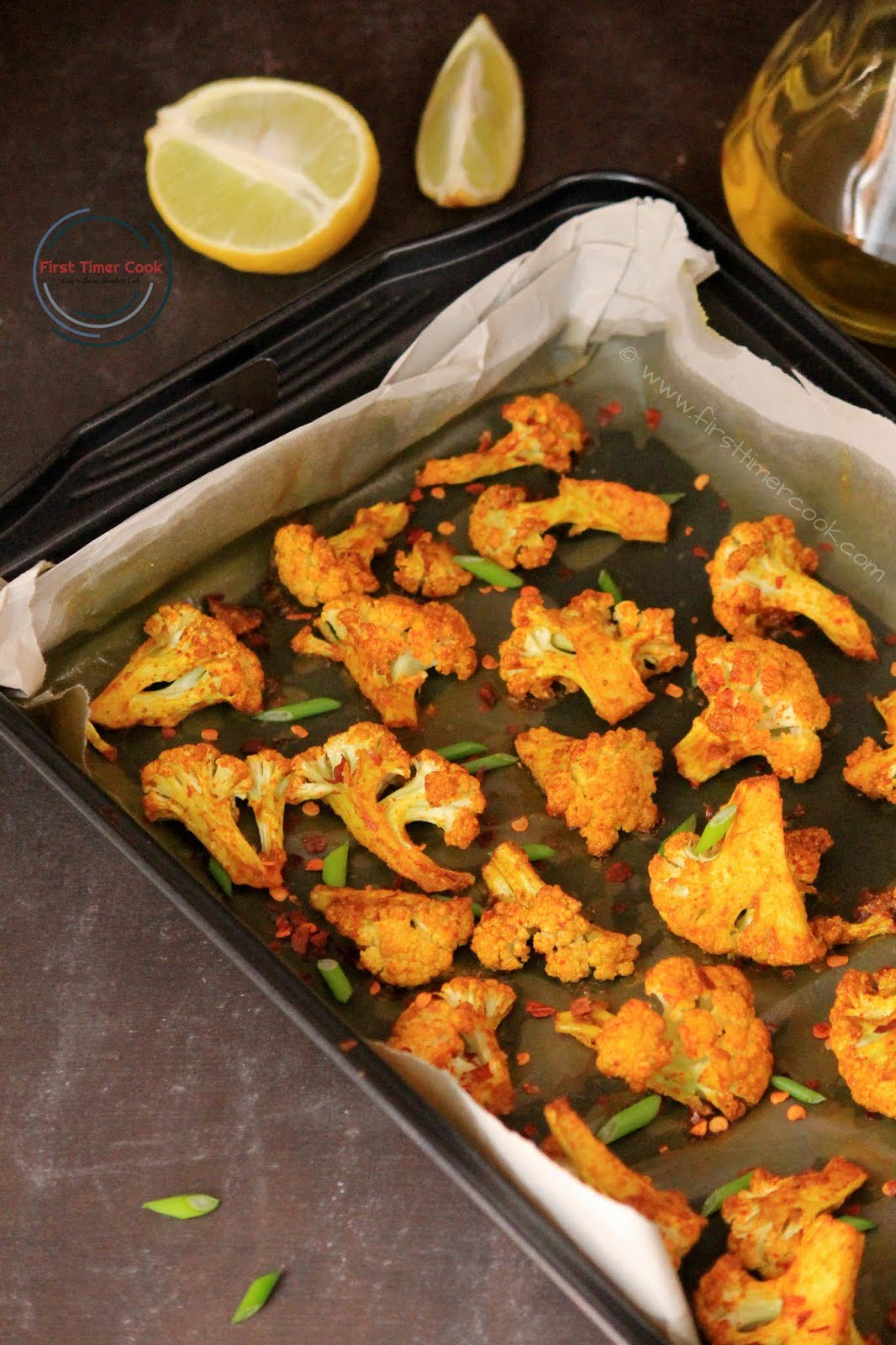 Basic method to make these roasted beauties :
The first step is to completely pat dry the florets after cutting and cleaning the whole head cauliflower. If this thing is not correctly followed then the roasting part'll take time. Then the florets are mixed with spices and spread over a baking sheet. In this step also one has to keep in mind that, the florets have to spread in even layer. That means there should not be any over crowding of the florets, else instead of roasting there'll some steam and the end result will be bit soggy kind instead of slight crisp. The baking time takes 25-30 minutes mostly, still one can stir the florets in between to evenly roasted from all sides in that time period. One can bake till the florets are charred from all the sides. To get the lime taste, I simply drizzle some freshly squeezed lemon juice over the roasted florets and gently mix. Also I do add some chopped spring onions, one can add some chopped coriander leaves here. After that these are served immediately.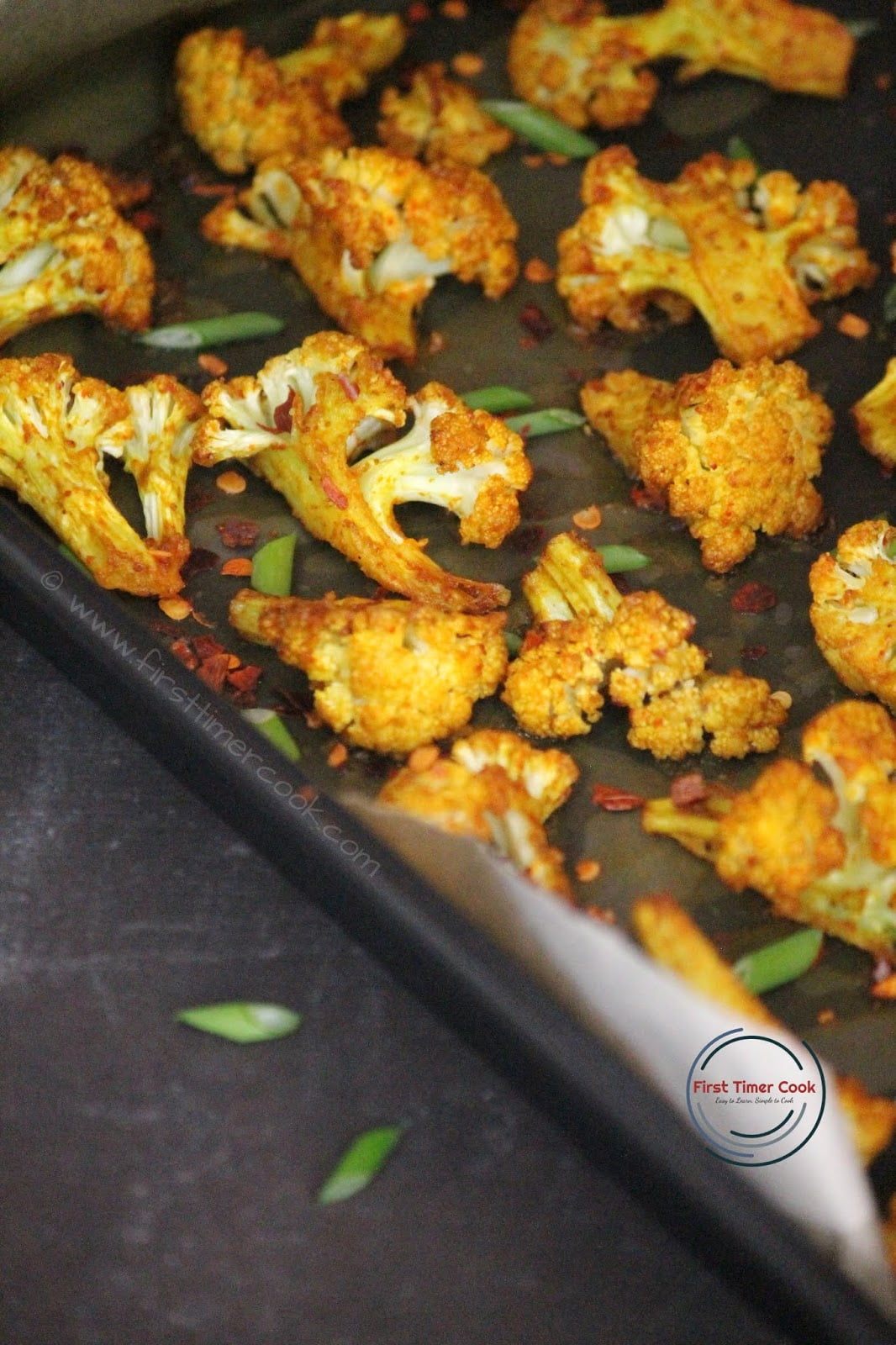 Serving suggestion :
As this vegetable is loved by my all family members so this is a must vegetable that we buy from local market during winter season. We enjoyed these roasted florets simply as it is. My boy loves to have these by dipping in ketchup. Even these can be served as a side dish in main meal spread. Also this can be used as filling in any wrap, tacos etc. So do try these completely Vegan & Gluten free side dish, even as snacks to enjoy as it's season is here !
The event related to this post :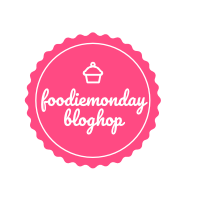 Today is Monday and this time the Foodie Monday Blog Hop team has decided the 232th theme as 'Go for GOBI' which is suggested by me. As the winter is going on and its the perfect season for the super vegetable, cauliflower. So why not make dishes uisng this one. And hence I have made this Roasted Cauliflower Bites with Chili & Lime.
: Recipe Card :

Roasted Cauliflower Bites with Chili & Lime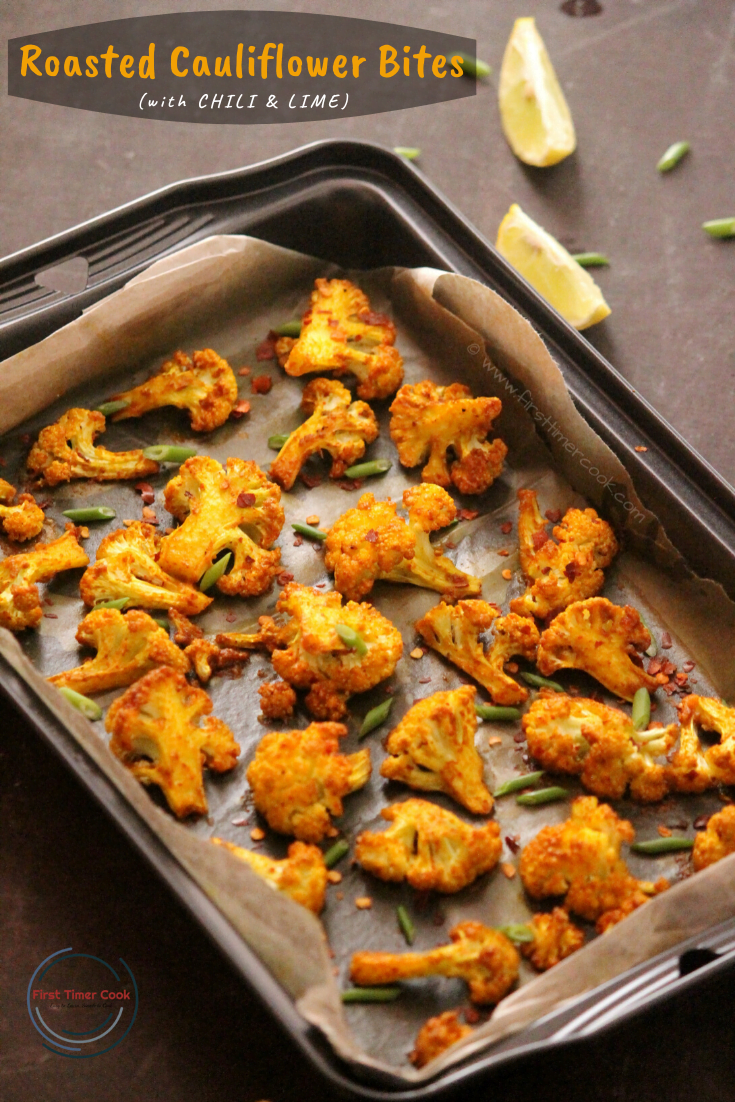 prep time: 10 Mcook time: 30 Mtotal time: 40 M
Super simple oven-roasted cauliflower florets served as a perfect side dish, can be used as filling in any wrap, tacos etc.
ingredients:
Whole head cauliflower 1 no.

Garlic (minced) 1/2 tbsp

Turmeric powder 1/2 tsp

Red chili powder 1 tsp

Curry powder 1.5 tsp

Lemon juice 1 tbsp

Salt as needed

Olive oil 3 tbsp

Spring onions (chopped) few
instructions:
How to cook Roasted Cauliflower Bites with Chili & Lime
Cut the cauliflower into bite sized florets.

Wash all the cauliflower florets under tap water and drain well.

Then pat dry by spreading all the florets over a kitchen towl.

Meanwhile preheat the oven at 200 deg C.

In a mixing bowl take olive oil, minced garlic and mix well.

Add all the florets and toss to well coated.

Next sprinkle all the powders and toss again.

Now take a baking tray and spread the well coated florets in a single layer without over-crowding the tray.

Bake for 25-30 minutes and after that the florets'll be slightly charred and tender as well.

Take out from the oven.

Squeeze fresh lemon juice, some chopped spring onions and toss well.

Serve immediately as it is or with some favorite sauce !
NOTES:
Spiciness is adjustable as per like.
Pick always worm free cauliflower to make the dish.
Vegan, Gluten free, Snacks, Gobi, Winter vegetable,
Side dish, Roasted Cauliflower, Wrap filling, Oven roasted, Roasting, Lime, Chili powder,
International
Did you make this recipe?
Tag @firsttimercook on instagram and hashtag it #firsttimercook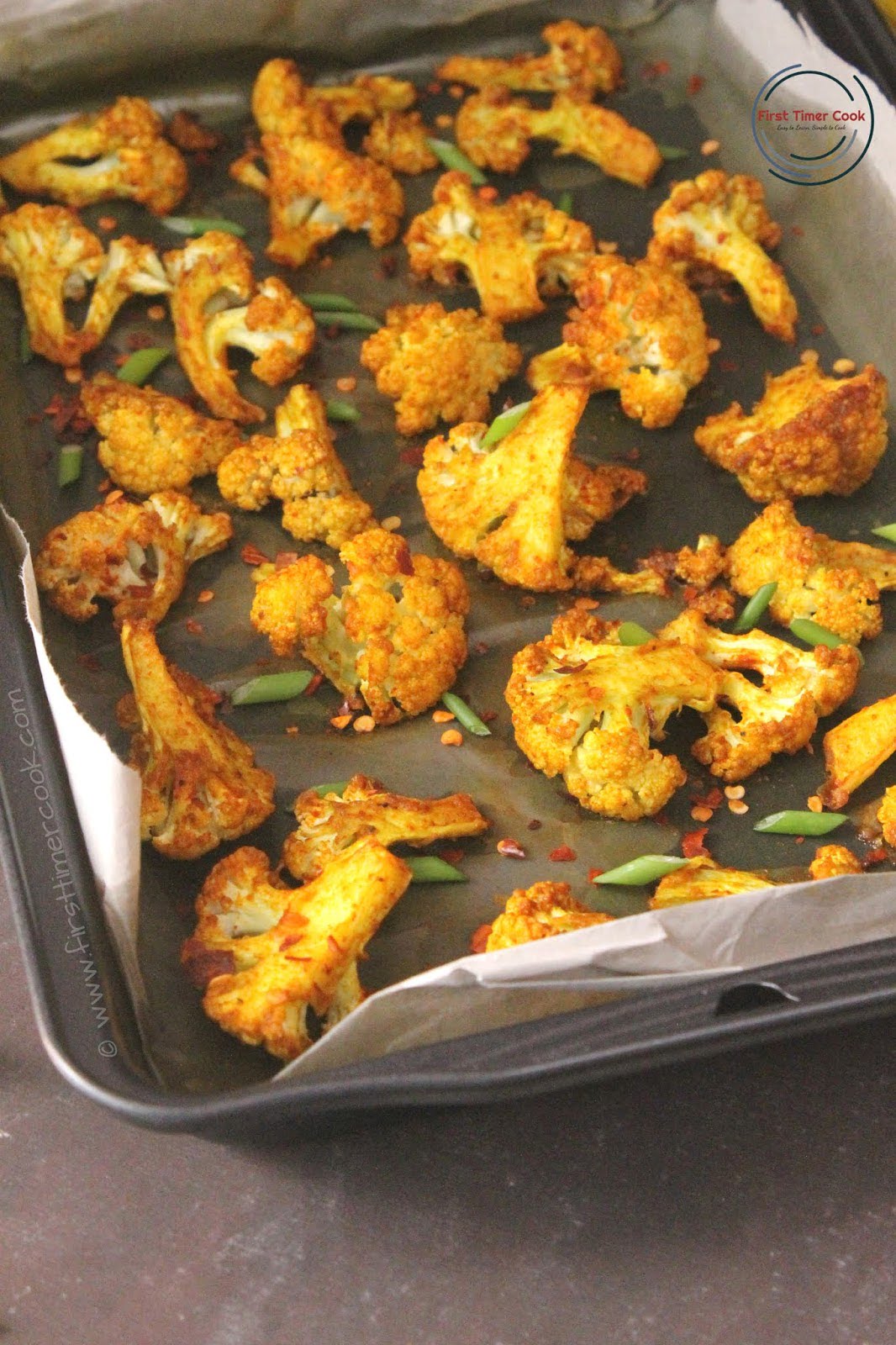 You may also follow me on Facebook, Pinterest, Twitter, Google+, Instagram and can subscribe for free to get new recipes directly into your inbox 😊
PIN for later :