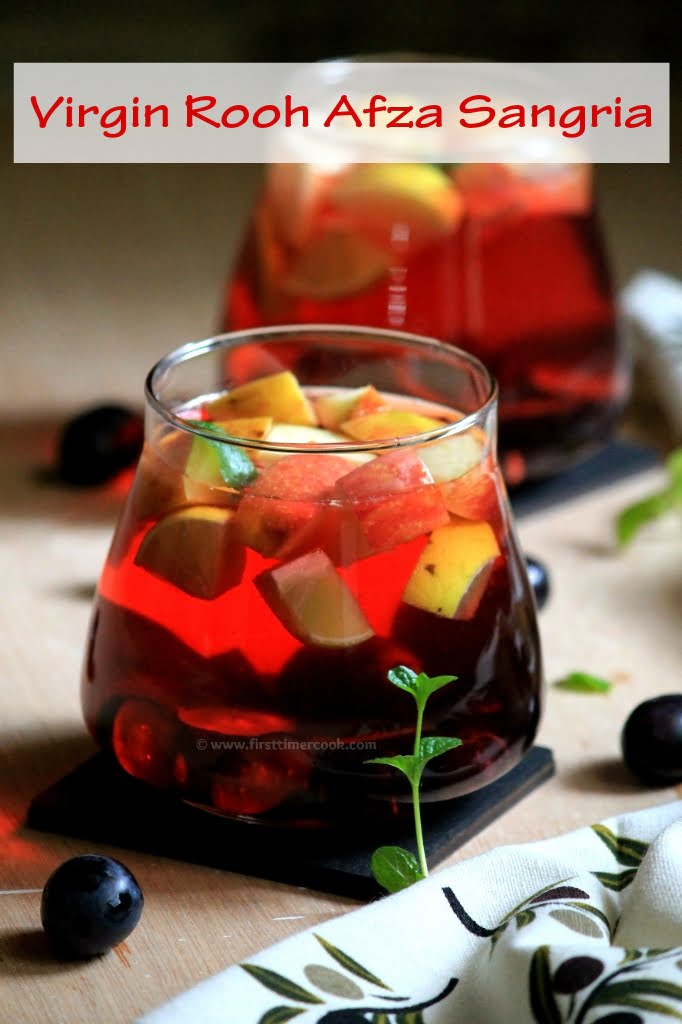 February 2018, the month of love, romance has arrived. Particularly because it is the month in which Valentine's Day (on February 14) takes prominence. Prior to the most awaited Valentine's Day, an entire week is also popularly called as the Valentine's Week which is celebrated by one and all.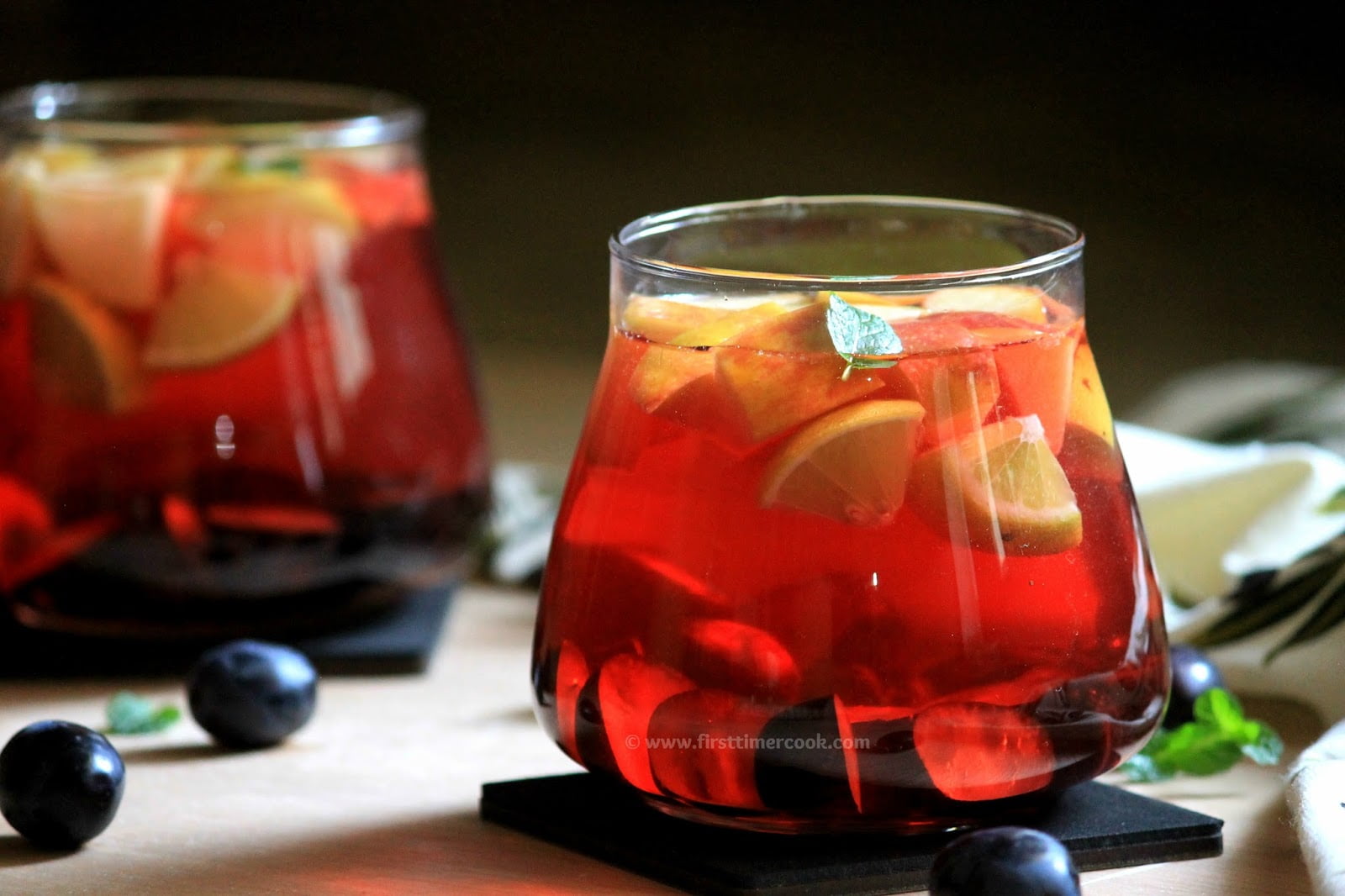 Today is the first Monday of this romantic month and as you all might already know about the Foodie Monday Blog Hop group which always choose a theme to be posted on Monday. So this time the Foodie Monday Blog Hop theme is decided as 'Session of Red'. So the contribution is a romantic red color non-alcoholic beverage, Virgin Rooh Afza Sangria. Also I am mentioning some other collections of mine as
Strawberry Smoothie – 3 Ingredients Smoothie
Virgin Blueberry Lemonade
Minty Pomegranate Spritzer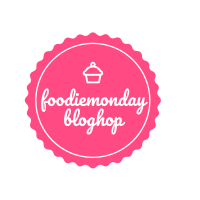 Sangria is an alcoholic beverage of Portuguese and Spanish origin. A punch, the sangria traditionally consists of red wine and chopped fruit, often with other ingredients such as orange juice or brandy. Sangria recipes vary widely with many different ingredients. Traditional recipes feature red wine mixed with fruits such as pineapple, peaches, berries, apples, pears, melon, nectarines and sweetened with sugar, orange juice. But I have come up with a non-alcoholic version of sangria. Instead of red wine, I have used Rooh Afza.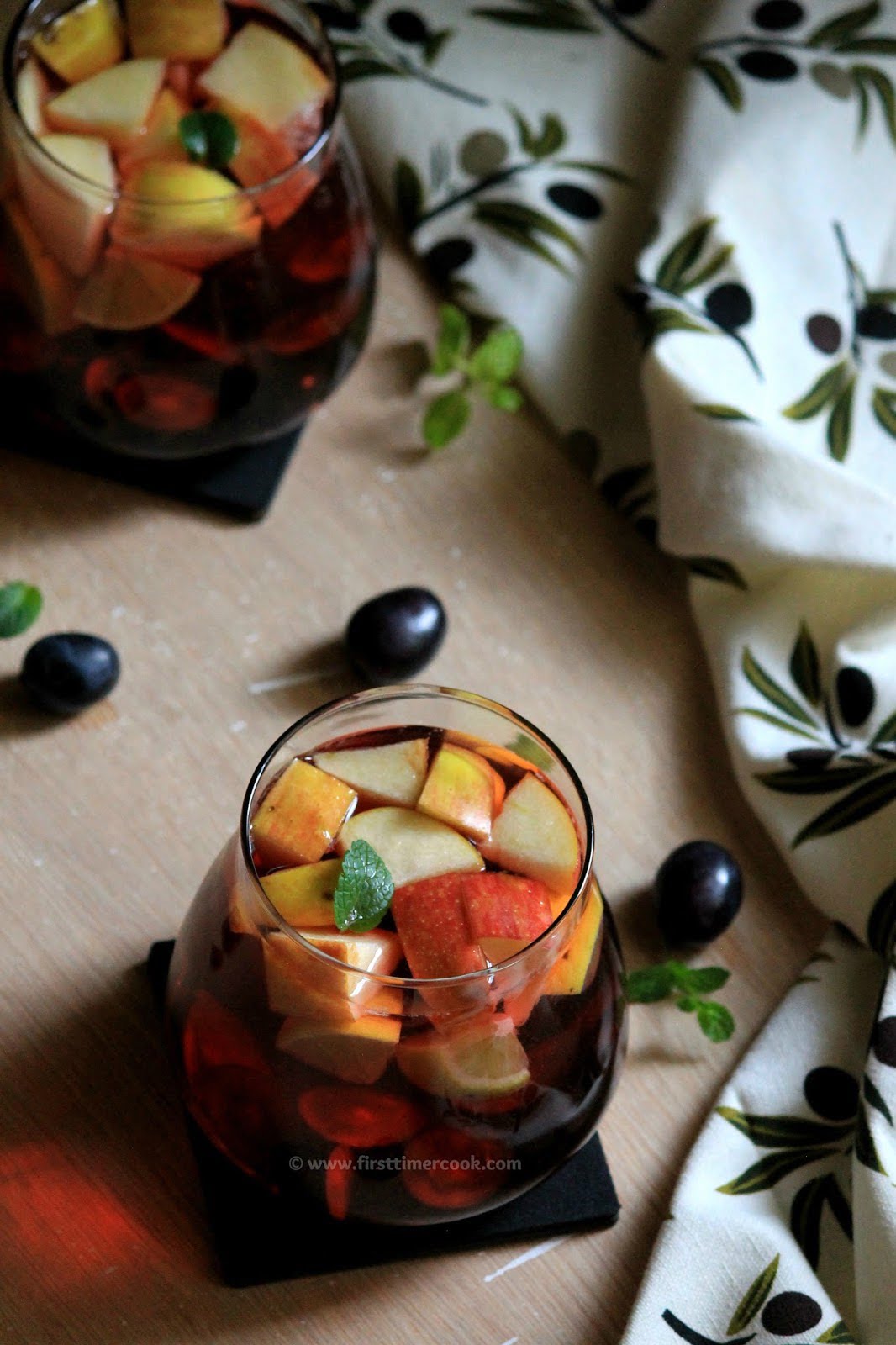 Rooh Afza is a non-alcoholic natural concentrated squash cum refreshing syrup which is much popular in middle–east. In addition to Rooh Afza, I have added some orange juice too. Some black grape juice can also be included, but instead of juice I added black grapes as a whole along with some chopped apple, orange, lemon, peach and blueberry. The fruits used can be varied. This refreshing drink anyone can serve right away after preparing, but it is always going to give a better taste if the sangria is allowed to be in refrigerator overnight for the flavors mellow all-together.
This non-alcoholic beverage is totally naturally sweetened, means no added sugar. The red color of Rooh Afza sangria will definitely create some romantic vibes during this romantic month. Also any age group will love this virgin beverage. So for celebration, instead of any store bought drinks, do try this non-alcoholic virgin Rooh Afza sangria by following the details method of preparation as mentioned below.
Preparation Time : 5 mins | Cooking Time : 0 mins
Ingredients :
| | |
| --- | --- |
| Ingredients | Measurements |
| Rooh Afza | ½ cup |
| Orange juice | ½ cup |
| Apple | 1 no |
| Orange | 1 no |
| Black grape | 6-7 no |
| Blue berry | 14-15 no |
| Lemon | 1 no |
| Chilled water | 2 cup |
| Mint leaf | For garnishing |

​
Method :
First wash and clean all the fruits well.
Then chop the fruits and put all the fruit chunks in a large pitcher.
Using a muddler or wooden spoon smash everything a little in order to release some of the juices from the fruit chunks.
Next pour the orange juice and rose syrup into the pitcher. Stir well for 1-2 minutes.
Finally add chilled water and again mix everything well.
Put in refrigerator for at least 2 hours or overnight.
At the time of serving just pour the roohafza sangria over serving glass and serve !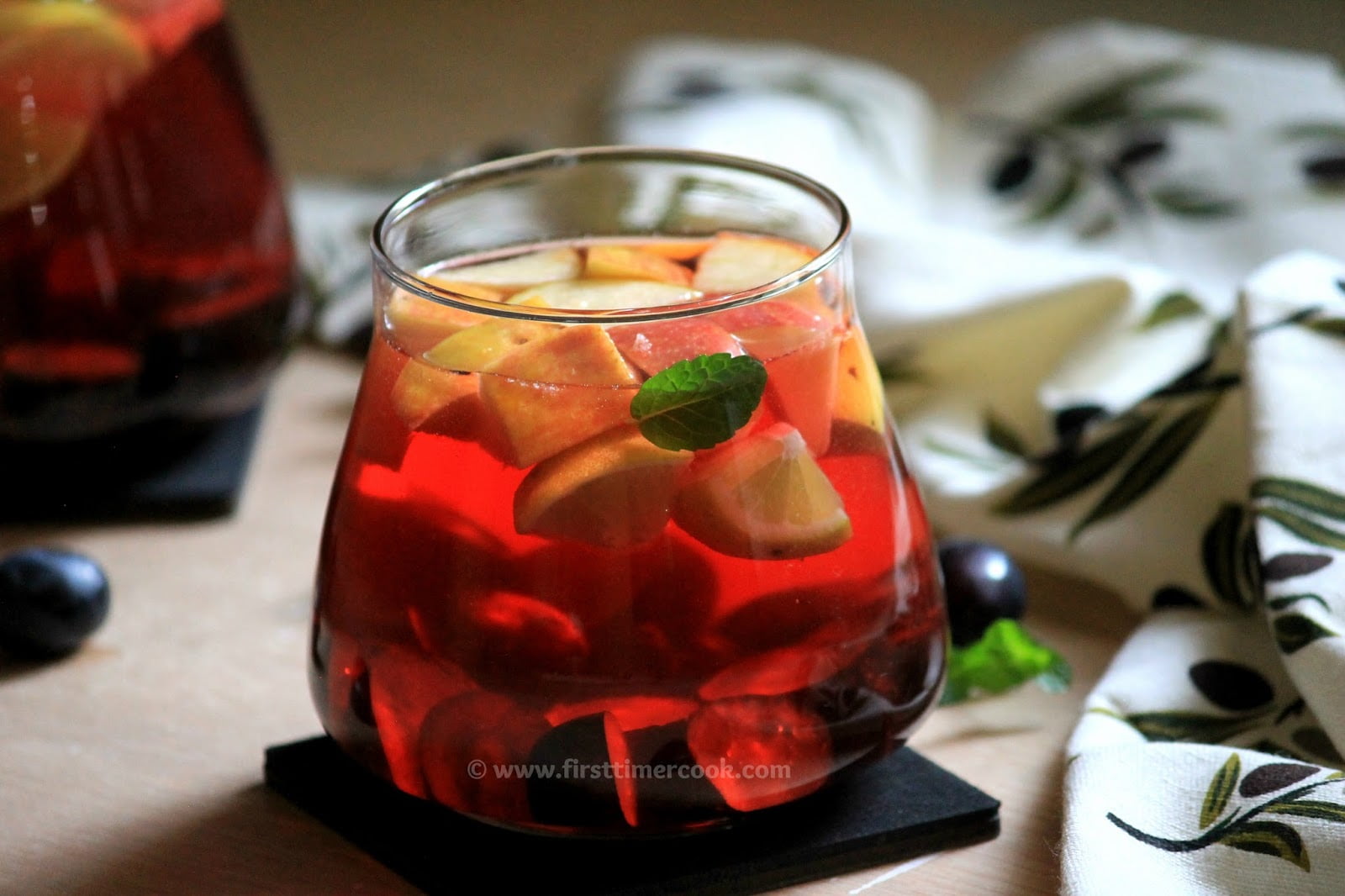 Notes :
Here I have not added any sugar, sweetness of this sangria is perfect for me which comes from the Rooh Afza and the fruits.
But still if you need more sweetness, then add any other ripe fruit.
Addition of fruits can be varried, but always prefer to choose the ripe ones to get the natural sweetness.
In place of Rooh Afza, rose syrup can be opted.
PIN for later :