Makar Sankranti – the first Indian festival in a new year !!
Makar Sankranti is one of the major Indian harvest festival celebrated on 14th of January of every year (15th January if leap year). This is an important festival of the Hindus and celebrated almost everywhere in the country in numerous cultural forms and different names as well. Every region celebrate it in innumerable ways according to the localization, culture and traditions. Makar means Capricorn and Sankranti is transition, so basically the sun enters the sphere of Capricorn zodiac on this day. This holy festival also marks the beginning of warmer and longer days as compared to nights, that means on the
day of Makar Sankranti, the sun starts its journey to the Northern Hemisphere. Devotees take dips in the holy water and offer prayers to the sun as well.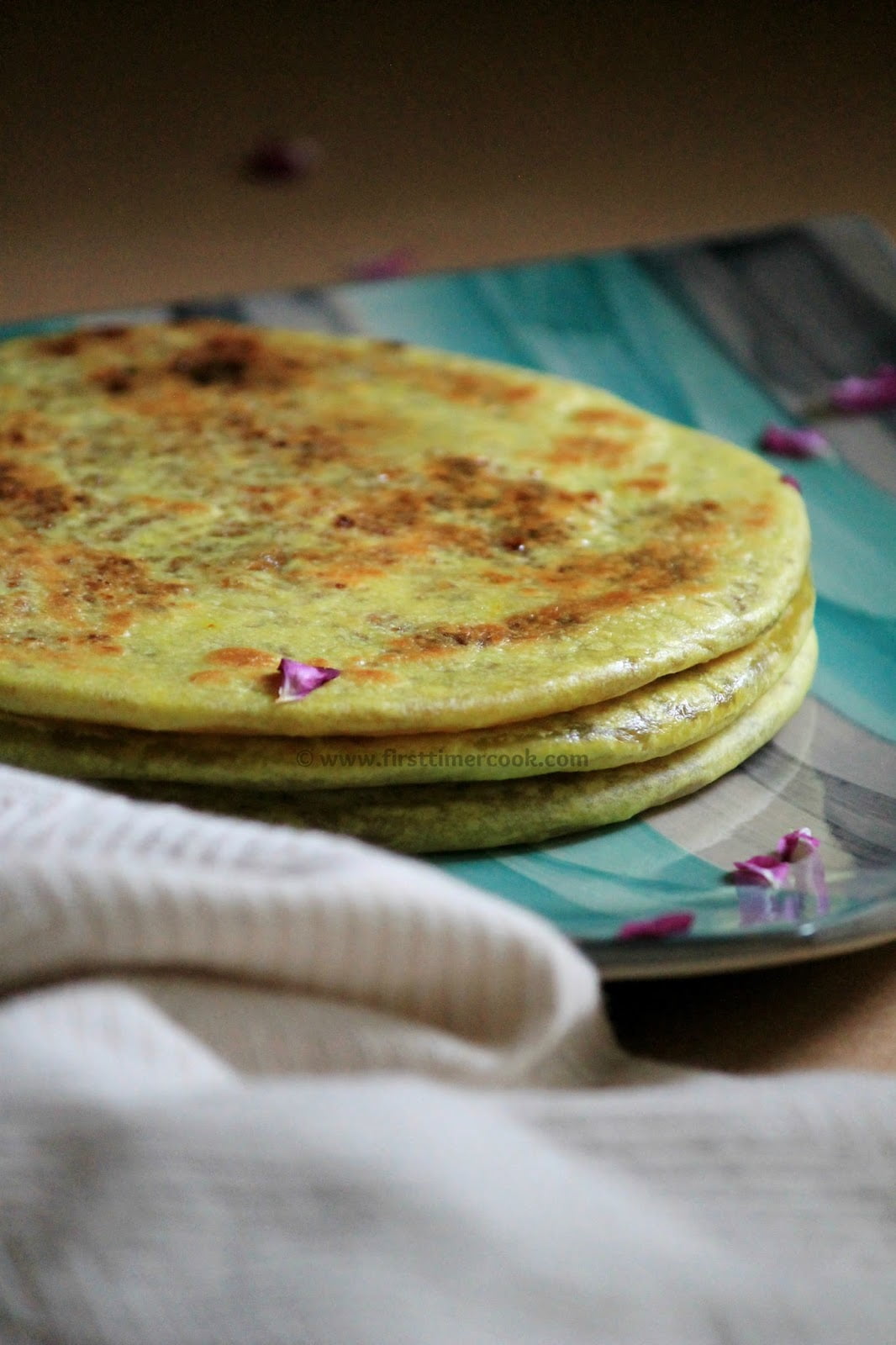 Makar Sankranti is such a blissful festival celebrated by Hindus with a lot of enthusiasm. This auspicious day is celebrated in different ways all over India as lohri in Punjab, pongal in Tamil Nadu, uttarayan in Gujrat, bihu in Assam, poush parbon in West Bengal. Similar to any other festival in India, Makar Sankranti is incomplete without preparing some delicious traditional delicacies like makara chaula, till ladoo, murmura chiki etc. One of such delicacy is puran poli, the traditional Maharashtrian sweet paratha also known as poli, obbattu, hollige or oligalu in different languages in India.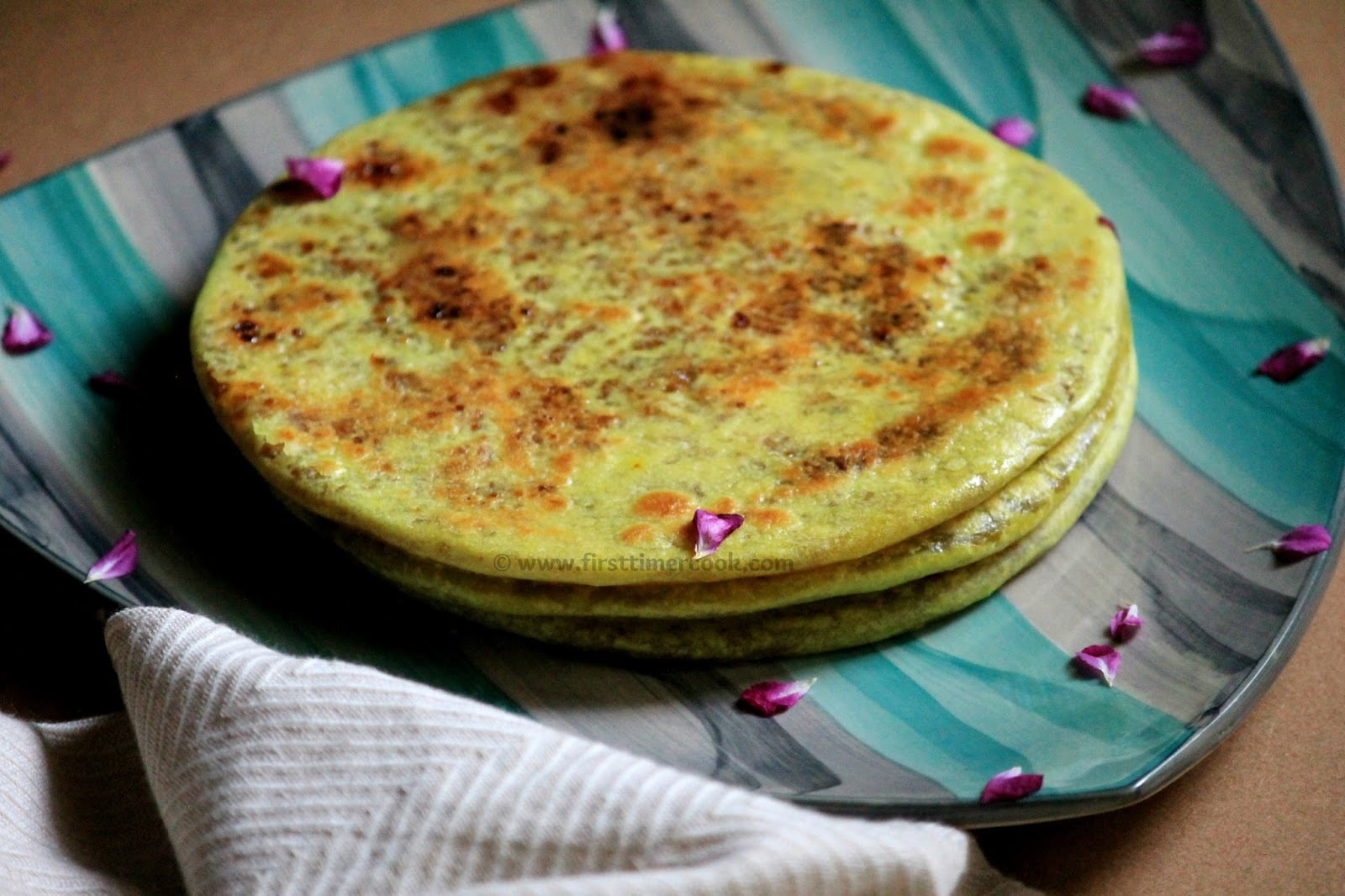 Puran means the stuffing and poli is the outer layer. Puran poli is a sweet paratha stuffed with mashed chana dal, jaggery and coconut. The stuffing is flavored with cardamom powder or nutmeg powder. Also the stuffing is made in many variations region wise in different traditional ways in India. Well, instead of using the maida (all purpose flour) here I have used the whole wheat flour. Also some luke warm water is used while kneading the dough to make it much softer. Since my family like the stuffing part to be a grainy texture, so I have not opted the grinding of stuffing. But if you like the smooth texture of the stuffing, then first grind coconut, jaggery and cooked chana dal to a smooth paste and then cook to make a smooth texture puran. This dish has a melt in mouth texture with a sublime sweetness and often eaten as such or served with a spoonful of ghee. Preferably these polis are eaten at breakfast or as a post-meal dessert, particularly during festivals. So lets go in details.
Preparation Time : 1 hrs | Cooking Time : 35 mins
Ingredients :
| | |
| --- | --- |
| Ingredients | Measurements |
| Wheat flour | 1 cup |
| Chana dal (Bengal gram) | ½ cup |
| Jaggery (grated) | 1 cup |
| Coconut (grated) | ½ cup |
| Turmeric powder | ¼ tsp |
| Cardamom powder | ½ tsp |
| Oil | 2 ½ tbsp |
| Luke warm water | For kneading |
| Salt | 1 pinch |
| Ghee | For smearing |
Method :
In a mixing bowl take wheat flour, salt, turmeric powder and oil (2 tbsp). Mix very well first.
Then using Luke warm water little by little make a smooth and soft dough.
Drizzle rest 1/2 tbsp oil over the dough, cover the bowl and keep aside for at least 1 hour.
Meanwhile, wash and clean chana dal very well. Soak in a bowl with enough water for 30 minutes.
Then drain the water and pressure cook all the soaked chana dal with some water till completely cooked and soft, but not mushy.
Drain out water from pressure cooker completely and then using a masher roughly mash all the cooked chana dal.
Now heat freshly grated coconut, jaggery in a pan.
When jaggery starts melting, add smashed chana dal, ghee and cardamom powder.
Saute over low heat for 5 minutes.
Turn off heat and allow the mixture (puran) to cool down completely.
After 1 hour of resting, knead the dough a bit and make equal size (approximately lemon size) dough balls.
Now take a greased rolling board or just put a parchment paper over the rolling board. Then place one dough ball over the rolling board and make a small thick circle using rolling pin or just pressing by finger.
Place approximately 1-2 tbsp puran (jaggery-coconut-chana dal mixture) in the center of the thick circle. Seal from all side and make a ball again.
Flatten again to a smooth and soft thin circle using rolling pin or pressing gently by fingers.
Heat a griddle / tawa and then place the rolled soft and thin circle gently over it.
Cook both side till golden brown spots appears over low heat and then transfer to a plate.
Similarly prepare rest pooran polis.
Serve these lentil puran poli warm by smearing some ghee over the poli or simply as it is !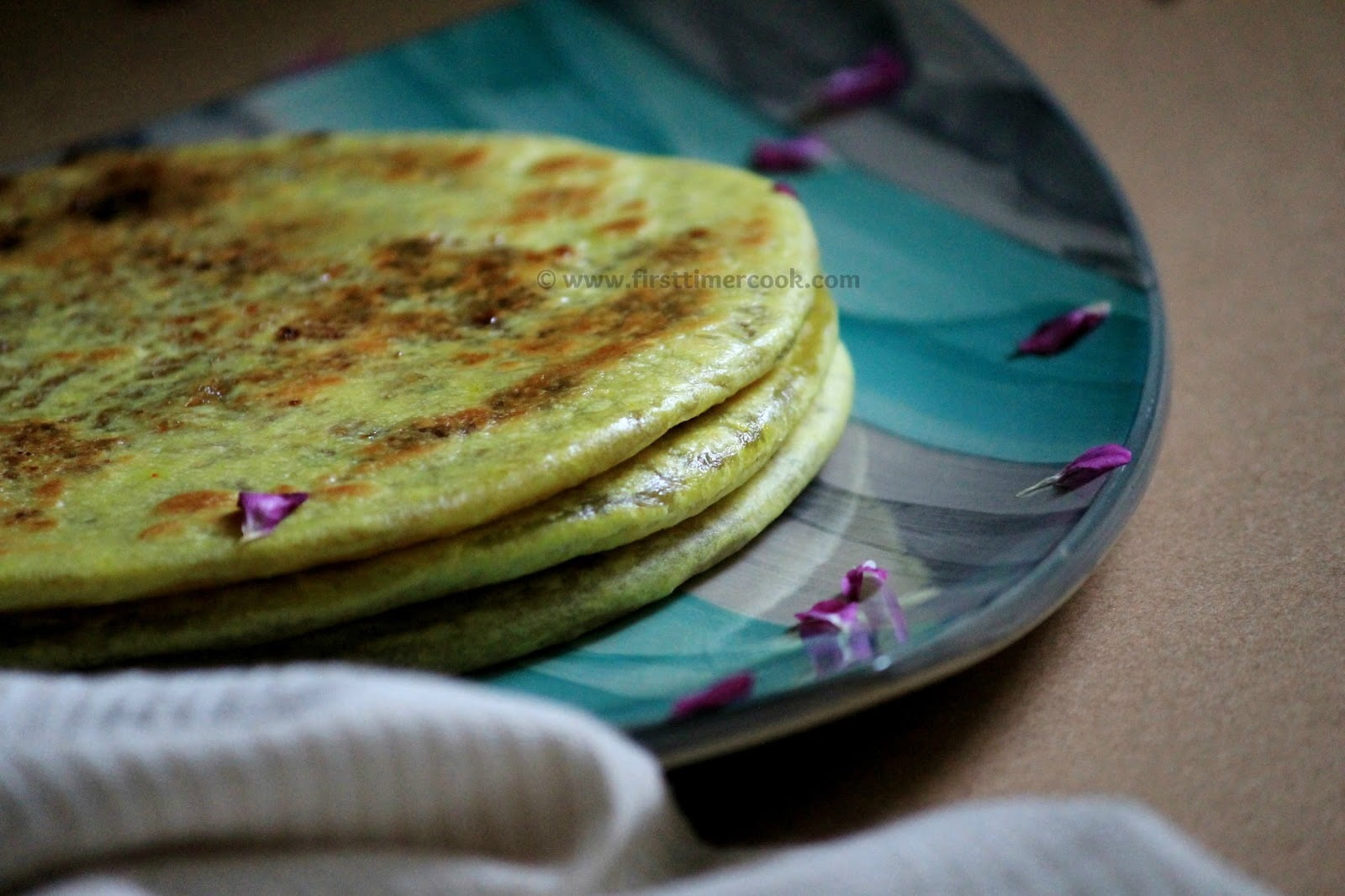 Notes :
Always prefer to use luke warm water for a soft ans smooth dough.
Instead of using the grainy puran, you can first grind coconut, jaggery and cooked chana dal to a smooth paste and then cook to make a smooth texture puran.
Turmeric powder is optional.

PIN for later :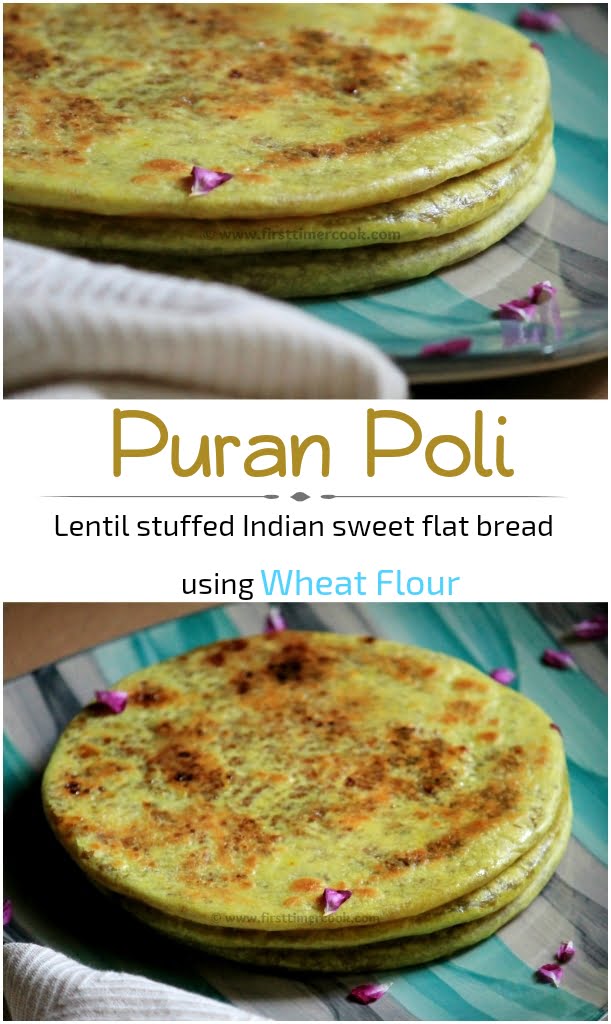 This 'Puran Poli' is contributed for 40 Healthy Wellthy Cuisines where the theme is 'Makar Sankranti'. Here are more similar recipes shared by our Healthy Wealthy Group members as Pongal, Pal Pongal, Bengali Style Rice Pudding / Nolen Gurer Payesh, Chana Dal Payasam and Date Palm Jaggery Pudding / Nolen Gurer Payesh.
Sending this recipe to Fiesta Friday this week co hosted by Diann and Shinta.