a refreshingly healthy drink using the tropical fruit, watermelon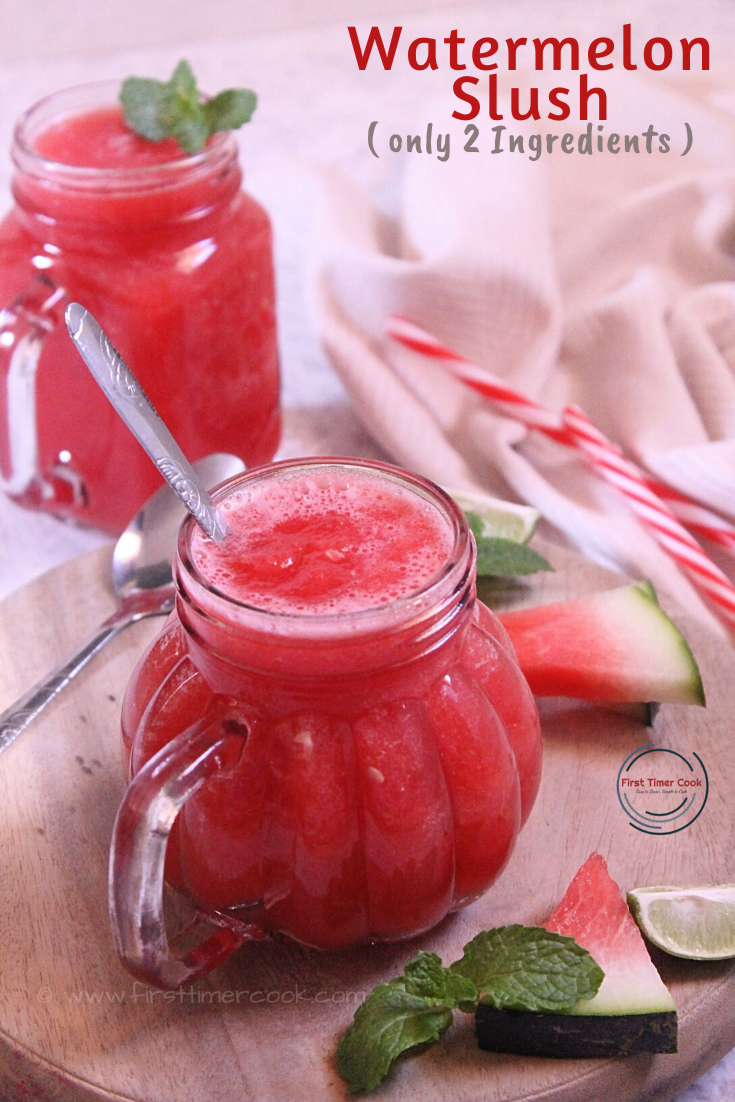 Watermelon and its Benefits :
Watermelon is a tender, warm-season fruit. It is widely grown in many tropical countries. Watermelon has a neutral flavor, and its taste somewhat as plain sweet water (similar to light sugar syrup). Its flesh is soft yet crunchy. Summer, the season is here and hence the fruit is abundantly available these days. Watermelon has everything we need to beat the scorching summer heat. Wonderfully delicious and juicy watermelons are the great source of much-needed water and electrolytes to tame hot, summer temperatures. Along with quenching thirst as well as boosting our body with antioxidant lycopene and vitamin-A there are some more benefits one can surely get from this major commercial fruit, watermelon.
Nature's gift to beat summer thirst as it has around 90% water
A good source of potassium hence helps in controlling heart rate and blood pressure
Helps in healthy vision and immunity due to the presence of vitamin A
An excellent source of carotenoid pigment, lycopene and indeed, superior to raw red tomato
Very low in calories and negligible fat contents
Helps our skin to stay soft, smooth and supple
Satisfies our sweet tooth with its natural sweetness etc.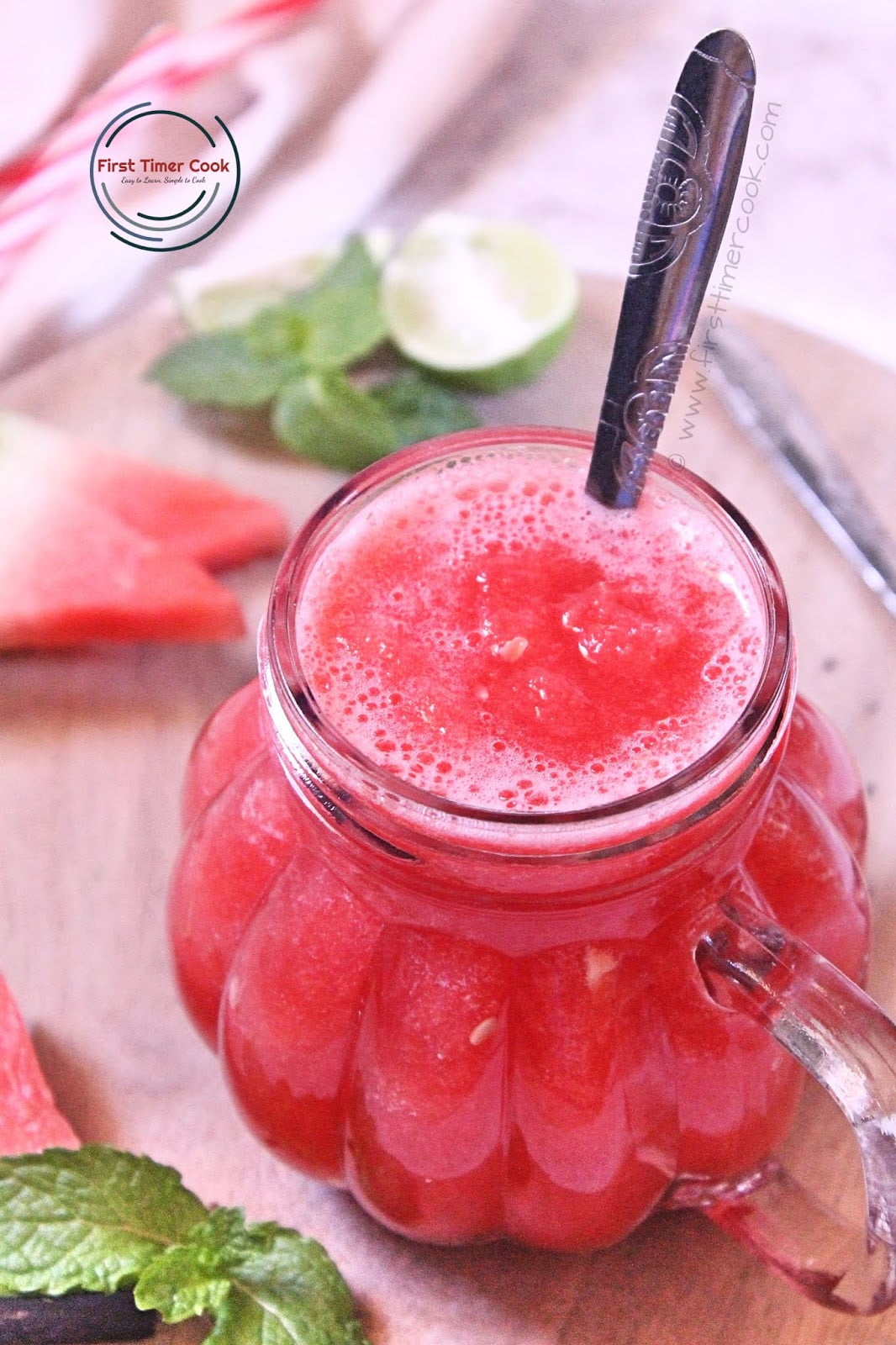 Various uses of this fruit :
The best way to enjoy watermelon is while they are fresh and sweet. When they are gone, they are gone until next summer. Means we all have to wait till the next summer season comes and the local market'll flood with fresh watermelons. I most of the time simply love to have a bowl full of fresh watermelon chunks. Sometimes I sprinkle little black salt all over else pick as it is. Besides this, I also make granita, shorbet, salad and even smoothies (Lassi). Well today I have come up with the super simple Watermelon Slush / Slushie.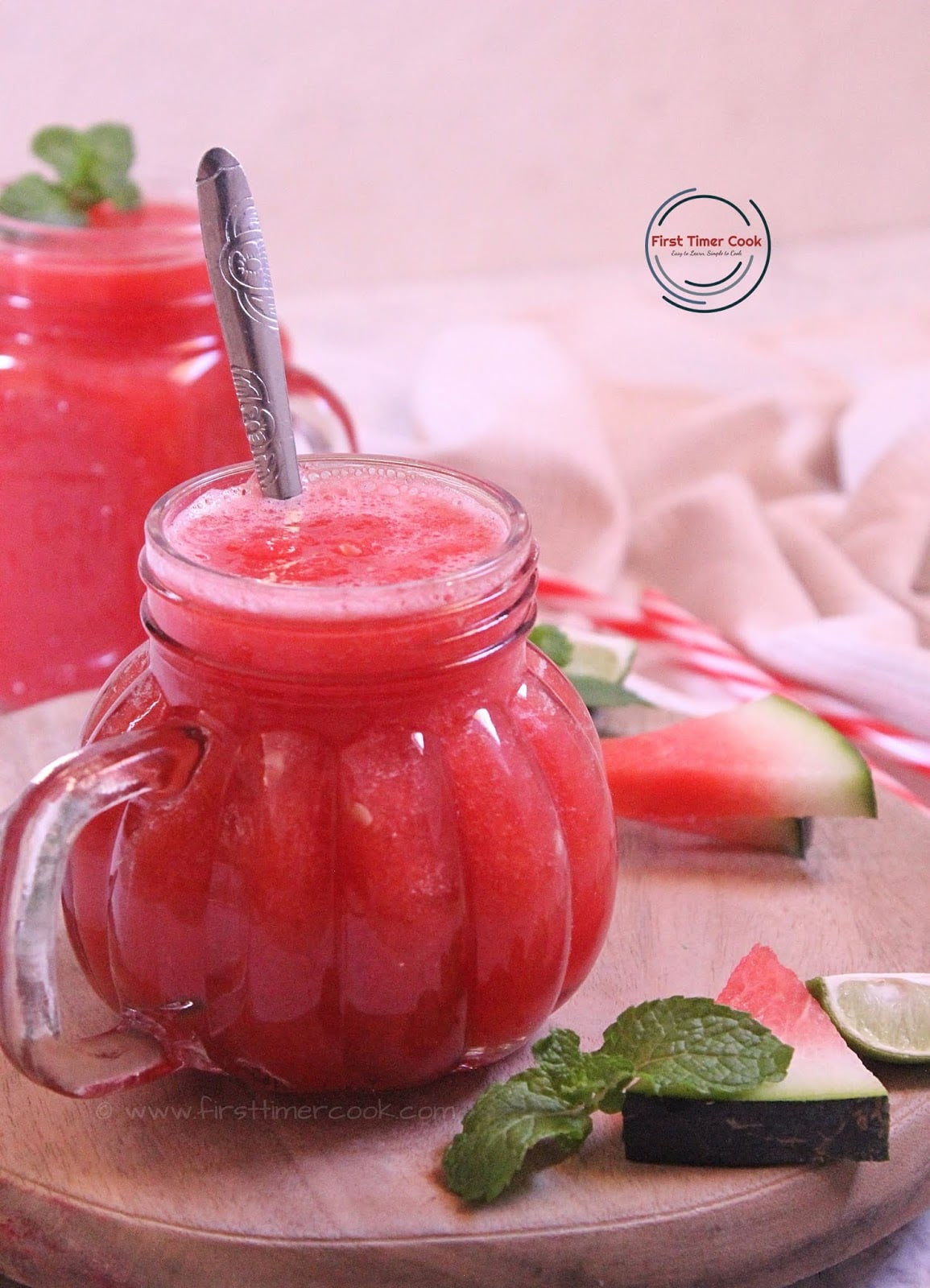 Ingredients and preparation steps :
The ingredients list depend upon the quality of the watermelon picked. Always try to pick fresh and extra ripe watermelons which are naturally more sweet in taste. If the sweetness is perfect for our palate then there is no need of any sweetener addition like sugar, honey, maple syrup etc. Here I have picked only 2 ingredients to make the slush as lemon juice and some cubed watermelon pieces which are frozen. The much time consuming part is the 2nd ingredient here as we have to wait till all the cubes are well frozen. Then the making procedure is quite simple. Just put both the ingredients in a blender jar and blend into a slushie texture.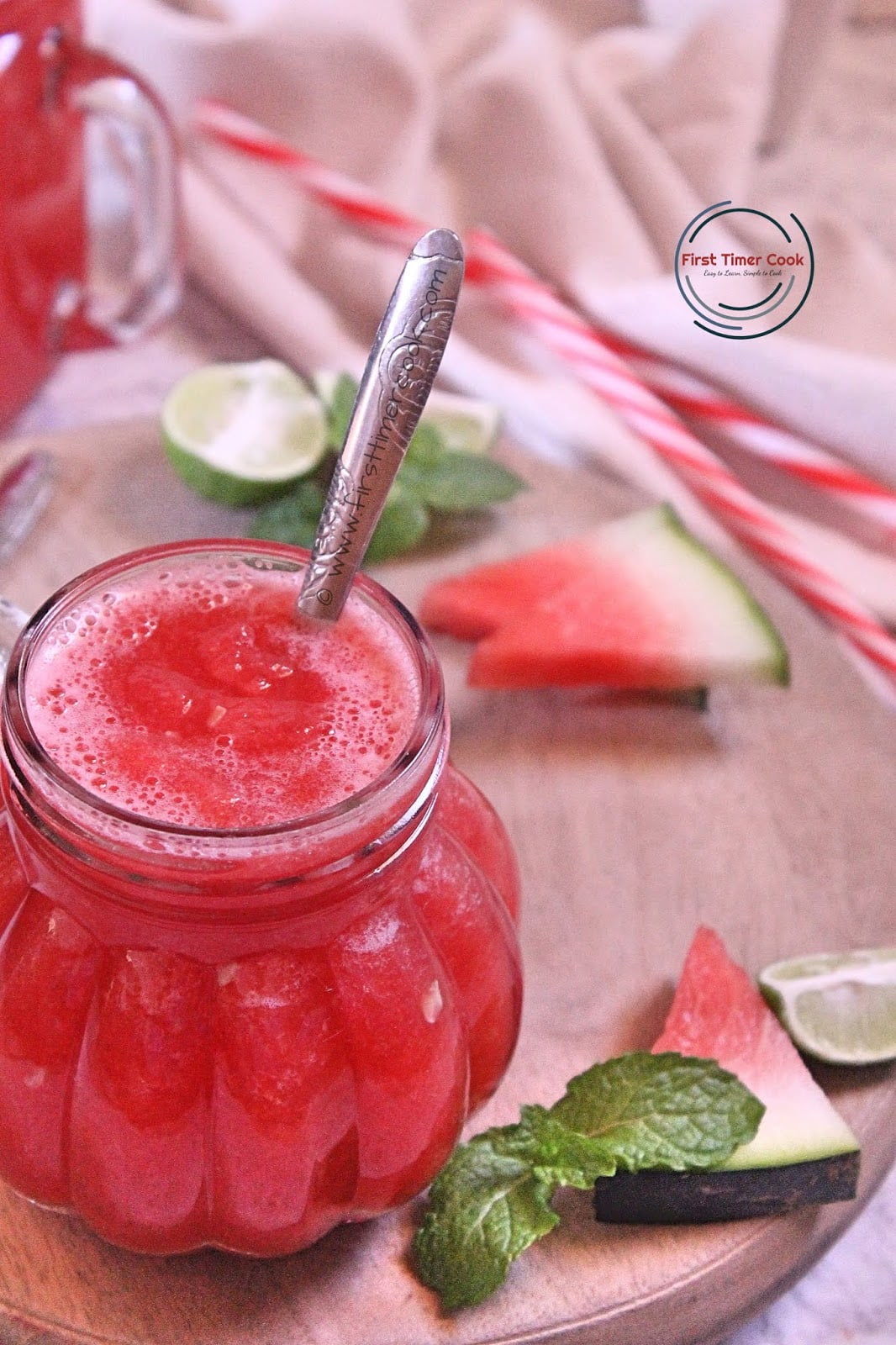 Serving ideas :
Nothing is more refreshing in the summer than a cold and sweet watermelon slushie glass. It is super easy to prepare and looks so refreshing. This drink also comes under completely Vegan & Gluten free category. Any age group will surely enjoy this cool beverage. To serve guest at home or in any summer party menu this is a sure shot hit to get refreshed. Watermelons are in peak season, hence it is the perfect time to make this healthy & delicious drink. Do try !
: Recipe Card :

Watermelon Slush / Slushie (2 ingredients)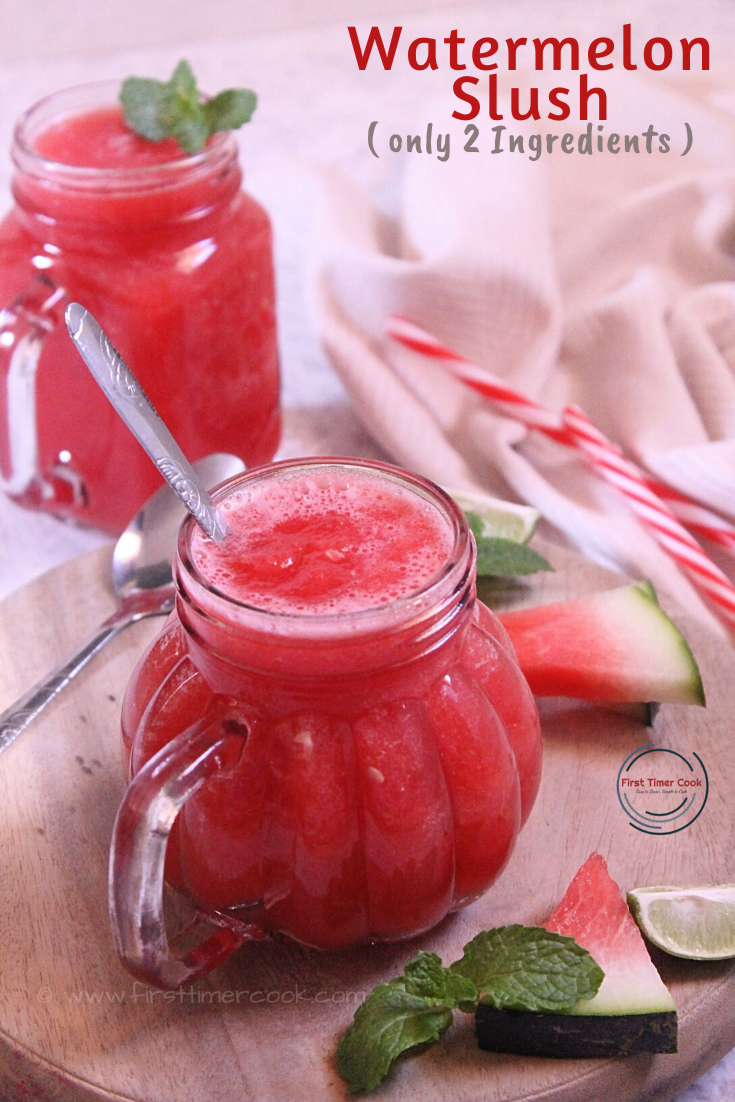 Prep time: 5 MCook time: Total time: 5 M
A refreshingly healthy drink using the tropical fruit, watermelon
Ingredients:
Cubed watermelon piece (seedless) (frozen) 4 cup
Lime juice 1/4 cup
Instructions:
How to cook Watermelon Slush / Slushie (2 ingredients)
Put watermelon and lime juice into a blender jar.
Blend until smooth.
Pour into serving glasses & serve immediately !
Notes:
Always prefer to use an extra ripe & sweet watermelon for the advantages of more sweetness.
Else adjust the sweetness by adding sweetener like honey, sugar, maple syrup etc.
If frozen watermelon cubes are not possible to make, then add some ice cubes along with freshly cut watermelon cubes into the blender jar.
watermelon, summer drinks, lemon juice, no sugar drink, SUmmer beverage
vegan, 2 ingredients drink, beverage, vegan, gluten free, tarbhuj,
International
Did you make this recipe?
Tag @firsttimercook on instagram and hashtag it #firsttimercook
The event related to this post :


And this post is also related to Foodies Redoing Old Posts which is initiated by one of my fellow blogger Renu. The basic funda of this is to redo our old posts which need changes in picture, writings etc to get boost. Here I have modified both the text as well as pictures.
You may also follow me on Facebook, Pinterest, Twitter, Google+, Instagram and can subscribe for free to get new recipes directly into your inbox 😊

PIN for later :