Bruschetta (spelled as brusketta) is an appetizer from Central Italy. The noun bruschetta is from the verb in the Roman dialect bruscare which means 'to roast over coals'. Well bruschetta is not just a toast, rather this is simply and humbly
toasted bread rubbed with olive oil and garlic, finally this has come to describe the colorful condiment we put on top.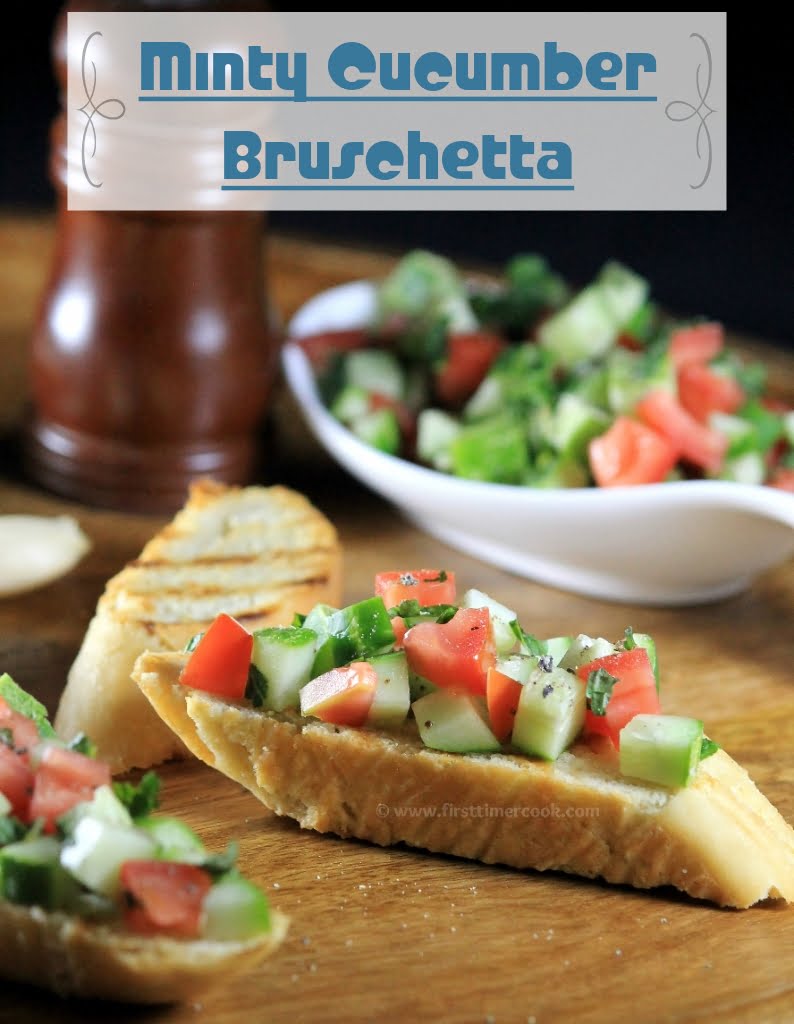 Bruschetta is a fresh, simple and delicious Italian appetizer that can be prepared in minutes and enjoyed any time. In the simplest traditional Italian form, bruschetta requires that bread to be toasted over real coals, then rubbed down with slices of raw garlic cloves, drizzled with olive oil and finished with little salt and freshly crushed pepper. There are various types of bruschetta toppings and the toppings are always served on a single piece of toasted or grilled bread slice. Variations may include toppings of spicy red pepper, tomato, vegetables, beans, cured meat etc.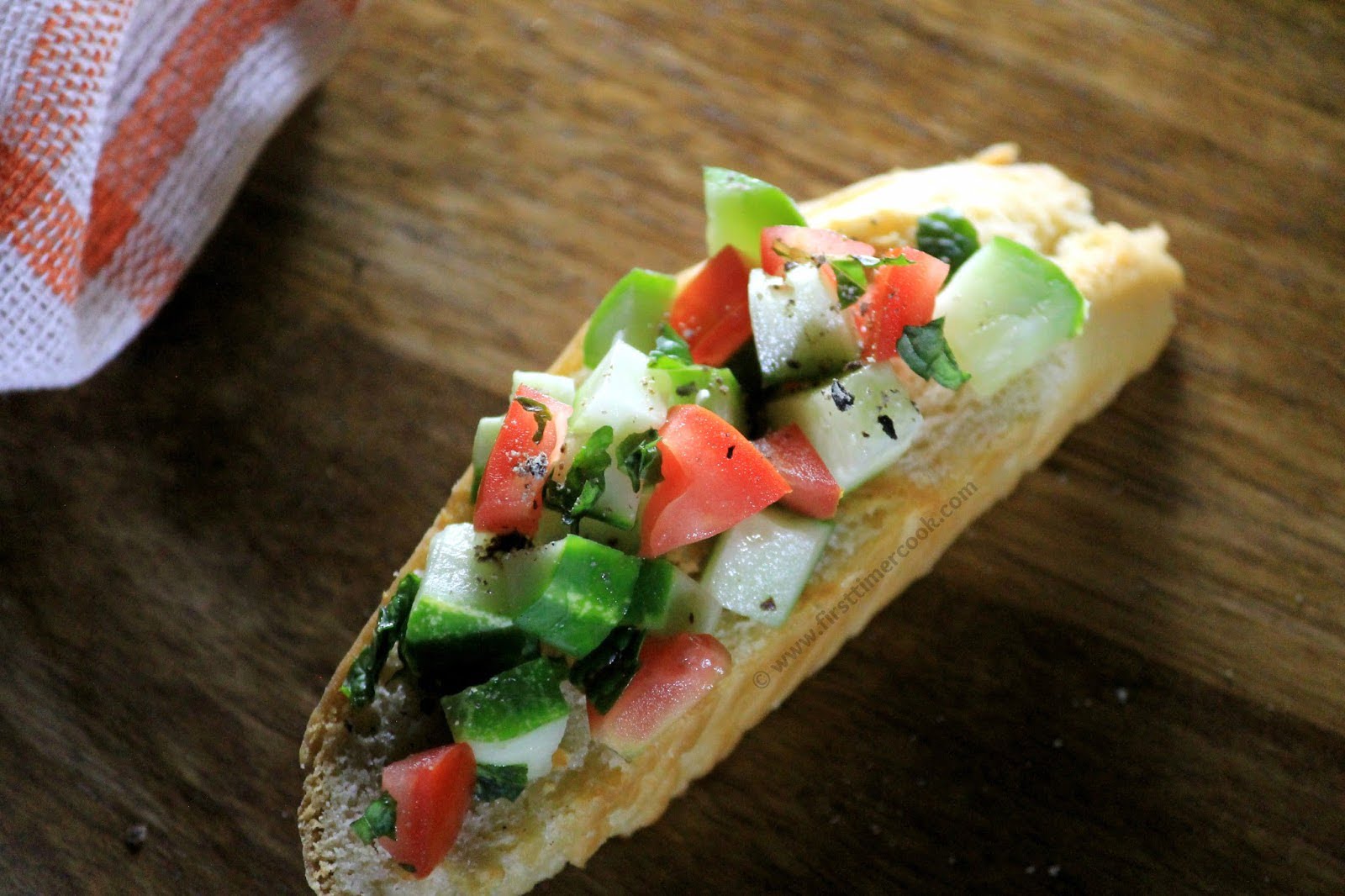 Bruschetta is made up of very simple flavors and is therefore best if you make it with highest quality and freshest ingredients available with you. This time, the theme of Foodie Monday Blog Hop team is decided to be as 'Bruschetta'. So keeping that theme in mind, I chosed some mint and cucumber as my bruschetta toppings along with some tomatoes as well, hence the name is minty cucumber bruschetta. Grilling the bread is not only provides the grill marks, but also more smoky flavor achieves.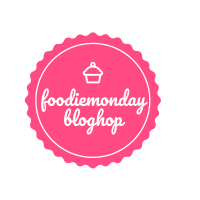 The moment the bread comes off the grill, give it a quick rub with a peeled garlic clove (whole or ct into halves). The garlic melts a bit into the warm bread. Not only this is the more authentic way to make bruschetta, also it tastes much better than adding minced garlic to the toppings. Here some diced cucumber, diced tomato, roughly chopped mint leaves, extra virgin olive oil along with salt and freshly crushed black pepper tossed well first and then used as topping.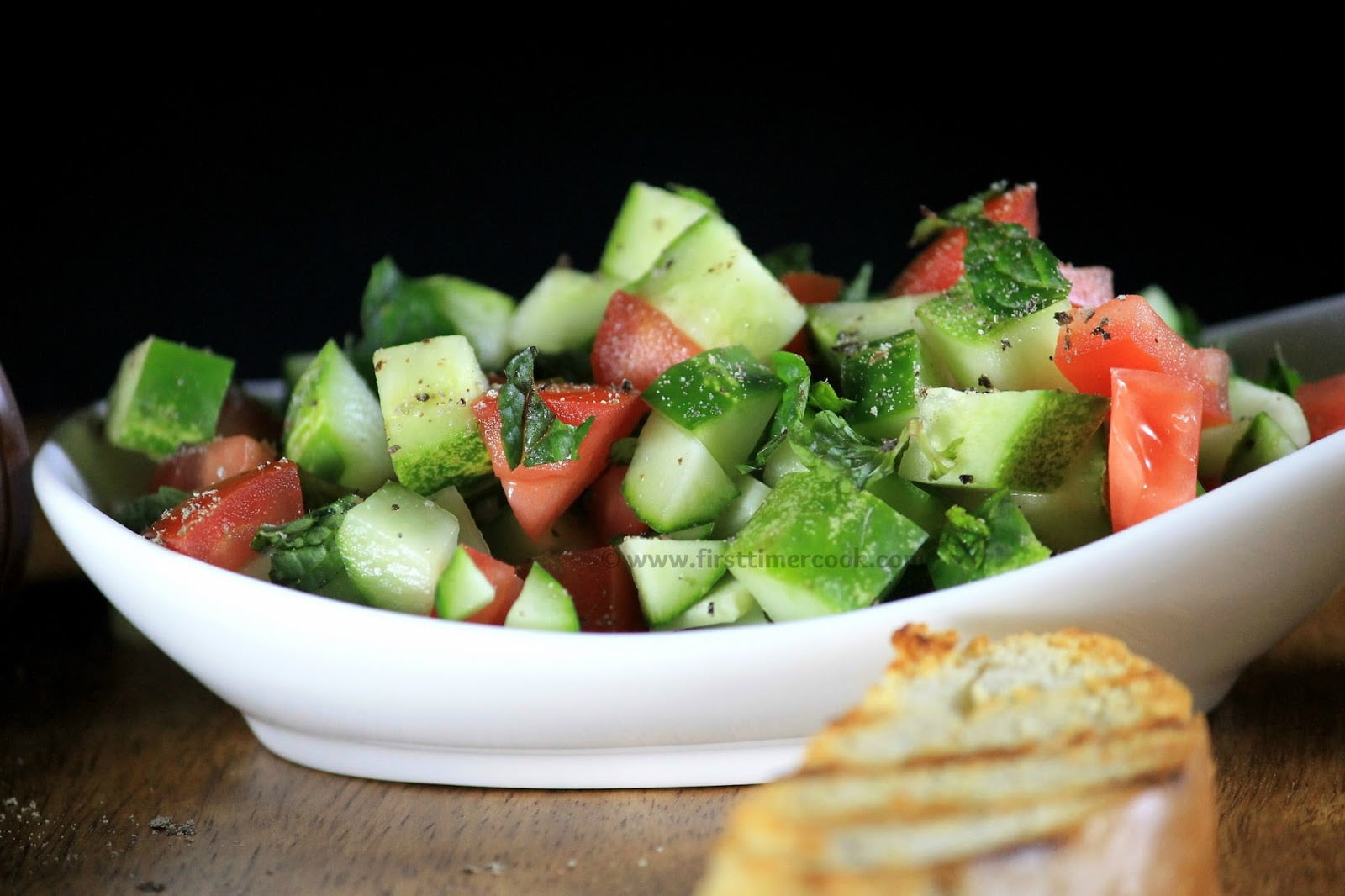 This is a perfectly delicious party appetizer where a large batch of the topping can be prepared in ahead of time as well as grilling / toasting of bread slices. Just top each baguette slices with toppings at the time of serving or allow your guests to put toppings by their own. This minty cucumber bruschetta is so quick and easy recipe and also perfect as a side dish or simply as a snack. Lets go in details as mentioned below to taste the most amazing refreshed flavor combination of the Minty Cucumber Bruschetta.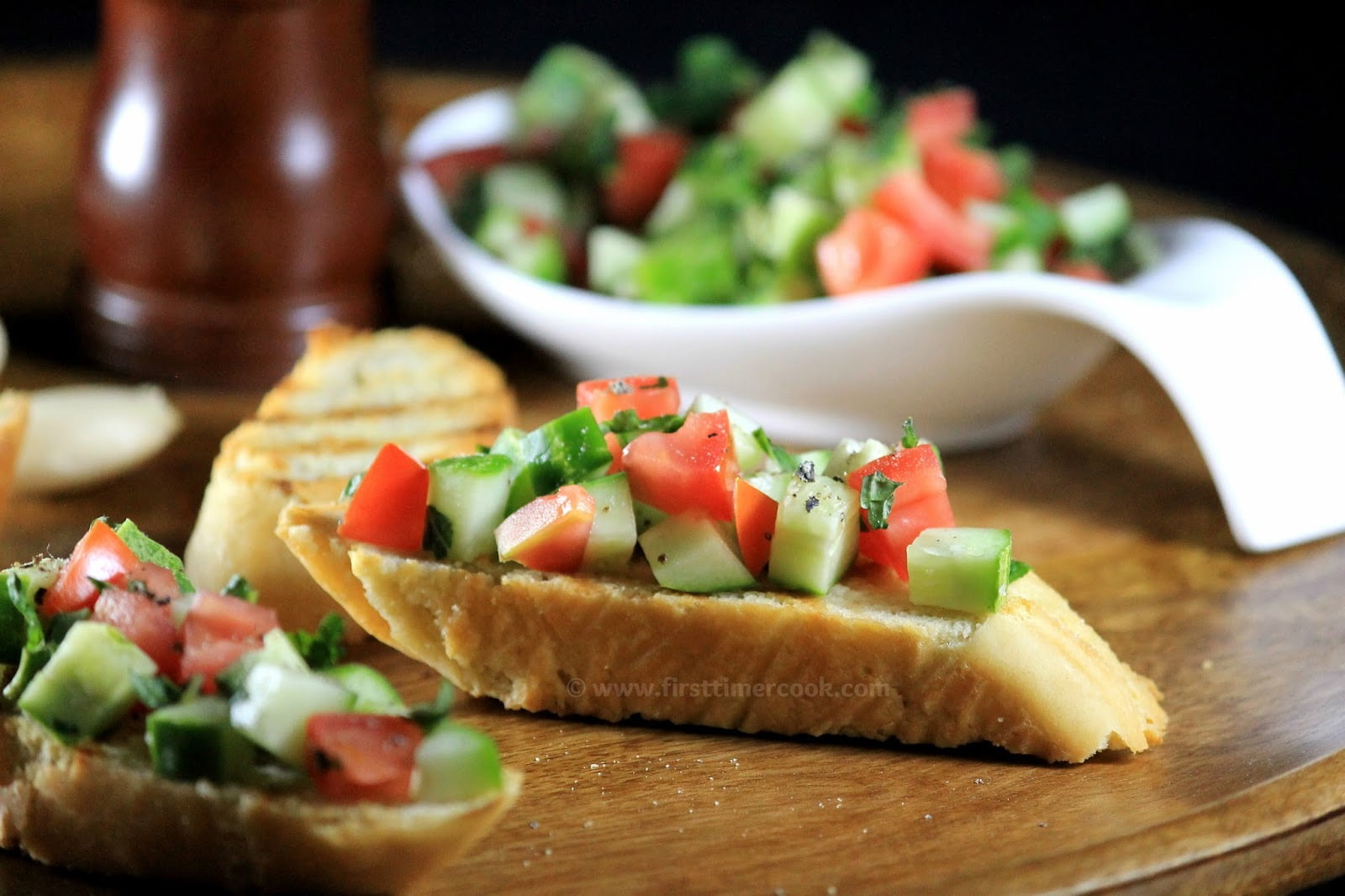 Preparation Time : 10 mins | Cooking Time : 10 mins
Ingredients :
| | |
| --- | --- |
| Ingredients | Measurements |
| Baguette | 1 no. |
| Cucumber (chopped into cube) | 1 no. |
| Tomato (chopped into cube) | 1 no. |
| Mint leaf | 3-4 tbsp |
| Garlic clove | 1 no. |
| Black pepper | As needed |
| Salt | As needed |
| Extra virgin olive oil | As needed |

​
Method :
In a mixing bowl, take chopped cucumber cubes, tomato cubes, roughly chopped mint leaves, 1 tbsp extra virgin olive oil, freshly crushed black pepper and salt.
Gently toss till everything incorporated well.
Now slice the baguette into 2/3 inch slices and brush the top of each slice with extra virgin olive oil.
Next heat the grill pan over medium heat and then place the baguette slices on the hot grill pan.
Cook for 2 minutes, flip and cook the other side until both sides are lightly toasted.
Turn off heat.
Arrange all the toasted baguette slices on a large serving platter and rub each slices with freshly halved garlic clove immediately.
Top each slices with the mint cucumber mixture and serve right away !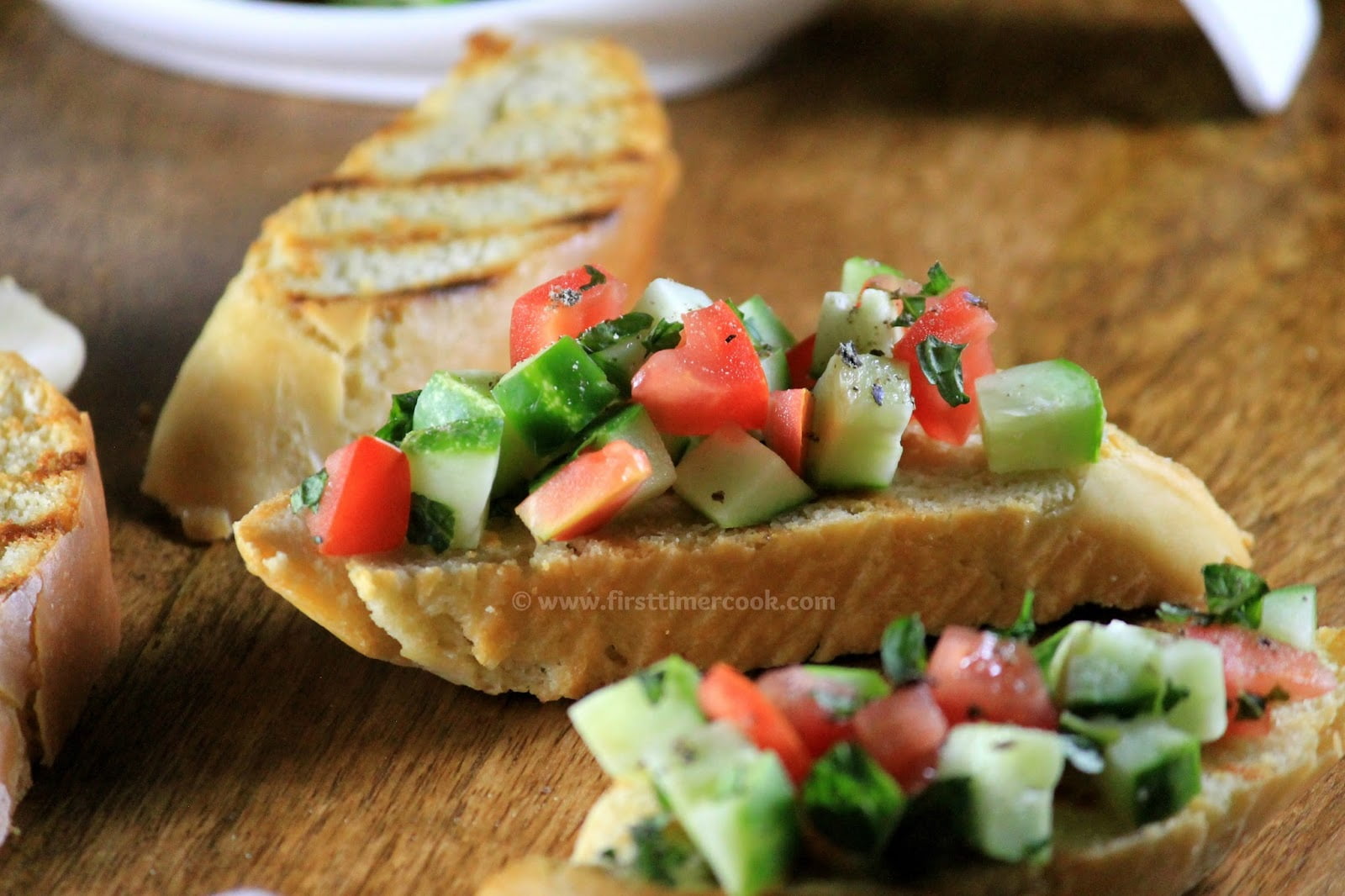 Notes :
Tomato can be omitted from toppings.
PIN for later :