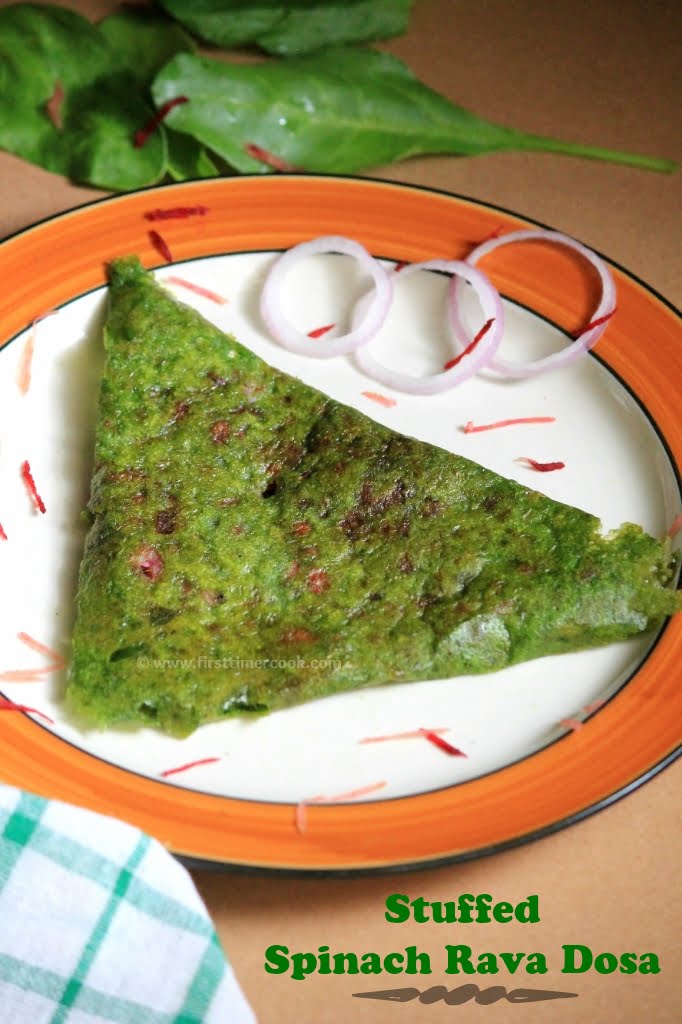 Dosa, a type of pancake is made from a fermented batter which is a typical part of the South Indian diet and popular all over the Indian subcontinent. Among all varieties, rava dosa is a type of dosa which can be prepared so quick and easily, that means no fermentation is needed like the normal ones.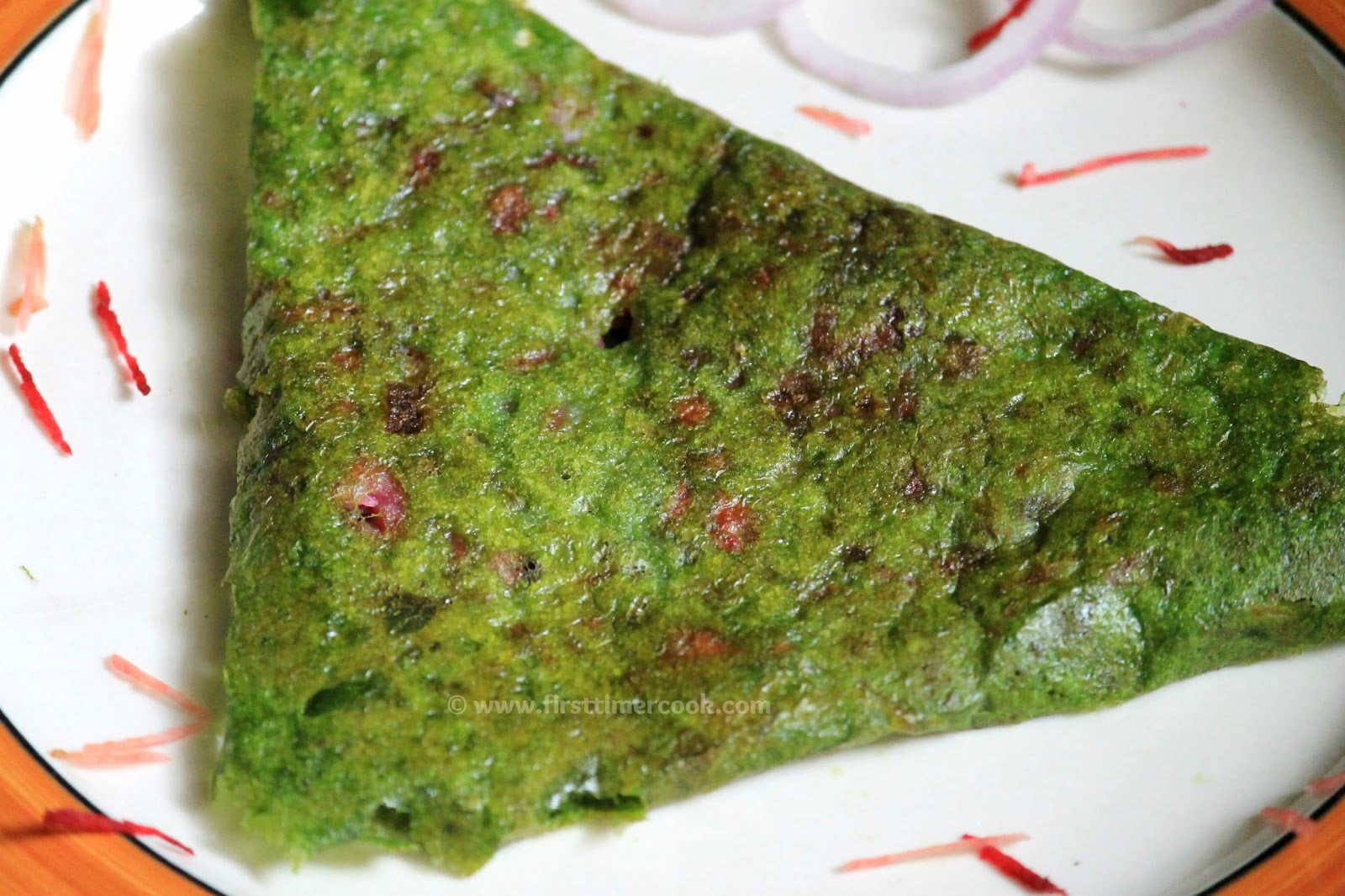 Already there is a recipe shared of instant rava dosa. This time, I opted some healthy ingredients. So instead of all purpose flour (maida) whole wheat flour is used and the dosa is flavored with spinach. Normally rava dosa are crisp and have some netted texture. Any spices or ingredients is directly added to the batter and then the batter has to be poured on the pan or tawa from certain height (3-4 inch height over the pan). This pouring method helps in the netted texture of the dosa. But without adding other ingredients to the batter, I just kept the batter as it is by adding only the spinach puree. Then a mixture of some boiled potatoes, grated beetroot and carrot, onion are prepared and used as stuffing in this spinach rava dosa.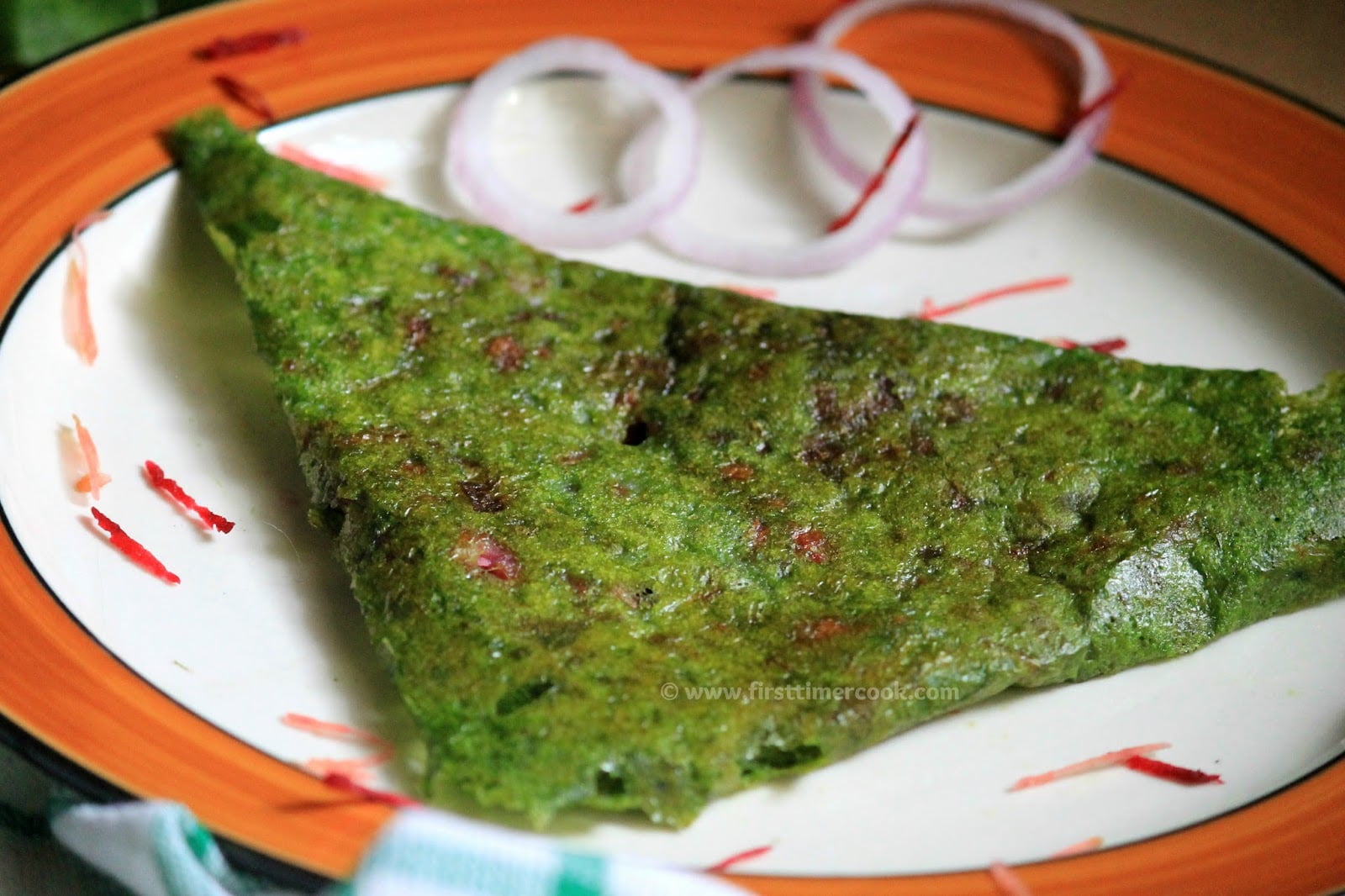 If you are preferring no-onion-no-garlic, then do omit the use of onion and follow rest procedure. Some accompaniment like sambar or any preferable chutney can be served with this stuffed spinach rava dosa. Also since some stuffing are already there, so these can be enjoyed as it is simply. Always serve hot these dosa, otherwise the crispness will be missed. This spinach rava dosa is a healthy one since made of wheat flour and the goodness of spinach. So below is the details method of preparation of this deliciously crispy and healthy stuffed spinach rava dosa without maida.
Preparation Time : 15 mins | Cooking Time : 20 mins
Ingredients :
Ingredients

Measurements

For Dosa

Rava / Semolina / Sooji

½ cup

Rice flour

½ cup

Wheat flour

2 tbsp

Curd

1 tbsp

Spinach leaf

½ bunch

Ginger

¼ inch

Cumin seed

½ tsp

Salt

As needed

Water

As needed

Oil

As needed

For Stuffing

Potato (medium)

2 no.

Onion (small)

1 no.

Beetroot (grated)

2 tbsp

Carrot (grated)

2 tbsp

Green chili

2 no.

Turmeric powder

1 pinch

Mustard seed

1/8 tsp

Urad dal

½ tsp
Method :
First smash all boiled potatoes coarsely by hand and keep aside.
Heat oil in a pan and add mustard seeds.
When the mustard seeds start spluttering, add urad dal and stir for a minute.
Then add chopped onion, chopped green chilies, curry leaves and turmeric powder. Saute for around 4 to 5 minutes.
Add coarsely mashed potatoes, grated beetroot and carrot, chopped coriander leaves, salt and mix well.
Switch off the flame and allow the stuffing to cool.
In a mixing bowl, take sooji / rava / semolina, wheat flour, rice flour, salt and mix well.
Next add curd and water and again mix well using a hand whisk till no lumps in the batter. Keep aside for 15 minutes.
Meanwhile, wash and clean the spinach leaves well.
Then boil water in a sauce pan. Add spinach leaves to the boiling water and wait until all leaves wilt.
Switch off flame and take out spinach leaves to a blender jar.
Add chopped ginger and blend to a smooth puree.
Now add cumin seeds, spinach puree to the dosa batter. Mix very well.
The batter should be very thin as of running consistency, otherwise add some more water to adjust the batter consistency.
Now heat a non-stick dosa pan on high flame.
When the pan is hot enough, then first stir the batter in mixing bowl, take a ladle full of batter, pour here and there from about 3-4 inch height over the pan.
Do not spread the batter like normal dosa batter.
Sprinkle ½ to 1 teaspoon of oil on top of the dosa and cook on medium flame till it turns golden.
Keep the stuffing in the middle of the dosa and fold the sides to make a triangle shape or just fold one side to make a semi circle shape.
Switch off the flame and serve these stuffed spinach rava dosa hot immediately with accompaniment as sambar or any preferable chutney or as it is !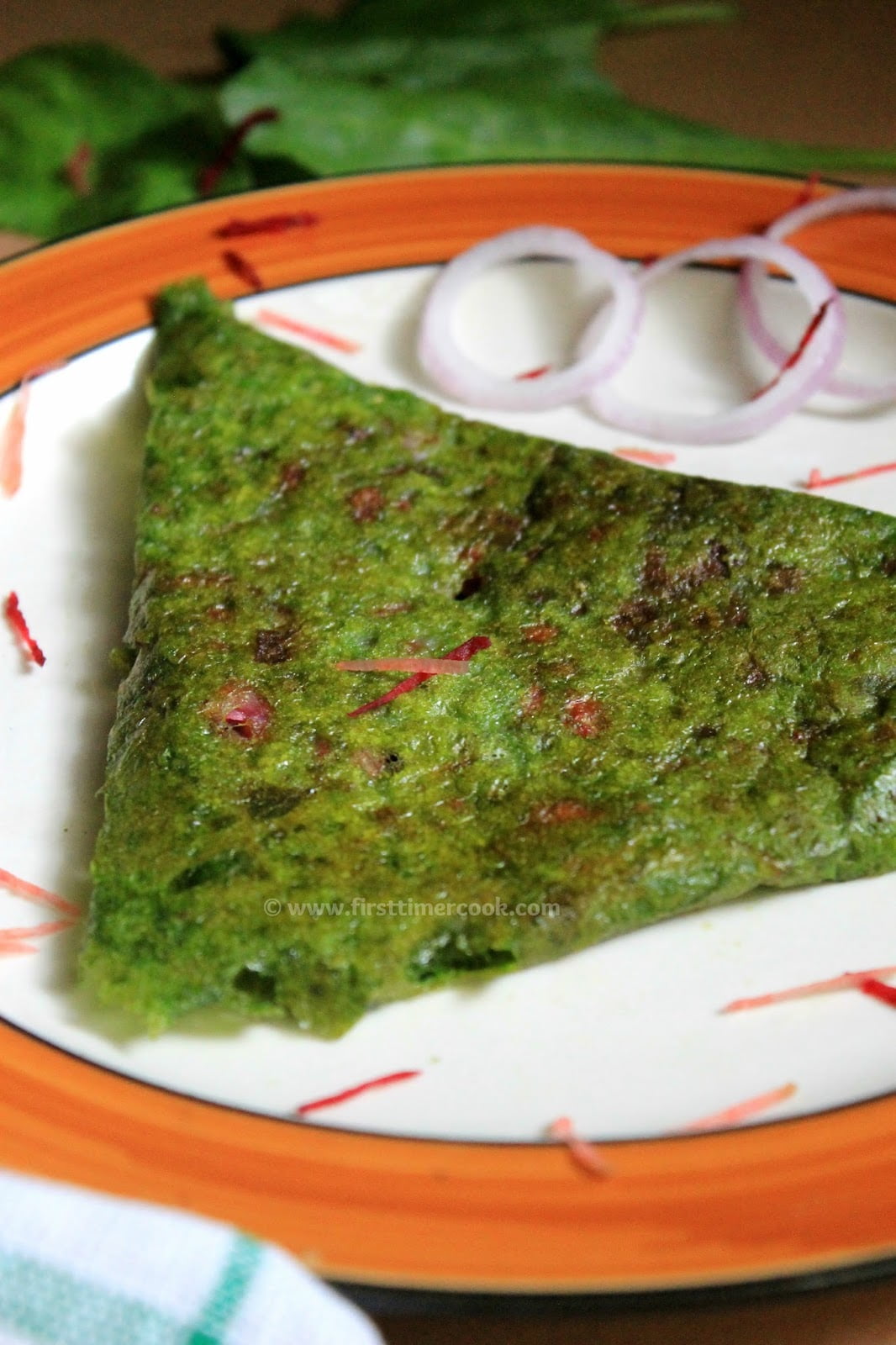 Notes :
The batter should be very thin as of running consistency.
Each time just before making the dosa, stir the batter very well in the mixing bowl and then only take ladle full of batter from it.
Crispiness of dosa depends upon the consistency of the batter. So thinner the batter, crispier the dosa.
Also the batter tends to get thick, so add water as well as salt to the batter for the needful consistency.
The pan or tawa should be hot enough while pouring the batter over it.
Prefer to use non-stick pan to make this rava dosa, so that no oil greasing is needed. But if you are using the cast iron tawa, then before pouring the batter first grease the tawa with oil well.
Always cook this dosa on medium flame instead of high flame.
Onion can be avoided if preferring for no onion and no garlic version.

PIN for later :