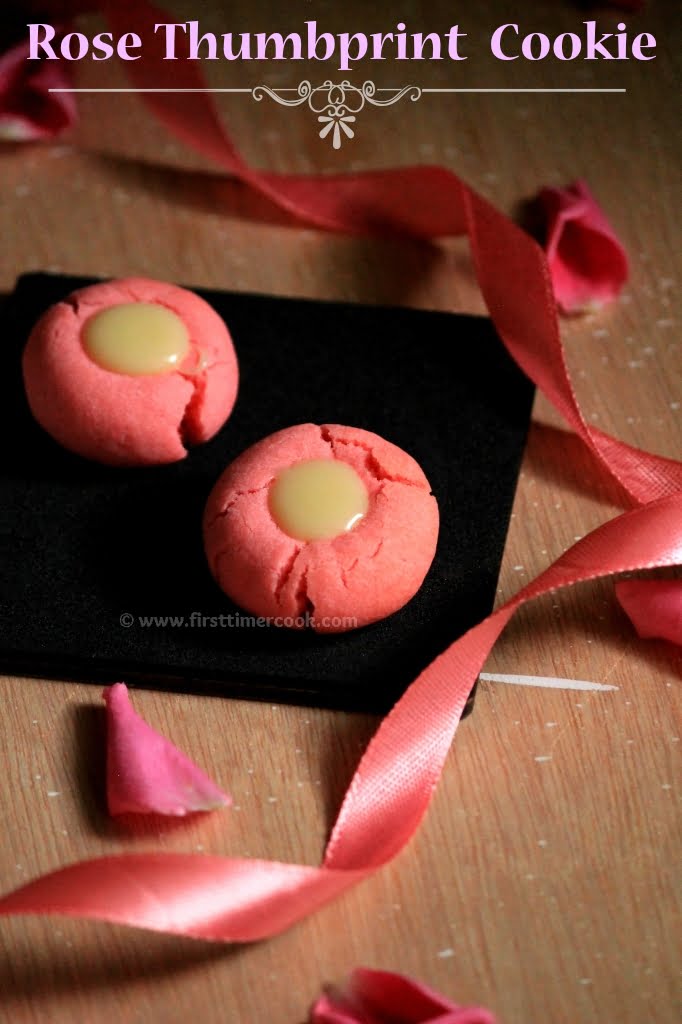 A thumbprint cookie literally means a cookie pressed with the thumb in the center and filled basically with jams or preserves. These cookies are also known as butter balls. Basically the bread like dough is first rolled into balls and then an indentation is created in the center with the thumb. The jam is either filled in the indentation before baking the cookies or after it has been baked. The basic ingredients include sugar, butter, eggs, baking powder, all purpose flour, salt, nuts, jam, vanilla etc.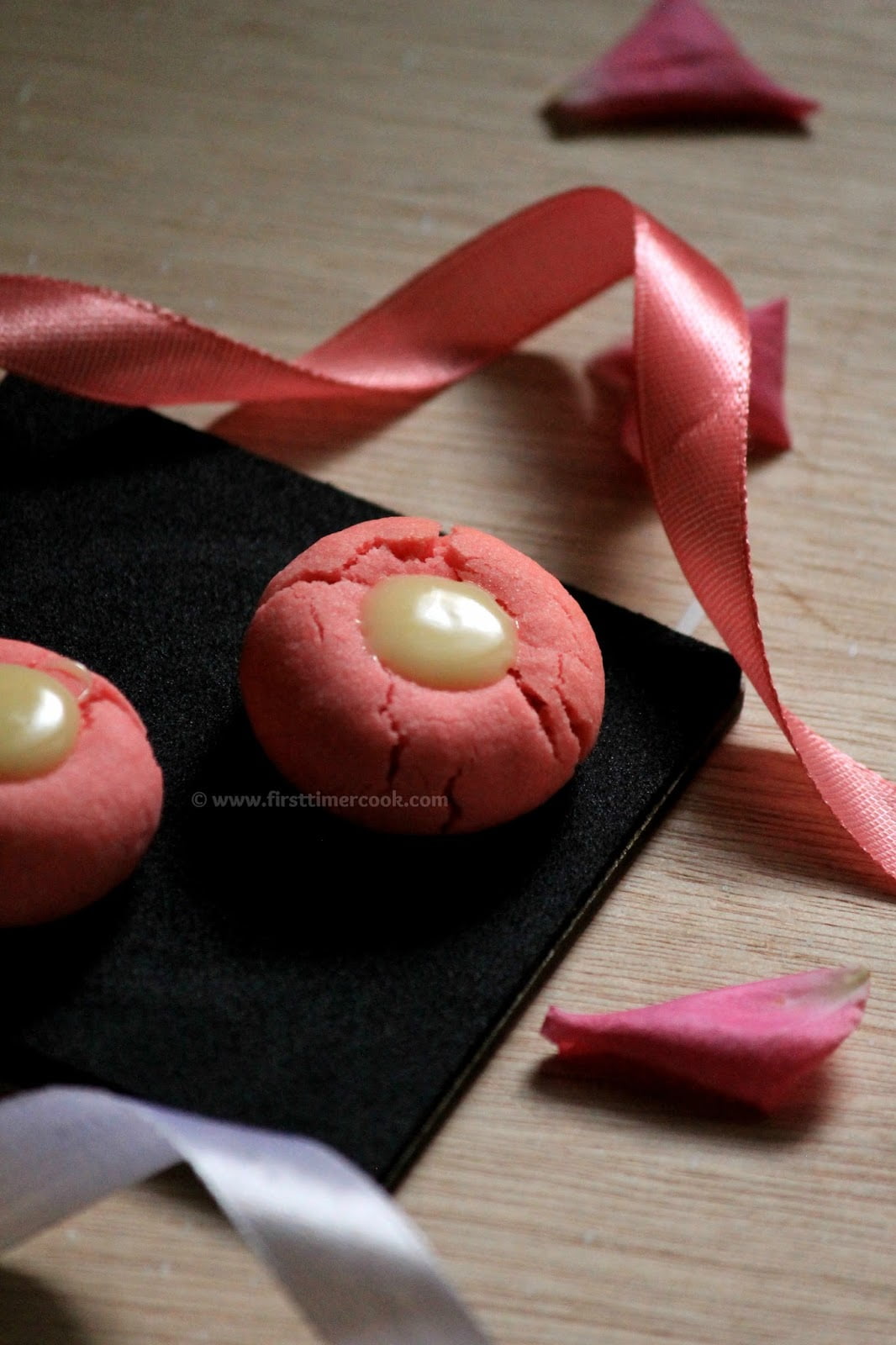 But now-a-days, these thumbprint cookies are coming with many variations. The center filling may include chocolate kiss or toffee or pumpkin butter instead of jam or preserves. It really depends on recipe and personal preference. The preparation method remains the same. Some people mostly prefer to add the filling after baking in order to prevent breakage or leakage. Typically, the cookies do not require additional garnishing. Adding some jam in the indentation (center) makes the cookies look more appealing. These have become extremely popular all over the world and also fit for a perfect snack item.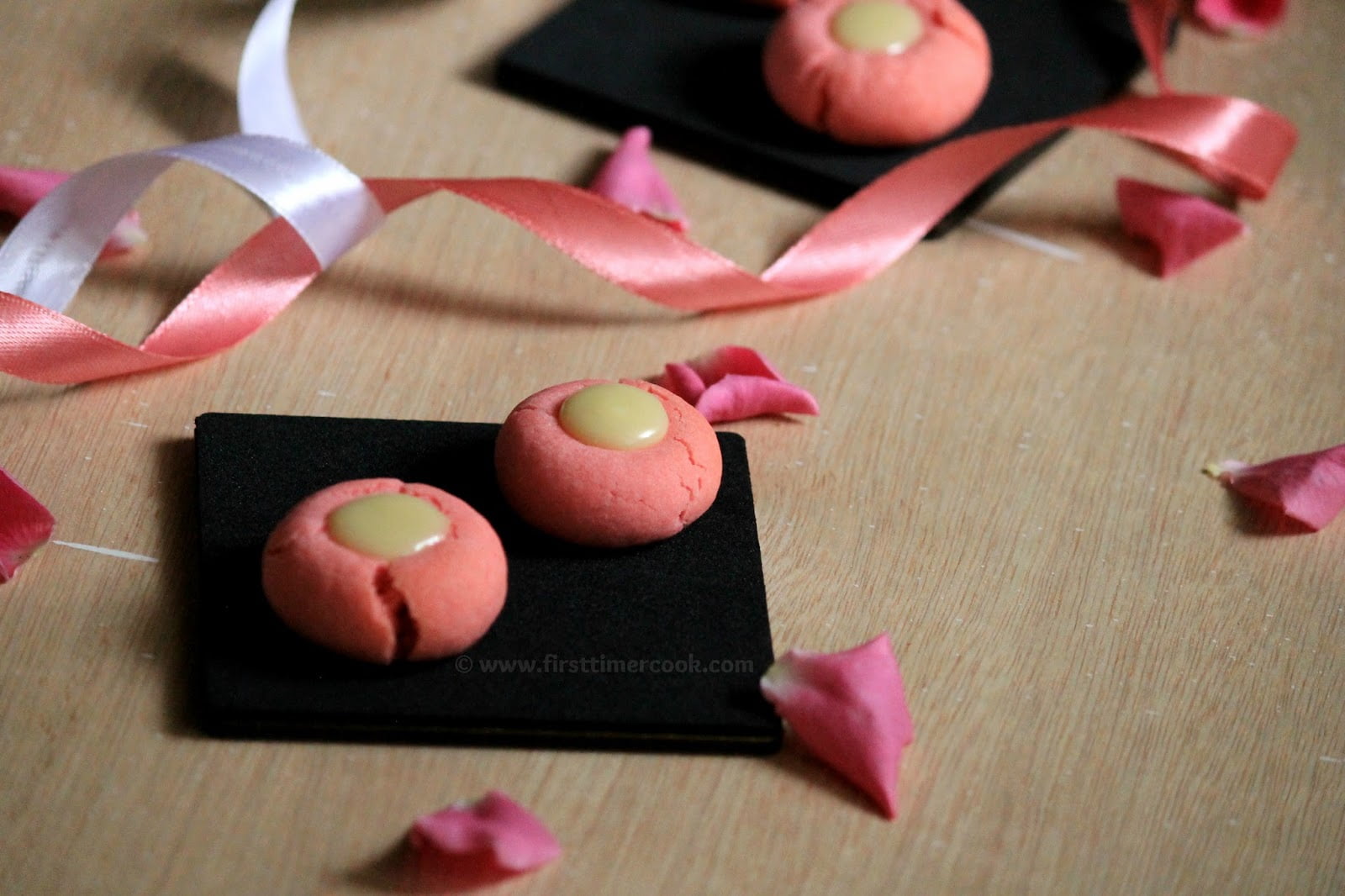 This coming week the world would be gearing up to celebrate the Valentine's day and there are many multiple ways to express the love. Keeping that in mind, I have just prepared some rose flavored thumbprint cookies which are bit pink in color and hence will definitely spread some romantic treat to the eyes and the palate as well. Some of my other collections you might have interest as
Chocolate Dipped Heart Shape Cinnamon Cookies
Strawberry Smoothie (3 Ingredients Smoothie)
Grilled Pineapple Skewers with Chili-Honey Drizzle
Motichoor Whipping Cream Parfait
Rose Buns with Stuffed Mushroom .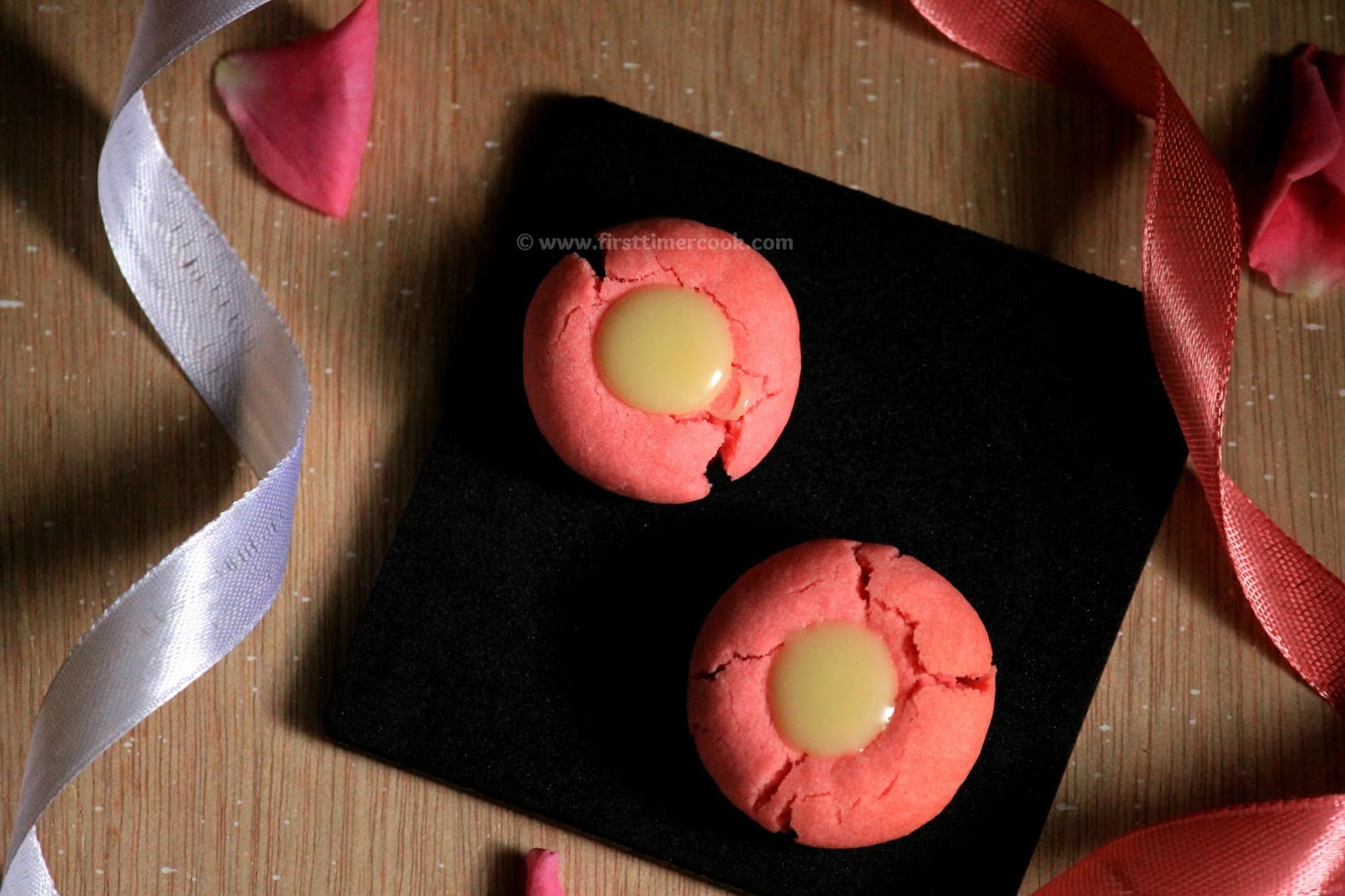 Well, these pink beauties are completely egg-less and made up of whole wheat flour. Also no baking powder and baking soda are used in this cookies. With just few ingredients, one can easily prepare this rose thumbprint cookie during the Valentine's day celebrations. These look perfect and taste even better. So lets go in details.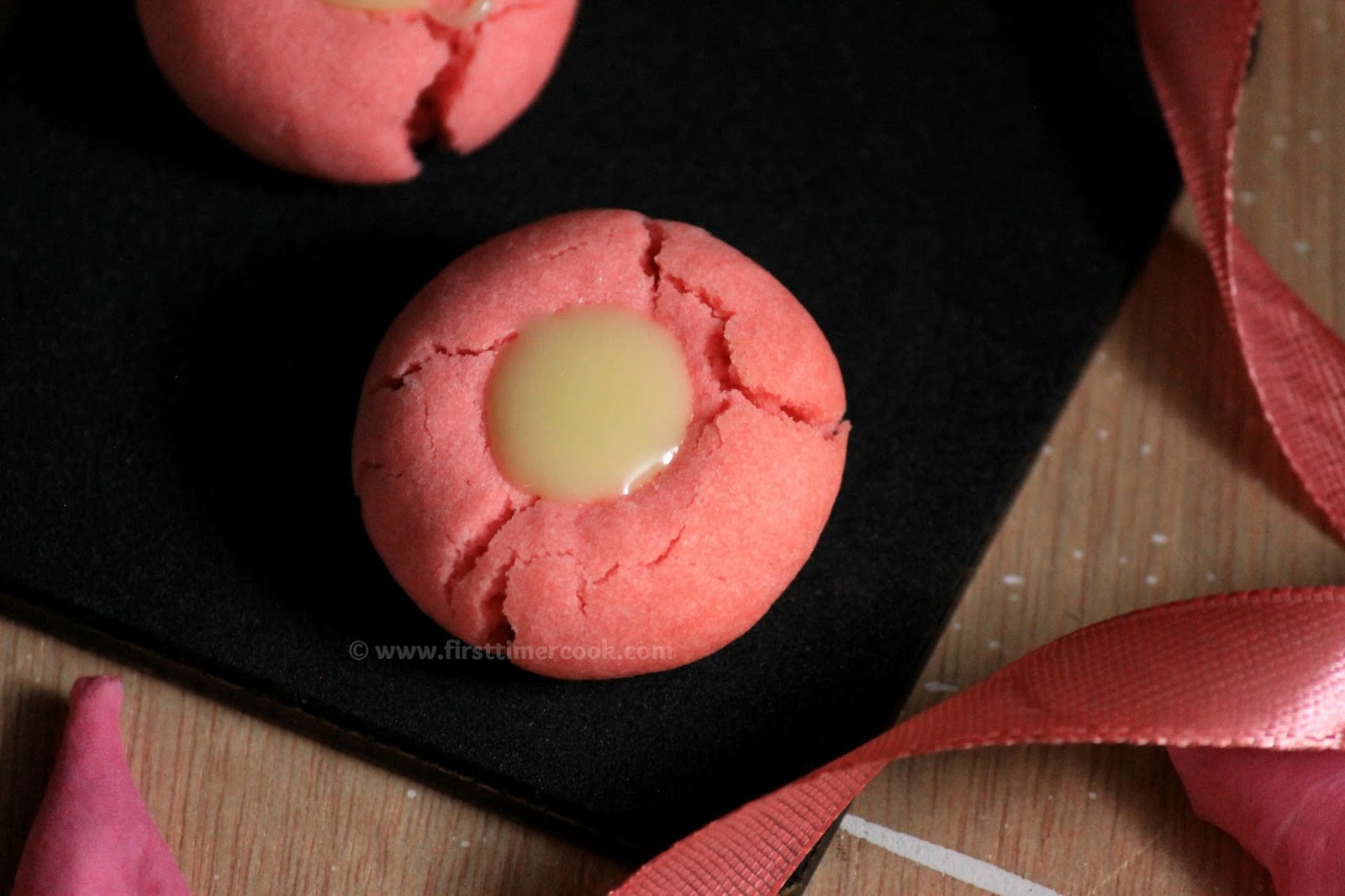 Preparation Time : 10 mins | Cooking Time : 20 mins
Ingredients :
| | |
| --- | --- |
| Ingredients | Measurements |
| Wheat flour | ½ cup + 2 tbsp |
| Powdered sugar | ¼ cup |
| Butter | ¼ cup |
| Rose essence | 1 tsp |
| Pink food color | Few drops |
| White chocolate | ¼ cup |
Method :
Preheat the oven at 180 deg C.
Shift wheat flour in a bowl and keep aside.
In another mixing bowl, take butter (at room temperature) and powdered sugar.
Whisk until creamy and fluffy using hand / electric whisk.
Next add rose essence, few pink food color and whisk again until everything incorporate well.
Now add the shifted wheat flour to the fluffy mixture and mix well to get a dough.
Take 1 tbsp of the dough and shape in to a ball.
Similarly, make balls from rest of the dough.
Place all the dough balls 1-inch apart from each other on a baking tray lined with baking sheet and bake them for 8 minutes.
After 8 minutes, take out the baking tray from the oven.
Press the center of each cookie using the back of any small spoon or a melon baller.
Bake for another 8-9 minutes.
Meanwhile, melt the white chocolate using a double boiler and keep aside.
After 8-9 minutes, take out the baking tray from the oven and allow to cool down completely.
Then fill the indentation of each cookie with melted white chocolate and allow the filling to set until firm.
Store in an air-tight container !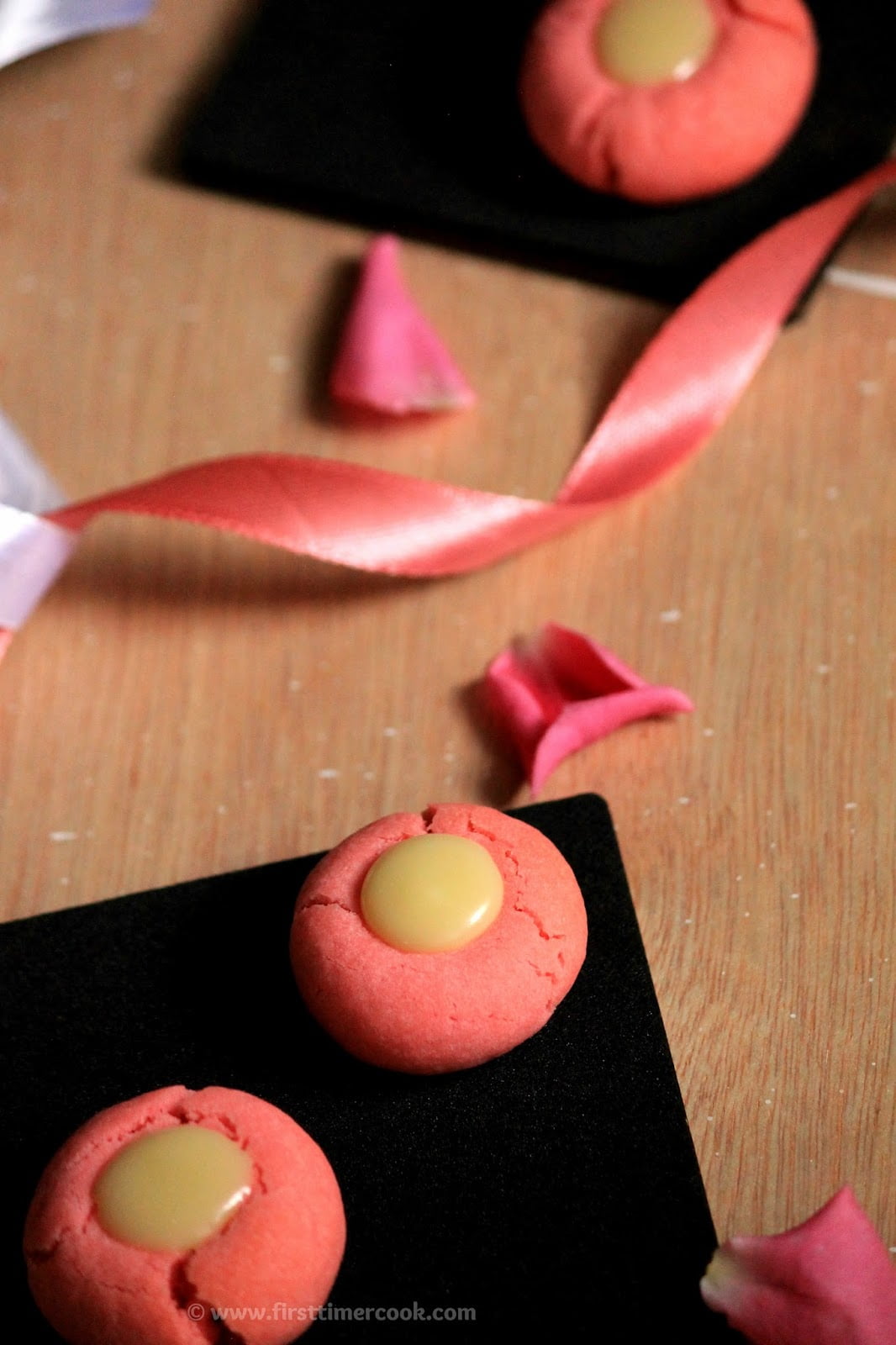 Notes :
The dough has to be non-sticky texture. If the dough becomes crumbly, then add 1-2 tbsp milk. If the dough becomes sticky, then add 1-2 tbsp flour.
Butter should be at room temperature. Also if not using salted butter, then add 1 pinch of salt along with flour while making dough.

PIN for later :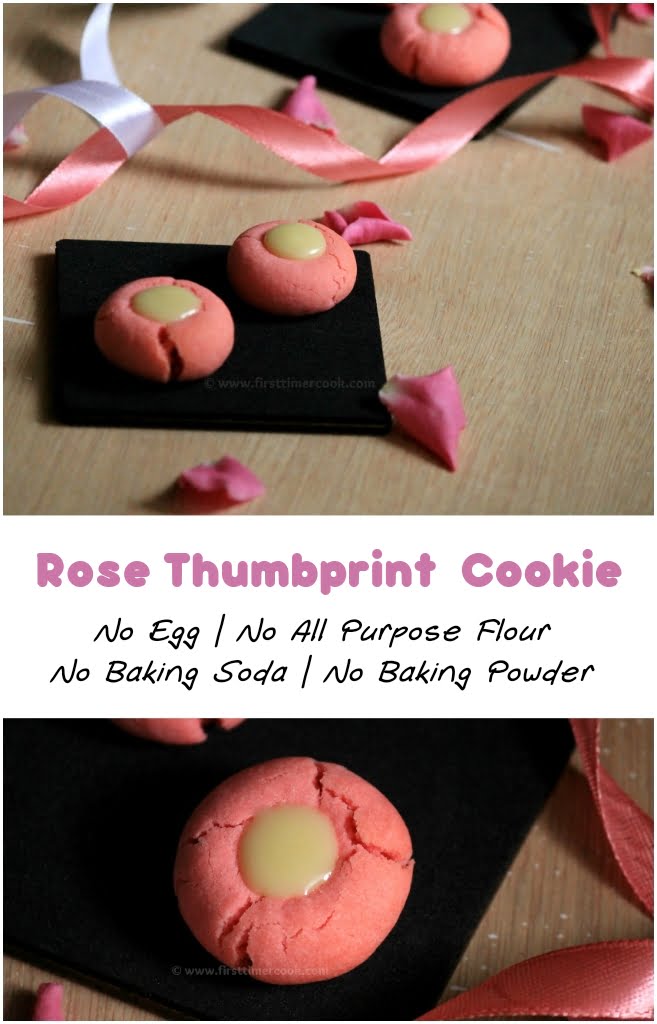 This 'Eggless Rose Thumbprint Cookies' is contributed for 42 Healthy Wellthy Cuisines where the theme is 'Pyaar Ka Tyohar'. Here are more similar recipes shared by our Healthy Wealthy Group members as skillet brownie sundae , gulabJamun muffins, eggless persian love cake, chocolate walnut fudge, nutty cuppies, custard pie pudding , eggless strawberry mousse.
Sharing this recipe to CookBlogShare and also to Fiesta Friday this week co hosted by Laurena and Jhuls.