a healthy, delicious & refreshing salad using boiled black-eyed peas (lobia) and some vegetables.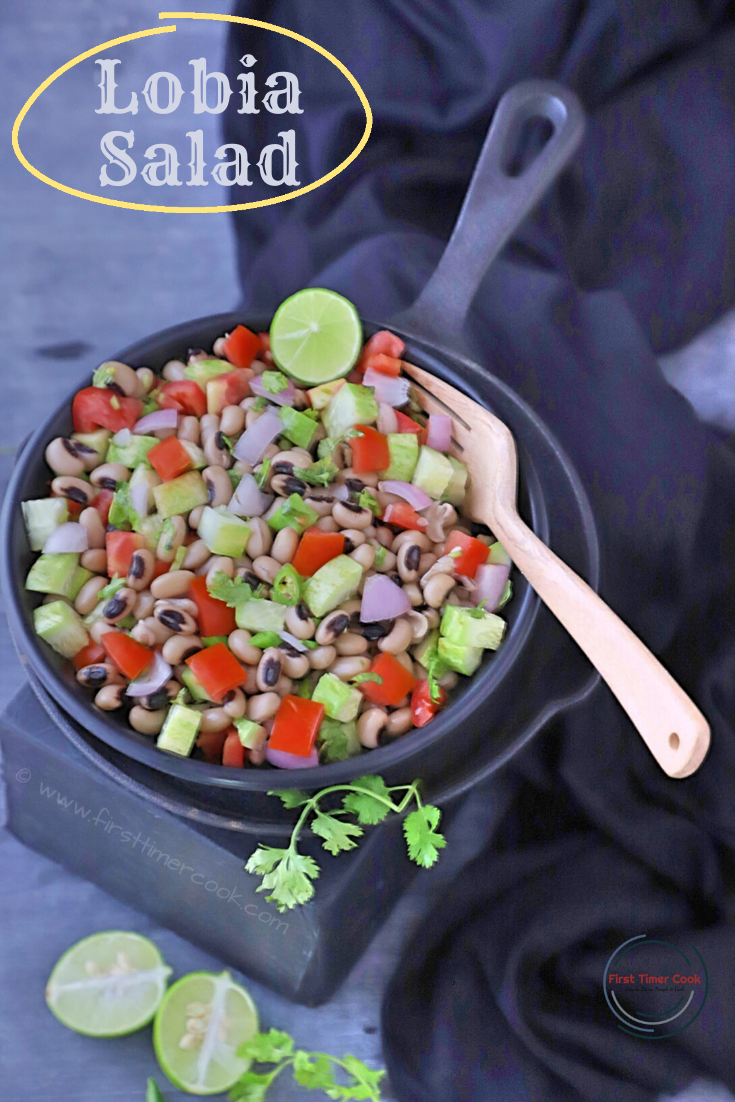 Black-Eyed Peas !!!
The black-eyed pea is also called black-eyed bean or cow-pea or lobia (in hindi). It gets its name from the appearance as it is cream in color with a little black spot at the center curve area which overall resembles an eye. Black-eyed peas are actually not peas at all although the word PEA is there in its name, but rather a variety of bean related to the cow-pea and categorized as legumes, having both edible seeds and pods. These beans have a nutty, earthy and buttery flavors.
Did you know ?
Southern states of the U.S.A tradition holds that the first food to be eaten on New Year's Day should be black-eyed peas for luck and prosperity, specifically one pea for each day of the year. So if someone is planning to celebrate the New Year in that part of the world, it is most likely that he / she will be offered black-eyed peas in some form, either just after midnight or on New Year's Day.
Nutritional Value of these beans :
The black-eyed peas are low in fat, contain no cholesterol and are low in sodium. These are high in potassium, iron and fiber too. Also it
Helps to reduce cholesterol
An excellent substitute for animal meat protein
Helps in maintaining water balance
Controls blood pressure
Manage to loss weight etc.
Culinary usage of Black-Eyed beans :
Black eyed beans need to be soaked for a period of 3-4 hours before they can be cooked. Although soaking is not mandatory for these beans, still it quickens overall cooking time as well as removes anti-nutritional compounds and enriches flavor. So without soaking, in pressure cooker it takes around 15-20 minutes and with soaking it takes simply around 8-10 minutes. One thing has to keep in mind that these beans get cooked quickly, so do not overcook the beans. Else there will be a complete mushy texture. Black-eyed peas can be used simply in soups, salads, cooked as snacks like patties, Indian sabji (side dish). Raw and sprouted black-eyed beans are much common. Today I have come up with a super simple salad recipe using these beans as Black-Eyed Beans Salad / Black-Eyed Peas Salad / Lobia Salad.
Ingredients needed for this salad :
Black eyed pea – This is the star ingredient here in the salad. Some slightly boiled black-eyed peas aka lobia are used.
Vegetable – I have picked some cube shaped cucumbers, onions, tomatoes here. One can choose as per choice like corn, shredded cabbage, green peas, carrots, spinach etc.
Green chili – Few finely chopped green chilies are added to get some spiciness in the salad. For serving to kids, this can be completely omitted.
Coriander leaf – I have added only coriander leaves here. Few mint leaves also can add a nice flavor to the salad here.
Lemon juice – It adds a slight tangy-ness to the salad.
Salt – Add to adjust the taste of the salad overall.
Preparation method of this salad :
Preparation method here is super simple. In a mixing bowl, all the ingredients are tossed first using a spoon. And then the chopped coriander leaves are sprinkled and served immediately !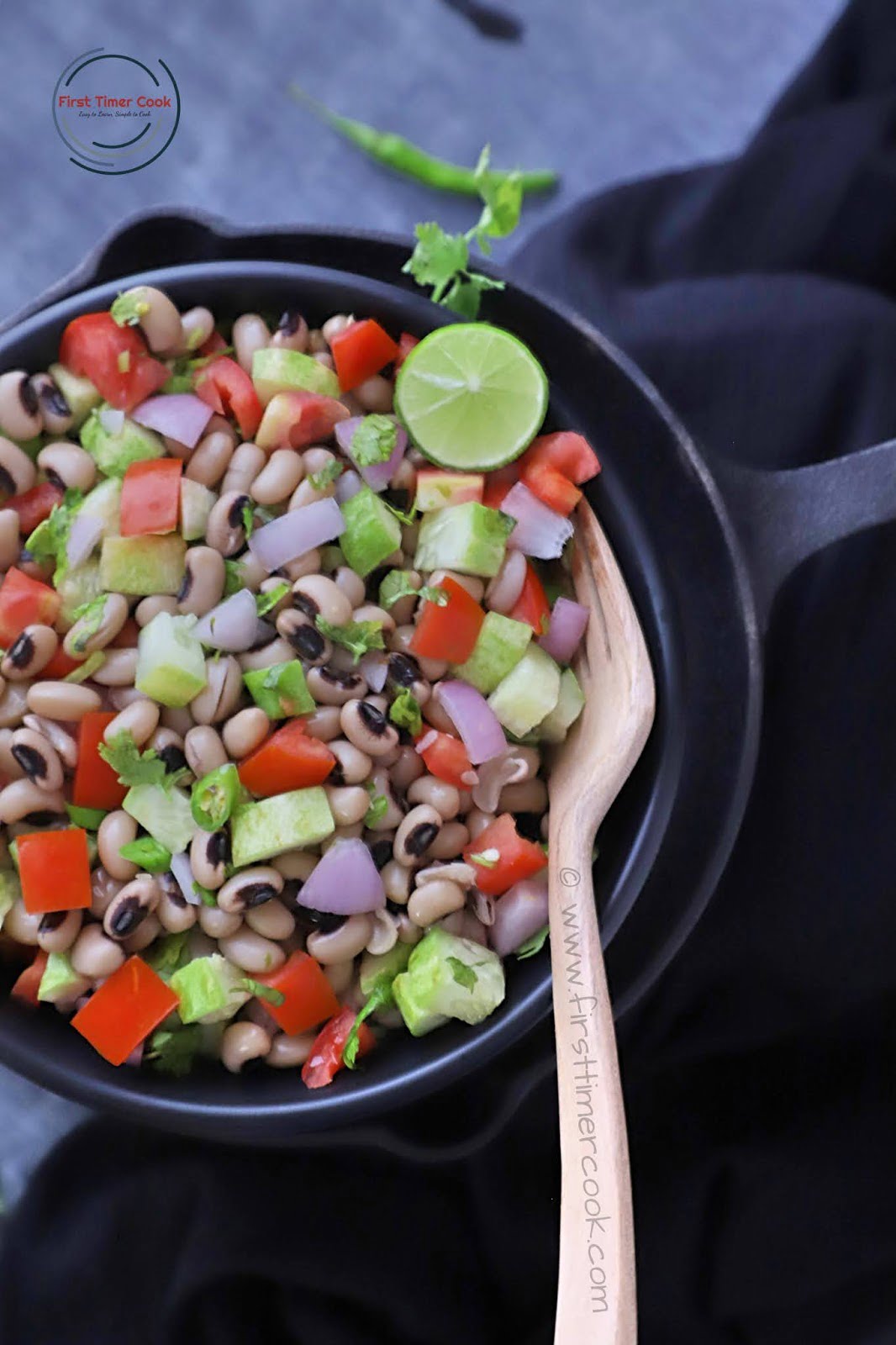 Dietary Notes :

✔ Completely VEGAN & GLUTEN FREE
✔ Super simple and quick
✔ Loaded with high protein
✔ Best to have when freshly made
Serving suggestion :
With all the ingredients added, the salad looks more appealing and healthier. This is a proteinicious refreshing salad. For a perfect mid-day meal or evening snack this salad fits well. Also in breakfast menu this stays as a good healthy and nutritious option. One can make this salad using some sprouted black-eyed peas too. Hardly within 10 minutes the dish is ready to serve. Even when there is a hurry, still want to prepare a dish which fills the tummy for a long time, do make this salad using Black-Eyed Peas aka Lobia.
HOPE YOU WILL LIKE THIS SALAD 😊! WHY NOT TRY some more salad RECIPES 👇 AS WELL :
Event related to this post :
Well, the june month challenge in 'Shhhhh Cooking Secretly Challenge' group was 'Summer Salad '. The theme was suggested by kalyani, she has a varieties of salad recipe at her space, I like her recent addition Warm Barley Summer Salad with Kiwi and Roasted Peppers. For the current theme, my partner was Sujitha (blogs at sujitha easy cooking) who gave me 2 secret ingredients as Lemon & Onion and I gave her as Milk & Sugar. And as usual, using mine two ingredients I had to prepare a summer salad. So here is the Vegan Black-Eyed Bean Salad / Lobia Salad for theme contribution.
: Recipe Card :

Vegan Black-Eyed Bean Salad | Lobia Salad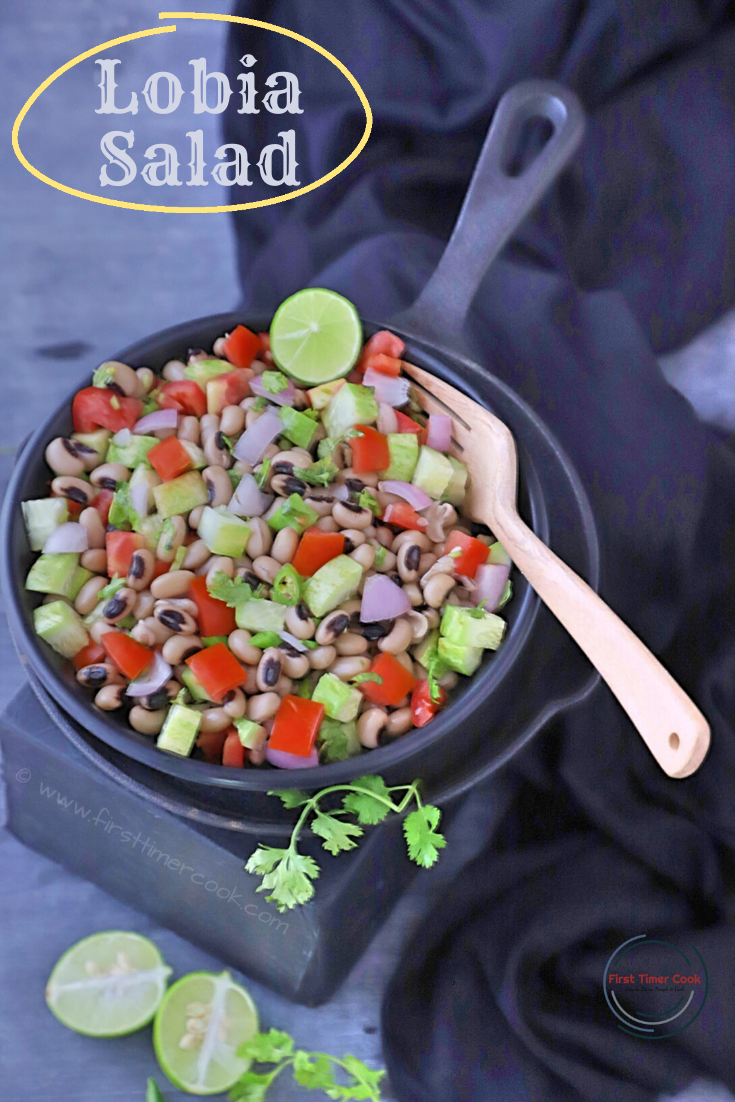 Yield: 2
Prep time: 10 MCook time: 10 MTotal time: 20 M
A healthy, delicious and refreshing salad using boiled black-eyed peas (lobia) and some vegetables.
Ingredients:
Black-eyed bean (boiled) 2 cup
Cucumber (cubed) 1/2 cup
Onion (cubed) 1/2 cup
Tomato (cubed) 1/2 cup
Green chili (finely chopped) 1-2 no.
Coriander leaves (finely chopped) 2-3 tbsp
Lemon juice 1/2 tbsp
Salt as needed
Instructions:
In a mixing bowl add all the ingredients except chopped coriander leaves.
Using a spoon, gently toss everything.
Finally sprinkle chopped coriander leaves, toss again and serve !
Notes:
Add the veggies as per choice like corn, cabbage, carrot, spinach etc.
For serving to kids, simply omit green chili.
https://firsttimercook.com/2020/07/vegan-black-eyed-bean-salad-lobia-salad.html
Vegetarian, Healthy salad, Black-eyed beans, lobia salad, onion, tomato, cucumber, lemon, coriander leaves, Easy and quick
Salad, Black-eyed peas, Lobia, Vegan, Gluten free
International
Did you make this recipe?
Tag @firsttimercook on instagram and hashtag it #firsttimercook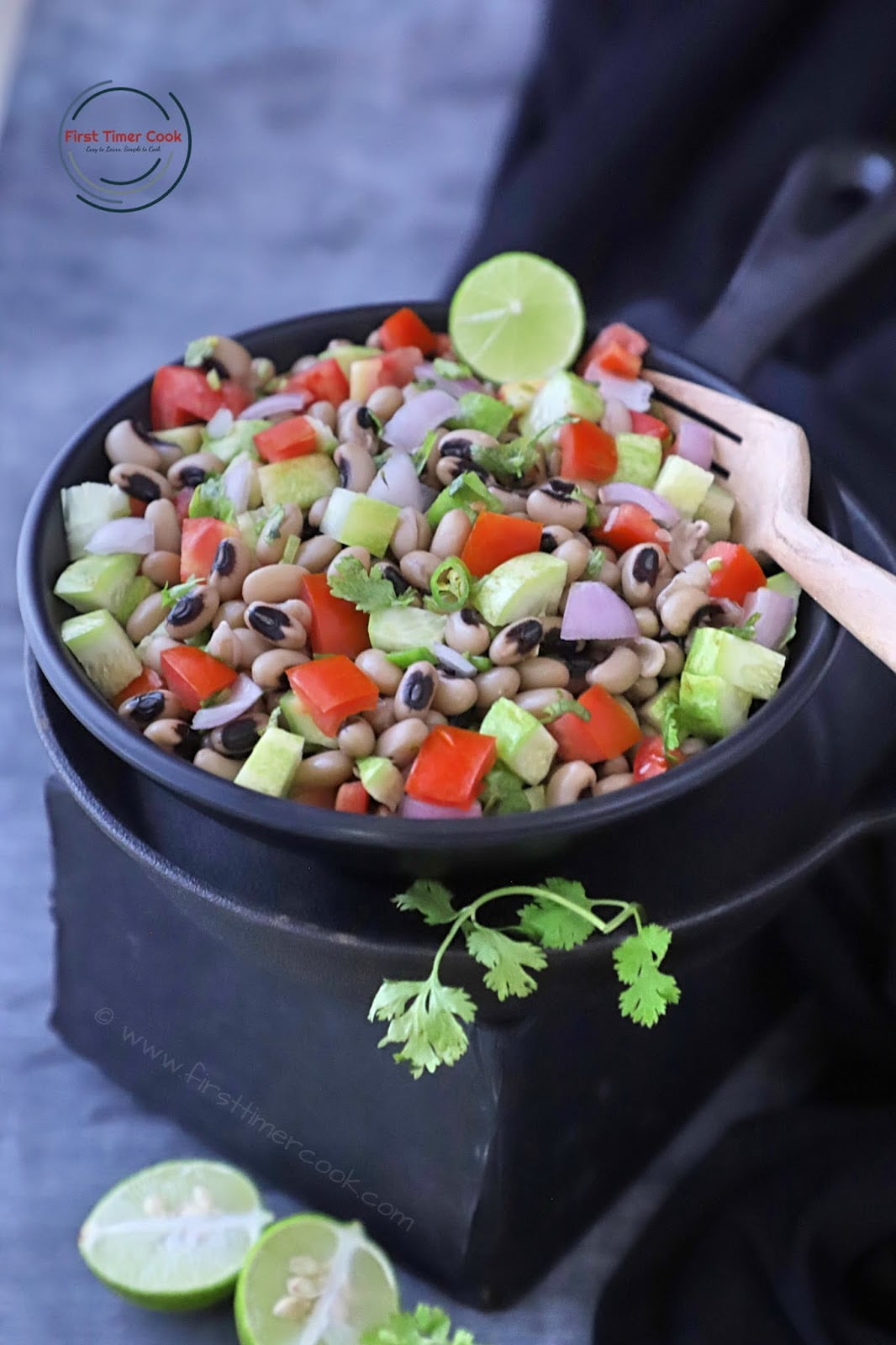 You may also follow me on Facebook, Pinterest, Twitter, Google+, Instagram and can subscribe for free to get new recipes directly into your inbox 😊
PIN for later :