a spicy, tangy tomato based South Indian curry without any coconut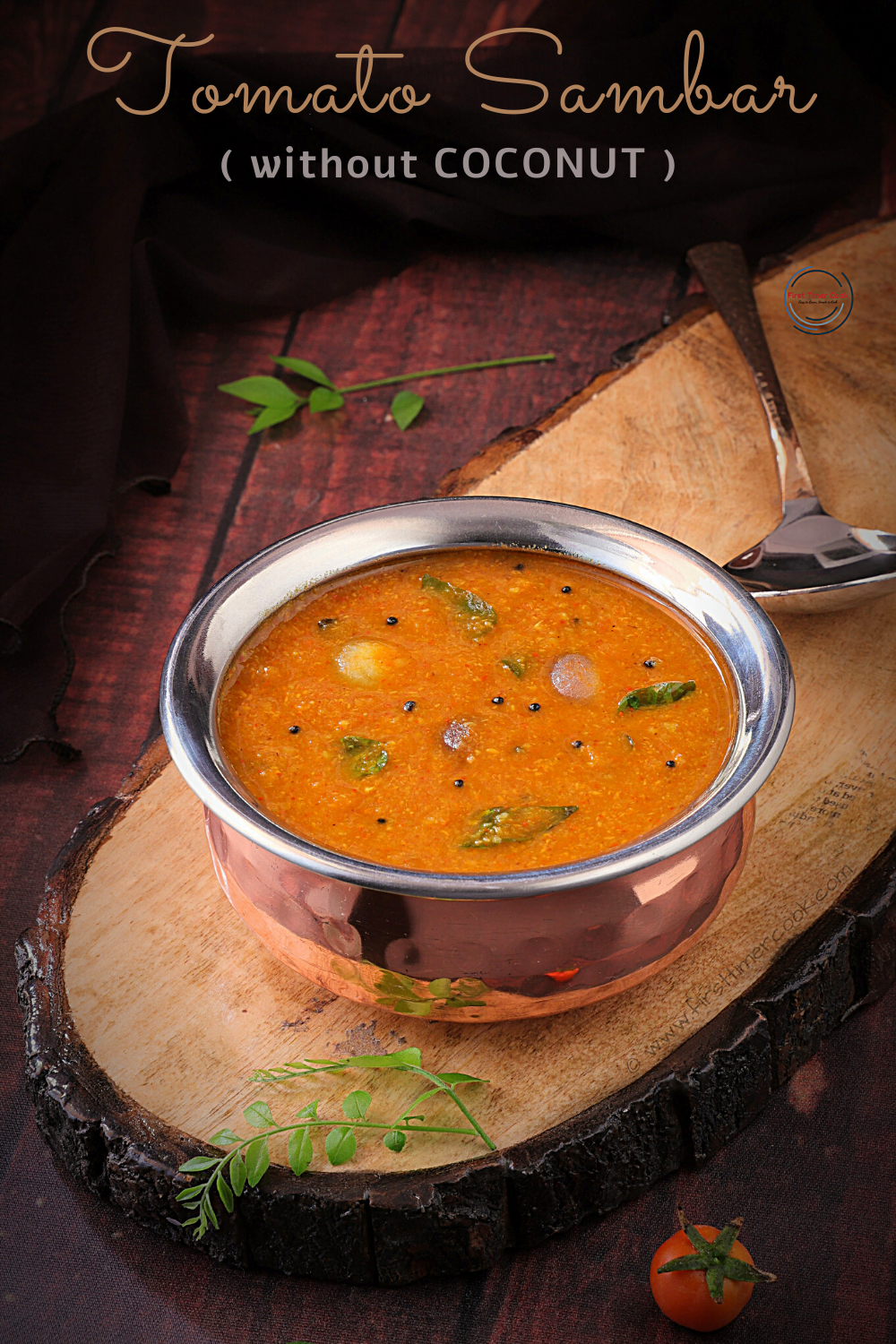 What is Sambar ?
Sambar is a liquid gravy of sour and spicy flavors made up of a combination of pulses, vegetables, and spices.
Well, South Indian cuisine is one of the most famous cuisines in India. Irrespective of regional taste preferences, people indulge in sumptuous South Indian meals once in a while. And from this South Indian cuisine, sambar is the must dish which is consumed on the daily basis in South India. Without Sambar none of the dishes is complete in the South Indian diet. Its long-lasting taste and awesome aroma are something which one cannot forget.
One must try this fairly thick spicy extract of toor dhal soured with tamarind, frequently containing soft vegetables like brinjal, drumstick, and lady's finger. This sambar is the quintessential accompaniment to idli, dosa, vada, or even steamed rice. It is the most common dish and provides various health-promoting benefits. It is a complete dish and you do not need to make separate vegetable dishes.
This is not only easy to prepare but also a nutritious dish that ensures one gets to enjoy a variety of flavors in a single mouthful. There are a lot of variations these days to make sambar. So here I have come up withTomato Sambar!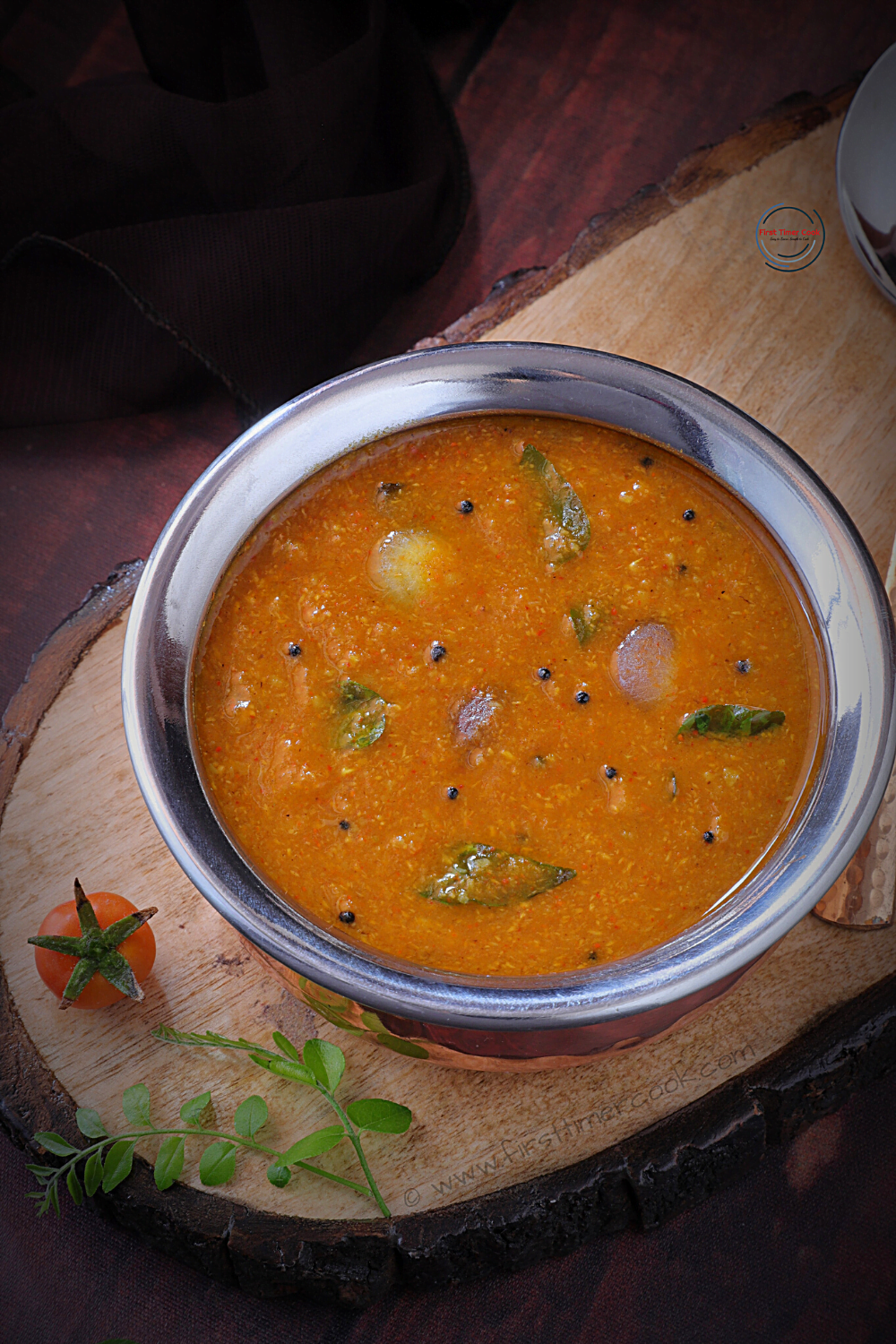 Tomato Sambar (Thakkali Sambar) !
When one has no vegetables at home and just tomatoes, then this recipe is just perfect to make quickly which also goes very well with idli and dosa, or even steamed rice. Although tomato is added to other varieties of sambar, here in this sambar, tomato is the star ingredient.
Some like to make tomato sambar without dal, some with dal (arhar dal / toor dal/split pigeon pea). If there is no use of dal, then coconut is used as a paste to thicken a bit. But here I have used dal, so skipped the coconut.
Usually, tamarind is added to give the sour taste in the sambar. Whereas in tomato sambar, that addition is optional. Only add if the tomato used is not sour and also if you need more sourness in the sambar.
Making procedure of this sambar –
First, the dal is pressure-cooked and mashed to a smooth consistency. Meanwhile, a paste is prepared of tomatoes, roughly chopped pearl onions, and green chilies. Next, few pearl onions are sauteed in a pan until tender. Into that, the tomato paste is added along with turmeric powder, coriander powder, sambar powder, salt, and everything is sauteed till oil starts to separate.
After that the mashed dal and tamarind are added, also water is poured as per the consistency of the sambar desired. Now the whole thing is allowed to boil and then simmer for 5 minutes.
By that time, a tempering is prepared of mustard seeds, fenugreek seeds, curry leaves. This tempering is then poured over the sambar. Immediately the pan is covered with the lid for 4-5 minutes so that the aroma and flavors from the tempering mixture get infused with the sambar. Finally, the tomato sambar is ready to serve!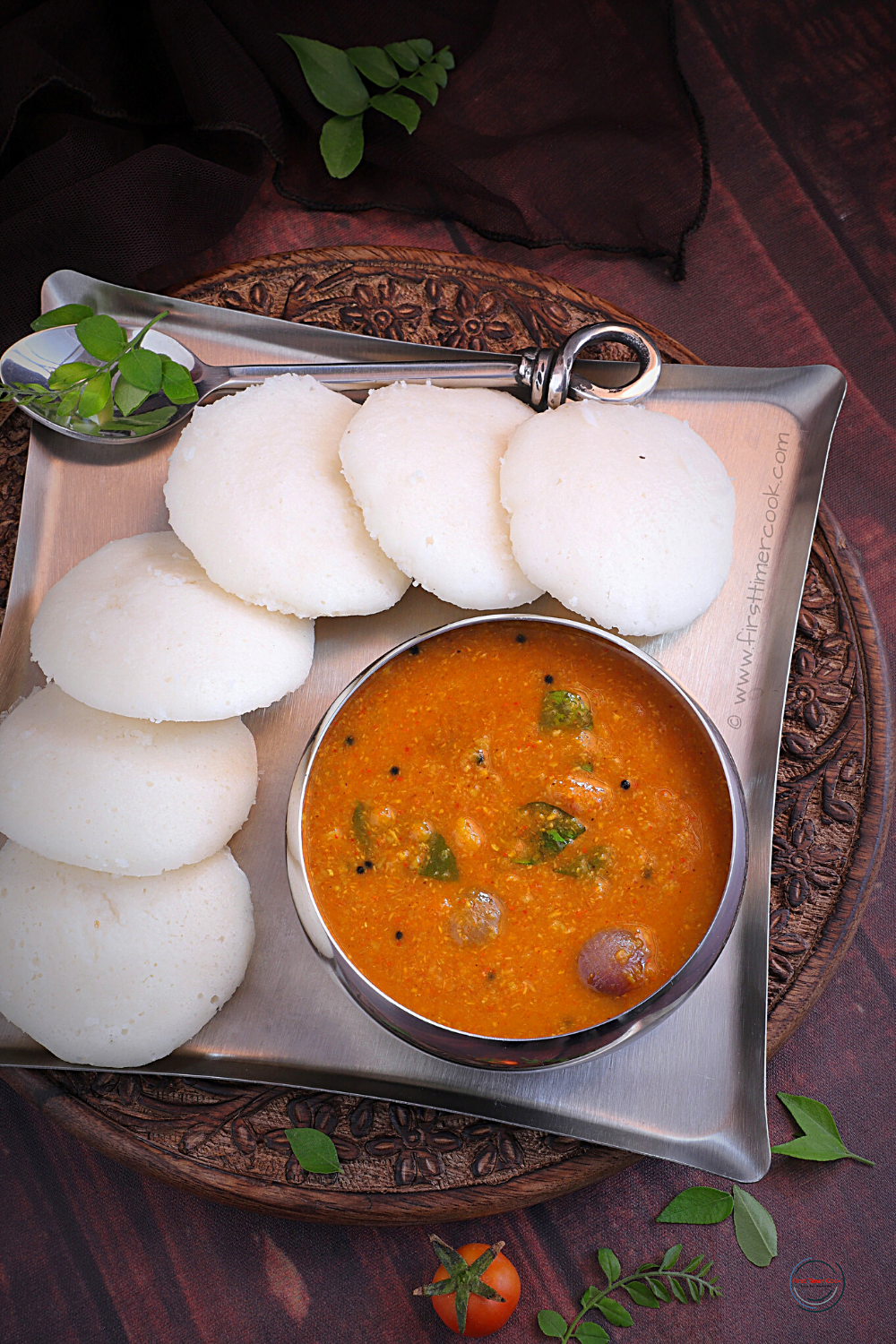 Serving suggestion –
This easy and quickly prepared sambar using tomato tastes slightly tangy and spicy. This goes perfect for breakfast with idli, dosa, and even with Pongal and upma. One can also opt for lunch boxes with steamed rice.
This sambar comes in handy when one wants to make a sambar and there are no varieties of veggies at home. Sounds great, isn't it?
Dietary note :
✔ Vegan
✔ South Indian cuisine
✔ Easy to make
✔ Vegetarian side dish
✔ Glutenfree
The event-related to this post :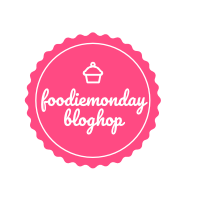 Monday is here again and the Foodie Monday Blog Hop team has decided on the 293rd theme as 'Tiffin Side Dish' and is suggested by Priya, who blogs at 'The Photowali'. One must check this lovely blog with traditional and authentic South Indian recipes and a lot more. I love her Tomato Gravy which is perfect to serve as a tiffin side dish. Well, as she suggested to make any chutney or sambar or anything which opt for a side dish of Idli, Dosa, etc, so I have come up with this Tomato Sambar (without coconut).
And, yes !!!
If you like the recipe shared here and give it a try at your place then do share in INSTAGRAM by tagging #firsttimercook. I would be so happy to see and surely share in my INSTA stories 😊😊
Now let's go through how to make this "Tomato Sambar (without coconut)" at home 👇
: Recipe Card
:

sambar, tomato, pearl onion, tamarind, vegetarian,
side dish, vegan, gluten-free,
South Indian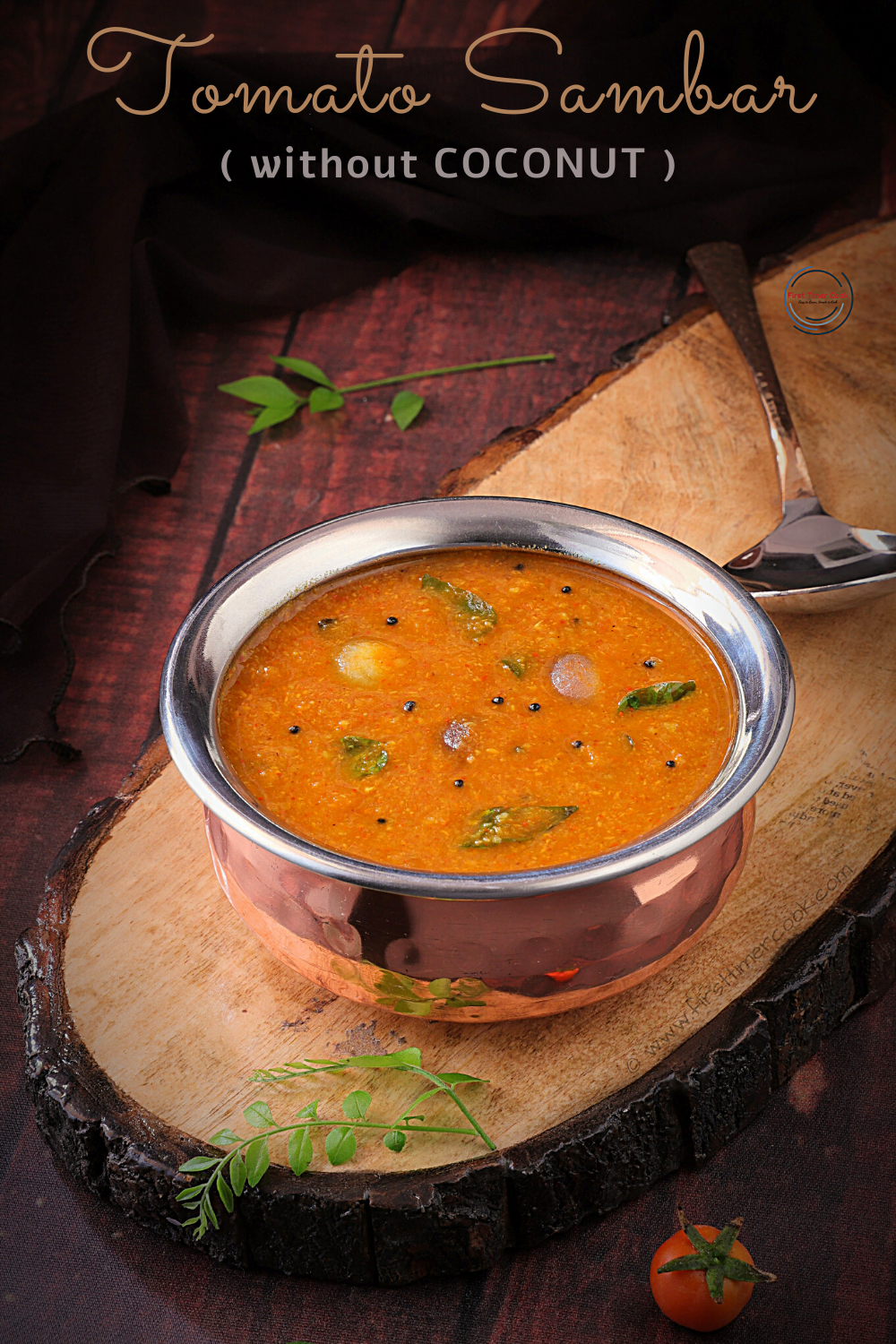 Tomato Sambar (without coconut)
a spicy, tangy South Indian sambar without any coconut
Prep time: 15 MinCook time: 30 MinTotal time: 45 Min
Ingredients
Toor dal 2/3 cup
Tomato (big) 2 no.
Pearl onion 1/2 cup + 4-5 no.
Green chili 3-4 no.
Turmeric powder 1/2 tsp
Sambar powder 2 tbsp
Coriander powder (optional) 1/2 tsp
Mustard seed 1 tsp
Fenugreek seed 1/4 tsp
Tamarind 1 tbsp
Curry leaf 1 sprig
Oil 1.5 tsp
Water as needed
Salt as needed
Instructions
Wash all the toor dal under regular water and transfer to a pressure cooker along with 1 cup of water.
Pressure cook the dal and keep aside the pressure cooker till the pressure releases naturally.
Meanwhile make a paste of tomatoes, 1/2 cup roughly chopped pearl onions, and green chilies. Keep aside.
Next with the help of a potato masher, mash the cooked dal to get a smooth consistency and keep aside.
Now heat 1/2 tsp oil in a kadhai/wok.
Add 4-5 no. pearl onions and saute until tender.
Add the tomato paste, turmeric powder, coriander powder, sambar powder, salt, and mix well.
Saute till oil starts to separate.
Next, add the mashed dal along with tamarind and give a nice stir.
Adjust the consistency by adding less or more water.
Bring to a boil and once it comes to a boil, simmer for 5 minutes.
By that time, heat 1 tsp oil in a tadka pan.
Add mustard seeds, fenugreek seeds and allow to splutter.
Add curry leaves and turn off the heat.
Pour this tempering over the sambar pan.
Cover the pan with the lid for 4-5 minutes, so that the aroma and flavors from the tempering mixture get infused with the sambar.
Serve this tomato sambar hot with idli, dosa, vada, or even with steamed rice!
Notes:
Few chopped coriander leaves can be added at the end. I have not added as I am run out of coriander leaves.
I have kept this sambar simple without adding extra vegetables.
Adjust the sour factor as desired. If the tomatoes are sour, then add very little tamarind or even skip.
We like the onion chunks, so used few pearl onions. If that is not available, then use onion in cube shapes.
https://firsttimercook.com/2021/04/tomato-sambar-without-coconut.html
Did you make this recipe?
Tag @firsttimercook on Instagram and hashtag it #firsttimercook
You may also follow me on Facebook, Pinterest, Twitter, Google+, Instagram and can subscribe for free to get new recipes directly into your inbox 😊
PIN for later :