the humble desi food, dahi chuda in an exotic look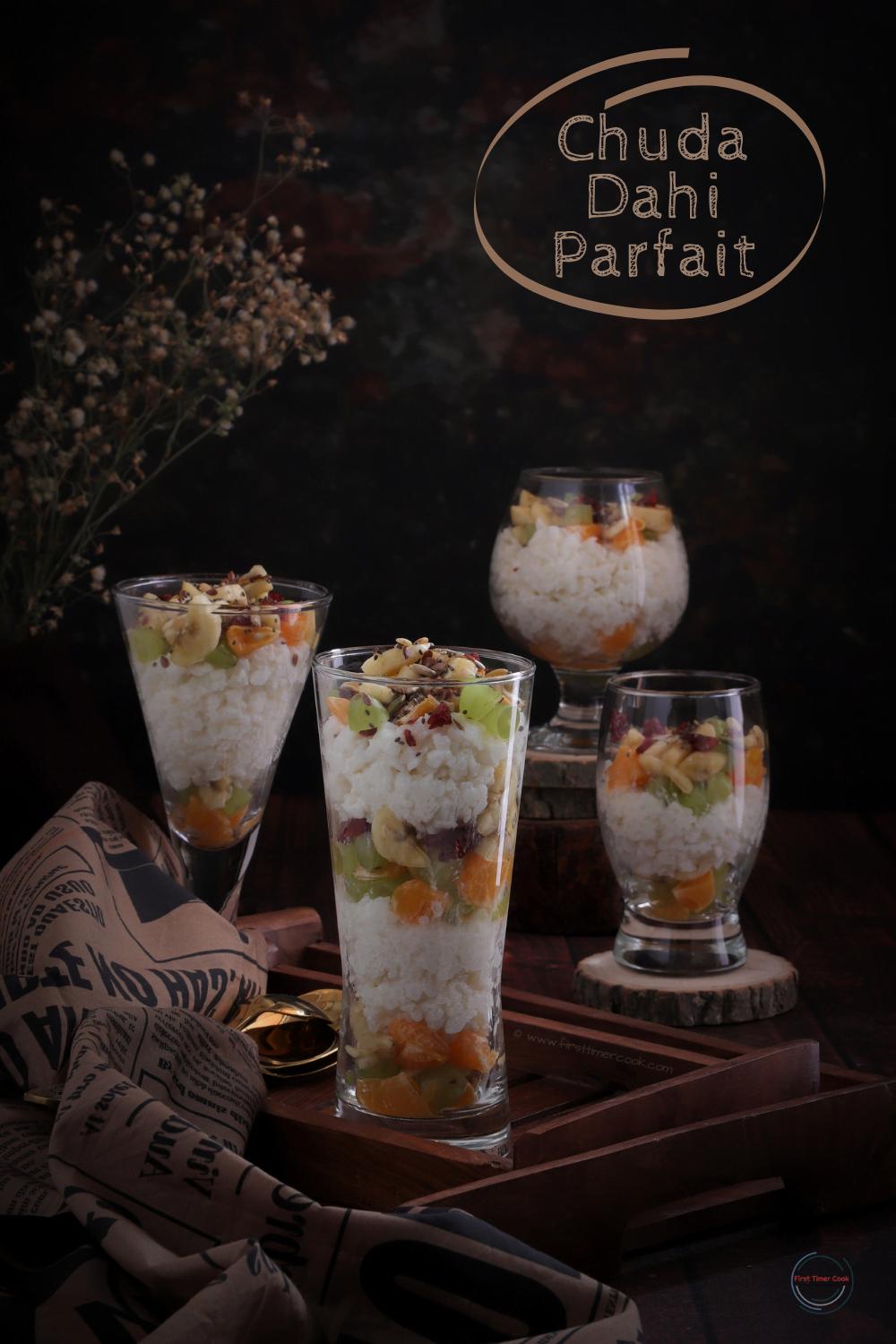 Poha !
Poha is a wholesome meal. Chuda / Poha is the flattened rice flakes that are made after parboiling the paddy grains of the fresh crop and then pounding them to make flakes. The flakes are then dried before packaging. It is a good source of carbohydrates, packed with iron, rich in fiber, a good source of antioxidants and essential vitamins, and is gluten-free. In Odisha, Bihar, Jharkhand, and Uttar Pradesh, this gluten-free dish is consumed as a filling breakfast. Poha (flattened rice) is called Chuda (in Odisha), Chura (in Bihar), Chivda (in other parts of North India), etc. As this flattened rice is rich in fiber content, so it smoothens the digestion process and also keeps the gut healthy.
Those on a diet can still enjoy a delicious breakfast without losing out on the benefits. For its high nutrient value, poha is recommended as one of the healthiest Indian breakfasts. The fact that poha can also be cooked in different ways means that it can be both tasty and healthy. Poha can be eaten as a snack too but it essentially is a good breakfast option despite oats, quinoa, and other whole grains flooding the Indian market and being promoted as 'healthy and nutritious' 😉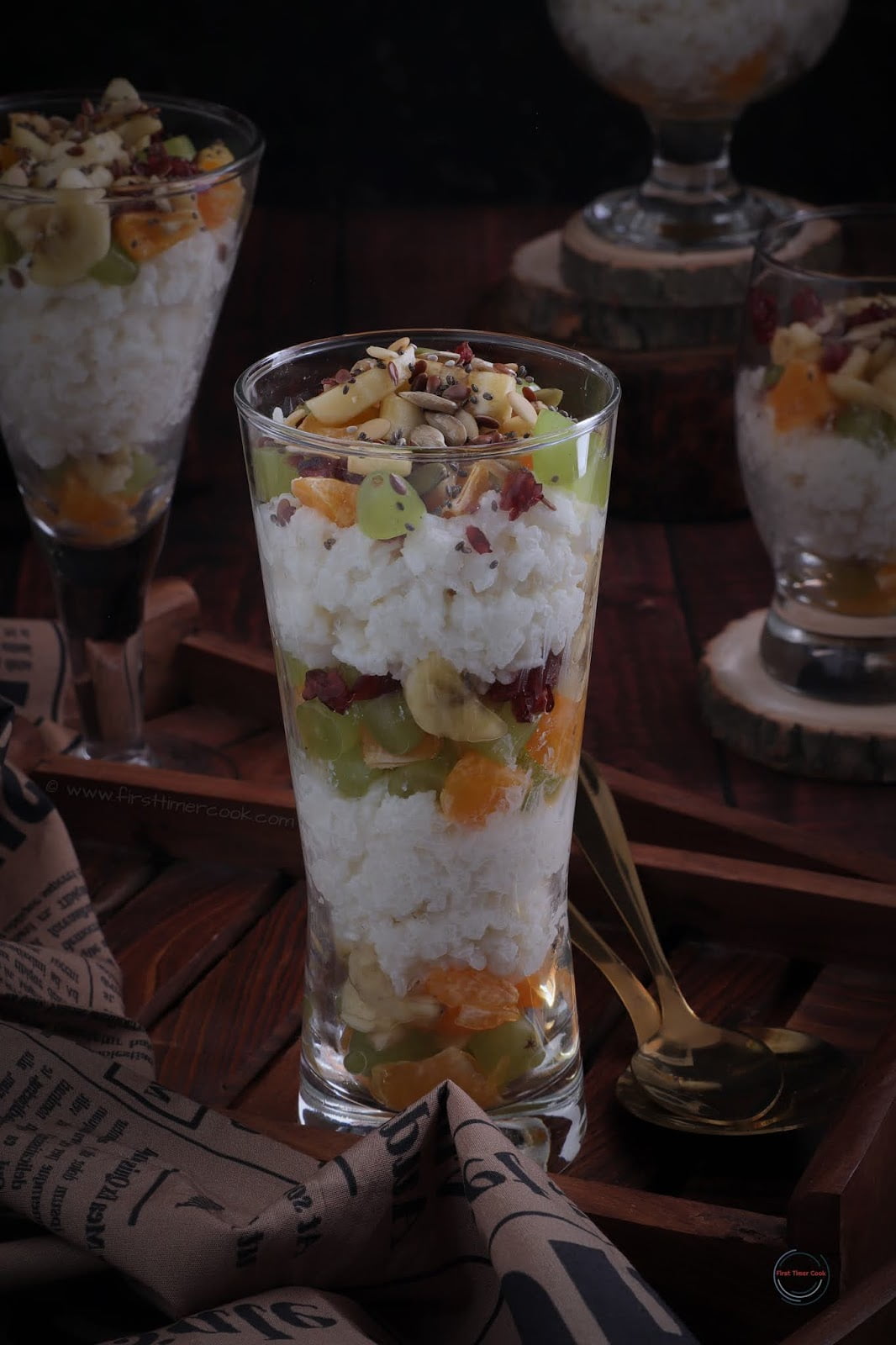 What is Chuda Dahi ?
Chuda Dahi or Chura Dahi or Fattened Rice Yogurt Mixture is prepared simply by mixing chuda with some yogurt and sweetened with sugar/jaggery. Yes, this recipe is prepared instantly and one can make it either sweet or savory (add some tempering). Some also love to make it richer by adding nuts, varieties of fruits so that it becomes a popular choice in a little more versatile way every day.
The chuda is filling but at the same time easy to digest. When consumed with yogurt / dahi / curd as the first meal of the day, it not only keeps a person full for longer but also makes it easier for the digestive tract to process it, and it also gives to an instant spurt of energy. For those who want high energy but low calories in their breakfast, this health option will definitely fit the bill.
The chuda comes in various qualities, made from either red rice or aromatic rice, or any other local variety of rice. But for making chuda dahi, a slightly thicker variety of chuda is preferred as it retains its bite after getting mixed with yogurt.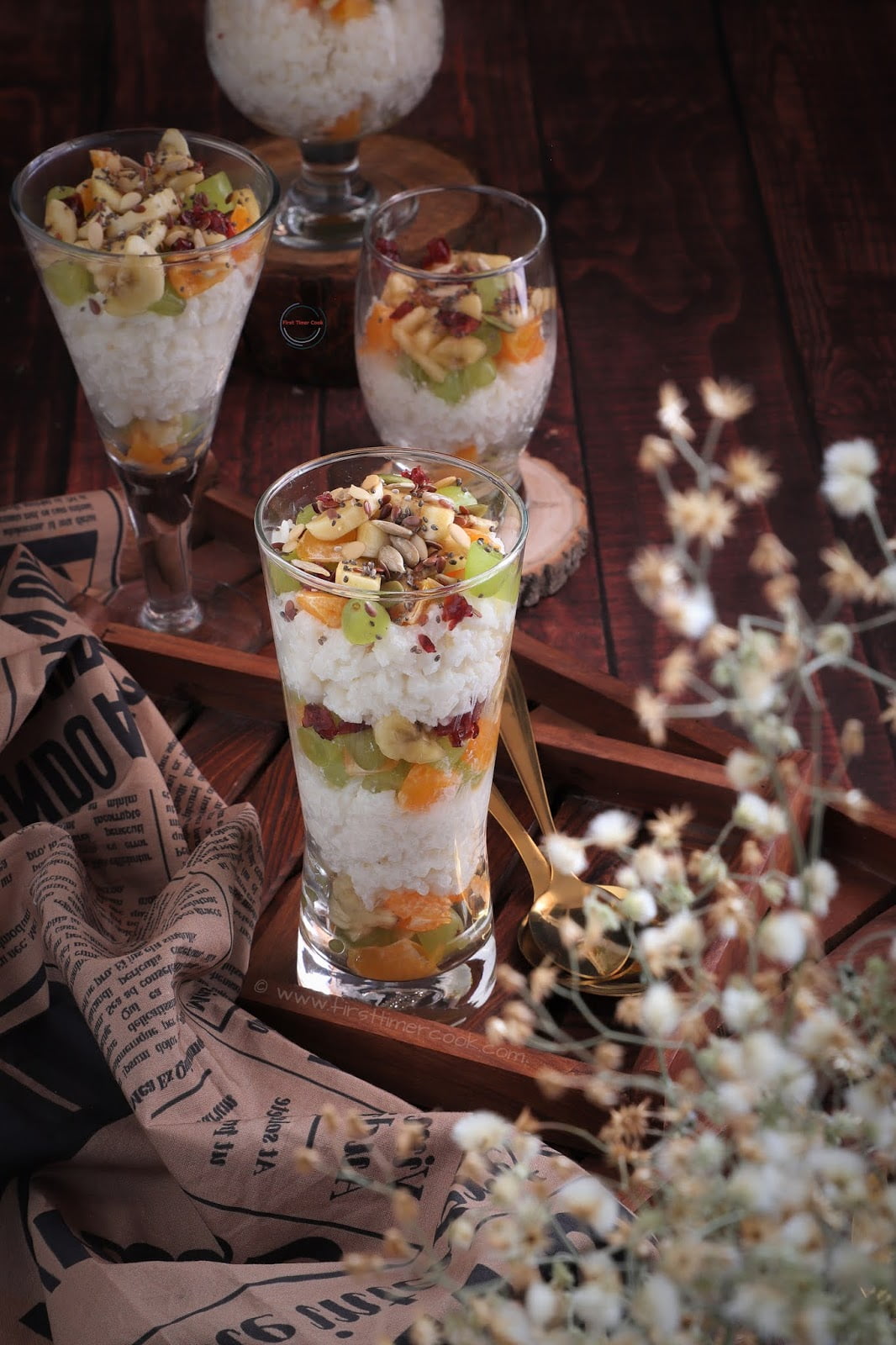 What is Chuda Dahi?
Well, here I have given a twist to the humble chuda dahi and hence the dish name is Chuda Dahi Parfait. Basically, the chuda dahi mixture and some assorted fruits are layered alternatively in a tall glass. In addition to that, I have sprinkled some mixed seeds on top for that crunch.
This is completely a no-cook recipe.
Dietary note :
✔ Vegetarian
✔ Healthy dish
✔ Easy to make
✔ Glutenfree
✔ Make while in a hurry
One more thing,
I am so much excited to share with you all that I am one of the "Fabulous Food Bloggers in India" presented by GrabOn. I am really so thankful to each and everyone and especially the GrabOn team. Check the details here
The event-related to this post :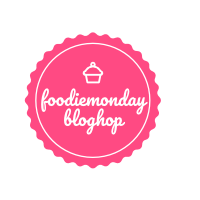 Monday is here again and the Foodie Monday Blog Hop team has decided on the 294th theme as 'Dahi Dhamal' and is suggested by Priya Vijaykrishna who blogs at Sweet Spicy Tasty. She is a wonderful co-blogger and her blog is full of many south Indian recipes and around the globe too. As she suggested to make any dish using curd/yogurt, so for the theme I have come up with this Chuda (Poha) Dahi Parfait.
And, yes !!!
If you like the recipe shared here and give it a try at your place then do share in INSTAGRAM by tagging #firsttimercook. I would be so happy to see and surely share in my INSTA stories 😊😊
Now let's go through how to make this "Chuda Dahi Parfait" at home 👇
: Recipe Card
:

chuda (poha) , flattened rice flakes, jaggery, yogurt, breakfast, easy to make,
Vegetarian, dessert, healthy dish, Parfait, gluten-free
International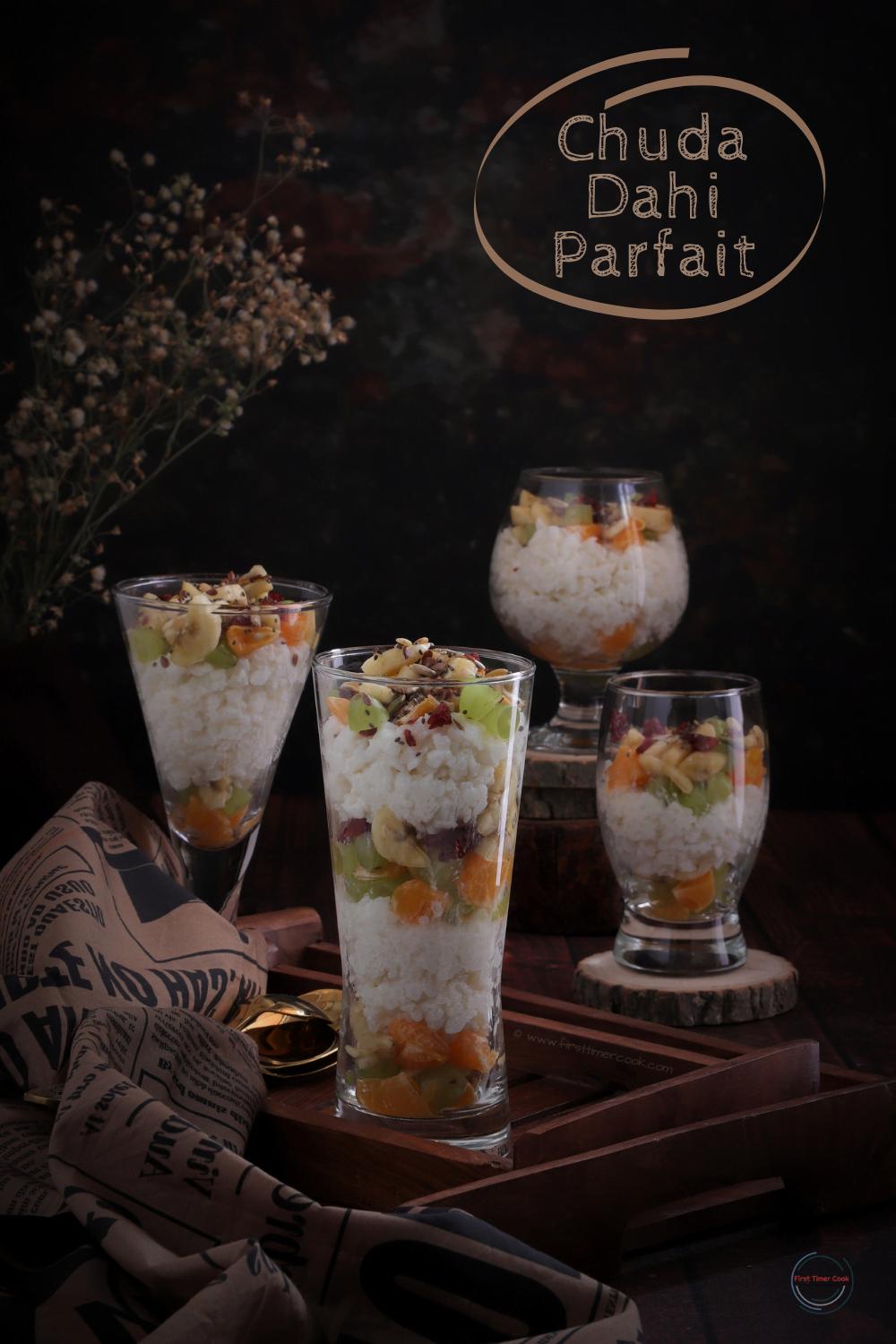 Chuda (Poha) Dahi Parfait | Flattened Rice Yogurt Parfait
the humble desi food, dahi chuda in an exotic look
Prep time: 10 MinTotal time: 10 Min
Ingredients
Poha (thick) 1/2 cup
Yogurt (dahi) 1/2 cup
Jaggery (grated) as per taste
Milk powder (optional) 2 tsp
Coconut (grated) 1 tbsp
Assorted fruit (roughly chopped) as needed
Salt as needed
Water as needed
Instructions
Wash and soak the chuda (poha) in a bowl with enough water for 2 minutes.
Then drain all the water and keep the soaked chuda in the bowl.
Add grated jaggery, milk powder, grated coconut, and mix everything well.
Next, add the yogurt and gently give a mix again.
Now take a tall glass and layer roughly chopped fruits, chuda (poha) mixture alternatively.
Sprinkle some mixed seeds on top and serve immediately!
Notes:
The soaking time of chuda (poha) depends upon its thickness.
The thick poha is best suitable for this dahi chuda recipe, if you prefer to use the nylon ones, then it will get soggy soon after soaking.
Choose fruits as per choice. I have used grapes, orange, banana, raspberries here.
Along with mixed seeds, some chopped nuts can be added.
https://firsttimercook.com/2021/04/chuda-poha-dahi-parfait-flattened-rice-yogurt-parfait.html
Did you make this recipe?
Tag @firsttimercook on Instagram and hashtag it #firsttimercook
You may also follow me on Facebook, Pinterest, Twitter, Google+, Instagram and can subscribe for free to get new recipes directly into your inbox 😊
PIN for later :