a perfectly crisp Mexican street food using the sweet corn kernels in VEGAN version.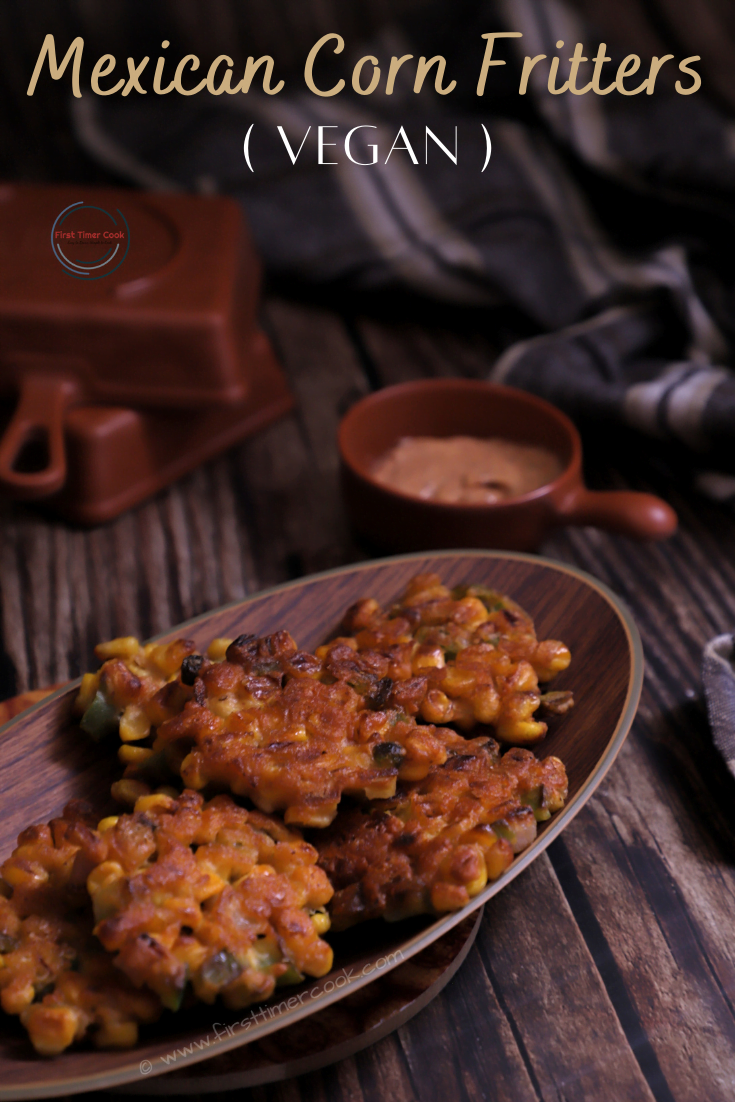 Mexican Cuisine !!
This cuisine belongs to Mexico which is a country of rich culinary history, with food making up an important part of its culture and traditions. Its cuisine reflects not just the diverse landscape and the countless crops produced there, but its links to cultures which span back thousands of years. Mexican cuisine varies by region due to local climate, geography and ethnic differences among the indigenous inhabitants. The dishes include healthy and fresh ingredients like avocados, beans, corn, tomatoes, some other vegetables and different types of meat like beef, chicken, pork, fish, lamb etc.
One more interesting fact there is Mexicans combine all different ingredients to create tasty salsas or even dressings for authentic and healthy recipes that will provide all the minerals, proteins and vitamins one needs. The three staples in Mexican dishes are corn, beans and chile (hot peppers). Corn is one of the country's oldest crops. Mexican cuisine often features corn as a key ingredient. Cornbread is a sweet bread made of corn, really typical across Mexico and is sometimes served as individual cupcakes or sliced (I will make a separate post for this soon).Corn is basically consumed in all possible forms like fritters, tortilla (a thin, round pancake made from corn dough) which are further used to make tacos and quesadillas etc.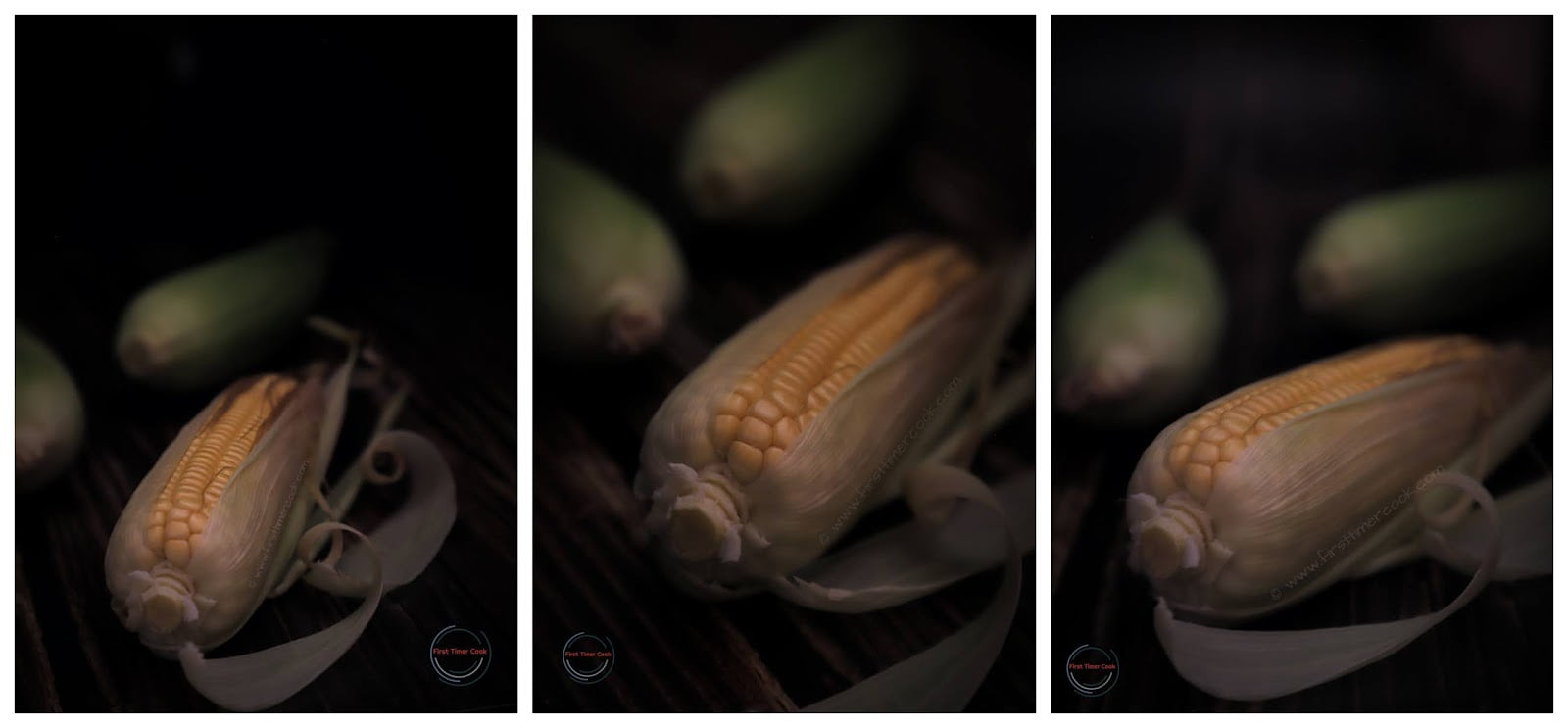 Corn Fritters –
So crisp and much perfectly prepared fritters using sweet corn kernels without using EGG !
It is October, still raining outside 😒 A plate full of these Mexican street style corn fritters that too in VEGAN version is a perfect match to enjoy the period 😊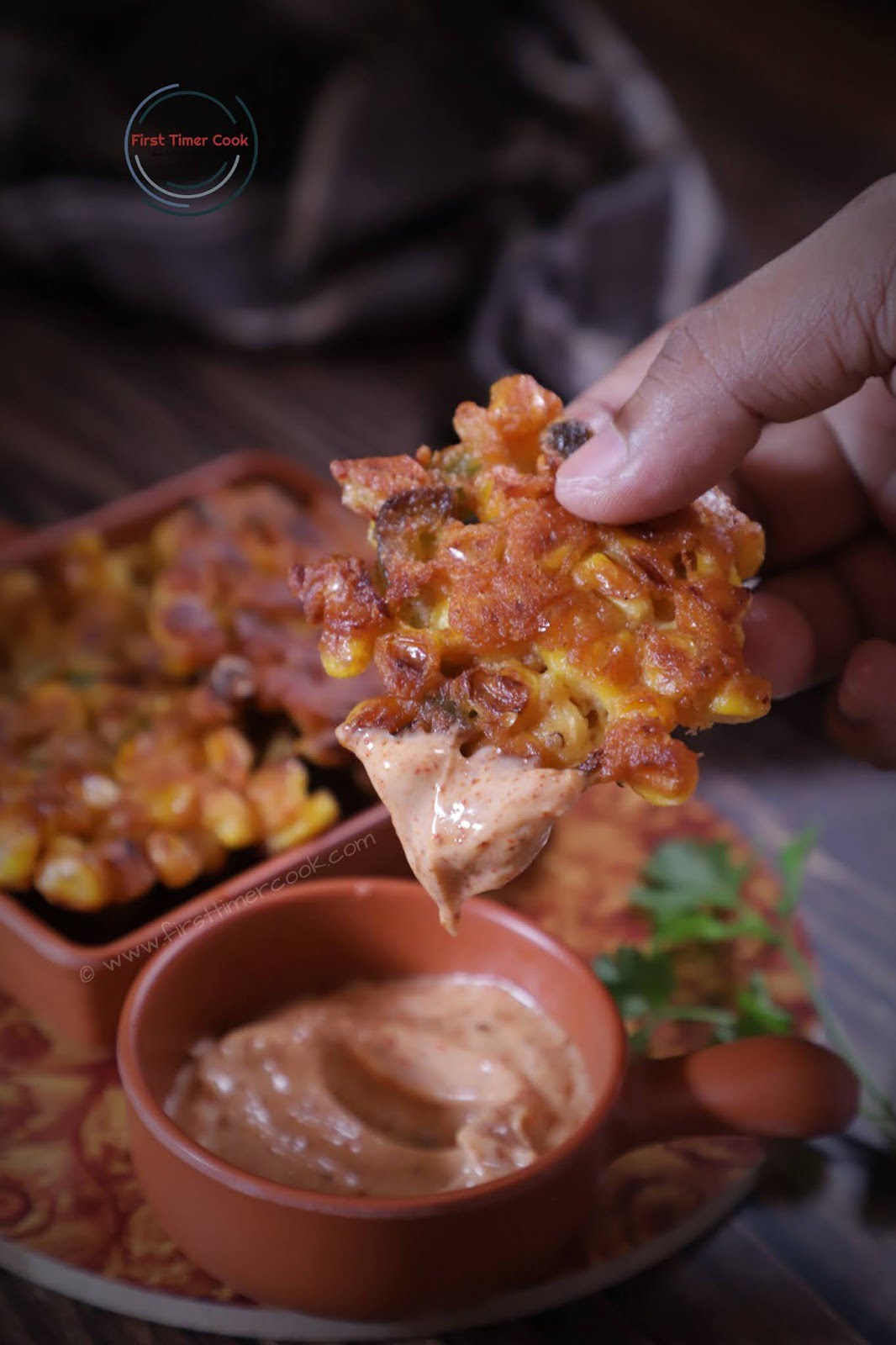 Dietary Notes :

✔ Egg free and VEGAN
✔ Shallow fried, can be baked
✔ Easy and simple to prepare
✔ Perfect for snack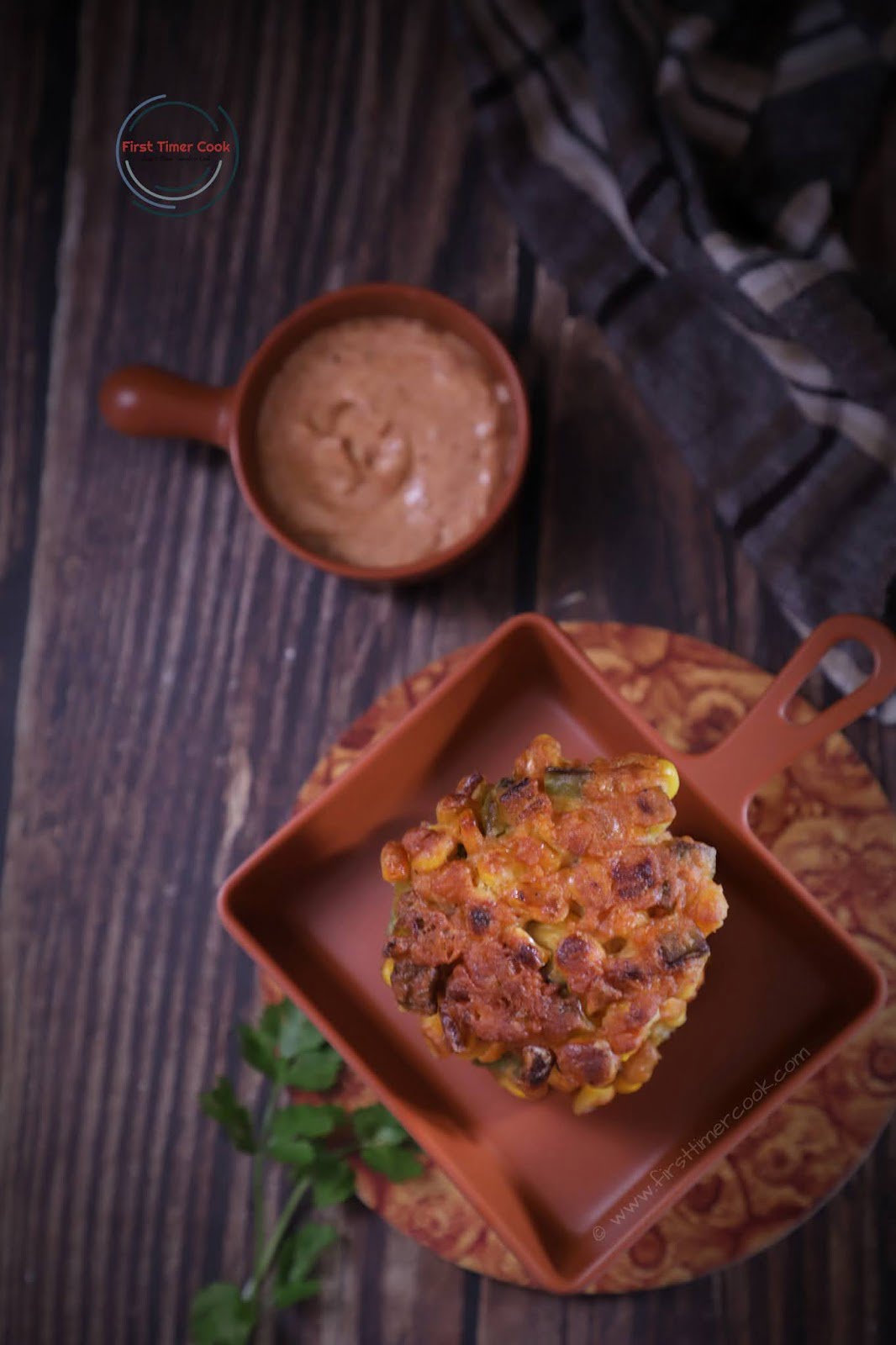 Event related to this post :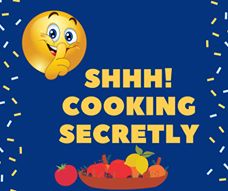 Well, the July month challenge in 'Shhhhh Cooking Secretly Challenge' group was 'Mexican Cuisine'. The theme was suggested by Narmadha, she is a wonderful co-blogger, she has an amazing collection of recipes from South Indian and around globe as well. Well for the current theme, I was partnered with Mayuri di and after discussion my 2 secret ingredients were Pepper Powder & Lemon juice. And as usual, using mine two ingredients I had to prepare a Mexican dish. So here is the Mexican Corn Fritters (VEGAN) for theme contribution.
And, yes !!!
If you like the recipe shared here and give a try at your place then do share in INSTAGRAM by tagging #firsttimercook. I would be so happy to see and surely share in my INSTA stories 😊😊
Now let's go through how to make "Mexican Corn Fritters (VEGAN)" at home 👇
: Recipe Card :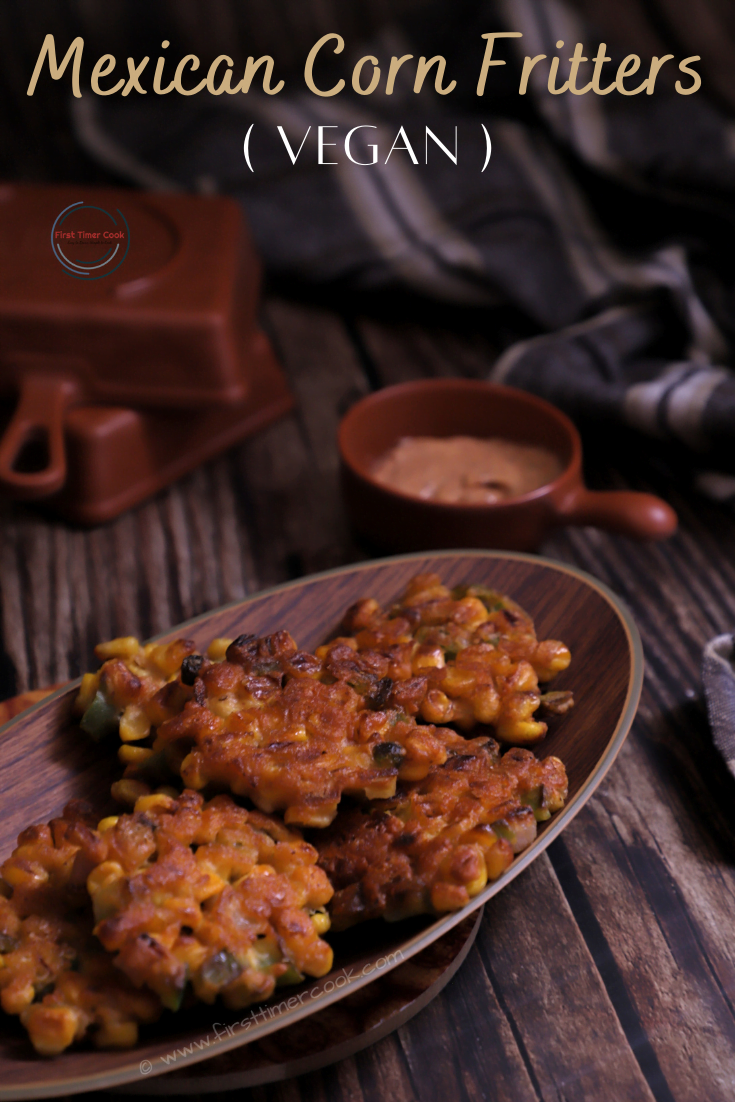 Author
Sasmita
Prep time
10 Min
Cook time
10 Min
Total time
20 Min
Mexican Corn Fritters (VEGAN)
a perfectly crisp Mexican street food using the sweet corn kernels in VEGAN version.
Ingredients
Corn kernel 1.5 cup
Onion (finely chopped) 1/2 cup
Bell pepper (finely chopped) 1/2 cup
Garlic clove (finely chopped) 1 tsp
Green chili (crushed) 1-2 no.
Gram flour 2 tbsp
Corn flour 3 tbsp
Pepper powder 1/2 tsp
Lemon juice 1 tbsp
Coriander leaf (finely chopped) 1-2 tbsp
Water 1-2 tbsp
Salt as needed
Oil for shallow frying
Instructions
In a mixing bowl, take corn kernels, chopped onions, chopped bell peppers, chopped garlic cloves, crushed green chilies and give a mix.
Then add gram flour, corn flour, pepper powder, salt and mix everything again.
Add lemon juice, chopped coriander leaves and very little amount of water.
Mix till everything is well incorporated.
Heat oil in a frying pan for shallow frying over a medium heat.
Add 1-2 tbsp of the corn mixture into the pan, spreading slightly to give it a shape of a fritter.
Similarly make another 2-3 fritters (depending upon the size of the pan) keeping space in between.
Cook for about 2-3 minutes and flip to cook the other side or until golden brown.
Take out the fritters and place on a paper towel to get rid of excess oil.
Make some more fritters with rest corn mixture.
Serve immediately these Mexican corn fritters (vegan) with any desirable dip !
Notes:
Adjust the spiciness.
Corn kernels here can be frozen or fresh.
https://firsttimercook.com/2020/10/mexican-corn-fritters-vegan.html
Bell pepper, onion, vegetarian, no egg snack, Mexican street food, corn flour, lemon juice
fritters, corn, snack, shallow frying, vegan,
Mexican
Did you make this recipe?
Tag @firsttimercook on instagram and hashtag it #firsttimercook

You may also follow me on Facebook, Pinterest, Twitter, Google+, Instagram and can subscribe for free to get new recipes directly into your inbox 😊
PIN for Later :