a no-cook, sweet & sour relish using the fruit, Kandhiaa as a part of kartika month special from Odia cuisine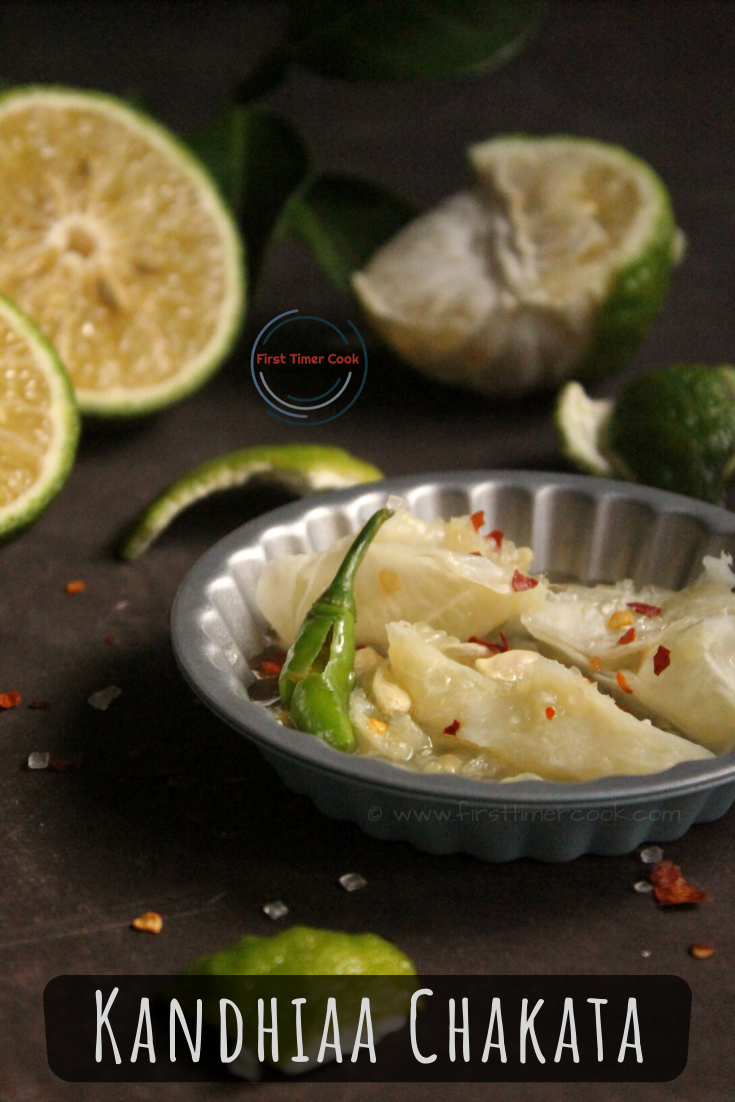 In a platter particularly for me in lunch time, I prefer to have a sweet-sour combination of dish in my meal spread. As the Kartika month of Hindu calendar is going on we the Odias, love to have only vegetarian dishes in the whole month. Although some couldn't manage to have that kind of dishes, still bound to at least follow only last 5 days of this month. These last five days are named as Panchuka. In each odia house, the ladies particularly make rangoli in front of the holy basil (which presents either in front of the house or in the balcony or in the varandah etc.)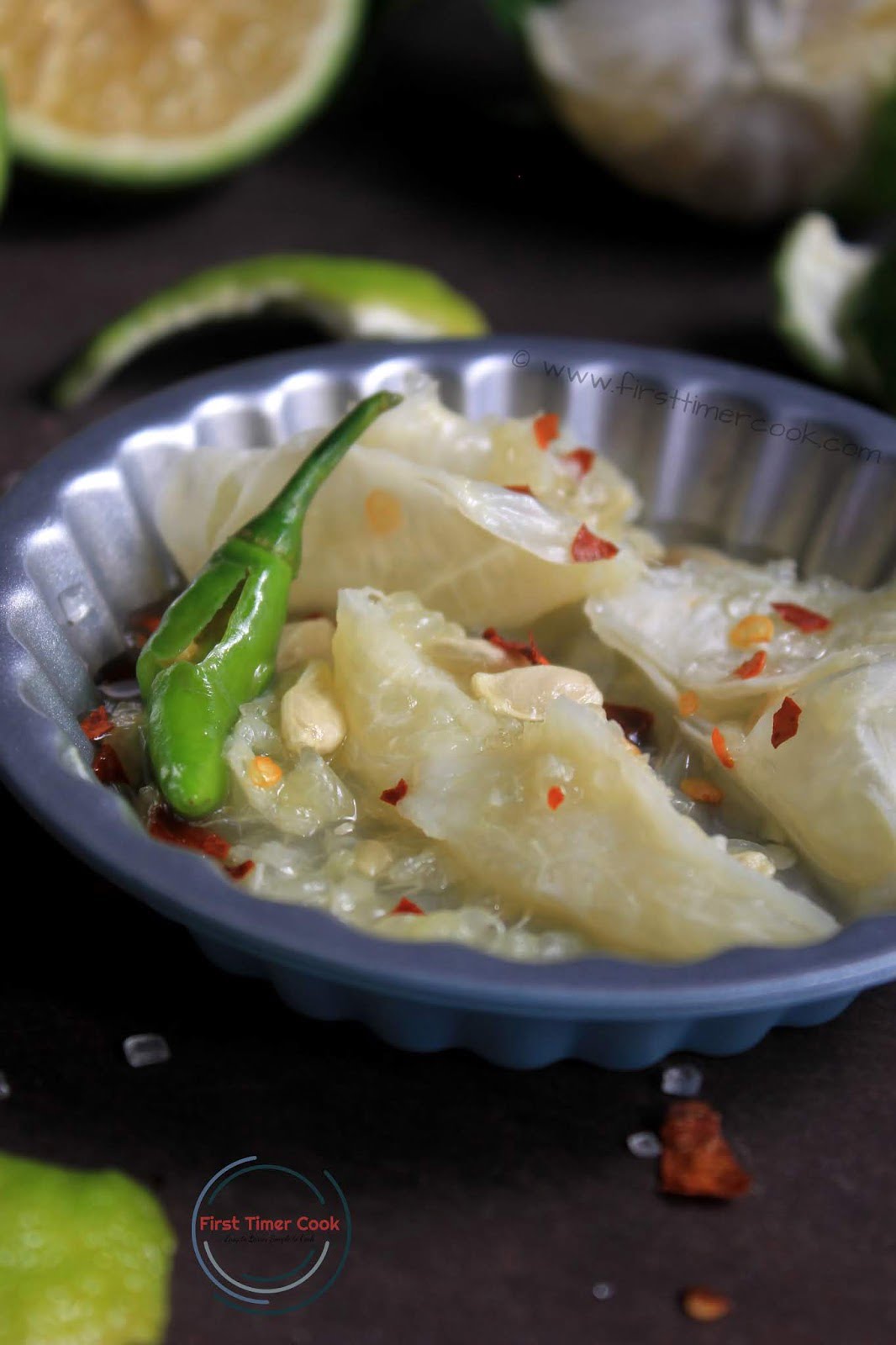 Many vegetarian dishes are being prepared and many of them are mostly no-onion-no-garlic dishes. My all time favorite is simple steamed rice with the kartika month special habisha dalma. I have shared this in another post, do check . This is different from other dalma varieties as here no turmeric powder is added. And hence the habisha dalma looks light brownish in color. Along with rice and dalma I love to have any accompaniment like using Oou dish or Kandhiaa dish or simple lemon-salt-green chili combination. Using oou or elephant apple one can make either Sweet Elephant Apple Relish (Meetha Oou Khatta) or Sweet & Sour Elephant Apple Relish (Khata Meetha Oou).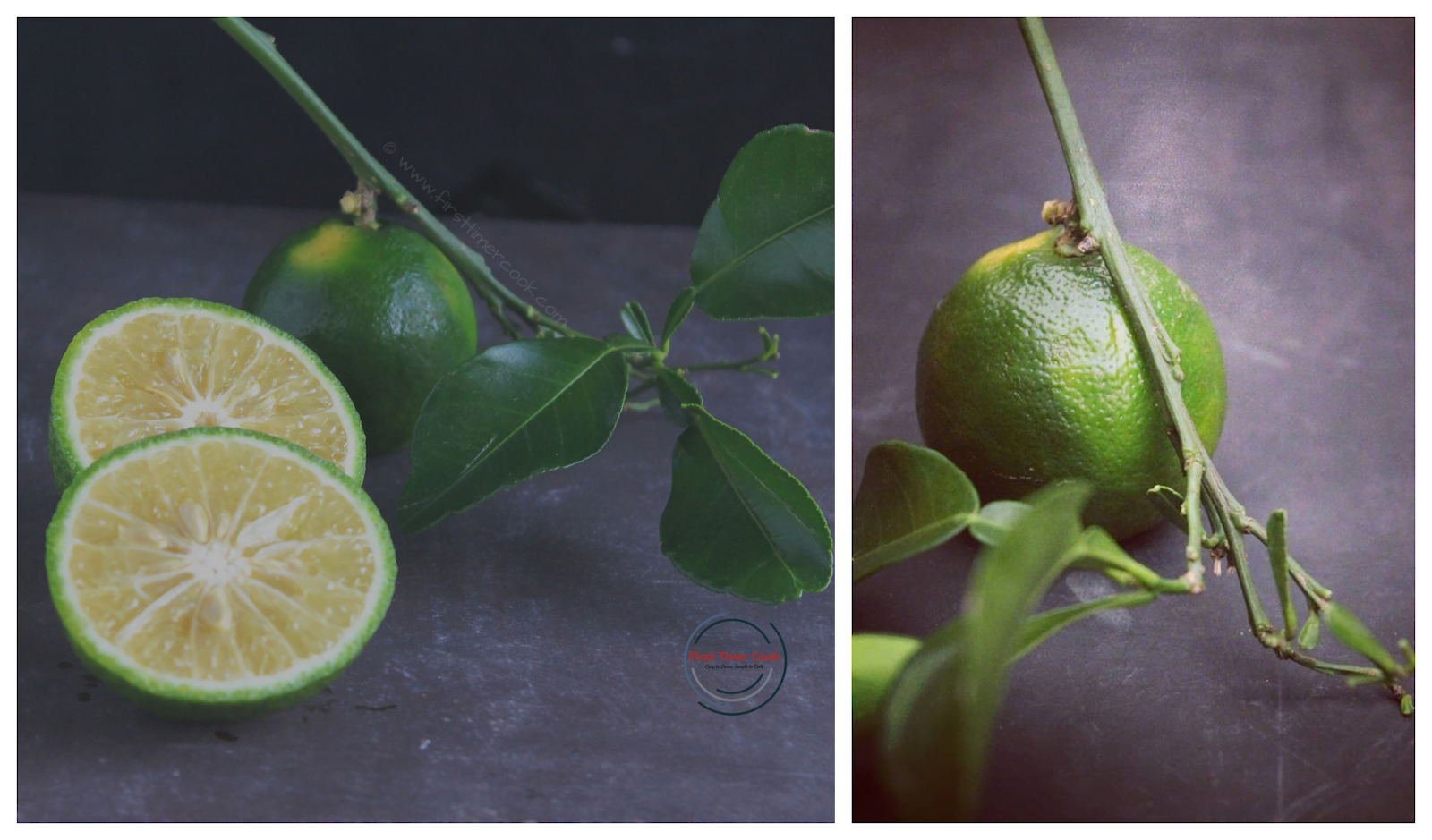 The other one is kandhiaa, It is a fruit which looks similar to some big size lemon with bit thick outer skin and slight sour, sweet in taste. One may get confuse with Bengali Gondhoraj, but not.These are abundantly available during Kartika Month of Hindu Calendar in Odisha. Just discard the outer skin, add slice of kandhiaa to any dish to get some sour taste. I love to have simply mashing it with some green chilies, sugar and salt and that dish is named as Kandhiaa Chakata.
Here there is no need of cooking actually. Just simply discard the outer layer. The outer layer is quite thick as compared to lemon, so I will recommend to first half the kandhiaa. Then that will be easy to peel the the thick layer. Then squeeze and mash the kandhiaa in a bowl. The liquid part will come out. Add green chili, sugar and salt and mix everything well. And voila !! the relish is ready to have with simple rice and dalma combo. If more spiciness is needed then add more green chilies and also one can add red chili flakes. Some roughly grounded form of roasted dry red chilies can be sprinkled just while having this. Completely vegan, gluten free and no-onion-no-garlic dish one should try.
Recipe Card for 'Kandhiaa Chakata' :

Vegan, gluten free, without onion garlic dish, Kartika month special
Relish, Odia cuisine, Kandhiaa, SIde dish
Odia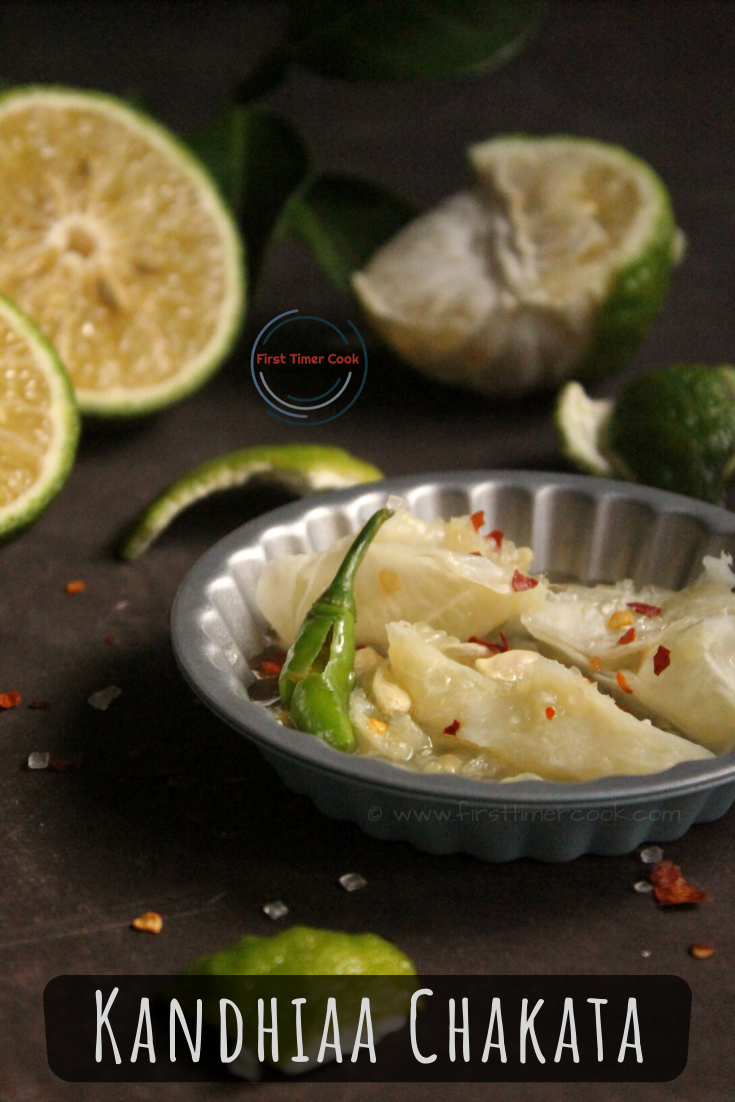 Kandhiaa Chakata
a no-cook, sweet & sour relish using the fruit, Kandhiaa as a part of kartika month special from Odia cuisine
prep time: 5 Mcook time: total time: 5 M
ingredients:
Kandhiaa 1 no.

Green chili 1 no.

Red chili flakes (optional) 1/4 tsp

Sugar 1/2 tsp

Salt 1/2 tsp
instructions:
How to cook Kandhiaa Chakata
First cut the kandhiaa into half horizontally.

Then it will easy to take out the outer green layer. Discard those layers.

In a bowl, put the inner fleshes and squeeze & mash well.

Add green chili and smash it in that bowl.

Add sugar, salt and mix well.

Finally add red chili flakes and serve with arua anna, dalma !
NOTES:
Red chili flakes is optional. If more spiciness is required then add this. Instead of this one can use some roughly powdered of roasted whole red chilies.
Did you make this recipe?
Tag @firsttimercook on instagram and hashtag it #firsttimercook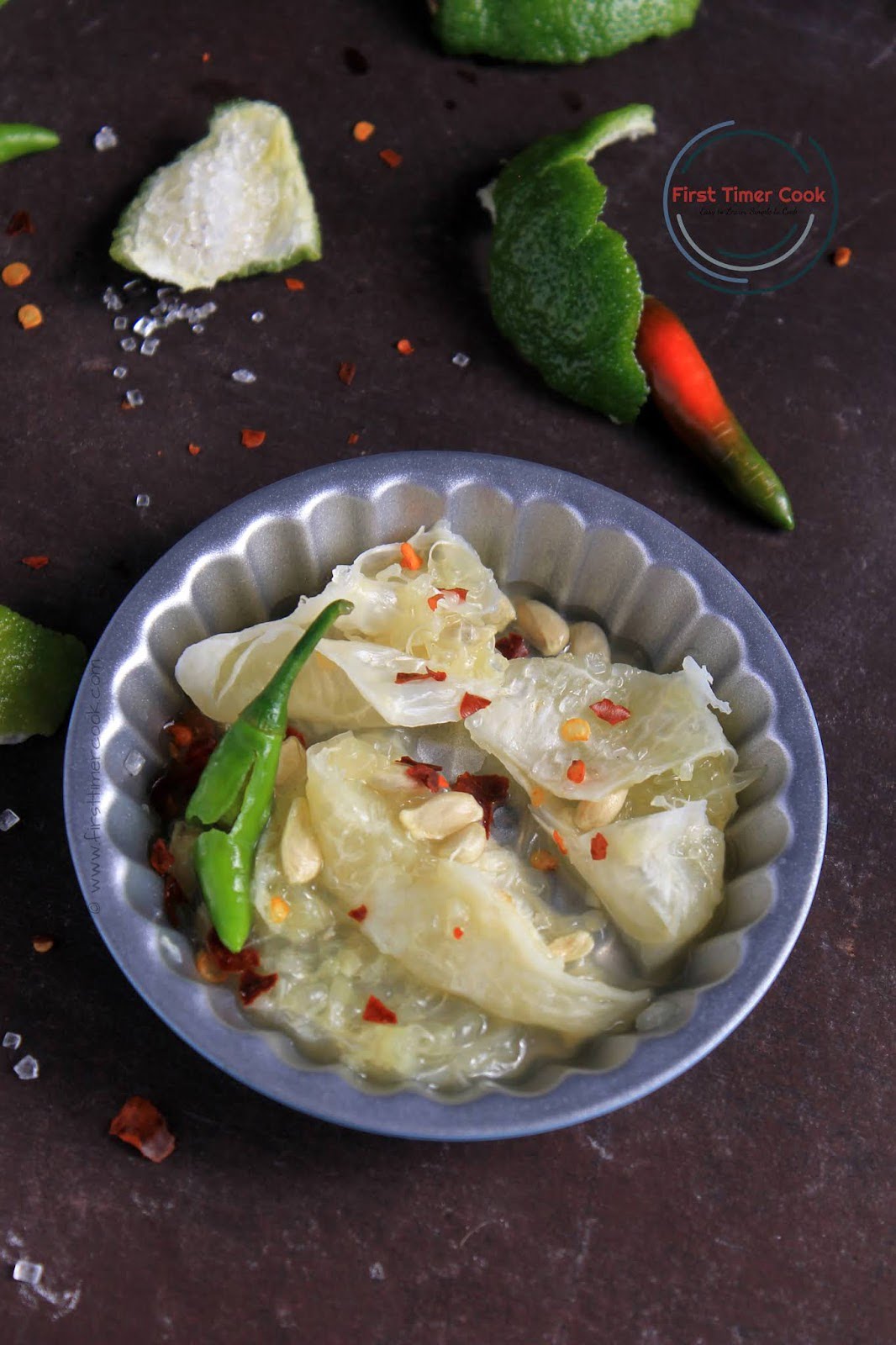 You may also follow me on Facebook, Pinterest, Twitter, Google+, Instagram and can subscribe for free to get new recipes directly into your inbox 😊
PIN for later :