an easy peasy vegan chutney using the kaitha / monkey apple and a handful of basic ingredients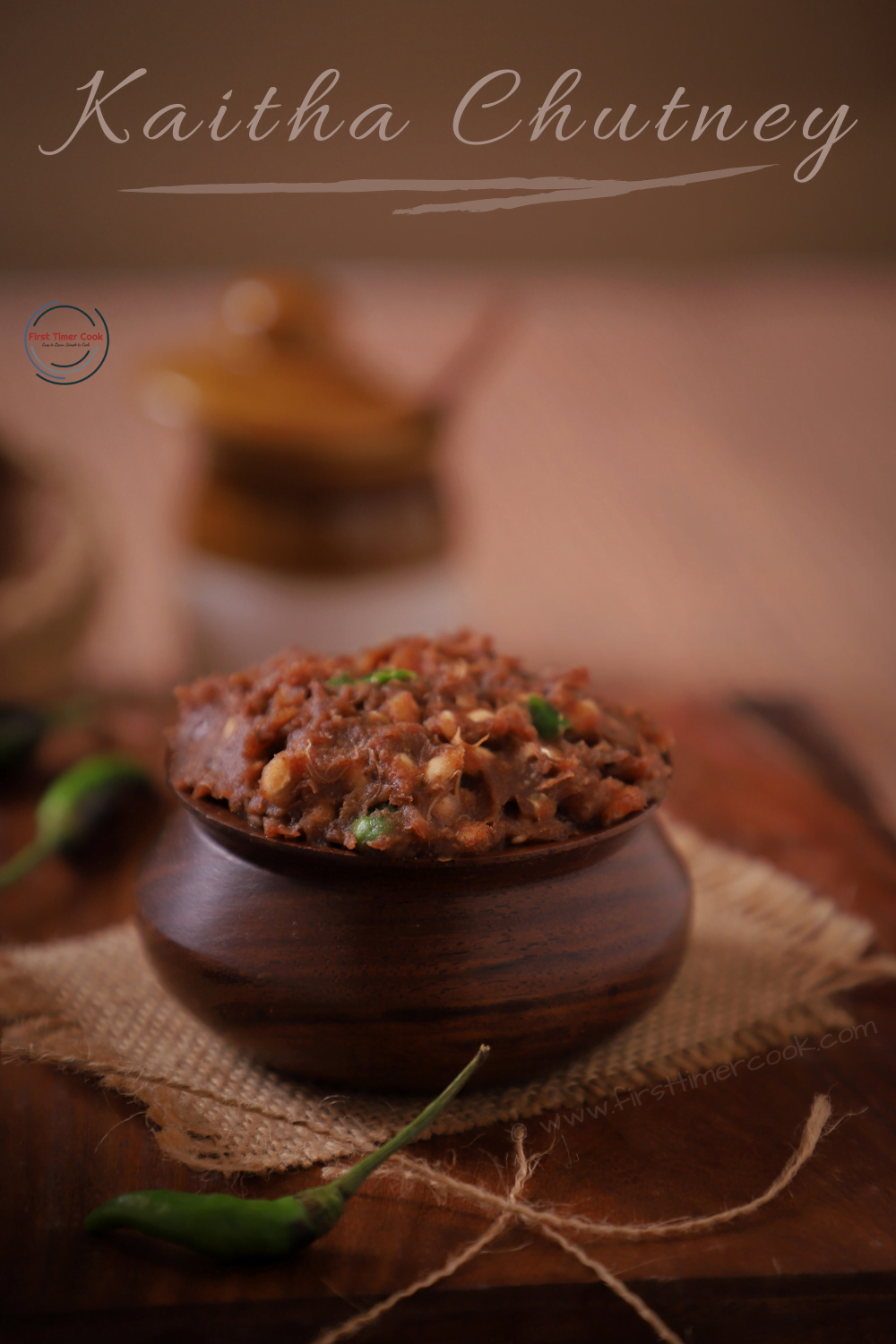 Kaitha !!!
Kaitha is known as Kapitha in Ayurveda. This is almost like a medicinal tree with most of its parts like leaves, bark, fruit in both stage ripe and unripe, gum etc. used for medicinal purpose. The fruit of this tree is round to oval in shape with a hard grayish-white thick outer surface. A fully ripe kaitha has a light brown to a toffee brown color pulp with many no of small white seeds scattered through it. It is also know as Monkey Apple and is often confused with Bael / Wood Apple.
The unripe fruit is used as a remedy to treat diarrhea and dysentery and the ripe ones are used in the treatment of hiccups and throat problems according to Ayurveda. The unripe stage of the fruit is sour in taste where as the ripe kaitha has sweet as well as sour taste.
The fruit is eaten either simply as it is after taking out the pulp, blended into any drinks or even well-preserved as jam. Today's post is a chutney recipe using the ripe kaitha as Kaitha Chutney.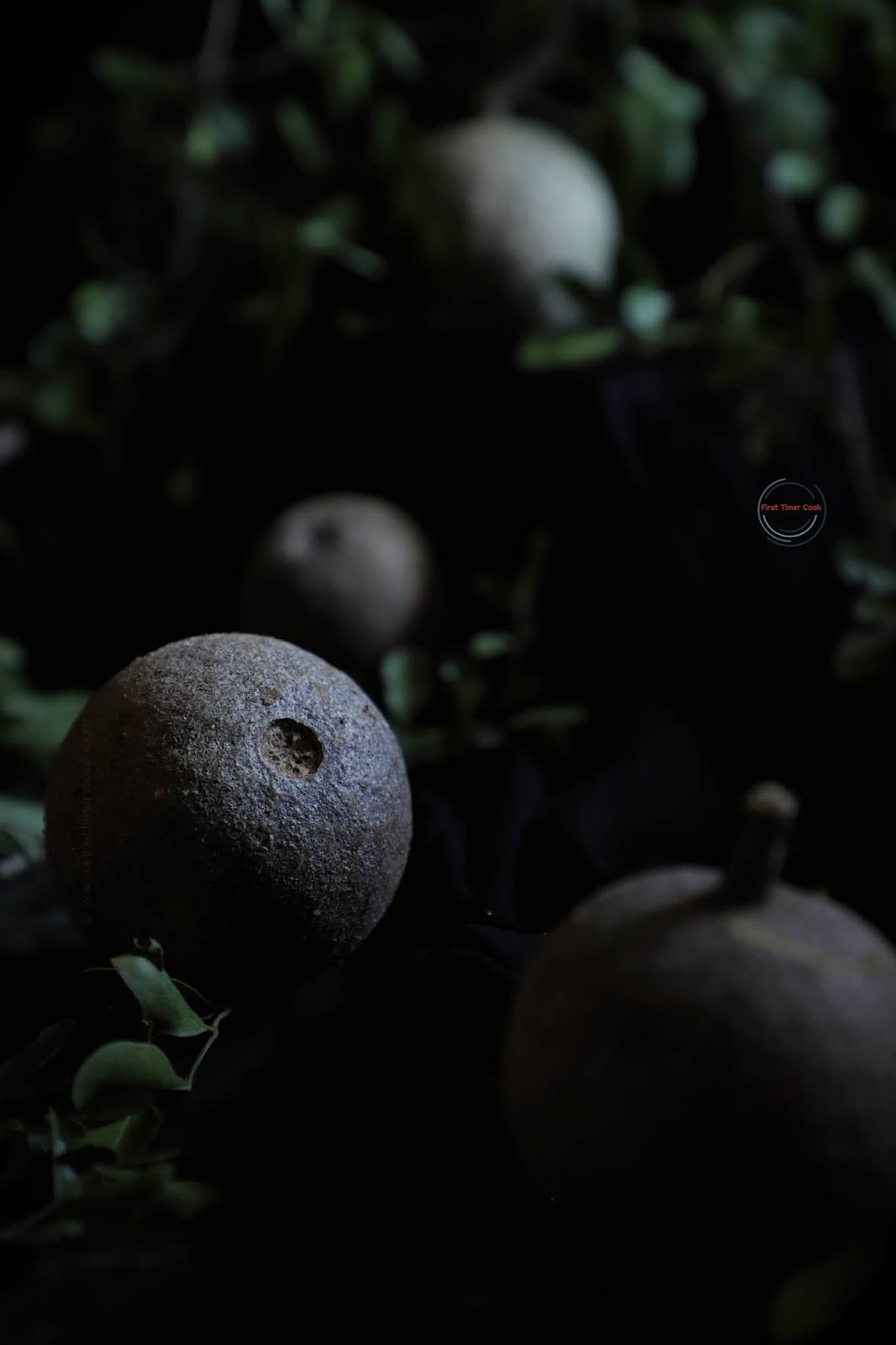 Ingredients of this chutney –
This incredibly simple yet tempting chutney contains just a handful of basic ingredients.
Kaitha – always pick some well ripe kaitha to make this chutney.
Jaggery – this is the sweetener in the chutney, so adjust accordingly.
Cumin seed – some raw cumin seeds are roughly crushed in mortar pestle and used.
Green chili – for more / less spiciness in the chutney adjust this ingredient. Instead of it some red chili powder can be added

too.

Salt – add to adjust the overall taste of the chutney.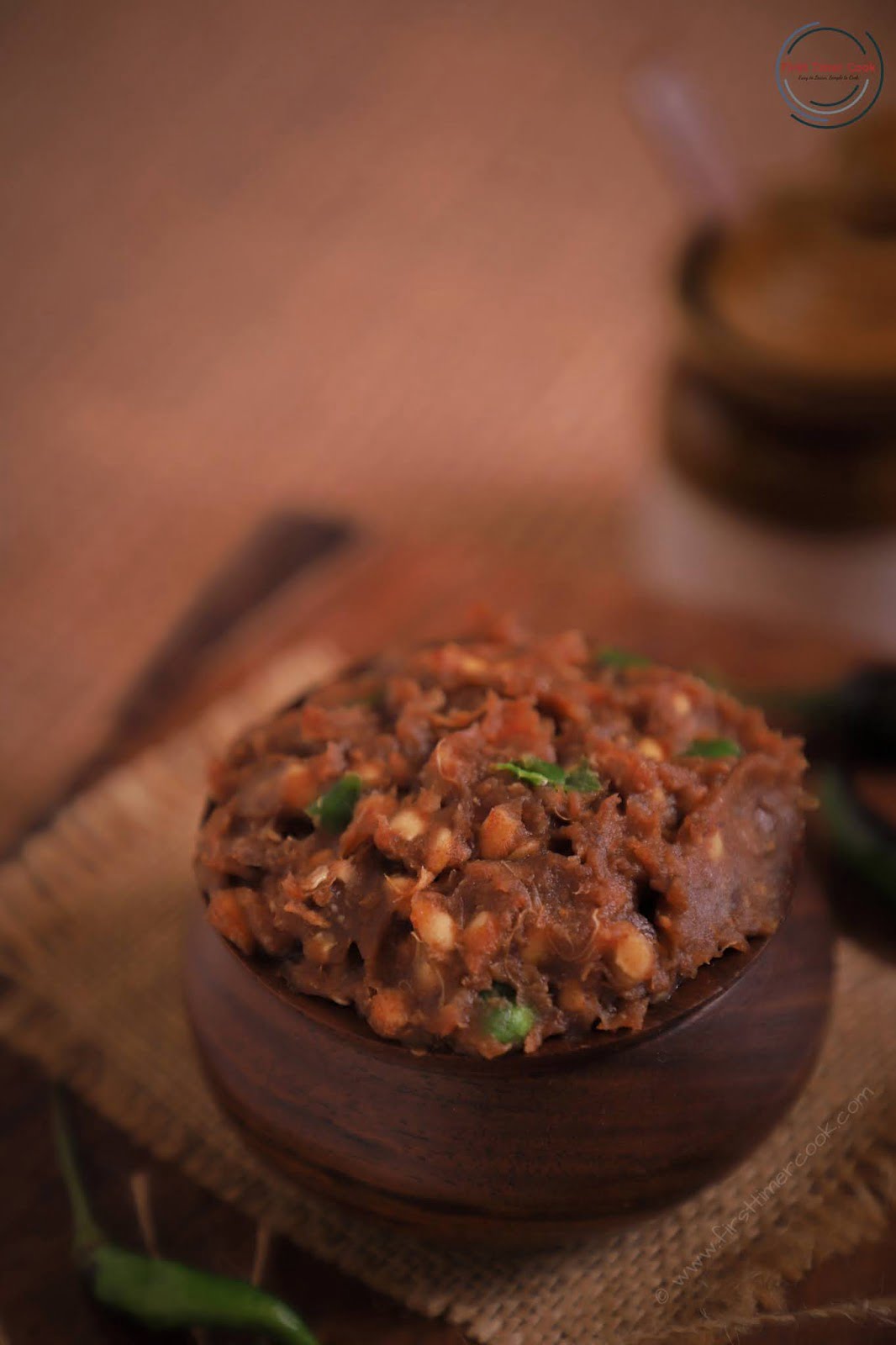 What are the steps to follow ?
First step here is to break the kaitha and take out the pulp from it. The pulp is then collected in a bowl. Into that some roughly crushed cumin seeds are added along with grated jaggery, finely chopped green chilies and salt. Everything is well mixed to a coarse paste. One can simply grind this to a smooth paste too if desired. We like the coarse texture so, just mix well in a bowl. That's it, the chutney is ready to serve !
Dietary note :
✔ Gluten free
✔ Vegan
✔ No-cook recipe
✔ Festival friendly
✔ No oil dish
✔ Without onion & garlic
Can this chutney be stored to use later ?
yes, this can be stored up to 1 week. Simply keep in an air-tight container and store in refrigerator. At the time of need, take out from the refrigerator and have !
Serving suggestion –
Some sweetness along with a spice factor create an addictive dip that can be eaten in many ways. In a rice-dal combo this can be used as a perfect accompaniment. I love to have with some left over roti too 😉 or sometimes I just lick it simply as it is😋.
This chutney does not require any expert technique, just mix everything and it is done. So why are you waiting for ? go ahead and make this easy peasy chutney using the kaitha .
And, yes !!!
If you like the recipe shared here and give a try at your place then do share in INSTAGRAM by tagging #firsttimercook. I would be so happy to see and surely share in my INSTA stories 😊😊
Now let's go through how to make "Kaitha Chutney" at home 👇
: Recipe Card
: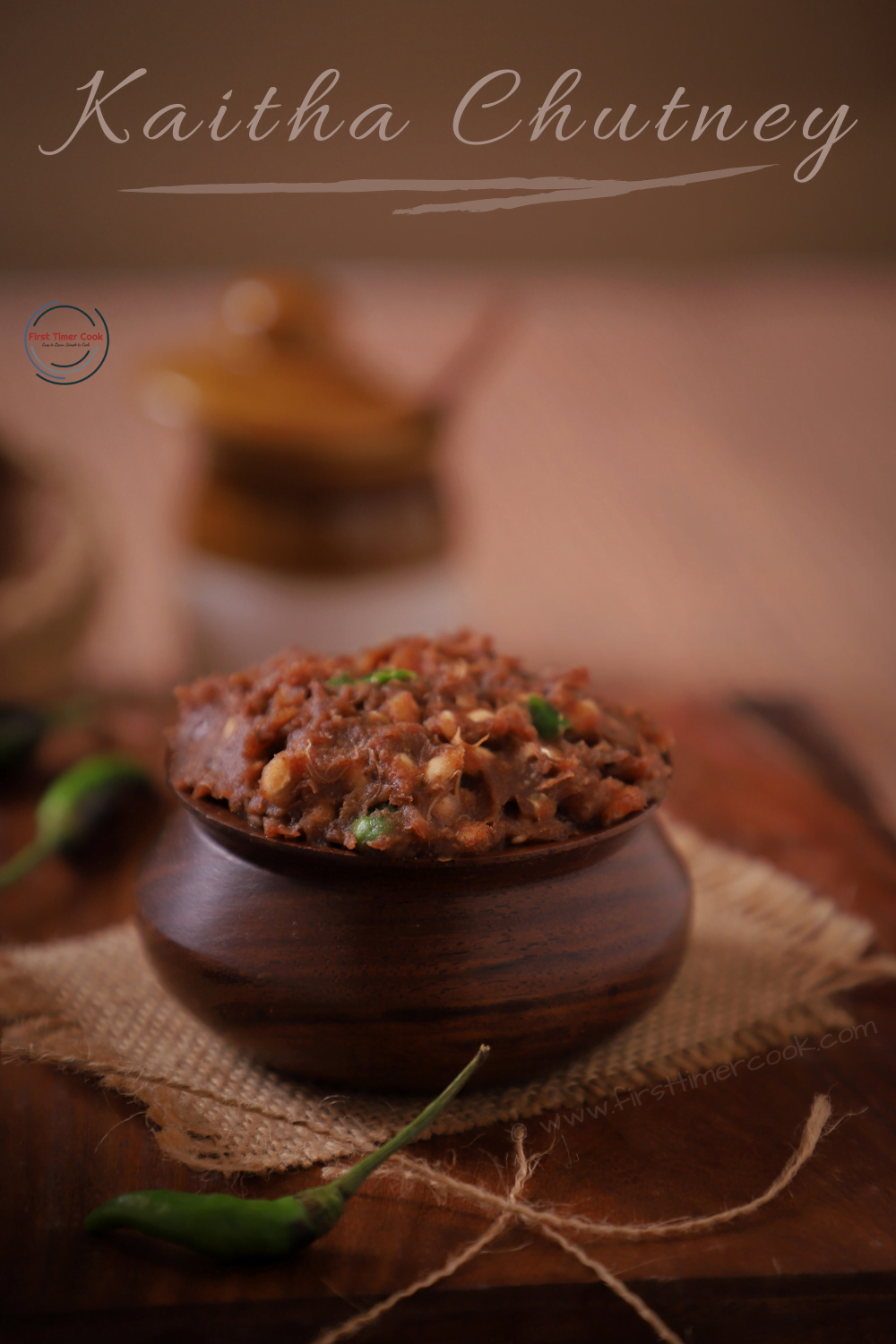 Author
Sasmita
Prep time
10 Min
Total time
10 Min
Kaitha Chutney
an easy peasy vegan chutney using the kaitha / monkey apple and a handful of basic ingredients
Ingredients
Kaitha 2 no.
Jaggery 3-4 tbsp
Cumin seed 1/2 tsp
Green chili (finely chopped) 2-3 no.
Salt
Instructions
Break the kaitha and collect the pulps in a bowl.
Roughly crush the cumin seeds in mortar pestle and add into the bowl.
Next add grated jaggery, finely chopped green chilies, salt.
Mix everything to a coarse paste.
Keep in an air-tight container and serve as needed !
Notes:
Some finely chopped coriander leaves can be added too.
Adjust the spiciness, sweetness in the chutney as desired.
If you dont like the coarse texture in the chutney, then simply grind to a smooth paste.
Instead of green chili, some red chili powder can be added too.
https://firsttimercook.com/2020/11/kaitha-chutney.html
Vegetarian, Egg free, chutney, Indian dip, kaitha, monkey apple, jaggery,
vegan, gluten free, no oil recipe, no cook recipe, without onion and garlic,
Indian
Did you make this recipe?
Tag@firsttimercookon instagram and hashtag it#firsttimercook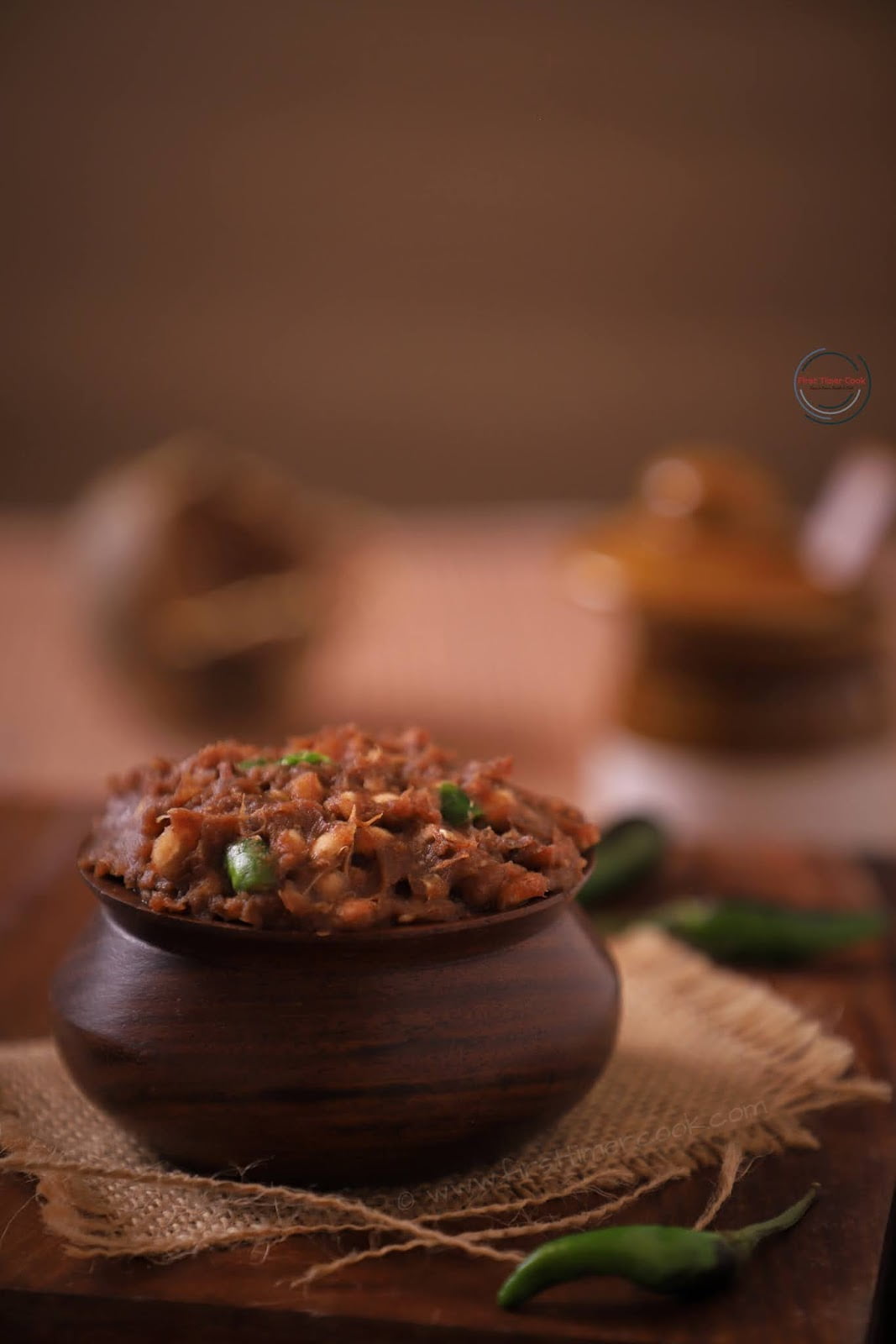 You may also follow me on Facebook, Pinterest, Twitter, Instagram and can subscribe for free to get new recipes directly into your inbox 😊
PIN for later :