easy and quick festive time ladoos using makhana (foxnuts), coconut and flavored with rose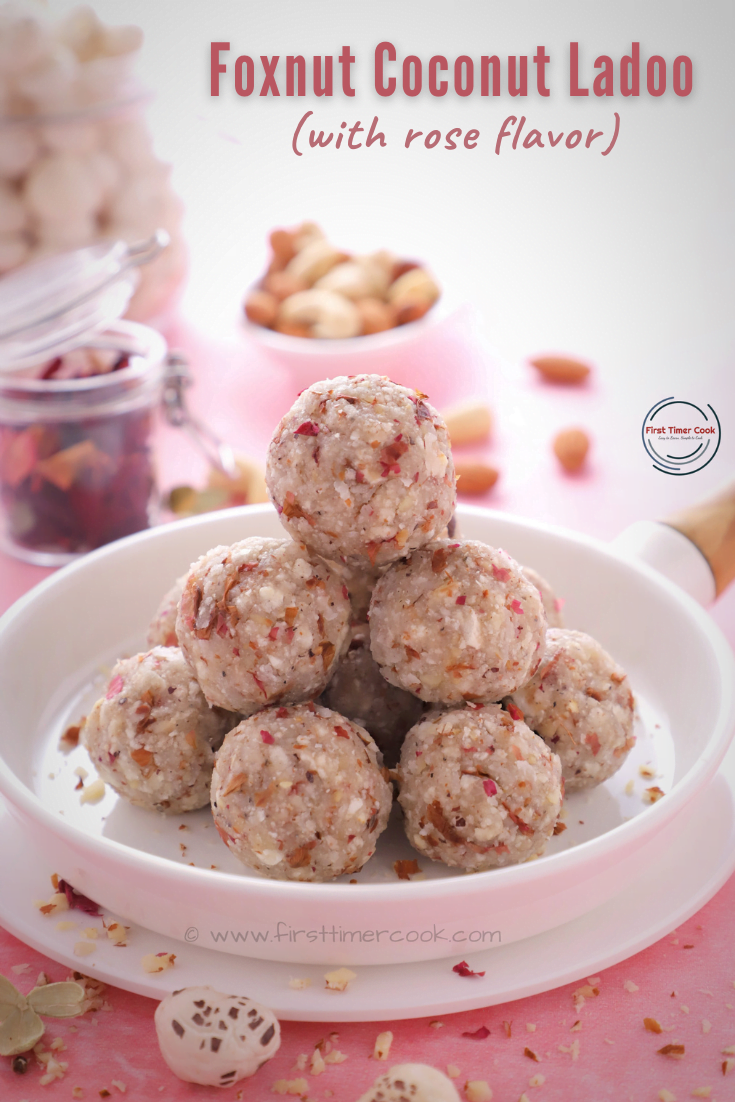 One of India's biggest festivals is approaching. Navratri / Navaratra / Navaratri is going to start this year on 17th October and will continue till 25th October, so this is basically 9 days celebration. People all over the country celebrate this grand festival with great enthusiastic. From preparing delish dishes to wearing new clothes and enjoying Garba to keeping a fast, people celebrate the festival in several different ways. Well, the method and ways of celebrating is different in each part of India.
In North and Western India, 9 days fasting or vrat is kept during the Navratri festival. In other parts of Eastern India like Bengal, Odisha etc. Navratra (basically 6th-9th day and one day after that too) is called as Durga Puja and is celebrated with much fanfare. In South India, fasting is not strictly observed. But food is prepared without the addition of onion and garlic.
Although the fasting varies from region to region, still most of the fasting recipes are very quick and easy to make. In addition to this, fasting foods are not only quicker to prepare but also easiest to digest. One can definitely say these periods are a good time to purify own body as well as mind. Today's post is all about a easy-peasy dessert ball 👇
Foxnut Coconut Ladoo that too with Rose Flavor 😊
yes, heard right ! foxnut aka makhana / puffed lotus seed and coconut both are used to make the ladoo here. And the ladoos are flavored with rose. The preparation method is super simple, easy and quick. It falls under Gluten free Dessert category too.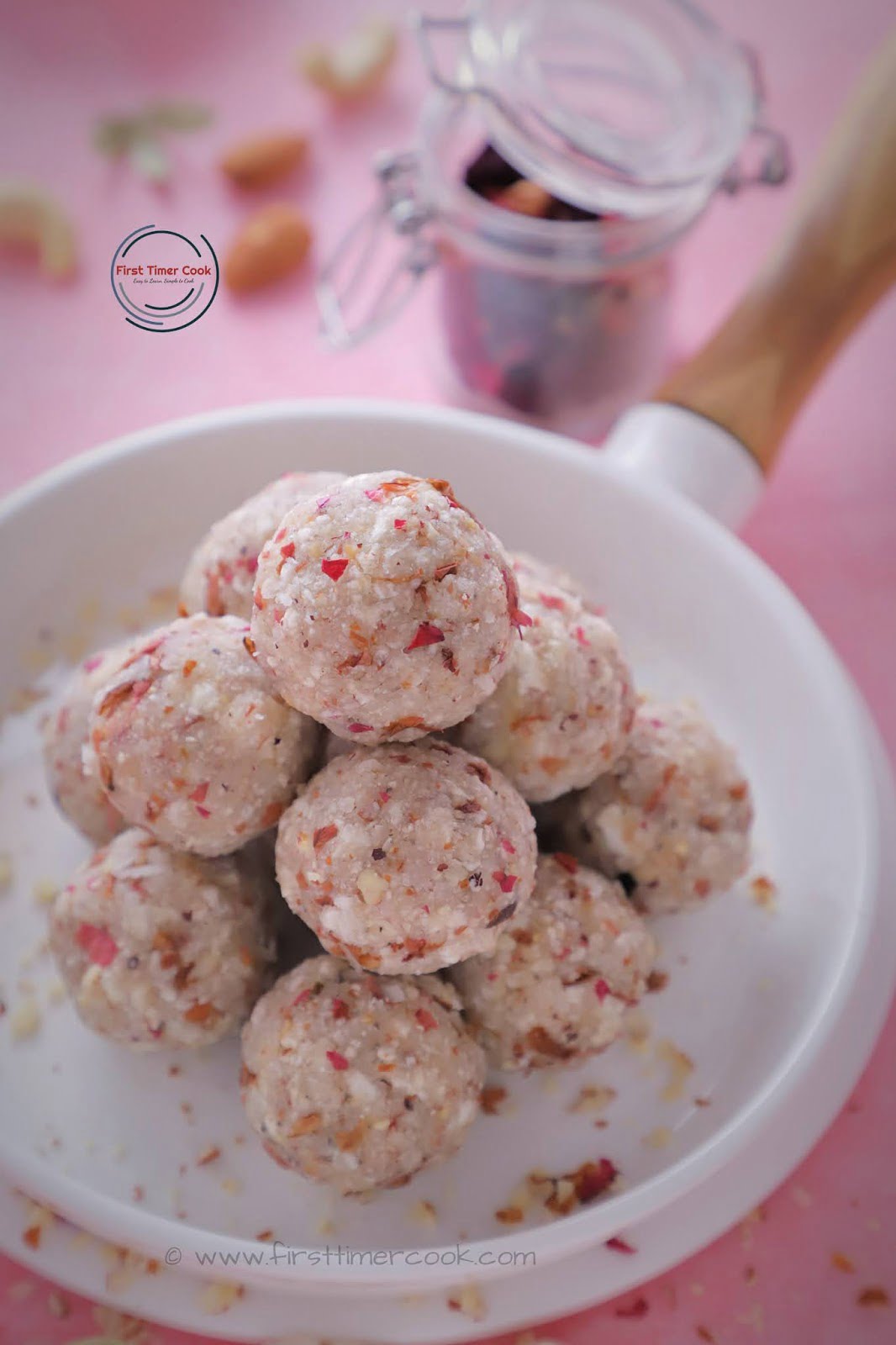 Makhana and fasting days !!
It is the only food among all the food during fasting, that is not just high in carbohydrate but also in protein.
In India, makhanas are commonly consumed during fasting. These are aso known as puffed lotus seeds or foxnuts. The seed itself has a very neutral taste and takes on the flavours that are added to it. In addition to being an extremely popular ingredient in various recipes, fox nuts can also be used as a nutritional snack that one can munch on at any time of the day. Additionally, these have also been used for medical since medieval times as these contain several micronutrients that are extremely important for the human body. Consuming makhanas on a regular basis (rather than during fasting only) can prove extremely beneficial to any individual.
Do check someRECIPES USING MAKHANAfrom this blog 👇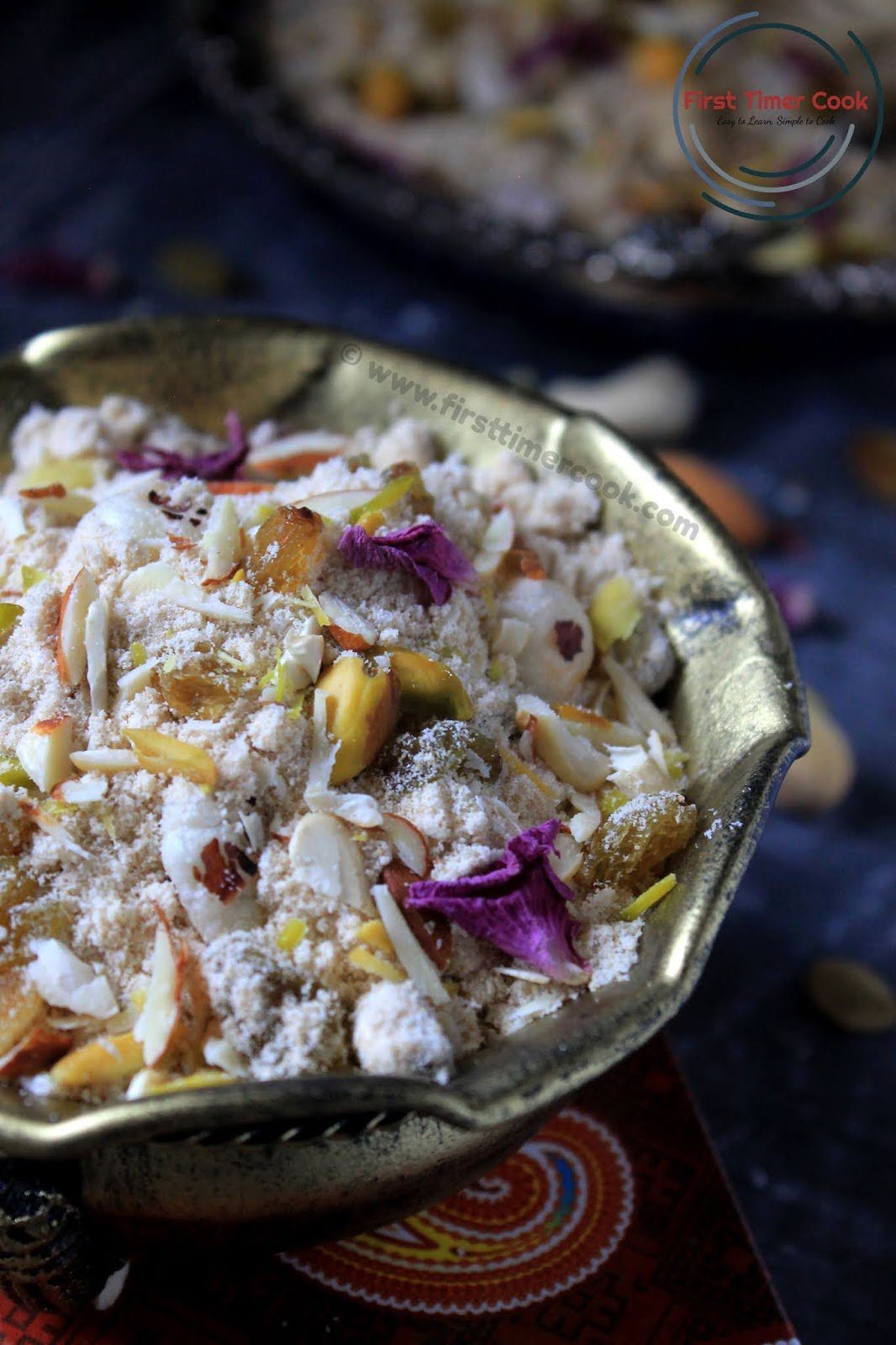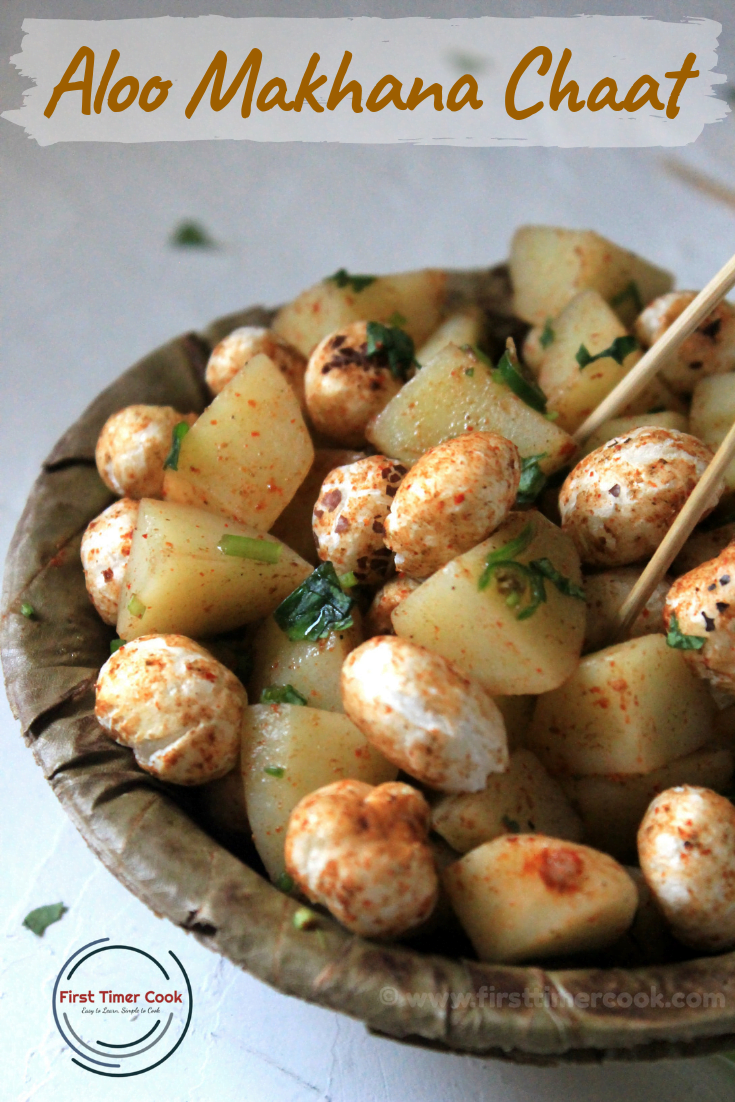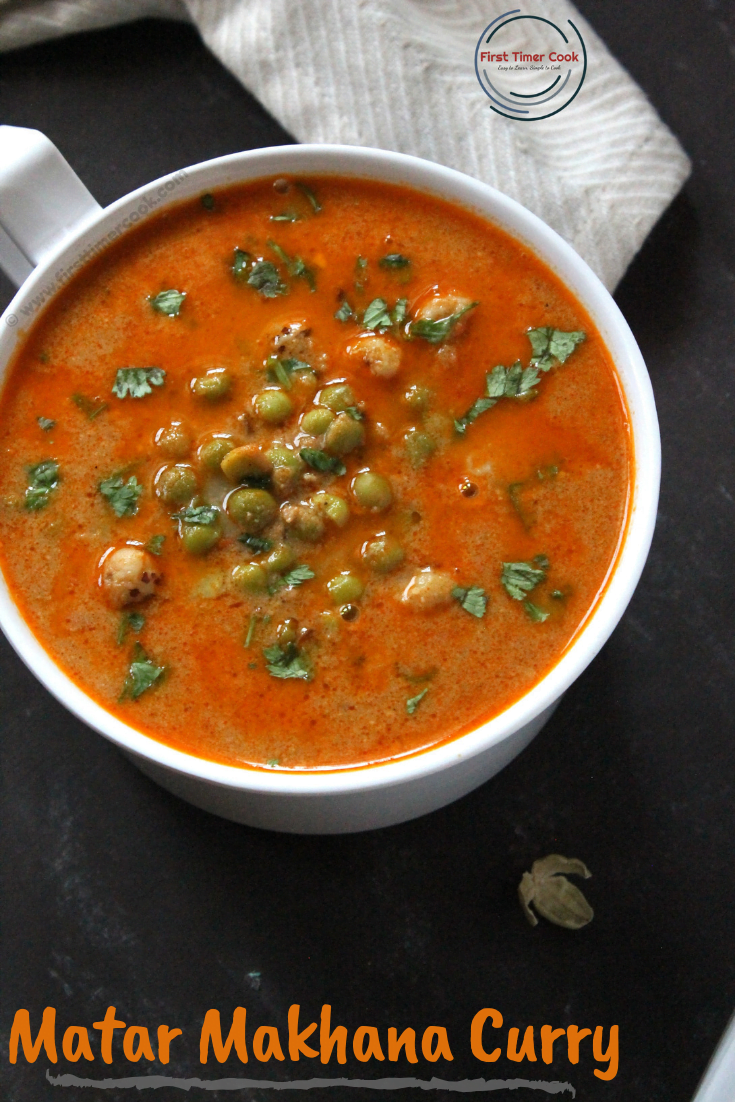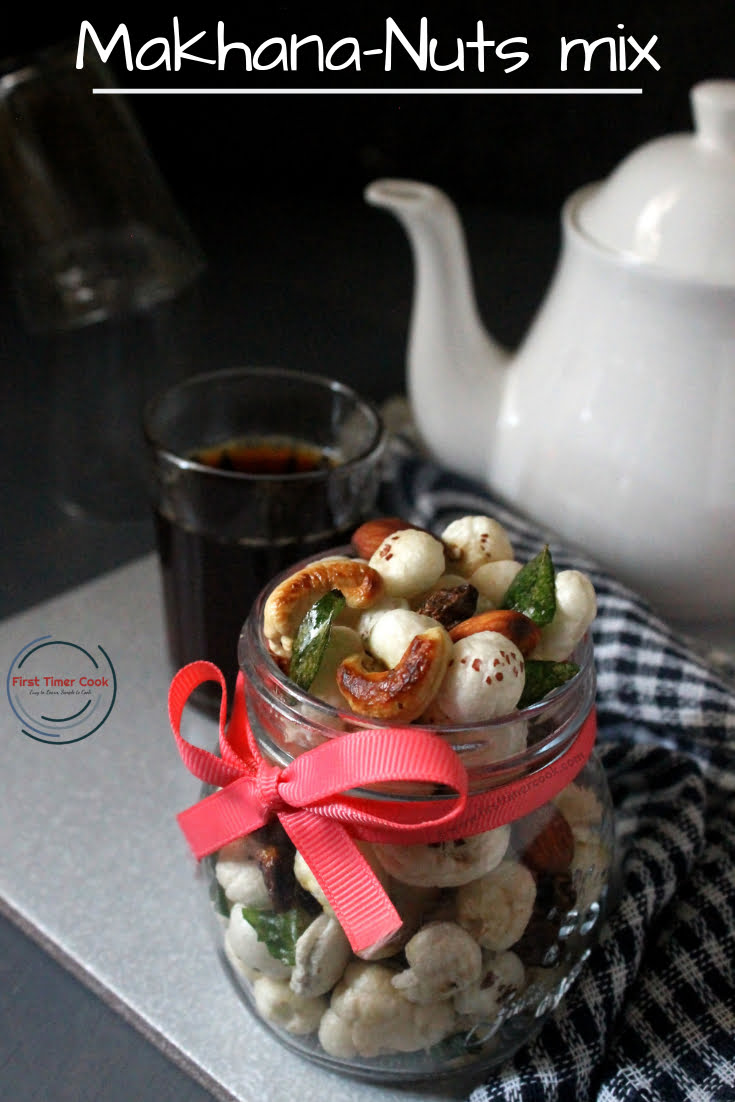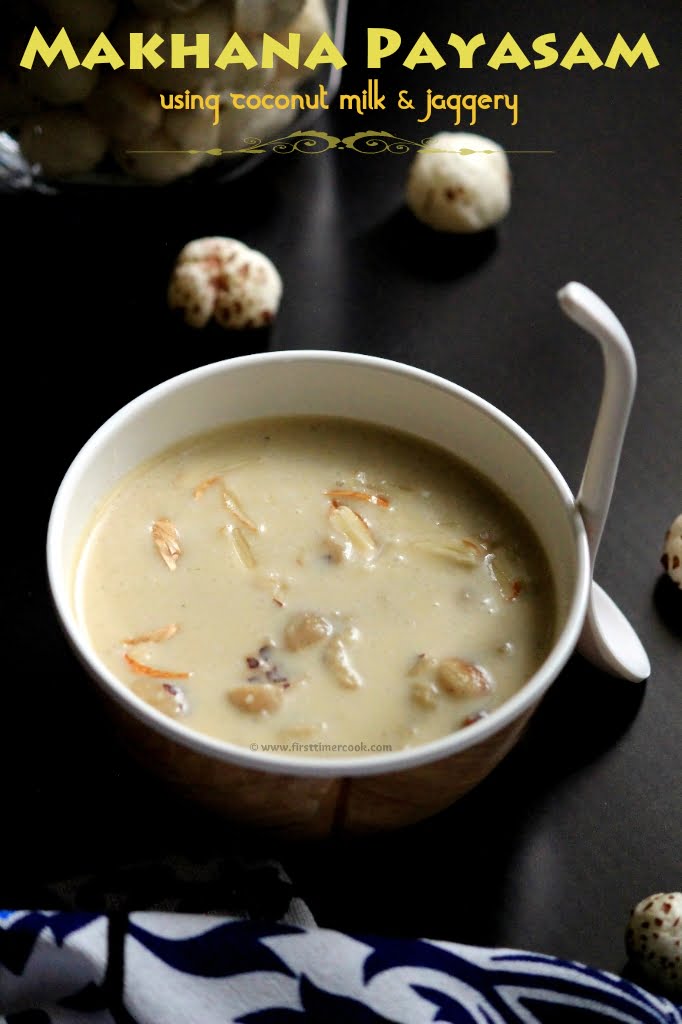 Ingredients to make these ladoos –
⧫ Foxnut (makhana) –
I have used the raw ones. First I have roasted them and used in powder form to make the ladoos. If you have ready made roasted (either ghee roasted or plain roasted) ones, then simply make a coarse powder and use.
⧫ Coconut –
I have used freshly grated coconut here. If desiccated coconut is accessible, then use it without any roasting.
⧫ Dry fruits –
Pick any dry fruits like pistachio, cashews, almonds, raisins, walnuts etc. I have used only cashews and almonds.
⧫ Rose petals and rose essence –
Some dried rose petals I have added to the ladoos along with few drops of rose essence. If rose essence is not available then simply add pinch of cardamom powder.
⧫ Sugar –
The sweet factor comes from this ingredient in the ladoos.
⧫ Water –
Use to make the syrup along with sugar.
⧫ Ghee –
This is used for greasing the palms to avoid sticking while shaping the balls. One can also roast the makhanas with some ghee, I have dry roasted the makhanas.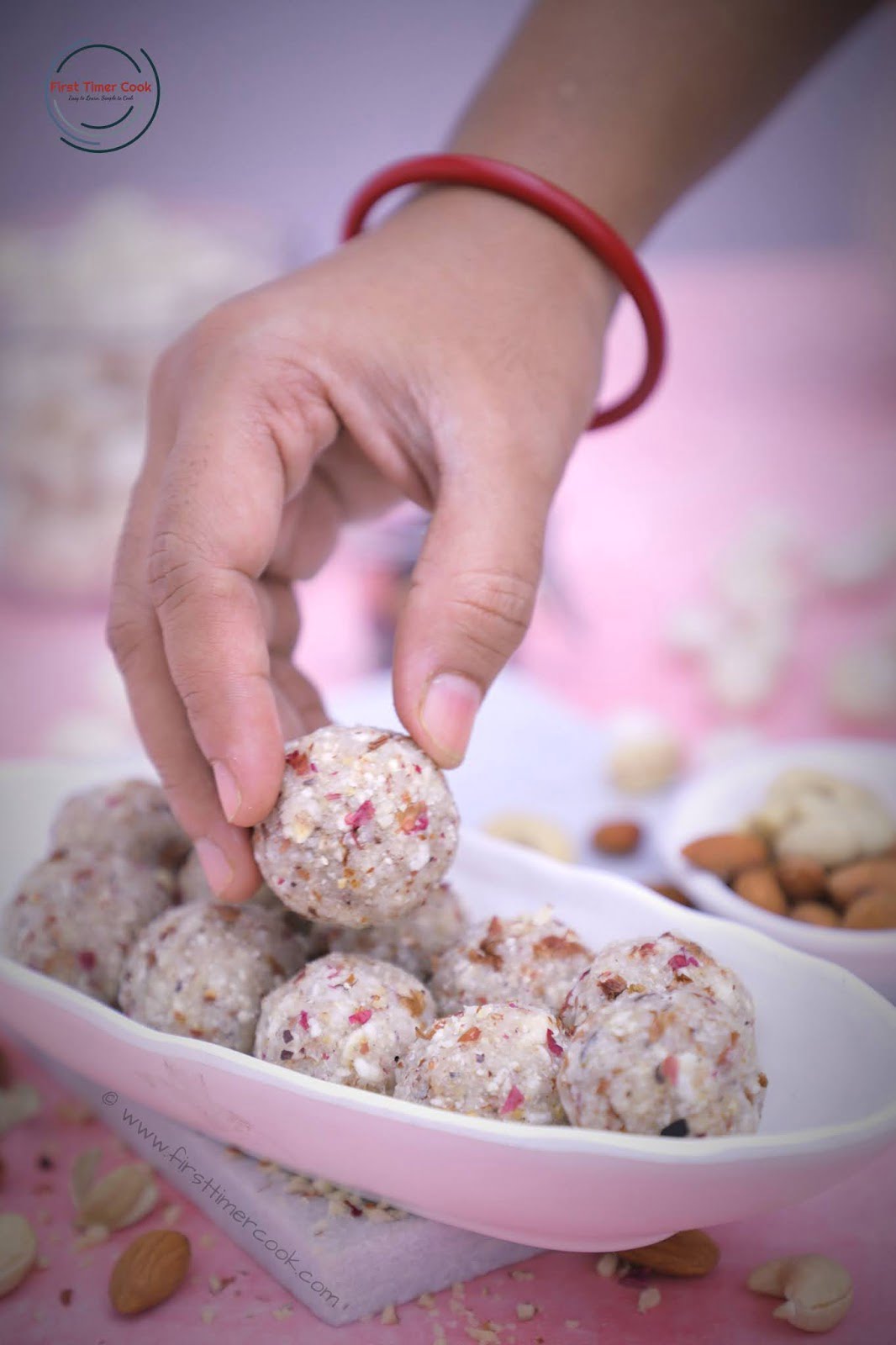 Dietary note :
✔ Gluten free
✔ Festive Dessert
✔ Make-ahead dish
✔ Fasting recipe
✔ Vegetarian
✔ Simple and quick
What are the Serving suggestions ?
As the fasting time is approaching, so these ladoos can be prepared ahead of time and stored in an air-tight container. These are perfect pick for those in between meal hunger attack 😉. Also for gifting to relatives, friends during festival these are so so good choice to impress as these have an unique flavor of rose. And yes, no one will guess the major ingredient used in this which is the humble Makhana / Foxnut. Do try these surely and share the feedback in the comment section below !!!
Let's go through how to make "Foxnut Coconut Ladoo" at home 👇
The event related to this post :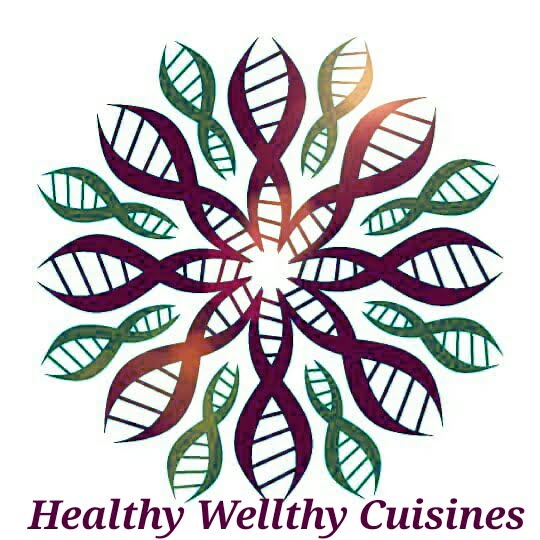 Well this time our fortnight foodie group named as Healthy Wellthy Cuisines is decided to select 94th theme : 'Navratra Fasting Recipes'. As the navartra is approaching so we all decided to make some festive dishes. So I have come up with this Foxnut Coconut Ladoo with Rose Flavor and contributed for the theme. Here are some similar recipes shared by our Healthy Wealthy Group members Aval Kesari by Preethi di, Rajgira flour Halwa by Shalu di, Lauki Raita by Swati, Sundal Masala Powder by Narmadha,
Custard Apple Kheer by Jayashree, Dahi Sabudana by Poonam.
And, yes !!!
If you like the recipe shared here and give a try at your place then do share in INSTAGRAM by tagging #firsttimercook. I would be so happy to see and surely share in my INSTA stories 😊😊
: Recipe Card
: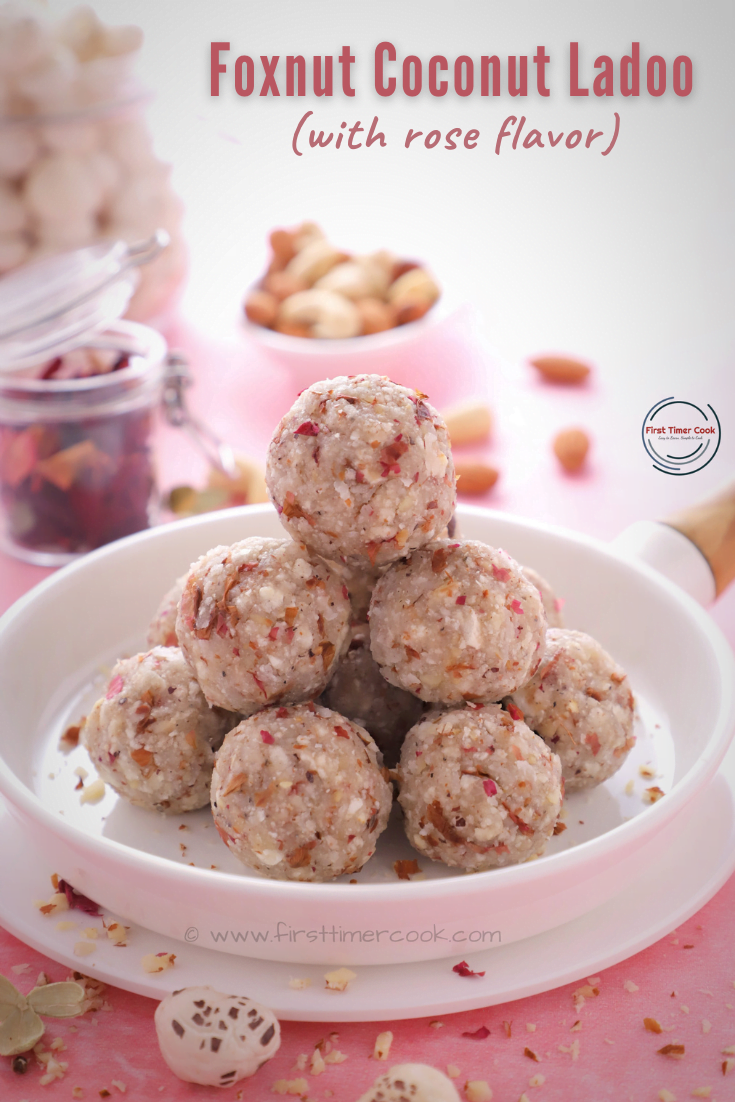 Author
Sasmita
Prep time
10 Min
Cook time
20 Min
Total time
30 Min
Foxnut Coconut Ladoo with Rose Flavor
easy and quick festive time ladoos using makhana (foxnuts), coconut and flavored with rose.
Ingredients
Foxnut (makhana) 3.5 cup
Coconut (grated) 2/3 cup
Cashew 1/3 cup
Almond 1/3 cup
Rose petals (dry) 2 tbsp
Rose essence 1/2 tsp
Sugar 3/4 cup
Water 1/4 cup
Ghee 3-4 tsp
Instructions
In a pan dry roast the foxnuts / puffed lotus seed / makhana till perfectly crisp over low-medium heat.
Transfer to a plate and allow to cool a bit.
Meanwhile, take the grated coconut in the pan and fry for 1-2 minutes.
Take out the coconut to a plate and add the nuts to the same pan.
Dry roast them and transfer to the plate.
Make a coarse powder of all the roasted makhana in a blender first and then the roasted nuts.
Keep these powders in a plate.
Now take sugar and water in the same pan and make a syrup ( no need of any string consistency in the syrup, just check for the sugar to be melted well).
Turn off heat.
Add rose essence along with the coarse powders, coconut, the roughly chopped dry rose petals and ghee.
Mix everything well using a spatula and keep aside to cool a bit.
When the mixture is still warm, start making the ladoos.
Take 1-2 tbsp of mixture in palm and gather to make small ball shape (around 2 inch dia). Keep in a plate.
Repeat the above process to make ladoos with remaining mixture.
Serve or keep in air-tight container for later use !
Notes:
Along with rose essence, few pinch of cardamom powder can be added in these ladoos.
Adjust the sweetness as desired.
Pick any other dry fruits like pistachio, raisins, walnuts etc.
Desiccated coconut can be used. In that case, add these directly to the mixture without frying.
https://firsttimercook.com/2020/10/foxnut-coconut-ladoo-with-rose-flavor.html
Makhana, puffed lotus seed, dry fruits, rose essence, dry rose petals, easy and quick
Dessert, festive sweet dish, foxnut balls, vegetarian, gluten free, egg less
Indian
Did you make this recipe?
Tag@firsttimercookon instagram and hashtag it#firsttimercook
You may also follow me on Facebook, Pinterest, Twitter, Google+, Instagram and can subscribe for free to get new recipes directly into your inbox 😊
PIN for later :