Date Coconut Balls are a super quick & easy snack that tastes so delicious with 5 simple ingredients, with no added sugar.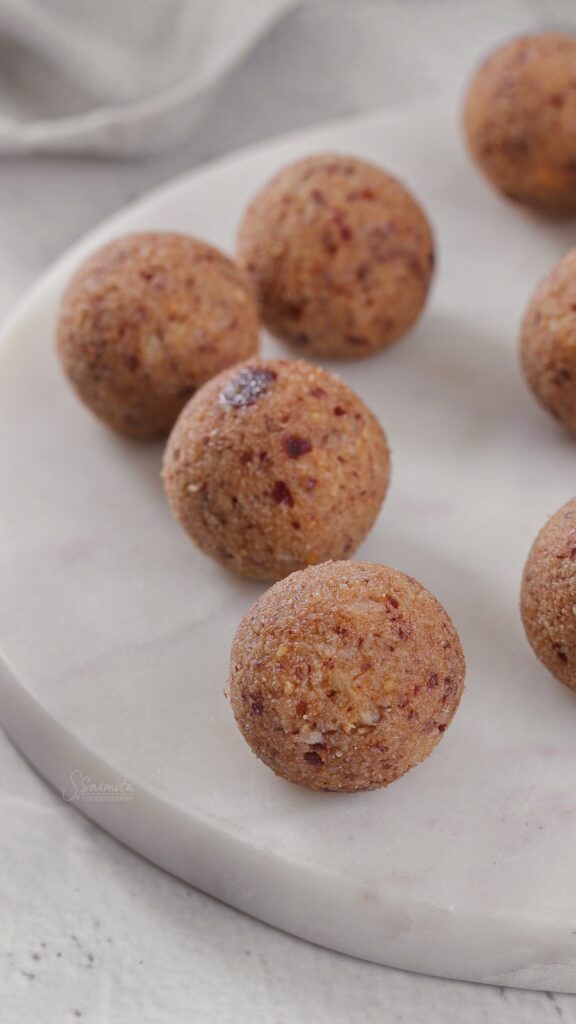 These balls are delicious and nutritious treats made from a combination of dates, shredded coconut, and cashews. The bite-sized delights are packed with natural sweetness from the dates, a delightful crunch from the cashews, and a tropical twist from the coconut.
They are a perfect guilt-free indulgence for those with a sweet tooth or anyone looking for a healthy snack option. With their soft and chewy texture, they are incredibly satisfying and can be enjoyed as a quick energy boost or a delightful after-dinner treat.
These dessert balls are not only tasty but also provide a good source of fiber, healthy fats, and essential nutrients. Whether you're looking for a post-workout snack, a lunchbox treat, or a party dessert, date coconut cashew dessert balls are sure to be a crowd-pleaser.
Event-related to this post :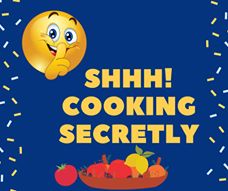 The November month challenge in the 'Shhhhh Cooking Secretly Challenge' group was 'Healthy Desserts', suggested by Rafeeda. Well, I was partnered with Seema for this theme, she gave me 2 secret ingredients Coconut and Peanut butter, and I gave her the secret ingredients Cardamom and Walnut. And as usual, using my two ingredients I have come up with this Date Energy Balls for the theme contribution.
📖 RECIPE CARD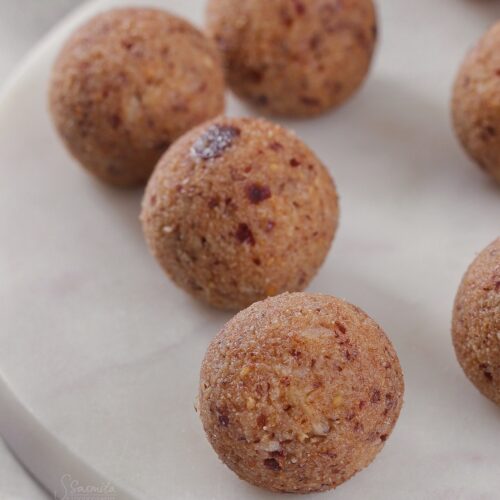 Date Coconut Balls
Date Coconut Balls are super quick & easy snack those taste so so delicious with 5 simple ingredients, with no added sugar.
Ingredients
1

cup

Medjool dates (pitted)

½

cup

Cashew

1

cup

Shredded coconut

1

tbsp

Peanut butter

¼

tsp

Sea salt
Instructions
Into a large food processor fitted with a 'S' blade, add the pitted dates, coconut, cashew, peanut butter, and salt.

Process until the mixture looks crumbly. Be careful not to over-process the mixture, as it can become quite greasy when blended for too long.

Using a tablespoon scoop the mixture, then roll it between your hands to form balls.

Enjoy these date coconut balls right away at room temperature, or store them in a container in the fridge.
Notes
Instead of cashews, any other dry fruits like walnuts, or almonds can be picked.