an Indian condiment using the root vegetable, CARROT; perfect for dip or spread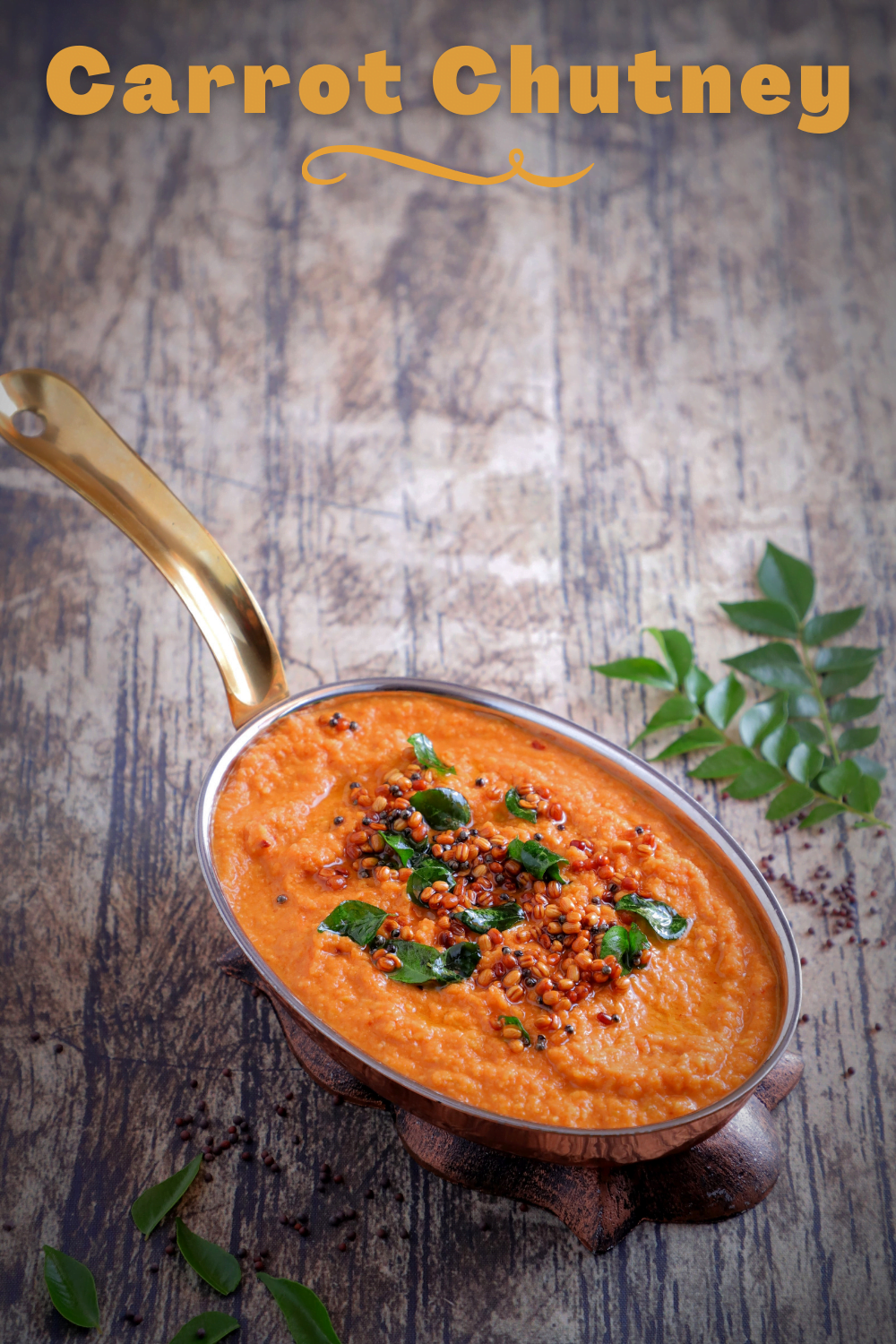 Chutney is an integral part of Indian cuisine. It can be savory, sweet, spicy, or sour in taste. Basically, this is used to provide balance to an array of dishes. Chutney is made by using fruits, herbs, vegetables, etc. As compared to another part of the Indian subcontinent, South Indian cuisine has a broad collection of chutney like coconut chutney, peanut chutney, tomato chutney, coconut coriander chutney, tomato coconut chutney, and many more.
Here I have come up with a chutney recipe using the root vegetable, carrot. If you are bored of making carrot halwa, then you must try this chutney using the carrot for a change.
I have added some freshly grated coconut which adds a nice texture to the chutney along with tamarind pulp which gives a sour factor and perfectly balances the sweetness of the carrot.
The spiciness in this chutney is from the whole red chilies. So just adjust the spiciness as desired. This also adds a nice color to the chutney along with the color from carrots.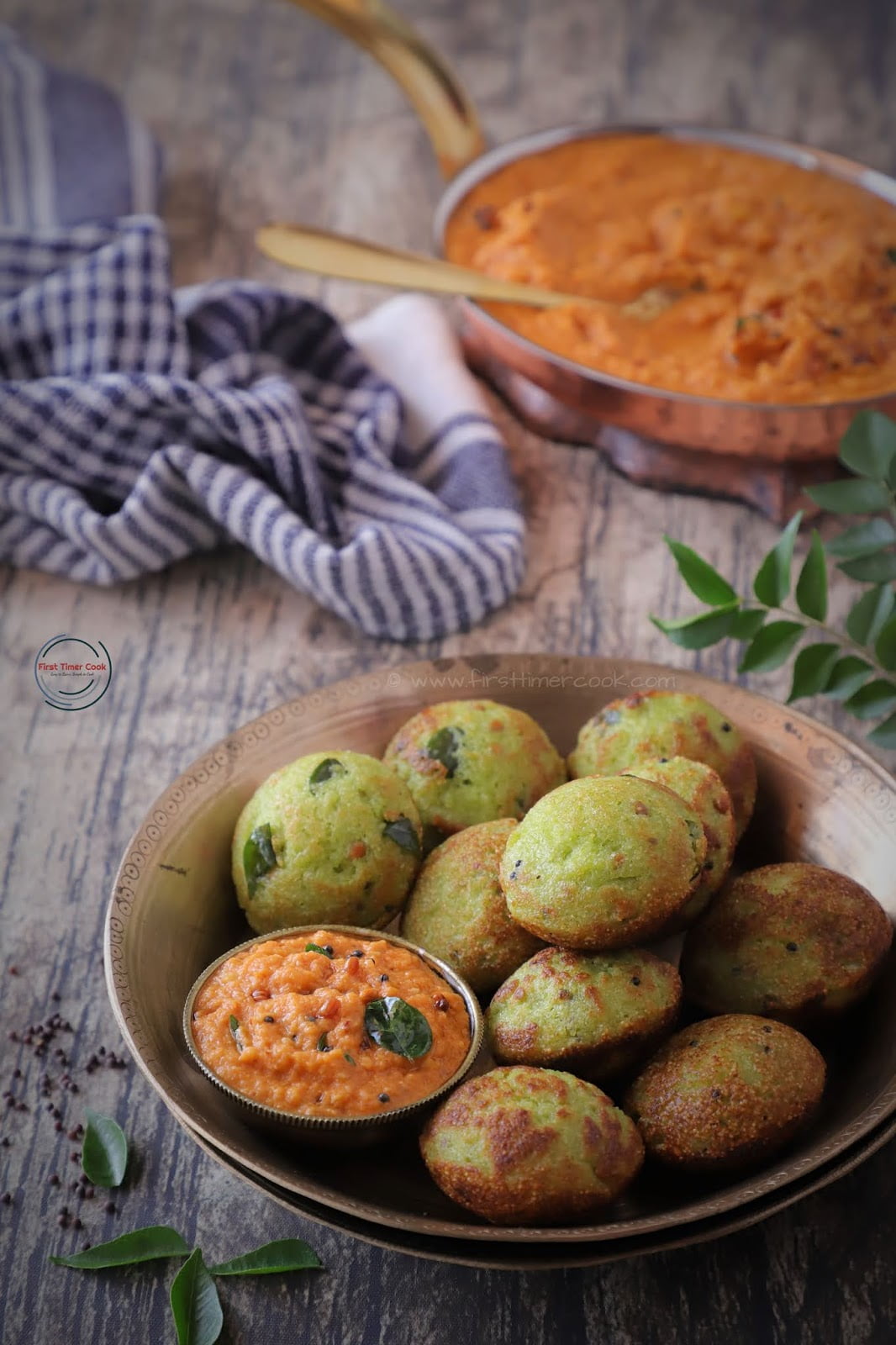 Dietary note :
✔ Vegetarian
✔ Gluten-free
✔ Easy to make
✔ Vegan
✔ Can be refrigerated
This chutney tastes great with idlis, dosa, vada, or even with paratha. Also as a sandwich spread this works pretty well. One can store this in the refrigerator by keeping it in an air-tight container, the chutney stays good for few days.
Carrot chutney is very simple, easy to make, and much healthy too. I have served this carrot chutney with some green peas appe. Do check my previous post for the appe recipe details.
Event-related to this post :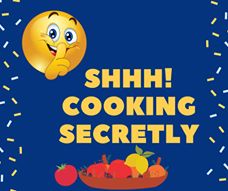 Well, the November month challenge in the 'Shhhhh Cooking Secretly Challenge' group was 'Chutneys'. The theme was suggested by Priya Vijay Krishna, who has a wonderful blog where she shares her culinary journey. Well for the current theme, I was partnered with Shobha di who gave me 2 secret ingredients as Chilies & Chana dal and I gave her Mustard Oil & Panch Phoron. Do check this Olive Chutney prepared by her 😊 And as usual, using my two ingredients I have come up with Carrot Chutney for theme contribution.
And, yes !!!
If you like the recipe shared here and give it a try at your place then do share in INSTAGRAM by tagging #firsttimercook. I would be so happy to see and surely share in my INSTA stories 😊😊
Now let's go through how to make "Carrot Chutney" at home 👇
: Recipe Card :

dip, carrot chutney, carrot, Indian chutney, coconut,
Chutney, Condiments, Vegetarian, Gluten-free, Vegan
Indian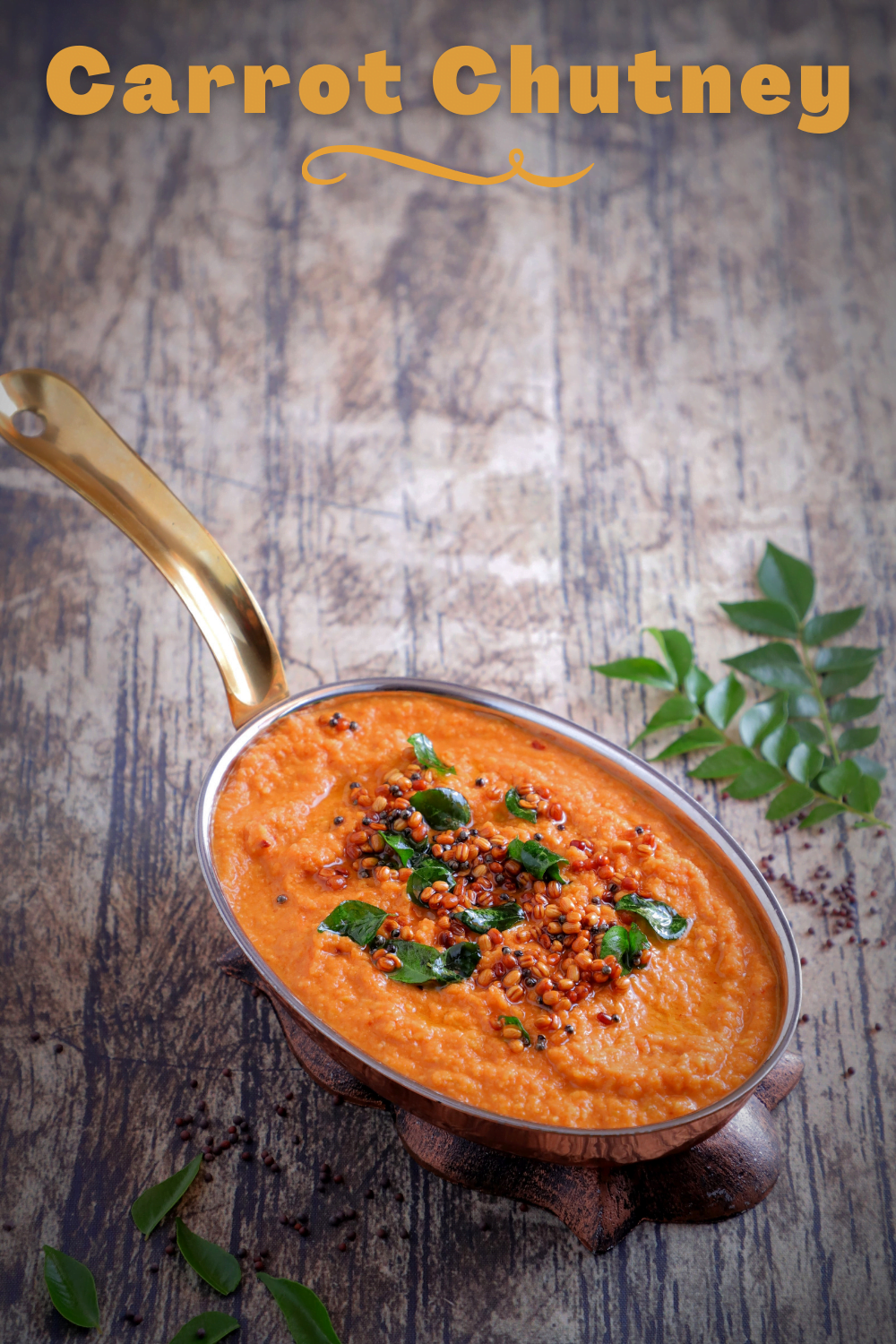 Carrot Chutney
an Indian condiment using the root vegetable, CARROT; perfect for dip or spread
Prep time: 5 MinCook time: 10 MinTotal time: 15 Min
Ingredients
Carrot (grated) 1 cup
Coconut (grated) (optional) 1/4 cup
Onion (finely chopped) (small) 1 no.
Garlic clove 2-3 no.
Whole red chili 4-5 no.
Chana dal 1 tbsp
Urad dal 1 tsp
Tamarind pulp 1/2 tsp
Mustard seed 1/2 tsp
Curry leaf 1 sprig
Oil 3 tsp
Salt as needed
Water as needed
Instructions
In a pan, heat 2 tsp oil.
Add chana dal, whole red chilies, and fry over low-medium heat till dal looks light brown in color.
Next add chopped onion, garlic cloves, and saute till the onion looks transparent.
Then add grated carrot and saute for 1-2 minutes.
Turn off heat and allow the mixture to cool down completely.
In a blender jar, put this cooled mixture along with grated coconut, tamarind pulp, and salt.
Blend to a smooth paste by adding the required amount of water.
Transfer this chutney to a bowl and keep it aside.
Now in a small pan, heat 1 tsp oil.
Add the urad dal, mustard seeds and allow to splutter well.
Next, put the curry leaves and turn off the heat.
Pour this tempering over the chutney bowl and give a nice mix.
Serve along with idli, appe, dosa, paratha etc!
Notes:
Coconut is totally optional. I like to add in this chutney.
The spiciness is variable, increase/decrease the no. of whole red chili as desired.
Tamarind pulp adds a little sourness to the chutney.
While blending, add water according to the consistency desired in the chutney.
https://firsttimercook.com/2021/03/carrot-chutney.html
Did you make this recipe?
Tag@firsttimercookon Instagram and hashtag it#firsttimercook
You may also follow me on Facebook, Pinterest, Twitter, Instagram, Youtube and can subscribe for free to get new recipes directly into your inbox 😊
PIN for Later :