a super simple and lip smacking pickle made using raw mango and flavored with a special masala powder and mustard oil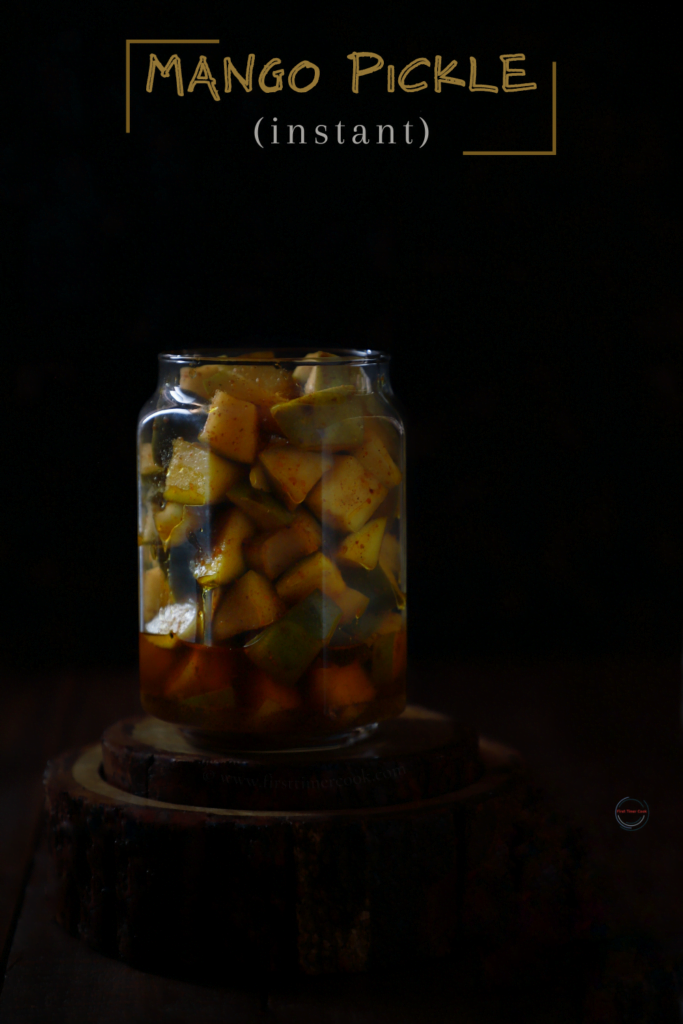 Pickling, as a way of preserving food, is almost as old as cultivation. Whenever there was a glut of a particular kind of food, whether fruit or a vegetable or a kind of meat, it was pickled so that it could be eaten during the lean months of the year. Different produce was pickled at different times of the year; for example, mangoes in summer and root vegetables like radish (moola / mooli) and carrots in winter. No pickling was done during the monsoon months because the humidity and inadequate sunlight would make it difficult to keep the pickles from spoiling.
In India, pickle means we refer to Achaar (in Hindi). From selecting the right raw materials to carefully preparing the ingredients, from assembling the pickles to adding spices and then waiting for the pickle to be finally ready – a lasting memory of childhood vacations, each and every Indian child must-have.
Pickles in India are of three basic types depending upon the preservation like in :
Oil is a popular medium, used for pickling in India. No meal is complete without a spoonful of the sweet, sour, spicy, and mouthwatering Indian pickle aka achaar.
Mango Pickle –
Mango pickles are by far the most popular Indian pickles, and there are hundreds of types of mango pickles in India. When mango is in season, Mango Pickle will appear in almost all of our kitchens.
But sometimes, we don't have that much time and even patience to wait for such a long period to enjoy the pickle. Also sometimes our stock of pickles is no longer available which is a must in everyday meal, then the INSTANT pickles work at its best. The instant versions have been a boon to avoid those prolonged pickling processes too.
So here I have come up with an Instant version of Mango Pickle with just 3 ingredients.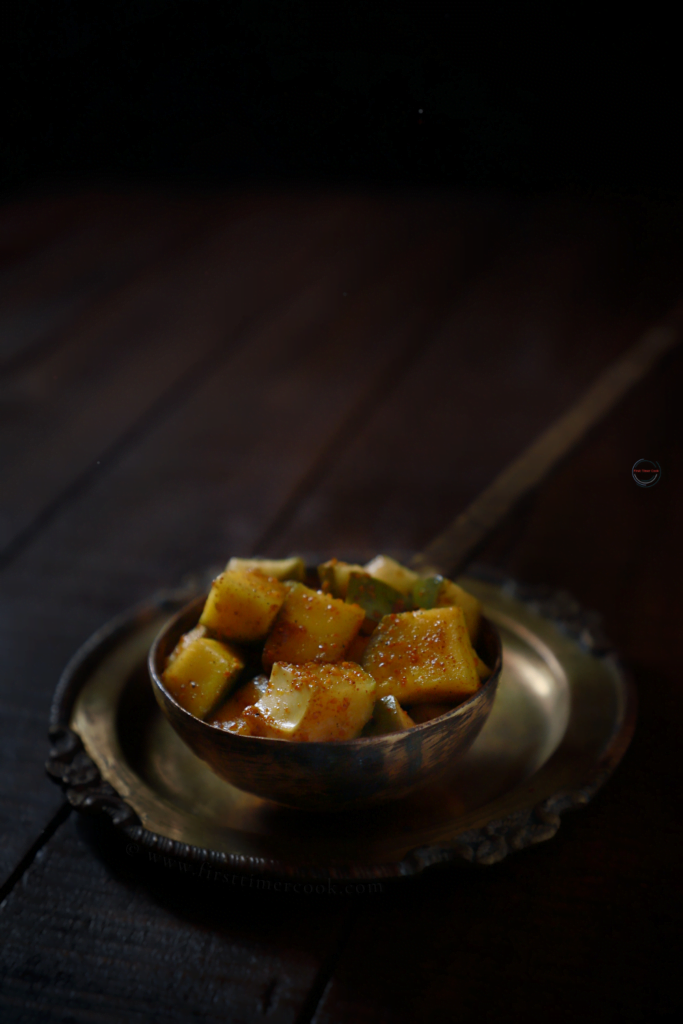 What does go into this instant mango pickle ?
Raw mango – For making any kind of pickle, always pick the mango fresh and firm. I have used medium-sized raw mangoes here and I have just chopped them into 1-inch cubes.
Achari masala powder – This is a handy masala powder that is always in my pantry. This powder can be used in most Indian pickles or even curries and side dishes to give a distinct flavor as well as taste to the whole dish.
Mustard oil – We, Odia likes mustard oil in almost all dishes. And here is the same, so used mustard oil. Any other oil one can add here as well like sesame oil, sunflower oil, etc.
Salt – as needed
So basically this Mango Pickle is

✓  very easy to make
✓  tangy and spicy
✓  INSTANT
✓  stay fresh upto 1 week if refrigerated
✓  vegan and gluten free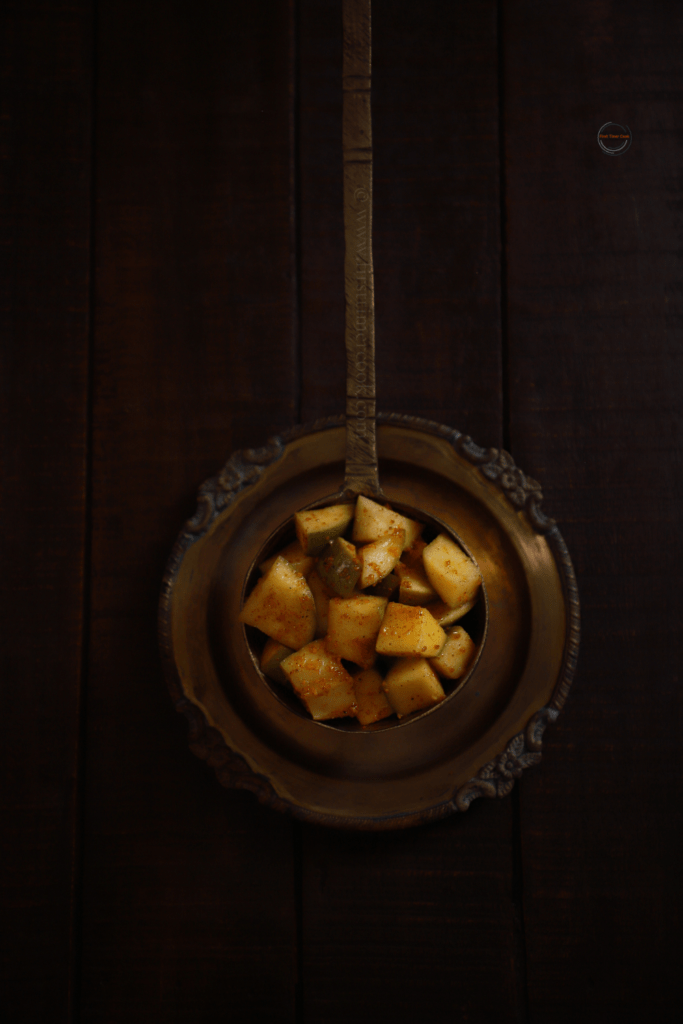 And, yes !!!

If you like the recipe shared here and give it a try at your place then do share in INSTAGRAM by tagging #firsttimercook. I would be so happy to see and surely share in my INSTA stories 😊😊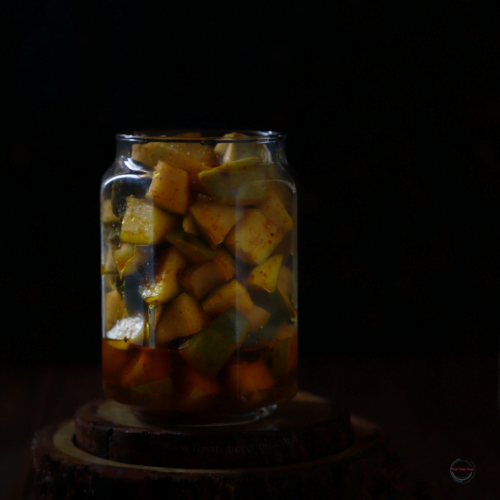 Instant Mango Pickle
A super simple and lip smacking pickle made using raw mango and flavored with a special masala powder and mustard oil
Ingredients
3

no.

Raw mango (medium)

3

tbsp

Achari masala powder

3

tbsp

Mustard oil

Salt

as needed
Instructions
Cut the mangoes into halves, discard the seed.

Chop into 1 inch cubes either keeping the skin on or peeling out.

Pat dry the cubes using a kitchen towel as any moisture left out on the mango cubes can reduce life of the pickle.

Keep all the cubes in a mixing bowl.

Add achari masala powder along with salt and mix well using a neat and clean spoon.

Keep aside for 15 minutes.

Meanwhile, heat the mustard oil to the smoking point (once first wisps of smoke appear, immediately turn off the heat) and then cool it to the room temperature.

Pour this over the mango pickle, mix again.

Fill this pickle in a clean sterile jar and close the lid.

Let it sit for 1 day at room temperature, then keep in refrigerator to use within 1 week.
Notes
One can mix 1 pinch of asafoetida (hing) to the pickle. I have not added.
By keeping it in the refrigerator, this pickle can stay fresh for up to 1 week.
Always pick fresh and firm mangoes.
The bottle, the spoon must be sterilized well while using for any kind of pickle. Even a bit of moisture may spoil the pickle.
You may also follow me on  

Facebook

, 

Pinteres

t, 

Twitter

, 

Instagram

 

and can subscribe for free to get new recipes directly into your inbox 😊
PIN to read later :