an INSTANT pasta recipe in the oven with just a handful of ingredients

Perfect to make when there is no mood of cooking elaborately!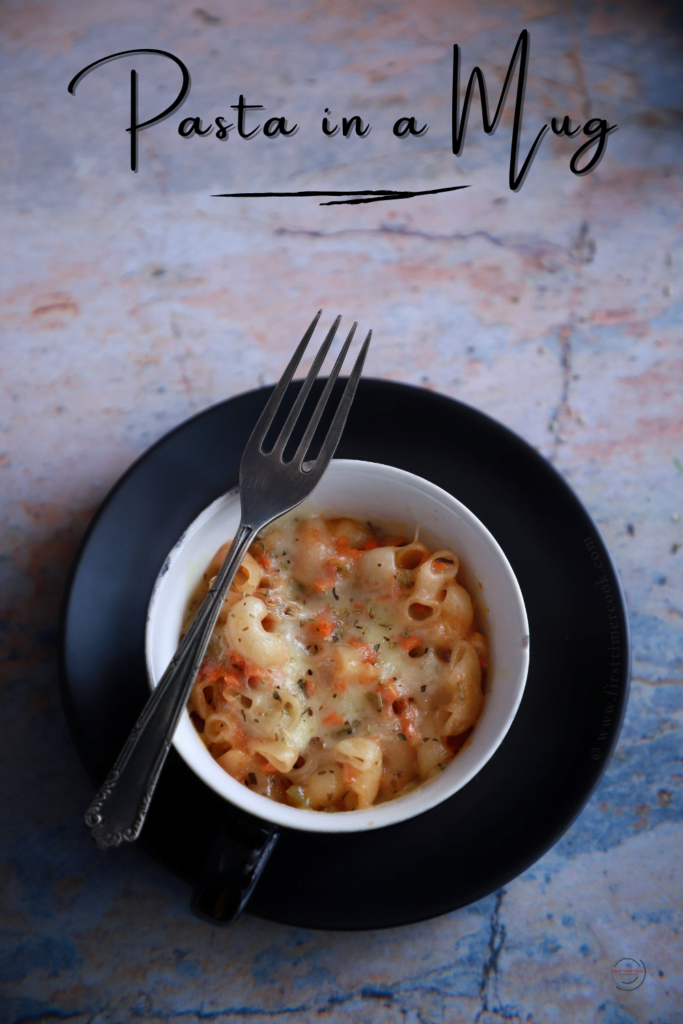 There is something very comforting about a bowl of cheesy pasta. A perfect bowl of pasta is enough to make any pasta lover happy and satiate the cravings any time of the day. From the cheesiest pasta to the sauced-up spaghetti, every kind of pasta has its own taste and texture. Isn't it?
All one needs to do is boil the pasta and mix it with own favorite veggies and sauce. And voila! So this is as easy as it sounds.
Well do you know, we can prepare pasta in a mug ! Guess what, the answer is Yes 🙂
Pasta in a Mug –
There are days we are willing to cook up a storm, and then there are days we are looking for something comforting, probably in a big bowl or mug, that we can take to our bed and dig in peacefully. It is not possible to hustle in the kitchen every day, mug recipes are ideal for one such lazy day and a lazy cook in you. I know, most agree with this 🙂
All we have to do is put all the ingredients together in a mug, keep it in a microwave and we are done. So we can make a range of things in a mug, from gooey chocolate cakes to a fluffy omelet and even some pasta.
The pasta in a mug is a fairly simple recipe, particularly handy for those odd-time cravings.
Just simply pick a big enough, microwave-friendly mug for making pasta.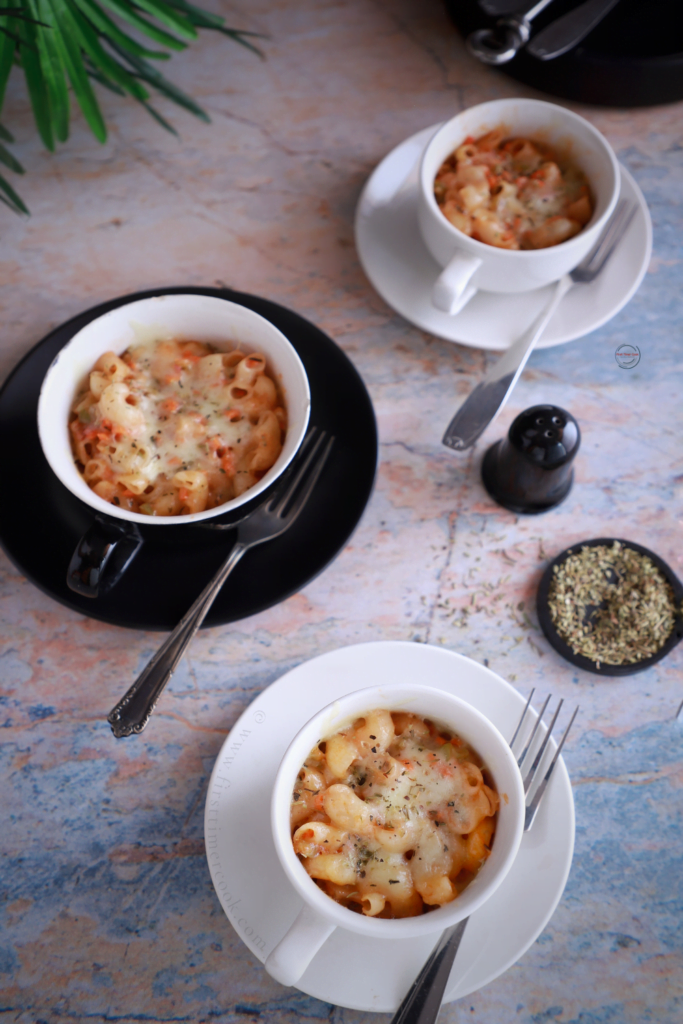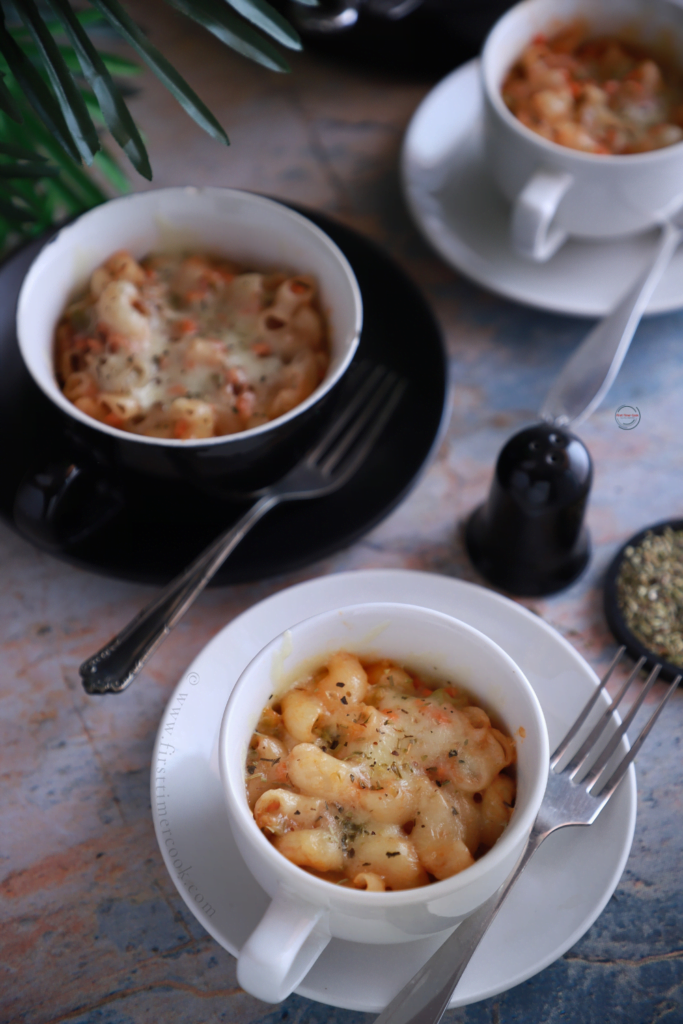 📖 RECIPE CARD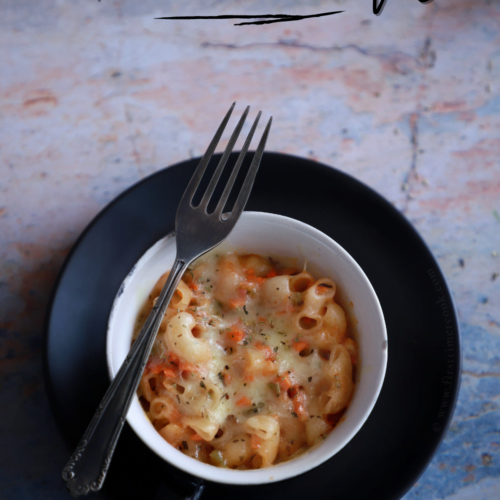 Pasta in a Mug
Ingredients
1½

cup

Pasta (macaroni)

6

tbsp

Carrot (finely chopped)

6

tbsp

Bell pepper (finely chopped)

6

tbsp

Onion (finely chopped)

Cheese (grated)

as needed

1½

tbsp

Pasta sauce

Mixed herbs

as needed

Chili flakes

as needed

Pepper

as needed

Salt

as needed

1½

cup

Water
Instructions
Take three microwave mugs (preferably coffee mugs those are big in size).

Put 1/2 cup pasta, 1/2 cup water, salt in each mug and stir.

Keep the mugs in oven and microwave at high for 2-3 minutes, stirring in between.

The pasta must be cooked by this time, if not srinkle little more water and microwave again.

Take out the mugs from the oven.

Now add 2 tbsp of finely chopped carrots, 2 tbsp of finely chopped bell peppers, 2 tbsp of finely chopped onions, 1/2 tbsp sauce, grated cheese, mixed herbs, pepper powder into each mug and mix well.

Again put the mugs in microwave for 2 minute on high.

Take out from the oven, immediately srinkle some more grated cheese for that extra cheesy pasta, although it is optional
Notes
Vegetables are totally optional. One can add as per choice too.
Always finely chop the vegetables if using as the cooking time is very less here.
Add less or more cheese as per need.
Macaroni pasta cooks first, that is why I have opted these for cooking in a mug.
You may also follow me on  

Facebook

, 

Pinteres

t, 

Twitter

, 

Instagram

 

and can subscribe for free to get new recipes directly into your inbox 😊
PIN to read later :