the rice flour open dumplings with urad dal paste as the stuffing from odia pitha series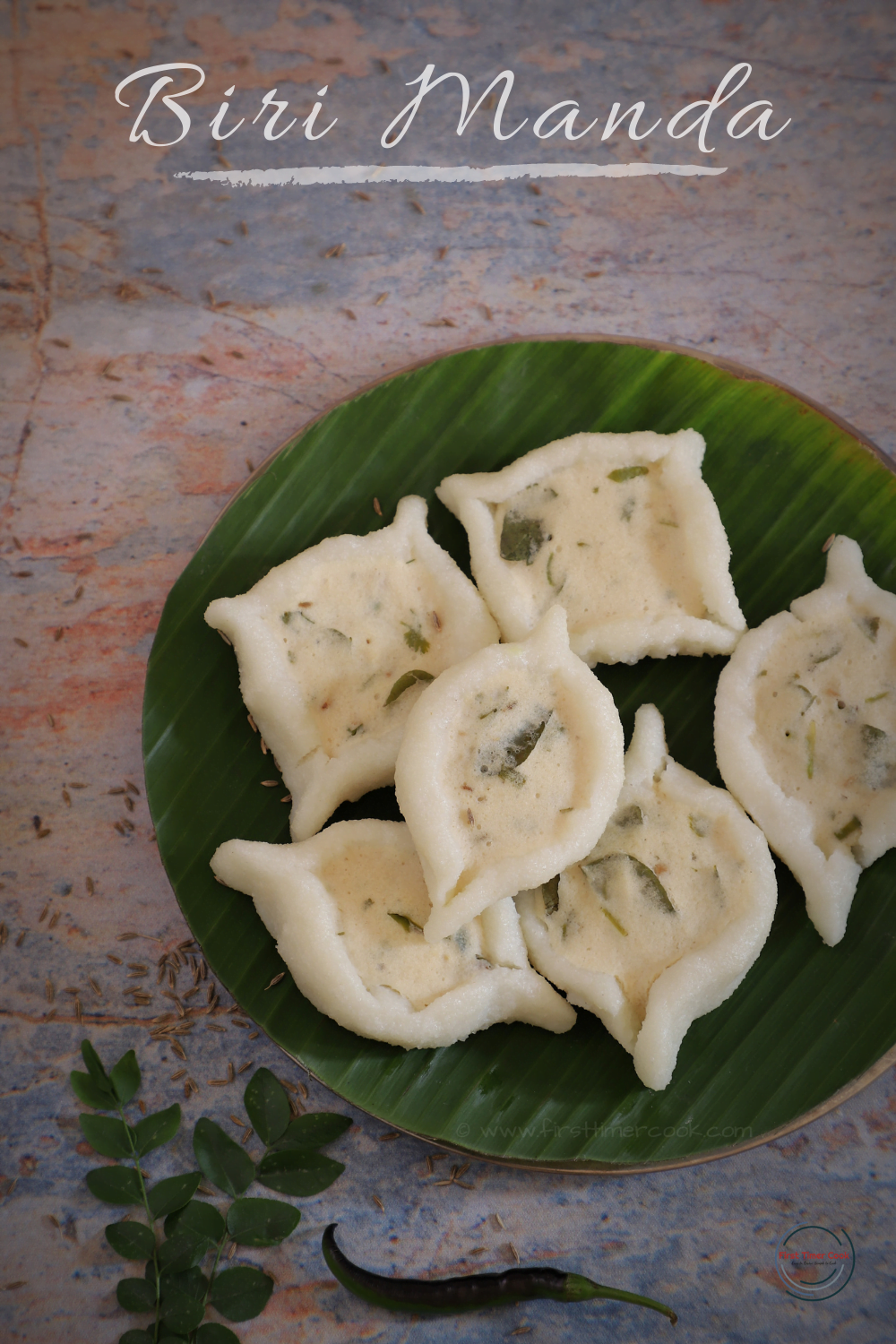 Odisha, one of the eastern states of the Indian subcontinent is a land of rich culture and tradition. In this state, there is a popular saying 'Bara Mase Tera Parba'. That means 'the Odia people celebrate 13 festivals in 12 months'. And each festival always calls for Pitha besides any other dishes. Pitha is basically a traditional sweet delicacy in the Odia language and the state of Odisha offers an amazing variety of pithas. Pitha is an integral part of Odia cuisine and is always in all Odia's hearts irrespective of many modern adaptions. Starting from Kakera Pitha, Arisha Pitha, Chunchipatra Pitha to Manda Pitha, Enduri Pitha, Poda Pitha, etc there is always an array of this.
Among these Manda Pitha is one of our most favorite. While I like the savory stuffing in the manda pitha in the steamed version, the rest of my family members love to have the sweet version which has a stuffing of coconut-jaggery mixture. In the savory version, the choice of stuffing completely depends upon the individual choice. One can go for vegetarian stuffing or even nonvegetarian (not for festival time) ones. I have grown up with having the cauliflower-potato stir fry stuffing in the savory manda pitha prepared by my mother still, sometimes I love to have the urad dal stuffing. With that dal stuffing, pitha is called Biri Gaja or Biri Manda.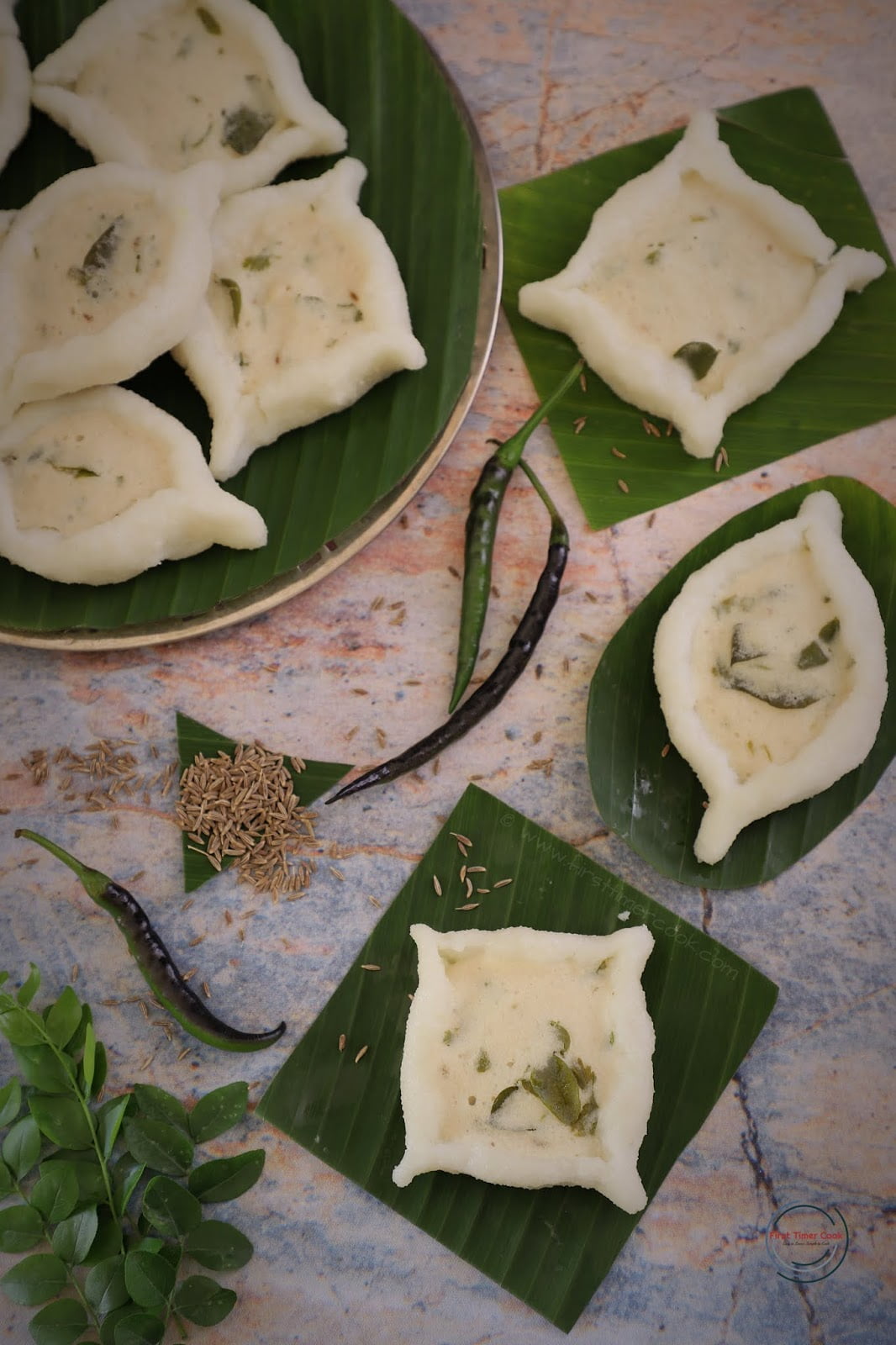 Dietary note :
✔ Vegan
✔ Side dish
✔ Gluten-free
✔ Vegetarian
✔ Without onion & garlic
✔ Festive friendly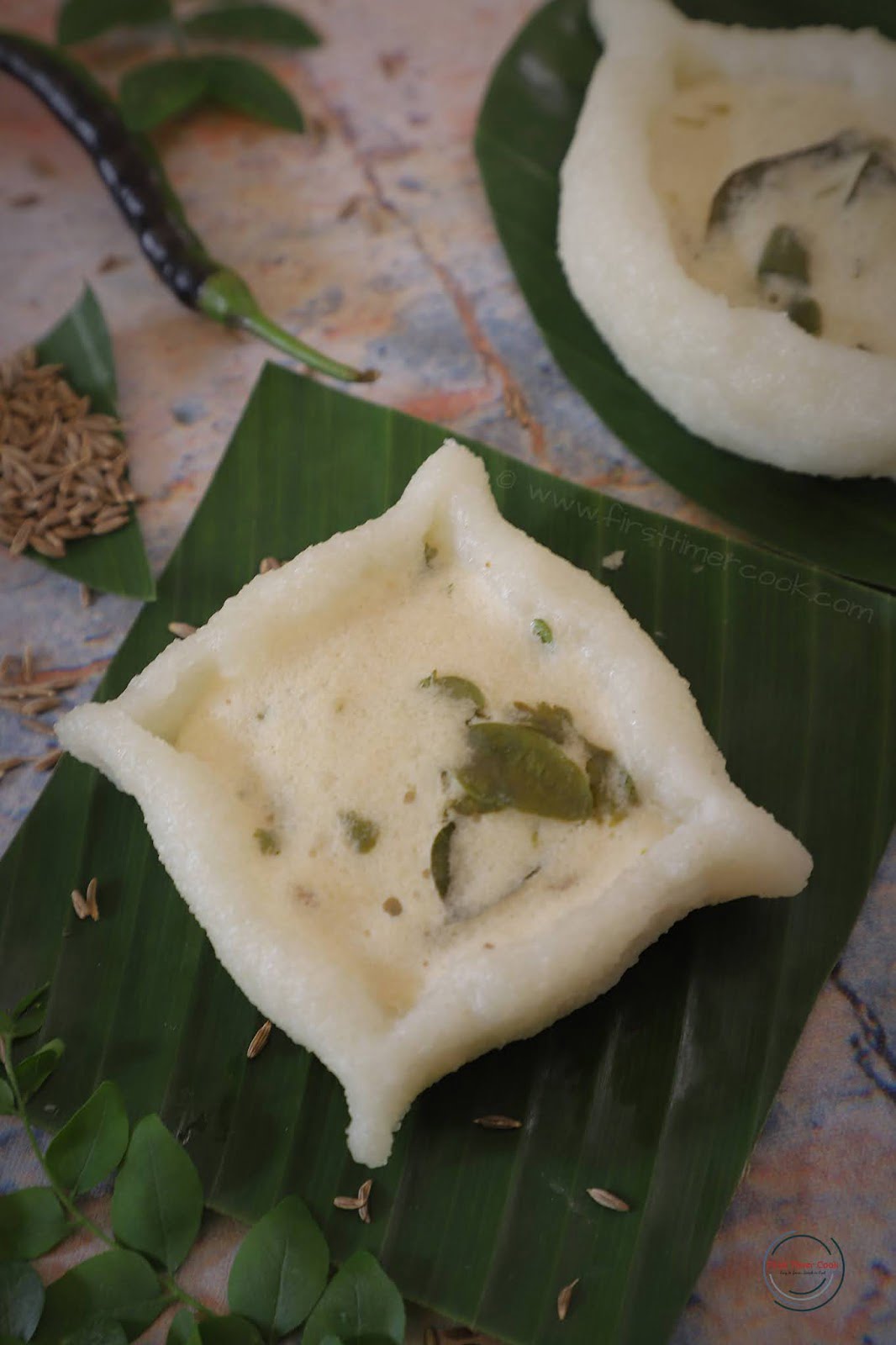 And, yes !!!
If you like the recipe shared here and give it a try at your place then do share in INSTAGRAM by tagging #firsttimercook. I would be so happy to see and surely share in my INSTA stories 😊😊
Now let's go through how to make this "Biri Manda" at home 👇
: Recipe Card
: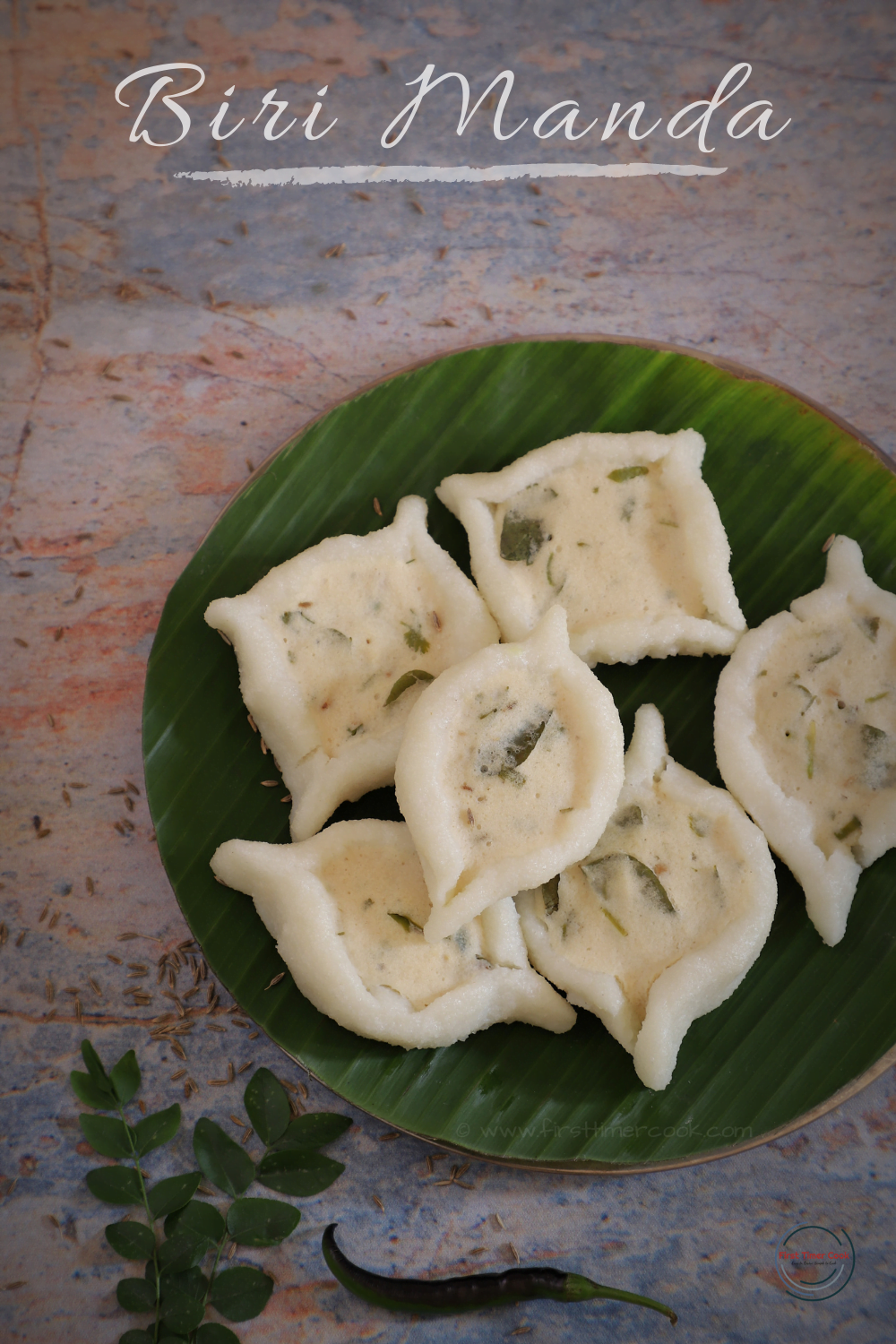 Author
Sasmita
Prep time
10 Min
Cook time
30 Min
inactive time
1 Hour
Total time
1 H & 40 M
Biri Manda Pitha / Biri Gaja
a rice flour open dumpling with urad dal paste as the stuffing from Odia pitha series
Ingredients
Rice flour (chaula chuna) 1 cup
Black gram (urad dal) (soaked) 2/3 cup
Green chili 2-3 no.
Ginger (grated) 1/2 tsp
Curry leaf 1 sprig
Coriander leaf (finely chopped) 1-2 tbsp
Cumin seed 1/2 tsp
Salt as needed
Water as needed
Instructions
First, in a kadhai/wok, boil 2 cups of water along with 1/2 tsp salt.
When water starts to boil, lower the heat and add the rice flour slowly while stirring continuously.
A dough will form soon, turn off the heat.
Cover the pan and allow the dough to cool down a bit.
Meanwhile, make a fine paste of the soaked urad dal using very little water.
Transfer the paste to a mixing bowl.
Into that add grated ginger, chopped green chilies, roughly tore curry leaves, and chopped coriander leaves.
Mix everything and keep aside.
When the dough is still warm, start kneading it with a wet hand to get a smooth and soft texture.
Divide the dough into equal size balls (around lemon size).
Take one ball at a time and start pressing using fingertips to make a small bowl shape.
Stuff 1-1.5 tbsp urad dal paste in it and close from either 2 sides / 4 sides with the center portion opened.
Keep this pitha on a plate and similarly make some more pithas with rest dough balls and dal paste.
Steam these pithas in a steamer for 10-15 minutes or till a knife/toothpick inserted in the stuffing comes out clean.
Take out from the steamer and allow to cool.
Serve as it is or with any curry or even with some chutney!
Notes:
Onions can be added in the chopped form if preparing on some other day instead of the festive time.
Adjust the spiciness as desired by adding more or less green chilies.
https://firsttimercook.com/2020/12/biri-manda-pitha-biri-gaja.html
no onion no garlic, odia pitha, Biri gaja, Rice flour, urad dal, dumpling
pitha, Biri manda pitha, Festival friendly, vegetarian,
Odia
Did you make this recipe?
Tag@firsttimercookon instagram and hashtag it#firsttimercook

You may also follow me on Facebook, Pinterest, Twitter, Google+, Instagram and can subscribe for free to get new recipes directly into your inbox 😊
PIN for later :