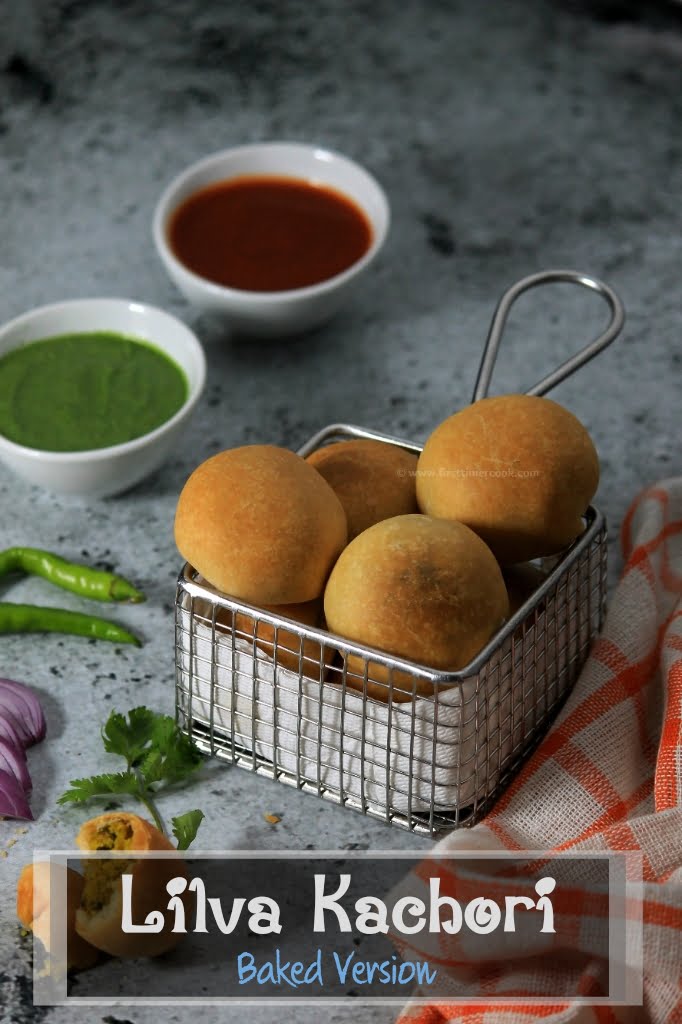 Eating healthier doesn't mean we have to give up snacking. In fact, snacking can be an excellent way to control cravings and keep us satisfied between meals as long as we snack in a smart way 😉. Healthy snacks can keep energy levels up and give us the needed nutrients. Some smart snacking tips for a healthy diet are as : always keep the portion of the meal small, munch on when there is only hungriness, choose fresh fruit instead of any fruit-flavored drink, try not to bring unhealthy ready-made snacks into the house 😊 etc.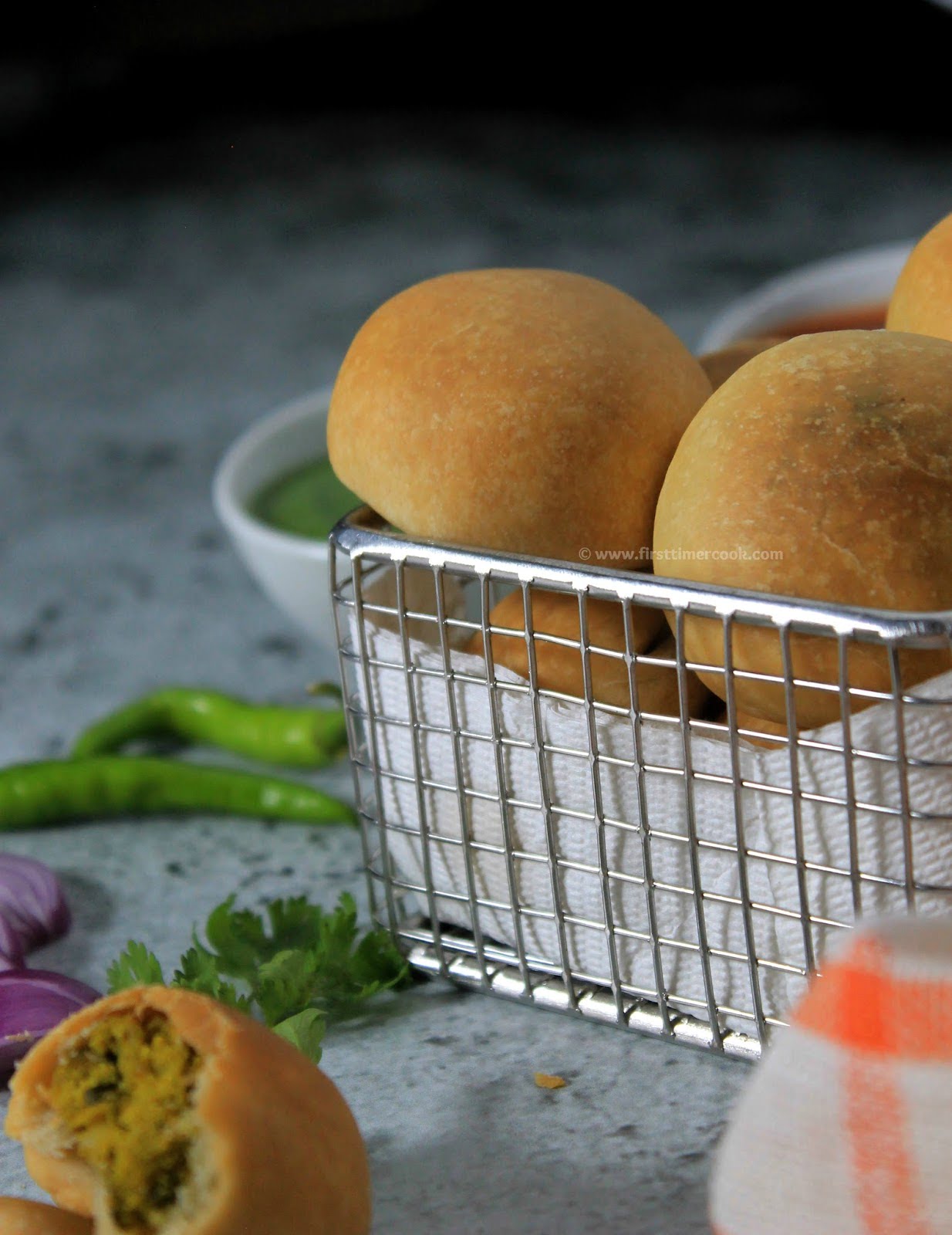 There are many snacks to choose from and certainly not all snacks are healthy. But we can modify the ingredients to make that unhealthy ones to healthier version. Well, today's post is all about the healthier version of a fried Gujarati snack, Lilva kachori or tuvar kachori or pigeon pea kachori. Instead of deep frying, these kachoris here are baked with a little oil brushing. The flour used for the outer covering of the kachori is also wheat flour. You may choose half-half proportion of wheat and all purpose flour, but I have preferred to make a healthier version by only wheat flour. The authentic lilva kachoris are made using all purpose flour. Well, another lipsmacking chaat I have shared using these healthy and baked kachoris in my next post.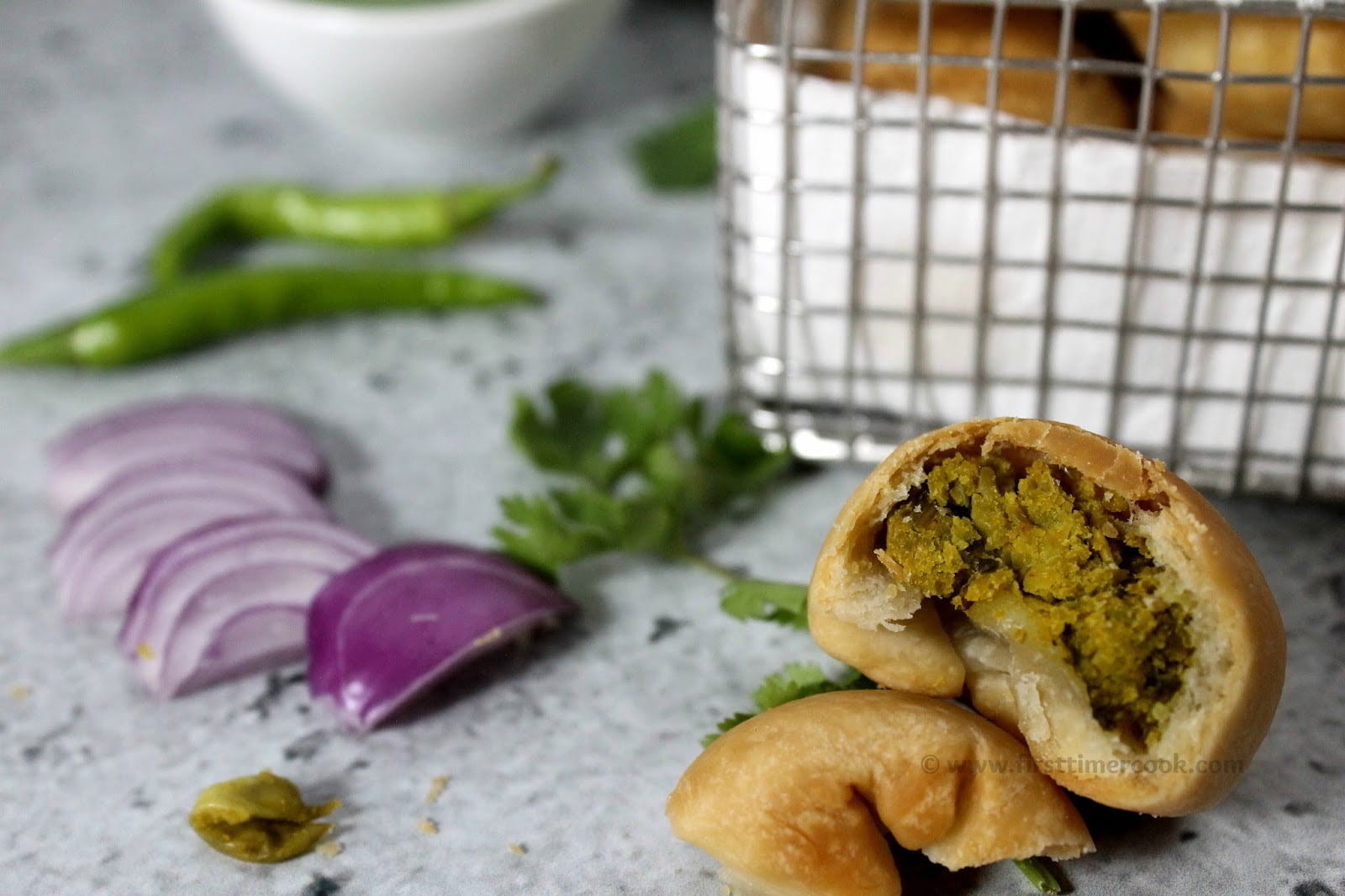 Pigeon pea or tuvar beans are called as lilva in Gujurati language. Specifically during winter, these beans are plentifully available as fresh. But these days like other things, frozen variety is always there in market. Lilva kachori is a popular South Gujarati recipe made out of lilva or tuvar beans as stuffing. Always be careful about not turning the tuvar beans into a smooth paste, just make a coarse mixture. Lemon juice and amchur powder I have used both to get a bit tanginess in the filling which in result balance the sweetness coming from tuvar bean and sugar. This lighter, healthier option of the lilva kachori is the perfect way to enjoy as a snack with a hot cup of tea or with some green and tamarind chutney. Also these will be loved by kids tiffin box ideas. So do try this baked lilva kachori and give your valuable feedback either in the comment box below or tag me as #firsttimercook on Instagram. Lets go in details method of preparation of this Baked Lilva Kachori or Baked Tuvar Kachori or Baked Pigeon Pea Stuffed Ball.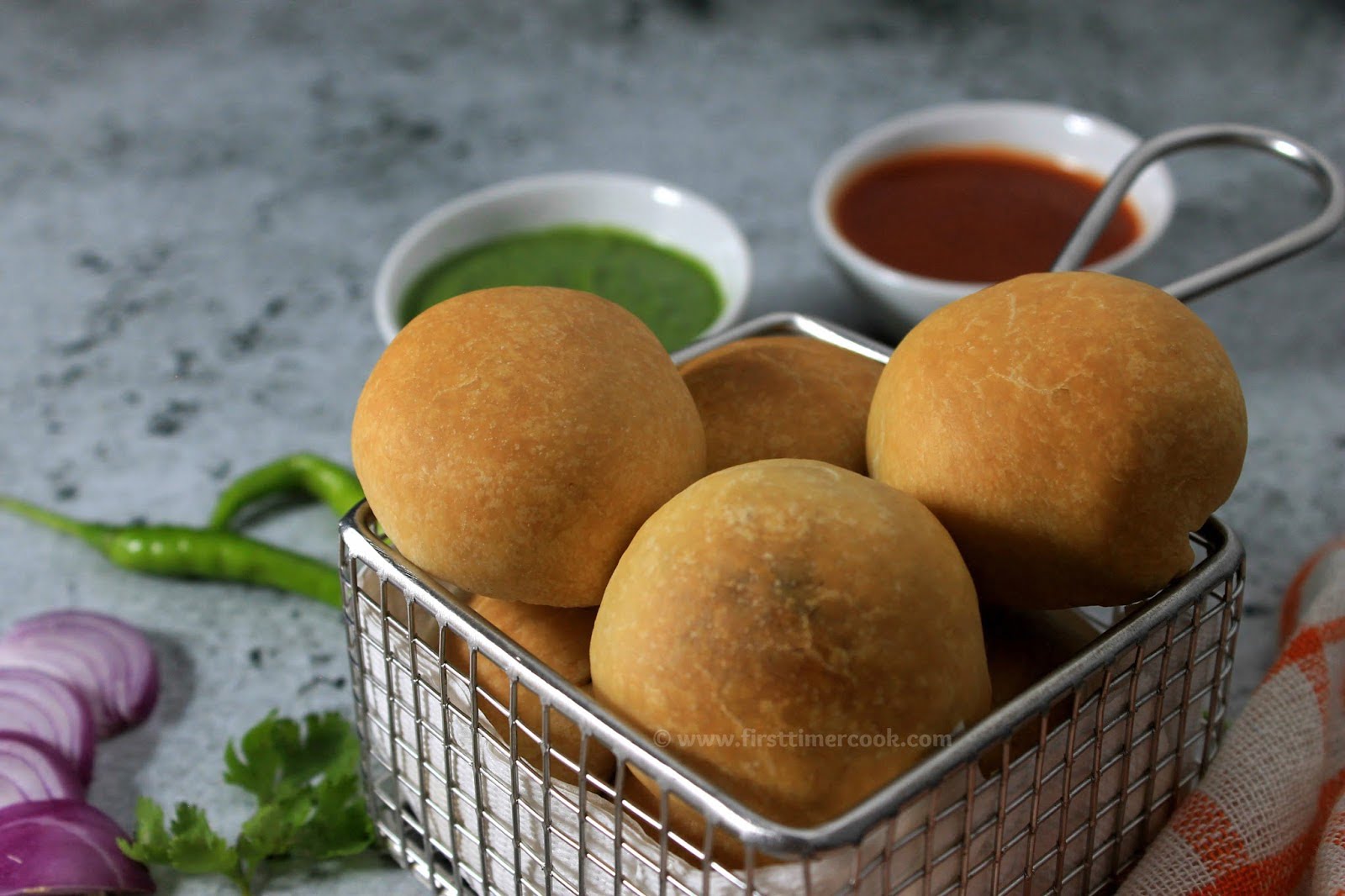 Preparation Time : 30 mins | Cooking Time : 30 mins
Ingredients :
Ingredients

Measurements

For outer covering

Wheat flour

1 cup

Salt

¼ tsp

Oil

1 tbsp

Water

As needed

For filling

Pigeon pea / lilva (fresh / frozen)

1 cup

Ginger

½ inch

Green chili

3-4 no

Turmeric powder

¼ tsp

Coriander powder

½ tsp

Amchur powder

½ tsp

Cumin seed

¼ tsp

Lemon juice

½ tbsp

Sugar

¼ tsp

Salt

As needed

Oil

For brushing
Method :
In a mixing bowl take wheat flour, salt, 2 tsp oil and mix everything using fingertips to get a bread crumb texture like mixture.
Add water little by little and a make a tight dough.
Cover the mixing bowl and keep aside.
Take all pigeon peas or tuvar or lilva in a blender jar and blend to get a coarse mixture.
Finely crush green chilies and ginger in a mortar and pestle. Keep aside.
Now heat oil in a pan.
Add in cumin seed and allow to crackle.
Next add finely crushed green chilies and ginger. Saute a bit.
Then add the coarse mixture of lilva, turmeric powder, coriander powder, amchur powder, sugar, salt and mix everything well.
Cook for 8-10 minutes over low-medium heat, stirring in between.
Finally add lemon juice, mix everything and turn of heat.
Keep aside and allow the filling to cool down completely.
Preheat oven at 200 deg C.
Now divide the dough into lemon size balls.
Take one ball, roll into around 3 inch circle.
Place 1/2-1 tbsp filling in the center, bring all the edges together and seal into a round shape.
Similarly prepare from rest of the dough balls.
Then grease a baking tray, place all the kachoris over it.
Brush with a little oil and bake for about 12-15 minutes or till the kachoris are cooked well and golden in color.
Take out from the oven and serve these healthy and baked lilva kachoris along with tamarind chutney and green chutney or simply with a hot cup of tea !
Notes :
Lilva or pigeon peas can be fresh or frozen ones. If frozen, then first thaw for some minutes and then use.

Green peas and pigeon peas both can be use in half-half proportion.

The dough should be of stiff or tight texture.
Lemon juice and amchur powder is used to get a bit tanginess in the filling.

PIN for later :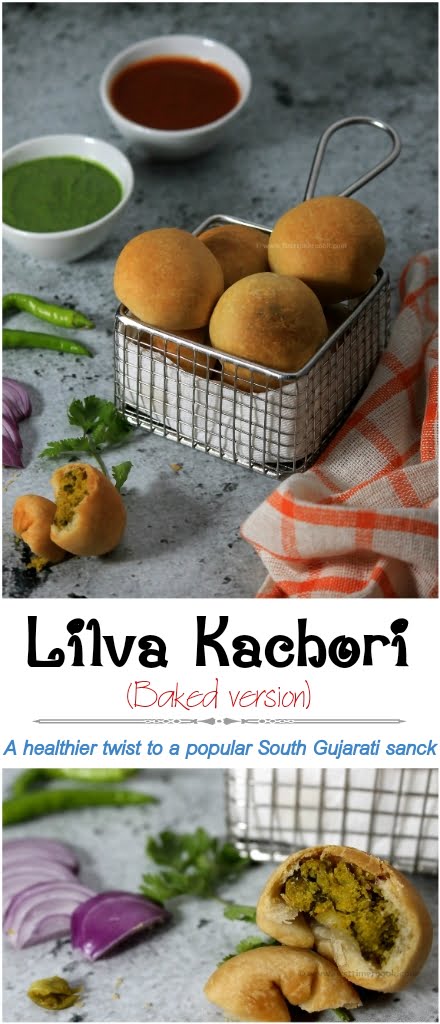 This 'Baked Lilva Kachori or Baked Tuvar Kachori or Baked Pigeon Pea Stuffed Ball' is contributed for 45 Healthy Wellthy Cuisines where the theme is 'Healthy Munchies'. Here are more similar recipes shared by our Healthy Wealthy Group members as Makhana Munchies 4 ways, Paneer and Potato Appe / Paniyarams, Pineapple Salsa, Spicy and healthy Kurkuri Poha, Baked Wholewheat Methi Puri.