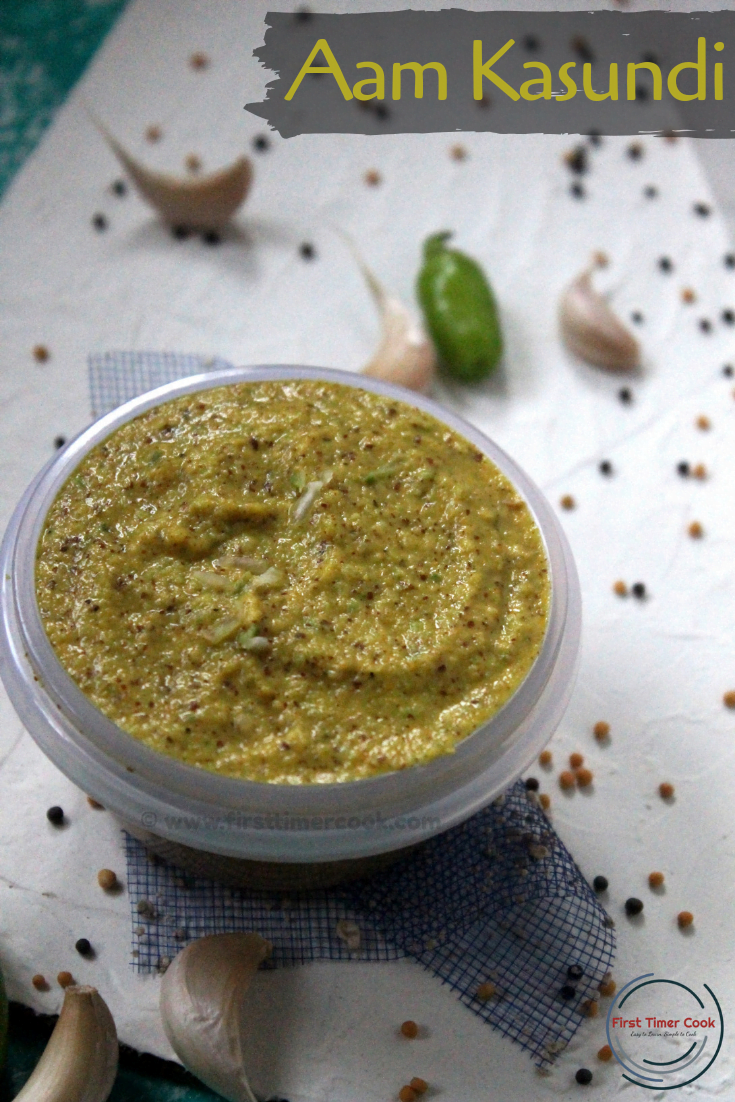 Monday is here again !!! And this time the 194th theme of the Foodie Monday Blog Hop is decided to 'Summer Fruit Fest' which is suggested by Swaty Mallick who blogs at Food Trails. It means we have to make a dish using summer special fruits. And when summer is going on, the king of fruit Mango steals all the show for me 😉. So today I have come up with a condiment using raw mango as Mango Mustard Sauce aka Aam Kasundi.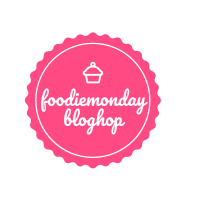 This raw mango sauce using mustard seeds is one of the authentic Bengali cuisine. Although one can enjoy this without using raw mango as simply Kasundi or even some tomatoes can be added in place of raw mango to give another twist. The recipe of kasundi which I have already shared is an instant version and also some vinegar was used in that. But here I have followed the authentic fermentation method.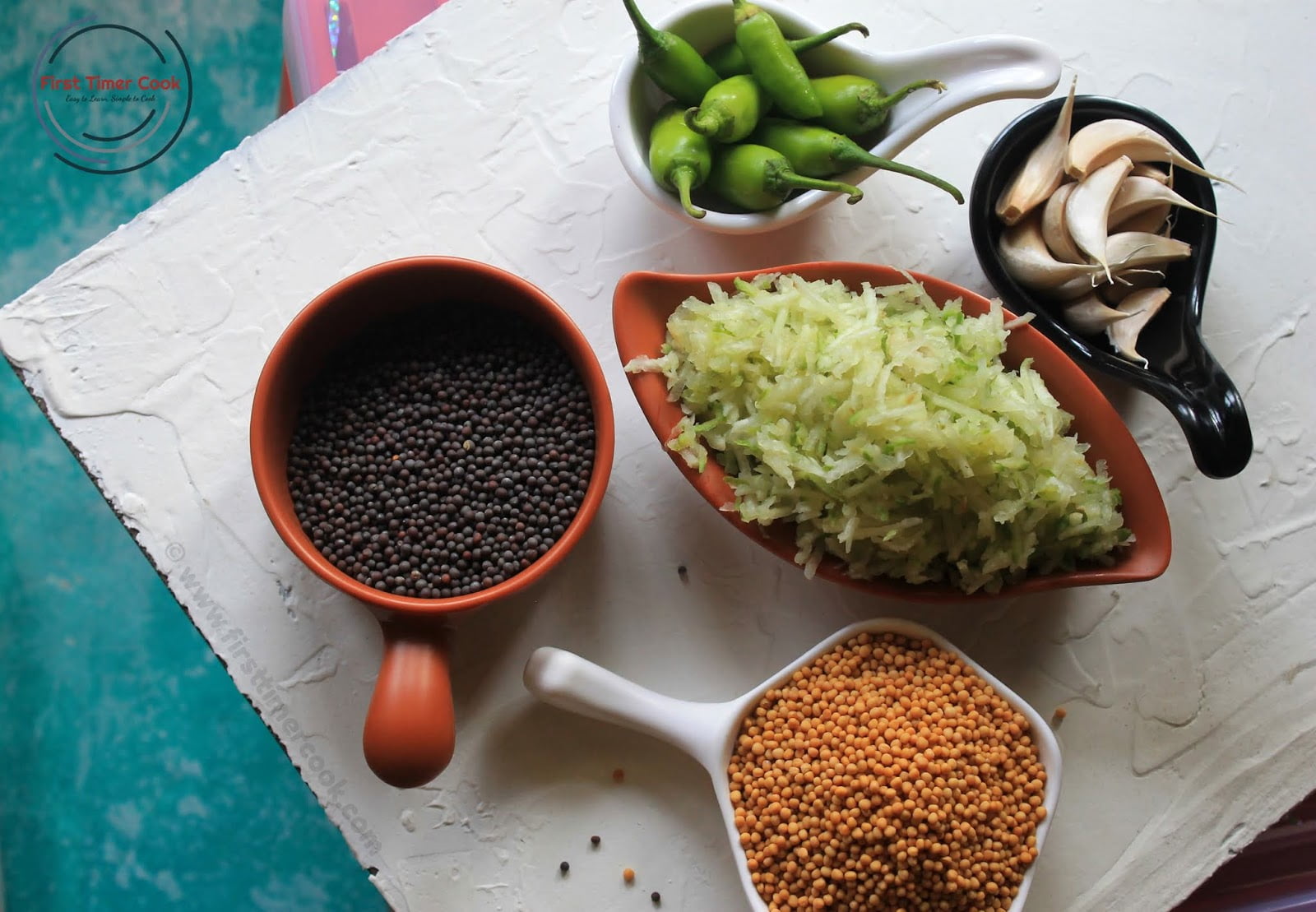 My backyard mango trees are fully loaded with fresh raw mangoes and I am just in love with them. So this recipe is a must to prepare using those fresh ones. As there are some grated raw mangoes in the blender jar which is moist so I prefer to soak the mustard seeds before adding into the blender. Sugar here promotes the fermentation process. Salt I don't add while blending and even after blending. Completely vegan & gluten free is this.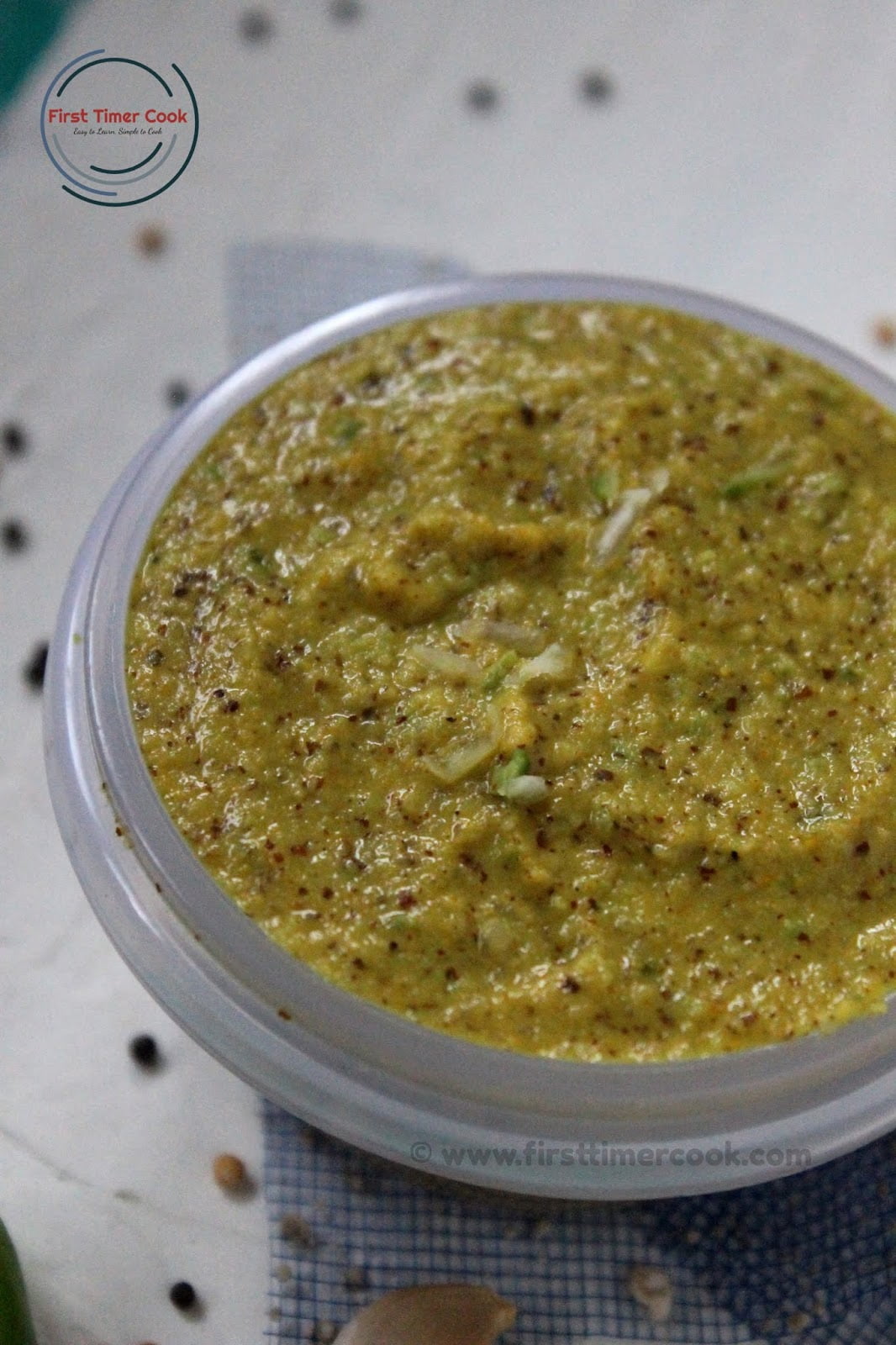 Just put the kasundi in an earthen pot / any sterilized jar, cover and allow to ferment in indirect sunlight for 10-12 days. And after that only I prefer to add salt as the salt stops fermentation. Also I love the garlic flavor in aam kasundi, so added. But one can omit this addition. This bengali sauce is super tempting and delicious and goes very well as dip with snacks, spread in sandwich, rolls etc. So do try this aam kasundi in this Mango season surely to enjoy the super yummy flavor.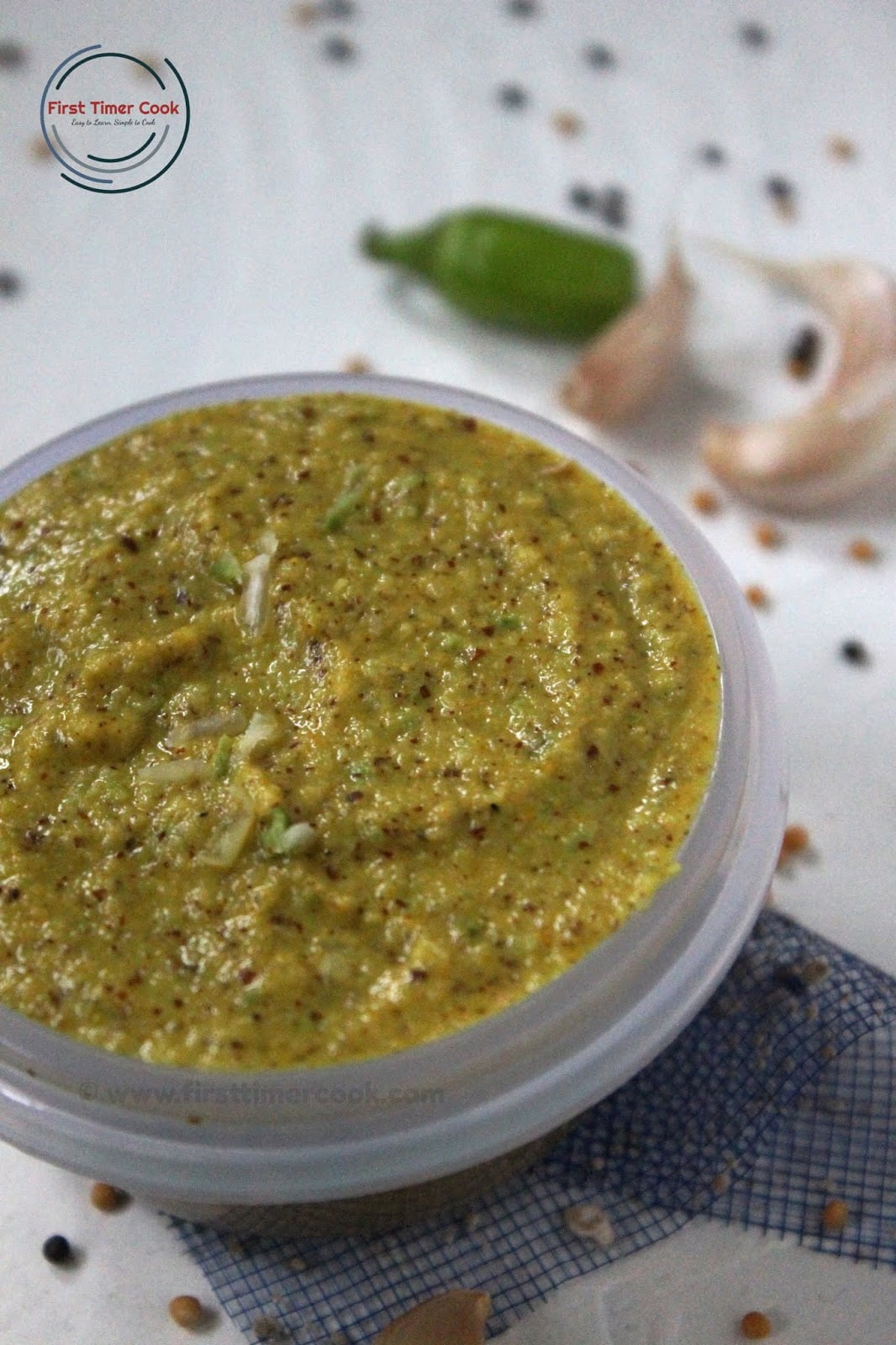 Recipe Card for 'Aam Kasundi | Mango Mustard Sauce' :

Aam Kasundi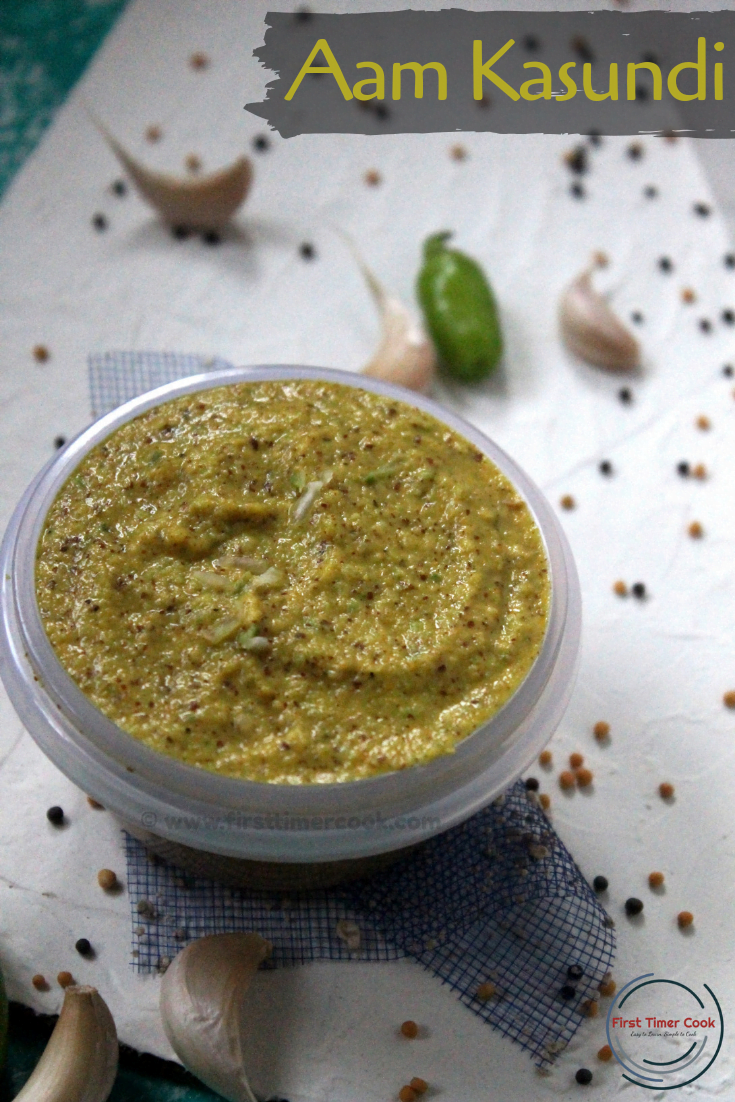 prep time: 10 Mcook time: 0 fermentation time: 10-12 days total time: 10 M
a super tempting and delicious condiment which goes very well as dip with snacks, spread in sandwich, rolls etc
ingredients:
Raw mango (grated) 2 cup
Yellow mustard seed 3-4 tbsp
Black mustard seed 3-4 tbsp
Garlic clove 7-8 no.
Green chili 3-4 no.
Sugar 1-2 tbsp
Salt as needed
Mustard oil 2/3 cup
instructions:
How to cook Aam Kasundi
First wash and soak both varieties of mustard seeds for at least 30 minutes.
In a blender jar take both soaked mustard seeds, grated raw mangoes, garlic cloves, green chilies, sugar along with mustard oil (keep aside 4-5 tbsp of mustard oil to use later) and make a fine paste.
Pour into a into a well sterilized glass jar or any earthen pot.
Drizzle the kept mustard oil and give a quick mix using a neat & clean spoon.
Cover the jar and allow to stay in indirect sunlight for 10-12 days.
After that, add salt and mix everything.
Serve as dip for snacks or spread as sandwich / roll !
NOTES:
I have not added turmeric powder, hence the my kasundi color is light yellow here. But one can use 1-2 pinch of turmeric powder while grinding to get more yellowish color of the aam kasundi.
Garlic cloves are optional, but give a nice flavor to the kasundi.
Adjust spiciness as desired.
Vegan, Gluten free, condiment, mango, mustard seeds
Condiment, Bengali cuisine
Bengali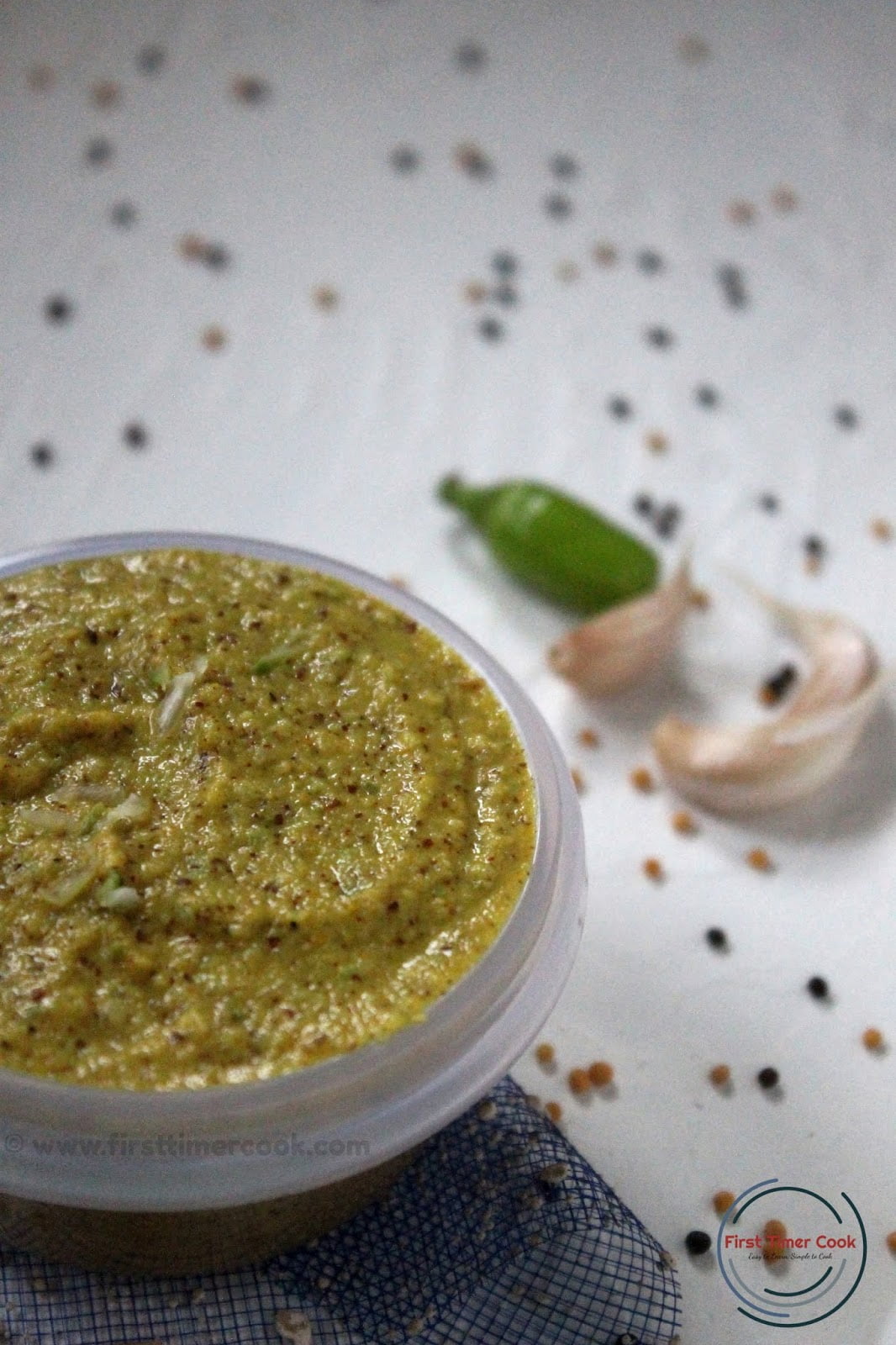 If you tried my recipe and enjoyed fully, then please share some pictures of your creation with me. Also kindly rate the recipe below, give your valuable feedback either in the comment box below or tag me as @firsttimercook on Instagram.
You may also follow me on Facebook, Pinterest, Twitter, Google+, Instagram and can subscribe for free to get new recipes directly into your inbox 😊

PIN for later :