an easy to prepare, refreshing and summertime recipe using Watermelon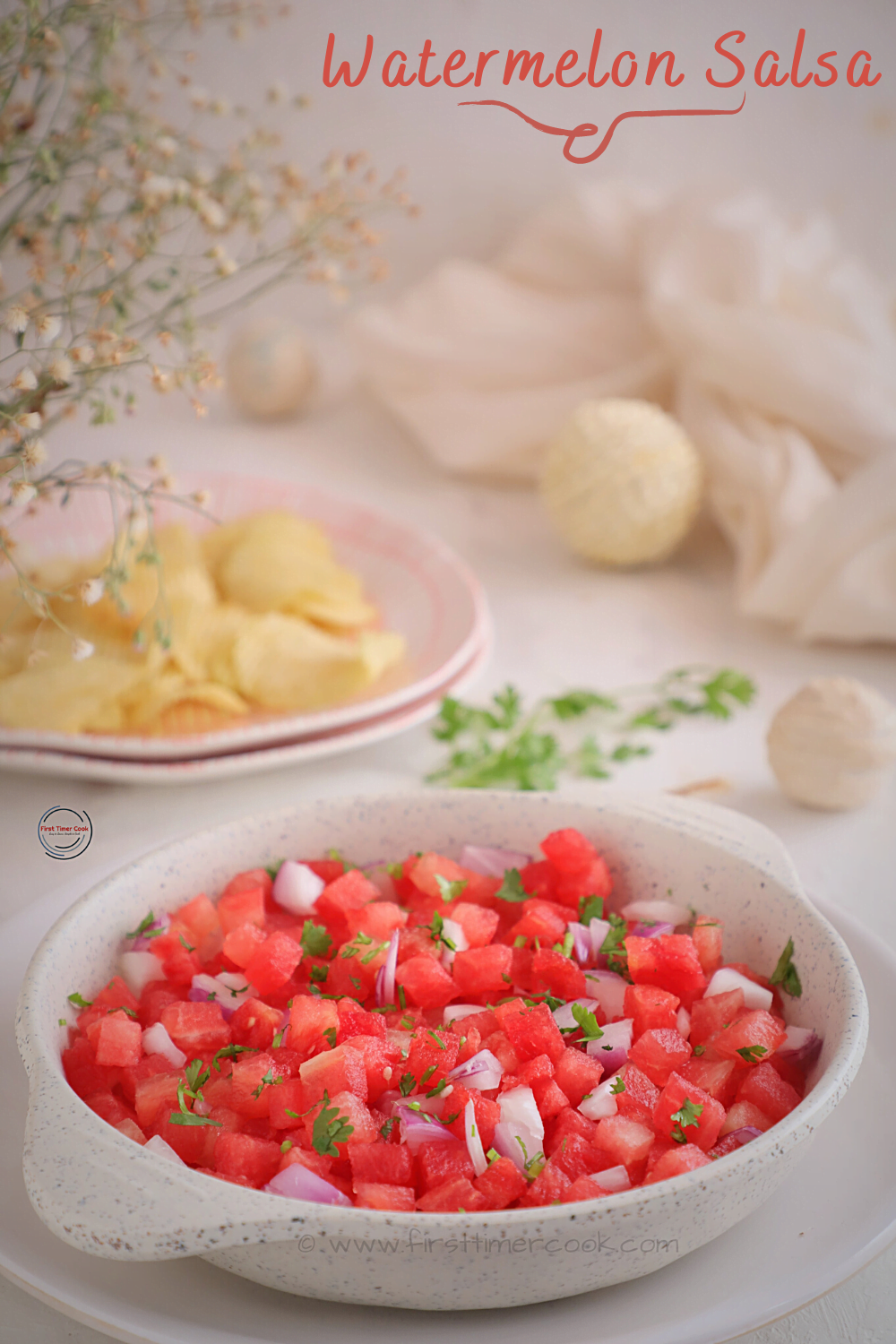 What is Salsa?
Who doesn't love a bowl of tasty fresh salsa on the table? Just perfect for scooping with corn tortilla chips or crackers, the salsa includes just the right balance in every bite. Fresh salsa is one of the best ways to add more flavor to your food while also delivering essential nutrients. Whether it is the traditional tomato and jalapeño, or even mango, strawberry; salsa is one of the world's most popular condiments with a nutritional powerhouse.
Mostly one serving of salsa is 2 tablespoons, which is on average less than 10 calories. So just feel free to top all of your favorite foods with salsa. There is no need to limit your portions 😉 Whether you are eating salsa on scrambled eggs, grilled fish, tacos, or any of your other favorite dishes, it is a great addition to any meal!
The consistency of salsa can vary and is known for containing a considerable amount of liquid. Some recipes use the diced ingredients as is, while others process the ingredients into more of a puree before serving.
Watermelon Salsa!
This is a perfect combination of sweet, savory, and crunchy salsa.
Every summer party, picnic, etc must include this fruit, Watermelon besides Mango. So why not make a salsa out of this!
The fresh watermelon in this salsa makes every bite extra deliciously juicy and refreshing. I have used only watermelon, shallots, cilantro, lime juice, and salt. The fresh lemon juice is used for a hint of vibrancy that helps to keep the salsa super fresh for longer. The herb along with lime juice gives it the perfect light and fresh taste of summer.
One can use some jalapeno to get a kick in the salsa, somehow I have not added.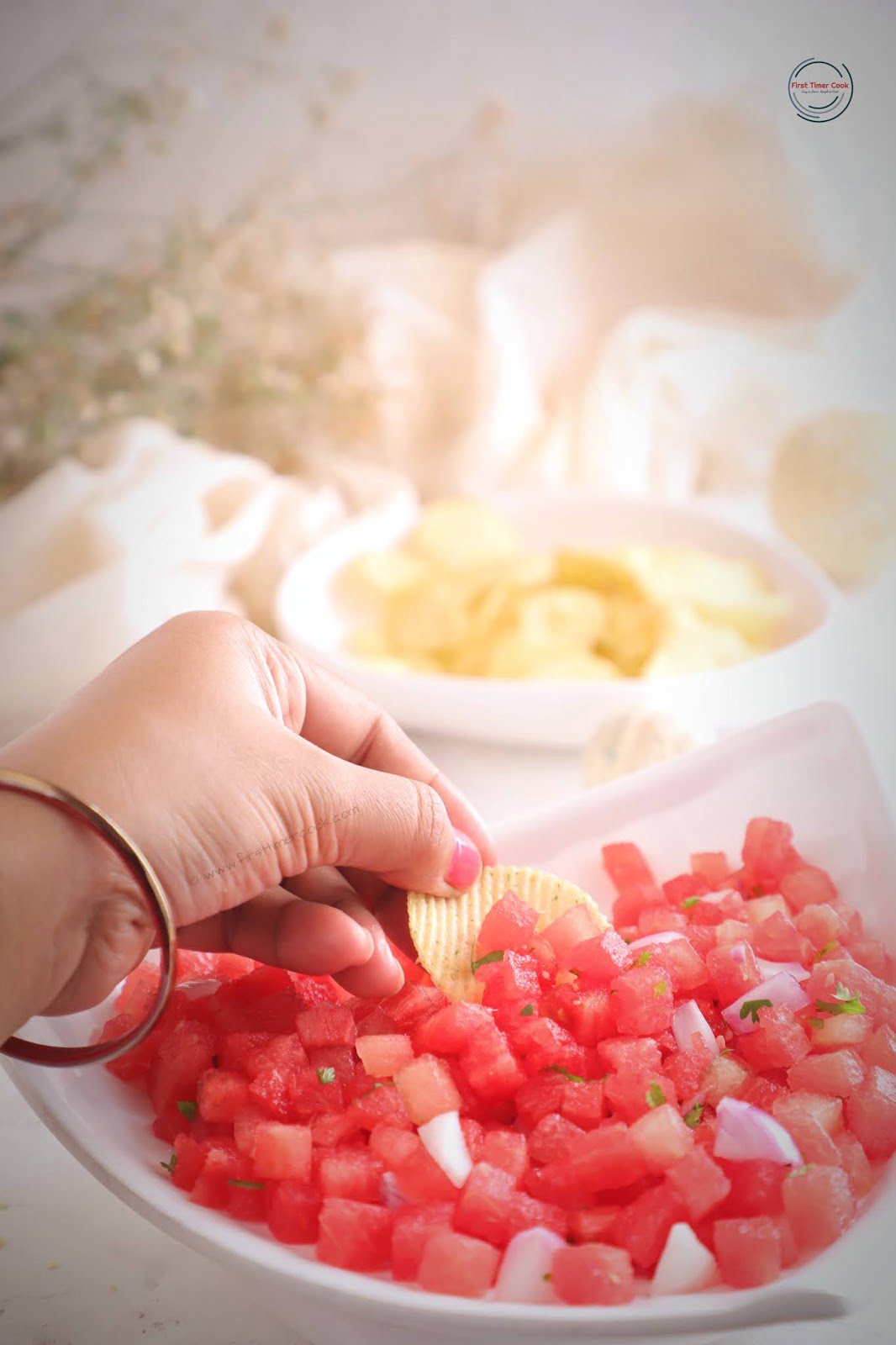 Dietary note :
✔ Vegan
✔ Gluten-free
✔ Summer party delight
✔ NO-OIL recipe
✔ just 5 ingredients
✔ Simple and easy to make
What should One serve with Watermelon Salsa?
To use this salsa as a dip for an appetizer or snack, serve it with tortilla chips.
To enjoy it as part of a meal, serve it over cooked chicken or fish, or on top of tacos.
This watermelon salsa is a must-have at any summer party. So don't forget to include this in your next party spread. Also this year Cinco de Mayo is coming soon, so make this refreshing and easy-to-make Watermelon Salsa enjoy with some other Mexican foods.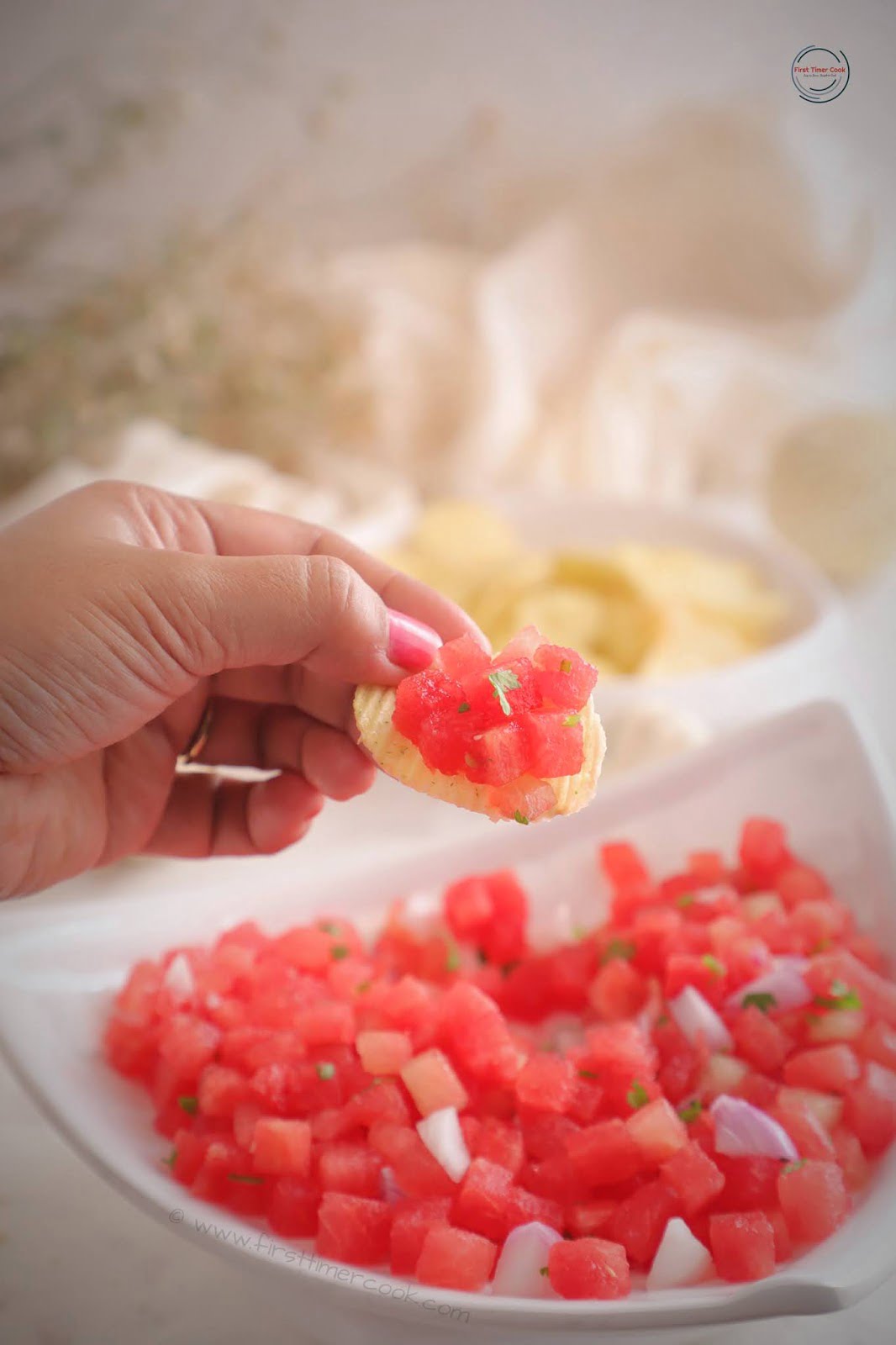 Let's go through how to make "Watermelon Salsa" at home 👇
And, yes !!!
If you like the recipe shared here and give it a try at your place then do share in INSTAGRAM by tagging #firsttimercook. I would be so happy to see and surely share in my INSTA stories 😊😊
: Recipe Card
:

Watermelon salsa, summer delight, vegetarian, dip, snack, healthy
Salsa, Condiment, Appetizer, Vegan, Gluten free, Watermelon
Mexican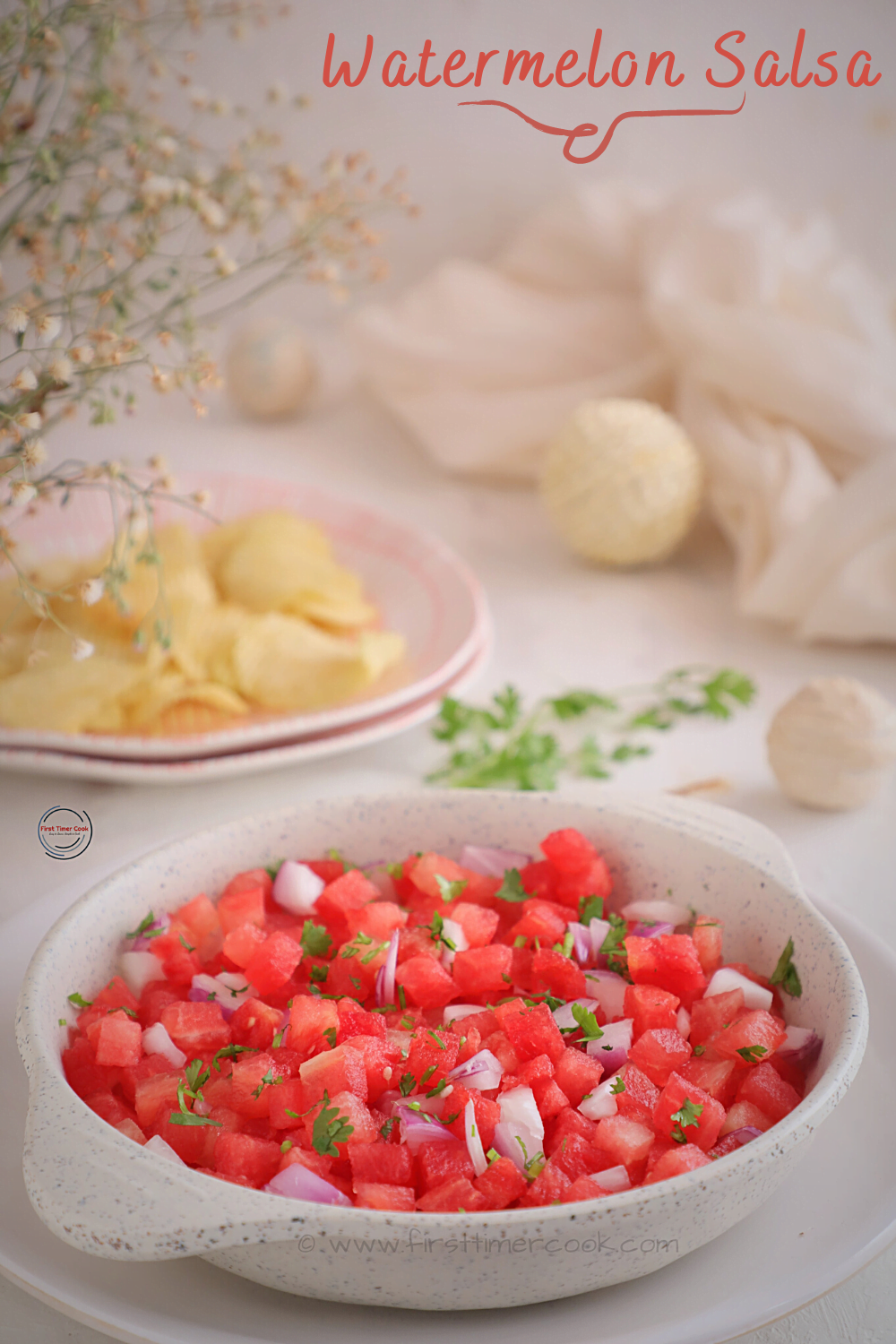 Watermelon Salsa, just 5 ingredients !
an easy to prepare, refreshing, and light summertime snack recipe using watermelon
Prep time: 10 MinTotal time: 10 Min
Ingredients
Watermelon (diced) 3 cup
Shallot (chopped) 1/4 cup
Cilantro (finely chopped) 1/4 cup
Lime juice 3 tbsp
Salt as needed
Instructions
In a mixing bowl take diced watermelons, chopped shallots and finely chopped cilantro.
Toss well using a spoon.
Next add lime juice, salt and toss again.
Serve with any desired chips !
Notes:
One can add some diced cucumber or bell pepper (any color) to this salsa. But we love this salsa simply as mentioned above.
I will suggest using shallot here instead of red onions as shallots are milder and less astringent.
https://firsttimercook.com/2021/03/watermelon-salsa.html
Did you make this recipe?
Tag@firsttimercookon Instagram and hashtag it#firsttimercook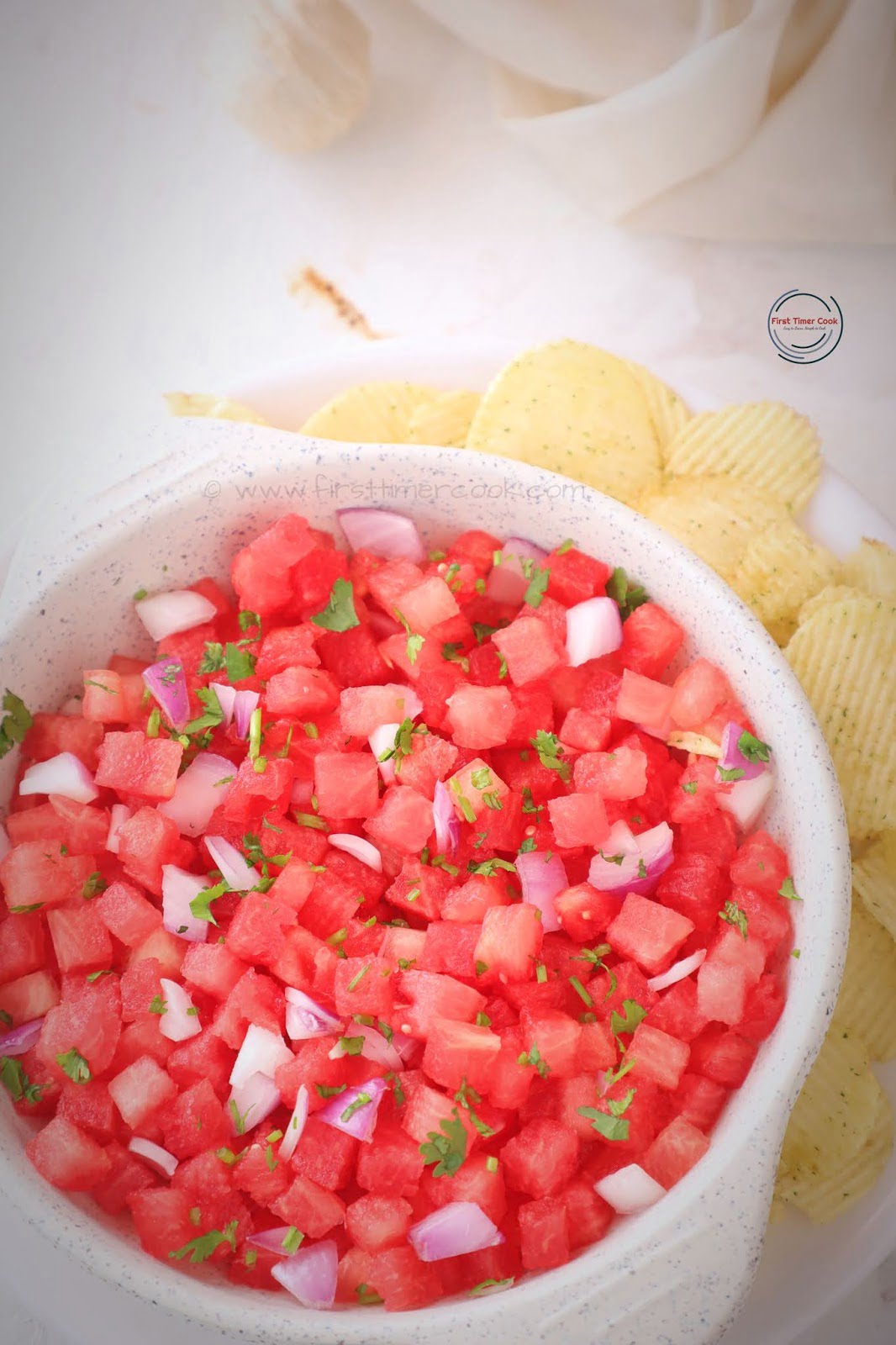 You may also follow me on Facebook, Pinterest, Twitter, Google+, Instagram and can subscribe for free to get new recipes directly into your inbox 😊
PIN for later :