Vegetable upma is a common breakfast item in most south indian homes. The nutritious semolina and fresh vegetables cooked together which makes it healthy and excellent tasty too. Process is so easy and results in a healthy and delicious item. Mainly the key factor for a soft upma is the addition of generous amount of oil / ghee while making it. Also it can be done without veggies which is known as plain upma / basic upma.
So here is my version of how to make vegetable upma really so tasty and healthy.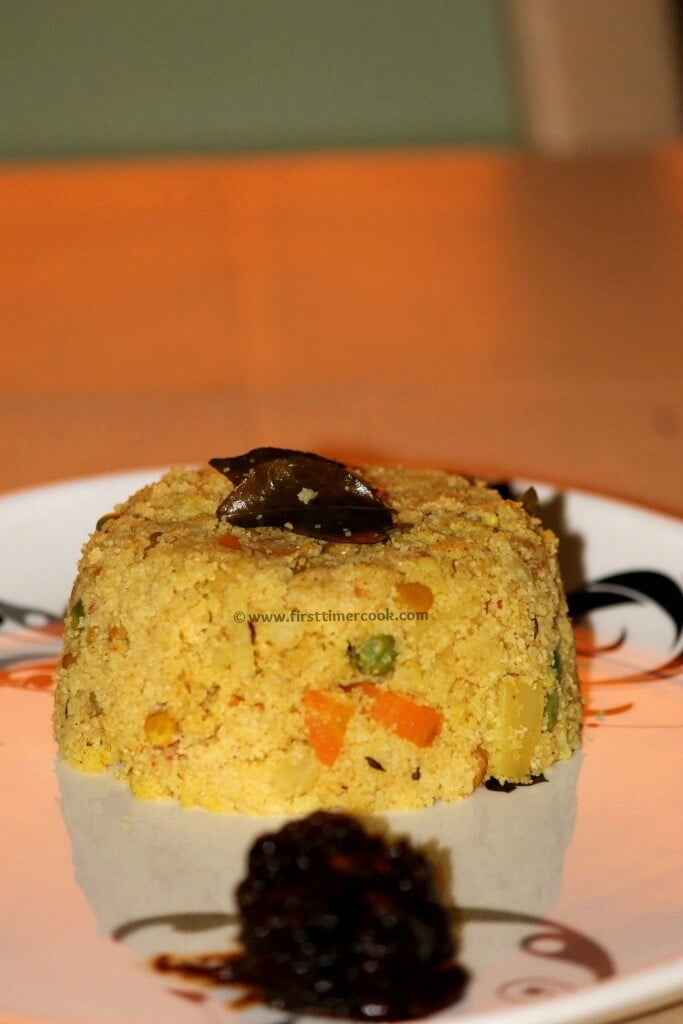 Preparation Time : 15 mins | Cooking Time : 35-40 mins
Ingredients :
Ingredients

Measurements

Semolina (suji)
1 cup
Mustard seeds
1/4 tsp
Urad dal
1/2 tsp
Channa dal
1/2 tsp
Cumin seeds
1/2 tsp
Green chilies
as needed
Curry leaves
6-7 no.
Onion (medium)
1 no.
Green beans
6-7 no.
Carrot (medium)
1 no.
Potato (small)
1 no.
Green peas
10 no.
Tomato (medium)
1 no.
Ginger (chopped)
1/2 tsp

Lemon juice

(Optional)

as needed

Grated coconut

(Optional)

2 tbsp
Turmeric powder
2 pinch
Oil
3 tbsp
Water
2 & 1/4 cup
Ghee
1 tbsp
Salt
as needed
Method :
Take water in a sauce pan and boil it up. Chop the vegetables & keep aside.

Heat a pan, dry roast the semolina till it turns golden brown or get the aroma & keep aside.

Heat oil in a thick bottom pan. Reduce the flame to low & add mustard seeds. Then add channa dal, urad dal and cumin seeds when mustard seeds begin to splutter. Fry till dals turn golden-brown.

Add chopped green chillies, curry leaves, ginger and chopped onions & fry for 1 minute.

Then add chopped green beans, carrot, potato and green peas one after the other with a gap of 1 minute between each. Fry for 3-4 minutes.

Once fried, add in chopped tomato, turmeric and salt. Saute this for couple of mins.

Now add in the roasted semolina and fry it with the veggie mixture.

Now pour in the boiling water and keep mixing. The mix will get thick.

Now reduce the flame to low and cover with a tight lid and cook for 15 mins. Then open the lid and fluff the upma.

Add ghee and switch off the flame. Cover the pan with the lid again. Let it sit for 5 mins.

Then add lemon juice and grated coconut & Mix. Cover the pan for 5 mins more. Then fluff again and serve with any type of chutney.
Notes :
If you want smooth, paste type vegetable upma, add more water.
Vegetables totally depend upon choice. It can be like cauliflower, broccoli, colored bell pepper etc.
Do not mix the semolina too many times after adding. The reason is that the upma will become sticky.
Lemon juice & grated coconut are used to give a typical south indian taste.

Also it can be done without veggies which is known as

plain upma / basic upma

.